Oklahoma teachers continue their 110-mile march to Capitol
The teachers are still seeking a bigger raise for themselves — Cody, a single mother to a three-year-old, said she is in dire need of a bigger paycheck — but the focus now is on funding for their students.
"I keep telling everybody, if your teachers are willing to walk 110 miles for their students, what is the Oklahoma legislature willing to do for the students of Oklahoma?" Cody asked. "These people are giving up a week of their life."
Many schools in Oklahoma this week have been closed as teachers have held walkouts. Some schools, including Tulsa public schools, remained closed on Thursday.
On Wednesday, Fallin called on teachers to return to their classrooms, a day after she angered many by arguing that teachers were out-of-bounds for continuing their walkout even after being granted a raise.
"Teachers want more, but it's kind of like a teenage kid who wants a better car," Fallin told CBS News.
The protests in Oklahoma were inspired by recent ones in West Virginia, another Republican state, where a nine-day strike led to a 5 percent raise for teachers.
Kentucky has also had teacher walkouts: On Monday, every public school in Kentucky closed when teachers gathered at the state Capitol to protest a pension overhaul bill that Republican lawmakers passed last week. About two dozen schools in two Kentucky counties were still closed Tuesday.
Meanwhile, in Arizona, where the average teacher pay is 43rd in the nation at about $47,000 a year, according to the National Education Association, educators are also mobilizing.
Last week, about 2,500 teachers rallied at the Arizona state Capitol demanding a 20 percent raise. On Wednesday, Arizona teachers, wearing red, held a "walk-in" where they held up protest signs and walked into their schools alongside those in the community who support their demands, reported NBC affiliate 12 News in Phoenix.
The Oklahoma teachers say they will continue their walkouts until legislators give them the increases they are seeking.
Afghanistan: Children among at least 40 killed by bomb near Afghanistan school | World News

At least 40 people – including many students – have been killed after a bomb exploded near a school in west Kabul, according to an Afghan government official.
At least 50 are also reported to have been injured by the blast.
Four-year-old boy buys 918 SpongeBob ice lollies for $2,600 on Amazon | US News

Noah, a four-year-old from New York, loves SpongeBob. A lot.
In fact, he loves the absorbent and yellow and porous cartoon character so much that he decided to pop on Amazon for a spot of retail therapy.
Little did his mother know that he had purchased 51 cases of SpongeBob ice lollies – 918 of them to be exact – racking up a bill of $2,618.85 (£1,872).
The bulk order of popsicles was duly delivered to his auntie's house.
Amazon initially told Noah's mother, Jennifer Bryant, that they wouldn't take back the ice lollies – leaving the social work student stuck with the bill.
The retail giant has since been in contact to find a solution – and thankfully, the SpongeBob saga has a happy ending.
A fundraiser that was set up to help Ms Bryant pay for the ice lollies has now raised more than $14,000 (£10,000), with contributions flowing in from across the US.
Noah is on the autism spectrum, and his family say that (once the bill has been paid) all remaining funds will go towards his education.
Ms Bryant wrote on the GoFundMe page: "Thank you SO much for your mind-blowing generosity and support."
More than 130 injured as Palestinian worshippers clash with Israeli police at Al-Aqsa mosque | World News
At least 136 people have been injured during clashes between Palestinian worshippers and Israeli police at the Al-Aqsa mosque compound.
The violence at the major holy site, sacred to Muslims and Jews, is an escalation of weeks of violence in Jerusalem that has reverberated across the region.
The Palestinian Red Crescent emergency service said 136 people were wounded at the compound and elsewhere in Jerusalem, including 83 who were hospitalised.
It said most were wounded after being hit in the face and eyes by rubber-coated bullets and shrapnel from stun grenades.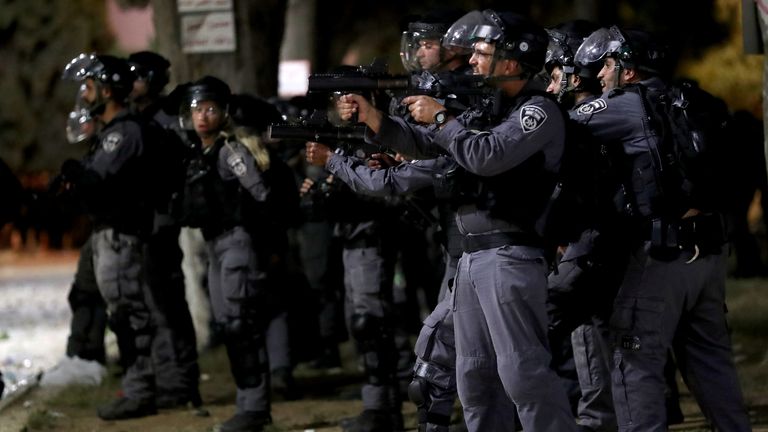 Israel said six police officers were wounded.
Earlier on Friday, Israeli troops shot and killed two Palestinians and wounded a third after the men opened fire on a base belonging to Israel's paramilitary Border Police force in the occupied West Bank.
It was the latest in a series of deadly confrontations in recent weeks that has coincided with the Muslim holy month of Ramadan.
Tensions have soared in recent weeks in east Jerusalem, which is claimed by both Israel and the Palestinians.
At the beginning of the Muslim holy month of Ramadan, Israel blocked off a popular gathering spot where Palestinians traditionally socialise at the end of their day-long fast.
The move set off two weeks of clashes before Israel lifted the restrictions.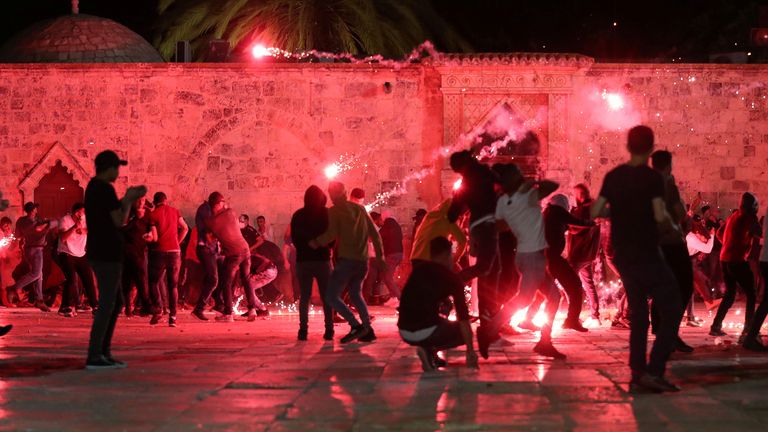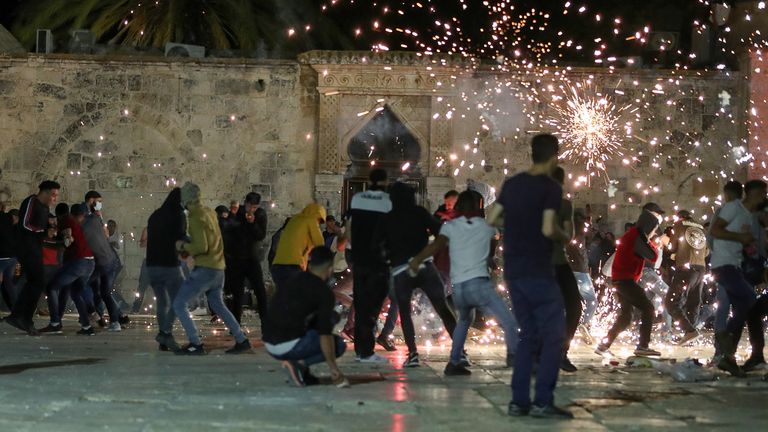 But in recent days, clashes have resumed after Israel threatened to evict dozens of Palestinians in the Sheikh Jarrah neighbourhood in east Jerusalem.
The US said it was "deeply concerned" about the heightened tensions and called on all sides to work to de-escalate them.
It also expressed concern about the threatened evictions.