Nixon's decisions during Watergate may help us understand the legal trouble Trump is in now
Get the Think newsletter.
Washington, a town loaded with lawyers, is talking about how President Donald Trump can't seem to find even one.
The Russia probe has put Trump in desperate need of a first-rate attorney. But one key reason he is unable to hire good counsel, Washington legal analysts say, is that he's a terrible client. In lawyer lingo, this usually means that a client won't do what his attorneys advise. (Here, Trump's critics also mean that Trump doesn't pay his bills, but that's another story.)
Certainly, that's what John Dowd, Trump's former lead attorney on the Muller investigation, meant. After Dowd resigned, The Washington Post reported that he had been complaining about how Trump ignored his advice.
This problem is not new. During Watergate, President Richard M. Nixon wouldn't listen to his lawyers either — as my late husband, Leonard Garment, found out while he was working in the White House as Nixon's legal counsel at the time of Watergate. True, Nixon was himself a skillful lawyer, so he was ignoring his lawyers' legal advice on a far more sophisticated level. But what played out during the Watergate scandal may help us predict what could happen now.
During Watergate, Nixon wouldn't listen to his lawyers either — as my late husband, Leonard Garment, found out while he was working in the White House
To begin with, Nixon never really told his lawyers what was going on — violating a cardinal rule of the lawyer-client relationship. It meant that his lawyers couldn't give him sound advice based on the facts of his situation. Garbage in, garbage out.
In fact, Nixon's lawyers were often the last to know. They would hold earnest meetings, trying to piece together the facts of the case. Meanwhile Nixon would be conferring separately with political advisers like John Ehrlichman, then-Chief of Staff H.R. Haldeman and White House Counsel John Dean in the Oval Office.
Among other missing details, Nixon never shared with his lawyers what turned out to be the fact most critical of his case: There was a taping system in the Oval Office.
Nixon made the situation even more abnormal by deciding to manage his own legal defense. In May of 1973, for example, the White House decided it had to issue a statement about Watergate that offered something more than the repeated boilerplate denials it had been providing. Nixon told his lawyers to draft the statement without any input from him. Then, the president said, they should send him their drafts, and he would revise them on the basis of his "recollections." In other words, the lawyers didn't have control of the product — the client did.
In 1973, Nixon appointed a new chief of staff, Alexander Haig, who often carried drafts of the statement between the lawyers and the president. Haig knew there was a taping system — but the lawyers didn't. Some of Nixon's "recollections" that he added to the legal statements were so detailed that my husband and the other lawyers thought there had to be a taping system. But they didn't hear it from their client.
After Watergate, Nixon wrote that he was shocked when the tapes' existence became public. He had expected White House staffers to invoke executive privilege when asked about them. Yet he had never even talked with his lawyers about whether an assertion of executive privilege would be justified, likely or successful. (It wasn't; it wasn't; and it wouldn't have been.)
In fact, like Trump's, Nixon's legal defense team was quite small — fewer than a half-dozen attorneys. This may have been because hiring an outside lawyer to do personal legal work was viewed as an admission of guilt. But Nixon's personal tics also kept the numbers small. He looked at the plausible candidates for the outside lawyer job and didn't trust most of them — Joe Califano! Ed Williams! Experienced lawyers, yes, but Democrats! — with his political secrets. He would have trusted Bill Rogers, an old friend who was about to leave his job as secretary of state. But Rogers was too smart to bite.
The small size of the defense team was one factor that kept Nixon's lawyers from being able to push back effectively against the hundreds of lawyers (literally) who had arrived in Washington to work for Special Prosecutor Archibald Cox, for Sam Dash of the Senate Watergate Committee, for John Doar of the House Judiciary Committee — among others — to investigate and prosecute Watergate.
The final straw for Nixon's legal team was also the starkest example of Nixon's arrogance — and perhaps a warning for Trump.
Nixon remarked early in the Watergate scandal that he had John Dean "on tape." When Archibald Cox heard about the remark, he asked what it meant. Nixon told his lawyers, who didn't yet know about the taping system, that he was referring to a tape cassette (remember those?). So the lawyers wrote Cox a letter, saying just this.
In the fall of 1973, Judge John Sirica, who was in charge of Watergate prosecutions at the time, asked one of the Nixon lawyers where the cassette was. The lawyers asked Nixon about it. No problem, Nixon said: His lawyers could create a cassette from notes that Nixon had made.
Nixon, in other words, was asking — or telling — his lawyers to lie to the court. Within days, they began to make arrangements to leave the case quietly. Nixon's defense continued to collapse until, nine months later in the summer of 1974, Nixon resigned rather than face impeachment.
Some of the troubles that Trump's lawyers have had reflect the general problem of representing a president. But they also reflect personality.
Some of the collapse of Nixon's Watergate defense reflects the difficulty of representing a president, any president. Presidents have political imperatives, president-sized egos and high-level secrets. In that sense, the legal representation of a president can barely be called a legal representation — it belongs to an oxymoronic category you might label "political litigation."
But in other respects, Nixon sabotaged his own legal defense and made it almost impossible for his lawyers to do their jobs properly.
In the same way, some of the troubles that Trump's lawyers have had reflect the general problem of representing a president. But they also reflect personality — and not just in the narrow sense that Trump is a "bad client."
Even if Trump could become a "better client," it's unlikely he would be able to attract the superior lawyers who could save him from Special Counsel Robert Muller. They know that the Trump White House is simply not conducive to superior lawyering
"This is turmoil," Theodore Olson, one of the lawyers who turned down the Trump defense, told NBC's Andrea Mitchell. "It's chaos, it's confusion. It's not good for anything."
This is not the Nixon White House — but it could be another kind of graveyard for the reputations of even the best lawyers.
Suzanne Garment, a lawyer, is the author of "Scandal: The Culture of Mistrust in American Politics."
Coronavirus: Madrid in lockdown as doctor warns Britons to follow the new rules or pay the price | World News
A front line doctor in Madrid has urged Britons to stay strong and obey the rules as the country faces a second wave of coronavirus.
"We only have to do this for a few more weeks, not forever," Dr Moreno Santiago told Sky News.
"Things like wearing a mask we only need to do for a few short weeks and in that time we can control the pandemic, if not we are going to pay for this. It will be very, very, very costly."
Live updates on coronavirus from UK and around world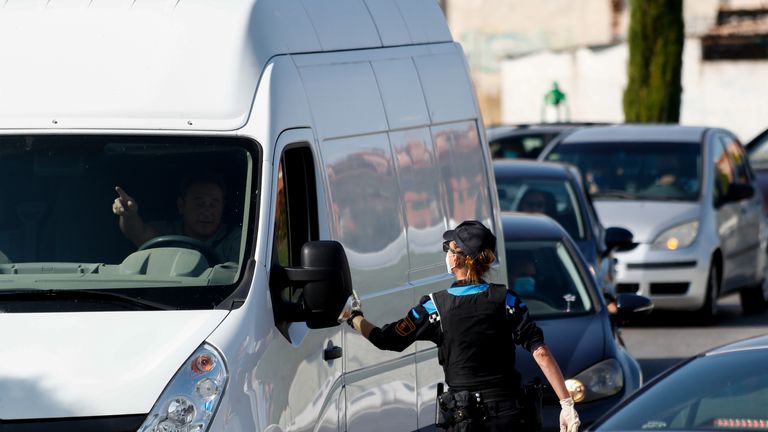 The warning comes as Spain struggles through its own new outbreaks, with data showing it is six weeks ahead of the UK.
Some 27 districts of Madrid went into new lockdown measures this week, in theory preventing inhabitants from leaving unless they have to go to work or need medical care.
We spent the day in one district and saw how few people were obeying it. Police at a checkpoint admitted they could only check every 10 or 15 cars going in or out, meaning citizens would need to self-police – and there is no enforcement on the subway in.
Inside the locked-down zones life appears reasonably normal with shops open and streets busy.
The new measures have largely targeted poorer southern districts of Madrid where many live closer together in smaller apartments. It has further exacerbated the sense of social divide and hit those already struggling the most.
Food banks are busy again with many of the users newly unemployed.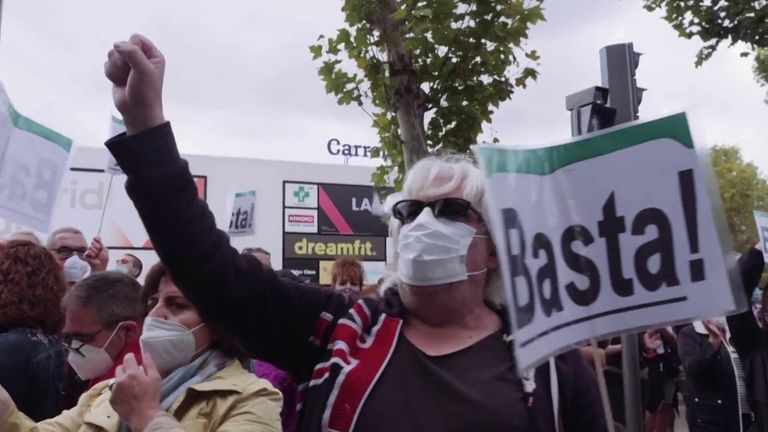 Francisco and Carmel are both out of a job and they are running out of hope.
"We want people to help us to give us a future where we value ourselves because the way we are living has no future, this isn't a life, even if you wanted it to be," Carmel told us.
:: Subscribe to the Daily podcast on Apple Podcasts, Google Podcasts, Spotify, Spreaker
Francisco was equally desperate: "To be honest I am hoping for help from my friends to find work soon because I am of a working age and can work.
"I am hoping for an opportunity because all I want is a chance to keep going ahead just like the rest of the world."
Alexei Navalny calls discharge from hospital 'miracle' after novichok poisoning | World News
Russian opposition figurehead Alexei Navalny says it is a "miracle" he has been discharged from hospital after being treated for novichok poisoning.
The 44-year-old became unwell on a domestic flight in Siberia last month and was airlifted to Berlin in a coma.
Laboratories in Germany, France and Sweden confirmed he was poisoned with the same nerve agent used to target Sergei Skripal in Salisbury in 2018.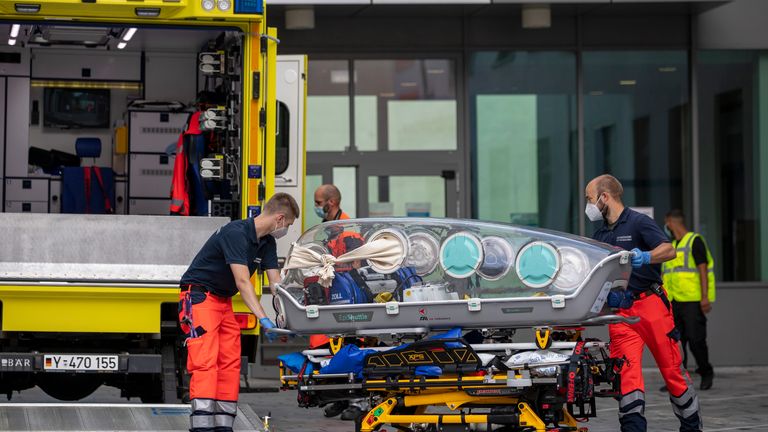 Mr Navalny said the first time he saw himself in a mirror after 16 days spent in a coma he looked like a character from Lord of the Rings and feared he would "never be discharged".
But doctors have performed a "miracle" and he says he now no longer needs to be an in-patient but can get on with the "noramlisation" of life, he wrote on Instagram in a post sent as he was "hobbling through the park".
Mr Navalny said he is still learning to regain strength in his limbs and cannot throw a ball with his left hand but will get sessions with a physiotherapist every day.
He added when he asked doctors how to exercise his brain, they told him: "Read more, write on social networks, play video games."
"I need to find out if the hospital can get a PlayStation 5 prescription," he joked in the sign-off.
Medics at the Charite hospital where Mr Navalny had been treated said his condition "improved sufficiently for him to be discharged from acute inpatient care".
The hospital added based on his progress and current condition, "the treating physicians believe that complete recovery is possible".
But it cautioned "it remains too early to gauge the potential long-term effects of his severe poisoning".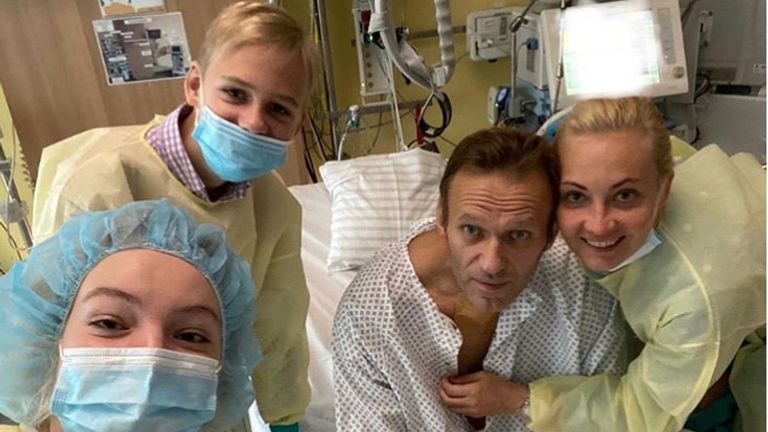 The Kremlin responded by saying it was pleased to learn of Mr Navalny's recovery.
He is free to return to Russia but it remains to be seen if he wants to share information with law enforcement officials there, a spokesperson added.
They also insisted no-one in President Vladimir Putin's entourage has access to novichok.
Mr Navalny had been in hospital for 32 days – 24 of them in intensive care.
His team said they searched the Siberian hotel room where he stayed prior to the flight on 20 August – an hour after the news broke he had been taken ill.
They claimed he was poisoned using a water bottle, gathered up as part of any evidence "that could even hypothetically be useful".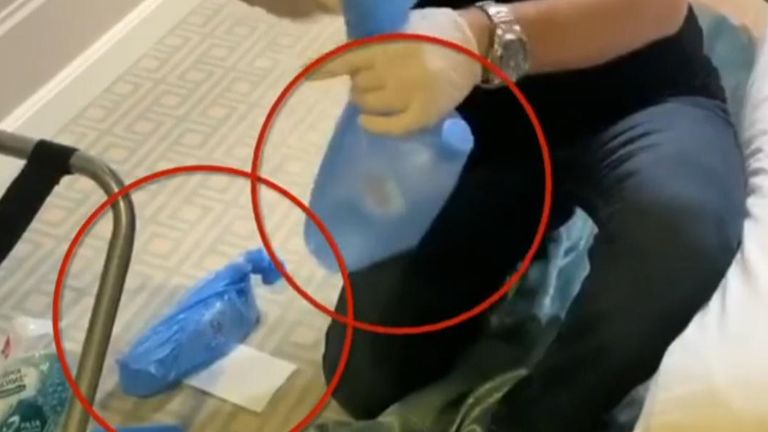 All the items were passed to German authorities because "the fact that the case would not be investigated in Russia was quite obvious," they added.
The UK and other Western countries have demanded answers from Russia.
Prime Minister Boris Johnson called for a "full, transparent investigation into what happened" and pledged to "join international efforts to ensure justice is done".
Moscow has said it is yet to see evidence of a crime and has declined to open an investigation so far.
The Kremlin has denied any involvement.
Coronavirus: Dogs deployed at Helsinki Airport to sniff out virus | World News
An airport in Finland is using sniffer dogs to detect passengers infected with coronavirus.
Helsinki Airport is trialling the scheme which will see 10 dogs trained in total by Wise Nose, a smell detection agency, with four deployed to work per shift.
It follows a study by the University of Helsinki's Veterinary Faculty, which suggested trained dogs can detect COVID-19 with close to 100% certainty.
Live updates on coronavirus from UK and around the world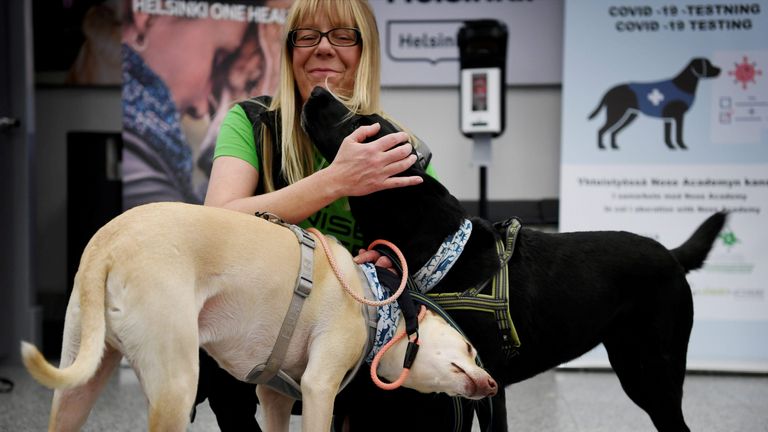 Finnish airport operator Finavia said: "We are among the pioneers. As far as we know no other airport has attempted to use canine scent detection on such a large scale against COVID-19.
"This might be an additional step forward on the way to beating COVID-19."
But for those hoping for a quick play with a puppy there's bad news – there's no direct interaction between passengers and the pooches.
Those who are tested will also receive a conventional check to make sure the animals are accurate.
:: Subscribe to the Daily podcast on Apple Podcasts, Google Podcasts, Spotify, Spreaker
One of the dogs – an eight-year-old greyhound mix called Kossi, learned to identify the scent in just seven minutes.
The scheme will see passengers swab their skin with a wipe, which they will then drop into a cup to be given to one of the dogs to check in a separate booth.
The operation is being run in this way to protect passengers' anonymity and also protect dog handlers.
Anyone who tests positive will be sent to an information point at the airport.
Finland has reported 9,195 cases of COVID-19 and 341 deaths, according to Johns Hopkins University which has been tracking the outbreak.
In the UK, the charity Medical Detection Dogs is running a programme to see if it can train hounds to be able to sniff out the coronavirus.
The scheme is being run with the London School of Hygiene and Tropical Medicine and Durham University, with funding from both the government and the public.