N.Y. attorney general to probe fatal police shooting of man with 'profound mental health problem'
Get breaking news alerts and special reports. The news and stories that matter, delivered weekday mornings.
The New York attorney general opened an investigation Thursday into the fatal shooting of a black Brooklyn man who police believed was pointing a gun at them — but who was actually holding a piece of pipe with a knob at one end.
Saheed Vassell was mortally wounded on Wednesday afternoon when at least three plainclothes and two uniformed officers fired 10 shots at him, police said. He was pronounced dead later at Kings County Hospital.
"The Attorney General's Special Investigations and Prosecutions Unit has opened an investigation into the death of Saheed Vassell," Amy Spitalnick, spokeswoman for Attorney General Eric Schneiderman, said in a statement. "We're committed to conducting an independent, comprehensive and fair investigation."
In New York state, the attorney general has the power to act as a special prosecutor in cases where police officers kill unarmed people.
New York City Mayor Bill de Blasio called Vassell's death "a tragedy by any measure" but stopped short of blaming the police. He said the responding officers were unaware that he had "a profound mental health problem."
"People in the community thought he had a weapon and was aiming at residents," he said Thursday. "There is a lot more we need to know."
The NYPD has not identified any of the officers involved in the shooting.
But Vassell's family and friends told The Daily News that the slain man was a "quirky neighborhood character" who was widely known to be bipolar and who had been hospitalized multiple times before for mental issues — often after crossing paths with police.
"Every cop in this neighborhood knows him," local resident John Fuller told The New York Times.
The death of the 34-year-old Jamaica-born welder happened on the 50th anniversary of Dr. Martin Luther King's assassination. And outraged the black residents in the Crown Heights neighborhood, some of whom carried Black Lives Matter signs, yelled "Murder!" at the officers guarding the scene of the fatal shooting.
Vassell was killed less than three weeks after police in Sacramento, California fatally shot a 23-year-old black man named Stephon Clark in the mistaken belief he was holding a gun. It turned out to be a cell phone.
In the California case, body cameras captured the moment when Clark was cut down by a fusillade of 20 shots.
None of the New York City police officers who fired on Vassell were wearing body cameras, NYPD Chief of Department Terence Monahan said after the shooting. He insisted the doomed man threatened the officers.
"The suspect then took a two-handed shooting stance and pointed an object at the approaching officers," Monahan said, holding a surveillance photo of a blurry figure standing beside an ice machine with his arms outstretched.
The chain of events that ended with Vassell dying at the corner of Utica Avenue and Montgomery Street began around 4:40 p.m. Wednesday when police responded to three 911 calls that described a black man in a brown jacket waving what the witnesses mistakenly described as a silver gun, Monahan said.
A surveillance image obtained by NBC New York showed Vassell running and pointing the pipe at a person on Utica Avenue.
Witnesses said the officers jumped out an unmarked car and started shooting without warning.
"It's almost like they did a hit," 40-year-old Jacob Hinds told The Daily News. "They didn't say please. They didn't say put your hands up, nothing."
So far, the NYPD has not said whether the officers who fired the fatal shots warned Vassell first.
His 15-year-old son, Tyshawn, said there was no reason to kill his dad.
"He cared for everybody," he told The Daily News. "If you saw him, he'd always be in a laughing mood. You would never catch him down."
COVID-19: Overweight and obese more likely to test positive for the virus | World News

People with a higher body mass index – BMI – are more likely to test positive for the virus that causes COVID-19, a study suggests.
Research by Chaim Sheba Medical Centre in Israel found that people who are overweight – with a BMI between 25 and 29.9 – are 22% more likely to contract the virus.
The figure for people who are obese – with a BMI between 30 and 34.9 – rises to 27%.
For those who are morbidly obese, with a BMI at or above 40, the risk increases by 86%.
Some 26,030 people were tested between 16 March and 31 December last year and 1,178 positive COVID-19 tests were recorded.
Even after age, sex, and other medical conditions were considered, the relationship between BMI and the probability of a person testing positive remained significant, the researchers found.
The study authors concluded: "As BMI rises above normal, the likelihood of a positive SARS-CoV-2 test result increases, even when adjusted for a number of patient variables.
"Furthermore, some of the comorbidities associated with obesity appear to either be associated with an increased risk of infection or to be protective."
People with diabetes were 30% more likely to test positive, while the likelihood was six times greater for those with high blood pressure.
But the risk was reduced for those with a history of stroke (by 39%), ischemic heart disease (by 55%) and chronic kidney disease (by 45%).
The researchers were unable to explain this.
Also, research by the IRCCS Policlinico San Donato research hospital in Italy, has found that abdominal obesity is more important than general obesity in predicting the severity of chest X-ray results in coronavirus patients.
Abdominal obesity is fat around the waist as opposed to general obesity, which is determined by BMI.
Chest X-ray severity scores were calculated by dividing each lung into three zones, with each one scoring a maximum of three points – zero for normal lung performance and three for poor function.
Some 59% of patients with abdominal obesity had a high score, whereas this was true for just 35% of those without abdominal obesity.
Hamas says it has fired rockets at Jerusalem in retaliation for Israeli 'aggression' | World News

A number of rockets have been fired at Jerusalem and the surrounding area, says Israel's military.
It came minutes after an ultimatum from Hamas for Israel to withdraw forces from two flashpoints in the city.
The group claimed responsibility for the attack, calling it retaliation for Israeli "crimes and aggression".
Israel carried out a missile strike in northern Gaza in response, causing injuries, according to Palestinian media.
Seven rockets had set off sirens in Jerusalem and the surrounding area and rocket fire from Gaza was continuing, said Israel's military.
A civilian car was hit and one person injured by one of the rockets, it added.
Sky's Mark Stone, in Jerusalem, said he understood a number of rockets were fired at an area 10-15km west of the city.
He said Israel's Iron Dome defence system is believed to have destroyed most, but that a few landed.
Stone said the attack was almost certain to mean a "heavy night of bombardment" on Hamas base the Gaza Strip this evening.
It comes as clashes in Jerusalem between Palestinians and Israeli forces reportedly injured more than 300 people.
Police fired stun grenades and tear gas inside the Old City's Al Aqsa Mosque during the violence this morning.
Israeli authorities said "extremists" had thrown stones and other objects at officers, and onto a road near the Western Wall where thousands of people had gathered to pray.
COVID-19: Ireland getting back to normal as restrictions on gatherings, shopping and travel ease | World News
Life in Ireland is returning to normal with the easing of some lockdown restrictions including rules affecting meeting people, travel and shopping.
From Monday, click-and-collect services and in-store shopping by appointment will be allowed as part of a phased reopening of non-essential retail.
The sector is scheduled to reopen fully in a week.
Latest pandemic updates from the UK and around the world
Close contact services, such as hairdressers, can resume, while COVID restrictions on travel between counties have lifted and some of the limitations on indoor and outdoor social gatherings have eased.
From today, up to 50 people can attend religious services in Ireland, including weddings and funerals, although a maximum of six will be allowed at indoor wedding receptions and 15 at outdoor celebrations.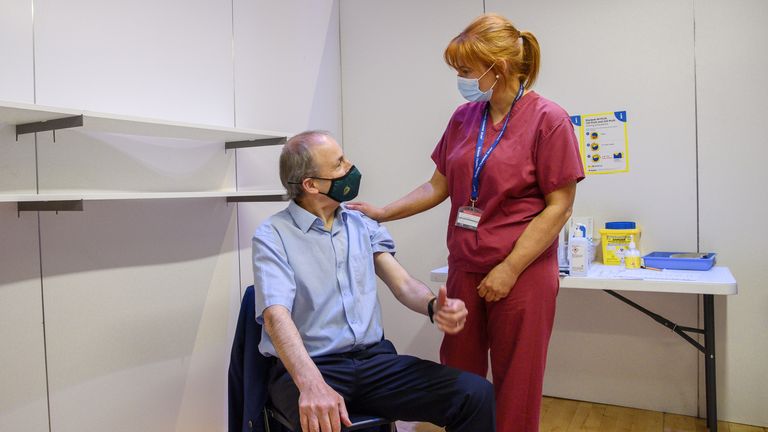 Three households, or up to six people from individual households, can now meet outdoors, including in private gardens.
People from vaccinated households can also meet with an unvaccinated household indoors without masks or social distancing.
But it applies only if they are not at risk of severe illness and there are no more than three households present.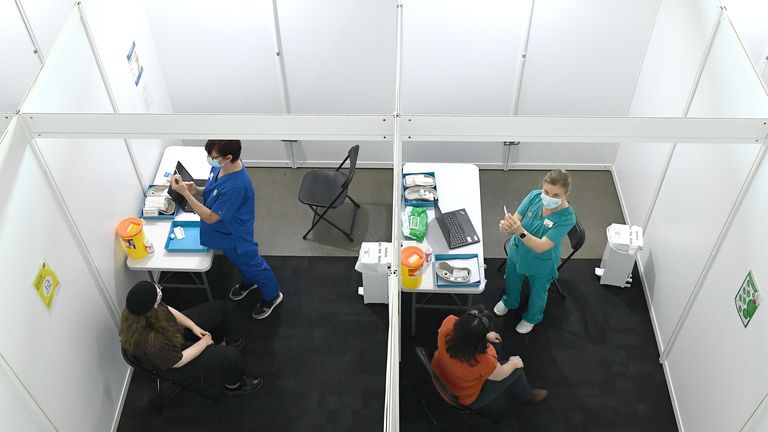 This measure will enable grandparents to meet and hug other family members indoors.
Many museums, galleries and libraries are now able to reopen and groups, or pods, of up to 15 adults can get together for team sports training.
The maximum permitted capacity on public transport has also increased to 50%.
Next Monday retail will reopen fully, with a variety of other restrictions due to lift in June.
On Sunday, Ireland's leader, Taoiseach Micheal Martin, said he hoped Ireland could look forward to a good summer.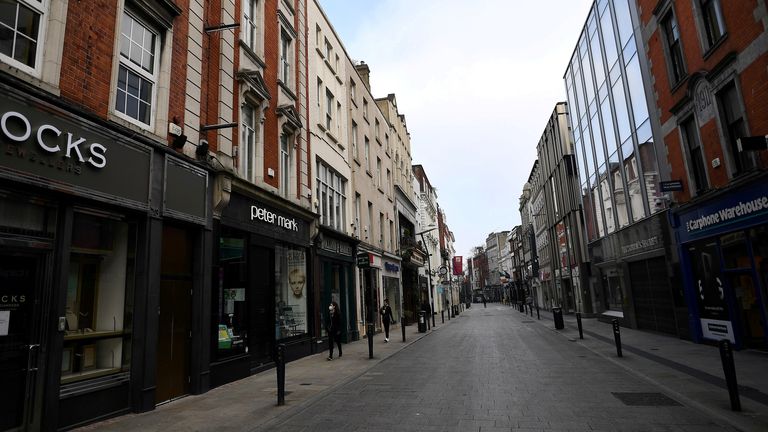 Speaking after he received an AstraZeneca vaccine in Cork, Mr Martin said: "I think we're making great progress as a country.
"I think people have done extremely well in responding to the various guidelines over the last number of months and the results are that we are emerging from this pandemic.
"We're set to have a good summer if we can keep this progress going and the vaccination is certainly helping in bring down severe illness and bringing down death and hospitalisation, so keep with it and we're making progress."
Subscribe to the All Out Politics podcast on Apple Podcasts, Google Podcasts, Spotify, Spreaker
Ireland's vaccination programme continues to gather pace and on Friday the country achieved a record for the number of jabs administered in one day, 52,000.
Another two coronavirus-related deaths and 514 more cases were recorded by the country's department of health, bringing the total number of confirmed cases to almost 253,000.
A total of 4,921 people have died after catching the illness.