Gluten-free diets may be popular with the Goop crowd, but wellness is more than a fad
Get the Think newsletter.
Recently I polled my Facebook friends about rich people's complaints. It was for a novel I'm working on, but one answer felt uncomfortably close to real life: "obscure dietary restrictions."
This displeased me. As a person suddenly forced to abide by obscure dietary restrictions — my stomach abruptly started objecting to most foods that fall under the category of "delicious" eight months ago — it pains me that people view the concept of nutritional medicine as akin to Gwyneth Paltrow Kegel-ing jade eggs.
I am, well, fed up — both with our cultural attitudes about food and health and with our medical system's stubborn refusal to embrace their connections. Make no mistake: The disdain for those connections is as prevalent among some doctors as it is the public.
Yet those connections are becoming clearer every day. Some 70 million Americans suffer from gastrointestinal troubles, notes the National Institute of Health, a number that is on the rise. According to a study in the Journal of Gastroenterology and Hepatology, functional gastrointestinal disorders, like constipation and bloating, "rank second in the causes of absence from work or school."
In some ways, I have the ultimate first world problem, both in the figurative sense — I'm not living in a war zone — and the literal: Research reveals that the American sugar- and fat-filled diet, overuse of antibiotics, painkillers and anti-bacterial everything could be leading to a kind of gastrointestinal crisis. The Centers for Disease Control and Prevention notes that the prevalence of food allergies among adults in the U.S. increased by 50 percent between 1997 and 2011. Meanwhile the age of onset for food allergies, Type 2 diabetes and Crohn's disease is decreasing every year, and the childhood obesity rate is nearing 20 percent.
Say what you will about the alt-science of trendy (and high-priced) health movements, but something really is awry with the American stomach.
Say what you will about the alt-science of trendy (and high-priced) health movements, but something really is awry with the American stomach.
Justin Sonnenburg, associate professor of microbiology and immunology at Stanford University and co-author of "The Good Gut: Taking Control of Your Weight, Your Mood, and Your Long Term Health," has been studying what's going wrong, and has a few hypotheses. "C–sections, antibiotics, baby formula, overuse of sanitizers," are wreaking havoc on our insides, Sonnenbug told me. "And of course, diet." He calls them the "insults of industrialization," working together to diminish the microbial community in our guts.
Again, science is on our side, here. Significant research shows the connection between restricting certain categories of foods and improving your stomach bacteria, or microbiome. There is a developing body of research showing that replenishing your microbiome can directly affect your mental health.
So why the disdain for people trying to cure their ailments nutritionally? One reason is the rise of lifestyle wellness media, the Goop.com-style websites that position real scientific research on the same plane as jade eggs, face yoga and "brain dust"— "an enlightening edible formula alchemized to align you with the mighty cosmic flow needed for great achievement." These are things with no proven efficacy that are available only to those with disposable income (that jade egg, for instance, will run you $66 and may actually be bad for you. Meanwhile, 1.5 ounces of brain dust costs $38).
Such sites make "wellness" a commodity, obtainable by only the elite. And as a result wellness, we seem to have collectively agreed, is for the wealthy. Even articles debunking such sites make fun of those who might argue the merits of dietary restrictions generally.
But just because gluten-free food is a fad and a billion-dollar global industry doesn't mean there isn't real scientific and medical merit in investigating the steep rise of celiac disease, among other GI disorders. And related, just because celebrities are avoiding soy and wheat and downing chia-flax-açai concoctions doesn't mean that the rest of us shouldn't be following in their footsteps, at least part of the time.
The problem is, it's incredibly hard to do so unless you can afford their shoes. Take my experience. For eight months I tried every Western medical test and intervention — everything covered by insurance — I could. I tried endoscopies, prescription drugs, allergy tests, breath tests, sonograms and blood tests, all of which showed or did nothing. (If you're wondering about poop tests: Not a single doctor asked for one.)
At each stop, the doctors — GIs, internists, allergists — would dismiss the connection I'd discerned between certain foods and severe bloating and stomach pain, often snidely. Some outright scoffed at the notion of food sensitivities or intolerances. If the world of commerce is all too ready to embrace the microbiome path, the medical world remains all too resistant to it. While game to treat the symptoms, no doctor I saw was keen to discern their cause.
If the world of commerce is all too ready to embrace the microbiome path, the medical world remains all too resistant to it.
"You should go see a functional medicine person," one doctor, at a boutique medical firm requiring a yearly $200 membership fee, told me. "Their focus is the root cause of the problem."
"Shouldn't that always be the focus?" I asked. She didn't answer.
None of the people she referred me to took insurance, so I steered clear until I was almost completely out of energy, my face had aged five years and I hadn't successfully digested a meal in weeks. Only then did I begin to see functional medicine experts. These practitioners tested various foods' affect on my muscles and nervous system and handed me a list of foods they said my body was reacting negatively to: gluten, dairy, sugar, soy, corn, fruit (excluding limes, lemons and berries but including tomatoes), nuts and, weirdly, millet.
Out of desperation, even though I was suspicious of their methods, I heeded their nutritional warnings and restricted my diet, among other negligible activities like drinking an apple cider vinegar cocktail and swishing raw sesame oil in my mouth for 20 minutes each morning.
Here's what happened: I started getting better. It seems those foods were indeed making me sick. My body is starting to heal without them.
But that healing is a function of privilege. While not rich, I can splurge for a $125 functional medicine appointment, and I live in New York City, near a food co-op that gives me affordable access to a lifetime's worth of organic kale and quinoa.
People who suffer from GI ailments and live in food deserts may not have the option of restricting their diets — rich people get to complain about dietary restrictions because they are the ones with the privilege of embracing them.
So in some ways, my Facebook friend was correct. People who suffer from GI ailments and live in food deserts may not have the option of restricting their diets — rich people get to complain about dietary restrictions because they are the ones with the privilege of embracing them. I saw this reflected recently at an eatery called Dr. Smood's, which bills itself as "the healthiest café in Manhattan" and proclaims: "Our food is the new health care."
They could be right. But who can afford their $10.95 detox kale juice and $14.95 wild-caught salmon sandwich on "power bread?"
Rather than dismissing attempts to solve medical problems nutritionally, we should make that part of the standard of care. My health insurance company, if it's truly interested in my health, should be as willing to pay for zucchini-beet patties as it is to prescribe me Prilosec.
We are under the impression that it costs more to prescribe a diet than a pill. But a 2013 report by the Union of Concerned Scientists found that it could cost $17 billion less a year if Americans ate the daily amount of fruits and vegetables recommended by the USDA.
"Gastroenterologists are the ones giving advice and they know surprisingly little about the gut microbiome, because it's not what they learn," says Sonnenburg. Meanwhile, he notes, the world of wellness lifestyle media and products "can play off this hype," he said, "and fill a void."
We need to see changing our diets as part of a larger health plan, and not as the insincere whims of navel-gazing Goop.com readers with endlessly deep pockets. Yes, I am saying, "Please don't make fun of me for asking which menu items are gluten-free." But I'm asking on behalf of every broken tummy person who is trying to heal. In order for a shift in the medical establishment to occur, we need a shift in our cultural attitude first. Wellness should be a right, not a fad.
Lisa Selin Davis is the author of two novels, "BELLY," and "LOST STARS." She has written about a variety of topics including urban planning, the environment and parenting.
Typhoon Molave: Landslides leave at least 15 people dead in Vietnam | World News
Soldiers and heavy machinery are being used to search for survivors in Vietnam after landslides triggered by Typhoon Molave killed at least 15 people.
Vietnamese officials said the typhoon, which brought winds of up to 150km (93 miles) per hour, is the worst to hit the country in decades.
The landslides hit remote areas in the central province of Quang Nam late on Wednesday.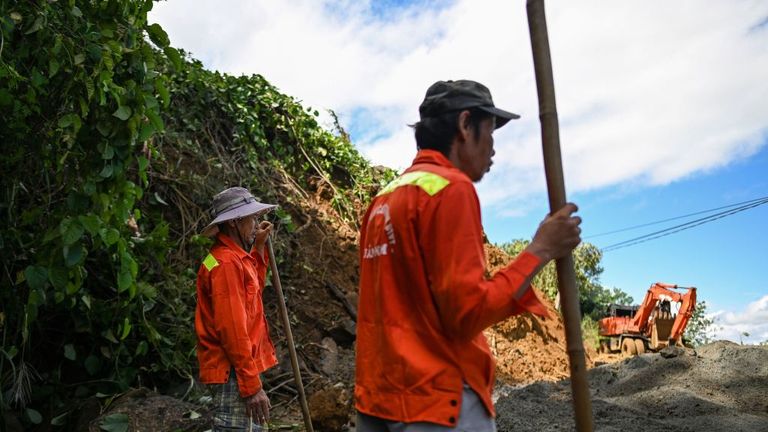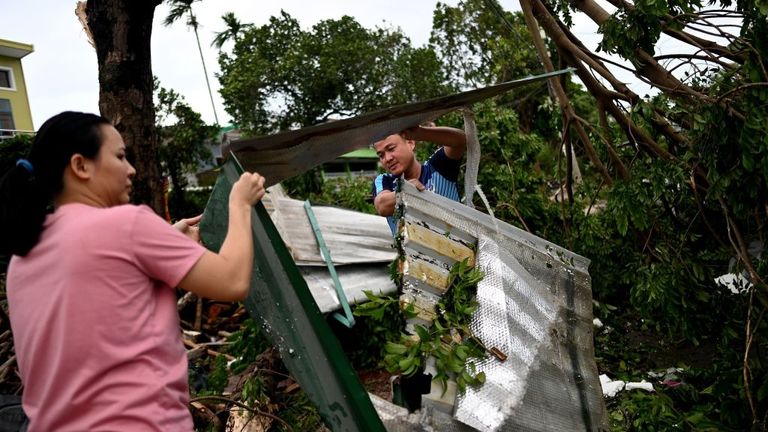 State television said the bodies of 12 fishermen have also been found after their boats sank while trying to return to shore two days ago.
Two navy vessels were mobilised to find them and 14 people are still missing.
Details of possible casualties and damage in other typhoon-hit regions have not yet been reported amid the stormy weather and could cause the toll to rise.
Rescuers dug up eight bodies in Tra Van village in south central Quang Nam province where a hillside collapsed on houses.
In Tra Leng village, about 45km (28 miles) from Tra Van, another landslide buried a community with several houses occupied by about 45 people, including four who managed to escape.
"We can forecast the storm path or the amount of rain, but can't predict when landslides happen," deputy prime minister Trinh Dinh Dung said in a statement.
"The road is covered under deep mud and heavy rains are still lashing the area, but rescue work has to be carried out
quickly."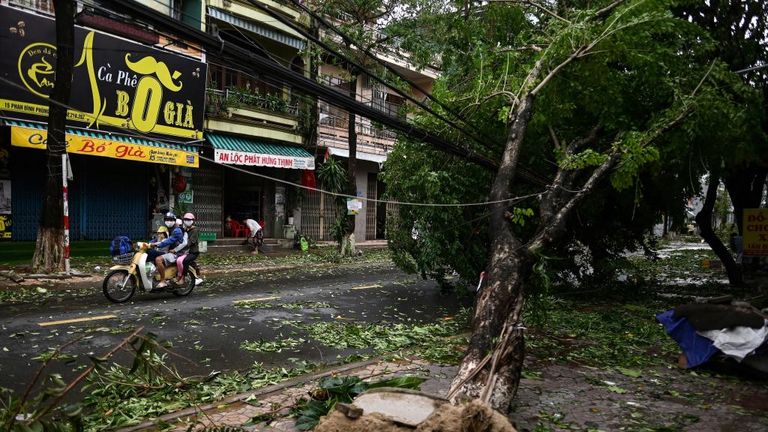 Many villages in the remote region remain inaccessible due to damaged roads and further landslides.
Mr Dung said helicopters would be used to reach the most difficult areas if necessary.
Tra Leng and Tran Van lie in the mountains of Quang Nam, in a coastal region still recovering from floods that killed 136 people and destroyed hundreds of houses earlier this month.
The typhoon blew off roofs of about 56,000 houses and caused a massive blackout in Quang Ngai province, where 1.7 million people endured the typhoon onslaught overnight in darkness, according to local media.
At least 40,000 people were evacuated to emergency shelters and authorities shut down offices, factories and schools.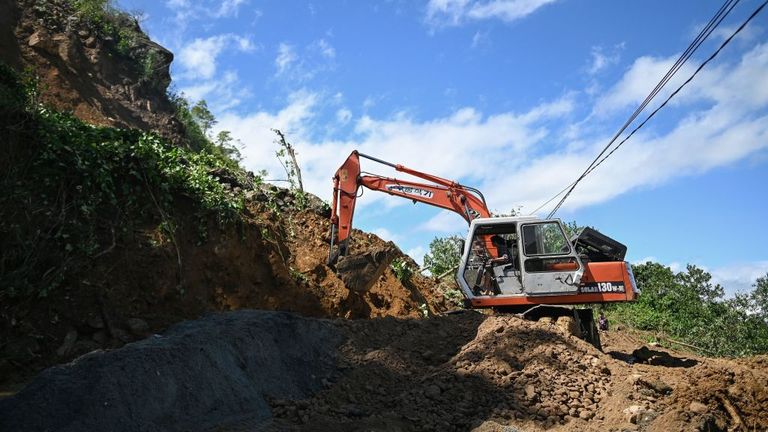 Forecasters have said heavy rain of up to 700mm (27.5in) will continue in parts of central Vietnam until Saturday.
The typhoon left at least 16 people dead in the Philippines before blowing across the South China Sea to Vietnam.
Clash of cultures in France between freedom of expression and Islamic blasphemy beliefs | World News
A clash of cultures is gripping France and impacting French interests in the Muslim world.
It has pitched the right to freedom of expression – including viewing cartoons of the Prophet Muhammad – against what that means for Muslims who regard such actions as blasphemous.
The motivation for the triple murders in Nice by a knifeman shouting "Allah Akbar" and why someone else threatened people with a handgun close to the city of Avignon is not yet known.
Same too for a separate knife attack against the French consulate in the Saudi city of Jeddah.
Three people killed in France – live updates as separate incidents unfold in Nice and Avignon
Shots fired as police storm church

Yet these incidents – which all happened on Thursday – come almost two weeks after a teenager beheaded a school teacher on the outskirts of Paris after Samuel Paty, 47, showed his students caricatures of the Prophet Muhammad during a lesson.
President Emmanuel Macron, a strong supporter of secularism and free speech in his country, praised Mr Paty as a "quiet hero".
The teacher's violent death gave added impetus to a plan unveiled by the French leader at the start of October aimed at reforming the practice of Islam in France and creating – as Mr Macon described it – "an Islam of Enlightenment".
This kind of language triggered anger among Muslim countries, in particular from Turkey.
President Recep Tayyip Erdogan went as far as calling his French counterpart mentally damaged.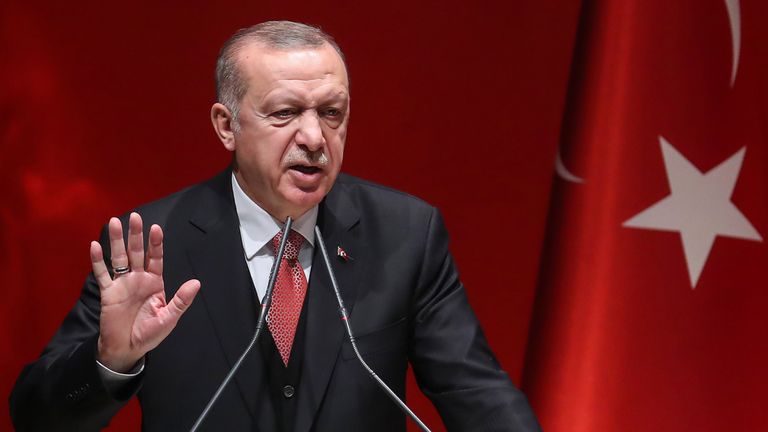 Mr Erdogan has also called for a boycott of French products.
Lord Ricketts, a former UK ambassador to Paris and former national security adviser, described what is happening in France as a "big cultural clash".
In the wake of the attacks, he said the French authorities should be reaching out to Muslim leaders in the country to condemn the violence and help bring people together.
France needs a "calming voice from the Muslim community", he said.
Coronavirus: India hits eight million COVID cases amid fears festival season could cause further spike | World News
India has become the second country to record more than eight million coronavirus cases amid fears of a further spike due to a series of upcoming Hindu festivals – including Diwali.
The health ministry's most recent figures reported 49,881 infections and 517 deaths in the past 24 hours – bringing the overall case count above 8.04 million and the death toll to 120,527.
While nationally the daily infection rate is dropping, India's capital of New Delhi saw its worst day on record on Wednesday, with 4,853 new coronavirus cases – having managed to get below 1,000 per day last month.
Live coronavirus updates from the UK and around the world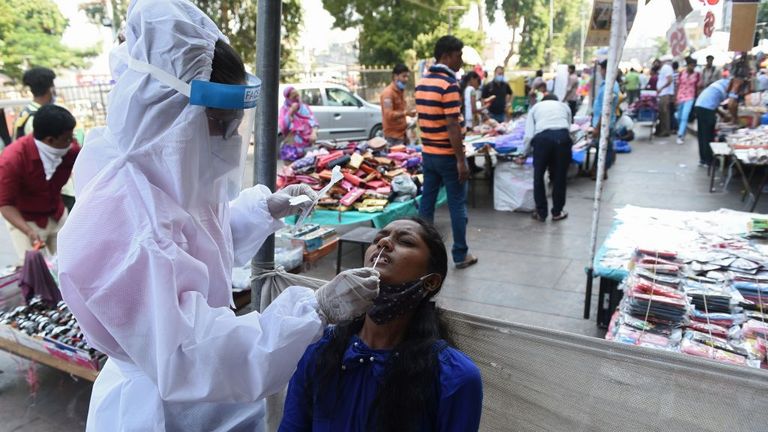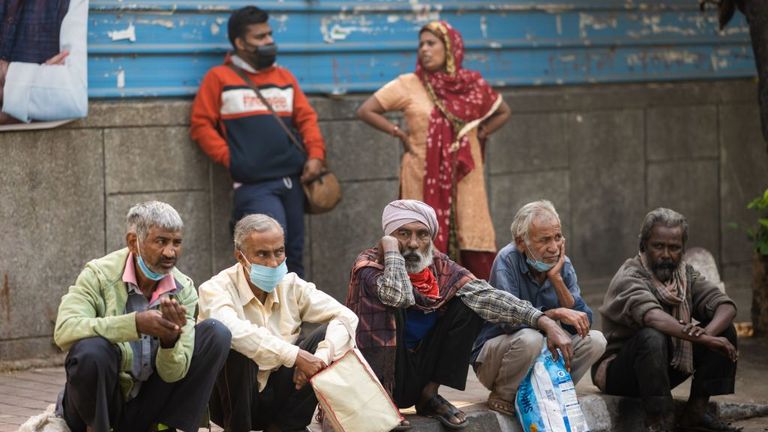 Dr T Jacob John, a retired virologist who was head of the virology department at CMC Hospital, Vellore, southern India, warned that in most parts of the country the infection curve was never flattened.
He added that the festival season was likely to cause an uptick in the rate of infections as people gathered without masks and social distancing.
Arvind Kumar, a doctor in the capital city, said: "I am shocked, but not surprised. There seems to be a sense of complacency in adhering to mask and distancing norms."
Shops, businesses, trains and cinemas have all been reopening, and the country's third-largest state of Bihar – with its population of 122 million – has been holding elections.
And as well as it currently being the month of Kartika – the holiest month in the Hindu calendar, with festivals including the five days of Diwali upcoming – winter will bring cooler and drier weather.
There are concerns that the conditions – and the associated increase in pollution levels – will lead to an increase in COVID-19 cases and other respiratory illnesses in the world's most populous democracy.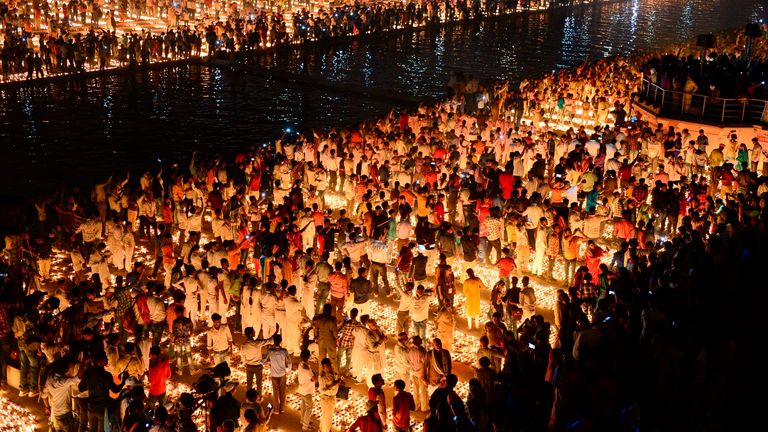 India reported few cases of the coronavirus at the start of the pandemic, but saw a steep rise once summer started.
In August alone, the country added more than two million new cases, and in September another three million people caught the virus.
On the worst day, there were 97,894 new infections – and the most deaths recorded in 24 hours was 1,275.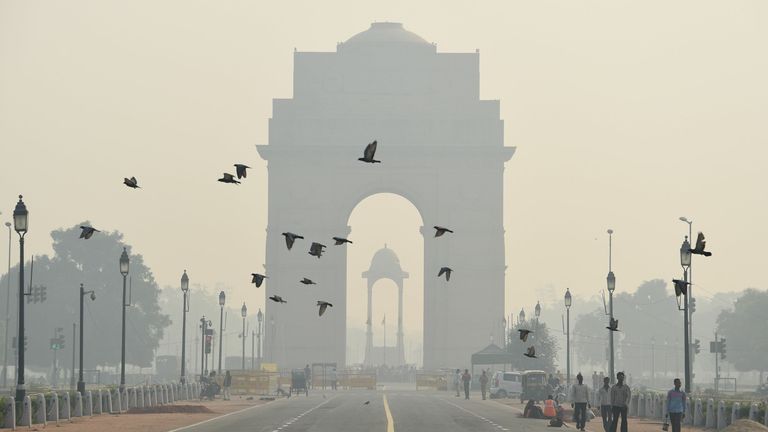 Only the US has more confirmed cases of COVID-19, with more than 8.8 million, while India sits third worldwide to America and Brazil's death counts of 227,700 and 158,456 respectively.
The Indian government has promised to provide a coronavirus vaccine to 250 million people by July of next year.