Employers can read 'private' DMs without telling workers
Get the Better newsletter.
Digital technology makes it easy for your employer to monitor everything you do — the email, instant messages or texts you send and receive — on any company-provided digital devices or work platforms.
Even so, it's easy to see how employees could assume — mistakenly — that by using Slack, the popular instant-messaging workplace collaboration tool, their direct messages (DMs) are limited to those in their small user group.
The company, based in San Francisco, says more than 6 million U.S. workers use its service every day.
Slack, which stands for "Searchable Log of All Conversations and Knowledge" was originally a way for team members to communicate, but it has "expanded to become a more social platform as well," as noted in a recent news report in the Daily Mail. Slack has chat rooms (called channels) and users can include emojis in their messages to express reactions.
"Slack is a work collaboration tool, plain and simple," said attorney Bradley Shear, founder of Digital Armour, a privacy consulting service based in Bethesda, Maryland. "It's definitely not a watercooler area or any type of place where you should be saying inappropriate things – whether it's about your boss or other people, or talking about politics, religion or anything of that nature. Slack is something that should only be used specifically for productivity and work purposes."
Heads Up: Slack is changing its privacy policy
Under the updated policy, which starts on April 20, compliance reports are being discontinued and the downloading options expanded.
Under the updated policy, which starts on April 20, compliance reports are being discontinued and the downloading options expanded.
Since 2014, Slack customers who bought its premium "Plus" plan have been able to download and read communications transmitted via Slack through what's called a "Compliance Export." This cannot be done in real time, but the archive downloaded can go back to when that Slack group was created. When an export is done, employees in that Slack group are automatically notified that the boss is watching.
Under the updated policy, which starts on April 20, compliance reports are being discontinued and the downloading options expanded. According to the Slack website:
All slack workplace owners will be able to export and download "all public channel data: messages and links to files included."
Those who buy the Plus plan can request access to "a self-service export tool" to download "all data from their workspace." This includes "content from public and private channels and direct messages."
Workspace owners who use the free and standard plans can use this export tool, under limited circumstances. They must first provide a valid legal process, consent of the members (employees) and a requirement or right under applicable laws.
Automatic notices to employees will be discontinued. The employer will now decide whether users will be told their conversations are being exported.
Slack says its policy changes are related to the pending implementation of the European Union's General Data Protection Regulation (GDPR) which takes effect on May 25. This is an attempt "to achieve a balance across regulatory requirements, user expectations and customer needs," the company said in a statement to NBC News BETTER.
"To protect employees in the workplace, laws and regulations govern specifically what access is permitted by employers," the statement said. "When extracting any data from Slack, employers must always comply with all employment laws, contracts and privacy protections for employees. Further, the employer is in charge of data that resides on the tools and network that they make available to their employees and employers take the lead on notifying employees about their policies and practices regarding technology, data and information in the workplace."
A company spokesman told NBC News Better there are situations where an employer may not want its workers to know their communications are being monitored, such as accusations of sexual harassment or corporate espionage. And some companies are required by regulation to archive all communications, he said.
Note: You can still check to see if your boss has access to your DMs. Mashable recently outlined the procedure:
"When logged into Slack, head on over to slack.com/account/team. Once you're on that page, scroll down to the bottom. Under "Exports," check and see what privileges are listed. If it only lists "PUBLIC DATA CAN BE EXPORTED," then the spokesperson assured us that your boss cannot pull your DMs. If it lists private data, well, then you're out of luck."
Is Slack Help Center Info Misleading?
Use a corporate computer, mobile device or even Wi-fi network and you should not expect anything you do on that device, service or platform that is paid for by the company to be private.
"Private employers generally have policies, which they have their employees acknowledge, preserving their right to review any messages employees store, create, or transmit on the company's electronic equipment," said Dan Eaton, an employment attorney and lecturer at San Diego State University's Fowler College of Business. "Alerting its employees to these policies enables a company to defeat its employees' later claim to a reasonable expectation that any such communication would remain private between the employee and the recipient."
But there's this: Slack's Help Center page on "Direct messages and group DMs" states that these are "private, ad hoc conversations between two or more members. DMs are best for quick discussions, like making lunch plans." A group DM can include up to nine people and are useful for "short conversations that don't need a whole channel, like planning a surprise party," the site says.
This is followed by a tip box that reads: "Only the members of a DM can search for its contents in Slack."
That box had a slightly different message before: "Only the members included in the DM can view and search for its messages and content." Slack says it was simply updated to reflect current policies.
Conversations via Slack are clearly subject to the employee's corporate privacy, Slack told NBC BETTER, and the company does not believe its privacy policy is confusing or unclear. Some privacy experts we contacted disagree.
NYC mayor orders 500 staff, including himself, to take unpaid leave as budget crisis worsens | US News
New York City mayor Bill de Blasio will furlough himself and almost 500 staff members for a week to close a budget gap created by the coronavirus pandemic.
Everyone at the mayor's office in City Hall will be placed on unpaid furlough for a week at some point between October and March 2021, it was announced on Wednesday.
A total of 495 staff members will be affected, according to The New York Times.
Due to the economic shutdown arising from the coronavirus outbreak, the city has lost $9bn (£6.9bn) in revenue and has made $7bn (£5.4bn) of cuts to the city's annual budget.
Mr de Blasio has said the week-long furlough will save around $1m (£770,000) – and it may serve as a useful symbol while he continues negotiations regarding broader payroll savings with labour unions representing employees.
He said "it was not a decision I made lightly", adding: "To have to do this is painful for them and their families, but it is the right thing to do at this moment in history."
Alongside the furloughs being made, the budget for the mayor's office will be 12% smaller this year.
Mr de Blasio said there are no planned pay cuts for any New York City employees, but added: "We never know what the future brings."
He has warned that 22,000 employees in the city may lose their jobs if savings aren't found in negotiations with labour unions.
The mayor added: "We're going to be in a horrible budget situation for years, so this borrowing capacity is to give us a fallback no matter what happens up ahead."
When asked whether furlough could be applied to the city's entire workforce of over 320,000, Mr de Blasio said: "Everything's on the table. We're talking to labour about any and all ways to save money."
He is also seeking more borrowing power from state lawmakers in Albany – the capital city of New York state – who have so far been resistant towards the idea.
Hurricane Sally: 'Nightmare' storm moving at just 3mph wipes out section of brand-new bridge | World News
Hurricane Sally has brought heavy winds and devastating flooding to America's Gulf Coast – with the slow-moving storm destroying a section of a new bridge in Florida.
Officials have confirmed that part of the Three Mile Bridge in Pensacola, which was being reconstructed after being damaged by previous hurricanes, is missing.
The storm brought "life-threatening" 105mph winds and rain across the American South when it made landfall as a category two storm at 4.45am local time on Wednesday.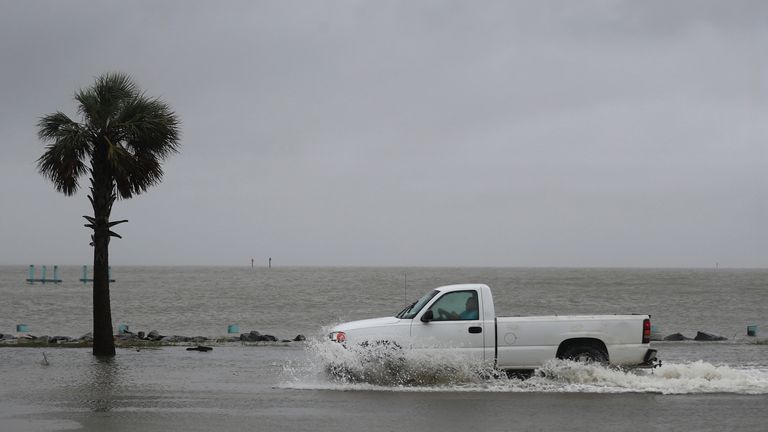 Parts of Pensacola have been swamped with floods as high as 1.5m (5ft).
Sally is moving at speeds of just 3mph – about as fast as a person can walk – and officials have warned that thousands of people will need to flee rising waters in the coming days.
David Morgan, the sheriff of Escambia County in Florida, said: "There are entire communities that we're going to have to evacuate. It's going to be a tremendous operation over the next several days."
Although the storm is expected to weaken as it moves farther inland, heavy rainfall is expected to continue well into Thursday.
One forecaster in the Alabama city of Mobile, David Eversole, said: "It's not common that you start measuring rainfall in feet. Sally's moving so slowly, so it just keeps pounding and pounding and pounding the area with tropical rain and just powerful winds. It's just a nightmare."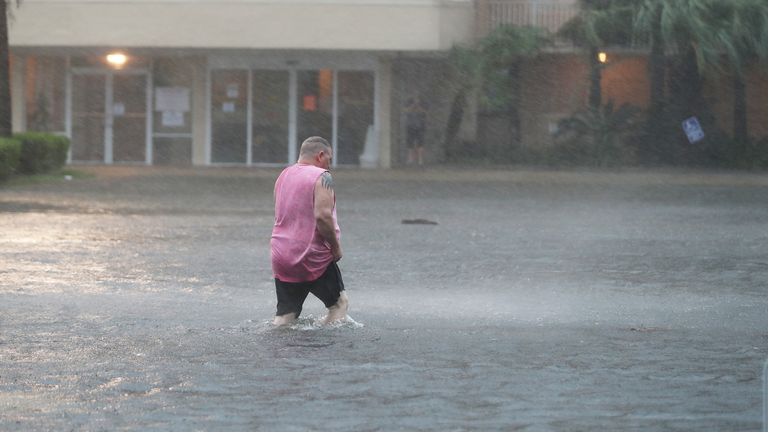 Sally is the second hurricane to hit the Gulf Coast in less than three weeks, in what has been one of the busiest hurricane seasons ever recorded.
Forecasters have nearly run through the alphabet of storm names, with two-and-a-half months left in the season.
Storm Teddy, currently in the Atlantic, is expected to strengthen into a hurricane in the coming days.
"We've only got one name left," said Jim Foerster, a chief meteorologist. "That's going to happen here soon, Wilfred, and then we'll be into the Greek alphabet."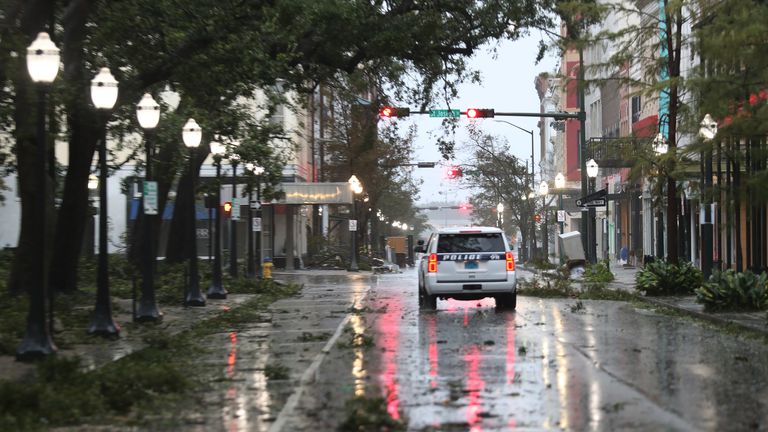 Like the wildfires raging on the West Coast, the onslaught of hurricanes has focused attention on climate change, which scientists say is causing slower, rainier, more powerful and more destructive storms.
Hundreds of people have had to be rescued from their homes – but in some areas, such as Orange Beach in Alabama, these operations have been hampered by the treacherous conditions.
The city's mayor, Tony Kennon, said: "We got a few people that we just haven't been able to get to because the water is so high. But they are safe in their home, as soon as the water recedes, we will rescue them."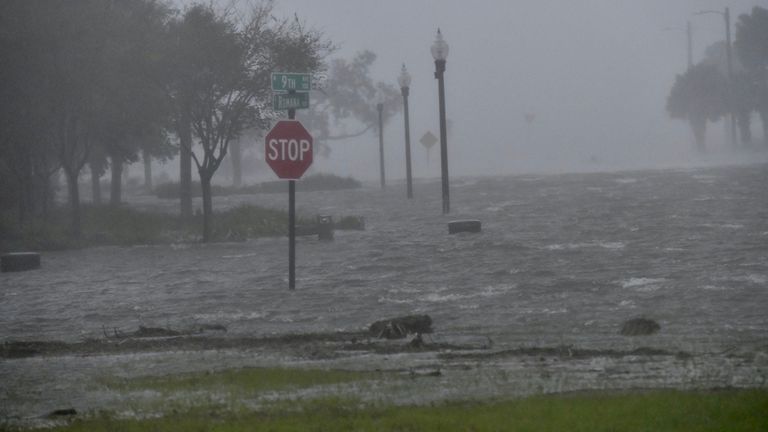 The National Hurricane Centre has likened Sally's slow pace to that of Hurricane Harvey, which inundated the Texas city of Houston back in 2017.
President Donald Trump issued emergency declarations for parts of Florida, Alabama, Mississippi and Louisiana.
White House press secretary Kayleigh McEnany said on Fox News that Trump was in contact with the states' governors and ready to help "in every way possible".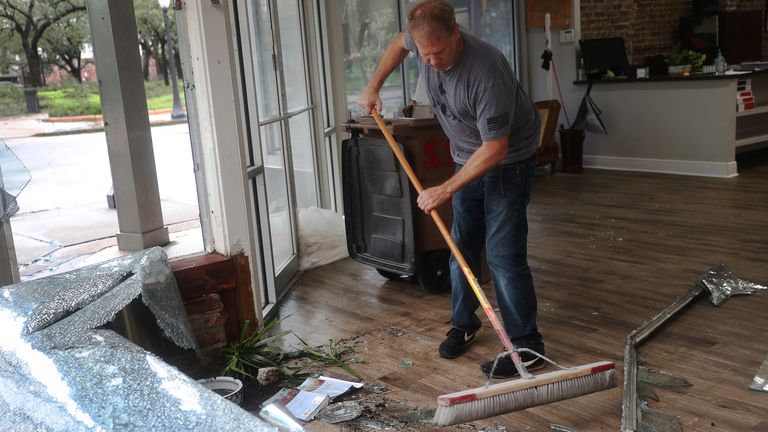 Officials have urged those in affected areas to stick to text messages for contacting family and friends to keep cellphone service open for 911 calls.
Nearly 500,000 homes and businesses have lost electricity.
World's oldest sperm found perfectly preserved after 100m years – and it's gigantic | Science & Tech News

Perfectly preserved sperm dating back 100 million years has been found trapped in amber.
The sperm – roughly 50 million years older than the previous oldest fossil record – belonged to an ostracod, a class of small crustacean that has been in existence for 450 million years. It was found in modern-day Myanmar.
Based on the fossil record and the behaviour of modern ostracod, the male used their fifth limb to transfer extraordinarily long but immotile sperm into the female.
The sperm was enormous too, being about 4.6 times the length of the female's body.
"This is equivalent to about 7.3m (23ft) in a 1.7m (5.5ft) human," said Dr Renate Matzke-Karasz of the Ludwig Maximilian University of Munich.
Sadly for the two little critters, they were enveloped by tree resin while in the throes of passion.
This resin fossilised into amber, preserving not just the lovers but dozens of other ostracods.
Researchers from the Chinese Academy of Sciences were able to use X-rays to obtain high-resolution images of the remarkably well-preserved soft parts of the ostracods.
These images provided direct evidence of the male clasper, the sperm pumps, the hemipenes (they had two penises) as well as the female's eggs and seminal receptacles (they had two of these as well) which contained the giant sperm.
Fascinatingly, research has revealed that sexual behaviour in ostracods, which features a wide number of morphological adaptations, has remained pretty much unchanged over the past 100 million years.
There are a number of conflicting theories about what the evolutionary value of such long sperm would be, according to Dr Matzke-Karasz.
"For example, experiments have shown that in one group, a high degree of competition between males can lead to a longer sperm life, while in another group, a low degree of competition also led to a longer sperm life," she added.
Whatever the mechanism, the findings reveal "that reproduction with giant sperm is not an evolutionary extravagance on the brink of extinction, but a serious long-term advantage for the survival of a species," Dr Matzke-Karasz concluded.