Air Force identifies Thunderbird pilot killed in F-16 crash in Nevada
Get breaking news alerts and special reports. The news and stories that matter, delivered weekday mornings.
The Thunderbirds pilot killed in a fighter jet crash in central Nevada was an experienced aviator who had logged more than 3,500 flight hours, the Air Force said Thursday.
The Air Force identified the pilot as Maj. Stephen Del Bagno, who had joined the elite Thunderbirds team this season and was on a routine demonstration training flight when he was killed on Wednesday. He was alone in the F-16 Fighting Falcon when it departed from Nellis Air Force Base and crashed at the Nevada Test and Training Range at about 10:30 a.m. PT (1:30 p.m. ET).
"We are mourning the loss of Major Del Bagno," Brig. Gen. Jeannie Leavitt, commander of the 57th Wing at Nellis Air Force Base, said in a statement. "He was an integral part of the team, and our hearts are heavy with his loss."
The Thunderbirds said in a statement that the team's participation this weekend at an expo at the March Air Reserve Base in Southern California had been canceled.
The squad is known as "America's Ambassadors in Blue." The highly trained pilots perform aerobatic formations and maneuvers during military ceremonies.
Del Bagno, of Valencia, California, was known as a slot pilot who flew the team's No. 4 jet. He graduated from Utah Valley State University in 2005, and after joining the Air Force served as an evaluator pilot and logged more than 3,500 total flight hours, according to his Thunderbirds biography.
An investigation has been opened into the cause of the accident, which was the third U.S. military aircraft crash this week.
Four crew members were killed when a Marine CH-53E Super Stallion helicopter crashed Tuesday in California during a training mission along the U.S.-Mexico border west of El Centro.
Iran foreign minister Mohammad Javad Zarif 'sorry' for leaked comments about General Soleimani | World News
Iran's foreign minister has apologised for recorded disparaging comments he made about a senior general that were leaked.
The recordings of Mohammad Javad Zarif included frank comments on powerful Iranian General Qassem Soleimani, who was killed by a US drone strike in 2020.
The attack at the time brought the US and Iran to the brink of war and General Soleimani's funeral procession drew millions of people to the streets.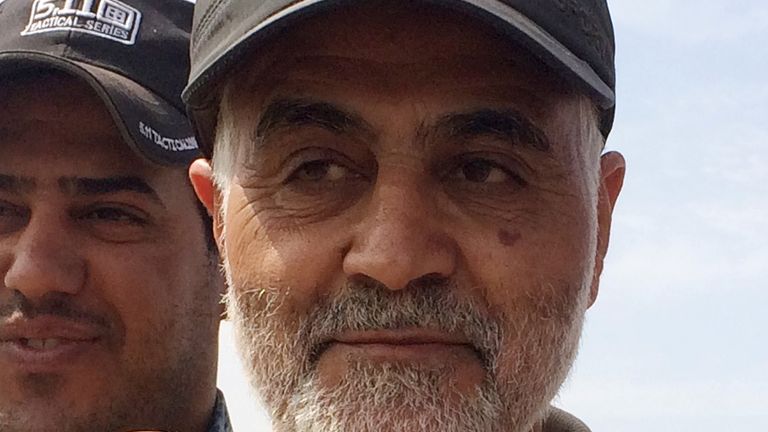 In the recordings, Mr Zarif criticised General Soleimani's separate relations with Russia and for refusing to stop using the national carrier Iran Air for Syrian operations despite his objections. Iran Air has been sanctioned by the US.
The comments have caused anger in Iran less than two months before presidential elections.
Mr Zarif said in an Instagram post on Sunday he hoped General Soleimani's family would forgive him.
"I hope that the great people of Iran and all the lovers of General (Soleimani) and especially the great family of Soleimani, will forgive me," he said.
Mr Zarif's leaked comments were highly controversial in Iran, where officials mind their words amid a cut-throat political environment that includes the powerful Revolutionary Guard, ultimately overseen by the country's supreme leader.
:: Listen to the Daily podcast on Apple Podcasts, Google Podcasts, Spotify, Spreaker
Besides the criticism of General Soleimani, a top commander in the guard, Mr Zarif's leaked remarks included cutting references to the limits of his power in the theocracy.
Mr Zarif could be heard saying at various points in the seven-hour tape that it was not meant for release.
"If I had known that a sentence of it would be made public, I certainly would not have mentioned it as before," he said in his Instagram post.
Mr Zarif has said he will not run for president in the upcoming election. Some had suggested him as a potential candidate to challenge hard-liners in the vote.
Israel stampede: Country mourns as pressure mounts over inquiry into fatal festival crush | World News
Israel is observing a day of mourning for the 45 people crushed to death at a Jewish religious festival – as questions are raised about how the disaster happened.
At least 45 people died during the Lag B'Omer event on the slopes of Mount Meron, where annual commemorations include all-night prayers, singing and dancing.
The overnight annual pilgrimage by crowds of up to 100,000 ultra-Orthodox Jews to the tomb of a second-century Jewish mystic, Rabbi Shimon Bar Yochai, in northern Israel ended in a deadly stampede, which became one of the country's worst civilian disasters.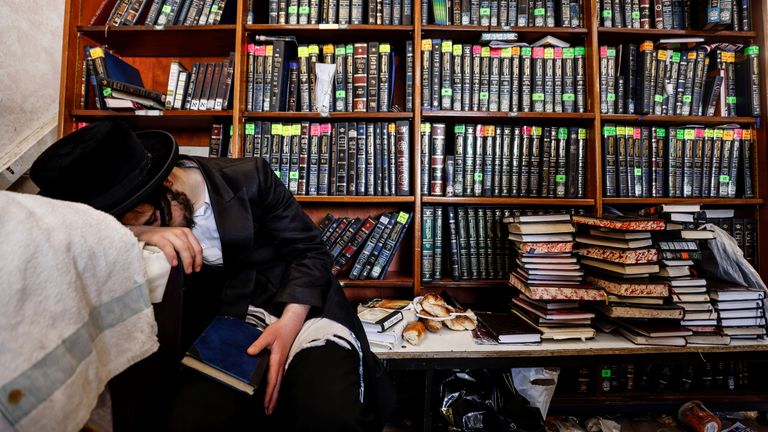 Witnesses described a pyramid of bodies, including several children, in a packed and slippery metal-floored passageway.
More than 100 people were injured.
And on Sunday, Israeli culture minister Hili Tropper called for an inquiry to investigate how the tragedy happened.
Devastated families had to identify loved ones caught in the crush and bury them just hours after the disaster in accordance with Jewish tradition.
More than 20 of the victims were buried that night, including 13-year-old Yedidya Chayut.
At the boy's funeral, his father Avigdor Chayut said: "I only wish that we achieve even a small fraction of your
stature in studies and holy devotion."
At least 45 people were killed in the stampede at the festival

An unknown number of US citizens, two Canadians and an Argentinian were also among the dead.
US media has identified some of those killed, including a 19-year-old student who was in Israel on a gap year.
Israeli Prime Minister Benjamin Netanyahu, who was among those donating blood for the victims, declared Sunday a national day of mourning.
He called the crush one of the "heaviest disasters" in Israeli history and promised a full investigation to ensure it did not happen again.
The Queen sent a message of condolence to the president of Israel, saying she was "deeply saddened" by the incident and that her thoughts were with the families of those who lost their lives.
Israeli media reported that state investigators had labelled the pilgrimage site as hazardous years ago.
Questions were also being raised as to whether the government and police had been reluctant to reduce the crowd
size so as not to anger influential ultra-Orthodox rabbis and politicians.
"A thorough inquiry is required," Mr Tropper told Kan public radio.
"This terrible disaster will help everyone understand … that there should be no place where the state does not set the rules."
The justice ministry said investigators would look into whether there had been any police misconduct.
North Korea: Biden's words a 'big blunder' showing 'intent to enforce hostile policy' | World News
North Korea has reacted furiously to the US president's description of the country as a security threat, calling it a "big blunder".
The response came after Joe Biden addressed Congress for the first time last week, saying nuclear programmes in North Korea and Iran are a "serious threat to America's security and world security".
He promised to work with allies to address the problems through "diplomacy and stern deterrence".
But Kwon Jong Gun, a senior North Korean Foreign Ministry official, was unimpressed, saying talk of diplomacy was being used to cover up US hostile acts.
In a statement reported by news agency KCNA, he said: "(Mr Biden's) statement clearly reflects his intent to keep enforcing the hostile policy toward the DPRK as it had been done by the US for over half a century.
"It is certain that the US chief executive made a big blunder in the light of the present-day viewpoint.
"Now that the keynote of the US new DPRK policy has become clear, we will be compelled to press for corresponding measures, and with time the US will find itself in a very grave situation."
Mr Kwon was not specific about the steps North Korea could take.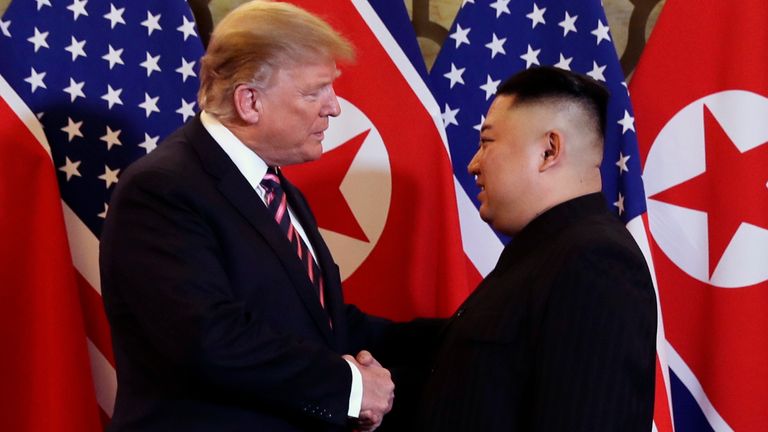 Another unnamed foreign ministry spokesperson said the US had insulted the dignity of North Korea's leadership by criticising the country's human rights situation.
The criticism is a provocation that shows the US is "girding itself up for an all-out showdown" with North Korea, the spokesperson said, adding that it will be answered accordingly.
On Friday the White House said that a review of US policy towards North Korea had been completed.
Press secretary Jen Psaki did not give details of the review's findings but she said the Biden administration would seek a middle ground between Donald Trump's "grand bargain" and Barack Obama's "strategic patience" approaches.
Mr Trump met North Korean leader Kim Jong Un a number of times during his presidency, each time claiming to have made major progress.
But no deal was ever reached.
North Korea is reluctant to surrender the nuclear weapons it sees as necessary for its own protection – especially without some form of sanctions relief.
The US had wanted steps towards denuclearisation before committing to the easing of sanctions.
Markus Garlauskas, a senior fellow with the Atlantic Council and former US national intelligence officer for North Korea, said Pyongyang's words are a reminder that the challenge is about more than terminology or tactics.
"The differences between the Kim regime and the United States are much more fundamental," he said.
He added that Mr Kim does not intend to give up nuclear weapons or reform North Korea's political system but it is difficult to see how the US could embrace a nuclear-armed North Korea that abuses human rights.