YouTube shooter repeatedly posted grievances about the video platform
Get breaking news alerts and special reports. The news and stories that matter, delivered weekday mornings.
Nasim Aghdam repeatedly aired her frustration with YouTube on online accounts and on a website linked to her, before she allegedly opened fire on the company' headquarters in San Bruno, California on Tuesday.
Aghdam, 38, was found dead on Tuesday from a self-inflicted gunshot wound after injuring four people during her shooting rampage, according to local police officials. On Wednesday, the police said they believed Aghdam was motivated by her anger with YouTube.
YouTube policy changes in recent years have made it harder for video creators to earn money on the platform. YouTube has also narrowed what is considered acceptable — and monetizable — content, moves that have sparked heated criticism from some video creators.
"We know that she was upset with YouTube, and we've determined that right now that's the motivation we've identified," San Bruno Police Chief Ed Barberini said, adding that it has not been determined whether her actions were related to terrorism.
The Mountain View Police Department released a statement saying that Aghdam's father informed them his daughter was in the area after "she made a series of vegan videos for her channel on YouTube and that the company had recently done something to her videos that had caused her to become upset."
According to a review NBC News conducted of Aghdam's online account history, she posted videos to four YouTube channels, with most of her work focused on veganism and animal rights. Other videos featured bizarre parodies or exercise videos set to strange music. Her four channels collectively earned more than 9.2 million views on YouTube since she joined the site in 2010.
Aghdam's grievances with YouTube stemmed from changes made by the company to how it pays video creators for ads shown before or alongside their videos. Those changes, some of which occurred less than three months ago, included making it harder for video creators with smaller followings and view counts to make any money from their videos. Some in the YouTube community have criticized those changes.
Aghdam's issues with YouTube appeared to have swelled last year. A file in an image folder on Aghdam's personal website showed what purported to be an email she received that appeared to come from an email account associated with YouTube's legal support team in response to a complaint she levied on June 16, 2017. The picture is not displayed on Aghdam's website, but was uploaded to an index folder containing all images hosted on the site.
In the email, which was added to her website June 27, 2017, Aghdam complains of "discrimination and hatred problems against me," alleging a "huge drop in views" after she began uploading videos in Farsi and Turkish.
Aghdam appended a message in a red font atop a screenshot of her purported interaction with a YouTube support account.
"My email to youtube legal team. Subject is discrimination, but their response is about account activation!"
YouTube did not respond to requests for comment from NBC News.
Aghdam's family confirmed her YouTube usage to NBC News on Tuesday. In a brief phone interview, her father, Ismail Aghdam, said the platform had "stopped everything and now she has no income."
Ismail Aghdam later told the San Jose Mercury News that his daughter "was angry" and "hated" YouTube.
Charts on the analytics site SocialBlade show that Aghdam suffered a substantial decline in viewers and subscribers on her main YouTube channel in June of 2016. Aghdam opened several other YouTube accounts over the course of 2016 and 2017, all of which received noticeable drops in viewership within months of their creation.
It's unclear how much money Aghdam was making for her views, but SocialBlade estimated that she was making between $661 and $10,614 a year between her four YouTube accounts.
"On YouTube, a creator can estimate that they'll get somewhere between 25 cents and $4 per 1,000 views. These data points change from time to time and are not an exact science, but generally hold true for most channels," SocialBlade CEO Jason Urgo told NBC News.
A website registered in Aghdam's name and a hub for her now deleted YouTube accounts, NasimSabz.com, prominently features several videos about YouTube demonetization under the heading "Youtube filtered my channels to keep them from getting views!"
The section includes three active YouTube videos, one by vlogger Casey Neistat, another from a channel called "Bite Size Vegan," and another by InfoWars writer Paul Joseph Watson.
Watson and InfoWars, a website known to frequently spread conspiracy theories that was founded by Alex Jones, have posted dozens of YouTube videos and articles decrying what they deem to be "censorship" at YouTube. One of InfoWars' videos on YouTube from last month is titled "These are the videos they want banned from YouTube" and has the "Internet censorship is here and it's time to fight back."
InfoWars has amped up attacks against the tech giant since receiving two "strikes" against YouTube's community standards. YouTube has said that it would ban InfoWars from YouTube if it has to issue a third "strike."
YouTube currently allows its users to monetize their videos through the YouTube Partner Program. The program now requires a channel to reach 4,000 watch hours over the course of the past 12 months and 1,000 subscribers to be eligible for partnership, according to YouTube's help center.
Those rules were put in place on Jan.16, 2018 as part of an effort to to weed out "bad actors" like spammers and impersonators, according to Variety. The prior threshold for a channel to qualify for monetization was 10,000 views.
"This is part of an effort to strengthen our requirements for monetization so spammers, impersonators, and other bad actors can't hurt our ecosystem or take advantage of creators, while continuing to reward those who make our platform great," YouTube says in the post.
Once a user meets the requirements, they must agree to the terms of service, sign up for AdSense, a Google program that allows publishers to run advertisements, and set their monetization preferences before submitting videos for review by the site. If approved, the channel can begin to make money.
But YouTube's monetization process was not always this rigorous.
The "Adpocalypse," what many major YouTubers refer to as the beginning of the site cracking down on who is and isn't monetized, began in early 2017.
Many content creators say the rules have been nebulous and some claim they often have videos demonetized that do not violate the company standards. Because of this, many YouTubers have turned to Patreon, a subscription service for content creators, or YouTube Red, a Google subscription service that costs its users $9.99 a month.
Biden inauguration: Former FBI boss James Comey warns of serious threat from 'armed, disturbed people' | US News
Former FBI boss James Comey has told Sky News he is worried about the threat of violence from "armed, disturbed people" at Joe Biden's inauguration.
Mr Comey, who was controversially fired by Donald Trump in 2017, says the threat has "to be taken very, very seriously" following the deadly Capitol riots.
The new US president will be sworn in on Wednesday amid high security after the FBI identified more than 200 people threatening violence in "concerning online chatter".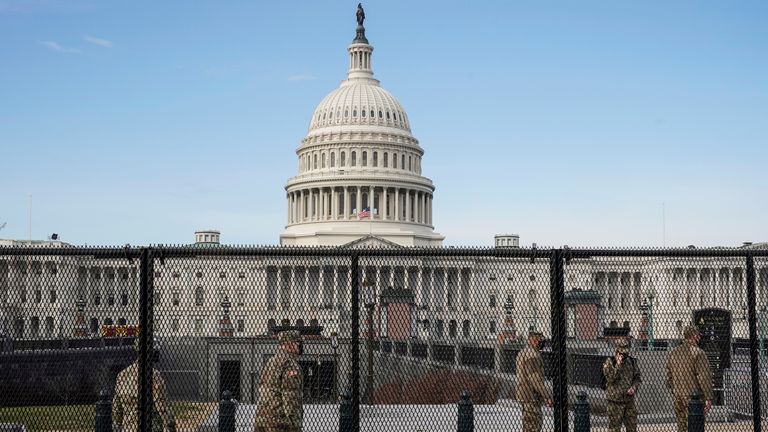 Fuelled by unsubstantiated claims by Mr Trump, many of his supporters believe there was fraud in November's election.
"I'm worried because there are armed, disturbed people who are in this state of mind where they believe their country is being taken from them," said Mr Comey.
"So it's a threat law enforcement in the States has to take very seriously.
"At the same time, I know that we have the capability, investigative and the tactical capability on scene, to protect these locations and so I am optimistic that the threat will be neutralised, but it has to be taken very, very seriously."
On Friday a man was arrested in Washington DC when a gun and hundreds of rounds of ammunition was found in his vehicle after he allegedly showed police an unauthorised inauguration credential.
Wesley Allen Beeler, from Virginia, has been charged with carrying a concealed weapon, possessing an unregistered firearm, unlawful possession of ammunition and possession of a large capacity ammunition feeding device, police told NBC News in Washington.
The National Guard has been descending on Washington to guard government buildings ahead of inauguration day, when officials say 21,000 will be on hand.
The storming of the Capitol building – the heart of US democracy – on 6 January caused widespread shock in America and across the world, with Trump supporters running amok and leaving five people dead.
Police were hugely outnumbered and have been criticised over how easy it was for the rioters to seize control.
Mr Comey told Sky News he was "sickened" by the violence and angry at the failure to defend the building, despite the obvious threat.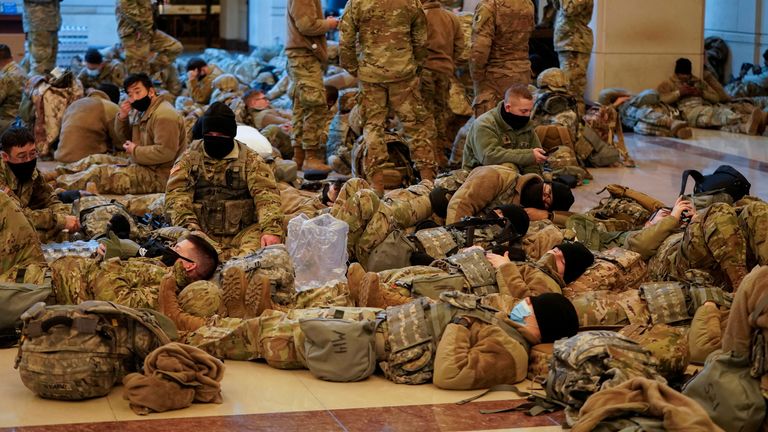 "I was angered by the apparent failure to defend a hill, it [the Capitol] sits on a hill with 2,000 officers assigned to it on a daily basis, the failure to defend the hill. It just mystifies and angers me," he said.
"It is going to be important for our country to understand that failure."
He added: "9/11 we were told was a failure of imagination, we didn't anticipate the way the terrorists might come at us; this didn't require imagination.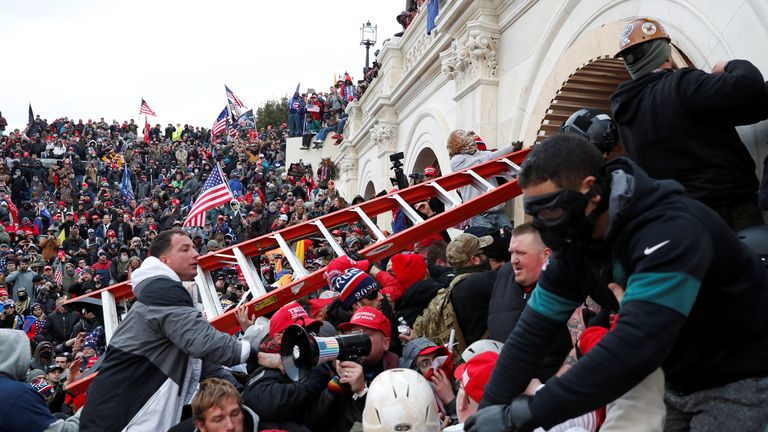 "This was all over the internet and the group literally walked slowly down Pennsylvania Avenue towards the Capitol so it was just a failure and we need to know why at all levels so that we don't let it happen again."
Mr Comey is a fierce critic of Mr Trump – who he has previously compared to a mafia boss.
He was fired by the president in May 2017 while the FBI was investigating Russian meddling in the 2016 presidential election.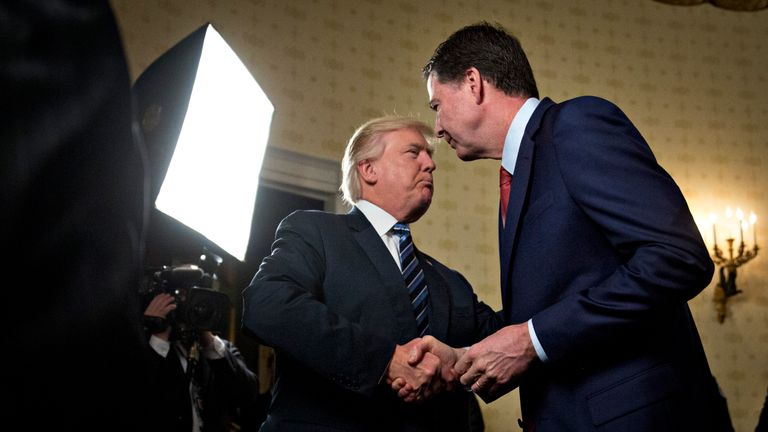 White House officials accused him of mishandling the investigation into the email practices of Hillary Clinton, but Mr Trump later confirmed the "Russia thing" was on his mind when he made the decision.
Mr Comey, 60, has just released a new book called Saving Justice: Truth, Transparency, and Trust, described as a "clarion call for a return to fairness and equity in the law".
The disgust among many Americans over the Capitol riots this week led Mr Trump to become the first president to be impeached twice after the House of Representatives charged him with inciting the riot.
No date has been set for the political trial that follows, where senators can also vote by a simple majority to block Mr Trump from ever standing for election again.
You can watch the full interview on Sophy Ridge on Sunday from 8.30am.
'Very special moment' as Nepali sherpas are the first to reach top of K2 in winter | World News

A team of Nepalese sherpas has made history by scaling the world's second-highest peak during the winter season.
The 10 climbers reached the summit of Pakistan's K2 on Saturday, more than 20 years after the first winter attempt to reach the 8,611m summit.
The secretary of Pakistan's Alpine Club, Karrar Haideri, said four international teams had arrived about a month ago to scale the mountain but the Nepalis were the only ones to succeed so far.
He said that the sherpas had been spread across different teams but had formed a new group so they could claim the historic feat for their country.
Previously nobody had managed to get higher than 7,750m in the winter – a record set almost two decades ago – but on Saturday the weather conditions were fair enough for the team to push ahead.
The group comprised Nirmal Purja, Gelje Sherpa, Mingma David Sherpa, Mingma G, Sona Sherpa, Mingma Tenzi Sherpa, Pem Chhiri Sherpa, Dawa Temba Sherpa, Kili Pemba Sherpa, and Dawa Tenjing Sherpa.
Mr Purja said in an Instagram post that the moment the group reached the top of the mountain was "very special".
"The whole team waited 10m below the summit to form a group then stepped onto the summit together while singing our Nepalese national anthem.
"We are proud to have been a part of history for humankind and to show that collaboration, teamwork and a positive mental attitude can push limits to what we feel might be possible."
K2 is on the Pakistan-China border and during the winter, winds on K2 can reach more than 125mph and temperatures can drop as low as -60C (-76F).
The mountain was first climbed in 1954 by Italian Achille Compagnoni and he is among only 367 people to have completed the ascent. Some 86 people have died trying.
Uganda presidential election: Incumbent Yoweri Museveni declared winner | World News
Yoweri Museveni has been declared the winner of the Uganda presidential election with 58.64% of the total votes, according to the country's electoral commission.
The incumbent will now serve a sixth term as president of the east African nation following some of the worst pre-election violence since the 76-year-old took office in 1986.
His man opposition, singer Bobi Wine, has alleged vote rigging throughout the process and had strong support in urban centres where frustration with unemployment and corruption remains high. He won 3.48 million votes, or 34.8% of the total, according to the commission.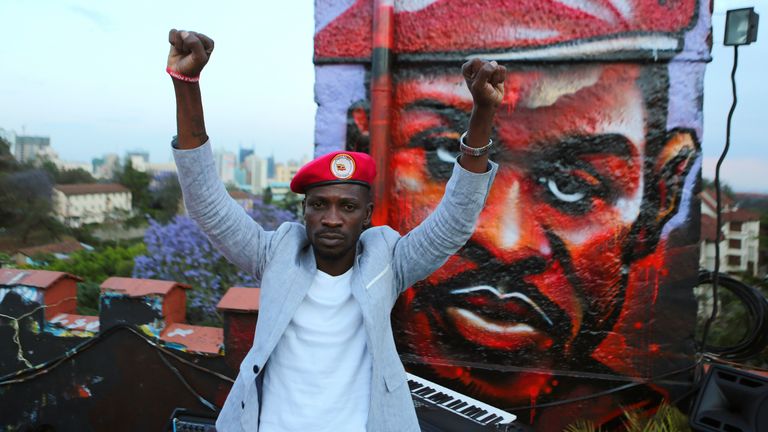 Mr Wine and other opposition candidates were often harassed, and more than 50 people were killed when security forces halted riots in November after he was arrested.
Although Mr Museveni holds on to power, at least 15 of his cabinet ministers including the vice president were voted out, with many losing to candidate's from Mr Wine's party, according to local media.
Mr Wine, real name Kyagulanyi Ssentamu, claimed victory on Friday and said he had video evidence of vote-rigging and insisting "every legal option is on the table" to challenge the election results.
He was beaten up and arrested several times during the election campaign but was never convicted of any charge. He later wore a flak jacket and said he feared for his life.
On Saturday, Mr Wine said his home in the capital Kampala had been surrounded by soldiers and the military was now allowing him to leave.
The army's deputy spokesman, Deo Akiiki, told Reuters security officers were assessing threats to Mr Wine if left his home.
Monitoring of the elections has been hit by the arrest of independent observers and the denial of accreditation for members of the UN observer mission.
Tibor Nagy, the top US diplomat for Africa, tweeted on Saturday that "Uganda's electoral process has been fundamentally flawed", adding that the "US response hinges on what the Ugandan government does now".