Trump could have used the migrant caravan to his advantage. But he's not that smart.
Get the Think newsletter.
Donald Trump is threatening to place soldiers on the U.S.-Mexico border to face off against a thousand-strong caravan of Central Americans who started in Honduras and are slowly winding their way through Mexico and plan to enter los Estados Unidos. And I can't wait: Those refugees need Marines to protect them from ICE agents.
Our Coast Guard should have bulk tents, water, food and showers for everyone who shows up. And who better than Uncle Sam's troops to offer a formal apology for directly and indirectly creating the conditions that have forced so many Central Americans to make the trek north over the past four decades in the first place.
So, unlike many of my fellow open-borderistas, I welcome news that Donald Trump wants to send in the troops. It'll be far more cost-effective than a border wall, and it wouldn't hurt to call back our fighting men, women and transgender people from all of our imperialist adventures across the world and place them on la frontera.
Trump could've actually scored some points off of this situation and not put our national security at risk by trying to construct a modern-day (and likely equally successful) Maginot Line.
Alas, my dream won't happen. Brigades-on-the-border are just another saber rattle by a president who always seeks scapegoats among the most oppressed of people. He's found a perfect candidate with this caravan, which he has already cast as evil-doers whom must be kept out, regardless of the Constitution, federal law or the federal budget.
The bizarre thing is that Trump could've actually scored some points off of this situation and not put our national security at risk by trying to construct a modern-day (and likely equally successful) Maginot Line.
The caravans are nothing new — they've gone on for a decade with little incident. They're organized by Pueblos Sin Fronteras, a group that created them to help Central Americans safely reach the United States. Their real raison d'etre, however, is to protest the treatment those migrants face not in the U.S. but Mexico: There, Central Americans have historically had to fend off immigration authorities, cartels, gangs and just general pendejos who mess with people they should treat as family, not foes.
If Trump were smart, he would've just shut up, let the migrants march and allowed Mexican authorities to do his dirty work.
If Trump were smart, he would've just shut up, let the migrants march and allowed Mexican authorities to do his dirty work. They have done so with gusto in the past (last year, they deported about 76,000 Central Americans), and just announced that they plan to stop the caravan. If Trump's Mexican-hating staffers were smart, they would've explained to their Dear Leader the caravan's context in monosyllables, and he could've shot off some tweets that mocked Mexico's hypocritical approach to illegal immigration within its own borders — and, with that, Latino activists would've had to begrudgingly agree.
Or, say the full caravan ended up in El Paso and did ask for asylum. Again, Trump could've just remained mum, add more immigration judges to adjudicate each case (and about 80 percent of Hondurans who apply for asylum in the U.S. are normally denied) and washed himself clean of their decisions. Instead, he's creating another M.S. St. Louis — the ship filled with nearly 1,000 European Jewish refugees who sought asylum from the United States in 1938 after Cuba rejected it. Then-President Franklin Roosevelt declined and sent the boat back to Europe; about a quarter of the ships passengers were eventually killed in Nazi concentration camps.
But this administration just ain't that smart. Now, with people actually paying attention, Mexico is playing itself off to the world as a just nation by vowing to treat the Pueblos Sin Fronteras caravan with compassion, even allowing some Central Americans to apply for asylum there. And Trump has further inflamed Latinos and civil libertarians in the United States who are aghast at the idea of our armed forces deployed along our border, trying to keep desperate and poor women and children from entering this country to escape the violence that our own foreign policies set in motion.
This administration just ain't that smart.
If any of those in the caravan get sent back and die at the hands of the people they traveled so far to escape, the blood will be on Trump's hands. Our troops deserve better than to be used as pawns in some reality-show reality by a power-hungry and attention-seeking tyrant.
Gustavo Arellano is the California columnist for the Los Angeles Times opinion section, and a lifelong resident of Orange County, California, where he's reported on the craziest county on Earth for over 16 years.
Duke and Duchess of Sussex announce partnership with Procter & Gamble – a company she once called sexist | US News
Decades after criticising Procter & Gamble as a child, the Duchess of Sussex and her husband have announced a partnership with the firm.
Meghan and Harry's Archewell Foundation confirmed a long-term relationship with the American multi-national consumer goods company on Tuesday.
It will focus on gender equality, inclusive online spaces, resilience and impact through sport.
As an 11-year-old, Meghan had written to Procter & Gamble to complain about the sexist language used in a TV advert.
Her letter-writing campaign objected to a dish soap commercial which included the line: "Mothers around America are fighting greasy pots and pans".
She appeared in an interview with Nick News in 1993 to talk about her campaign, saying she was "furious" about the advert.
She added: "When they heard this, the boys in my class started saying: 'Yeah that's where women belong – in the kitchen'."
Meghan successfully lobbied the firm to change the line from "mothers around America" to "people all over America".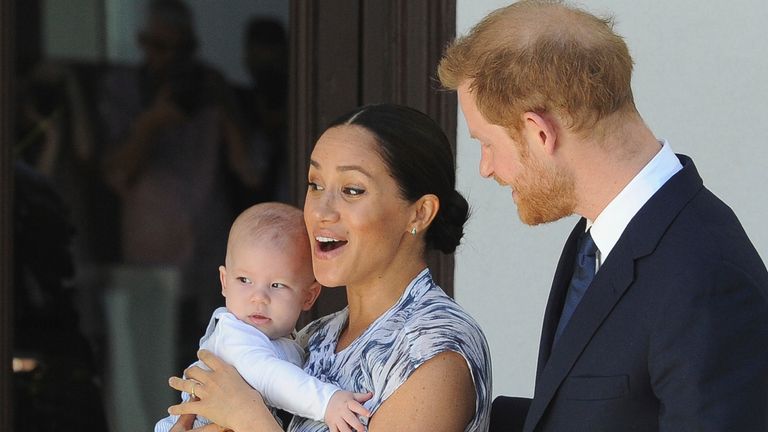 Announcing the partnership, the Archewell website said: "Archewell Foundation believes that with community, and through compassionate service to others, we can unleash systemic cultural change.
"In service of doing this, and building more compassionate communities, Archewell Foundation announced a multi-year global partnership today with Procter & Gamble."
The website said the partnership would "elevate the voices of adolescent girls" to ensure "their point of view and lived experience is heard at the tables where decisions are made".
It also vowed to work with men and boys to encourage gender equality.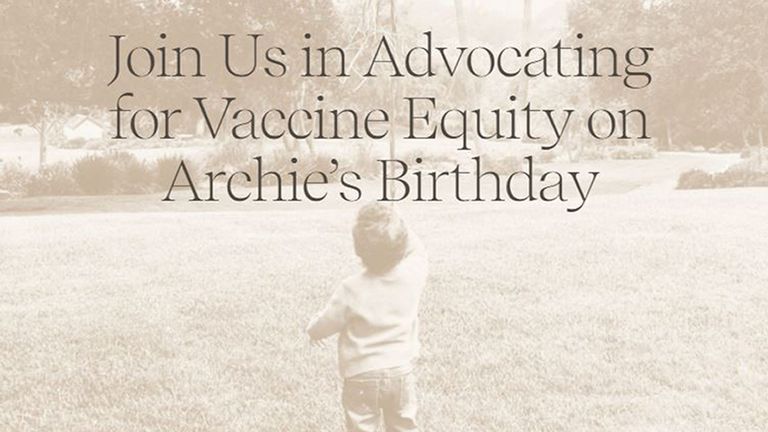 The foundation said it will build on joint aspirations with P&G, which it worked with in support of Global Citizen's Vax live concert, in aid of the international COVID-19 vaccination effort.
Procter & Gamble owns brands such as Oral B, Gillette, Pampers and Tampax, and reported net sales in 2019 of $67.7bn (£47.8bn).
On its website, it said: "We've also been inspired by the mission of the Archewell Foundation and its founders, the Duke and Duchess of Sussex, that with community, and through compassionate service to others, we can drive systemic cultural change, benefiting everyone."
Harry and Meghan quit as senior working royals in March last year.
Greece: £257,000 reward offered to catch killers who strangled British mother, 20, in her Athens home | World News

A €300,000 (£257,000) reward is being offered by the Greek government to track down burglars who strangled a British woman next to her baby in Athens.
The 20-year-old victim was sleeping with her husband and 11-month-old child when three men broke into their home in the Glyka Nera suburb before dawn after killing the family's dog, said reports.
The young mother was tied up and strangled, while her 32-year-old husband, a pilot, was bound and gagged.
He survived Tuesday's "barbaric" attack and managed to loosen his ties before calling police.
The burglars escaped with money and jewellery, while the baby was unharmed.
Greece's minister responsible for public order, Michalis Chrisochoidis, described the woman's killing as "particularly heinous".
"One rarely encounters such barbarity in Greece, in Greek society, even among criminals," he said.
The victim was born in Greece but had a British passport, according to police, who said she was married to a Greek man.
Two teams of detectives are investigating the deadly incident.
Israel: Hamas launches rocket attack on Tel-Aviv | World News

Hamas has launched a rocket attack on Tel-Aviv – with the Israeli ambulance service saying at least one person is in a critical condition after a building was targeted.
All flights have since been halted at the city's Ben Gurion Airport, according to Israel's Kan broadcaster.
Hamas said in a statement it had fired 130 rockets towards Tel-Aviv and its suburbs amid ongoing tensions between the Israelis and Palestinians.
A blast took place in the suburb of Holon on Tuesday evening, according to Israel Channel 12 TV.