The YouTube shooting suspect was a woman. That's unusual in the history of mass shootings
And in the broader category of mass killings — including other methods of execution, such as arson — only 6 percent of perpetrators are women, according to a database compiled by USA Today.
"It's definitely very rare to see a female shooter," said Sherry Hamby, research professor of psychology at the University of the South in Sewanee, Tennessee. "The more extreme the violence, the more likely the perpetrator is to be male."
Hamby said research has pointed to a variety of reasons men are more likely to be violent, including a sense of entitlement. When women are violent, there tends to be a connection to a domestic dispute, Hamby said.
Mother Jones used a strict set of criteria for their mass shooting database. They looked at incidents in which at least four people, not including the shooter, were killed, and that took place in a public place (not a private residence), usually in a single location.
Out of 73 incidents that met that criteria, just three public mass shootings since 1982 — including the San Bernardino attack in 2015 — involved a female killer.
As of Tuesday afternoon, authorities have not confirmed any deaths in the YouTube shooting, so the suspect would not meet the Mother Jones database's criteria for a mass shooter.
Here's a few notable examples of previous female mass shooters:
San Bernardino shooting
Tashfeen Malik, 27, and her husband, Syed Rizwan Farook, 28, unleashed a hail of bullets on a conference room at the Inland Regional Center, a state-run facility for people with development disabilities, on Dec. 2, 2015, killing 14 people. The pair were slain about four hours later in a shootout with police.
Alturas tribal shooting
Cherie Lash Rhoades, 44, former chairwoman of the Cedarville Rancheria tribe, opened fire at the Cedarville Rancheria Tribal Office and Community Center in Alturas, California on Feb. 20, 2014. Among those killed were her brother, her niece, and her nephew. When she ran out of ammunition, she grabbed a butcher knife and stabbed another person. All told, she killed four people and wounded two.
The Goleta postal shooting
Jennifer San Marco, 44, a former postal worker, fatally shot a former neighbor in Goleta, California, then drove to the mail processing plant where she used to work on Jan. 30, 2006. She opened fire inside, killing six employees before killing herself. The U.S. Postal Service said that San Marco worked for the Postal Service for six years, but was given early retirement in June 2003 because of psychological problems.
COP26: Boris Johnson admits it's 'going to be a stretch' to secure $100bn in climate pledges | Politics News
Boris Johnson has admitted he is facing an uphill battle to convince world leaders to put up hard cash and hard commitments to reduce carbon emissions.
Speaking on his way to New York for the UN General Assembly Summit, the prime minister conceded he had a 40% chance of failure in securing the $100bn he needs in financial pledges from rich nations to help developing countries go green by the critical COP26 climate change summit in November.
"I think getting it all [the commitments] this week is going to be a stretch.
"But I think getting it done by COP – 6 out of 10. It's going to be tough. People need to understand this is crucial for the world.
"By the end of October, countries are going to have to come up with bigger NDCs [nationally determined contributions] and showing what they're going to do to cut CO2 emissions, not just by 2050 but by 2030 to show that we can make progress and we have a real plan to restrain the increase in temperatures to 1.5 degrees."
Climate change will top Mr Johnson's agenda as he meets world leaders at the annual UN gathering in New York.
He will also travel to the White House for a bilateral meeting with President Joe Biden as the two men look to put their differences behind them over the chaotic withdrawal from Afghanistan and work on their common agenda of tackling climate change.
But the prime minister, who has made tackling climate change a key goal of his administration, also admitted that he was once a sceptic as he defended his new trade secretary Anne Marie Trevelyan who a decade ago had claimed the world "was not getting hotter" and "global warming isn't actually happening".
"No one can fault the UK government for what we're doing to tackle climate change. We're world leaders and most impartial observers think we're far, far ahead of the pack," the PM said.
"I don't want to encourage you, but if you were to excavate some of my articles from 20 years ago you might find comments made obiter dicta [Latin for past remarks] about climate change that weren't entirely supportive of the current struggle.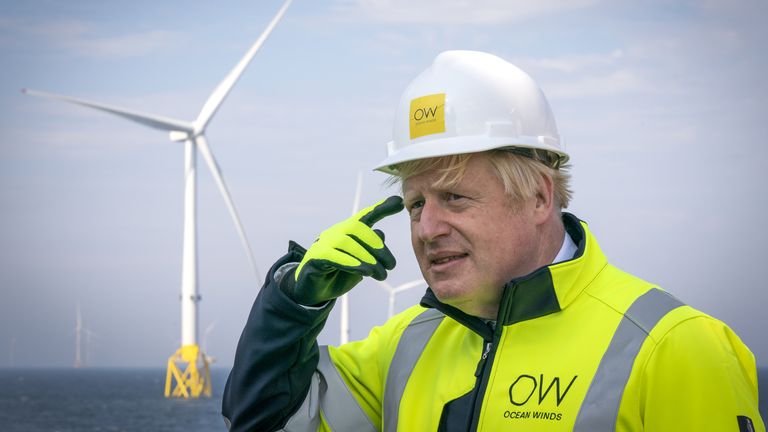 "But the facts change and people change their minds and change their views and that's very important too."
But his first foreign trip in 18 months will not be, by the prime minister's own admission, an easy task.
While the UNGA has been billed by officials as "an important staging post" on the road to the COP26 global summit, whether Mr Johnson can galvanise fellow leaders to commit to and fund climate targets, is another matter.
COP26 is the moment when every country is supposed to outline a detailed and highly-ambitious plan to achieve specific emission reduction target to deliver the 2015 Paris Agreement's commitment of limiting global warming to 1.5 degrees above pre-industrial levels by the end of this century.
"Some countries are really stepping up to the plate. Others, some G20 countries, need to do much more," he said en route to New York. He will want to press big G20 carbon emitters – China, Indonesia – to go faster on reducing emissions.
Relations have also been strained by the new trilateral security partnership between the US, Australia and the UK, announced last week, which will see Australia buy nuclear submarines from the US.
Subscribe to ClimateCast on Spotify, Apple Podcasts, or Spreaker
Beijing is angry over what it sees as an act of aggression in the Indo-Pacific, while Paris is furious to be blindsided by three allies in a deal that resulted in Australia cancelling a multibillion euro contract for French submarines.
Ahead of UNGA, the prime minister sought to reassure Beijing and Paris that AUKUS [as the new pact is known] "shouldn't be construed as being remotely hostile to anybody".
It's about sharing tech, it's about working together with countries that share values… I don't believe it needs to be seen in a zero sum way."
He also sought to ameliorate a fuming President Macron, telling journalists on the plane to New York, that the UK was "very proud of our relationship with France and it is of huge importance to this country".
But the government can't even guarantee that China's President Xi Jinping will even attend the COP26 summit in November.
The Prime Minister insisted on Sunday that China has "gone a long way already" in getting to net zero in 2060, but allies are clear that it must, along with other G20 carbon emitting countries, such as Indonesia, go faster in reducing emissions.
Mr Johnson will kick off the UNGA summit this morning with a number of leaders from what the government describes as "climate vulnerable" countries – Bangladesh, Maldives and Barbados – whose very existence is under threat from global warming and rising sea levels.
Alok Sharma says President Xi Jinping is yet to confirm his COP26 attendance

"If these countries don't feel COP is working for them, then it won't be working full-stop, so Monday has been convened with the UN Secretary General Antonio Guterres to hear from a lot of these countries and to demonstrate to them – in particular through calling for the $100bn fund – that we have their backs."
Aside from hard cash, the PM will also use UNGA to implore Brazilian President Jair Bolsanaro to halt the burning of the Amazon rainforests.
"We want to stop and reverse the global loss of biodiversity, including the rainforest," Mr Johnson added.
"I believe it is in the long-term economic interest of all rainforest countries to do that. We want to plant gazillions of trees, hundreds of millions of hectares.
Water Aid asks for a third of the UK's climate budget to help Third World countries

"We want a global process of reforestation. I think it is in the long-term interests of Brazil and the people of Brazil to recognise the spectacular natural endowment they have and to conserve it and I am sure that President Bolsanaro will agree."
Three days, a dozen or more bilateral meetings, round-tables and a trip to Washington for an audience with the President, Mr Johnson will hope he can come away with some firmed up commitments ahead of the COP26 summit.
Billed as the world's last chance to tackle runaway climate breakdown, the next few days are one of the PM's final chances to get fellow leaders to give hard cash and hard commitments to tackle global warming.
Gabby Petito: US investigators find body in search for missing 22-year-old | US News
A body found in Wyoming is believed to be that of missing Gabby Petito, US officials have said.
The FBI said the body was found by law enforcement agents who had spent the past two days searching campgrounds.
"Full forensic identification has not been completed to confirm 100% that we found Gabby, but her family has been notified of this discovery," said FBI Supervisory Special Agent Charles Jones.
Investigators still want information from anyone who may have seen Ms Petito or Brian Laundrie around some camping sites located on the park's eastern boundary, the same site that was the subject of searches over the weekend.
Ms Petito and her boyfriend left in July on a cross-country trek in a converted van to visit national parks in the US West.
Police said Mr Laundrie was alone when he drove the van back to his parents' home in North Port, Florida, on 1 September.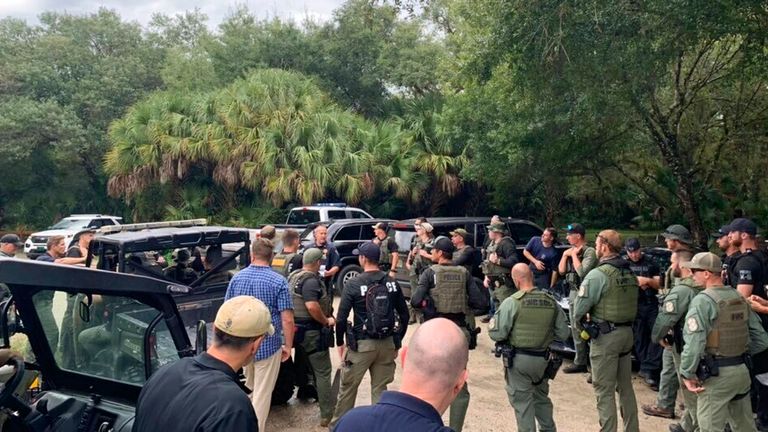 Mr Laundrie has been identified as a person of interest in the case.
He was last seen on Tuesday by family members in Florida, and investigators have been searching for him for the past two days in a 24,000-acre wildlife reserve near Sarasota, Florida.
Russia election result will be no surprise – but has 'Smart Voting' shifted public mood? | World News
Russian election days leave an imprint on the brain – the grainy CCTV from polling stations across the country.
In the Central Election Commission Headquarters in Moscow, there's an impressive bank of monitors covering an entire wall beaming in the images from schools from the Russian Far East to Kaliningrad.
It's a backdrop for all the journalists, busily propounding on all the possible permutations of Russia's parliamentary electoral outcomes. Nail-biting it is not because there aren't many.
On social media, there's a stream of similar images of ever more absurd cases of election fraud. It's par for the course in Russia, but it is always astonishingly blatant.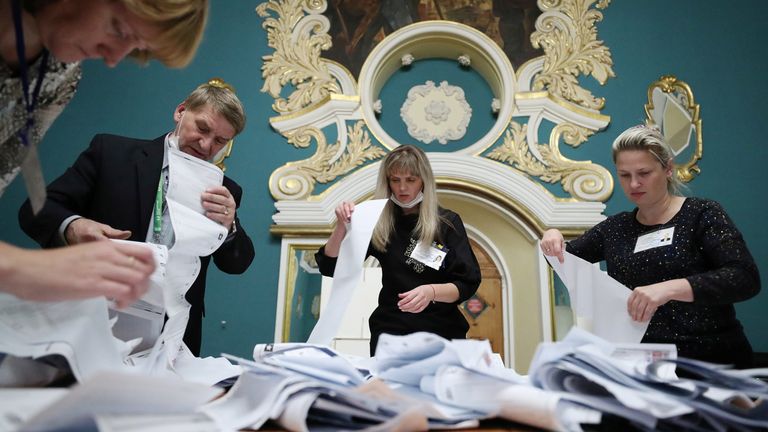 One example from the southern city of Krasnodar of an election observer being dragged out of a polling station on his rear because he raised the flag on electoral fraud.
Another from Kemerovo of a mysterious hand appearing from behind a Russian flag and stuffing votes into a ballot box as a woman stands in front trying to block the spectacle.
A strange situation in a district in the Volga region where the head of the local electoral commission decides to eat a piece of paper that appears to be the focus of a row with polling station staff. It may be a cliché but… only in Russia.
When I asked a local election committee member at a polling station in Central Moscow if he thought these elections were free and fair, he burst out laughing.
"I'm not allowed to answer that," he said. "But they're neither free nor fair."
"Nowadays it becomes more and more important to vote, especially for young people," said Dmitry who'd brought his family in to vote. "Because we believe that something needs to change."
Hope springs eternal. But the communist party are celebrating tonight their best election results since 1996.
It's not clear yet whether that has something to do with Alexei Navalny's Smart Voting strategy, which the Kremlin has tried its utmost to crush on the grounds that his anti-corruption foundation is an extremist organisation. It may well do.
The Smart Voting list backed many communist candidates simply because they looked most likely to be able to unite the vote against United Russia in each given constituency, even though the long-time communist party leader Gennady Zyuganov has been consistently vile about Alexei Navalny.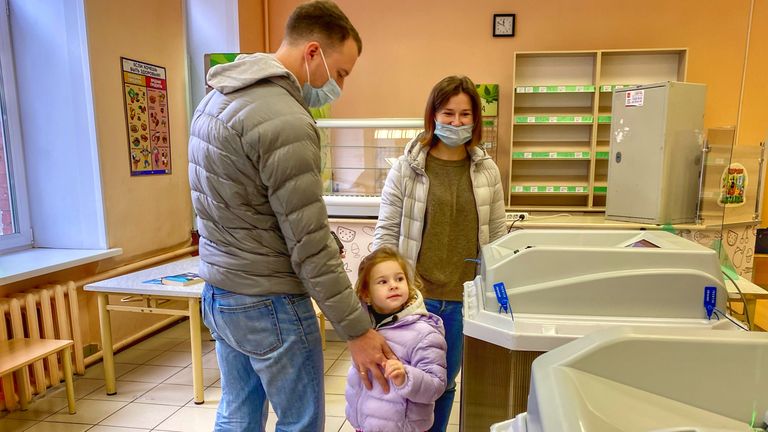 He may have to thank him now.
The communist success is also down to frustration with United Russia as a result of unpopular pension age reforms in 2018 (which the communists opposed), a sharp drop in real disposable incomes, food price hikes and a general sense of political stagnancy where even the communists look like fresh blood.
But they are still part of the system in Russia, fundamentally loyal to United Russia even if this does put fresh wind in their sails and a more rebellious stride in their step.
Change is not around the corner. Not yet. But even small political shifts can create broader ripples and reflect changes in the public mood.
The Kremlin will be watching and analysing it all closely, elections are always a weird form of Kremlin confidence building. The question is – after the heavy crackdown of the last few months – how it chooses to respond.