Majority of millennials are in debt, hitting pause on major life events
Get breaking news alerts and special reports. The news and stories that matter, delivered weekday mornings.
Approximately three out of every four millennials in the U.S. have some form of debt, according to a new NBC News/GenForward survey released Wednesday, and they're putting off major milestones because they can't pay up.
A quarter of millennials — those between 18 and 34 years old — are over $30,000 in debt, including 11 percent who are over $100,000 in debt. Only 22 percent of millennials are debt free.
As a result, saving has taken a backseat, which has affected the pace at which millennials live their lives and left most unprepared for a financial emergency. Credit cards, meanwhile, are playing an even bigger role than student loans.
Credit cards debt is the most prevalent type among the group, while just two in 10 millennials say they have a mortgage or home loan.
Millennials with college degrees are more likely to have credit card debt (56 percent) than those without college degrees (40 percent). But they are also more likely to make more money — 56 percent of millennials with college degrees make over $50,000 a year compared to 31 percent of millennials without college degrees.
Forty-nine percent of African-American millennials have student loan debt — more than any other racial subgroup.
Sixty-two percent of millennials owe more in debt, overall, than they have in a personal savings account. Only about a quarter (24 percent) have more money in their savings account than they owe in debt.
Three in 10 millennials have less than $1,000 in their personal savings and only 1 percent have over $100,000 saved. A quarter, 24 percent, have no personal savings.
Two-thirds of millennials, or 67 percent, said they would have difficulty paying an unexpected bill of $1,000 right away. African-America and Latino millennials would have a harder time coming up with the money than other racial subgroups, according to the survey.
Majorities of millennials across every racial subgroup would have a difficult time paying $1,000 right away, but African-American millennials (72 percent) and Latino millennials (74 percent) would have a harder time paying that bill than Asian-American millennials (65 percent) and white millennials (64 percent).
Nearly half of all millennial parents (48 percent) say they would have a lot of trouble covering an unexpected $1,000 bill compared to 39 percent of those without kids.
According to the survey, a majority of millennials have hit pause on major life events because of what they owe. Debt has caused a third of all millennials, or 34 percent, to hold off on buying a home and 31 percent to delay saving for retirement. It has also affected millennials' family structure. Fourteen percent of millennials have delayed getting married due to debt, and 16 percent have delayed having children.
Even with a lot of debt relative to savings, millennials overall remain optimistic about the future. A majority (58 percent) are optimistic about things like finding and keeping a good job, paying off student loan debt, and being able to afford the lifestyle they want.
The NBC News/GenForward at the University of Chicago Survey was conducted February 23 – March 10, 2018 among a nationally representative sample of 1,895 adults ages 18-34, recruited and administered by NORC at the University of Chicago. The overall margin of sampling error is +/- 3.77 percentage points. For full results and methodology, click here.
Australia: Humpback whale escapes crocodile-infested river | World News
A humpback whale that made a wrong turn and entered a crocodile-infested river in Australia has managed to escape back to sea.
The whale was first spotted in the East Alligator River in the Northern Territory's Kakadu National Park last week.
Feach Moyle, Kakadu National Park manager, said: "It made its way out on the high tides and we're pleased it appeared to be in good condition and not suffering any ill effects."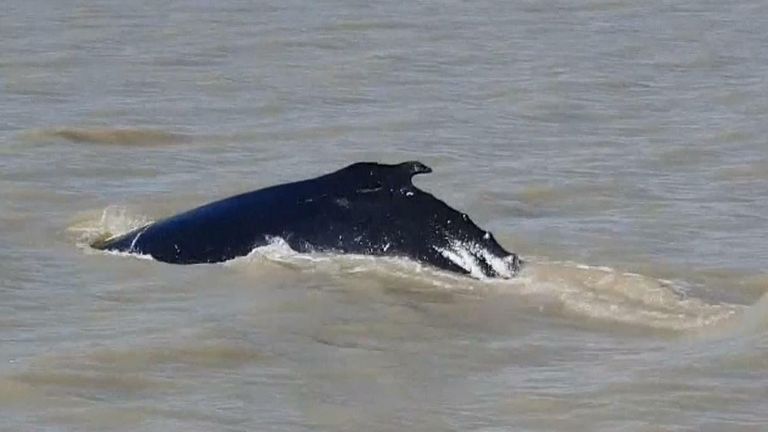 Officials had been monitoring the whale after it was spotted just over 18 miles inland.
A further two whales were also seen in the river last week, however they managed to return to the sea after a short time.
Scientists have suggested that the whales may have made a "wrong turn" while on their annual migration where they follow the western coast of Australia to get from the tropics to Antarctica.
It is the first time there have been any recorded sightings of whales in the East Alligator River.
Despite the river's name, Australia does not have any alligators – it was named by European explorers who did not know the difference between crocodiles and alligators.
The whales were considered unlikely to disrupt any crocodiles unless they became stranded.
Authorities also considered the chance of them being attacked by crocodiles was slim due to their size, unless they became weak or sick.
Marine ecologist Jason Fowler said he initially spotted three whales on 2 September while sailing with friends.
Mr Fowler said: "We happened to bump into some great big whales which completely blew me away.
"The water's incredibly murky. It's got zero visibility. So you can only see the whales when they're right on the surface."
He added: "There are so many humpbacks heading up the WA (Western Australia state) coast now, they're bound to end up in new places. What's incredibly weird is the fact that they're up a muddy, shallow river full of crocodiles – that's unheard of."
World's biggest banks 'allowed criminals to launder dirty money', leaked documents allege | Business News
Some of the biggest banks in the world have been accused of allowing criminals to launder dirty money, according to an investigation based on leaked internal reports.
Over 2,100 suspicious activity reports (SARs) covering more than $2 trillion (£1.5tn) in transactions were leaked to BuzzFeed News and shared with the International Consortium of Investigative Journalists (ICIJ).
These reports, and more than 17,600 other records obtained by the ICIJ, allegedly show how senior banking officials allowed fraudsters to move money between accounts in the knowledge that the funds were being generated or used criminally.
Covering transactions between 1999 and 2017, the SARs were leaked from the US Financial Crimes Investigation Network (FinCEN), an agency which is part of the US Treasury and tasked with tackling money laundering.
Two weeks ago FinCEN warned that media organisations were preparing to publish a story on documents that had been obtained illegally, before last week announcing that it was seeking public comments on how to improve the anti-money laundering system in the US.
According to the ICIJ, the $2 trillion in suspicious transactions identified within the documents represents less than 0.02% of the more than 12 million SARs that financial institutions filed with FinCEN between 2011 and 2017.
In the key findings of its report, the ICIJ alleged: "Big banks shift money for people they can't identify and in many cases fail to report suspect transactions until years after the fact.
"Government fines and threats of criminal prosecutions against banks haven't stopped a tide of illicit payments," the organisation adds, raising questions about money-laundering enforcement.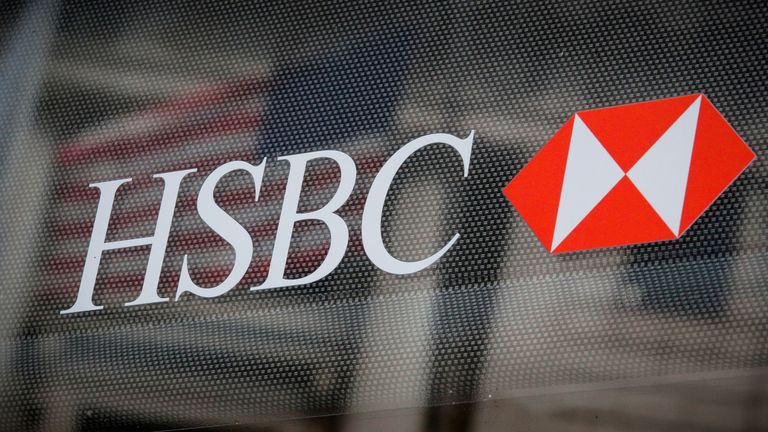 BuzzFeed News described the documents as revealing "how the giants of Western banking move trillions of dollars in suspicious transactions, enriching themselves and their shareholders while facilitating the work of terrorists, kleptocrats, and drug kingpins".
Among the criminal organisations named in the reports are the Al Zarooni Exchange, which was sanctioned by the US Treasury in 2015 for laundering funds for the Taliban.
The SARs reportedly also show how Russian and Ukrainian oligarchs avoid sanctions to move their money into the West.
Five global banks were named in the investigation: JPMorgan Chase, HSBC, Standard Chartered, Deutsche Bank and Bank of New York Mellon.
The ICIJ reported that some of these banks continued to work with "mobsters, fraudsters or corrupt regimes" even after they were warned by US officials that they would face criminal prosecutions for doing so.
The SARs were written by internal compliance officers at these banks, and are "not necessarily evidence of criminal conduct or other wrongdoing" the ICIJ reported.
London-based HSBC said it would not comment on suspicious activity reporting but said the documents referred to historical information which predated the conclusion of its deferred prosecution agreement with the US over its failures to prevent Mexican drug cartels from laundering hundreds of millions of dollars.
As part of the conclusion of that agreement, HSBC said that the authorities were satisfied with its work tackling money laundering.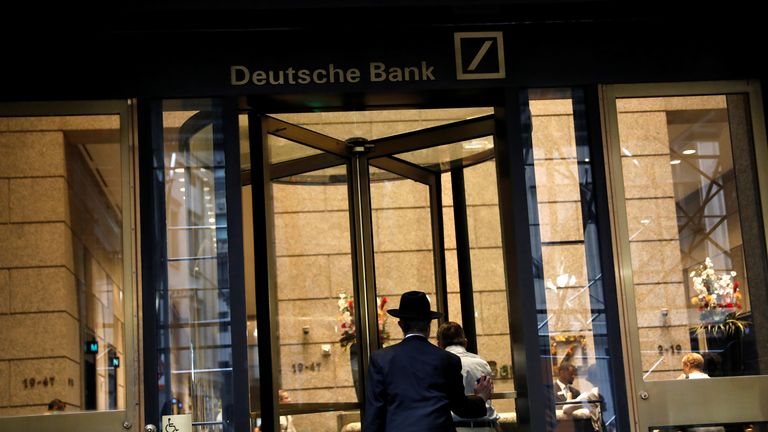 Standard Chartered, which is also based in the UK, responded to the reports by stating: "The reality is that there will always be attempts to launder money and evade sanctions; the responsibility of banks is to build effective screening and monitoring programmes to protect the global financial system.
"We take our responsibility to fight financial crime extremely seriously and have invested substantially in our compliance programmes," the bank added.
Germany's Deutsche Bank also stressed that the ICIJ "reported on a number of historic issues" and said "those relating to Deutsche Bank are well known to our regulators".
"The issues have already been investigated and led to regulatory resolutions in which the bank's co-operation and remediation was publicly recognised," Deutsche Bank added.
The Bank of New York Mellon said it takes its role "in protecting the integrity of the global financial system seriously, including filing suspicious activity reports" and added that it fully complied with all applicable laws and regulations.
JPMorgan Chase, which is also based in New York, stated: "We report suspicious activity to the government so that law enforcement can combat financial crime, and have thousands of people and hundreds of millions of dollars dedicated to this important work.
"We have played a leadership role in anti-money laundering reform that will modernise how the government and law enforcement combat money laundering, terrorism financing and other financial crimes."
Prince Charles warns climate crisis will 'dwarf the impact' of coronavirus pandemic | World News
The Prince of Wales will warn the climate crisis is "rapidly becoming a comprehensive catastrophe that will dwarf the impact of the coronavirus pandemic".
The stark message is part of a keynote speech that Prince Charles has recorded for the opening event of a virtual climate summit starting on Monday.
In his speech, he will say: "Without swift and immediate action, at an unprecedented pace and scale, we will miss the window of opportunity to 'reset' for… a more sustainable and inclusive future.
"In other words, the global pandemic is a wake-up call we cannot ignore…[the environmental] crisis has been with us for far too many years – decried, denigrated and denied. It is now rapidly becoming a comprehensive catastrophe that will dwarf the impact of the coronavirus pandemic."
Climate Week NYC is described as the only major international climate summit happening this year.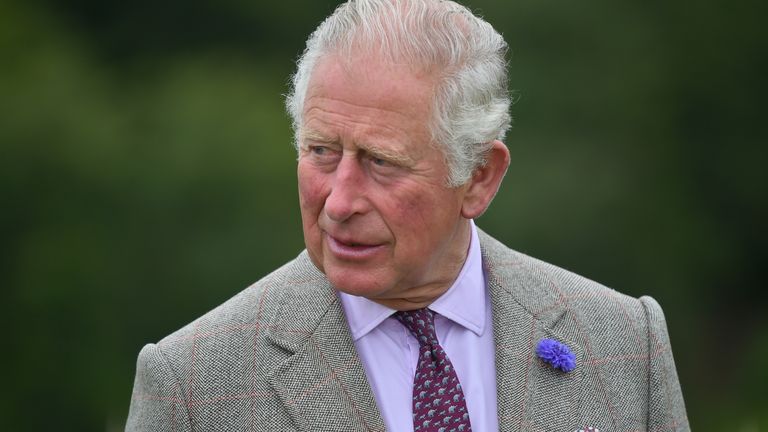 Run by international non-profit the Climate Group, it's hoping to bring together global leaders from business, government and philanthropic sectors to make sure that conversations and action on climate change continue in spite of the pandemic.
A number of major climate events and conferences had to be cancelled this year because of COVID-19, including the United Nations climate conference Cop26, which was due to take place in Glasgow in Scotland in November and has been rescheduled for next year.
This week, world leaders will gather online for the 75th United Nations General Assembly, where both the pandemic and environmental issues will feature in their discussions of global challenges.
To coincide with the UNGA, Oxfam has released a new report to highlight how much the wealthiest people on the planet have been the heaviest polluters.
It found that in the 25 years between 1990 and 2015 the total amount of carbon in the atmosphere doubled and that over half of that was added by the richest 10% of people on the planet.
Tim Gore from Oxfam told Sky News he believes governments are starting to realise that climate policy can't be treated separately from issues like public health and social inequality.
He said: "We don't need to have climate policy making in one box and concerns about public health in another, or biodiversity which is another major concern that is being addressed at the United Nations General Assembly this week."
:: Subscribe to the Daily podcast on Apple Podcasts, Google Podcasts, Spotify, Spreaker
He added: "These are all part of a common interlinked set of challenges that governments need to grapple with and they need the same policies to grapple with them all.
"A greener economy is one that will also be better for public health with cleaner air. We've seen of course the respiratory problems that come with polluted air particularly in cities have been exposed by the Covid crisis."
Speaking to Sky News at the end of lockdown, Prince Charles he felt the pandemic had forced us to refocus our attention on the need to tackle the climate crisis and make sure protecting the planet was at the centre of the economic recovery in the post-Covid world.
He said: "It's only catastophes which concentrate the mind which means for once there might be some real impetus to tackle all the things which have been pushed to one side because people have said it's irrelevant."
His speech for Climate Week NYC will be streamed on the summit website at 3pm on Monday.