Facebook and Instagram ban 135 Russian troll accounts over meddling
Facebook has identified and removed 135 accounts linked to a Russian influence campaign during the US presidential election.
After "months of work", the social network said it has banned 70 Facebook and 65 Instagram accounts – alongside 138 Facebook pages – which were controlled by the Internet Research Agency (IRA), an organisation based in St Petersburg.
Alongside 13 Russian nationals, the IRA was charged with interfering in US politics in February. Its activities form a core part of allegations regarding Russian interference during the 2016 race.
Although the pages taken down do not seem to be substantially connected to that influence campaign, the company said they did run advertisements which have now also been removed.
According to Facebook, roughly 95% of the pages that had content were in Russian, and were targeted at people in Russia or "neighbouring countries like Azerbaijan, Uzbekistan and Ukraine".
:: Facebook – "Russia used us as an 'information weapon"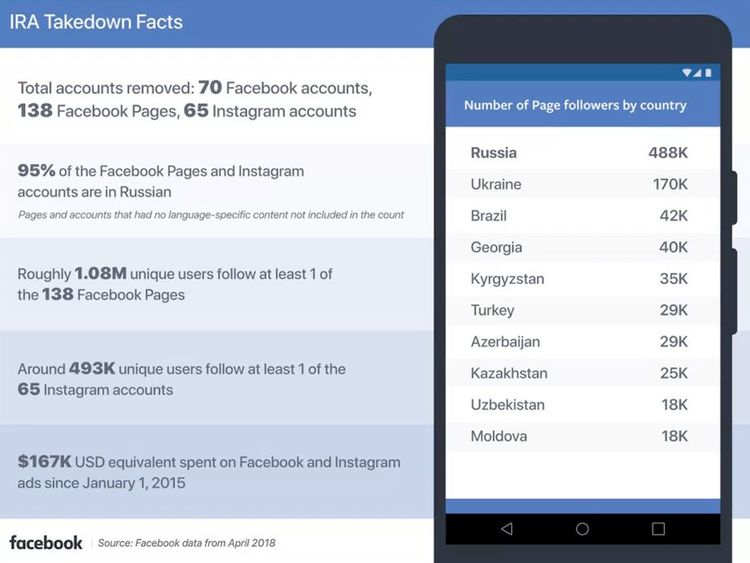 The identification of the troll accounts comes more than two months after Twitter announced that it had identified about 4,000 accounts on its platform which had interacted with 1.4 million users.
Last year, Facebook told the US Congress that Kremlin-linked trolls had reached 126 million Americans through disinformation operations conducted on its platform.
To combat this, the company said it would make advertising more transparent by "creating a portal" which would let its users know if they interacted with IRA pages or accounts on Facebook and Instagram.
This portal has not yet launched, but the company's statement adds that its help centre tool would be updated "in the next few weeks… so anyone can check if they liked or followed" an IRA account or page.
Facebook stated: "The IRA has consistently used inauthentic accounts to deceive and manipulate people. It's why we remove every account we find that is linked to the organisation – whether linked to activity in the US, Russia or elsewhere.
"We know that the IRA – and other bad actors seeking to abuse Facebook – are always changing their tactics to hide from our security team.
"We expect we will find more, and if we do we will take them down too. But we'll keep fighting and we're investing heavily in more people and better technology to constantly improve safety on Facebook."
:: US Congress reveals Russian trolls' Facebook propaganda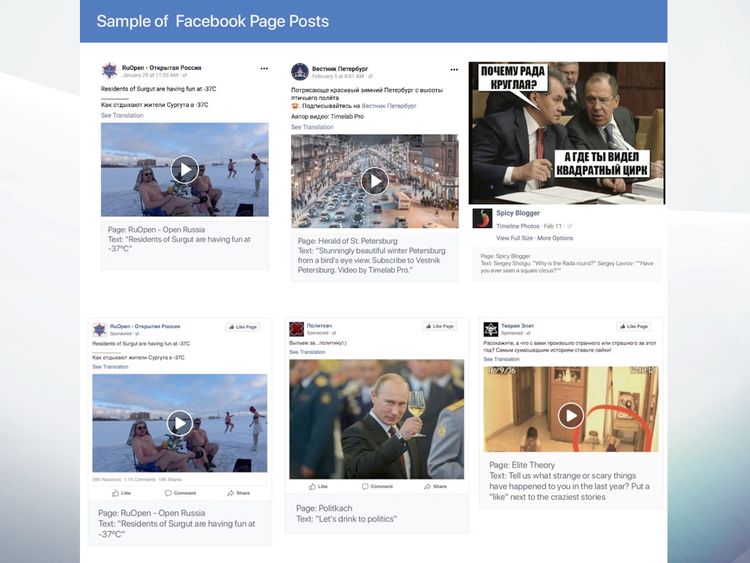 The statement, written by Facebook's chief security officer, Alex Stamos, follows a difficult month for the company's public image.
Following allegations that data belonging to its users was harvested by Cambridge Analytica, the company's senior executives have been summoned to appear before MPs in the UK and Congress in the US.
The scandal saw its share price fall by more than 15% – wiping tens of billions from its valuation and igniting criticism of Mark Zuckerberg's delayed response.
In the US, the investigation into Russia's interference in the 2016 election is also ongoing.
International child abuse site with 400,000 users busted by German authorities | World News

One of the world's biggest international darknet platforms for child sexual abuse images has been busted with more than 400,000 users, German prosecutors have said.
Four suspects from Germany were arrested in connection with the "Boystown" darknet site, which paedophiles used to exchange and watch indecent images of children and toddlers from all over the world, according to authorities.
Frankfurt prosecutors said they found images of the "most severe sexual abuse of toddlers" among photos and video material on the platform, which has been active since at least 2019.
Three suspects, who were said to be the administrators of the online platform, were arrested in mid-April in along with an alleged prolific user of the site.
One of the suspects was arrested in Paraguay.
Authorities said their investigation involved "one of the world's biggest child pornography darknet platforms".
A German police task force investigated the platform, its administrators and users for months in co-operation with Europol and law enforcement authorities from the Netherlands, Sweden, Australia, the United States and Canada.
The suspects included a 40-year-old man from Paderborn, a 49-year-old man from Munich and a 58-year-old man from northern Germany who had been living in Paraguay for many years, the prosecutors' statement added.
They allegedly worked as administrators of the site and gave advice to members on how to evade law enforcement when using the platform.
A fourth suspect, a 64-year-old man from Hamburg, is accused of being one of the most active users, having allegedly uploaded more than 3,500 posts.
Germany has requested the extradition of the suspect who was arrested in Paraguay.
No names were given in line with Germany privacy regulations.
After raids of several buildings in German in mid-April, the online platform was shut down.
'Dambusters' squadron to join fight against Islamic State in Iraq and Syria | UK News

The renowned "Dambusters" squadron is set to fly stealth fighter jets to support operations against the Islamic State (IS) in Iraq and Syria.
The RAF's 617 Squadron – famously known for its role in attacking German dams during the Second World War – will be part of a mission designed to prevent IS from "regaining a foothold in Iraq".
The Ministry of Defence said the F35B Lightning fast jets will join Operation Shader from the Carrier Strike Group to fight the "remnants" of IS, also known as Daesh.
Air Chief Marshal Sir Mike Wigston said he was in no doubt "violent extremism and the toxic ideology underpinning it is still rooted" in the region.
He added: "We're going to conduct operations in support of the government of Iraq, fighting the remnants of Daesh in Iraq and Syria – and continuing to take the fight to them in their sanctuary where otherwise they would be threatening the streets of the United Kingdom and our allies.
"It's something that air power has been doing very effectively now since 2014 and the Royal Air Force has played a considerable part in that success.
"Daesh is no longer the ground-holding force, the occupying force, that it was in 2015 and 2016.
"For the last two years we have been identifying pockets where they have dug in to strongholds in the mountains in remote areas, and have been helping the government of Iraq to clear out those remnants."
Eight RAF and 10 US Marine Corps F35B stealth fighter jets will be operating from on board HMS Queen Elizabeth and will be accompanied by six Royal Navy ships, a submarine, 14 naval helicopters and a company of Royal Marines.
The F35B jets are multi-role combat aircraft equipped with advanced sensors, mission systems and stealth technology – enabling them to carry out intelligence, surveillance and reconnaissance tasks.
Minister for the Armed Forces James Heappey said: "The F35B Lightning jets will pack a potent punch against Daesh and help prevent them from regaining a foothold in Iraq.
"This is a prime example of the UK armed forces stepping forward with our allies to confront persistent threats around the world."
G7 leaders to meet in person for first time in two years – here's what they're expected to discuss | UK News
Representatives of the world's richest countries will meet face-to-face this week for the first time in two years.
The G7 meeting in London begins today, with attendees from Canada, France, Germany, Italy, Japan, the US and the UK.
Representatives from the European Union will also attend, as will India's external affairs minister Subrahmanyam Jaishankar.
Australia, India, Japan, South Korea, and South Africa have also been invited.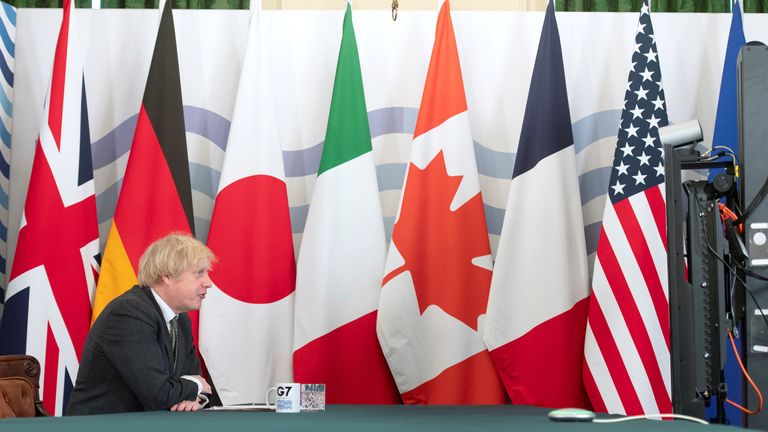 Regular COVID-19 testing, size limits and other measures will be in place to prevent the spread of the virus among those attending.
This morning, British Foreign Secretary Dominic Raab will meet US Secretary of State Antony Blinken, who arrived in the UK on Sunday evening.
The two are expected to discuss the withdrawal of troops from Afghanistan, a post-Brexit trade deal, Iran's nuclear programme, and China.
Mr Raab told Reuters news agency: "The scope for intense global cooperation, international cooperation with our American partners and indeed the wider G7, that we're convening this week has never been greater."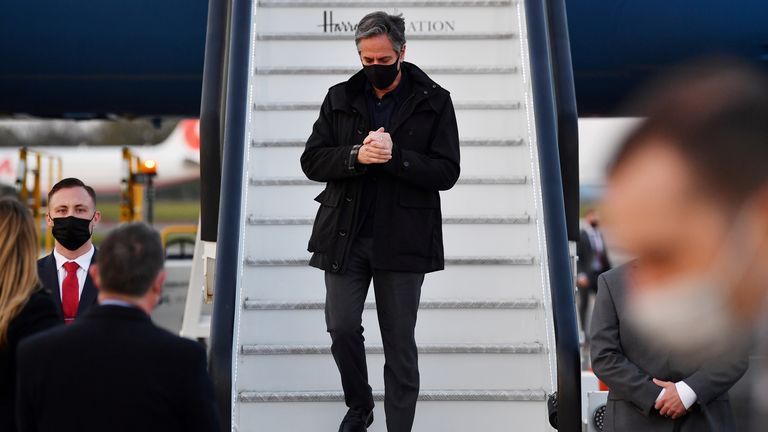 One of the points on the G7 agenda is expected to be how to deal with Russian "propaganda" and disinformation.
Mr Raab said the UK was "getting the G7 to come together with a rapid rebuttal mechanism" to counter Russian misinformation.
"So that when we see these lies and propaganda or fake news being put out there, we can – not just individually, but come together to provide a rebuttal and frankly to provide the truth, for the people of this country but also in Russia or China or around the world."
Security officials in Britain, the US and Europe blame Russia and China for spreading disinformation about elections and COVID-19 vaccines.
Russia blames the West's "anti-Russian hysteria" and China says the West is a bully.
2020: Will Brexit cause rift with new US team?

Also, the Foreign Office said G7 ministers will invest £10.9bn in development finance over the next two years to help women in developing countries access jobs, create businesses, and recover from the impact of the coronavirus.
They are also expected to confirm a target of getting 40 million more girls into school, and 20 million more girls reading by the age of 10 in poorer nations by 2026.
But these measures will come after the government cut foreign aid from 0.7% of national income to 0.5%, citing the financial impact of the pandemic.
The cuts have been criticised by a number of organisations, including the UN Populations Fund, which said the 85% cut to its reproductive health agency as "devastating" for women, girls, and their families.
UNICEF will have its UK funding cut by about 60%, while funding for overseas water, sanitation, and hygiene projects will be cut by more than 80%.
Another report, by Devex, said funding for polio eradication will also be cut by 95%.