England listed as part of Africa in programme blunder
Brexit appears to have pushed England out of Europe and into Africa – if the official programme for the Commonwealth Games is to be believed.
In a pre-Games gaffe, Australian organisers have inadvertently listed England as part of Africa and with a population of little more than two million.
According to officials, the error occurred when The Gambia was reinstated to the Commonwealth – and subsequently this year's Games – in February this year.
The official guide to the Games also incorrectly lists England's capital as Banjul – the capital of The Gambia.
But, the programme does correctly state England's "Magical Moment" as Roger Bannister beating Australian John Landy in Vancouver in 1954, the first time two athletes had run a mile in under four minutes in the same race.
Beginning on Wednesday, this year's Commonwealth Games are being hosted by Australia's Gold Coast.
Commenting on the programme blunder, Mark Peters, chief executive of the Gold Coast Games, said: "There was an overprint. We found out about it maybe 10 days ago.
"We went and spoke to England and said, 'Congratulations, the Commonwealth's changing and it has since Brexit, and you are now a part of Africa'.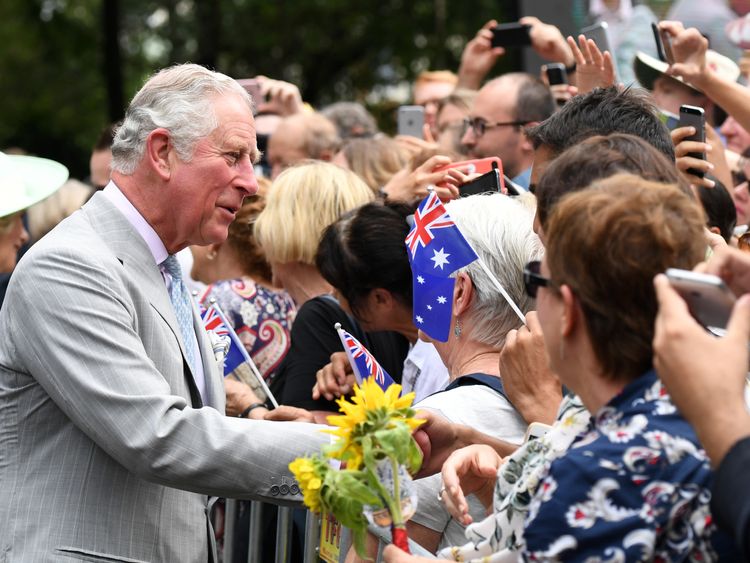 "Sometimes you make mistakes and we copped it."
Mr Peters also revealed English officials had made light of the error and told organisers not to order a reprint of the programme due to the cost.
He added: "They implored us not to do that.
"We are actually doing a special reprint of 500 to give to the English and the Commonwealth Games Federation to make sure that in terms of records, that's done correctly.
"They're going to be so valuable after the Games because of that mistake."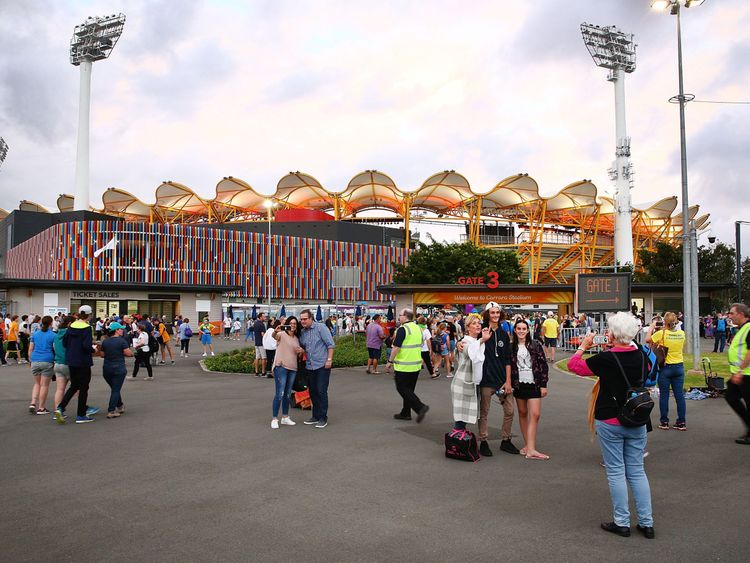 Prince Charles and the Duchess of Cornwall arrived in Brisbane on Wednesday ahead of their official opening of the Commonwealth Games.
On Wednesday, the Queen's Baton Relay was temporarily halted by indigenous rights protesters who demanded Prince Charles and Camilla ask them for permission to visit "stolen" land.
One protester told Australia's Seven Network: "We don't want nothing of the Commonwealth here. They've stolen the land, built this country on stolen wages, built this country on the blood and bones of our people.
"And it's about time that history is acknowledged and about time that the royal families who are responsible for it all – that they come down here and get at our level and ask to be here on our country. That's what needs to happen."
The demonstration was organised by a collective of groups, including Warriors of the Aboriginal Resistance and the Brisbane Aboriginal-Sovereign Embassy, protesting against what they have dubbed the "Stolenwealth Games".
COVID-19: First person in Brazil inoculated as two coronavirus vaccines approved | World News
A nurse has become the first person in Brazil to receive a coronavirus jab just hours after the country's health regulator approved two vaccines.
Monica Calazans, 54, who works on the coronavirus frontline, was vaccinated in a ceremony in Sao Paulo.
The rollout of the vaccines made by Sinovac and AstraZeneca comes after months of delay and political disputes over the immunisation programme.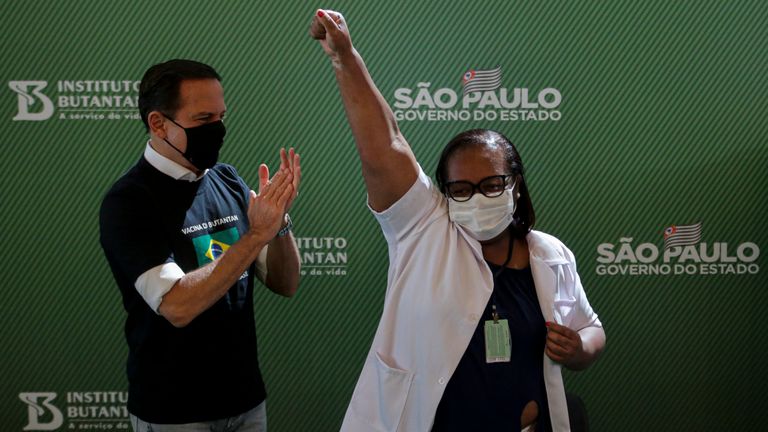 Brazil currently has six million doses of Sinovac's CoronaVac vaccine ready to distribute in the next few days, and is awaiting the arrival of another two million doses of the AstraZeneca/Oxford University jab.
"This is good news for Brazil, but six million doses are still very few," said Ethel Maciel, an epidemiologist at the Federal University of Espirito Santo.
"It will not allow the entire population at risk to be fully immunised, nor is it clear how quickly the country will obtain more vaccines."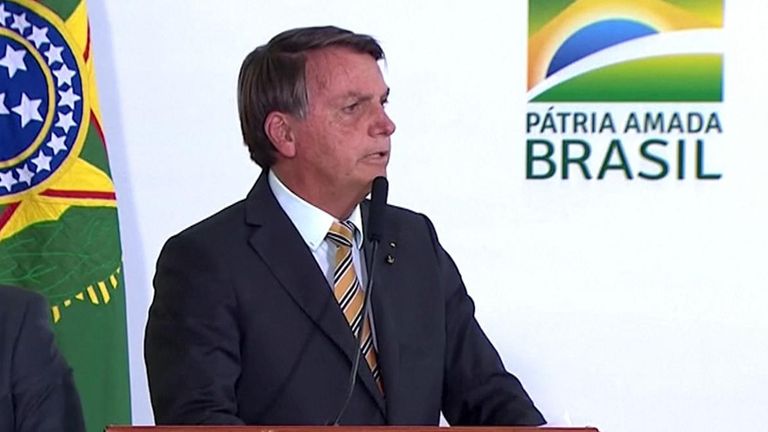 Vaccination in Brazil is beginning later than neighbours such as Argentina and Chile despite a robust public health system and decades of experience with immunisation campaigns.
The process to present and approve the COVID-19 vaccines was fraught with conflict, as allies of President Jair Bolsonaro sought to cast doubt on the efficacy of the Sinovac shot which had been backed by his political rival, Sao Paulo state's governor Joao Doria.
Health professionals on the frontline against coronavirus will be the first to receive the jabs.
It will then be extended to others including the indigenous population, people over 60 years of age and people with pre-existing conditions.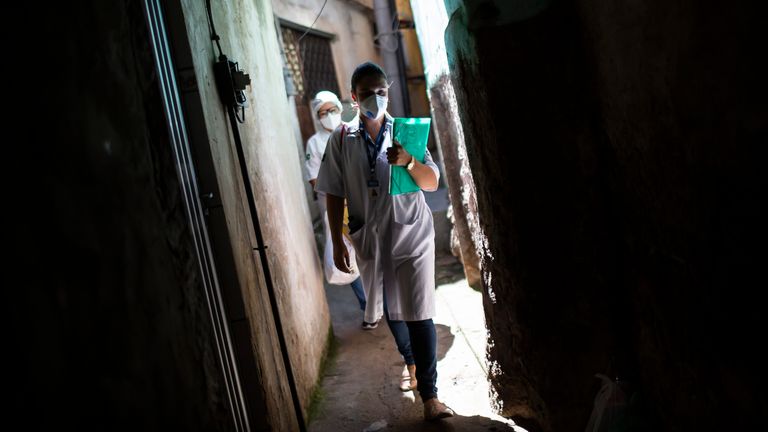 The South American country has now registered 8,455,059 cases since the pandemic began.
Its death toll has risen to 209,296 meaning only the US has suffered more fatalities, according to the Johns Hopkins University.
Uganda: After contentious election, people needed answers but opposition could not provide any | World News
We were expecting a cacophony of noise after the Ugandan Election Commission declared the result in a presidential poll that was both contentious and shockingly violent.
However, we did not see any angry chatter, nor collective calls to arms on popular social media sites because the government had switched the internet off.
The streets of the capital Kampala were quiet as members of the military, carrying short-barrelled machine guns, walked languidly down the side of city streets.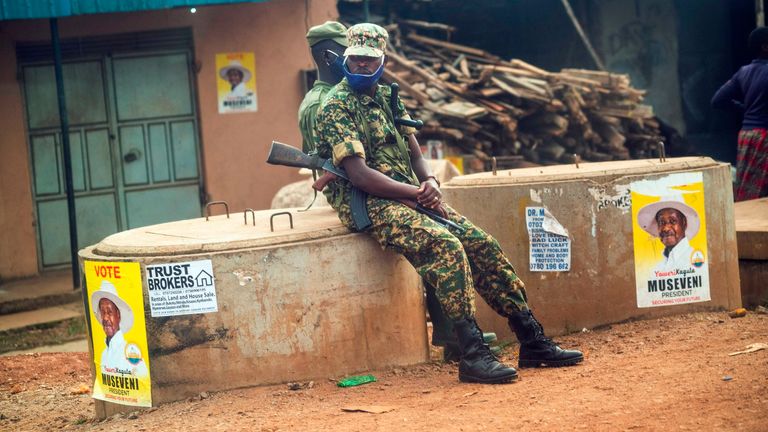 The 38-year old opposition leader Bobi Wine, who visibly connected with tens of thousands of younger Ugandans during the campaign, had been removed from public view. The security services are surrounding his home and blocking anyone from entering.
In effect, the government has used the tools of state to turn down the noise – to dissipate the heat – after its long-time leader, President Yoweri Museveni, took 58% of the vote.
Mr Wine, a popular pop star turned politician, garnered a respectable but insufficient 35%.
And the authorities' masterplan seems to be working, at least for now.
We were invited to a press conference by Bobi Wine's National Unity Platform (NUP) party where they were expected to outline their immediate plans, address their leader's absence, and introduce newly elected parliamentary members to the nation.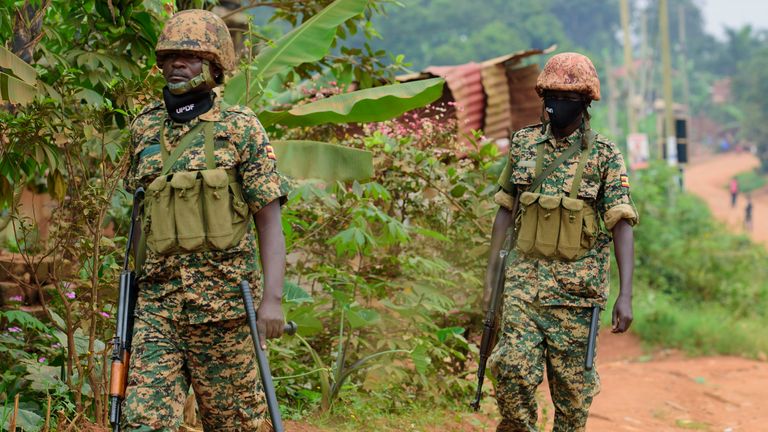 But the event proved to be nothing short of a shambles.
The NUP's spokesman, Joel Senyonyi, began by saying that Mr Wine was now, "effectively under house arrest, an illegal detention".
He criticised the election as an exercise in mass fraud, "with outcomes from the Election Commission that are as curious and amazing as anyone can imagine".
But when I asked him what they planned to do about it, the spokesman was unable to offer anything specific.
"What do you want people to do?" I asked.
"Our simple answer to that is we are urging Ugandans to use every means available in the constitution to keep pursuing the change of leadership that we want."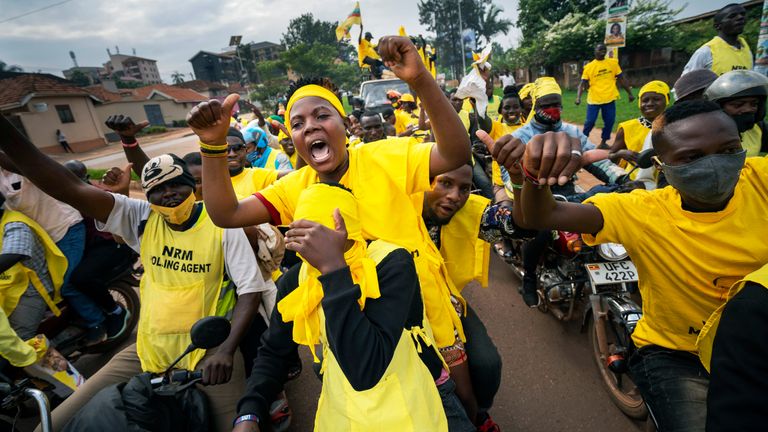 "What does that mean?" I asked.
"Use every constitutional avenue to achieve change. I think that is very clear. Now pardon us, our colleagues (have been raided)…"
The press conference ended abruptly, before any of the new MPs had been introduced, with Mr Senyonyi signalling that some sort of emergency situation had developed.
He left through the gate of the NUP's headquarters with several party officials and two-dozen members of the media, including Sky News, in tow.
We drove at not insignificant speed to a slum in the capital, then ran down a sewage-strewn track to a small clearing where a man, sitting in a plastic seat, relayed a story about an attack meted out by the security services.
His name was Andrew Natumanya and said he was a volunteer polling agent for the NUP party. He had been collecting declaration forms with results from individual polling stations in central and eastern Uganda when a group of plain clothes policemen had grabbed him, roughed him up and confiscated the documents.
I noticed that journalists and camera operators began to drift away as the young man outlined his experience. His allegations are disturbing and deserving of attention – but they are not unique.
Over the past few months, dozens of NUP party members and supporters have lodged allegations of harassment, beatings and arbitrary arrests as they attempt to challenge a system of government that does not tolerate organised dissent.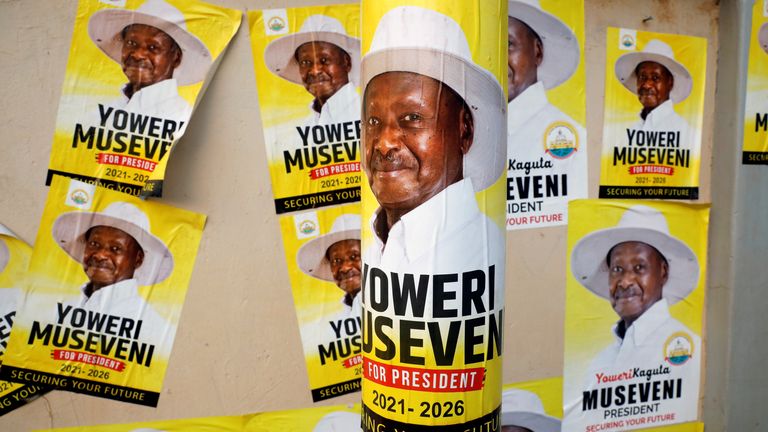 But the National Unity Platform had a crucial opportunity at the press conference to outline their plan, to come up with an approach which exploits and builds on the momentum they have manufactured over the past year.
Should young Ugandans take to the streets? Does the NUP support non-violent protest? How do concerned citizens challenge an election result that many believe is fraudulent?
Today, the people needed answers and the country's biggest opposition party, minus its leader, could not provide any.
Alexei Navalny: Poisoned Putin critic detained after arriving in Moscow | World News
Poisoned Putin critic Alexei Navalny has been detained by police following his return to Russia.
The dissident flew back from Germany where he had been recovering after being exposed to the Soviet-era novichok nerve agent in August.
Sky producer Alina Droyshevskaia was on the Sunday flight and said as passengers left the plane: "All of us expect he is going to be arrested… He's ready to sacrifice himself and basically be arrested. His wife is around him right now."
Just minutes after the plane's arrival, Russia's prison service confirmed Mr Navalny has been detained.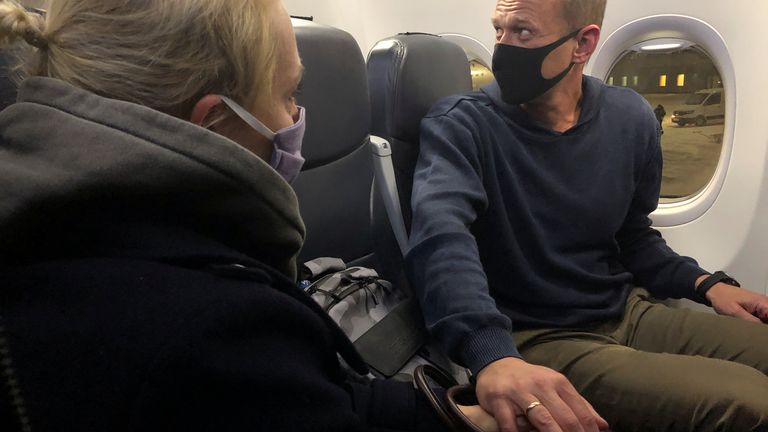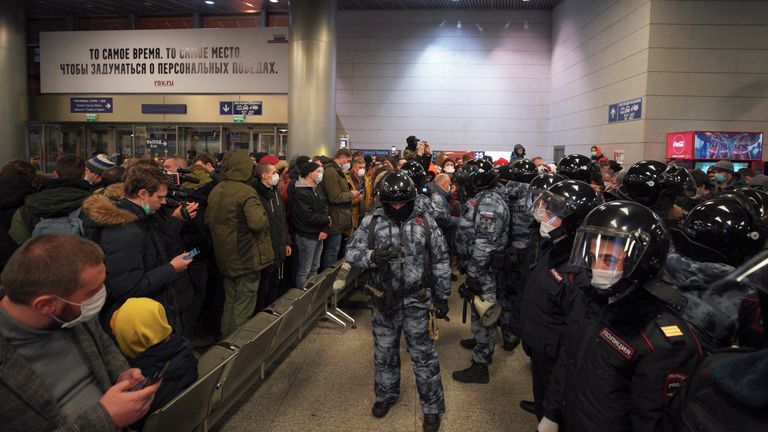 Mr Navalny's flight had been scheduled to land at Moscow's Vnukovo airport but it was later diverted to the city's Sheremetyevo airport, possibly an effort to keep him from the hundreds of supporters at Vnukovo who had come to see him.
Police detained several people at Vnukovo and cleared a crowd out of the terminal. Supporters chanted "Russia will be free!" and "Navalny! Navalny!".
Earlier, after boarding the aircraft in Berlin on Sunday, the Russian dissident had told reporters: "This is the best moment in the last five months. I feel great. Finally, I'm returning to my home town."
He said he did not think he would be arrested, calling himself an innocent person.
"What do I need to be afraid of? What bad thing can happen to me in Russia?" he added. "I feel like a citizen of Russia who has every right to return."
Navalny boards flight from Berlin to Moscow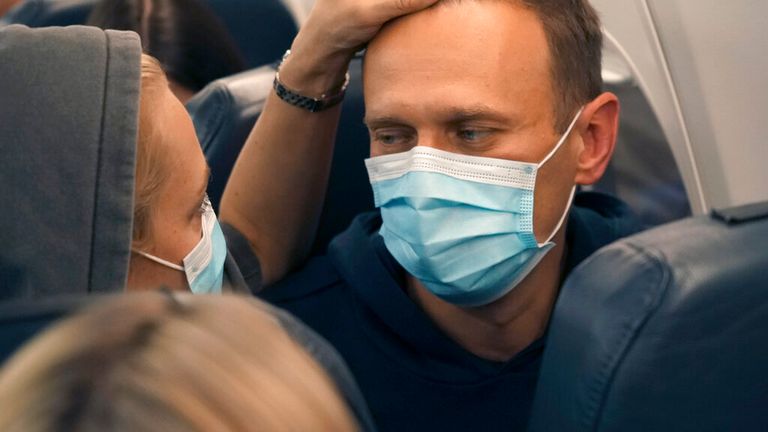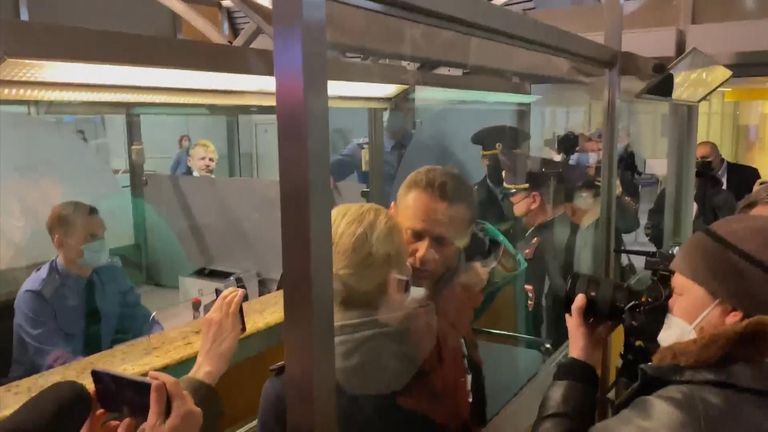 The 44-year-old had said on Instagram: "It was never a question of whether to return or not. Simply because I never left.
"I ended up in Germany after arriving in an intensive care box for one reason: They tried to kill me."
Mr Navalny fell ill on a flight to Moscow from the Siberian city of Tomsk last summer but Russia has denied involvement in the poisoning and has said it has seen no evidence that he was poisoned.
He is on the Federal Wanted List and is implicated in a number of criminal and administrative cases which give law enforcement broad scope to keep him under prolonged investigation.
This would most likely mean he is not around for September's parliamentary elections.
Russia's Federal Penitentiary Service has submitted a request to revoke a three-and-a-half-year suspended sentence which wrapped up in December and jail him instead.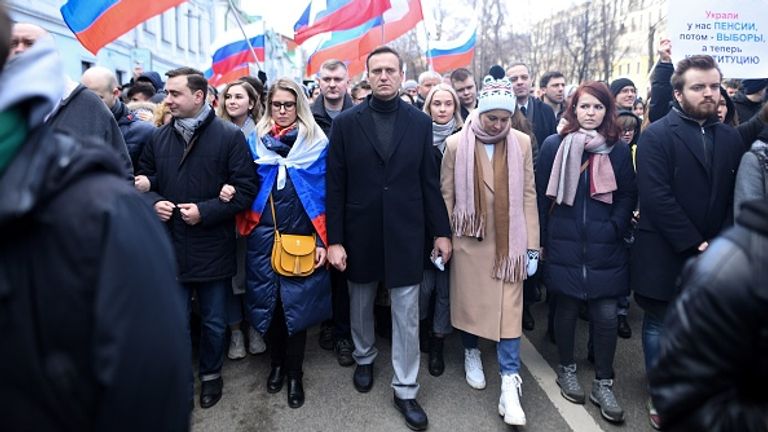 Alexei @navalny has been arrested. His real crime is surviving the assassination attempt Putin's corrupt regime tried on him.

— Tom Tugendhat (@TomTugendhat) January 17, 2021
They say he "systematically and repeatedly violated" the terms of his probation both whilst he was in Germany and on a number of occasions before.
If the court agrees, he could serve three-and-a-half-years in jail, minus a few months already spent under house arrest.
Mr Navalny has said: "[President Vladimir Putin's] servants are acting as usual by fabricating new criminal cases against me.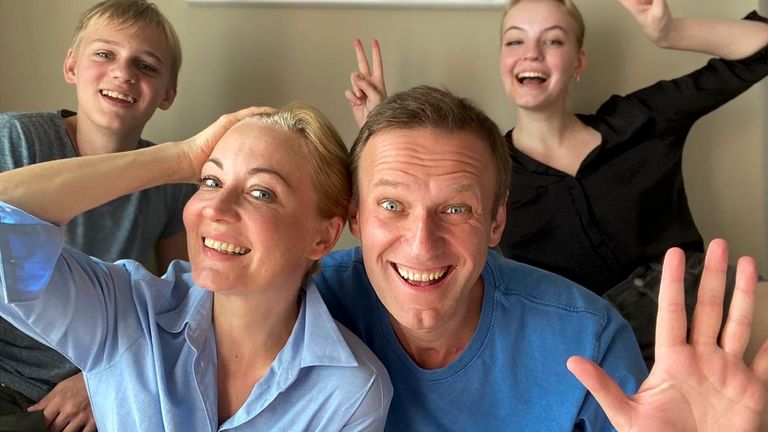 "But I'm not interested in what they're going to do to me. Russia is my country, Moscow is my city and I miss it."
On top of that, Russia's investigative committee has opened a new criminal case accusing him of the supposed misallocation of crowd-sourced funds at his RBK anti-corruption foundation.
"If they really want to go after him, this would be the worst case scenario," said his lawyer Vadim Kobzev.
"Three-and-a-half-years and then 10 years on top of that which is the maximum he can get for this new criminal case."
He thinks a jail term of that length is unlikely. Recent cases against Mr Navalny have all resulted in suspended sentences, "but we're all trying to read the tea leaves here," Mr Kobzev said.
The authorities' most likely course of action – at least in the medium term – will be extended periods under house arrest with restrictions placed on, for example, his use of the internet.
Mr Navalny off-line is far less of a threat to Mr Putin's cronies than the anti-corruption investigations he posts to his YouTube channel.
His team will endeavour to keep those going but it is not the same.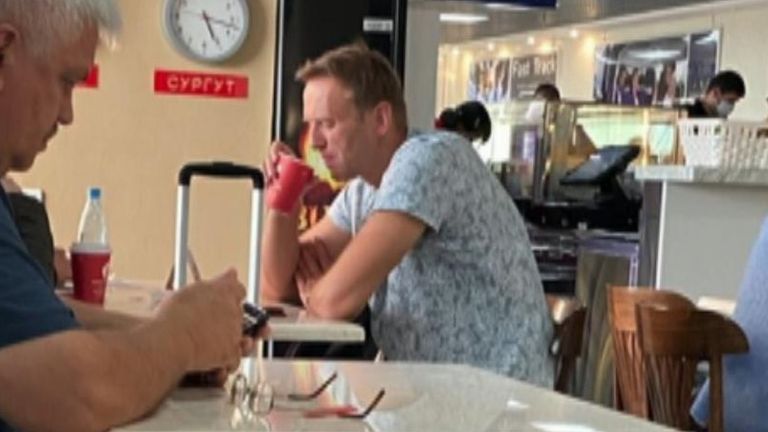 And suffice to say, despite the investigations into Mr Navalny's own alleged wrong-doing, authorities have still refused to open any kind of inquiry into how exactly the symbol of Russia's democratic opposition ended up fighting for his life on a work trip to Siberia, with a deadly novichok nerve agent coursing through his veins.
President Vladimir Putin's glib comment that the FSB would have finished the job if they had really wanted him dead is no substitute.
Nor, as Mr Navalny so convincingly proved in a telephone call with one of the FSB officers tasked with cleaning up the evidence of his poisoning, is it true.