Deported American gang members make El Salvador murder rate soar
MS-13 is a brutal, clandestine and fractured gang.
It's also one ultimately made in America by refugees fleeing a violent civil war in the 1980s.
Donald Trump has vowed to destroy the group and for the past year I've been reporting on the issue from the US – meeting the families of murdered teenagers, interviewing the Trump administration, looking inside the police response and hearing from immigrant communities who fear they are being unfairly swept up in a broader immigration crackdown.
After months of negotiation, I was about to see life on the other side, meeting a new wave of deportees taking their first steps in El Salvador, coming face to face with MS-13 members in prison and trying to see what if anything is changing.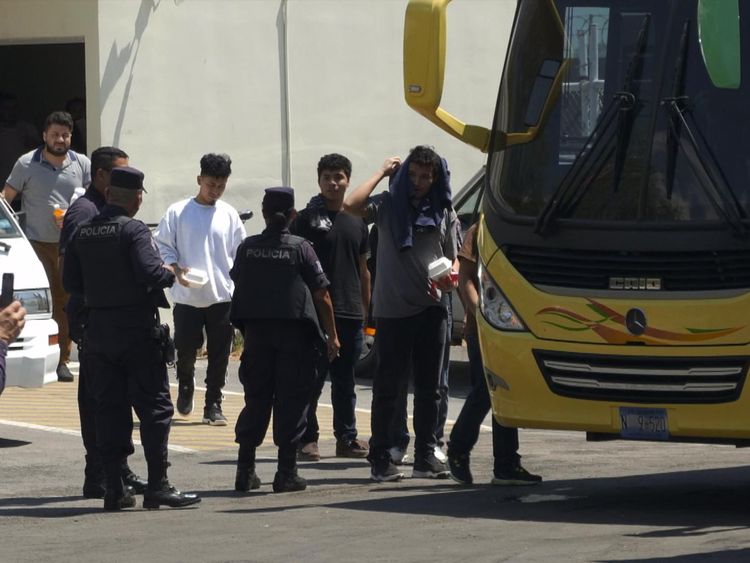 At the international airport, I noticed something unusual on the arrivals board- a flight with no name or location.
Minutes later, a Swift Air plane pulls up close to the road.
It's been charted from Houston by Immigration and Customs Enforcement (ICE).
Family members and friends are anxiously looking on – some crying, others biting their nails.
Then, a steady stream of bewildered looking men start to emerge.
They look anything between 18 and 55 years old.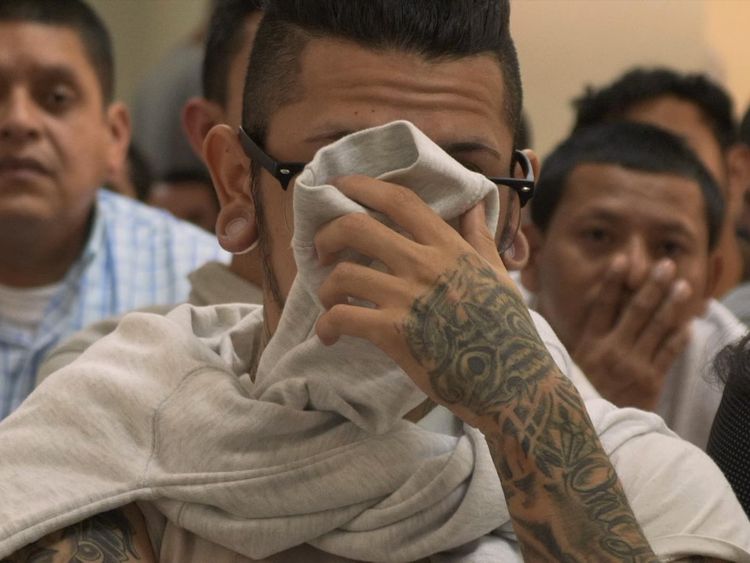 Some are covered in tattoos and will later try to have them removed – any ink is immediately associated with gangs here.
La Chacra, the country's main repatriation centre where they're taken to is in a gang-ridden area punctuated with gun fire.
What strikes me the most up close, is the mix of people arriving.
There are those open about the fact they've committed crimes in the US.
The majority I speak to though, tell me they've been sent back for failing to follow the immigration process properly.
Clerical errors and missed appointments keep coming up.
By next year, nearly 200,000 Salvadorans with permits to live and work in the US could also be forced to return.
The men and handful of women here have left behind their families in America and are hurriedly making calls to any relatives they may still have here.
It's striking to learn that most don't know how or where they'll spend the next few days, let alone months. Many haven't been here for decades and one man tells me it feels like a foreign land.
Donald Trump's rationale for sending people back is to stop MS-13's barbaric violence on US soil.
What immediately hits you here is how much more pervasive and inescapable violence is.
We're told we can't go to any gang areas (and it's hard to avoid them) without a police escort.
It is eerie to see a capital city emptied by 7 o'clock in the evening.
Entire neighbourhoods are in darkness and it's deadly quiet.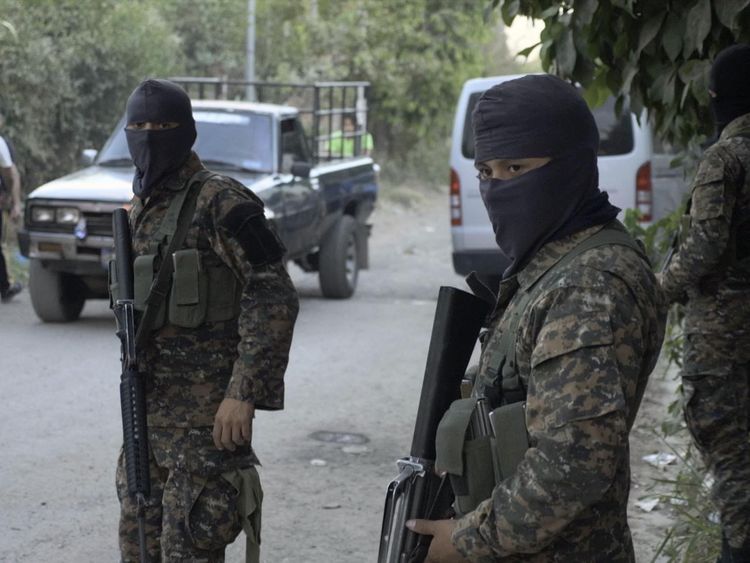 The police we're on patrol with are imposing – wearing balaclavas and carrying assault rifles.
We spend four nights with them as they stop and search countless people.
The gang knows how to hide though and this very visible presence at times feels futile, occasionally hostile.
23 people are killed the day we arrive.
When we saw the body of an 18-year-old man in an open arid field, a family's raw grief unfolds before us.
Watching as his distraught mother asks to hold onto his shoes before his body is carried away is something I will never forget.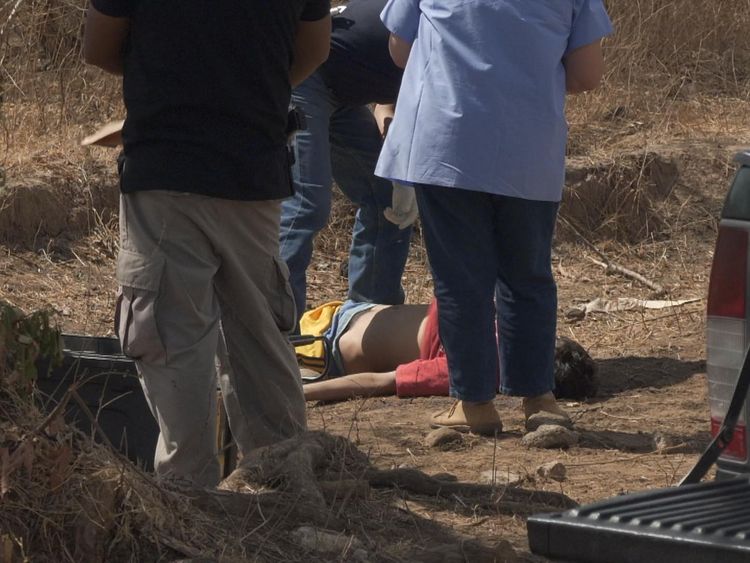 MS-13 however is a problem with no easy solutions.
In Apanteos prison, they are really trying to help people rebuild lives through learning.
But gangs members who tell me they want to leave, say it is near impossible to do so.
In the past, deportation have only emboldened MS-13, with members re-grouping and recruiting inside, some then returning to the US.
That risk still exists in a crowded penitentiary system.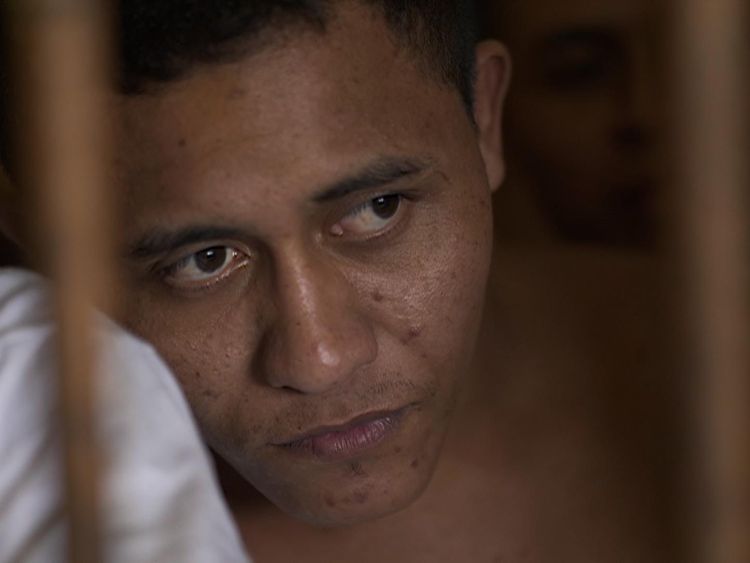 Just as we're leaving Apanteos, four men are killed in a prison where two rival gangs live cheek by jowl.
This might me El Salvador's problem now, but if history tells us anything, it could very quickly be swing back to being America's.
Poverty and lack of opportunity has encouraged alienated young people to join MS-13 in America.
In El Salvador, it is far worse.
And with the economy dependent on money being sent back, Washington could once again be about to shape its fate.
Donald Trump says he wants to end MS-13's violent scourge.
The danger is that sending them back could once make them grow stronger once again.
140 migrants drown near Senegal in 'deadliest shipwreck so far this year', UN reports | World News

At least 140 migrants have drowned off the coast of Senegal in the deadliest shipwreck recorded by the United Nations this year.
The boat caught fire and capsized hours after leaving the town of Mbour, about 62 miles south of the capital Dakar, for the Canary Islands on Saturday, the UN's migration agency said.
"At least 140 people have drowned after a vessel carrying around 200 migrants sank off the Senegalese coast, the deadliest shipwreck recorded in 2020," the International Organization for Migration said in a statement.
Roughly 60 people were rescued by the Senegalese and Spanish navies, as well as fisherman.
The perilous sea passage from West Africa to the Canary Islands was once a major route for those seeking an escape from poverty, and has seen a surge this year.
Spain had stepped up patrols to stop people attempting the journey, but migrant arrivals to the Canary Islands from West Africa have more than quadrupled in 2020 to around 11,000 compared with the same period last year.
Fourteen boats carrying 663 migrants left Senegal for the islands in September, the IOM said, over a quarter of which experienced an incident or shipwreck.
And in August, Spanish authorities found a boat near the Canary Islands with 10 dead migrants on board.
Last December, sunbathers stepped in to help some two dozen migrants who washed up on a beach in the islands, including three children and a pregnant woman.
Their rickety boat landed on the shores of Aguila in Gran Canaria, with those on-board having spent six days navigating the rough waters of the Atlantic.
Nice knife attack: More details revealed about knifeman as one victim named | World News
French authorities have revealed that the Nice attacker who killed three people is Tunisian and was unknown to security services.
France's chief anti-terrorist prosecutor, Jean-Francois Ricard, said the young man, born in 1999, arrived in the city by train and changed his clothes at the station, before walking 400 metres to the Notre Dame church.
He entered France from Italy – travelling through the southern Italian city of Bari on 9 October – after reaching the Mediterranean island of Lampedusa on 20 September.
Shots fired as police storm church

He was carrying an Italian Red Cross identity document and two phones, while a bag containing two unused knives was found.
The blade used in the attack was 30cm long, with a cutting edge of 17cm.
Following the attack at the church he moved towards police in a "threatening way", shouting Allahu Akbar [God is greatest] before being shot and seriously wounded by officers, who fired at least 14 bullets at him.
He is being treated in hospital, Mr Ricard said.
One of the three people stabbed to death has been named as church worker Vincent Loques.
Local politician Eric Ciotti tweeted a picture of Mr Loques dressed in a t-shirt, looking relaxed and smiling.
Macron: France is 'under attack'

He said Mr Loques was a "devoted employee" of the Notre Dame church.
Mr Ricard described the scene of the attack. He said a 60-year-old woman suffered a "very deep throat slitting, like a decapitation".
She and Mr Loques died at the scene, while a 44-year-old woman made it out of the church and died at a local cafe.
Mr Loques was 55 and a father of two, Le Parisien newspaper reported.
Members of the parish said he had been church warden for ten years and was "expansive and sympathetic".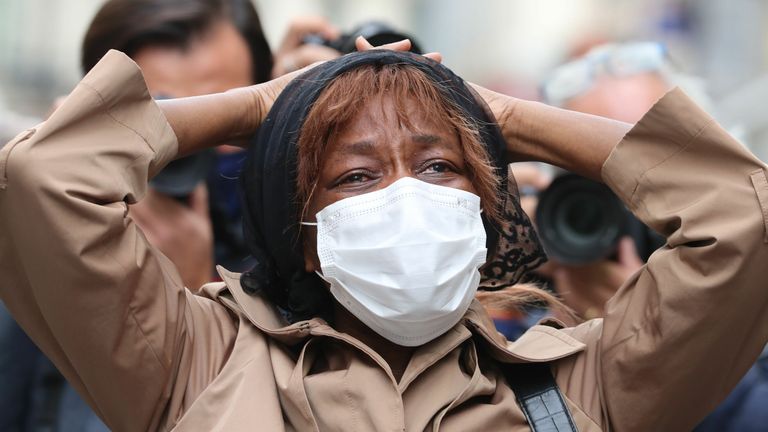 President Emmanuel Macron, who visited Nice on Thursday afternoon, said his country had been "attacked" and expressed the "support of France towards the Catholic community".
He added that the number of soldiers deployed to protect schools and religious sites would be increased from about 3,000 at the moment to 7,000.
Reuters journalists at the scene said police armed with automatic weapons put up a security cordon around the church, which is on Nice's Jean Medecin avenue, the city's main shopping thoroughfare.
Sounds of explosions could be heard as sappers detonated suspicious objects.
Prime Minister Jean Castex has told residents of Nice only to leave home for food shopping, commuting to work, medical reasons or pressing family matters.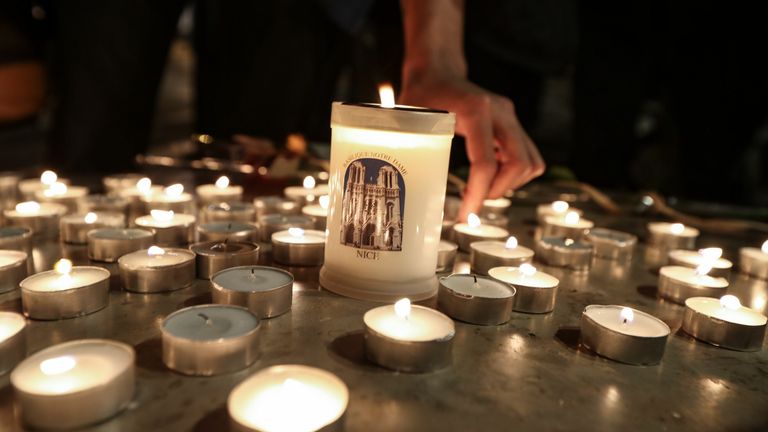 A representative of the French Council for the Muslim Faith condemned the attack, saying: "As a sign of mourning and solidarity with the victims and their loved ones, I call on all Muslims in France to cancel all the celebrations of the holiday of Mawlid [Prophet Muhammad's birthday]."
In a separate incident shortly after, French police confirmed a man was shot dead near Avignon, after threatening passers-by with a handgun in the district of Montfavet.
In Jeddah, Saudi Arabia, a man was arrested after stabbing and wounding a guard at the French consulate, state media reported.
It comes as the country remains under high alert for terrorist attacks following the beheading earlier this month of French middle school teacher Samuel Paty in Paris.
The attacker had said he wanted to punish Mr Paty for showing pupils cartoons of the Prophet Mohammad in a civics lesson.
:: Subscribe to the Daily podcast on Apple Podcasts, Google Podcasts, Spotify, Spreaker
Nice's mayor, Christian Estrosi, said the victims had been killed in a "horrible way".
"The methods match, without doubt, those used against the brave teacher in Conflans Sainte Honorine, Samuel Paty."
He added: "Attack in Nice, attack in Avignon, attack on the French consulate in Saudi Arabia. It is not a coincidence."
Since Mr Paty's killing, French officials – backed by many ordinary citizens – have re-asserted the right to display the cartoons, and the images have been widely displayed at marches in solidarity with the killed teacher.
That has prompted an outpouring of anger in parts of the Muslim world, with some governments accusing President Macron of pursuing an anti-Islam agenda.
US hospitals facing 'increased and imminent cybercrime threat', FBI warns | World News

Cybercriminals could soon paralyse the US healthcare system with a ransomware attack, which has already hit five hospitals and four other facilities, the FBI has warned.
In an alert on Wednesday, the FBI said it had credible evidence of an "increased and imminent cybercrime threat" to healthcare providers nationwide.
They warned the fraudsters behind the ransomware, which is called Ryuk, want to steal data and disrupt healthcare services.
They do this by scrambling their victims' data, making it impossible to understand, then demanding money to decode it again, the alert from the FBI, Department of Homeland Security and Department of Health and Human Services said.
The attack, which has already affected five hospitals this week, as well as four other healthcare institutions, could spread further in the coming days, they added.
It coincides with a nationwide rise in coronavirus cases and the US election on 3 November.
But there is currently no evidence the cybercriminals have any political motive, the alert stressed.
Previous ransomware attacks have resulted in ambulances being diverted to different hospitals and medics left to keep track of patient care with just pen and paper.
One in Dusseldorf, Germany, in September, resulted in a critically-ill patient being rerouted to another hospital in the city, which ultimately led to their death.
So far the current US attack has not seen any care compromised.
But Charles Carmakal, chief technical officer of security firm Mandiant, says the cyber threat could be the "most significant" the US has ever seen.
He warned criminals are "deliberately targeting and disrupting US hospitals, forcing them to divert patients to other healthcare providers" and producing prolonged delays in critical care.
So far this year 59 US healthcare providers or systems have been impacted by ransomware, which has resulted in care at 510 facilities being compromised, cybersecurity analysts at Emisisoft added.