An American dad in Sweden now has plenty of family time
The sea change has helped them grow as a couple, Asplund said.
"It puts more strain on the family as a whole when you're not able to share the responsibility of everything," she says. "Now, we both work, we both take care of the kids, we both take care of the house, there's not that rift or division. It was just a lot better."
Children spending more quality time with their fathers has a cascade of social benefits, according to the Swedish government, but it also allows women to pursue their careers and become more active members of the workforce.
In this sense, gender equality is a dispassionate economic goal; right now half of the population is unable to contribute as much as the other because of traditional family commitments.
Some conservative critics say this focus on dads means moms are pressured to abandon their children too soon. The Swedish government disagrees.
"One of the main discussions now is how do we make dads stay at home more," says Harju, the health ministry spokesman. "We are in firm belief that children have the right to spend time with both their parents, and we have to ensure that the system also covers that and pushes society toward that direction."
Another American father with experience in both worlds is Michael Wells, a Minnesota native and an expert on parental leave.
He moved to Sweden to study the country's unique parenting model but ended up meeting a Swedish woman, getting married and having a son.
"When I originally came, I came to study it, not to live it," says Wells, who works as a researcher at the Karolinska Institute, a medical university in Stockholm.
For Wells, it's not just the family leave that sets Sweden apart but the raft of other social welfare benefits.
For example, parents don't have to take all of their 480 days at once. Some of that time can be deferred up until the child is 12 years old. In addition, the government pays every couple — whether they are janitors or CEOs — an allowance that equates to around $130 per child per month.
Swedes also get a whopping 120 days of "child sick leave" per year, when they can stay home if a child is ill without eating into their own already generous allowance.
"I think Americans would be really surprised by the system here," Wells says. "And the U.S. system would be unfathomable to a Swede."
How does Sweden pay for this? Part of the answer, very broadly, is that Swedes are prepared to pay more in taxes than Americans — much more.
If Sweden's tax system was applied in the U.S., everyone earning more than $75,000 would have to pay the top marginal tax rate of around 61 percent — one of the highest in the world. Currently, only Americans earning around $400,000 hit the top tax bracket of around 46 percent, according to the Tax Foundation, a Washington think tank.
Many in the U.S. might argue this goes against the American spirit distilled by President Ronald Reagan's farewell address in 1989: "We the people tell the government what to do; it doesn't tell us."
But like many in Sweden, Wells says he is happy to pay extra because of the parental leave, subsidized health care, subsidized preschools and a slew of other benefits he gets in return.
"I get a lot from my taxes. I see what they provide," he says. "And as soon as you start having kids, you see all these other benefits that you get out of your taxes that I know I would have to pay for out of my own pocket in the U.S. That's a huge burden off my shoulders."
The Swedish government is now trying to modernize its family leave and update a policy that was devised in the 1970s so it better suits life in 2018.
"For instance, in the LGBT community, where two lesbians or gay people have kids together, how are they able to use the insurance in a sensible way so it's adjusted to different families?" says Harju at the health ministry.
Reid and Wells say they've already encountered an array of reactions from people in the U.S.
"We have a lot of friends who have kids and they all are pretty much asking: 'How do we get to Sweden? How do we live there?'" Reid says.
Asplund has had a different experience. "Yeah, they think it's all communist," she laughs.
Others might argue that the Swedish model — catering to a far more homogeneous population of 10 million than America's 326 million — could never work in the U.S.
Wells disagrees.
"If every other industrialized country in the world can have parental leave," he says, "I'm pretty sure the U.S. can manage to do it, too."
Afghanistan bombing: At least 18 killed including teenagers in suicide blast at Kabul education centre | World News
At least 18 people have been killed including teenage students following a suicide bombing at an education centre in Afghanistan.
Another 57 people were wounded in the blast which struck in a heavily Shia neighbourhood of western Kabul on Saturday.
Interior ministry spokesman Tariq Adrian said the attacker was trying to get into the centre before he was stopped by guards.
He added that most of the victims were aged between 15 and 26.
Hospitals are still being searched for victims of the blast, so the number of casualties could still rise.
Islamic State has claimed responsibility for the attack on social media, but did not provide any evidence to support this.
The Taliban has rejected being connected to the explosion.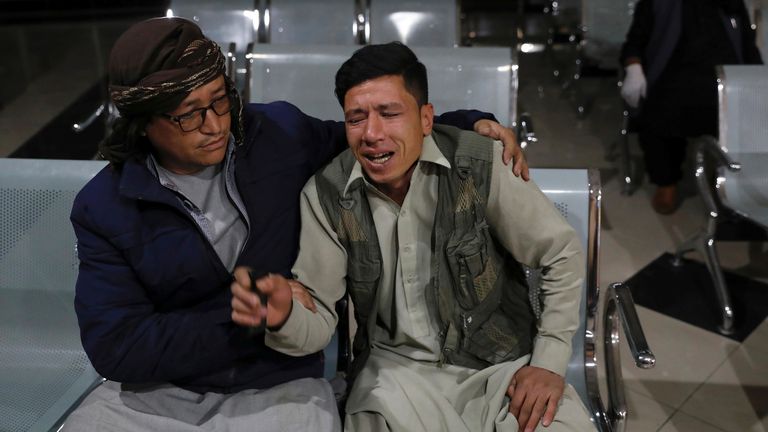 A group associated with Islamic State claimed responsibility for a similar suicide incident in August 2018, which killed 34 students.
In February, the US signed a peace deal with the Taliban as America looks to withdraw troops from the region.
Separately on Saturday, a roadside bomb killed nine people in eastern Afghanistan after a bus full of civilians was struck.
A police spokesman added that a second device was triggered and killed two police officers who were making their way to the scene of the devastated bus.
No-one claimed responsibility for these blasts either, although local police have blamed the Taliban.
Chicago police officer sacked after shooting dead unarmed black teenager | World News
A police officer in the US has been fired after shooting a black couple inside a car – killing a 19-year-old man and injuring his girlfriend.
The Chicago officer shot dead Marcellis Stinnette and wounded Tafara Williams after what authorities described as a traffic stop on Tuesday.
The officer – whose name has not been released – committed "multiple policy and procedure violations", Waukegan police chief Wayne Walles said.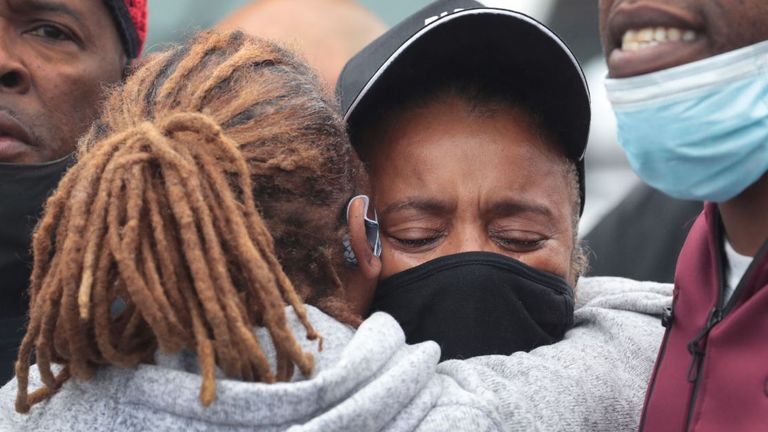 Police said Ms Williams was driving and her partner was a passenger in a car which fled after getting pulled over, before the vehicle was later spotted by another officer.
After the second officer approached, the car moved in reverse and the now-sacked officer opened fire on the couple, who have a child together, according to authorities.
No weapon was found in the vehicle, police said.
The officer who shot the couple is Hispanic and has been with the police department for five years.
Lake County's chief prosecutor said the FBI will work alongside Illinois state police to investigate the incident.
Michael Nerheim, Lake County State's attorney, has asked the US justice department to look into the circumstances around Mr Stinnette's death.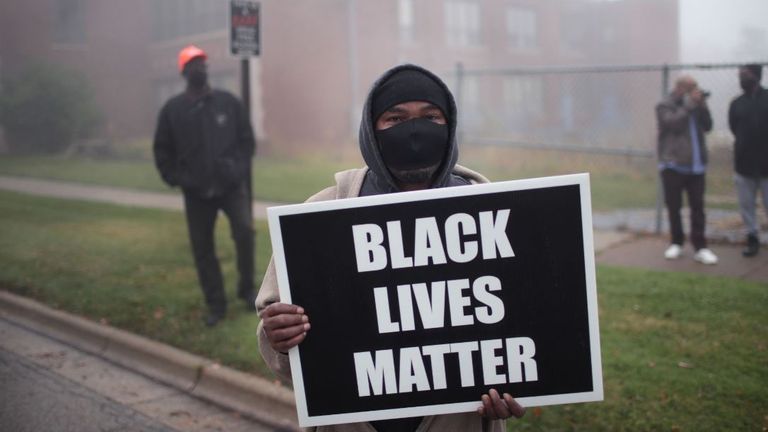 "I am confident in the work being done by the Illinois state police and welcome the assistance of the FBI," Mr Nerheim said in a statement.
"As I have said before, once the investigation is concluded, all the evidence will be reviewed and a final decision will be made with respect to any potential charges."
The couple's family and activists are asking police to release a video of the shooting, which authorities have said is currently with an investigating team.
:: Subscribe to Divided States on Apple podcasts, Google Podcasts, Spotify, and Spreaker
Activist Chris Blanks said video footage is crucial, as the version of events given by the police seems to contradict the version of events told by Ms Williams' mother, Clifftina Johnson.
She says her daughter said they did nothing to provoke the officer that injured her and shot dead her partner.
Mr Nerheim called for calm during the investigation process and has promised transparency.
US election 2020: 'I voted for a guy named Trump' – President casts his ballot in Florida | World News

The president has cast his ballot in the US election, telling reporters: "I voted for a guy named Trump."
After voting in West Palm Beach, Florida, Mr Trump also took the opportunity to attack mail-in ballots – warning that they can never be as secure as voting in person.
Describing his experience at the polling station as "perfect and very strict", he added: "It was a very secure vote – much more secure than when you send in a ballot, I can tell you that."
The president said that that he will be holding "three big rallies" today, and claimed: "I hear we're doing very well in Florida and every place else."
To secure the White House, winning in Florida is essential.
The state has consistently voted for the victor in every election except one since 1964 – and no Republican has won without the state in almost a century.
With 29 electoral college votes up for grabs, it's the largest swing state and crucial for gathering the 270 votes needed.
Most polls show Mr Biden narrowly ahead in Florida. History suggests that, if Mr Trump loses here, he'll likely lose the White House.
The election will take place on Tuesday 3 November – just under two weeks away.