Trolls attack Irish women's pro-choice Facebook group
A Facebook group for Irish women to share their stories about illegally accessing abortions has been attacked by trolls.
The group In Her Shoes offers women an opportunity to speak about their experiences of Ireland's Eighth Amendment, which prohibits terminating pregnancies unless the life of the mother is at risk.
According to the group's administrators, pro-life activists in both the Republic of Ireland and the US attacked the women in the group, attempting to have Facebook ban the page and its members.
Some members were temporarily locked out of their accounts following the trolling, which involved giving the group one star reviews and privately messaging individual members with abusive comments.
It follows Facebook's admission earlier this year that social media can have a damaging impact on democracy, and its acknowledgement that Russian entities used it to influence the 2016 election in the US.
Facebook was unable to immediately respond to Sky News enquiries regarding the temporary bans and the protections available for open support communities which were at risk of being targeted by trolls.
:: Why Ireland baby rights ruling allows a referendum
In Her Shoes states: "Every day, 12 women and girls from Ireland have an abortion. Nine women travel to the UK to access safe abortion services. At least three women risk a 14 year prison sentence to take safe, but illegal abortion pills sourced online."
Women in the Republic of Ireland currently face 14 years in prison for terminating a pregnancy except in situations where the life of the mother is at risk.
Campaigners say even where this risk is asserted, it is still difficult to receive adequate care, citing how in 2012 a 31-year-old woman from India died in Ireland after being refused an abortion.
The Taoiseach, Leo Varadkar, has committed to a referendum being held on 25 May to decide whether the constitutional amendment should be repealed.
Members have commented with messages of support for the women explaining their experiences.
Sarah Cullen wrote: "Heartbreaking stories that tell the truth about women's health in Ireland today. Thank you to the brave women who have shared their experiences."
"Thank you for creating this outlet for women to tell their story, and in turn helping us all see the reality of so many people's experiences," wrote Irene McDermott.
When the Eighth Amendment to the Constitution of Ireland was first introduced in 1983 it passed in a referendum with more than 66% of the vote, with a turnout of 54%.
Joe Biden: 'We can't allow the Good Friday Agreement to become a casualty of Brexit' | US News
US presidential candidate Joe Biden has weighed into the controversy over the UK's new Brexit bill, warning of its implications for a future UK-US trade deal.
The Democrat challenger added to concerns among senior US politicians that changes associated with the Internal Market Bill will undermine the Good Friday Agreement.
Mr Biden tweeted: "We can't allow the Good Friday Agreement that brought peace to Northern Ireland to become a casualty of Brexit."
We can't allow the Good Friday Agreement that brought peace to Northern Ireland to become a casualty of Brexit.

Any trade deal between the U.S. and U.K. must be contingent upon respect for the Agreement and preventing the return of a hard border. Period. https://t.co/Ecu9jPrcHL

— Joe Biden (@JoeBiden) September 16, 2020
"Any trade deal between the US and UK must be contingent upon respect for the agreement and preventing the return of a hard border. Period."
The intervention came after an awkward day of diplomacy in Washington DC for the UK's foreign secretary Dominic Raab.
A UK-US trade deal was prominent in his diary of engagements in the US capital but so was Brexit, international agreements and law-breaking.
His day started positively enough.
"We trust the UK, I am confident they'll get it right," said his host Mike Pompeo, the US secretary of state, describing the 'special relationship' as "stronger than ever".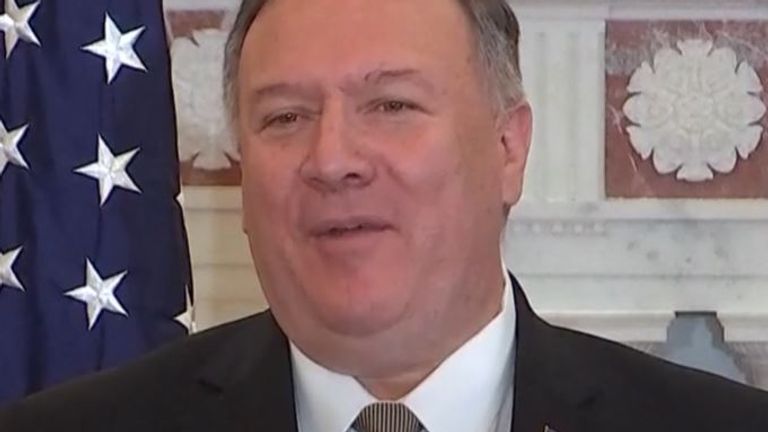 They were welcome words, no doubt, amid the diplomatic warmth of a morning audience in the US State Department. An afternoon chill delivered a contrast.
The UK foreign secretary attended a scheduled meeting with Nancy Pelosi, the Democratic speaker of the House of Representatives, who was already on record as having expressed incredulity at the UK's actions over Brexit, stating it could rule out a UK-US free trade agreement.
Her views matter. Any UK-US trade deal would need Democratic votes to get through Congress.
Speaker Pelosi repeated her warning to Mr Raab in their face-to-face meeting.
In a statement afterwards, she said: "If the UK violates its international agreements and Brexit undermines the Good Friday accord, there will be absolutely no chance of a US-UK trade agreement passing the Congress."
:: Subscribe to Divided States on Apple podcasts, Google Podcasts, Spotify, and Spreaker
It's clear is that America's political establishment has its own reading of events and has other, influential voices in its ear – not least the Irish lobby in the United States.
In his State Department news conference, Mr Raab insisted the threat to the Good Friday Agreement came from the EU's "politicisation" of the issue.
In his meeting with Speaker Pelosi, he sought to reassure her that the UK government wouldn't undermine the Good Friday Agreement and would never erect a hard border in Northern Ireland.
UK officials point out the issue won't be solved in the United States, but at the table with the European Union.
Their Brexit journey will, however, bring them back across the Atlantic soon enough. How negotiations unfold with the EU will dictate how tough a sell they have in the US.
NYC mayor orders 500 staff, including himself, to take unpaid leave as budget crisis worsens | US News
New York City mayor Bill de Blasio will furlough himself and almost 500 staff members for a week to close a budget gap created by the coronavirus pandemic.
Everyone at the mayor's office in City Hall will be placed on unpaid furlough for a week at some point between October and March 2021, it was announced on Wednesday.
A total of 495 staff members will be affected, according to The New York Times.
Due to the economic shutdown arising from the coronavirus outbreak, the city has lost $9bn (£6.9bn) in revenue and has made $7bn (£5.4bn) of cuts to the city's annual budget.
Mr de Blasio has said the week-long furlough will save around $1m (£770,000) – and it may serve as a useful symbol while he continues negotiations regarding broader payroll savings with labour unions representing employees.
He said "it was not a decision I made lightly", adding: "To have to do this is painful for them and their families, but it is the right thing to do at this moment in history."
Alongside the furloughs being made, the budget for the mayor's office will be 12% smaller this year.
Mr de Blasio said there are no planned pay cuts for any New York City employees, but added: "We never know what the future brings."
He has warned that 22,000 employees in the city may lose their jobs if savings aren't found in negotiations with labour unions.
The mayor added: "We're going to be in a horrible budget situation for years, so this borrowing capacity is to give us a fallback no matter what happens up ahead."
When asked whether furlough could be applied to the city's entire workforce of over 320,000, Mr de Blasio said: "Everything's on the table. We're talking to labour about any and all ways to save money."
He is also seeking more borrowing power from state lawmakers in Albany – the capital city of New York state – who have so far been resistant towards the idea.
Hurricane Sally: 'Nightmare' storm moving at just 3mph wipes out section of brand-new bridge | World News
Hurricane Sally has brought heavy winds and devastating flooding to America's Gulf Coast – with the slow-moving storm destroying a section of a new bridge in Florida.
Officials have confirmed that part of the Three Mile Bridge in Pensacola, which was being reconstructed after being damaged by previous hurricanes, is missing.
The storm brought "life-threatening" 105mph winds and rain across the American South when it made landfall as a category two storm at 4.45am local time on Wednesday.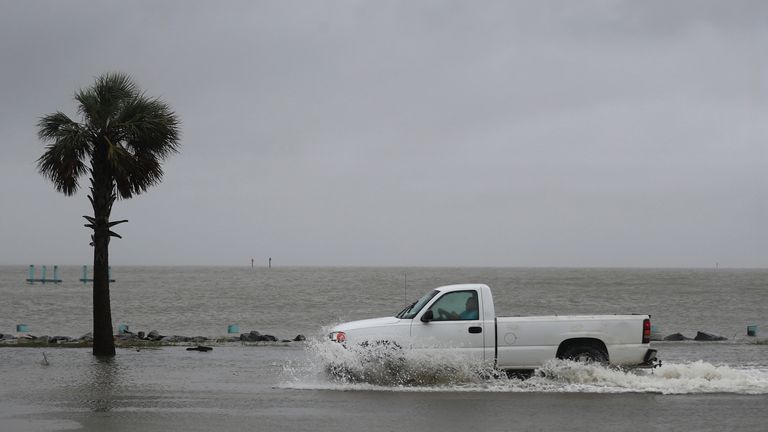 Parts of Pensacola have been swamped with floods as high as 1.5m (5ft).
Sally is moving at speeds of just 3mph – about as fast as a person can walk – and officials have warned that thousands of people will need to flee rising waters in the coming days.
David Morgan, the sheriff of Escambia County in Florida, said: "There are entire communities that we're going to have to evacuate. It's going to be a tremendous operation over the next several days."
Although the storm is expected to weaken as it moves farther inland, heavy rainfall is expected to continue well into Thursday.
One forecaster in the Alabama city of Mobile, David Eversole, said: "It's not common that you start measuring rainfall in feet. Sally's moving so slowly, so it just keeps pounding and pounding and pounding the area with tropical rain and just powerful winds. It's just a nightmare."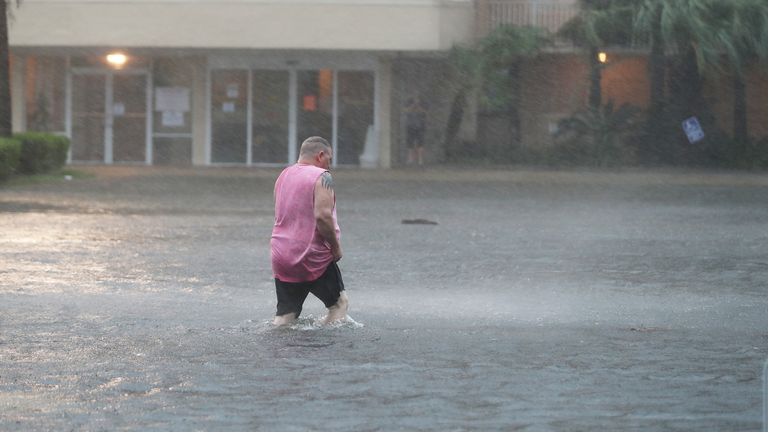 Sally is the second hurricane to hit the Gulf Coast in less than three weeks, in what has been one of the busiest hurricane seasons ever recorded.
Forecasters have nearly run through the alphabet of storm names, with two-and-a-half months left in the season.
Storm Teddy, currently in the Atlantic, is expected to strengthen into a hurricane in the coming days.
"We've only got one name left," said Jim Foerster, a chief meteorologist. "That's going to happen here soon, Wilfred, and then we'll be into the Greek alphabet."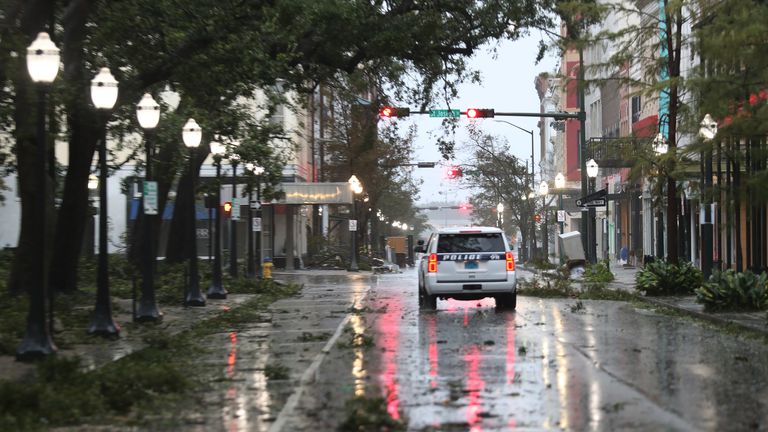 Like the wildfires raging on the West Coast, the onslaught of hurricanes has focused attention on climate change, which scientists say is causing slower, rainier, more powerful and more destructive storms.
Hundreds of people have had to be rescued from their homes – but in some areas, such as Orange Beach in Alabama, these operations have been hampered by the treacherous conditions.
The city's mayor, Tony Kennon, said: "We got a few people that we just haven't been able to get to because the water is so high. But they are safe in their home, as soon as the water recedes, we will rescue them."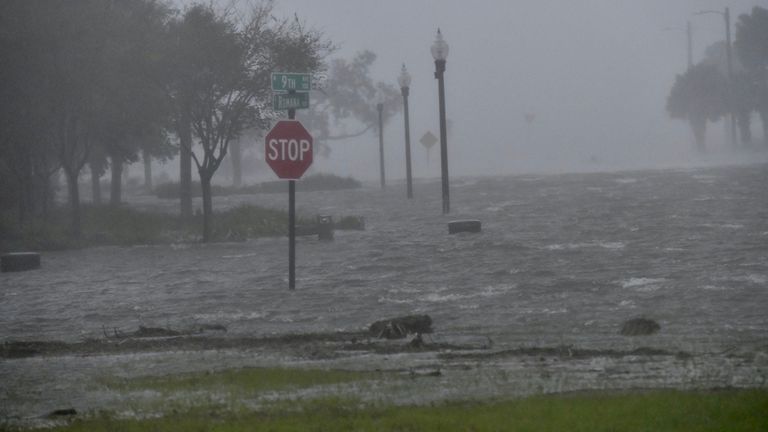 The National Hurricane Centre has likened Sally's slow pace to that of Hurricane Harvey, which inundated the Texas city of Houston back in 2017.
President Donald Trump issued emergency declarations for parts of Florida, Alabama, Mississippi and Louisiana.
White House press secretary Kayleigh McEnany said on Fox News that Trump was in contact with the states' governors and ready to help "in every way possible".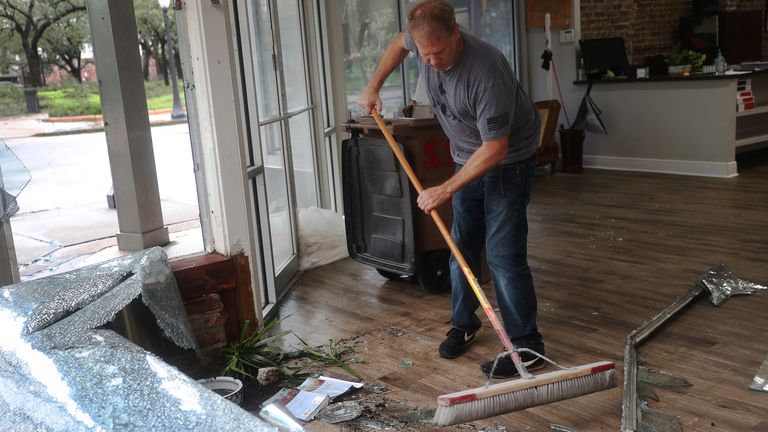 Officials have urged those in affected areas to stick to text messages for contacting family and friends to keep cellphone service open for 911 calls.
Nearly 500,000 homes and businesses have lost electricity.