The music industry needs Spotify to be successful — but not too successful
Get breaking news alerts and special reports. The news and stories that matter, delivered weekday mornings.
The music industry will hold its collective breath on Tuesday as Spotify, the world's biggest streaming music service, makes its debut as a public company.
Once maligned by musicians and record labels, Spotify has helped turn around a brutal collapse of the music industry that started in the early 2000s and has only recently begun to reverse. Streaming music services like Spotify now account for nearly two-thirds of the industry's revenue and almost all of its growth, according to the Recording Industry Association of America.
But as much as the record labels will be cheering Spotify on at its public debut (the major labels are part owners of the company), they will also be keeping a watchful eye that Spotify doesn't get too far ahead of the pack. The music industry needs Spotify to be successful, but not too successful.
"The music labels hate any single player getting too powerful," said Mark Mulligan, a managing director and music analyst at MIDiA Research. "The way the music labels think, they have a narrow focus, so they're already thinking of Spotify being the dominant player. Now, it's how can they clip its wings."
For consumers, it's a test of whether one of the most successful music companies in history can keep its prices low while holding off competition from tech giants — many of which are testing just how little they can charge people to listen to any song, any time, any place with an internet connection.
The industry won't have to do much to keep Spotify from becoming dominant. The company is projected to have 93 million paying global subscribers by the end of 2018, but Apple Music the appears ready to overtake Spotify in the US this summer, according to the Wall Street Journal. Amazon and Google also offer music subscription services.
Spotify has also never made a profit, though the company projects to begin making money as long as it continues to add subscribers and improve its margins.
Competition between music services will help the music industry retain power to negotiate as well as give consumers options, said Larry Miller, associate professor and director of the music business program at New York University.
"What the music industry and consumers need is a robust competitive situation with multiple services offering music in different ways that appeal with different kinds of premium content," Miller said.
Warner Music's chief digital officer, Ole Obermann, also said that music services have been offering very similar products — and that they need to figure out a way to cater to particular groups of people.
"Musical taste is such a personal thing that it's imperative for the streaming services to differentiate their offerings and appeal to a wide variety of fans' preferred genres and listening habits," he said.
COVID-19: Disneyland Paris to reopen but no hugs from Mickey Mouse – as Netherlands sex workers return amid lockdown easing across world | World News
Disneyland Paris has announced the date it will reopen and sex workers in the Netherlands will return this week, as several countries ease COVID restrictions.
Having been closed since last October, Disney's amusement park in the French capital will welcome visitors back from 17 June.
A statement said the site's reopening would be accompanied by "appropriate health and safety measures" – with hugs from the likes of Mickey Mouse and other mascots suspended.
It will also limit the number of visitors, with those over six being asked to wear masks.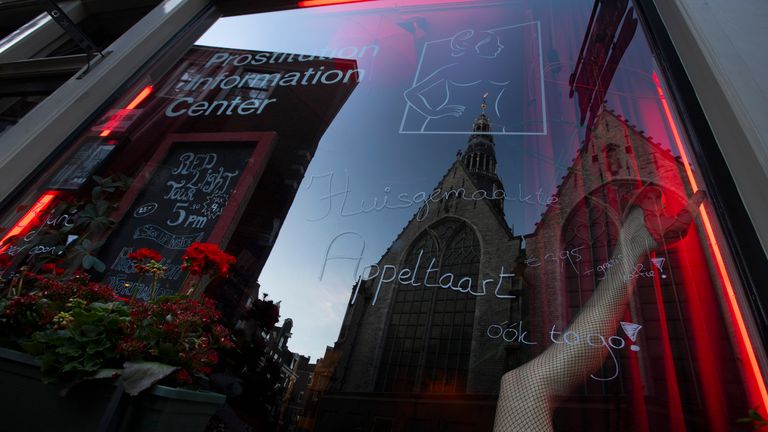 Meanwhile, Netherlands health minister Hugo de Jonge revealed a series of measures to relax coronavirus rules.
Parks, zoos, gyms and outdoor swimming pools will reopen on Wednesday, after the rollout of COVID-19 vaccinations eased pressure on hospitals, the minister said.
And sex workers will be allowed to resume five months after being ordered to pause operations in mid-December.
They had protested in Amsterdam in March, saying they were being discriminated against as the authorities allowed other "contact businesses" including hairdressers and masseurs to reopen.
Public libraries will reopen on Thursday and further steps, including reopening museums and allowing indoor service at restaurants, are expected over the next three weeks, Mr de Jonge added.
"This a responsible step at this moment, but we have to stay very careful," he said of the broader relaxation.
Subscribe to the Daily podcast on Apple Podcasts, Google Podcasts, Spotify, Spreaker
"We see a significant contribution from vaccinations. But we're not there yet."
COVID infections in the Netherlands have dropped by more than a quarter this month, after climbing to their highest levels of the year in April.
Another city to be easing measures is Dubai, where hotels in the regional tourism hub will be allowed to operate at full capacity and concerts and sports events will be able to welcome crowds and participants who have been vaccinated.
The United Arab Emirates ranks highly globally for coronavirus testing and vaccination rates, which has allowed for capacities for restaurants and entertainment venues to also be increased.
Authorities in Sri Lanka have announced shops and public transport can reopen, easing a three-day travel restriction imposed across the country.
Sri Lankans had been from banned from leaving their homes since Thursday night to try to contain the spread of COVID-19.
Authorities said though that those restrictions would now be imposed for five hours overnight for the next two weeks.
And in Turkey, the interior ministry has said a full lockdown that had ordered people to stay home to fight infections would be shifting to a less-restrictive program.
This will still involve curfews on weeknights and weekends from 1 June, which authorities said was part of a "gradual normalisation".
Shopping malls can reopen – and while some businesses will remain closed, including gyms and cafes, restaurants will be able to offer takeaway in addition to delivery. Preschools will resume in-person education but upper grades will continue remote learning.
People in Turkey can also return to their workplaces but must stay at home from 9pm to 5am on weekdays.
However, other parts of the world have been tightening restrictions.
Hong Kong authorities say quarantine rules for arrivals from countries like Singapore, Japan and Malaysia would become tightened from Friday amid a surge in coronavirus infections.
And Trinidad and Tobago has declared a state of emergency, also citing a sharp increase in cases.
Israel-Gaza conflict: Militant tunnels destroyed in Israeli bombing campaign – as Palestinians face 12-hour power cuts and undrinkable water | World News
Sustained Israeli military airstrikes have destroyed nine miles (14km) of militant tunnels along the Gaza Strip, and the homes of nine Hamas commanders, it has been claimed.
According to the Israeli Defense Forces, the latest attacks killed a local Gaza leader of the Islamic Jihad militant group, blamed for some of the thousands of rocket attacks launched at Israel.
It said it struck 35 "terror targets" as well as the tunnels, which it says are part of an elaborate system it refers to as the "Metro", used by fighters to elude aircraft.
Israeli war planes pummel Gaza

Residents of Gaza who were awakened by the overnight barrage described it as the heaviest since the conflict escalated a week ago – and even more powerful than a wave of airstrikes in Gaza City the day before that killed 42 Palestinians and flattened three buildings.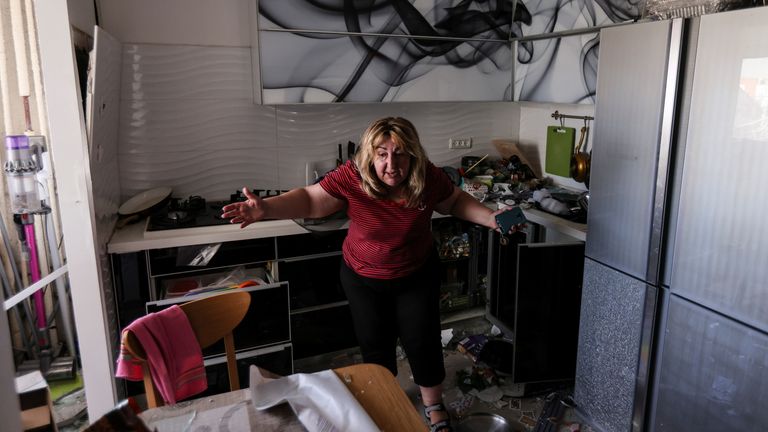 There is no confirmation yet on the number of casualties from the latest strikes.
The majority of the fatalities so far have been reported in Gaza with at least 200 Palestinians killed, including 59 children and 35 women, with 1,300 people wounded.
Eight people in Israel have been killed in rocket attacks launched from Gaza, including a five-year-old boy and a soldier.
The latest developments come after a three-storey building in Gaza City was heavily damaged, but residents said the military warned them 10 minutes before impact and everyone was able to flee.
The building housing the Associated Press's Gaza office and those of other media outlets was also hit.
AP president and chief executive Gary Pruitt said he was "shocked and horrified" that it had been targeted.
He said the AP had "no indication Hamas was in the building or active in the building".
But the Israeli Air Force maintained the bombings had targeted nine residences belonging to "high-ranking commanders" of the Hamas organisation.
"The residences that were struck were used as terror infrastructure. Some of the residences were used to store weapons," it said.
Despite growing international calls for a de-escalation of violence, US secretary of state Antony Blinken signalled on Monday the US would not join growing calls for an immediate ceasefire.
"Ultimately it is up to the parties to make clear that they want to pursue a ceasefire," he said, something Israeli Prime Minister Benjamin Netanyahu has made clear will not happen.
Attacks, he said, would continue at "full force" and would "take time".
Gaza's mayor Yahya Sarraj told Al-Jazeera TV the intensive barrage had caused severe damage to roads and other infrastructure.
"If the aggression continues, we expect conditions to become worse," he said.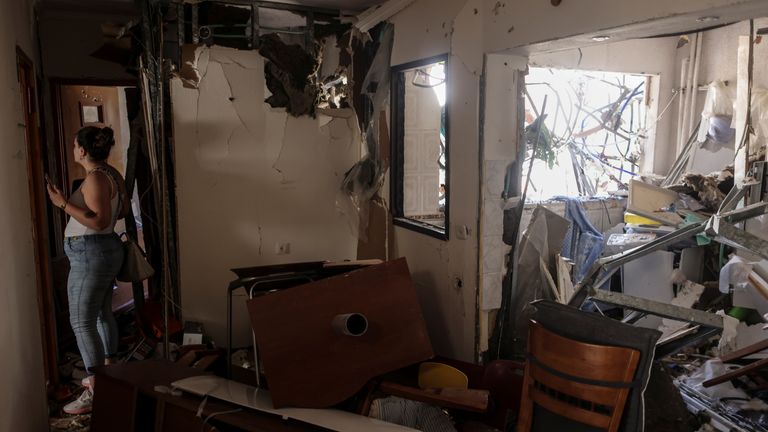 He also warned the territory was running low on fuel and other spare parts.
The UN has warned Gaza's sole power station is at risk of running out of fuel. The territory already experiences daily power outages of eight to 12 hours, and tap water is undrinkable.
The conflict escalated last Monday after Hamas fired long-range rockets at Jerusalem following weeks of clashes in the Holy City between Palestinian protesters and Israeli police.
The protests were focused on the heavy-handed policing of a flashpoint holy site during the Muslim holy month of Ramadan and the threatened eviction of dozens of Palestinian families by Jewish settlers.
Since then, the Israeli military has launched hundreds of airstrikes that it says are targeting Hamas's militant infrastructure.
Militants in Gaza have fired more than 3,100 rockets into Israel.
"I have not seen this level of destruction through my 14 years of work," said Samir al Khatib, an emergency rescue official in Gaza. "Not even in the 2014 war."
Hamas and the Islamic Jihad militant group say at least 20 of their fighters have been killed, while Israel says the number is much higher and has released the names and photos of more than two dozen militant commanders it says were "eliminated".
COVID-19: First 'over the moon' British holidaymakers arrive in Portugal | World News
The first Britons have started arriving in green-listed Portugal after overseas holiday restrictions were lifted.
Only a dozen countries and territories are on the green list but most are either remote islands or do not currently allow UK tourists to enter.
Travellers returning from any of these countries do not need to quarantine, and will only be required to take one post-arrival test, under current COVID-19 restrictions.
Sky News Europe correspondent Michelle Clifford is in Portugal as the first British holidaymakers arrive.
The taxi drivers started arriving at Faro Airport long before the first flight arrived from the UK.
Live updates as lockdown eased across England, Wales and Scotland
Thousands jet off for leisure holidays and reunions

They wanted to make sure they got their place in the queue ahead of what was going to be their busiest day in months.
The thumbs up from one driver spoke for the feeling of them all.
They were delighted Britons were returning to the Algarve. It'll be good for business.
And as the first flight touched down from Manchester, the president of Algarve tourism was there to greet some of the passengers.
Joao Fernandes could not hide his delight as he welcomed Frasier and Peter, friends who had just jetted in.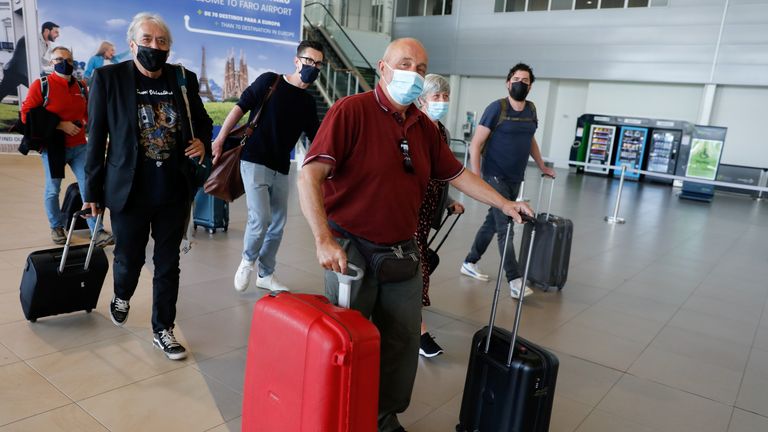 He told them to enjoy themselves but stay safe. They were given a box containing a mask, alcohol gel and local information.
I broke the news to them that if they planned long nights in the Algarve's bars they were set to be disappointed.
"The bars have to shut at half-ten," I told them. Frasier replied: "We will just have to start earlier."
Asked how it felt to be on holiday again, Frasier said: "It's unbelievable… it's so good to get a feel of what it's like to be away, and nice to get a bit of sun. I've missed it – big time."
Peter added: "I come here regularly every year, twice a year, so it was like a last-minute thing… over the moon to be here. Love the place."
Deborah Griffiths arrived and will meet her two sisters for the first time in over a year.
She told Sky News: "It's amazing to be back and I just can't wait to see them."
Subscribe to the Daily podcast on Apple Podcasts, Google Podcasts, Spotify, Spreaker
Eileen and Ian Bond who had made the journey from Essex said this holiday had been a long time coming.
"We have a house here and have been coming to the Algarve for years. We've missed it," said Eileen.
Asked if they were concerned that COVID restrictions including limited bar and restaurant opening times would spoil things, Eileen laughed and said: "We don't come out here to party. We are getting a bit too old for that."
There was genuine delight amongst the passengers at having landed in the Algarve with its sun, sea and sand.
And COVID restrictions may not be all bad news.
Strict social distancing restrictions mean on the beaches towels have to be 1.5 metres apart and umbrellas three metres. For now at least you won't be allowed to be packed in like sardines while you're sunbathing.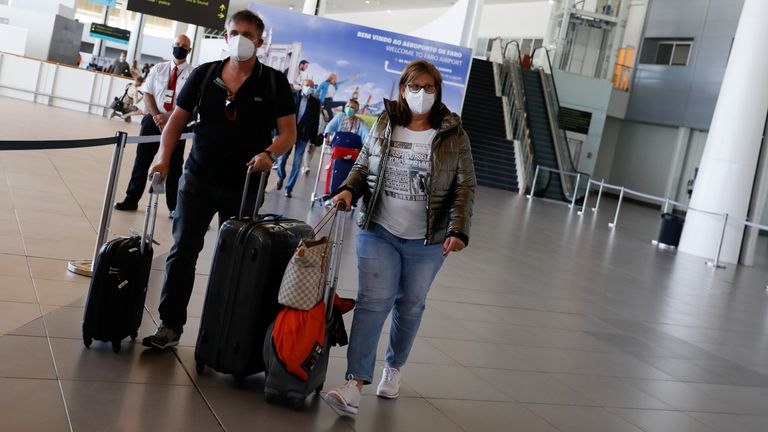 Twenty flights from the UK headed into Faro today with welcome visitors for a tourism industry that's struggled over the last year.
Restaurants, hotels, and pubs have been prepping for days with thousands expected to arrive by the week's end.
Daniel do Adro, from Algarve tourism, who is also the general manager of a local five star hotel, said the overwhelming feeling is now "optimism".
After months of stagnation beds are filling up again, dining tables being occupied and wine and beer being poured for the British visitors.
The British he tells me are their biggest market in the Algarve and their presence is desperately needed and wanted.
Today that wish started to become a reality again.