Six platinum miners 'burned beyond recognition' in bus arson attack
Six platinum miners have died after a bus they were travelling on was attacked by arsonists.
The workers were being transported to Modikwa platinum mine in northeast South Africa when two men stopped the vehicle near Burgersfort on Monday night.
They got on and doused the bus with a highly flammable liquid, before setting it alight.
The four men and two women who died were "burned beyond recognition", National Union of Mineworkers (NUM) secretary Phillip Mankge said.
Some 28 others were taken to hospital with burns after the attack on the bus, which was carrying about 50 people.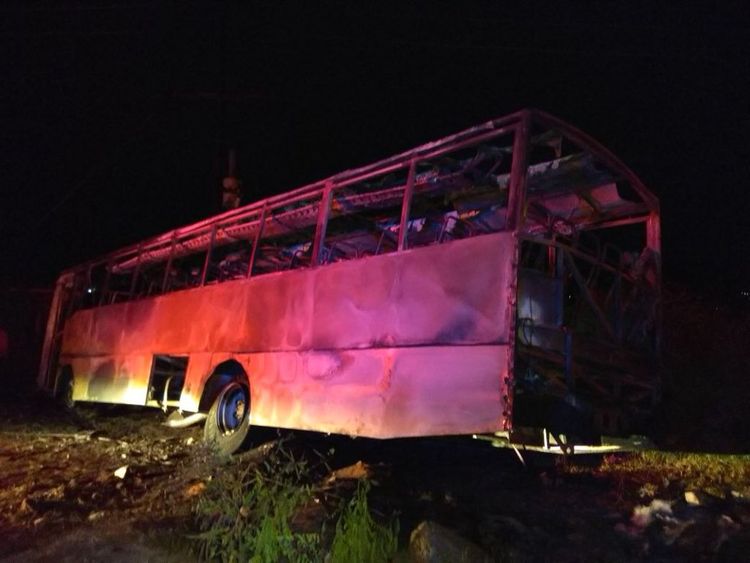 Police are offering R500,000 (£30,000) for information that leads to any convictions.
Limpopo police commissioner Nneke Ledwaba said the motive for the attack is not yet known.
"We will not sleep until the people responsible for this gruesome incident are apprehended'" he told South Africa's Sunday Times newspaper.
Production at Modikwa mine, operated by African Rainbow Minerals and Anglo American Platinum, was temporarily suspended on Tuesday.
In 2016, the mine produced more than 16,300kg of platinum, gold and other precious metals.
South Africa is the world's top platinum producer and in recent years the industry has been rocked by periodic bouts of violence and labour unrest.
In 2012, 34 striking workers at Lonmin mine in Marikana were shot dead by police sent to break up a demonstration.
The wildcat strike occurred amid complaints over low pay and conflict between the ANC-linked NUM and the Association of Mineworkers and Construction Union (AMCU).
In November, two AMCU workers were arrested for allegedly shooting dead an NUM branch secretary at Evander gold mine.
Two children among four dead after migrant boat sinks off French coast | World News

Four people, including two children, have died after a migrant boat sank off the coast of France, authorities have confirmed.
The children were aged five and eight years old.
Eighteen people have been taken to hospitals in Calais and Dunkirk, according to a statement by the Maritime Prefecture of the Channel and the North Sea.
The statement said a widespread search and rescue operation is looking for other passengers.
"The boat carrying the migrants sank. An investigation was opened by the public prosecutor of Dunkirk to identify the causes of this sinking," the statement read.
A sailboat raised the alarm after it spotted the vessel – which was travelling in wind gusts of up to 18mph – in difficulty near Dunkirk.
Customs and Navy patrol boats from France and Belgium went to the area, along with a lifeboat and fishing vessel.
It is believed there were about 20 people on the boat, who were trying to get to the UK.
In a statement, Home Secretary Priti Patel said she is "truly saddened to learn of the tragic loss of life in French waters this morning" and that her thoughts and prayers are with the victim's loved ones.
"We are in touch with our French counterparts who are leading on the response and have offered whatever support they need as they investigate this incident," she said.
"This tragic news highlights the dangers that come with crossing the channel and I will do everything I can to stop callous criminals exploiting vulnerable people."
Care4Calais founder Clare Moseley said the refugee community in Calais is "utterly devastated".
She said: "We are grieving for the victims, we stand in sympathy and solidarity with their families and friends.
"It is cruel and horrifying that this time, young children are among the victims.
"This unnecessary loss of life has to stop. No one should ever feel they have to get into a fragile craft and risk their lives crossing the Channel, least of all vulnerable children."
In the past year, more than 7,000 migrants have made it across the English Channel to the UK – up from 1,800 the previous year.
According to the prefecture, four people died making the journey in 2019 and four so far this year.
Sky's Home Affairs Correspondent Mark White said the issue is significant for France and the UK.
"The British Government has been warning for some time about the potential for a significant tragedy," he said.
"Home Secretary Priti Patel says she has met with her French counterpart on number of occasions and has made clear she wants France to do more," he said.
"It appears we are certainly witnessing a tragedy that is unfolding today."
Search and rescue operation launched after migrant boat sinks near France | World News

Eighteen people have been taken to hospital after a migrant boat sunk off the coast of France.
A widespread rescue operation is searching for other passengers.
A sailboat raised the alarm after it spotted the vessel – which was travelling in wind gusts of up to 18mph – in difficulty near Dunkirk.
Customs and Navy patrol boats from France and Belgium went to the area, along with a lifeboat and fishing vessel.
Eighteen people were been taken to hospitals in Calais and Dunkirk, according to the Maritime Prefecture of the Channel and the North Sea.
It's believed the people on the boat were trying to get to the UK.
The Dunkirk public prosecutor is investigating what caused the sinking.
'Jurassic Park' project poses no threat to Komodo dragons, says Indonesia | World News
Indonesia has sought to calm concerns raised by environmentalists after a photo of a Komodo dragon in the path of a lorry went viral on social media.
The picture prompted an outpouring of anger about perceived threats to the natural habitat of the vulnerable species.
Construction work on a project dubbed "Jurassic Park", catering to tourists visiting the Komodo National Park, is under way and due for completion in June.
Sedih! Komodo berhadap2an dengan truk proyek bangunan Wisata Jurassic di Pulau Rinca.

U pertama kalinya Komodo2 ini mendengar deru mesin2 mobil dan menghirup bau asapnya. Akan spt apa dampak proyek2 ini ke depannya? Masih adakah yg peduli dg konservasi?

(Photo supplied) pic.twitter.com/ph7Ulj7lnA

— Save Komodo Now (@KawanBaikKomodo) October 23, 2020
An official at the country's environment ministry told Reuters news agency park rangers would ensure the safety of dragons roaming near the building site, which will include an elevated deck, a dam and an information centre.
"They will intensively make checks of whether the Komodo dragons are under the buildings, remnants of buildings, and under the trucks carrying material," the statement said.
The image which sparked concerns was reportedly taken on Rinca Island, part of the national park, according to an activist group called Save Komodo Now.
Over the weekend, the group shared the image on Twitter, writing: "This is the first time Komodos are hearing the roar of engines and the smell of smoke. What will the future impact of these projects be? Does anyone still care about conservation?"
The authenticity of the photograph has not been independently verified.
2019: Komodo dragon hatches in time-lapse footage

In 2019 the Indonesian government said Komodo Island would close to tourists in 2020 to protect the animals after more than 40 Komodo dragons were smuggled and sold for £27,000 each.
This decision was later reversed in favour of a $1,000 tourist entry fee, which could be introduced to keep visitor numbers down instead.
Environmentalists have said the construction must stop in order to protect the animals.
"Komodo needs to be the main priority. They need to be protected in a designated area," said Umbu Wulang Tanaamahu Paranggi, director of the Indonesian Forum for the Environment.
"What's going on now is a destruction of the dragons' living spaces."
Social media users have dubbed the construction project "Jurassic Park" after architects shared a video of the project set to the music from the dinosaur film franchise.
Indonesia's current Komodo population is about 3,000, according to government data.
The national park as a whole is a Unesco World Heritage site and is made up of three larger islands; Komodo, Padar and Rinca and 26 smaller ones.