Nancy Pelosi's unpopularity with House Democratic challengers threatens midterm hopes
Get the Think newsletter.
Connor Lamb was just the beginning. In the wake of Lamb's upset victory in the Pennsylvania special election earlier in March, a slew of House Democratic challengers are refusing to say that they will vote for Rep. Nancy Pelosi for House Speaker if they are elected to Congress. NBC's Alex Seitz-Wald and Jon Allen found more than a dozen candidates who won't back her — and even more who are ducking the question. That's a big problem for Washington Democrats' hopes of winning the House majority in the 2018 midterms.
President Donald Trump is unpopular. Democratic enthusiasm is surging. Republican Members of Congress are retiring in droves. But the so-called midterm "blue wave" is far from a sure bet.
In her own self-assessment, Pelosi noted, "I am a master legislator, I am a shrewd politician and I have a following in the country that, apart from a presidential candidate, nobody else can claim." She's certainly confident, but she's also unpopular. And if she tries to cling to the leadership through November, she could very well ruin her party's growing momentum.
President Donald Trump is unpopular. Republican Members of Congress are retiring in droves. But the so-called midterm "blue wave" is far from a sure bet.
The majority in the House of Representatives has changed three times in the past quarter century: 1994, 2006 and 2010. In each of those years, the opposition party won back the majority not just by offering a check on an unpopular president, but by offering a new and different governing agenda, rooted in the party principles.
In 1994, Newt Gingrich's "Contract with America" helped blaze the trail for the first Republican House majority in 40 years. In 2006, against the backdrop of GOP ethics scandals and the unpopular war in Iraq, Pelosi's Democrats retook that majority touting their "6 for '06" agenda. And yet, only four years later, in the wake of President Barack Obama's stimulus package and Affordable Care Act, as well as the rise of the Tea Party, John Boehner united House Republican candidates behind the "Pledge to America" and won a huge comeback victory.
The point is that, historically speaking, being the "party of no" has not been enough to win the House majority — you need a positive platform. In this context, the growing lack of support for Pelosi is problematic for two reasons: without a strong leader like Gingrich, Pelosi (in '06) or Boehner, it is impossible to forge that agenda. Worse for Democrats, the anti-Pelosi forces are a symbol of the deeper divides among Democratic voters.
Historically speaking, being the "party of no" has not been enough to win the House majority — you need a positive platform.
The "Better Deal" agenda briefly touted by Senate Democratic Leader Chuck Schumer and Pelosi last year is a long-forgotten punchline. And while broadly united by their white-hot hatred of Trump, the Democrats are divided on nearly everything else.
On health policy, single-payer advocates war with defenders of Obama's Affordable Care Act. The wing led by Massachusetts Senator Elizabeth Warren sees common-sense improvements in financial services regulation — backed by centrist Democrats — as an unconscionable giveaway to Wall Street. Some Democrats want a rollback of the recent tax reform law to fund higher government spending, while others want new, steep taxes on the rich to pay for far more generous and far-reaching new federal benefits.
And those are just the policy debates — which are far more genteel and mannerly than disagreements over race, class, gender, age and political tactics.
The Democratic challengers shunning Pelosi are not the cause of Democrats' current "Hunger Games"-style internal conflicts — but they are a symptom. And if they can't heal those divisions, when it comes to winning the House this year, the odds may actually not be in their favor.
A clean slate, and the promise of a leadership contest following the election would spur a healthy competition among potential new House Democratic leaders.
The best outcome for House Democrats would probably be a pledge from Pelosi that she will serve as Democratic leader in the House through Election Day, but will not take up the speaker's gavel again if they win the majority. And, frankly, while neither of the other senior House Democratic leaders — Reps. Steny Hoyer and Jim Clyburn — are as polarizing as Pelosi, neither offers much hope for change. They, too, should pledge not to run for Speaker, and turn the reins over to the next generation of Democratic stars.
Pelosi loyalists would argue that the result of her stepping down would be a chaotic election-year leadership contest among House Democrats that would hurt their chances in the midterm election regardless. I disagree. A clean slate, and the promise of a leadership contest set to occur following the election would spur a healthy competition among potential new House Democratic leaders, and actually make victory more likely in November.
Michael Steel is a managing director at Hamilton Place Strategies, a Washington-based public affairs firm. He served as a spokesman for former House Speaker John Boehner and senior roles on Republican statewide and presidential campaigns, including for Governor Jeb Bush and the Romney-Ryan campaign in 2012. He appears frequently on MSNBC.
Typhoon Molave: Landslides leave at least 15 people dead in Vietnam | World News
Soldiers and heavy machinery are being used to search for survivors in Vietnam after landslides triggered by Typhoon Molave killed at least 15 people.
Vietnamese officials said the typhoon, which brought winds of up to 150km (93 miles) per hour, is the worst to hit the country in decades.
The landslides hit remote areas in the central province of Quang Nam late on Wednesday.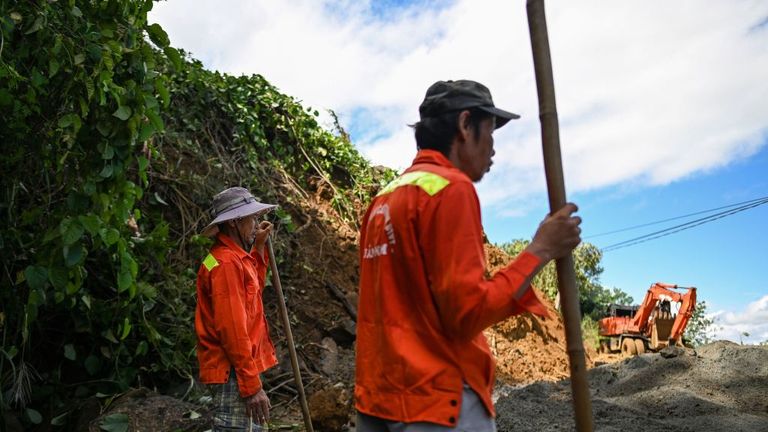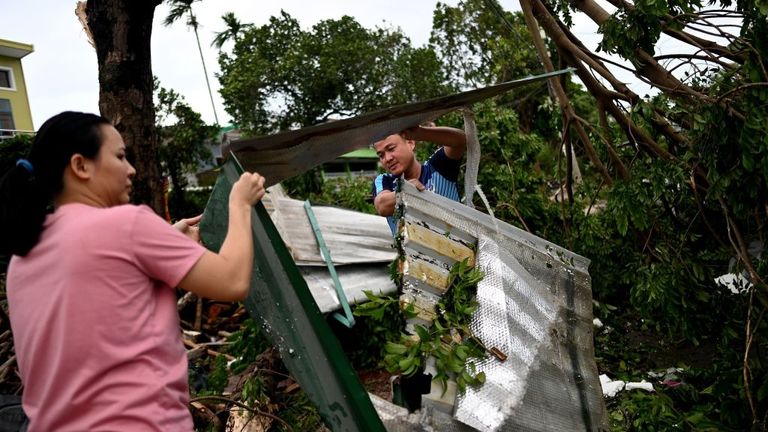 State television said the bodies of 12 fishermen have also been found after their boats sank while trying to return to shore two days ago.
Two navy vessels were mobilised to find them and 14 people are still missing.
Details of possible casualties and damage in other typhoon-hit regions have not yet been reported amid the stormy weather and could cause the toll to rise.
Rescuers dug up eight bodies in Tra Van village in south central Quang Nam province where a hillside collapsed on houses.
In Tra Leng village, about 45km (28 miles) from Tra Van, another landslide buried a community with several houses occupied by about 45 people, including four who managed to escape.
"We can forecast the storm path or the amount of rain, but can't predict when landslides happen," deputy prime minister Trinh Dinh Dung said in a statement.
"The road is covered under deep mud and heavy rains are still lashing the area, but rescue work has to be carried out
quickly."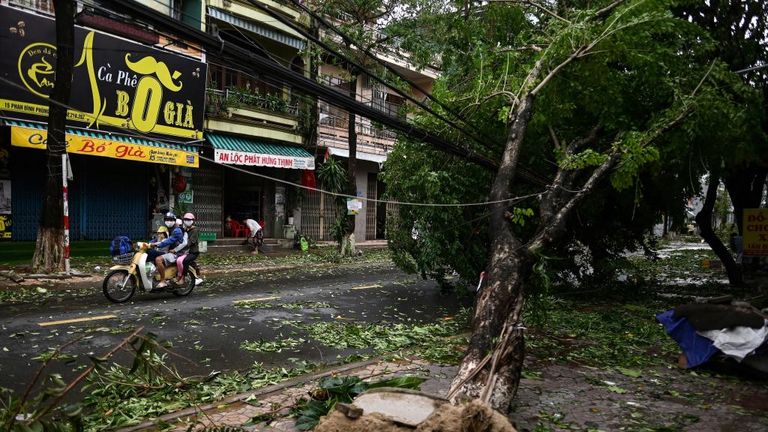 Many villages in the remote region remain inaccessible due to damaged roads and further landslides.
Mr Dung said helicopters would be used to reach the most difficult areas if necessary.
Tra Leng and Tran Van lie in the mountains of Quang Nam, in a coastal region still recovering from floods that killed 136 people and destroyed hundreds of houses earlier this month.
The typhoon blew off roofs of about 56,000 houses and caused a massive blackout in Quang Ngai province, where 1.7 million people endured the typhoon onslaught overnight in darkness, according to local media.
At least 40,000 people were evacuated to emergency shelters and authorities shut down offices, factories and schools.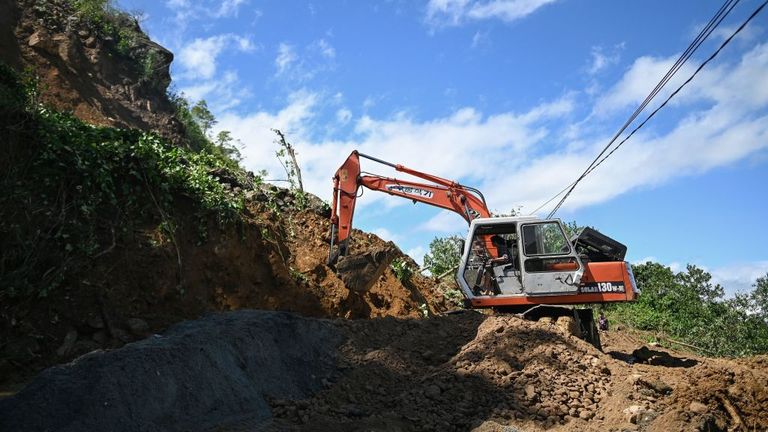 Forecasters have said heavy rain of up to 700mm (27.5in) will continue in parts of central Vietnam until Saturday.
The typhoon left at least 16 people dead in the Philippines before blowing across the South China Sea to Vietnam.
Clash of cultures in France between freedom of expression and Islamic blasphemy beliefs | World News
A clash of cultures is gripping France and impacting French interests in the Muslim world.
It has pitched the right to freedom of expression – including viewing cartoons of the Prophet Muhammad – against what that means for Muslims who regard such actions as blasphemous.
The motivation for the triple murders in Nice by a knifeman shouting "Allah Akbar" and why someone else threatened people with a handgun close to the city of Avignon is not yet known.
Same too for a separate knife attack against the French consulate in the Saudi city of Jeddah.
Three people killed in France – live updates as separate incidents unfold in Nice and Avignon
Shots fired as police storm church

Yet these incidents – which all happened on Thursday – come almost two weeks after a teenager beheaded a school teacher on the outskirts of Paris after Samuel Paty, 47, showed his students caricatures of the Prophet Muhammad during a lesson.
President Emmanuel Macron, a strong supporter of secularism and free speech in his country, praised Mr Paty as a "quiet hero".
The teacher's violent death gave added impetus to a plan unveiled by the French leader at the start of October aimed at reforming the practice of Islam in France and creating – as Mr Macon described it – "an Islam of Enlightenment".
This kind of language triggered anger among Muslim countries, in particular from Turkey.
President Recep Tayyip Erdogan went as far as calling his French counterpart mentally damaged.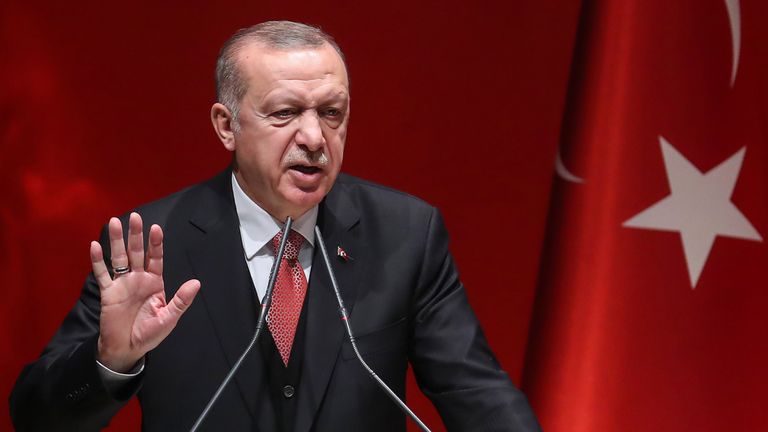 Mr Erdogan has also called for a boycott of French products.
Lord Ricketts, a former UK ambassador to Paris and former national security adviser, described what is happening in France as a "big cultural clash".
In the wake of the attacks, he said the French authorities should be reaching out to Muslim leaders in the country to condemn the violence and help bring people together.
France needs a "calming voice from the Muslim community", he said.
Coronavirus: India hits eight million COVID cases amid fears festival season could cause further spike | World News
India has become the second country to record more than eight million coronavirus cases amid fears of a further spike due to a series of upcoming Hindu festivals – including Diwali.
The health ministry's most recent figures reported 49,881 infections and 517 deaths in the past 24 hours – bringing the overall case count above 8.04 million and the death toll to 120,527.
While nationally the daily infection rate is dropping, India's capital of New Delhi saw its worst day on record on Wednesday, with 4,853 new coronavirus cases – having managed to get below 1,000 per day last month.
Live coronavirus updates from the UK and around the world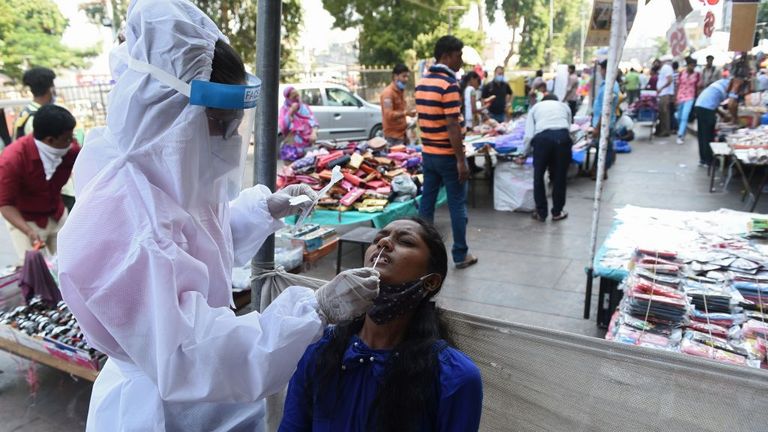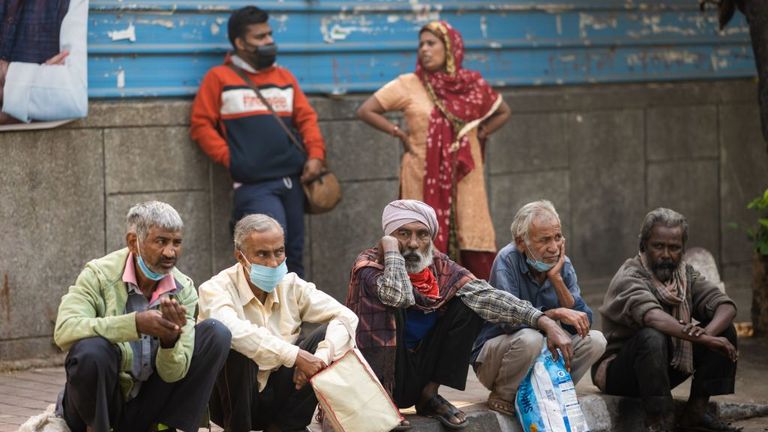 Dr T Jacob John, a retired virologist who was head of the virology department at CMC Hospital, Vellore, southern India, warned that in most parts of the country the infection curve was never flattened.
He added that the festival season was likely to cause an uptick in the rate of infections as people gathered without masks and social distancing.
Arvind Kumar, a doctor in the capital city, said: "I am shocked, but not surprised. There seems to be a sense of complacency in adhering to mask and distancing norms."
Shops, businesses, trains and cinemas have all been reopening, and the country's third-largest state of Bihar – with its population of 122 million – has been holding elections.
And as well as it currently being the month of Kartika – the holiest month in the Hindu calendar, with festivals including the five days of Diwali upcoming – winter will bring cooler and drier weather.
There are concerns that the conditions – and the associated increase in pollution levels – will lead to an increase in COVID-19 cases and other respiratory illnesses in the world's most populous democracy.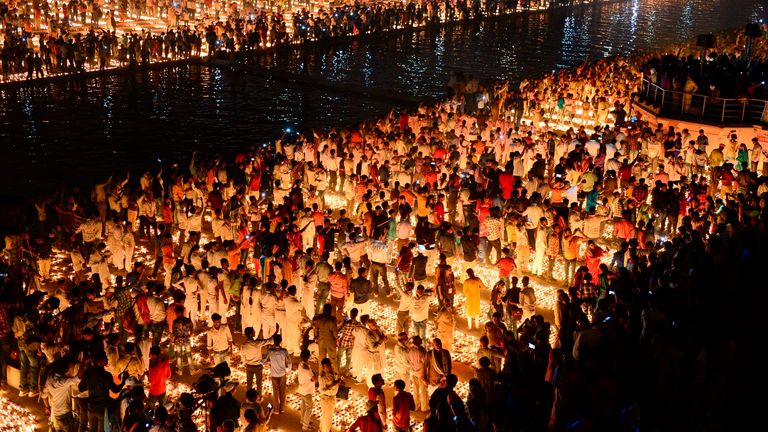 India reported few cases of the coronavirus at the start of the pandemic, but saw a steep rise once summer started.
In August alone, the country added more than two million new cases, and in September another three million people caught the virus.
On the worst day, there were 97,894 new infections – and the most deaths recorded in 24 hours was 1,275.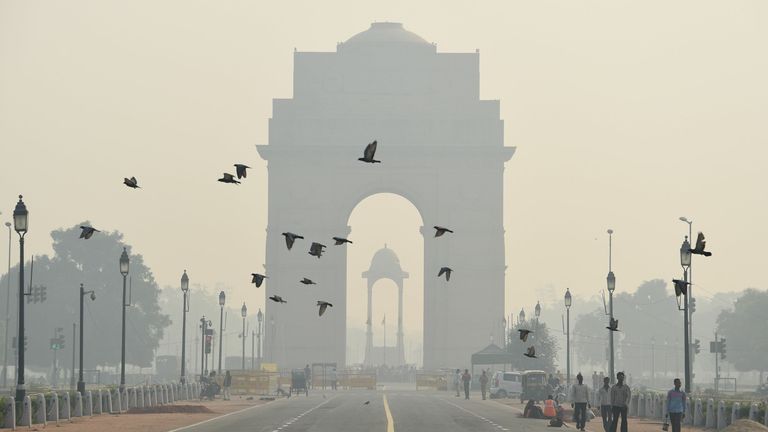 Only the US has more confirmed cases of COVID-19, with more than 8.8 million, while India sits third worldwide to America and Brazil's death counts of 227,700 and 158,456 respectively.
The Indian government has promised to provide a coronavirus vaccine to 250 million people by July of next year.