Hart children may have been abused before deadly California crash, authorities say
Norah West, a spokeswoman for DSHS, told NBC News that Child Protective Services had identified the three children who were killed — Markis, 19, and Jeremiah and Abigail, both 14 — as potential victims of alleged abuse or neglect.
Three other children — Hannah, 16, Devonte, 15, and Sierra, 12 — are presumed to be dead but are still the subject of an active search, California authorities said late Monday afternoon. They have said that the crash may have been intentional, based on the absence of skid marks and other indicators.
DSHS unsuccessfully tried two other times to get in touch with the family before the Clark County Sheriff's Office obtained a search warrant for the three-bedroom split-level house on NW 389th Street in Woodland, about 25 miles north of Portland, Oregon.
Clark County authorities said the search warrant sought information that not only could help explain the crash — including any possible suicide notes — but also could help investigators find the missing children. According to the search warrant, deputies took an iPhone and an Apple MacBook laptop computer from the home.
Bruce DeKalb, a neighbor, called Child Protective Services about the family before the crash. He said he and his wife, Dana, often saw the children and were alarmed by how thin they were.
The DeKalbs told NBC affiliate KGW of Portland that Devonte would come to their door to ask for food, claiming that his mothers didn't feed him and that they would withhold food as punishment.
"They were all small," Bruce DeKalb told the station. "The one girl, who was 12, looked like she was 7. Both of her teeth were missing, front teeth."
The DeKalbs said that another time, one of the girls showed up in the middle of the night trying to run away from home.
"She said that she wanted us to take her to Seattle and [her parents] weren't treating her right and don't make her go back," Bruce DeKalb told KGW. He added that the Harts "told us what we wanted to hear, life went on for another eight months, and here we are today."
A friend of the family, Max Ribner, disputed such characterizations, saying, "Sarah and Jen were the most loving, caring two moms that we could have ever seen on this Earth, caring for six beautiful adopted children."
The case has drawn international attention, partly because Devonte, who is black, was photographed in 2014 crying in the arms of a white police officer during a protest in Oregon over the police shooting of Michael Brown, an unarmed black teenager, in Ferguson, Missouri. The image went viral.
Portland police Sgt. Bret Barnum, the officer photographed hugging Devonte, who was then 12 years old, said in a statement that he was deeply saddened by the crash but that he was "uncomfortable speaking about the Hart family tragedy until the investigation is complete."
The investigation now goes back to December 2010, when police in Alexandria, Minnesota, where the Hart family was then living, investigated a report from a school that one of the girls, who was then 6 years old, had bruises on her chest and her back. According to a criminal complaint, a teacher told officers that the girl reported that "Mom hit me."
According to the complaint, Sarah Hart accepted responsibility for the bruises, telling officers that she bent the girl over the bathtub to spank her. She told officers that she and her wife almost never resorted to corporal punishment but that she "let her anger get out of control" over the girl's behavior.
Hart pleaded guilty in early 2011 to misdemeanor domestic assault and served a year's probation. Neither Hart appears to have any other criminal record.
Property records show that the Harts bought the Washington house last May. Dana DeKalb, their neighbor, told KGW that they weren't especially neighborly.
Even though the family had been in the NW 389th Street home for almost a year, Dana DeKalb met Jennifer Hart only twice, and "she wasn't friendly at all," she told KGW.
When she heard about the crash, DeKalb said, "my gut was, it was them."
Donald Trump 'has come to the realisation that NATO is very valuable' | World News
Donald Trump "has come to the realisation that NATO is very valuable," the outgoing US ambassador to the alliance has told Sky News.
Kay Bailey Hutchison also said that if the US president wins a second term, he will honour the commitment demanding that all NATO countries come to the defence of another if called to.
The Article 5 commitment has only been invoked once – by the US after the 9/11 attacks.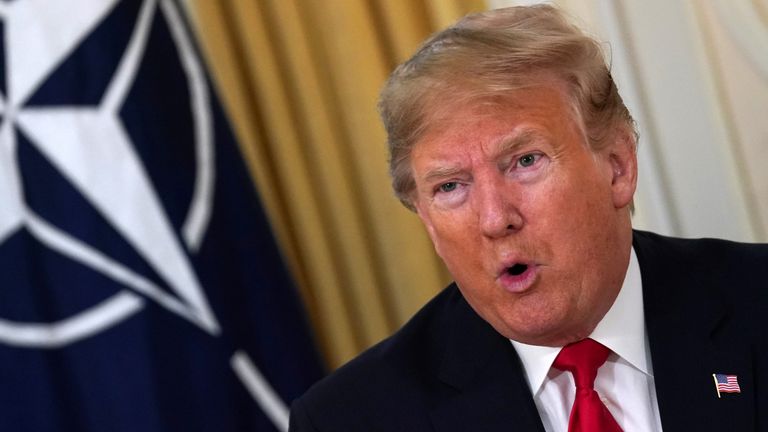 Speaking from Brussels, Ms Hutchison said that NATO was stronger because of the pressure Mr Trump put on the alliance early in his presidency.
"The president has been very clear that he asked our allies to step up, and they are," she said.
"We all know that we have more to do to get the capabilities needed to become the security umbrella for our transatlantic alliance, but we are doing that."
Mr Trump described NATO as "obsolete" shortly before taking office and threatened to withdraw the US from the transatlantic alliance if more countries didn't meet the minimum spending requirements of 2% of GDP.
Asked how Mr Trump would react if NATO joint-spending fell as a result of financial pressures from the coronavirus pandemic, Ms Hutchinson urged members to keep to their commitments.
She said: "I don't think we can afford to go in the other direction. We can't afford to let a health crisis become a security crisis. If we are going to look at what our adversaries are doing, like Russia and a rising China – they're not stopping their malign hybrid attacks; they're not stopping the Belt and Road initiative; they're not in any way lessening their defence capabilities."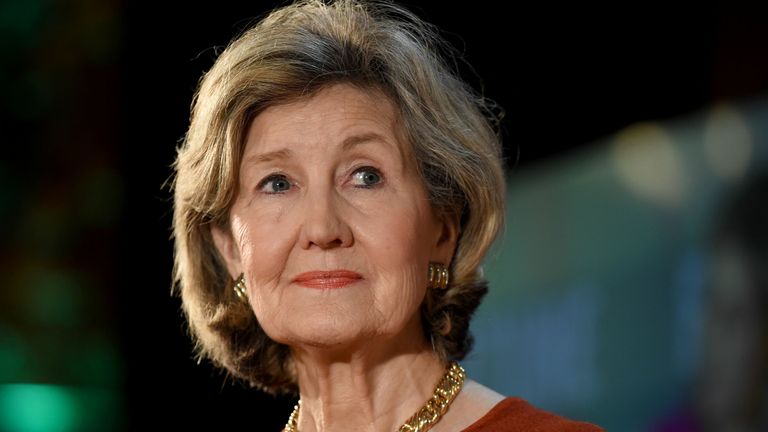 She also urged leaders to be "clear-eyed" about China "taking over port after port, including in Europe".
"The belt and road initiative is one more area where we see China use economic power for taking assets when predatory loans cannot be repaid and we consider that malign activity," she said.
"We've got to stand together and understand the importance of security is what has kept our economies strong and it will rebuild the economies when this COVID has been defeated."
Trump calls Germany 'delinquent' over NATO

On Russia, Ms Hutchison said that NATO's actions had limited Russian behaviour, which "would have been more aggressive had we not taken that stand after Crimea".
"We know Russia is trying to divide us with many areas of aggression," she said.
"I think we are making a difference and the deterrence we are producing is the signal to Russia that we would like for them to become a legitimate partner, we would like to trade with Russia, we would like to have partnerships. But they would need to change their behaviour to achieve that."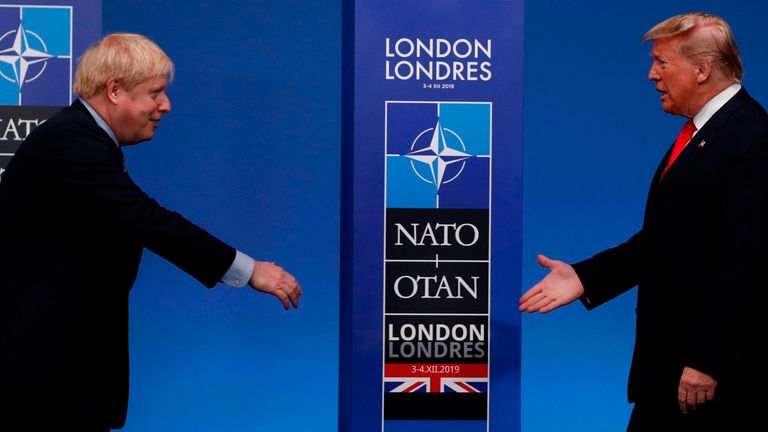 Ms Hutchison conceded that Russia was ahead of the US in developing hypersonic missiles, but said the US would catch up.
"Certainly we are going to get the defences for all missiles that we know Russia are producing," she said.
"We know they have built up more missiles. We have not violated the INF (Intermediate-Range Nuclear Forces) Treaty, they have. So they are ahead on those.
"But we are going to catch up and we are going to deter against all their missiles, whether intercontinental or shorter range."
Near-indestructible beetle is so tough it can survive being run over by a car | Science & Tech News
The key to making stronger buildings and planes could lie in the anatomy of a crush-resistant insect that can survive being run over by a car, scientists have found.
To understand the secret behind the impressive strength of the inch-long diabolical ironclad beetle, researchers tested how much squishing it could take – and discovered it could handle about 39,000 times its own weight.
The study, led by engineers at the University of California, Irvine (UCI) and Purdue University, found the insect has two armour-like elytron that meet at a line, called a suture, which runs through the abdomen.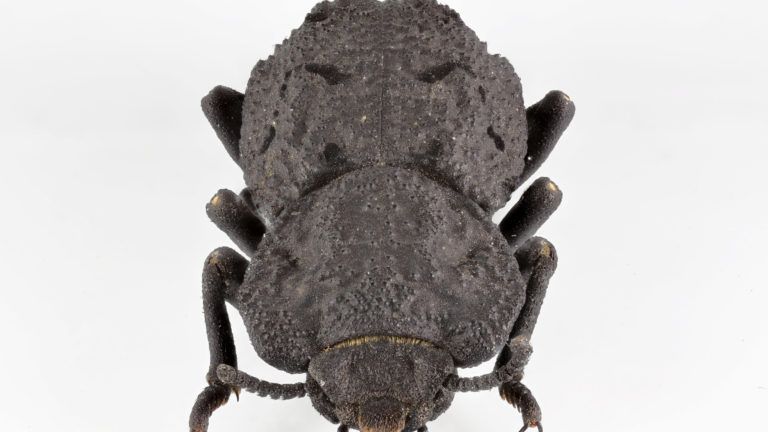 This unusual structure is layered and pieced together like a jigsaw, said Purdue civil engineer Pablo Zavattieri, who was part of a group of researchers that used CT scans to inspect the insect and run it over with a car.
The exoskeleton is thought to be one of the toughest structures known to exist in the animal kingdom.
Professor Zavattieri said that when compressed, it fractured slowly instead of snapping simultaneously.
"When you pull them apart, it doesn't break catastrophically. It just deforms a little bit," he said.
"That's crucial for the beetle.
"This work shows that we may be able to shift from using strong, brittle materials to ones that can be both strong and tough by dissipating energy as they break. This beetle is super tough."
The findings could inspire stronger structures and vehicles made with materials such as steel, plastic and plaster.
That's because engineers currently rely on pins, bolts, welding and adhesives to hold everything together – techniques that are prone to degrading.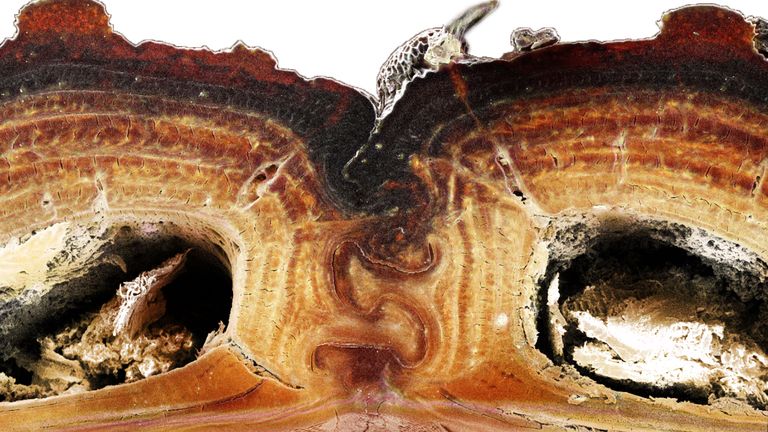 Diabolical ironclad beetles are commonly found in Southern California's woodlands and can withstand pressure such as bird pecks and animal stomps.
Other local beetles were crushed by a third of the weight it could hold, previous research had found.
The study, published in Nature, is part of an $8m project funded by the US Air Force to explore how the biology of creatures such as mantis shrimp and bighorn sheep could help develop impact-resistant materials.
Brown University evolutionary biologist Colin Donihue, who was not involved in the study, said it was the latest effort to solve human problems with secrets from the natural world.
Velcro, for example, was inspired by the hook-like structure of plant burrs, while artificial adhesives took a page from super-clingy gecko feet.
Professor Donihue said endless other traits found in nature could offer insight, saying: "These are adaptations that have evolved over millennia."
Coronavirus: Oxford vaccine trial will continue in Brazil after death of volunteer | World News
The University of Oxford says it will continue its COVID-19 vaccine trial in Brazil, following the death of a volunteer.
The Brazilian health authority said on Wednesday a volunteer in the clinical trial of the potential vaccine – which has been licenced to pharmaceutical giant AstraZeneca – had died.
But the university said an independent review had revealed no safety concerns.
"Following careful assessment of this case in Brazil, there have been no concerns about safety of the clinical trial and the independent review in addition to the Brazilian regulator have recommended that the trial should continue," a spokesman said.
Sky News has approached AstraZeneca for comment.
The volunteer, who is understood to be Brazillian, didn't receive the vaccine, it is understood.
While, Brazilian newspaper O Globo reported that the volunteer had been given a placebo and not the trial vaccine, although this hasn't been officially confirmed.
AstraZeneca shares turned negative and were down 1.7% after the news broke on Wednesday evening.
A spokesperson from the company said: "We cannot comment on individual cases in an ongoing trial of the Oxford vaccine as we adhere strictly to medical confidentiality and clinical trial regulations, but we can confirm that all required review processes have been followed.
"All significant medical events are carefully assessed by trial investigators, an independent safety monitoring committee and the regulatory authorities.
"These assessments have not led to any concerns about the continuation of the ongoing study."
AstraZeneca and Oxford University are thought to be among the front runners in a global race to produce a coronavirus jab. The UK Government have signed a deal for 100 million doses.
The vaccine is in phase 3 trials – the last stage before a drug is declared safe – in multiple countries.
In September the UK trial was paused over possible dangerous side effects but it was later restarted when the Medicines Health Regulatory Authority declared it safe to continue.
Brazil has the second deadliest outbreak of coronavirus, with more than 154,000 killed by COVID-19, following only the United States.
It is the third-worst outbreak in terms of cases, with more than 5.2 million infected, after the United States and India.