Female suspect dead at firm's HQ in San Bruno, California
A woman opened fire at YouTube's California headquarters Tuesday afternoon before apparently turning the gun on herself, authorities said. Four people were being treated for gunshot wounds.
Zuckerberg General Hospital told NBC News that it had received three patients and was expecting more, while Stanford Medical Center said it was expecting four or five patients. some may have been injured fleeing the building, authorities said,
San Bruno Police Chief Ed Barberini said the woman appeared to have killed herself.
"It was very chaotic, as you can imagine," Barberini said.
YouTube employees tweeted that they had evacuated the building in San Bruno, south of San Francisco, or were in hiding.
Barberini said San Bruno police began receiving multiple 911 calls of an "active shooter" at 12:46 p.m. (3:46 p.m. ET) and were on the scene within two minutes. The federal Bureau of Alcohol, Tobacco, Firearms and Explosives and the FBI said they also responded to the scene.
Marco Tartaglia, who works at a Walmart store near the complex on Cherry Street, told NBC Bay Area that he heard about 15 shots "from the direction of the YouTube building, from what sounded like inside."
"We heard the shots first, and that immediately drew us over to the window to see what the heck's going on, and next thing you know, you see people streaming out, just running, dozens of them, just running out the front exit," Tartaglia said.
Instagram investigated over potential leak of children's data | Science & Tech News

Instagram is being investigated for a potential leak of children's personal information by the Irish privacy watchdog, which is the EU's lead authority on Facebook.
The Data Protection Commissioner (DPC) is investigating whether Instagram's parent company Facebook has been illegally processing children's data.
"The DPC has been actively monitoring complaints received from individuals in this area and has identified potential concerns in relation to the processing of children's personal data on Instagram which require further examination," it said in a statement.
If the social media company is found to have violated European privacy regulations then it could face a fine of up to 4% of its global turnover, although a fine of that scale has never been issued.
The complaints stem from Instagram requiring business accounts to provide public contact information – and potentially allowing some children on its platform to change their accounts into business ones.
Back in 2019, data scientist David Stier found that millions of personal accounts on Instagram which had been switched to business accounts were leaking phone numbers.
Mr Stier reported to Facebook his discovery that accounts apparently belonging to minors were leaking the children's phone numbers and their email addresses.
"Speaking as a parent, I want to be assured that the experience Instagram offers to teens is as 'adult-overseen' as possible," he added.
The Irish DPC said its investigation "will also consider whether Facebook meets its obligations as a data controller with regard to transparency requirements in its provision of Instagram to children".
The complaint also follows Facebook admitting that the coronavirus pandemic meant images of child nudity and sexual exploitation have been spreading on its platforms.
The tech giant said moderation levels dropped when content moderators were sent to work from home in March during the height of the COVID-19 outbreak.
Migrant found on Calais beach 'almost certainly' died trying to reach UK | World News
A man found dead on a beach near Calais was "almost certainly" a migrant who drowned trying to reach the UK by crossing the English Channel in a small boat, French officials have said.
The man, whose body was found on a beach near Sangatte, outside Calais, at around 8am on Sunday, was wearing a life jacket, a local prosecutor said.
An initial examination of the body found no evidence of third party involvement, nor did it appear he had been in the water long, Pascal Marconville, prosecutor of the nearby town of Boulogne-sur-Mer, told local media.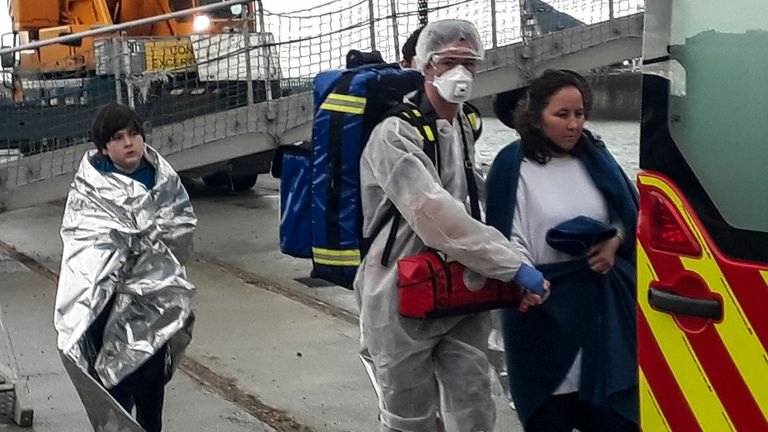 It was likely the victim had drowned trying to make the crossing at the weekend and that his body had washed up on the shore just a few hours later, Mr Marconville said.
Officers investigating the incident would work with the migrant communities based in Calais and Dunkirk to try to find out who he was and how he died, the prosecutor added.
Local news site La Voix du Nord reported that several other vessels, including one containing 17 people, had been intercepted on Sunday morning and made to return to Calais.
The group included a mother and three children suffering from hypothermia, La Voix du Nord said, adding that another 30 migrants were brought back to Boulogne on Sunday on a "hectic" day for rescuers.
According to Home Office figures, 170 migrants crossed the Channel in just 12 small boats on Saturday, while a further 222 were prevented from crossing by the French authorities.
The Home Office's clandestine Channel threat commander, Dan O'Mahoney, said that the French had stopped 188 people making the crossing on Sunday.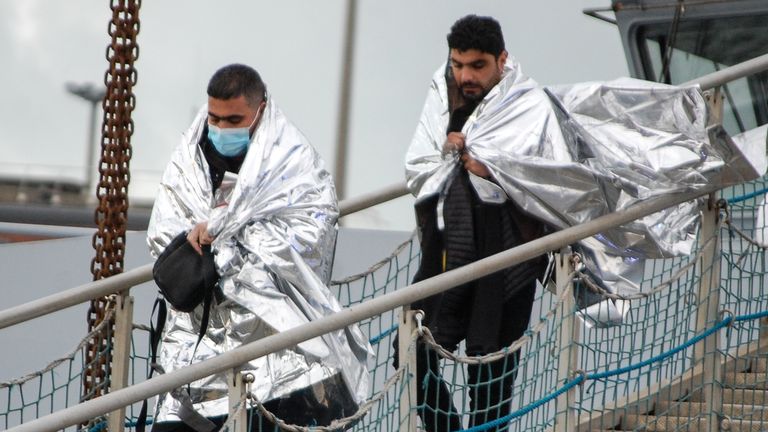 The Home Office has yet to comment on the death in France or the number of people who managed to cross successfully despite the journey being extremely dangerous.
The co-founder of refugee charity Care4Calais, Clare Moseley, said: "Refugees take this risk because they are frightened, fleeing appalling horrors in some of the most dangerous places on earth.
"They do it because of the grim and unsanitary conditions in Calais, where they are constantly harassed and abused by the authorities."
September: Migrants arrive on Dover beach

On Saturday, UK authorities warned that favourable conditions in the Channel were likely to encourage migrants to try before winter weather makes it impossible.
Record numbers of migrants have crossed the English Channel in small boats in 2020, with a new single-day record, 416, reaching the UK in early September.
More than 6,100 migrants have arrived in the UK on small boats so far this year.
Woman missing for 12 days found alive in Utah national park | US News
The family of a woman who went missing for 12 days in a national park in Utah have said they are "overjoyed" after she was found safe and well.
Holly Suzanne Courtier, 38, was dropped off at Zion National Park on 6 October, but did not appear for her scheduled pick-up time later that day.
The National Park Service said Ms Courtier was found by search and rescue teams after it received a "credible tip" from another visitor.
It said: "Search and rescue crews found Holly Suzanne Courtier today within Zion National Park. Park Rangers received a credible tip from a park visitor that they had seen Courtier within the park. Courtier has been reunited with and has left the park with her family."
Local media reports said Ms Courtier, who is an experienced hiker, had set off on a road trip to visit national parks after losing her job due to the coronavirus pandemic.
It is not known how she managed to survive for so long in the park.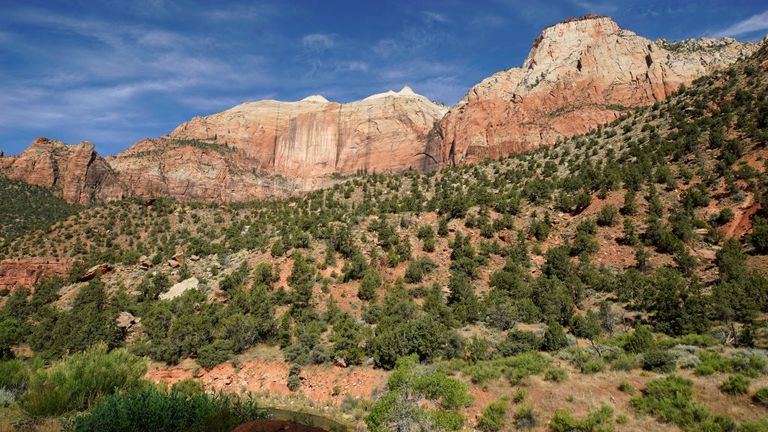 In a statement her family said: "We are overjoyed that she was found safely today.
"We would like to thank the rangers and search teams who relentlessly looked for her day and night and never gave up hope. We are also so grateful to the countless volunteers who were generous with their time, resources and support.
"This wouldn't have been possible without the network of people who came together."
The search included K-9 units and federal, state and local rescue teams and volunteers.
A GoFundMe page initially set up to cover the cost of the search raised more than $10,400 (£8,018) and the money will also be used to pay for any treatment Ms Courtier needs.
Describing the Zion National Park, the park service said: "Within its 232 square miles are high plateaus, a maze of narrow, deep, sandstone canyons, and the Virgin River and its tributaries."