Cape Town's 'Day Zero heroes' help drought-hit city halve water use
Here is some good news from Cape Town. It rained last week.
A couple of light rain showers, preceded by bursts of thunder, rolled around Table Mountain and deposited a few millimetres of badly needed moisture on this water-starved city.
Residents celebrated with photos and videos and tried to capture what they could through the strategic positioning of buckets and containers.
Here is the bad news. The dams which supply this community of four million still dropped by half a percentage point last week, leaving them at the perilously low level of 22.1%.
The last 10% is not fit for human consumption due to higher levels of sediment.
The city's water crisis is the product of a savage three-year drought and the region needs heavy winter rains to relieve the pressure on its dams. But that is not something anybody here can count on.
Instead, the people of Cape Town have done something remarkable in their bid to head off "Day Zero" – the point when the authorities will have to turn the taps off.
:: Cape Town introduces 'world's first water police' after drought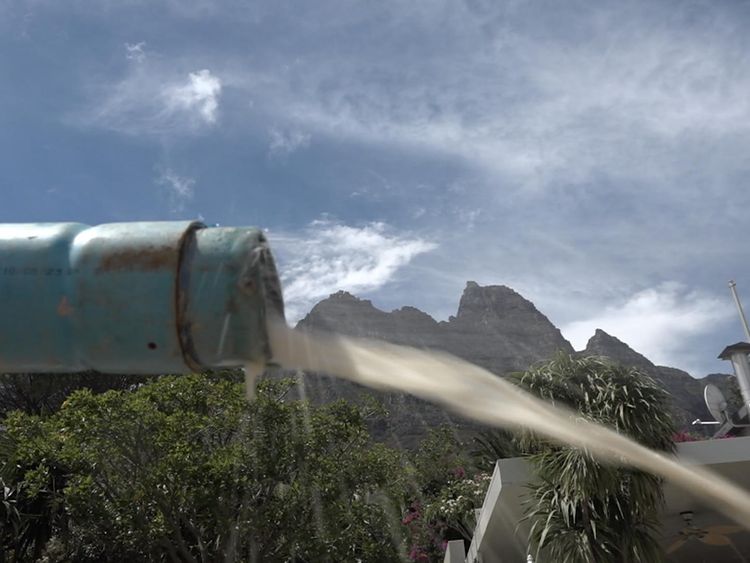 Residents have slashed the amount of water they use in half – from 1.2 billion litres to 522 million litres per day – representing an unprecedented act of collective water conservation.
We found one of these "Day Zero heroes" in a modest looking house on the city's outskirts.
Masha du Toit is a teacher who has turned her home into a water harvesting and recycling machine.
If it rains, Ms du Toit catches every drop with a series of large black tubs connected to her drain pipes.
"Actually, it doesn't look so bad," she said as she peered inside one of them.
"There is soot, smoke, sand and bird droppings in there so this is not drinking water – this is for flushing the toilet."
She proudly showed us her new toilet attachment (which makes it easier to "self-fill" the cistern) – the dirty dishes storage system (so the washing up is done less frequently) and her bucket-and-container strewn shower.
"We don't do this 'two-minute shower' anymore, we just do bucket baths," she revealed.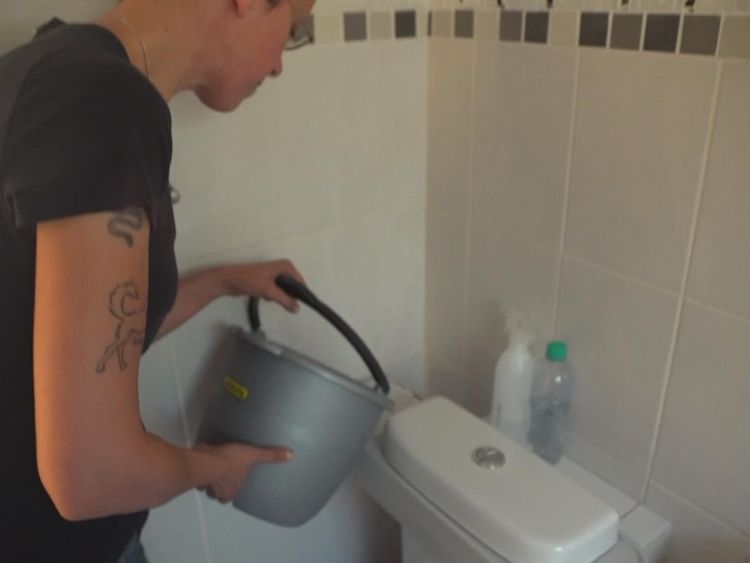 The cumulative effect of this do-it-yourself water regime is quite extraordinary.
The city restricts Capetonians to a thrifty 50 litres of water a day but Ms du Toit says her daily usage is around 15 litres, "plus a little bit for our fish tank – we do top it up occasionally."
When you consider that it takes about 20 litres of water just to flush the toilet a couple of times, this Cape Town teacher is something of a revolutionary.
I asked her if she had become a bit obsessive about saving water?
"Absolutely, yes I'm completely obsessed," she replied.
"In fact, if I watch a movie now and I see someone washing their hands while they are talking to another character, I'm like, are you going to close that tap?"
Of course, Ms du Toit is not the only water-revolutionary in town.
Bev Antoncich, the well-coiffured director of the hair salon Perfectly Pampered, runs special "bucket and jug days" at her business.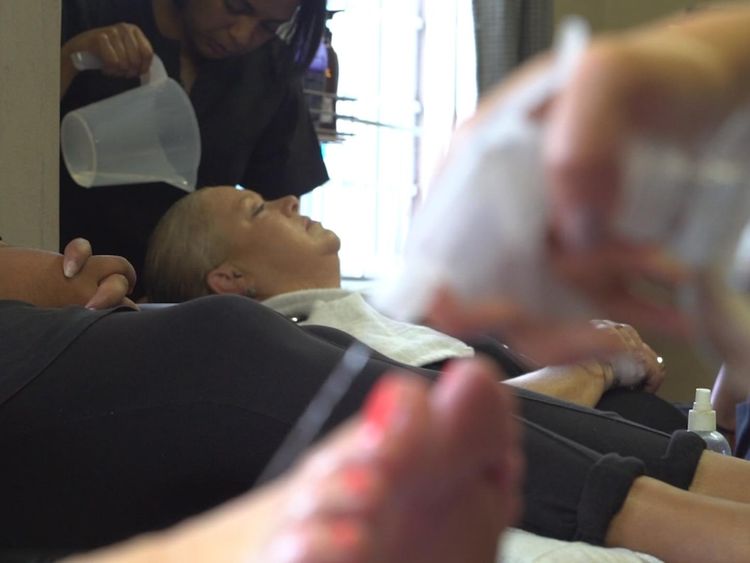 Clients who bring in their own bottled water get a glass of champagne for free. Other salons offer discounts to their "BYOB customers".
"It has been tough to get the whole thing going," concedes Ms Antoncich.
"At first we were wetting clients all the way down their backs. We would give them a complete bath with the jugs. But we have it all under control now."
Ms Antoncich says she has completely changed about the way she thinks about water and cannot bear the thought of any going to waste.
"You know, I think it would be easier for us if we didn't have to 'bucket and jug' but we will still be saving water," she said.
"I just couldn't let water just go down the sink hole again."
Forrest Gump author Winston Groom dies aged 77 | US News
Tributes have been paid to Forrest Gump author Winston Groom, who has died aged 77.
Groom's novel about a slow-witted but kind-hearted man from Alabama was adapted into a Hollywood film in 1994.
Tom Hanks won an Academy Award for his portrayal of Gump, and the film itself won six other Oscars – including best picture – after grossing more than $683m (£527m) at the global box office.
It became a cultural sensation and in 2011 was selected for preservation in the US National Film Registry.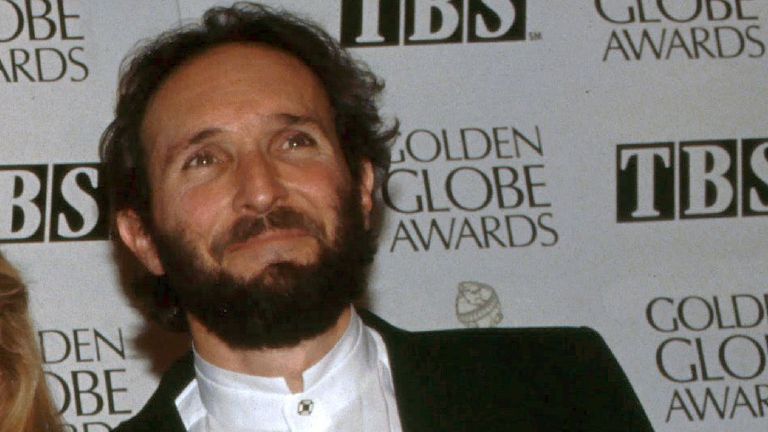 Groom's death was confirmed by Alabama governor Kay Ivey.
She said: "Saddened to learn that Alabama has lost one of our most gifted writers."
"While he will be remembered for creating Forrest Gump, Winston Groom was a talented journalist and noted author of American history.
"Our hearts & prayers are extended to his family."
Groom graduated from the University of Alabama in 1965 before a spell in the US army, which included a tour of duty in the Vietnam War.
In its tribute, the university called him "one of our legends".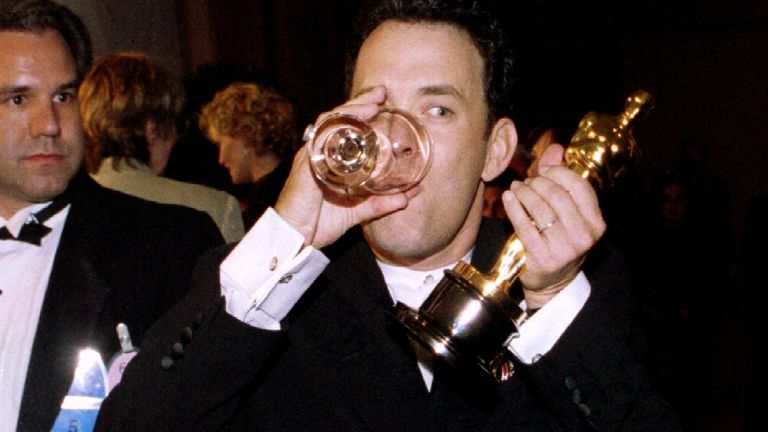 Following the success of Forrest Gump, Groom wrote a follow-up, 1995's Gump and Co.
Groom, a former journalist, also wrote non-fiction on a range of subjects, including the American Civil War.
Brad Pitt and Jennifer Aniston reunite on screen in read through of Fast Times at Ridgemont High | Ents & Arts News
Former Hollywood couple Brad Pitt and Jennifer Aniston have been reunited on screen in a racy read through of 1982 teen movie Fast Times at Ridgemont High.
Performing together via Zoom, Pitt, 56, and Aniston, 51, took on the roles of amorous high school students Brad Hamilton and Linda Barrett.
The reading – which was packed to the gills with A-list stars – was set up to support charities Core and Reform Alliance in their efforts to alleviate the impact of the coronavirus pandemic.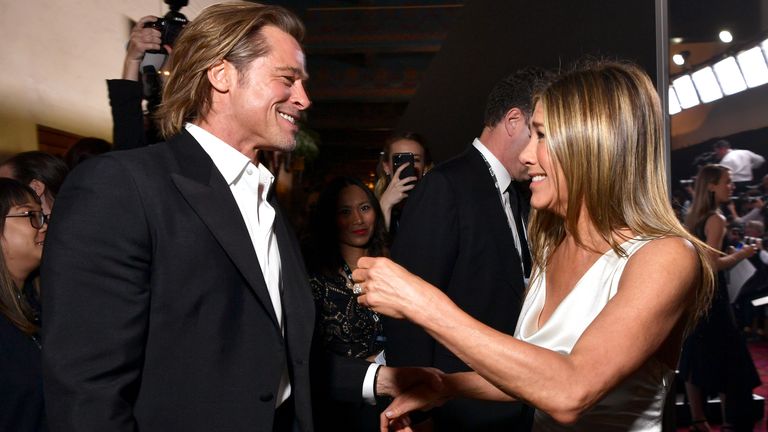 Their X-rated scene kicked off with Aniston's line: "Hi Brad. You know how cute I always thought you were. I think you're so sexy. Would you come to me?"
In the film it's part of a day-dream scenario, where Brad is imagining Linda making a move on him.
The narrator, played by Morgan Freeman, then came in to describe the scene: "He walks to Linda. She reaches out and grabs him for a kiss, pulling him close. Then she pushes him away so he can watch as she carefully unstraps the top of bathing suit.
"The incredible Linda Barrett's breasts fall loose, lord have mercy. She takes Brad's hands and places them on her as she begins unbuttoning his shirt. They're just about to fall into passionate lovemaking when…"
Throughout the scene, Pitt – who is wearing a green T-shirt and wearing his long blonde hair loose around his face – is holding back laughter.
Looking down at his script, at the point his character is interrupted during an intimate moment in the bathroom, he allowed himself a chuckle.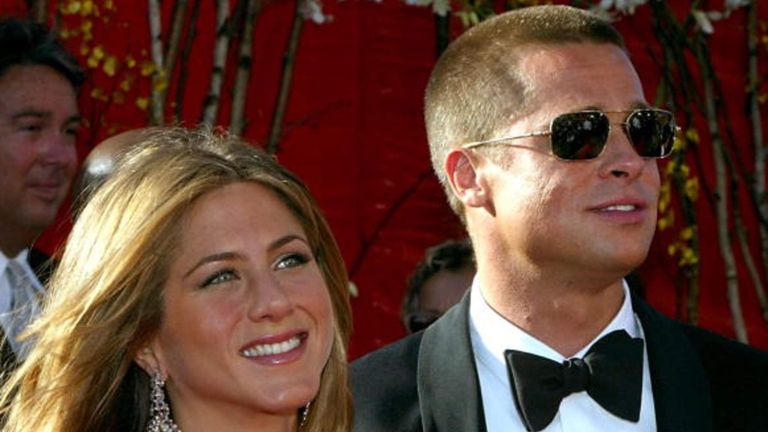 Fellow cast members including Julia Roberts, Matthew McConaughey, John Legend and Sean Penn also giggle throughout.
Always the professional, Aniston, wearing aviator-style glasses and a strappy summer top, remains straight faced throughout, committing to the part whole-heartedly.
Actors Judge Reinhold and Phoebe Cates originally played the roles in the Californian coming-of-age drama.
Henry Golding, Shia LaBeouf, Jimmy Kimmel and Ray Liotta also took part in the reading, along with host Dane Cook.
Despite a very public break up, Pitt and Aniston have rekindled their friendship over recent years and were pictured together in January 2020 at the Screen Actors Guild Awards.
:: Subscribe to the Backstage podcast on Apple Podcasts, Google Podcasts, Spotify, Spreaker
Both took home an award on the night (Pitt for Once Upon A Time In Hollywood and Aniston for The Morning Show) but all eyes were on the couple's backstage meet-up where they embraced and chatted.
Pitt was married to Aniston from 2000 to 2005, before an acrimonious split after which he got together with Angelina Jolie.
Jolie and Pitt, who have six children together, finally married in 2014, but broke up two years later. Their divorce was finalised in 2019.
Aniston married Justin Theroux (cousin of British documentary maker Louis) in 2015, but they separated two years later.
TikTok downloads to be blocked in US within days | Science & Tech News

People in the US will be banned from downloading TikTok from this Sunday.
The US Commerce Department said that starting 20 September, Americans will not be able to get the popular video-sharing app.
The ban will also cover the messaging app WeChat.
President Donald Trump could still withdraw the ban before Sunday evening if a deal is done between TikTok's Chinese owners ByteDance and US technology giant Oracle.
The two firms are in talks to create a new company, TikTok Global, that aims to address the White House's concerns about the security of its users' data.
A statement from the department said: "The Chinese Communist Party (CCP) has demonstrated the means and motives to use these apps to threaten the national security, foreign policy, and the economy of the US.
"Today's announced prohibitions, when combined, protect users in the US by eliminating access to these applications and significantly reducing their functionality."
It went on: "While the threats posed by WeChat and TikTok are not identical, they are similar. Each collects vast swaths of data from users, including network activity, location data, and browsing and search histories.
"Each is an active participant in China's civil-military fusion and is subject to mandatory cooperation with the intelligence services of the CCP.
"This combination results in the use of WeChat and TikTok creating unacceptable risks to our national security."
Bytedance and Oracle have submitted a proposal for a deal in which TikTok would become a separate US company with with an American board.
There would also be a security committee – the head of which would need government security clearance.