As a teacher in Oklahoma, I've literally panhandled for school supplies. No wonder we're walking out.
Get the Think newsletter.
On April 2, many of my fellow public school teachers across Oklahoma — as well as all of the public school teachers in Kentucky — walked out of state's schools to protest our insultingly low pay. Following in the footsteps of teachers in West Virginia, educators across the country are standing up for their rights and the rights of their students. This is a national issue that has flown under the public radar for far too long.
I should know. Teachers in my state haven't had a state pay raise in a decade. This, coupled with a multi-million dollar cut to the Tulsa public school district's budget last year prompted me to literally stand on the side of the highway, begging passing motorists for donations. I never thought it would come to this; I never thought when I first became a teacher that I would literally be forced to panhandle for school supplies. But I was tired of not having enough money for my classroom, of being expected to always use my limited cash reserves to pay to enrich my curriculum. In Oklahoma, money was so tight in 2017 that some school districts started cancelling Friday classes.
My experience panhandling — and the foundation that I founded, Begging for Education, as a result — proved something important to me: The public stands behind teachers. And yet, politicians continue to stonewall us. This is why we've taken matters into our own hands.
If ever there was an issue that should unite us as a nation, it is the education of our children. Research proves that an educated nation is a better nation. A well-educated child is more likely to graduate, find a good job and become a productive, revenue-earning and tax-paying member of the state and communities in which they live.
Put simply, the lack of funding and poor fiscal responsibility in Oklahoma and across the country is setting our children up for failure. And while we've stayed silent for years, teachers are simply not going to keep allowing politicians to get away with it.
On March 29, Oklahoma's governor signed HB1010XX, a $447 million tax increase that would fund an average $6,000 pay increase for teachers, money for support staff, state employees and textbooks. But this is not enough. It's been decades since the last state-wide school shut down, and today we find ourselves once again forced to act. And we're not going to go back into the classroom until we feel confident that the changes are real, and will make an impact.
This inequality starts at the top and eventually trickles all the way down to our students. The public education system continues to be extremely top heavy with people making six figures in the highest administrator jobs, being paid huge sums to unnecessarily micromanage college-educated teachers.
Oklahoma can no longer recruit new teachers or retain our current teachers and many are close to retirement. This crisis is quickly turning into a tragedy.
Meanwhile, as of 2016, "the average annual pay of Oklahoma's elementary, middle school and high school teachers all ranked last among the 50 states," according to Politifact. Indeed, after 25 years, and with a Doctorate degree, an educator in the state of Oklahoma are only guaranteed a salary of $46,000 under the current state salary scale. Every local school district in Oklahoma has the authority to implement their own salary scale but many, instead, choose to use the state minimum salary. Local school boards can also increase salaries for educators without state involvement but most do not. Fiscal responsibility and transparency by our superintendents, districts and legislators in Oklahoma is required if we are going to fix this problem in the long term.
This is about much more than a salary dispute. Oklahoma can no longer recruit new teachers or retain our current teachers and many are close to retirement. This crisis is quickly turning into a tragedy. By forcing teachers to pay for students' supplemental games, activities, art and musical supplies, the state has taken away our ability to be creative. We are being forced to teach to test scores.
Teachers chose education as a profession, not a hobby. And if we do not fully and realistically invest in them, our children will pay the price.
Today's state-wide walkout has been weeks in the making. The Oklahoma Education decided, unilaterally, that educators should get a $10,000 raise, spread out over three years. Even this meager demand was not met by state legislators.
But in reality, a $10,000 raise is needed immediately. And without this immediate increase in compensation, educators in the state of Oklahoma will continue to change careers, leave for other states and/or retire earlier than planned. And we also need to change annual raises so that they take into account inflation, rising benefit costs and help prevent teachers fleeing to neighboring states.
Teachers chose education as a profession, not a hobby. And if we do not fully and realistically invest in them, our children will pay the price.
Teresa Danks is a third-grade public school teacher in Tulsa, Oklahoma and the founder of the Begging for Education foundation.
Coronavirus: 'We're facing a war' – Italy's frontline doctors fear losing control as hospital cases increase | World News
Watching Dr Silvana Di Florio ready herself to enter an intensive care ward where every bed currently set aside for COVID-19 patients is already full reminds you of the seriousness of the virus.
With the help of another staff member she layers herself in protective clothing: A mask, overalls, and then a vast hood with a clear visor, looking other-worldly to the untrained eye.
She is the head of ICU nursing at the Tor Vergata Hospital in Rome and is feeling the intense pressure of a second wave of COVID.
We get a chance to speak to her before she enters the area where day by day the demands on staff increase dramatically. And these are medical professionals still trying to recover from the physical and mental stresses of the spring outbreak.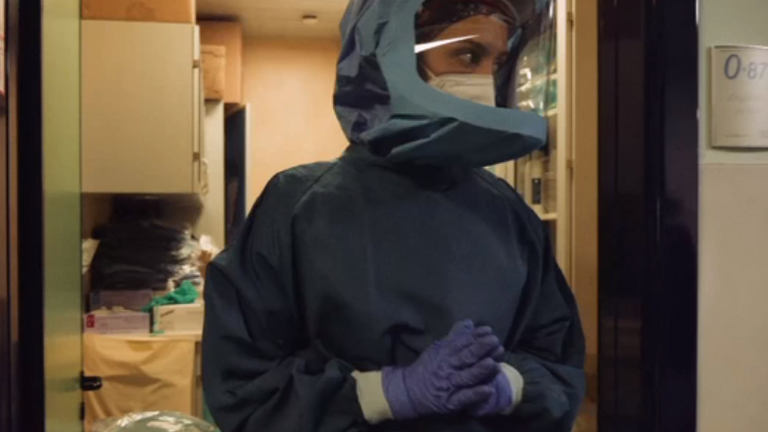 She seems calm as she starts to speak: "At the beginning we were those who were facing a global health emergency."
She then pauses and starts to sob, telling us: "Now we are facing a war. We are tired. We are few. Some are sick, and with few resources.
"But we are always present, always prepared, always really careful."
As she composes herself, she says: "I believe that sometimes we are able to go on even just for the 'thank you' that the patient tells us."
It is clear that Dr Di Florio and others dealing with the second wave of COVID are struggling physically and emotionally.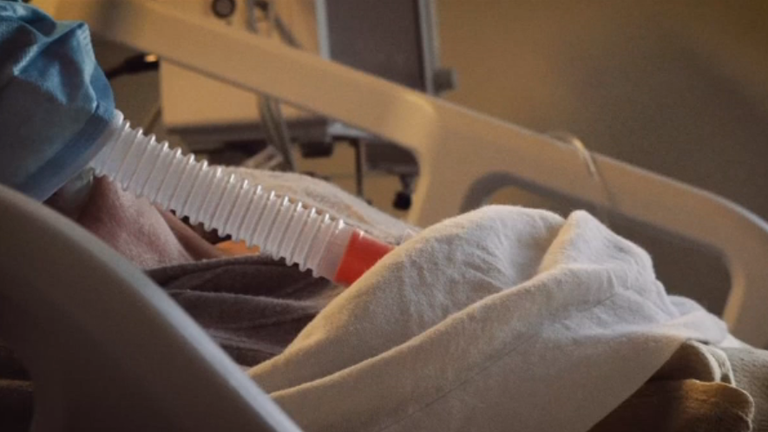 She tells us that her staff get tested regularly in order not to miss a shift. Demand is growing and scared as they might be, they feel like "missionaries" doing a job.
Tor Vergata Hospital is one of the largest in the Italian capital and doctors and nurses are blunt about the reality facing them – that it will not be able to cope if COVID numbers continue to rise.
From the safety of a corridor in the infectious diseases department we are shown rooms all now occupied by COVID patients.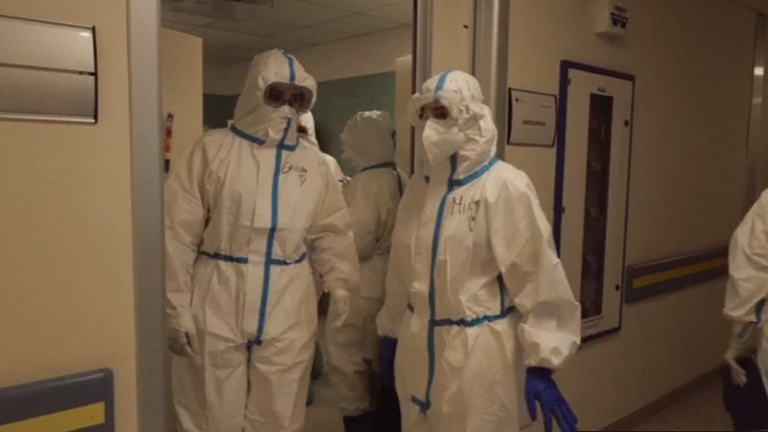 Just days ago, ambulances queued for up to nine hours to admit patients.
Looking through the glass into the rooms one can only imagine what it is like for the sick here; cut off from family, unable to have visitors, wondering if they will even be aware when and if the day comes when they will deteriorate far enough that they will need to be moved to ICU.
Professor Massimo Andreoni, who heads the department, warns things are going to get worse and there is, he says, only one solution – a national lockdown.
"So I think that it is very important to start quickly in lockdown and to stop the pandemic," he says.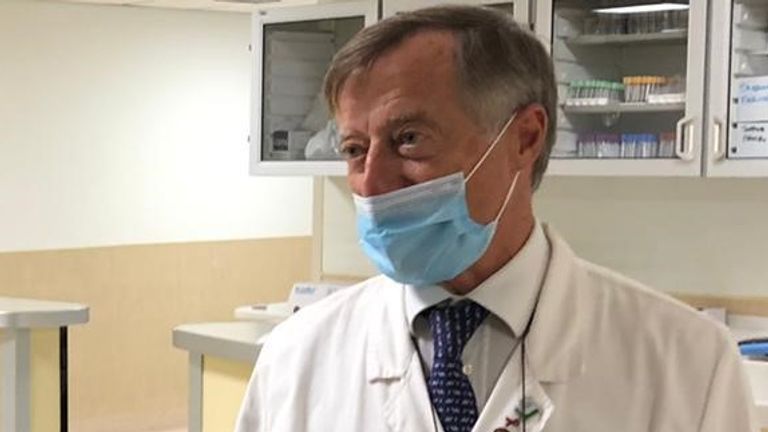 "This is the only possibility because there is not the capacity to have sufficient beds in the hospital for these patients."
It is a stark warning from a man who fears impossible pressures on the health service.
For now though, it is a move the Italian government resists. What happens in the nation's hospitals in the coming days may force a change in political strategy.
Two British teenagers killed and one seriously injured in Greece parasailing accident | UK News
Two British teenagers have been killed and another is in a serious condition after a parasailing accident in Greece.
The trio are said to have been found on rocks near Lindos on the island of Rhodes.
The Greek coastguard said the rope holding their parachute had snapped.
One of the group, a 15-year-old boy, is in hospital with multiple injuries, but his 13-year-old brother and 15-year old female cousin died.
The bodies were found after the driver of the boat called emergency services, said the coastguard.
"They were following a speedboat. The rope was cut," it added in a statement.
"The boy and the girl were killed and another was heavily injured and brought to hospital. It is under investigation about how the rope was cut."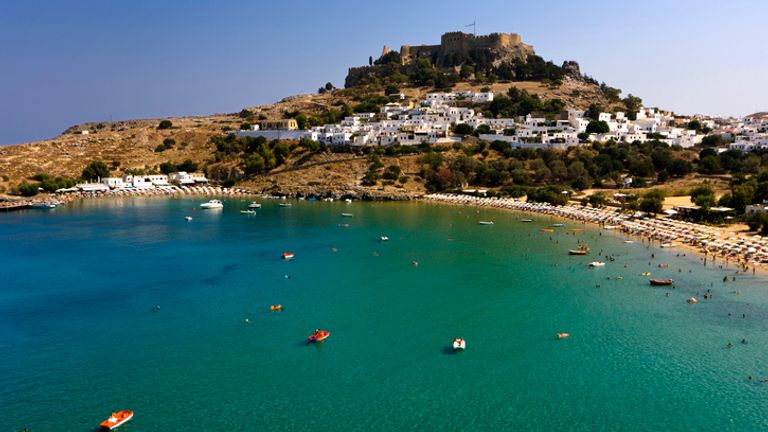 Greek media reported that Wednesday's incident happened in high winds.
The boat's driver and another person have been arrested.
The Foreign, Commonwealth & Development Office (FCDO) said: "We are supporting the family of two British people following their death in Rhodes, and are in contact with the Greek authorities."
Son of Walter Wallace Jr says 'white racist cops' killed his father | US News
The eight-year-old son of a black man shot dead by Philadelphia police has said he believes the officers involved were racist.
Zamir, the eldest son of Walter Wallace Jr, said on Wednesday that "white racist cops" had killed his father as he told reporters what he would remember about him.
"We used to always hang out and we'd always go places, and we used to always play around," Zamir said, adding: "He used to always teach me how to be a man.
"These white racist cops got my own dad. Black lives still matter."
Moments before black man's shooting by police

Mr Wallace was shot dead in the street on Monday in an incident caught on camera and later widely shared on the web.
The footage, filmed by a bystander, shows police officers firing several times at the 27-year-old after yelling at him to drop a knife.
According to the family lawyer, Shaka Johnson, Mr Wallace's relatives had called an ambulance to help the father of nine rather than police as they believed he was experiencing a mental health crisis.
Mr Johnson said it was also believed the officers knew about the crisis because they had visited the family home three times on the day of the shooting.
The incident has since sparked two consecutive nights of protesting in Philadelphia that began with peaceful marching and the chanting of Mr Wallace's name, before being taken over by violence.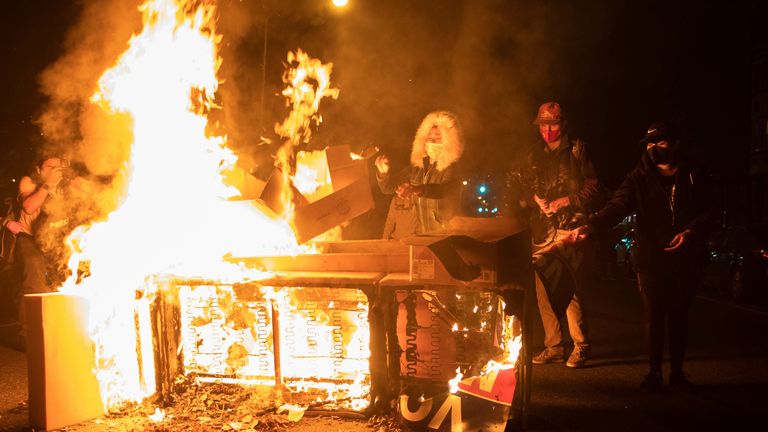 On Tuesday evening, several protesters threw rocks, light bulbs and bricks at officers near a police station in the city, while looters were also spotted ransacking shops.
It followed a night of unrest on Monday, where more than 90 people were arrested and 30 police officers were injured.
Speaking on behalf of the family, Mr Wallace's father criticised the violence and looting, which has resulted in the National Guard being deployed.
He said he was haunted by the way his son was "butchered" but said he wanted protesters in Philadelphia to show his family and the city "some kind of respect".
"It's uncalled for," Mr Wallace said of the violence. "It really is."
State and local officials are now calling for a transparent investigation into Mr Wallace's death, while Philadelphia police commissioner Danielle Outlaw said she was reviewing what information could be made public.
This includes whether the officers were aware of the possible mental health crisis mentioned by the family.
Mr Wallace Jr's death is the latest killing of a black person by US police officers, and comes after months of Black Lives Matter protests, sparked initially by the death of George Floyd.
Mr Wallace Jr's wife Dominique is pregnant and is due to have her labour induced later today.