The Winnie Mandela I knew
Sky News Correspondent Mark Austin lived in South Africa in the 1990s and interviewed Nelson and Winnie Mandela several times.
Here he writes about his experience:
She was right there, at the heart of one of the defining images of the anti-apartheid era.
Winnie, wife of Nelson, holding his hand aloft as they walked, side by side, out of prison in Cape Town.
He had been incarcerated for 27 years during which time she had become the courageous fighter against South Africa's brutal and oppressive regime.
But that wasn't the whole story. Winnie – much loved by the poor, black masses in the townships – had also become mired in controversy and allegations of criminal behaviour, violence, attempted murder and fraud.
It was a deep shock to her husband and the marriage would not survive. They were divorced two years after he became president.
:: Anti-apartheid campaigner Winnie Mandela dies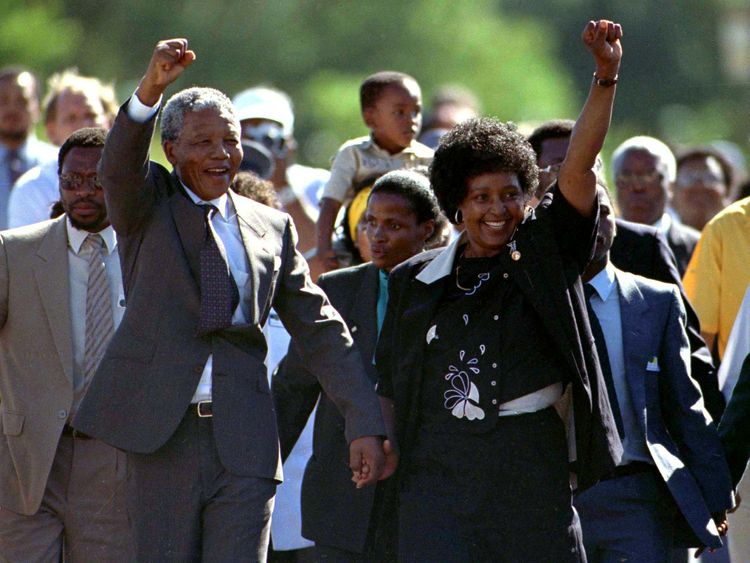 In the beginning though, her brave defiance of the apartheid government and security forces won her the love and respect of many in South Africa, including Archbishop Desmond Tutu who described her as "a defining symbol of the struggle against apartheid".
She inspired generations of activists and was without doubt a key figure in the movement that eventually brought democracy to South Africa.
With her husband in prison, she suffered a life of harassment, threats and intimidation but she persisted in the fight and became known as Mama Winnie – a heroine to millions of blacks.
But her growing status as a revolutionary icon in the townships was also to prove her downfall.
:: Nelson Mandela's love affair with Winnie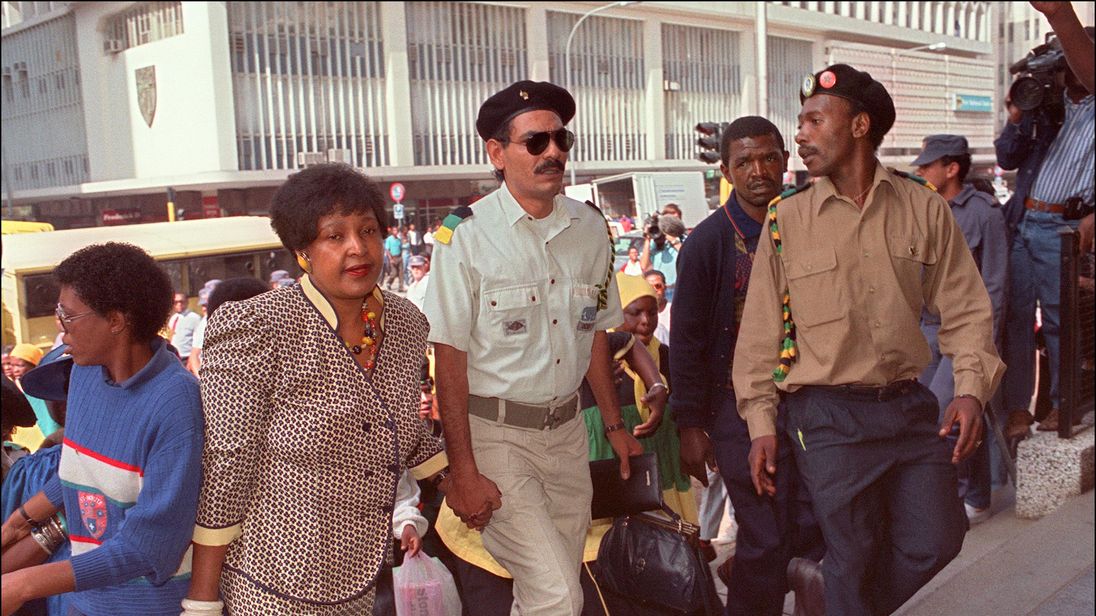 She became an all-powerful figure who lost her way, inspired fear and loathing among some, and became caught up in vigilante groups accused of kidnapping, violence and murder.
At one rally she seemed to endorse the use of "necklaces" – rubber tyres filled with petrol and placed around the necks of suspected police informers before being set alight.
And she courted even more controversy when she was accused of involvement in the killing of a young township militant, Stompie Moeketsi.
She was said to be behind a reign of terror in parts of Soweto that alienated other anti-apartheid activists.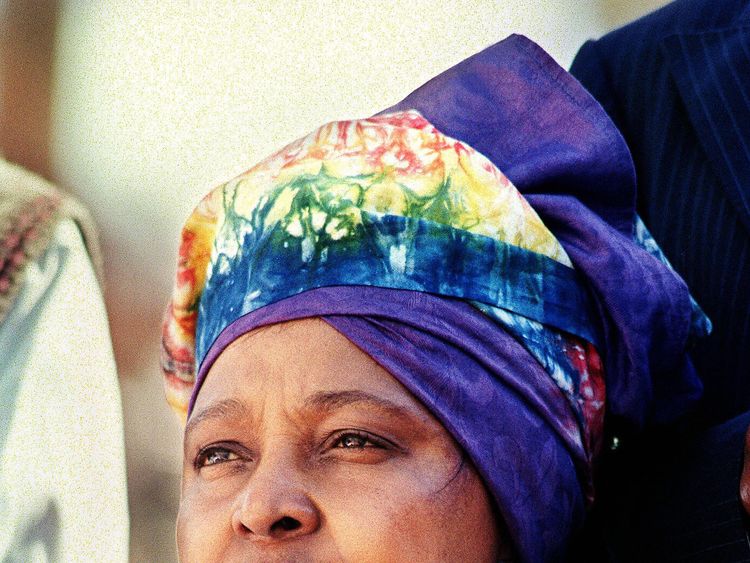 Those allegations, coupled with a lavish lifestyle that appeared at odds with the people she was trying to help, all contributed to a reputation for divisiveness that was to taint her political career.
I interviewed her on several occasions and she constantly denied the allegations against her.
But the questions and the suspicions never went away and she was in the end more pre-occupied with fighting her many legal battles than she was making headway politically.
My last interview with her was just a few days after Nelson Mandela passed away.
She was dressed head to toe in black and she was hugely emotional, faltering and tearful.
She described sitting with him for three and a half hours while "his life drained away".
She told me: "The doctors were standing around him. They told me I should move close to him.
"I went close to him and I noticed he was breathing really slowly.
"I was holding him trying to feel his temperature and he felt cold. Then he drew his last breath and just rested… He was gone."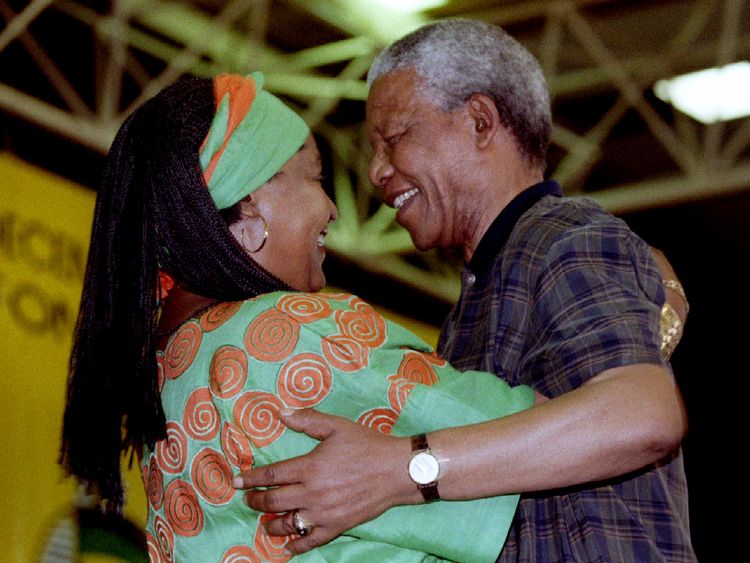 She added: "I realised all along as human beings I honestly could not find myself saying 'it is time' but I knew we had reached the end.
"You get this numb feeling. You don't react to that. I can't describe that kind of sorrow.
"Even though he was 95 and had done so much, there was so much that was still not done."
That last phrase was significant… "so much still not done".
She was very critical of the African National Congress (ANC) under her former husband's leadership.
She felt he spent too much time placating and reassuring the white population and not enough making things right for the black majority.
She was angry that improvement in people's lives was so slow in coming. She was a radical, impatient for real change.
She believed in revolution while her husband favoured reconciliation. She was never at peace with what is happening in South Africa.
But in truth much of South Africa was never at peace with her.
Winnie Mandela: Beautiful, beguiling, mercurial, and adored.
But also controversial, mired in suspicion and scandal and hopelessly flawed.
More than 130 injured as Palestinian worshippers clash with Israeli police at Al-Aqsa mosque | World News
At least 136 people have been injured during clashes between Palestinian worshippers and Israeli police at the Al-Aqsa mosque compound.
The violence at the major holy site, sacred to Muslims and Jews, is an escalation of weeks of violence in Jerusalem that has reverberated across the region.
The Palestinian Red Crescent emergency service said 136 people were wounded at the compound and elsewhere in Jerusalem, including 83 who were hospitalised.
It said most were wounded after being hit in the face and eyes by rubber-coated bullets and shrapnel from stun grenades.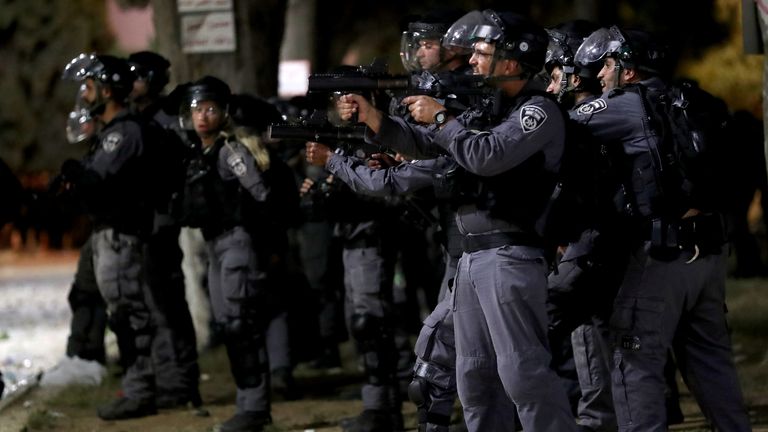 Israel said six police officers were wounded.
Earlier on Friday, Israeli troops shot and killed two Palestinians and wounded a third after the men opened fire on a base belonging to Israel's paramilitary Border Police force in the occupied West Bank.
It was the latest in a series of deadly confrontations in recent weeks that has coincided with the Muslim holy month of Ramadan.
Tensions have soared in recent weeks in east Jerusalem, which is claimed by both Israel and the Palestinians.
At the beginning of the Muslim holy month of Ramadan, Israel blocked off a popular gathering spot where Palestinians traditionally socialise at the end of their day-long fast.
The move set off two weeks of clashes before Israel lifted the restrictions.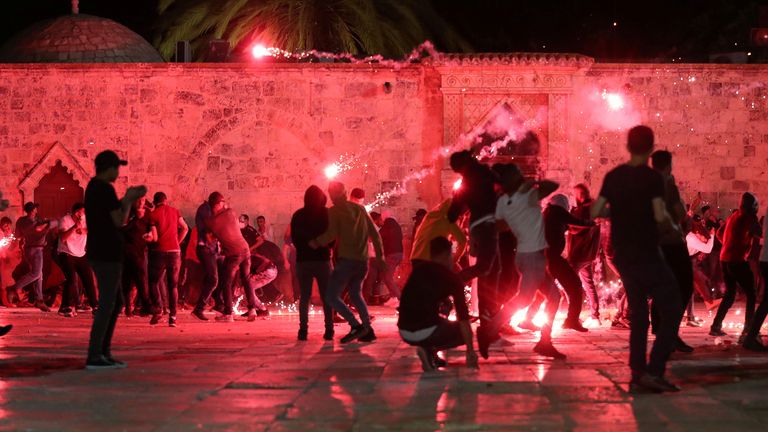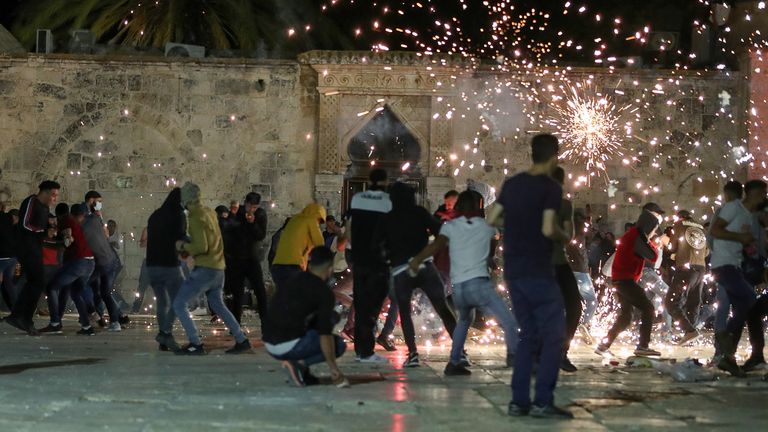 But in recent days, clashes have resumed after Israel threatened to evict dozens of Palestinians in the Sheikh Jarrah neighbourhood in east Jerusalem.
The US said it was "deeply concerned" about the heightened tensions and called on all sides to work to de-escalate them.
It also expressed concern about the threatened evictions.
European Super League: Nine rebel clubs accept sanctions and commit their future to UEFA competitions | UK News
Nine of the football clubs who signed up to the breakaway European Super League have agreed to UEFA sanctions and committed to its international and national club competitions.
The clubs, including the six Premier League sides, have agreed to re-join the European Club Association, which is the only representative body for clubs that UEFA recognises.
In the Club Commitment Declaration, they have also accepted the Super League project was a mistake, apologised to fans, national associations, national leagues, fellow European clubs and UEFA and agreed to financial penalties.
UEFA convened an emergency panel of its executive committee, which took into consideration "the spirit and the content" of the Club Commitment Declaration and in the end, decided to approve the various actions, measures and commitments made by the nine clubs.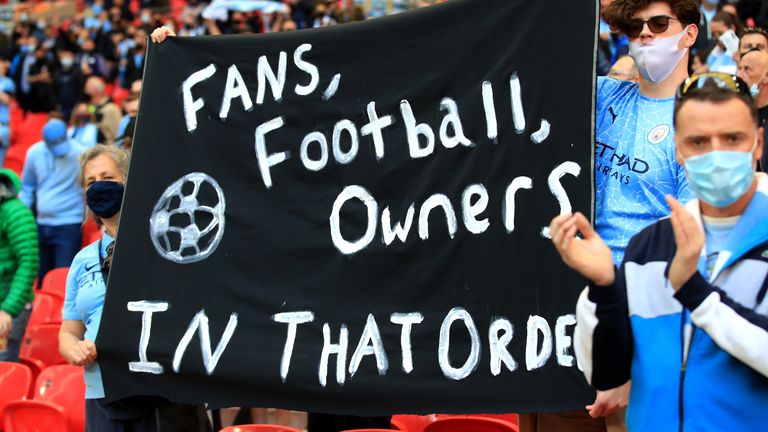 The clubs are Arsenal, AC Milan, Chelsea, Atletico Madrid, Inter Milan, Liverpool, Manchester City, Manchester United and Tottenham.
The three who have not renounced the Super League – Real Madrid, Barcelona and Juventus – are set to face "appropriate action", UEFA said.
Twelve clubs in total announced on 18 April that they would be joining the new European Super League but so strong was the fan backlash that nine withdrew within days.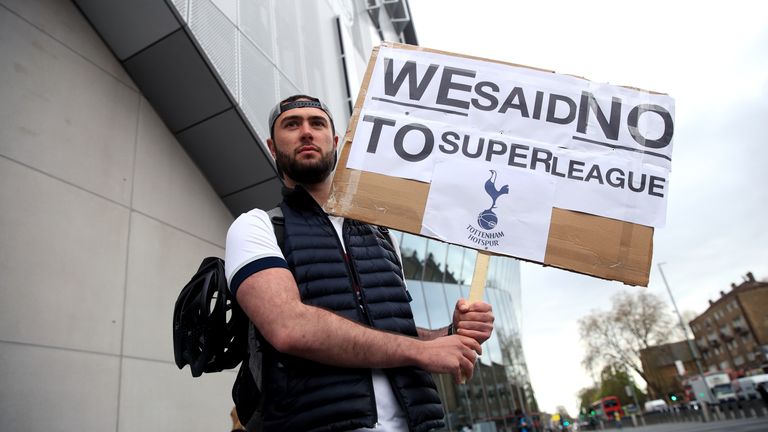 Culture Secretary Oliver Dowden got involved – and eventually announced the proposals were being aborted

Other steps the clubs have committed to in the UEFA declaration are:
• 5% of the revenues they would have received from UEFA club competitions being withheld for one season, which will be redistributed
• Terminating their involvement in the company established to form and operate the Super League
• Making a donation of £13 million, to be used for the benefit of children, youth and grassroots football in local communities across Europe, including the UK
• Agreeing to have substantial fines imposed if they seek to play in such an unauthorised competition (£87 million) or if they breach any other commitment they have entered into in the Club Commitment Declaration (£43 million)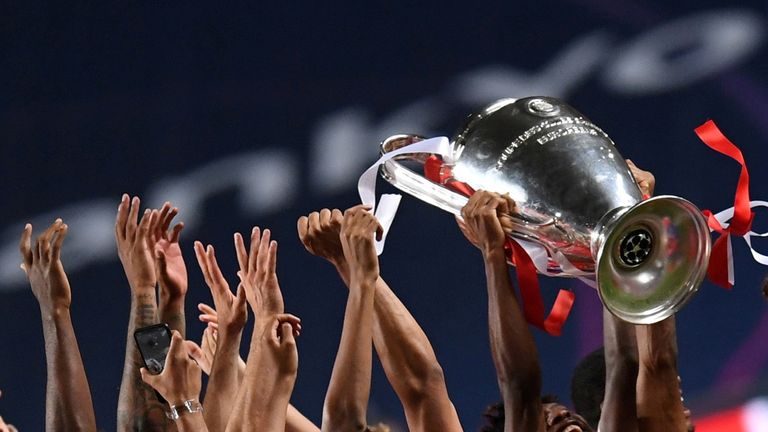 UEFA President, Aleksander Čeferin said: "I said at the UEFA Congress two weeks ago that it takes a strong organisation to admit making a mistake especially in these days of trial by social media.
Even Prime Minister Boris Johnson had an opinion, describing the new league as a 'cartel' that would damage football.

"These clubs have done just that.
"In accepting their commitments and willingness to repair the disruption they caused, UEFA wants to put this chapter behind it and move forward in a positive spirit.
"The measures announced are significant, but none of the financial penalties will be retained by UEFA. They will all be reinvested into youth and grassroots football in local communities across Europe, including the UK.
"These clubs recognised their mistakes quickly and have taken action to demonstrate their contrition and future commitment to European football.
"The same cannot be said for the clubs that remain involved in the so-called 'Super League' and UEFA will deal with those clubs subsequently."
COVID-19: Doubts over Champions League final venue as Turkey added to red list | UK News

Fans of Chelsea and Manchester City should not travel to Turkey for the Champions League final, the transport secretary has said.
Speaking as it was announced that Turkey has been added to England's COVID-19 red list, Grant Shapps said the Football Association was in talks with UEFA over the match.
The final is currently scheduled to be played in Istanbul on Saturday, 29 May.
Mr Shapps said the UK is open to hosting the game, but stressed it was a decision for European football's governing body.
"I'm afraid we are having to put Turkey on the red list," Mr Shapps told a Downing Street news conference.
"This will have a number of ramifications. First of all, it does mean with the regards to the Champions League, fans should not travel to Turkey.
"The FA are in discussions with UEFA on this. We are very open to hosting the final but it is ultimately a decision for UEFA.
"Of course the UK has already got a successful track record of football matches with spectators, so we are well placed to do it.
"We are very open to it but it is in the end a decision for UEFA to make, but given there are two English clubs in that final, we look forward to what they have to say."
UEFA insisted earlier this week that it had no plans to move the match.
"The UEFA Champions League final will take place in Istanbul on May 29 with a limited number of spectators and we are assured the temporary lockdown which is in force until May 17 should not have any impact on the match," it said in a statement.
"UEFA continues to work closely with the Turkish Football Federation and the local and national authorities to stage the match safely."
Chelsea and Manchester City have yet to comment.