Ruling party wins Costa Rican presidency with support for gay rights
Get breaking news alerts and special reports. The news and stories that matter, delivered weekday mornings.
SAN JOSE, Costa Rica — Center-left candidate Carlos Alvarado Quesada decisively defeated a conservative Protestant singer in Costa Rica's presidential runoff election on Sunday by promising to defend gay rights, handing a major victory to the ruling party.
Carlos Alvarado Quesada, 38, a fiction writer, had 61 percent of the vote with results in from 91 percent of polling stations. His rival, Fabricio Alvarado Munoz, 43, a former TV journalist, had 39 percent.
Alvarado Quesada, who will be the youngest president in Costa Rica's modern history, used the campaign to appeal to the progressive streak in a country known for pacifism and ecological stewardship.
The election exposed deep divisions in Costa Rica, a Central American tourist destination known for its laid-back beach culture and pristine rainforests but whose rural communities remain socially conservative.
It could also reflect the mood elsewhere in Latin America, where several countries that have backed same-sex unions are holding elections in 2018.
At a polling place in the western Pavas neighborhood of San Jose, the capital, Alvarado Quesada, until recently a minister in the outgoing government also known for his student rock band, voted and spoke briefly to supporters.
"Costa Rica is an amazing country, and we want to not only preserve its great democracy, its peaceful nature, its respect for the environment and human rights, but we also want to move Costa Rica forward," Alvarado Quesada said.
Shortly after he cast his vote at a school in the capital, Alvarado Munoz pledged to lead a government free of bias, a possible sign that he sensed that his hard-line stance was turning off centrist voters.
The two men took opposing positions on a January decision by the Inter-American Court of Human Rights, an influential regional body based in San Jose.
Fabricio, as supporters refer to Alvarado Munoz, called the ruling an affront to sovereignty. Threatening to remove the country from the court's jurisdiction, he shot from the margins to win the first round of voting in February.
Alvaro Quesada, by contrast, backed the court's ruling. In the campaign's final debate, he called his opponent's comments homophobic.
Duke and Duchess of Sussex announce partnership with Procter & Gamble – a company she once called sexist | US News
Decades after criticising Procter & Gamble as a child, the Duchess of Sussex and her husband have announced a partnership with the firm.
Meghan and Harry's Archewell Foundation confirmed a long-term relationship with the American multi-national consumer goods company on Tuesday.
It will focus on gender equality, inclusive online spaces, resilience and impact through sport.
As an 11-year-old, Meghan had written to Procter & Gamble to complain about the sexist language used in a TV advert.
Her letter-writing campaign objected to a dish soap commercial which included the line: "Mothers around America are fighting greasy pots and pans".
She appeared in an interview with Nick News in 1993 to talk about her campaign, saying she was "furious" about the advert.
She added: "When they heard this, the boys in my class started saying: 'Yeah that's where women belong – in the kitchen'."
Meghan successfully lobbied the firm to change the line from "mothers around America" to "people all over America".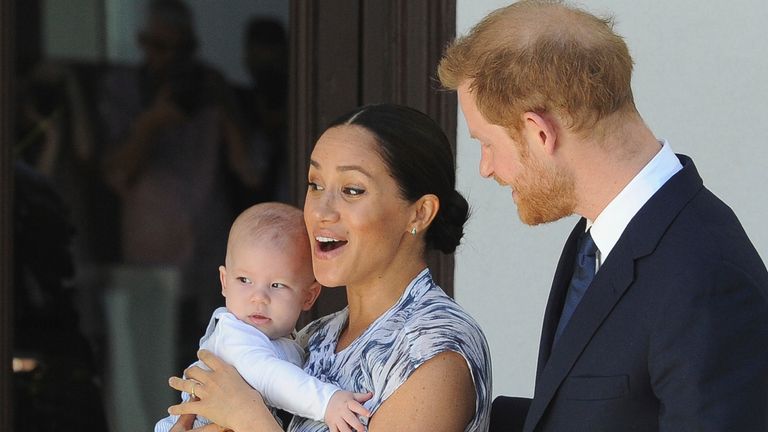 Announcing the partnership, the Archewell website said: "Archewell Foundation believes that with community, and through compassionate service to others, we can unleash systemic cultural change.
"In service of doing this, and building more compassionate communities, Archewell Foundation announced a multi-year global partnership today with Procter & Gamble."
The website said the partnership would "elevate the voices of adolescent girls" to ensure "their point of view and lived experience is heard at the tables where decisions are made".
It also vowed to work with men and boys to encourage gender equality.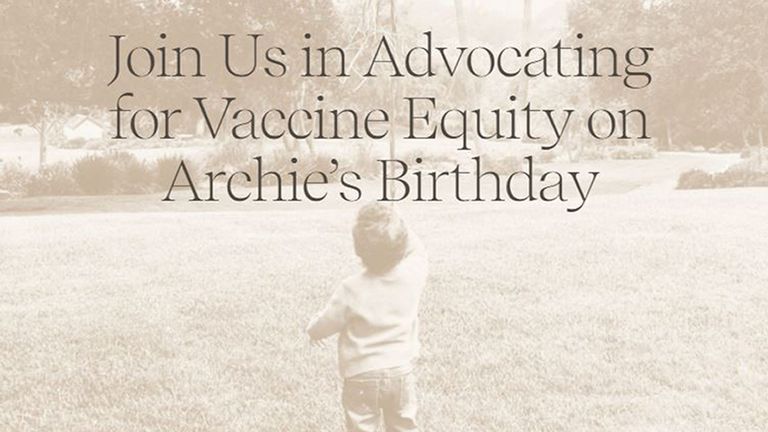 The foundation said it will build on joint aspirations with P&G, which it worked with in support of Global Citizen's Vax live concert, in aid of the international COVID-19 vaccination effort.
Procter & Gamble owns brands such as Oral B, Gillette, Pampers and Tampax, and reported net sales in 2019 of $67.7bn (£47.8bn).
On its website, it said: "We've also been inspired by the mission of the Archewell Foundation and its founders, the Duke and Duchess of Sussex, that with community, and through compassionate service to others, we can drive systemic cultural change, benefiting everyone."
Harry and Meghan quit as senior working royals in March last year.
Greece: £257,000 reward offered to catch killers who strangled British mother, 20, in her Athens home | World News

A €300,000 (£257,000) reward is being offered by the Greek government to track down burglars who strangled a British woman next to her baby in Athens.
The 20-year-old victim was sleeping with her husband and 11-month-old child when three men broke into their home in the Glyka Nera suburb before dawn after killing the family's dog, said reports.
The young mother was tied up and strangled, while her 32-year-old husband, a pilot, was bound and gagged.
He survived Tuesday's "barbaric" attack and managed to loosen his ties before calling police.
The burglars escaped with money and jewellery, while the baby was unharmed.
Greece's minister responsible for public order, Michalis Chrisochoidis, described the woman's killing as "particularly heinous".
"One rarely encounters such barbarity in Greece, in Greek society, even among criminals," he said.
The victim was born in Greece but had a British passport, according to police, who said she was married to a Greek man.
Two teams of detectives are investigating the deadly incident.
Israel: Hamas launches rocket attack on Tel-Aviv | World News

Hamas has launched a rocket attack on Tel-Aviv – with the Israeli ambulance service saying at least one person is in a critical condition after a building was targeted.
All flights have since been halted at the city's Ben Gurion Airport, according to Israel's Kan broadcaster.
Hamas said in a statement it had fired 130 rockets towards Tel-Aviv and its suburbs amid ongoing tensions between the Israelis and Palestinians.
A blast took place in the suburb of Holon on Tuesday evening, according to Israel Channel 12 TV.