Peace a distant and naive dream as PM Kabila refuses to resign
The UN peacekeepers are on red alert – a call has just been put out on the radio.
"Red zone, red zone". There's a ripple of sound around our truck as they cock their weapons ready.
The two-truck convoy we are in is entering one of the areas in the north east of the Democratic Republic of Congo identified as a 'hotspot'.
Village after village in parts of Ituri province appear to have been attacked.
Many of the homes have been set alight and are destroyed through fire. Some are smashed to the ground, leaving just a pile of gravel.
On some of the walls still standing, there's graffiti scrawled by various rebel groups. Many of the communities have been deserted, leaving behind the shells of vandalised buildings and the scraps of lives scattered around the dust.
There have been repeated attacks directed against residents. In Kafe village, which sits on Lake Albert, many have fled in boats across to Uganda which now houses the most number of refugees in Africa.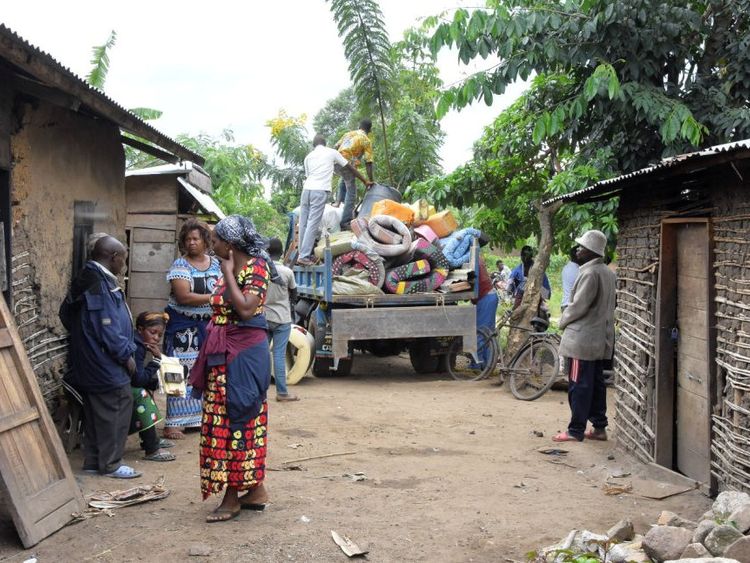 The UN Uruguayan contingent we are with set about fortifying their position in Kafe, laying out barbed wire, filling sandbags, setting up lookout posts surrounding our camp.
Peacekeepers have been killed and aid workers kidnapped elsewhere in this country, so they are under strict instructions not to take any chances.
:: Militia attacks displaced children with machetes in war-ravaged DR Congo
Few areas are considered safe in the restive DRC right now. There are more than 16,000 UN peacekeepers in the country – the largest peacekeeping operation in the world – but peace seems a distant naive dream here right now.
The upsurge in violence which is threatening to engulf the DRC is being put down to the political instability amid increasingly strident calls for President Joseph Kabila to step down.
His second mandate expired in December 2016, but so far he has resisted calls for him to resign and hold elections.
Various government statements from ministers have insisted recently he will respect the constitution – and elections will be held in December but it has done little to quell the unrest or halt the violence.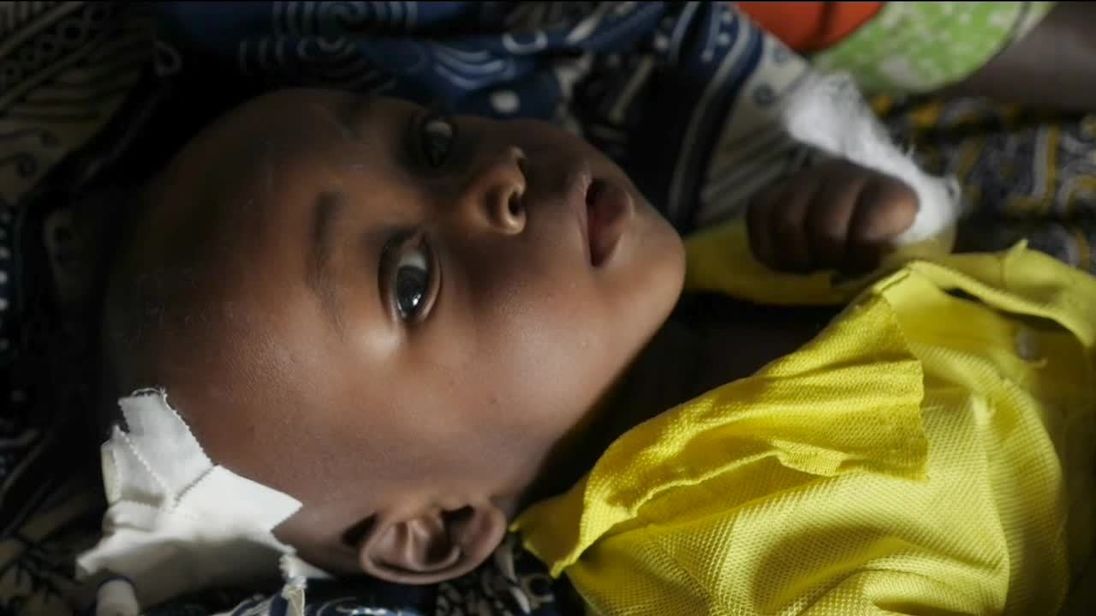 It has all added to the growing humanitarian crisis leaving swathes of the country desperate for food and huge numbers of the population displaced – having been frightened away from their homes and communities and moved to other areas of the country.
They are now living in large crowded, squalid camps under tarpaulin bamboo tents where disease is festering and where despair is the only commodity not in short supply.
Aid agencies say the humanitarian situation in the former Belgian colony is reaching breaking point with more than 13 million people needing help – that's the same number as in Syria.
Yet there is little worldwide awareness of what is going on in this mineral-rich country. DRC should be rich, her people should go to sleep with full stomachs every night.
The country is Africa's largest producer of copper and has more than half of the world's stock of cobalt under its soil.
Yet it is pitifully low on the UN Human Development Index and hasn't experienced a peaceful transition of power since independence in 1960.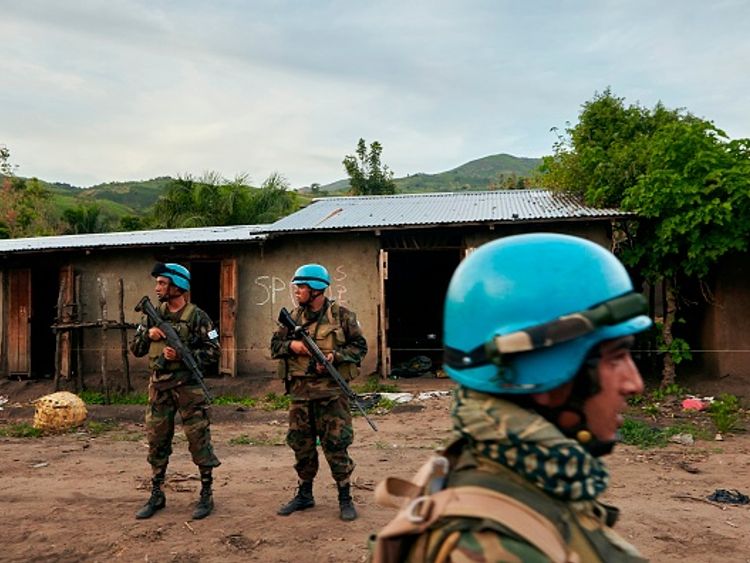 The increasingly autocratic DRC authorities have denounced the mounting humanitarian concerns as exaggerated.
The President and his administration are deeply unpopular and his army, of which he is Commander in Chief, is much feared.
Many suspect the Congolese soldiers are somehow involved in stoking the unrest.
The President has used it as an excuse not to hold elections in the past. And his administration has said it won't attend an aid donor conference in mid-April which was due to raise billions for the country's struggling people.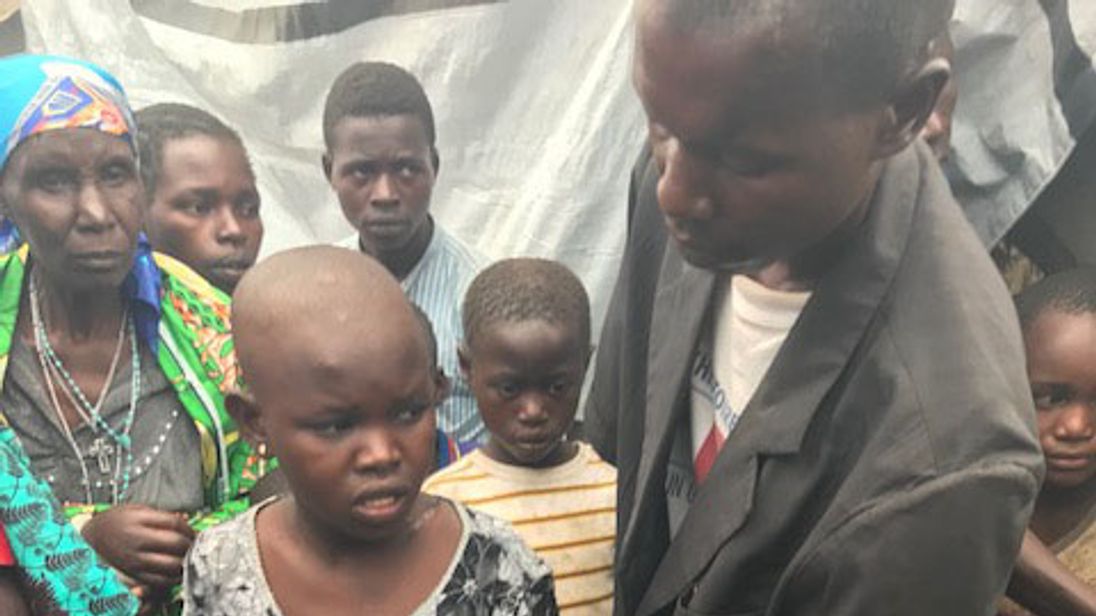 The UN convoy rolls into another village. They stop to chat to the residents. Their presence, they hope, instils some calm amongst the population and acts as a deterrent to the multiple militia groups doing the attacking.
In the crowd of hungry people, many of whom have fled their homes in Tche, we spot a small baby on the back on a child who herself only looks about eight years old.
The baby is crying. It's a sick, hungry, wailing cry. It turns out Novita has been surviving here with her baby sister and four-year-old brother for three weeks now.
The three of them have been on their own for three weeks. They've somehow survived by begging for scraps from strangers.
They got separated from their parents when their village was attacked. They have no idea where their parents are or even if they're still alive.
They look dusty, noticeably thin and terrified. They tell us the last time they ate was a couple of days ago.
The surrounding adults appear somewhat embarrassed at our questions about who is looking after them. Everyone here is hungry. Everyone. The UN Captain turns to me. "Yes. It's awful. Truly, truly tragic."
Chicago police officer sacked after shooting dead unarmed black teenager | World News
A police officer in the US has been fired after shooting a black couple inside a car – killing a 19-year-old man and injuring his girlfriend.
The Chicago officer shot dead Marcellis Stinnette and wounded Tafara Williams after what authorities described as a traffic stop on Tuesday.
The officer – whose name has not been released – committed "multiple policy and procedure violations", Waukegan police chief Wayne Walles said.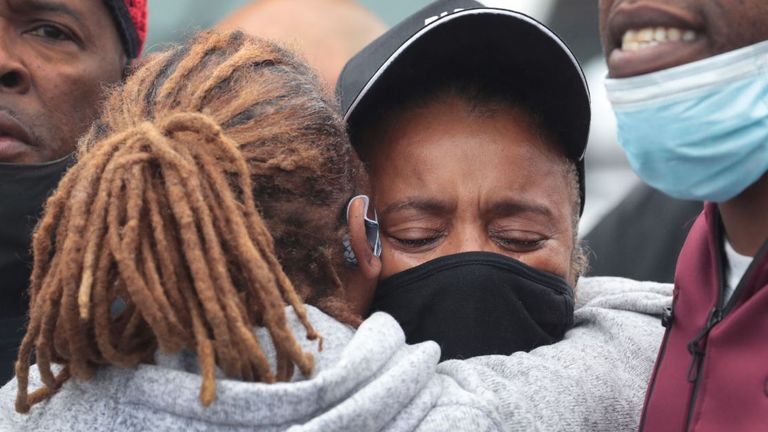 Police said Ms Williams was driving and her partner was a passenger in a car which fled after getting pulled over, before the vehicle was later spotted by another officer.
After the second officer approached, the car moved in reverse and the now-sacked officer opened fire on the couple, who have a child together, according to authorities.
No weapon was found in the vehicle, police said.
The officer who shot the couple is Hispanic and has been with the police department for five years.
Lake County's chief prosecutor said the FBI will work alongside Illinois state police to investigate the incident.
Michael Nerheim, Lake County State's attorney, has asked the US justice department to look into the circumstances around Mr Stinnette's death.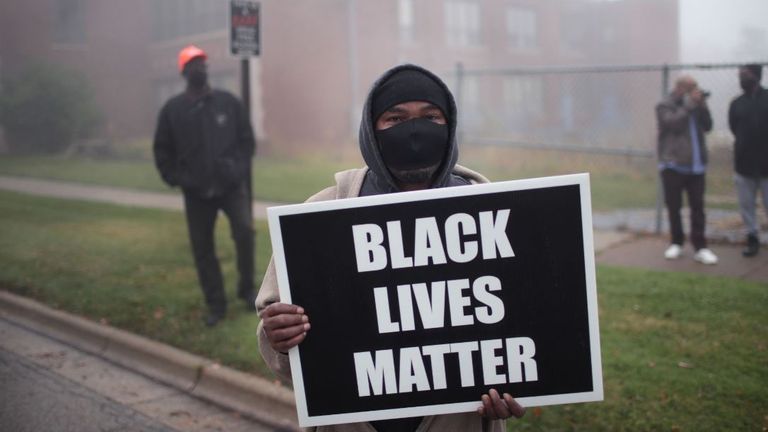 "I am confident in the work being done by the Illinois state police and welcome the assistance of the FBI," Mr Nerheim said in a statement.
"As I have said before, once the investigation is concluded, all the evidence will be reviewed and a final decision will be made with respect to any potential charges."
The couple's family and activists are asking police to release a video of the shooting, which authorities have said is currently with an investigating team.
:: Subscribe to Divided States on Apple podcasts, Google Podcasts, Spotify, and Spreaker
Activist Chris Blanks said video footage is crucial, as the version of events given by the police seems to contradict the version of events told by Ms Williams' mother, Clifftina Johnson.
She says her daughter said they did nothing to provoke the officer that injured her and shot dead her partner.
Mr Nerheim called for calm during the investigation process and has promised transparency.
US election 2020: 'I voted for a guy named Trump' – President casts his ballot in Florida | World News

The president has cast his ballot in the US election, telling reporters: "I voted for a guy named Trump."
After voting in West Palm Beach, Florida, Mr Trump also took the opportunity to attack mail-in ballots – warning that they can never be as secure as voting in person.
Describing his experience at the polling station as "perfect and very strict", he added: "It was a very secure vote – much more secure than when you send in a ballot, I can tell you that."
The president said that that he will be holding "three big rallies" today, and claimed: "I hear we're doing very well in Florida and every place else."
To secure the White House, winning in Florida is essential.
The state has consistently voted for the victor in every election except one since 1964 – and no Republican has won without the state in almost a century.
With 29 electoral college votes up for grabs, it's the largest swing state and crucial for gathering the 270 votes needed.
Most polls show Mr Biden narrowly ahead in Florida. History suggests that, if Mr Trump loses here, he'll likely lose the White House.
The election will take place on Tuesday 3 November – just under two weeks away.
Coronavirus: Police find suspected illegal pub – complete with bar, 70in TV, toilet, pool table and smoking area | World News
Police in Ireland have searched a suspected illicit pub, or "shebeen", on suspicion of breaching coronavirus measures.
The property near Athy in County Kildare was targeted by Gardai officers on Friday evening.
The force had launched an investigation after they became aware of the premises, and the fact people were congregating in a breach of social distancing rules, through social media.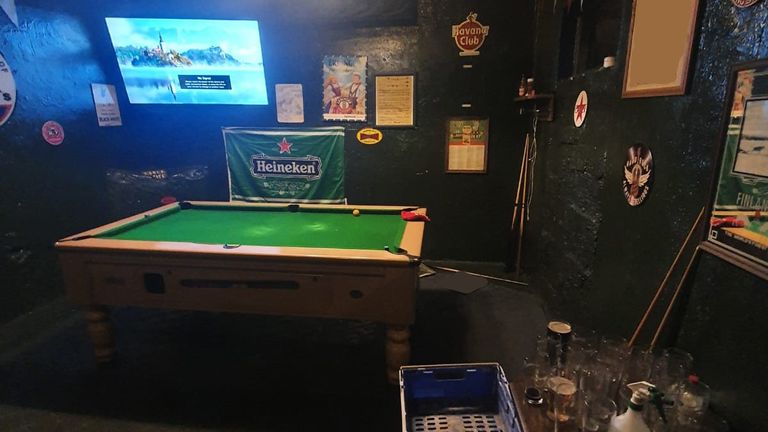 Gardai searched the suspected shebeen at about 8pm and found a fully operational bar in a repurposed state.
Shebeen is an Irish term which refers to an illicit bar or club where alcoholic drinks are sold without a licence.
The premises was fitted with a bar, stools, tables, chairs, a 70in flat-screen television, and a full-size pool table.
There were several beer taps on the bar, along with an under bar cooler and kegs.
There was also a smoking area, store room and toilet on the premises.
Officers seized five kegs of beer, a significant amount of spirits and bottled beers, and various bar equipment including the taps, gas and coolers.
A full investigation is now under way and files will be prepared for the Director of Public Prosecutions (DPP).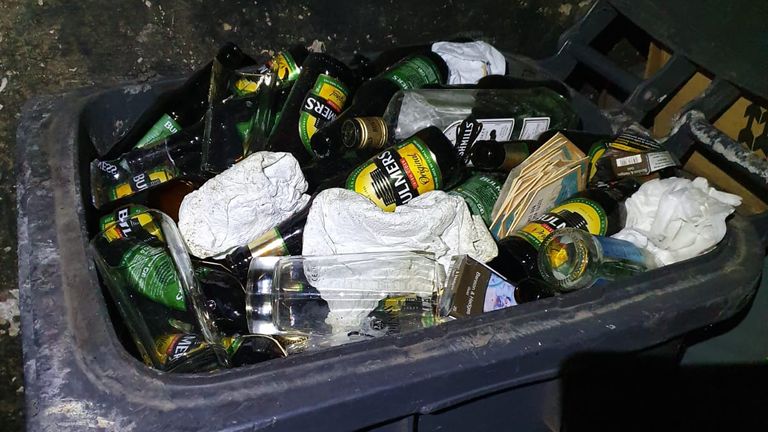 The investigation in Ireland comes as a man in Manchester has been given a £10,000 fixed penalty notice after officers closed down a party with over 50 people in attendance.
Officers were called to a report of a party at a flat on Simpson Street in Angel Meadows shortly after 11.20pm on Friday night.
DJ mixing decks, industrial speakers and a buffet was found by officers on arrival.
A total of 52 fines have been handed out since Greater Manchester went into Tier 3 restrictions.
Assistant Chief Constable Mabs Hussain, of Greater Manchester Police, said: "This party was a blatant disregard of the rules and for public health. It is totally unacceptable in the current crisis the whole world is facing and is not what we want our officers to be spending their time doing.
"We had no alternative but to issue the maximum penalty for breaching the legislation on large gatherings and I hope this serves as a reminder to those considering to flout the rules – we will take action."
It comes after a wedding attended by around 250 guests was shut down by police last week.
Officers were first called to the venue on Old Kent Road at 20:20hrs on Sunday 18 October, after concerned residents suspected the address was being burgled.
It appeared that those attending the ceremony had closed the shutters at the front of the venue, in an attempt to mask the celebration.
Police dispersed crowds at the scene.
Two people at the event were advised that they had been reported for consideration of a fixed penalty notice.
Detective Superintendent Nicky Arrowsmith, said: "This event was a blatant breach of the regulations and could have been a breeding ground for transmitting the virus.
"There were over 200 people inside, no social distancing and indeed no attempts to make the venue COVID secure, in line with the government guidelines."