Her life and struggles in the fight to end white minority rule in South Africa
Still respected for her fight against apartheid, controversy was never far away from Winnie Mandela – including accusations of kidnapping, murder and corruption,
On the day of her death, her legacy remains as tortuous as her life, which she reclaimed as her own – refusing to live under her hero husband's shadow.
Winnie was born Nomzamo Winifred Zanyiwe Madikizela in 26 September, 1936.
Daughter to a teacher and a senior official, Winnie grew up in South Africa's Eastern Cape province, tending cattle and Methodist school.
Her first name Nomzamo translates to "one who must endure trials" – which she did, both politically and legally throughout her life.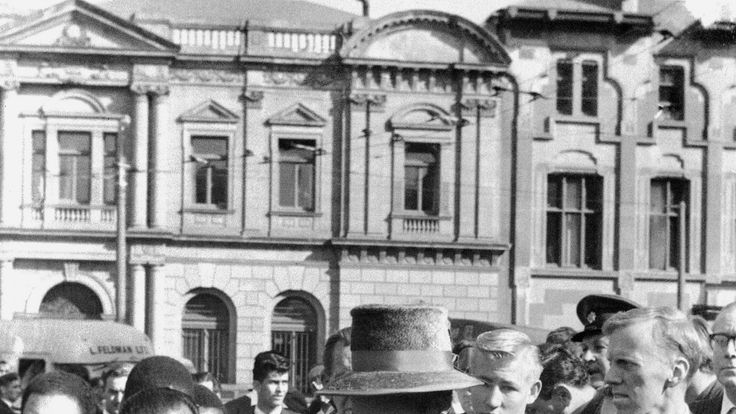 "I started to realise the abject poverty under which most people were forced to live, the appalling conditions created by
the inequalities of the system," Winnie once said of her formative years.
Her first job was as a hospital social worker in Soweto, which she decided to take on, renouncing a scholarship in the United States.
At the tender age of 22, she met a 40-year-old Nelson Mandela at a bus stop near her workplace. The two fell in love, and changed each other's path forever.
A fiery romance led to marriage, marriage led to politics and the two found they shared a common passion: the fight against apartheid.
He divorced his first wife, with whom he had three children, after being "struck by her beauty".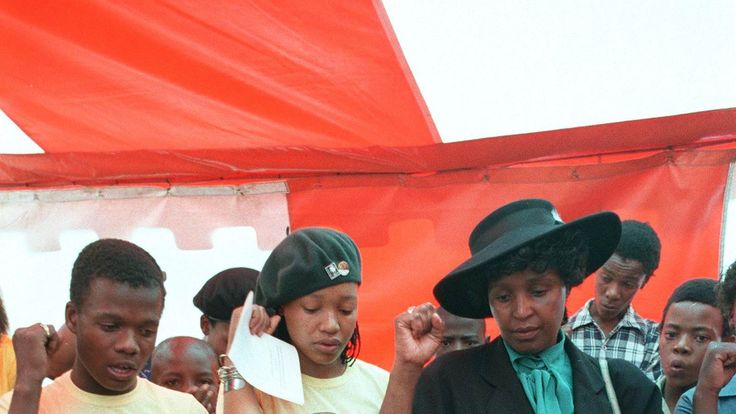 She found in him a semblance of the same strength she carried with her. Later, she would describe their marriage as a sham, criticising him for "softening" in prison.
Their first years of marriage weren't easy, and the relationship was cut short after six years, when Mandela was arrested and sentenced to life in prison.
There would begin his famed Long Walk To Freedom, one significantly different from Winnie's, whose job was then to "hold the fort" and keep his struggle alive outside.
"Mandela did go to prison and he went in there as a burning young revolutionary. But look what came out," she said years after he was finally released.
"Mandela let us down. He agreed to a bad deal for the blacks."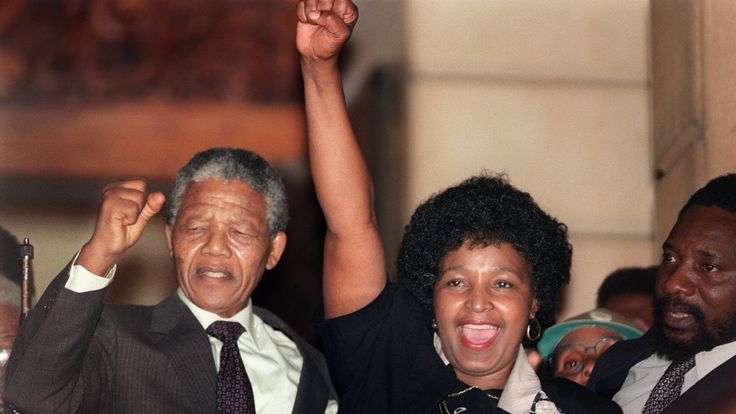 Madikizela-Mandela was later hailed as mother of the new South Africa, credited with having helped the African National Congress to throw out the oppressive white rule in the country.
But her passion and her hate walked side to side, and the ruthlessness in which she would later continue the struggle would tarnish the party, the struggle and even threaten her husband's legacy.
For the 27 years which Mandela spent in the prisons at Robben Island, Pollsmoor and Victor Verster, Winnie campaigned tirelessly for his release – but seldom visited.
Instead, she spent her dissident years in constant run-ins with the law, building a reputation as ruthless and violent towards those who did not support or tried to boycott the movement.
It was at her side, however, that Nelson Mandela finally left prison in 11 February 1990. Her fist raised high in the air as a symbol of black power.
Before that, she had been jailed for 17 months for defying authority, 13 of which she spent in solitary confinement. The experience, she would later confess, changed her forever.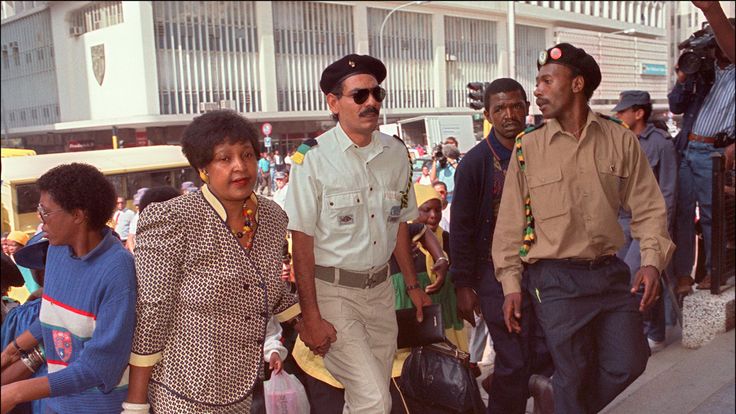 "Together, hand in hand, with our boxes of matches and our necklaces, we will liberate this country," she told a rally, four years before Mandela's release.
The term "necklacing" referred to a style of execution in which a gas-soaked tie would be placed around a traitor's neck and set on fire.
This incendiary language was miles away from that which Nelson Mandela adopted once he left prison.
The chasm between them grew larger even when, in 1991, she was convicted of kidnapping and ordering the killing of Stompie Moeketsi, a 14-year-old activist who she suspected was an informant.
He was found with his throat slit close to her house. Her six-year jail term was reduced on appeal to a fine.
The execution was carried on by the so-called Mandela United Football Club, a vigilante gang that claimed to be her bodyguard.
At that point, the two separated and it wasn't long before Mandela sacked Winnie from his cabinet and filed for divorce.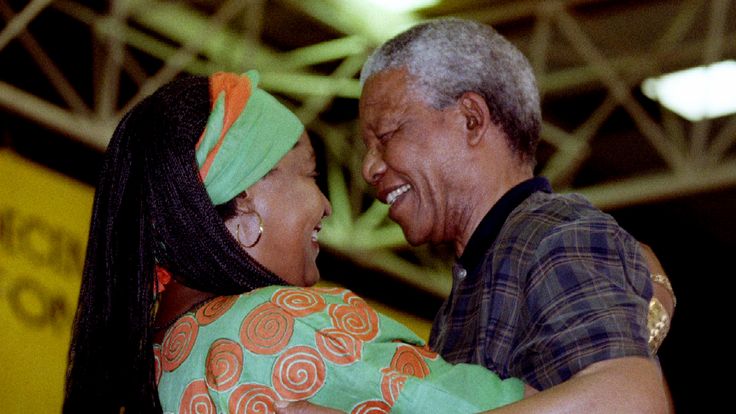 The reason wasn't the kidnapping charge, but allegations of corruption, bribe-taking and misuse of government funds.
Appearing at the Truth and Reconciliation Commission (TRC) years later, Madikizela-Mandela refused to show remorse for abductions and murders carried out in her name.
It was only when Archbishop Desmund Tutu pressed her to repent, that Winnie finally admitted "things went horribly wrong".
"For that I am deeply sorry," she added.
In its final report, the TRC ruled that Madikizela-Mandela was "politically and morally accountable for the gross violations of human rights committed by the MUFC".
Years later, back in court over corruption charges, the magistrate said she should "have set the example for us all", but failed.
Other allegations of wrongdoing followed her until her final year.
Coronavirus: Trump says 200,000 US deaths is 'a shame' | US News
Donald Trump has referred to the death of 200,000 people from coronavirus in the US – the highest figure of any country in the world – as "a shame".
The president insisted the number of Americans who had died from COVID-19 could have been far higher had it not been for the actions of his administration, without providing evidence for his claim.
Live updates on coronavirus from UK and around world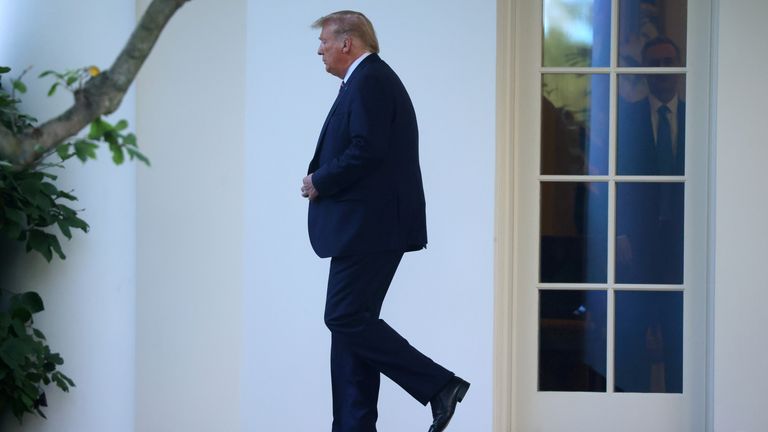 Mr Trump had initially ignored a question from the media about the US death toll as he was leaving the White House for an election rally in Pennsylvania.
He then said: "I think it's a shame. I think if we didn't do it properly and do it right, you'd have 2.5 million deaths. You could have a number that would be substantially more.
"It's a horrible thing. Should have never, ever happened."
He also repeated his previous criticisms of China, where the coronavirus first emerged at the end of 2019.
He said: "China should have stopped it at their border. They should have never let this spread all over the world. It's a terrible thing."
Mr Trump has been criticised for his handling of the COVID-19 pandemic, having repeatedly sought to downplay the disease as it began to spread through the US.
There are continuing fears among health experts that the high level of infections in the country will make the virus more difficult to control during the winter months.
:: Subscribe to Divided States on Apple podcasts, Google Podcasts, Spotify, and Spreaker
According to Johns Hopkins University, the US has seen nearly 6.9 million cases and 200,818 deaths.
The figures account for more than 20% of the cases worldwide, despite the US having just over 4% of the world's population.
Brazil has the second worst toll with 138,105 recorded deaths. The global figure for deaths from the coronavirus is 971,483.
Ex-traffic cop who claims to be reincarnation of Jesus arrested in Russia | World News
A former traffic police officer who claims to be the reincarnation of Jesus has been arrested by Russian security forces.
Prominent mystic Sergei Torop and other leaders of the Church of the Last Testament sect were held in a remote part of Siberia on Tuesday.
They are accused of "damaging their followers' health".
Russia's Investigative Committee said in a statement that the religious group had used psychological pressure to extract money from its followers and caused serious harm to their health.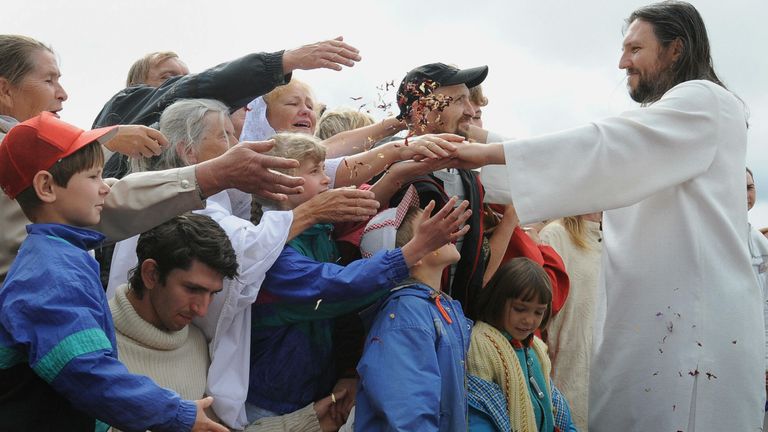 Torop, known to his followers as Vissarion, set up the Church of the Last Testament in the Krasnoyarsk region in 1991, the year the Soviet Union broke up.
The operation to detain him, as well as group leaders Vadim Redkin and Vladimir Vedernikov, involved the police as well as members of the Federal Security Service.
The men could face up to 12 years in jail if found guilty, the RIA news agency reported.
Luis Suarez faces investigation after 'cheating' on Italian citizenship test | World News
Police in Italy have opened an investigation after Luis Suarez, one of the most controversial players in world football, was accused of cheating on his Italian citizenship test ahead of a move to the country.
The Uruguayan, who has previously faced bans for biting opponents and making racist remarks, took the exam in Perugia last week to facilitate a transfer from Barcelona to Juventus.
But prosecutors allege the former Liverpool striker, 33, knew what was going to be in the paper and that his mark had already been decided.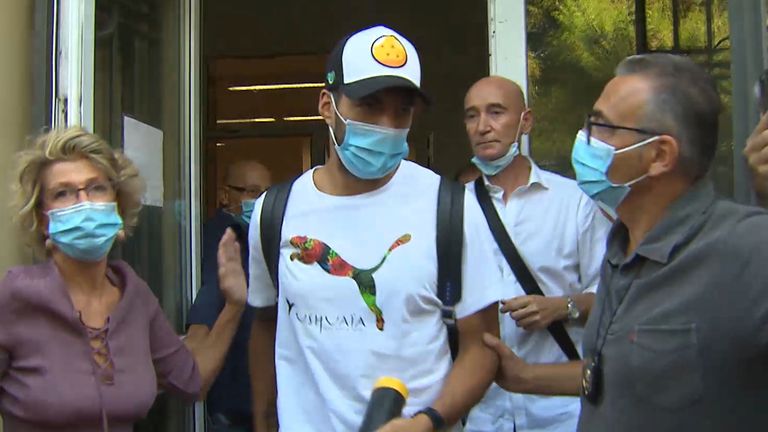 The Perugia public prosecutor's office said in a statement: "Some irregularities have emerged in the exam of certification of Italian, sat on September 17 by Uruguayan football player Luis Alberto Suarez Diaz, needed to obtain the Italian citizenship.
"From the investigation, it emerged that the topics in the exam had been agreed in advance with the applicant and that the relative mark had been attributed even before carrying out the exam, regardless of the fact that an elementary proficiency of the Italian language had been verified during remote classes carried out by lecturers of the University for Foreigners.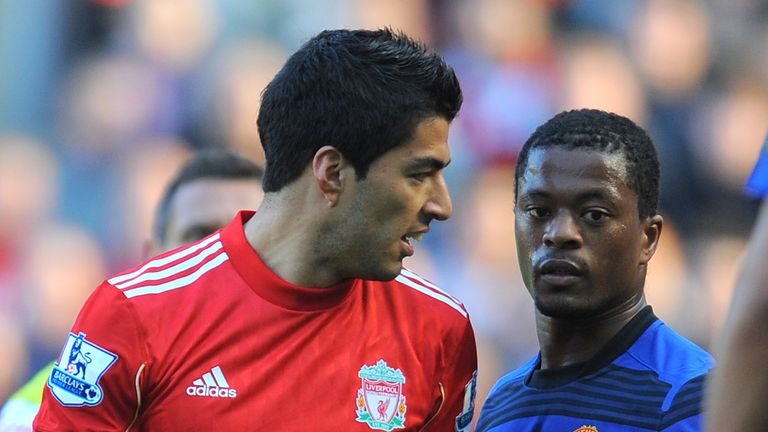 "Today, the Italian financial police are moving forward to capture the documents at the university offices, to verify the actions described beforehand and notify the information assurances for the crimes of revelation of professional secrecy, false representation committed by public officials in official documents and other acts.
Juventus have no places left in their squad for non-EU players, meaning Suarez had to obtain Italian citizenship to join the club.
And the proposed move appears to have fallen through, with the Italian champions now set to re-sign Alvaro Morata from Atletico Madrd.
Suarez, who has been told he can leave Barcelona, now seems set to replace Morata in the Spanish capital.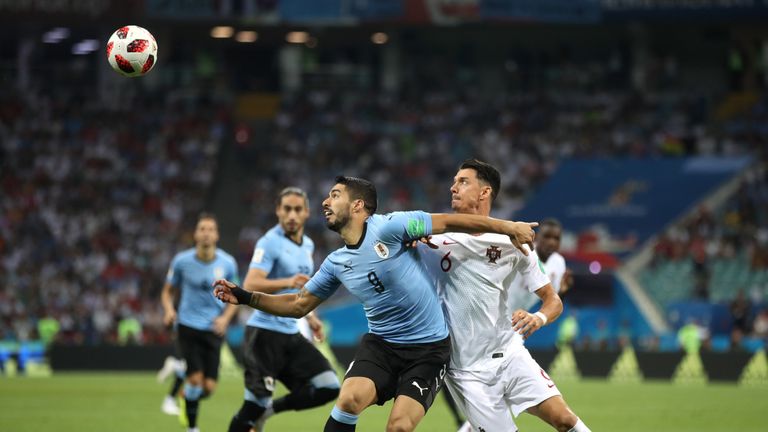 Republicca reported a local official as saying on Monday: "He [Suarez} does not speak a word of Italian.
"He does not conjugate verbs, he only speaks using the infinitive. If journalists would ask him some questions, he'd be lost. He earns €10million a year, he needs to pass this exam."