Her life and struggles in the fight to end white minority rule in South Africa
Still respected for her fight against apartheid, controversy was never far away from Winnie Mandela – including accusations of kidnapping, murder and corruption,
On the day of her death, her legacy remains as tortuous as her life, which she reclaimed as her own – refusing to live under her hero husband's shadow.
Winnie was born Nomzamo Winifred Zanyiwe Madikizela in 26 September, 1936.
Daughter to a teacher and a senior official, Winnie grew up in South Africa's Eastern Cape province, tending cattle and Methodist school.
Her first name Nomzamo translates to "one who must endure trials" – which she did, both politically and legally throughout her life.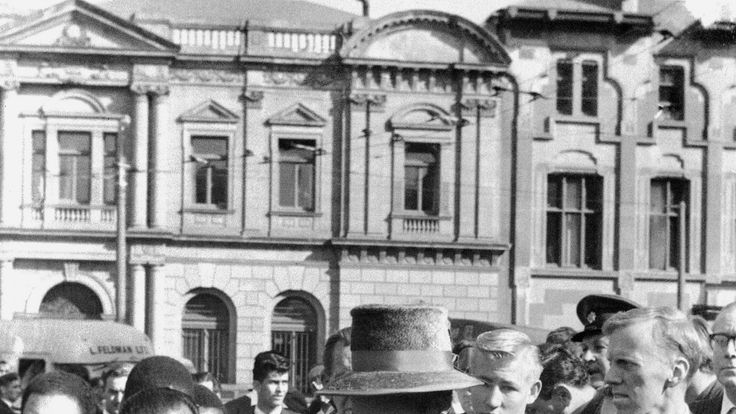 "I started to realise the abject poverty under which most people were forced to live, the appalling conditions created by
the inequalities of the system," Winnie once said of her formative years.
Her first job was as a hospital social worker in Soweto, which she decided to take on, renouncing a scholarship in the United States.
At the tender age of 22, she met a 40-year-old Nelson Mandela at a bus stop near her workplace. The two fell in love, and changed each other's path forever.
A fiery romance led to marriage, marriage led to politics and the two found they shared a common passion: the fight against apartheid.
He divorced his first wife, with whom he had three children, after being "struck by her beauty".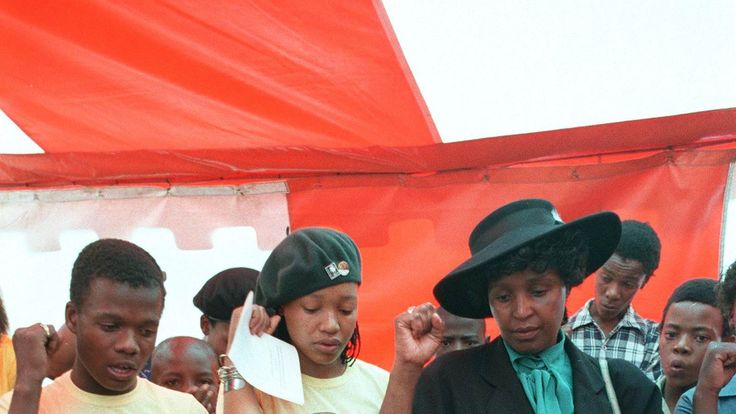 She found in him a semblance of the same strength she carried with her. Later, she would describe their marriage as a sham, criticising him for "softening" in prison.
Their first years of marriage weren't easy, and the relationship was cut short after six years, when Mandela was arrested and sentenced to life in prison.
There would begin his famed Long Walk To Freedom, one significantly different from Winnie's, whose job was then to "hold the fort" and keep his struggle alive outside.
"Mandela did go to prison and he went in there as a burning young revolutionary. But look what came out," she said years after he was finally released.
"Mandela let us down. He agreed to a bad deal for the blacks."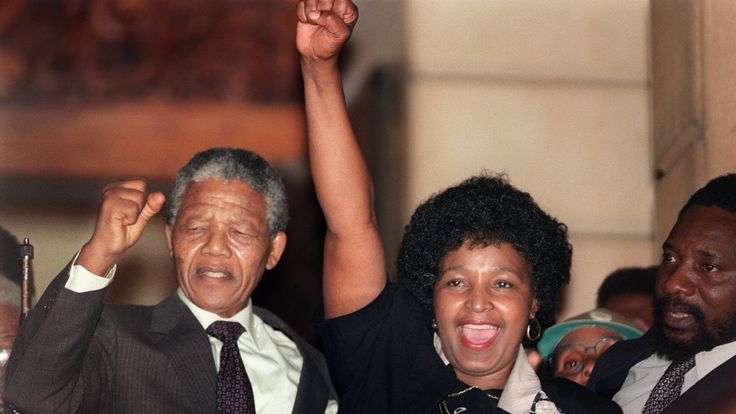 Madikizela-Mandela was later hailed as mother of the new South Africa, credited with having helped the African National Congress to throw out the oppressive white rule in the country.
But her passion and her hate walked side to side, and the ruthlessness in which she would later continue the struggle would tarnish the party, the struggle and even threaten her husband's legacy.
For the 27 years which Mandela spent in the prisons at Robben Island, Pollsmoor and Victor Verster, Winnie campaigned tirelessly for his release – but seldom visited.
Instead, she spent her dissident years in constant run-ins with the law, building a reputation as ruthless and violent towards those who did not support or tried to boycott the movement.
It was at her side, however, that Nelson Mandela finally left prison in 11 February 1990. Her fist raised high in the air as a symbol of black power.
Before that, she had been jailed for 17 months for defying authority, 13 of which she spent in solitary confinement. The experience, she would later confess, changed her forever.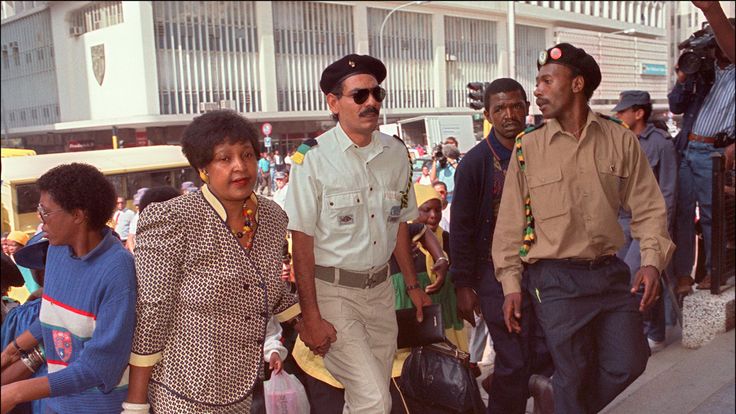 "Together, hand in hand, with our boxes of matches and our necklaces, we will liberate this country," she told a rally, four years before Mandela's release.
The term "necklacing" referred to a style of execution in which a gas-soaked tie would be placed around a traitor's neck and set on fire.
This incendiary language was miles away from that which Nelson Mandela adopted once he left prison.
The chasm between them grew larger even when, in 1991, she was convicted of kidnapping and ordering the killing of Stompie Moeketsi, a 14-year-old activist who she suspected was an informant.
He was found with his throat slit close to her house. Her six-year jail term was reduced on appeal to a fine.
The execution was carried on by the so-called Mandela United Football Club, a vigilante gang that claimed to be her bodyguard.
At that point, the two separated and it wasn't long before Mandela sacked Winnie from his cabinet and filed for divorce.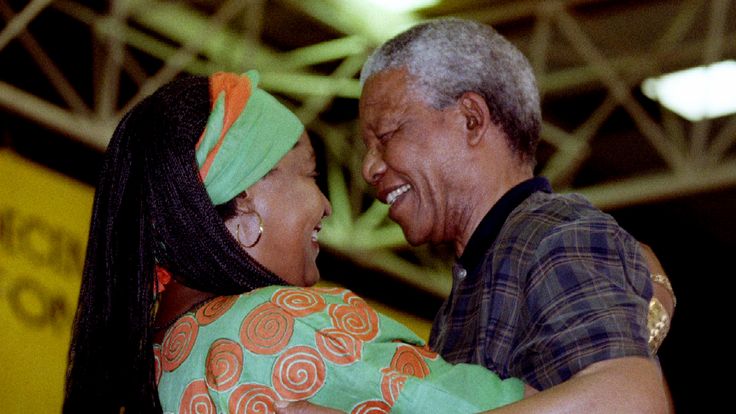 The reason wasn't the kidnapping charge, but allegations of corruption, bribe-taking and misuse of government funds.
Appearing at the Truth and Reconciliation Commission (TRC) years later, Madikizela-Mandela refused to show remorse for abductions and murders carried out in her name.
It was only when Archbishop Desmund Tutu pressed her to repent, that Winnie finally admitted "things went horribly wrong".
"For that I am deeply sorry," she added.
In its final report, the TRC ruled that Madikizela-Mandela was "politically and morally accountable for the gross violations of human rights committed by the MUFC".
Years later, back in court over corruption charges, the magistrate said she should "have set the example for us all", but failed.
Other allegations of wrongdoing followed her until her final year.
German election frontrunner Olaf Scholz: Who is the man likely to replace Chancellor Angela Merkel? | World News
After 16 years of Angela Merkel in the chancellorship, Germany can be said to value leaders who are regarded as strong and steady.
It is something the leading contender in Sunday's election, Olaf Scholz, is counting on as he bids to become the natural successor to the outgoing leader – despite being from a different party.
The pair know each other well – Social Democrat Mr Scholz has been Ms Merkel's finance minister and vice chancellor in the uneasy "grand coalition" of conservatives and members of the Social Democratic Party (SPD) she had to bring together to form a government in 2017.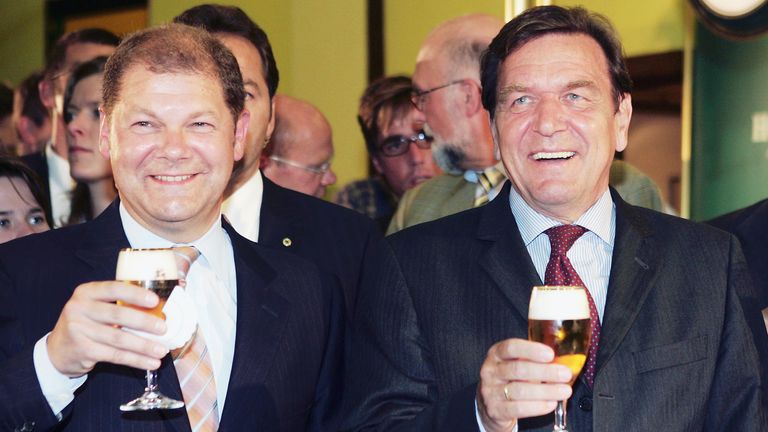 The latest polls suggest Mr Scholz has come from behind in his bid to replace her, while the main conservative candidate Armin Laschet has fallen behind.
If Mr Scholz wins, it will be a vindication of his attempt to follow in Ms Merkel's footsteps.
Germany election: What's at stake?

Although frequently labelled "boring", the 63-year-old finance minister has been keen to present himself as a man of action who can be trusted to get things done.
And, despite promising continuity and stability, Mr Scholz has distanced himself from his former conservative partners in the coalition, claiming they are too cozy with business.
A lawyer by background, he is a widely experienced politician having served in some of the highest offices at local and national level.
He first entered the German parliament at the age of 40 in 1998, and, amid spells of various lengths within the government of the city-state of Hamburg, has been high up in the federal government or SPD for the last 20 years.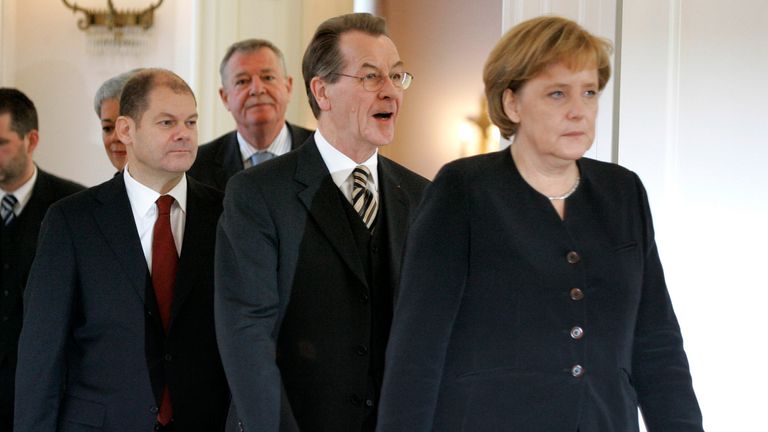 He was mayor of Hamburg from 2011 to 2018 but has also held the position of SPD chief whip, SPD deputy leader, and minister of labour and social affairs in Ms Merkel's first government, as well as his current roles.
During the pandemic, Mr Scholz won praise from the International Monetary Fund for his measures, having ditched a balanced budget at home to protect the German economy and helped create the EU's COVID recovery fund, despite Ms Merkel's initial resistance.
Amid soaring German inflation and pressure from his conservative adversaries, he has been keen to keep the activities of the European Central Bank (ECB) separate to the government's handling of the German economy, pointing to the need to respect the ECB's independence, following the lead of his chancellor.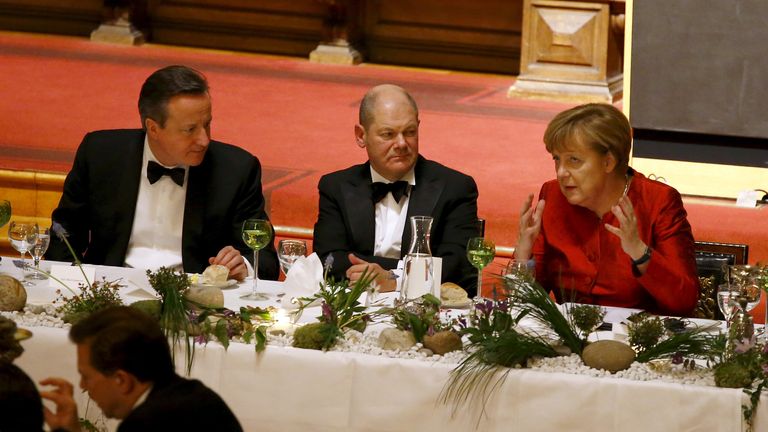 He also cooperated with France to drive forward efforts to introduce a global minimum rate of corporate tax and new tax rules for tech giants.
His combination of prudence and vital assistance amid the crisis have paid off.
A snap poll after the last TV debate showed Mr Scholz won a clean sweep, despite conservative candidate Armin Laschet attacking his record on tackling money laundering.
Is Germany as green as it would like to think?

From the moderate wing of his party and thoroughly versed in the realities of German government, if he wins he will set about the task of building a coalition, probably with the Greens, but perhaps of the grand coalition type that Ms Merkel has lived happily with repeatedly, alongside her CDU party.
During the COVID era, he has underwritten his left-of-centre credentials with a significant stimulus package but, in opposition to some on the left of his party – which is similar to the UK's Labour movement – he wants Germany to rein in debt by 2023, reintroducing strict limits on federal and state government spending.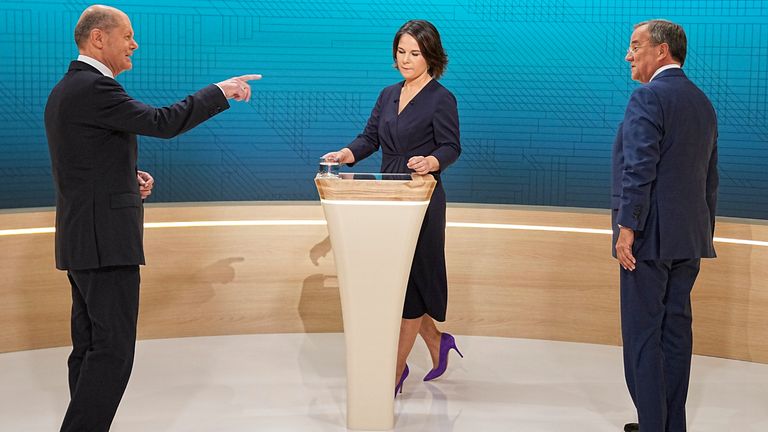 His claim to be as calm and collected as his potential predecessor may be on shakier ground than he admits, having shown a tetchiness in the past in his dealings with the media and rioters during the Hamburg G20 event, but he is adamant he is driven by pragmatism, not personality.
"I'm applying for chancellor, not to be a circus ringmaster," he told women's magazine Brigitte.
Taliban prisons chief says the group will resume executions and amputations as punishment | World News
One of the founders of the Taliban has said that the group will resume executions and amputations as punishment.
Mullah Nooruddin Turabi warned the world against interfering in the plans, which come just weeks after the Taliban took control of Afghanistan following the withdrawal of Western troops.
Mr Turabi, who was chief enforcer of the Taliban's harsh interpretation of Islamic law when they last ruled the country in the late 1990s, said: "Everyone criticised us for the punishments in the stadium, but we have never said anything about their laws and their punishments.
"No one will tell us what our laws should be.
"We will follow Islam and we will make our laws on the Quran."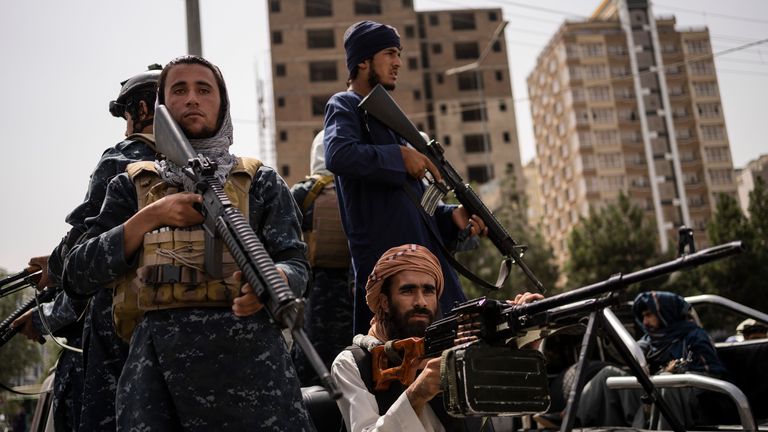 Previously, convicted murderers were shot in the head by the victim's family who also had the choice of accepting money and allowing the offender to live.
Convicted thieves had their hand amputated and highway robbers had a hand and a foot amputated.
Mr Turabi told the Associated Press that amputating hands "is very necessary for security", adding that during the Taliban's previous rule, such harsh punishments helped bring "complete safety" to the country.
US State Department spokesperson Ned Price said on Friday that the punishments "would constitute clear gross abuses of human rights".
"We stand firm with the international community to hold perpetrators of these, of any such abuses, accountable," he added.
"We are watching very closely, and not just listening to the announcements that come out but watching very closely as the Taliban conducts itself."
How popular is the Taliban in Afghanistan?

Taliban fighters have already revived an old punishment of public humiliation for men accused of small thefts.
At least twice in the past week men in Kabul have reportedly been put on the back of a pickup truck, their hands tied, and driven around the city.
But despite the revival of the old punishments, Mr Turabi insisted: "We are changed from the past."
Subscribe to the Daily podcast on Apple Podcasts, Google Podcasts, Spotify, Spreaker
Previously, the judiciary was heavily-influenced by hardline Islamic clerics but Mr Turabi said judges, including women, would adjudicate future cases.
He also said the Taliban would allow technology such as mobile phones, TV, photos and video "because this is the necessity of the people and we are serious about it."
Huawei's Meng Wanzhou released after reaching agreement with US prosecutors | Science & Tech News

Huawei's chief financial officer has reached a deal with US prosecutors that allows her to return to China.
Meng Wanzhou, who is also the daughter of the company's founder Ren Zhengfei, has been in Canada since she was arrested at Vancouver's airport in December 2018.
Her arrest followed an extradition warrant issued by the US for a range of charges relating to alleged breaches of sanctions against Iran.
But the deal means the US Department of Justice will drop its request to extradite her to the US and fraud charges against her will be dismissed in December 2022 – exactly four years after her arrest.
This will depend on her complying with certain conditions, including accepting responsibility for misrepresenting her company's business dealings in Iran.
Meng's defence lawyer Michelle Levin said she expected Meng to adhere to the conditions, adding: "We're very pleased that in the meantime she can go home to her family".
The details were confirmed during a court hearing, with Meng appearing via video from the Vancouver mansion where she was bailed after her arrest.
The court revoked all bail conditions, and Meng left for China shortly afterwards.
Before she left, Meng said: "Over the last three years my life has been turned upside down.
"It was a disruptive time for me as a mother, a wife and as a company executive.
"But I believe every cloud has a silver lining. It really was an invaluable experience in my life.
"I will never forget all the good wishes I received."
About an hour after Meng's departure, Canada's prime minister Justin Trudeau said that two Canadians arrested by Chinese authorities were also on their way home.
Michael Kovrig and Michael Spavor had been accused of spying and were arrested in China in December 2018 – shortly after Meng was arrested in Canada.
Mr Trudeau said: "These two men have been through an unbelievably difficult ordeal. For the past 1,000 days, they have shown strength, perseverance and grace and we are all inspired by that."