Donald Trump offers Vladimir Putin 'White House visit'
US President Donald Trump has invited Vladimir Putin to the White House, a senior Russian diplomat has revealed.
The visit was offered in a phone call last month, the official said, when Mr Trump rang to congratulate Mr Putin on his re-election.
But their governments did not have time to arrange details before the US expelled 60 Russian diplomats following the Salisbury poisoning, they revealed.
Moscow's ambassador to the US Yuri Ushakov made the claims on Monday, adding he hoped for a "serious and constructive dialogue" between the two countries.
White House Press Secretary Sarah Huckabee Sanders confirmed Mr Trump invited Mr Putin to Washington during the call.
But she stressed the White House was among "a number of potential venues" discussed as a location for the bilat.
She cited an announcement hours after the phone call on 20 March, that said the two leaders had discussed meeting in person.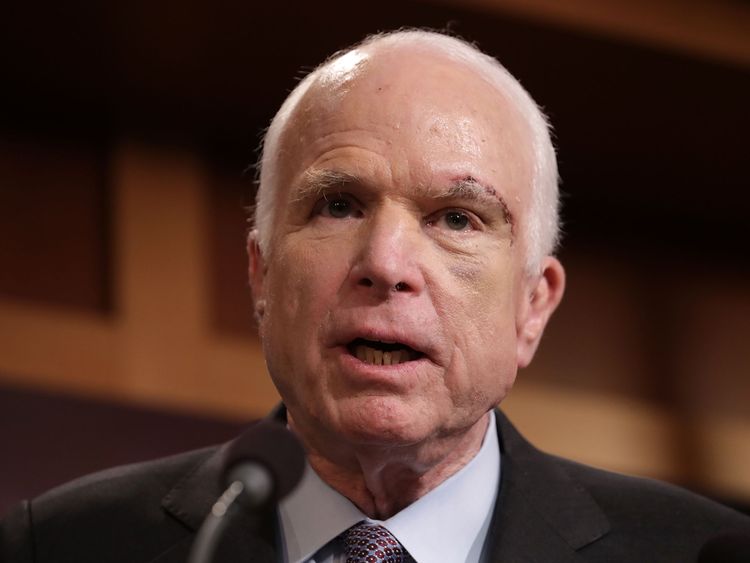 Ms Huckabee Sanders told reporters: "As the President himself confirmed on March 20, hours after his last call with President Putin, the two had discussed a bilateral meeting in the 'not-too-distant future' at a number of potential venues, including the White House."
Some politicians from Mr Trump's Republican party had criticised him for making the congratulatory call to Mr Putin.
Senator John McCain said at the time: "An American president does not lead the Free World by congratulating dictators on winning sham elections.
"And by doing so with Vladimir Putin, President Trump insulted every Russian citizen who was denied the right to vote in a free and fair election."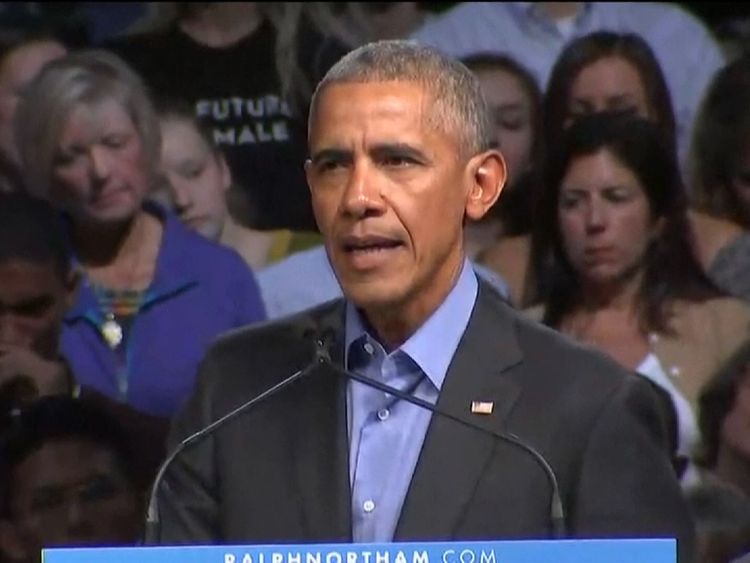 While Senate majority leader Mitch McConnell said that calling Mr Putin "wouldn't have been high on my list".
Mr Trump defended his decision on Twitter, saying President Barack Obama did the same in 2012.
He wrote on Twitter: "The Fake News Media is crazed because they wanted me to excoriate him. They are wrong! Getting along with Russia (and others) is a good thing, not a bad thing."
During the call, Mr Trump did not raise Russia's suspected involvement in the poisoning of the former spy Sergei Skripal and his daughter in Britain, which happened two weeks earlier.
The UK has blamed Russia for the attack, claims that Moscow denies.
US move on vaccine intellectual property is a 'monumental moment' in COVID-19 fight | World News
The head of the World Health Organization says the US backing of a proposed waiver of intellectual property rights for COVID vaccines is a "monumental moment" in the fight against the virus.
The waiver could significantly boost vaccine production around the world by lifting patents, copyrights and protections for industrial design and confidential information.
This could mean easier access to vaccines for those in poorer and middle-income countries, many of whom have been at the back of the queue while others such as the US and UK have been able to vaccinate large numbers of their own people.
Vaccines running low in India

It is an issue that has become more urgent with the surge of cases in India, the world's second-most populous country.
WHO's director-general, Tedros Adhanom Ghebreyesus, has repeatedly urged the world to support the proposal, which was initially brought to the World Trade Organisation by India and South Africa in October last year.
After the announcement by the Biden administration, he said on Twitter: "This is a monumental moment in the fight against COVID-19.
"The commitment by (Joe Biden and US trade representative Katherine Tai) to support the waiver of IP protections on vaccines is a powerful example of United States leadership to address global health challenges."
More than 100 countries support the proposal and Mr Biden had been under growing pressure from a group within Congress – all fellow Democrats who backed the waiver.
Those in favour of the move say it is already among the WTO's tools and there is no better time to use it than during a pandemic that has killed 3.2 million people, infected more than 400 million more, and ruined economies around the world.
Earlier Ms Tai said: "This is a global health crisis, and the extraordinary circumstances of the COVID-19 pandemic call for extraordinary measures.
"The administration's aim is to get as many safe and effective vaccines to as many people as fast as possible."
But those against it say producing the vaccines is difficult and the process of vaccinating the world cannot be sped up simply by easing intellectual property laws.
Adam John Ritchie is senior project manager and vaccine scientist at the Jenner Institute and was one of the key people involved in setting up manufacture for the AstraZeneca vaccine.
He said: "It feels like trying to fight the HIV drug battle all over again.
"The manufacturing of these vaccines is much more complex, thus tech transfer becomes more important.
"Supply chains are the real bottleneck right now anyway."
They also say that lifting such intellectual property protections could hurt future innovation – companies can spend a lot of money researching such breakthroughs and they rely on the protections to make sure their work is not then copied by others for easy profit.
COVID in India: 'Mass vaccination can help us'

Ms Tai has also warned it will take time to reach the global consensus needed to waive the protections under WTO rules and officials have said any effect on vaccine supply will not be immediate.
Also on Wednesday, WTO director-general Ngozi Okonjo-Iweala spoke to a gathering of ambassadors from developing and developed countries about the issue.
WTO spokesman Keith Rockwell said the countries agree on the need for wider access to COVID-19 vaccines and a panel has been set up to discuss the proposal at a "tentative" meeting later this month before a formal gathering in early June.
A consensus could take some time but Mr Rockwell said there had been a recent change in tone after months of arguing, adding that the discussion was now "far more constructive, pragmatic".
"It was less emotive and less finger pointing than it had been in the past," he said.
"I think that this feeling of everyone-being-in-it-together was being expressed in a way that I had not heard to this point."
MPs and peers urge government to reconsider cuts to overseas aid for water projects | World News

A cross-party group of more than 60 MPs and peers has asked the government urgently to reconsider plans to cut UK overseas aid for lifesaving water projects to the poorest nations.
In a letter to foreign office minister Wendy Morton, they said such a move is "particularly disappointing" in the middle of a pandemic where handwashing is a frontline of defence against coronavirus.
The 29 MPs and 37 peers wrote that Britain has a proud record of "standing up for the most vulnerable and stepping in to help those in need".
Their letter, sent on Wednesday and seen by Sky News, said: "If we decimate our support for life's most basic essentials, we abdicate our responsibility and do neither.
"The British people support aid for water and sanitation because it saves lives and stops the spread of disease. We urgently ask that you reconsider these proposals which will impact most those who have the least."
The plea came after it emerged last week that the Foreign, Commonwealth and Development Office plans to cut direct funding to countries on projects involving access to water, sanitation and hygiene (WASH) by 80% to around £35m.
Overall WASH-related funding – including on multilateral schemes – is set to fall by 64% as part of swingeing cuts of more than £4b to the UK's overseas aid budget.
Boris Johnson chose to reduce the spending target for aid to 0.5% of national income from 0.7%, in breach of a manifesto promise and despite it being enshrined in law.
The prime minister has called the move "temporary" because of the economic hit from the pandemic. But it has triggered fury from aid agencies and MPs, especially as the impact of the cuts are starting to emerge.
They include significant reductions in funding for programmes to help the world's most vulnerable and hungry children, the ability for millions of women and girls to have access to birth control and a reduction in support for families caught up in conflict in Yemen and Syria.
Among the signatories to the letter to Ms Morton were Lord Lansley, a former Conservative health secretary, Sarah Champion, the Labour chair of the International Development Committee and Neil Parish, Conservative chair of the Environment, Food and Rural Affairs Committee.
G7 nations hit out at Russia and China – but fail to establish action against them | World News
G7 foreign ministers have hit out at China and Russia – but failed to establish any concrete actions against them.
Following two days of meetings in London, the seven nations said China, Russia and the COVID-19 pandemic are the world's biggest current threats.
In a 12,400-word communique, the foreign ministers said Russia was trying to undermine democracies and threaten Ukraine, while China was guilty of human rights abuses and of using its economic power to bully others.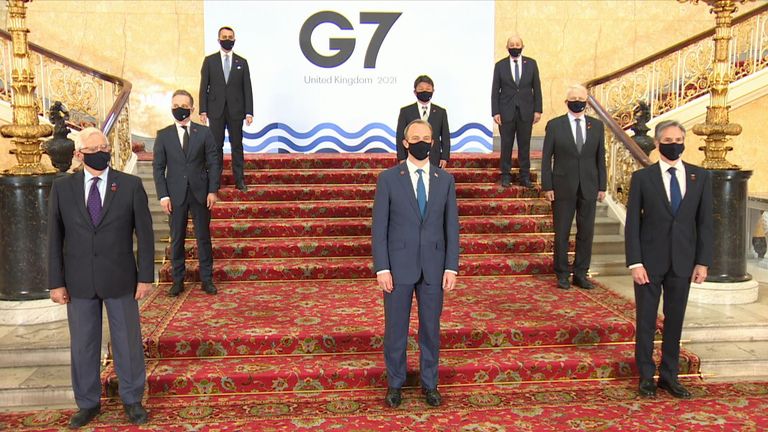 However, there was little in the communique that would cause undue concern for either Chinese President Xi Jinping or Russian President Vladimir Putin.
Collective efforts would be bolstered to stop China's "coercive economic policies" and to counter Russian disinformation, the ministers said in a mission to present the West as a larger alliance than just the core G7 countries of Canada, France, Germany, Italy, Japan, the UK and the US.
The G7 ministers said they supported Taiwan's participation in World Health Organisation (WHO) forums and the World Health Assembly, and said they were concerned about "any unilateral actions that could escalate tensions" in the Taiwan Strait.
China sees Taiwan as its own territory and refuses to acknowledge any official Taiwanese representation on an international level.
The ministers said they were also supportive of Ukraine – but provided no actions to worry Moscow.
"We are deeply concerned that the negative pattern of Russia's irresponsible and destabilising behaviour continues," they said.
"This includes the large build-up of Russian military forces on Ukraine's borders and in illegally-annexed Crimea, its malign activities aimed at undermining other countries' democratic systems, its malicious cyber activity, and use of
disinformation."
PM on India's G7 delegates self-isolating

British Foreign Secretary Dominic Raab said: "I think (China is) more likely to need to, rather than react in anger, it is more likely going to need to take a look in the mirror and understand that it needs to take into account this growing body of opinion, that thinks these basic international rules have got to be adhered to."
Moscow denies having meddled with any other countries and says the West is gripped by anti-Russian hysteria.
China says the West is a bully and its leaders are of a post-imperial mindset in which they think they can act like global policemen.
The West, which is collectively larger than China and Russia, has so far failed to come up with an effective response to either country.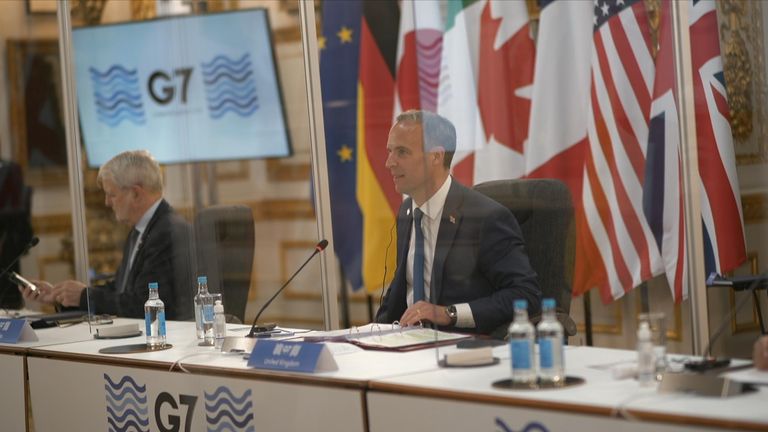 The other major issue the G7 identified, ahead of the full summit in Cornwall in June, was COVID-19 vaccine inequity, with ministers pledging to work with industry to expand production of affordable vaccines.
However, they did not call for a waiver of intellectual property rights of major pharmaceutical firms, which some nations have called for to make it easier to distribute the vaccines quicker.
They instead said they would work towards "promoting partnerships between companies and encouraging voluntary licencing and tech agreement on mutually agreed terms".
G7 ministers return to London in diplomacy push

The ministers also agreed:
• To expand and strengthen the rapid response mechanism the G7 uses to fight threats to democracy, such as disinformation, surveillance and malicious cyber activities
• To commit to reinforcing the central role of the WHO when it comes to global health
• They are concerned about actions by states to intentionally disrupt their citizens' access to information and data online
• They are "seriously concerned" about the situation in and around the East and South China Sea
• "Arbitrary arrests and detentions" are contrary to international human rights law
• To co-operate to prevent foreign aid from supporting military-led regimes
• To reiterate their "readiness" to take further steps if the Myanmar military does not "reverse its course".