Data breach at Saks, Lord & Taylor compromises customer payment data
Get breaking news alerts and special reports. The news and stories that matter, delivered weekday mornings.
The owner of Lord & Taylor and Saks said Sunday that a data breach at its department stores compromised customer payment data.
In a statement, Hudson's Bay Company said the breach hit Saks Off 5th, Saks Fifth Avenue and Lord & Taylor stores in North America.
"HBC has identified the issue, and has taken steps to contain it," the statement said.
The company did not immediately provide additional details about how many customers were impacted, but it said they would not be liable for charges and would be offered free identity protection services.
The cyber security firm that says it uncovered the breach, Gemini Advisory, said in a post Sunday that more than 5 million credit and debit cards were stolen and that 125,000 of them were for sale on the dark web — apparently one of the largest breaches to hit a retail company.
The group behind the hack, Joker's Stash, may have been stealing the information since last May, the firm said, and the majority of the data was taken from stores in New York and New Jersey.
Gemini's chief technology officer, Dmitry Chorine, told NBC News that his company reached out to HBC's internal security team on Friday after the data was discovered on criminal forums and message boards.
"We never heard from them," Chorine said. He added: "The breach was way too big for us to sit on."
An HBC spokeswoman could not immediately provide comment.
Chorine said that Joker's Stash is among the biggest players in the hacking world, carrying out attacks on Omni Hotels and Resorts, Chipotle, Whole Foods and others.
The group is well-funded and could have as many as 2,000 members — software developers and money launderers, operational security personnel and executives, he said, adding that it is controlled by Russian-speakers though they aren't necessarily Russian.
"It could be the Ukraine, Belarus, Kazakhstan — no one knows where they live," Chorine said. "Every law enforcement agency is looking for them."
Chorine said the group uses phishing e-mails and malware to access and harvest information from computer networks. It also uses unconventional surveillance methods, such as hiring a "mystery shopper" from Craigslist, for instance, who unwittingly helps reveal if a retail store is using an outdated credit card machine.
This may have been the case with the latest breach, Chorine said, suggesting that not all of HBC's stores had upgraded credit card systems.
US-Mexico border crisis: Vehicles form barrier at Texas crossing to deter Haitian migrants – as VP Kamala Harris criticises 'horrible' tactics | US News
Parked vehicles have created a steel barrier which stretches for miles along the US border with Mexico in the latest measure to deter migrants from crossing into Texas.
The US has been expelling Haitians from a large makeshift camp at the border, which at one point had attracted more than 12,000 migrants.
Around 8,600 people remain at the camp beneath the Del Rio International Bridge, which spans the Rio Grande from Texas to Mexico's Ciudad Acuna, after more than 3,000 migrants were moved.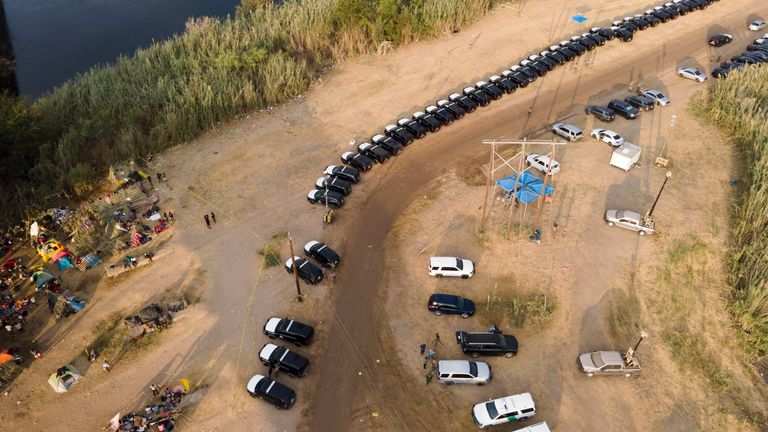 Law enforcement officers on horseback were pictured using what appeared to be aggressive tactics against the migrants – and a barrier has now been set up along the border, using vehicles belonging to the Texas National Guard and the Texas Department of Public Safety.
Greg Abbott, the Republican governor of Texas, has backed his approval of the tactics – and criticised the Biden administration for not doing more, claiming local people and officials had "taken the lead on securing the border".
But US Vice President Kamala Harris criticised the way the migrants had been treated, when she said: "What I saw depicted, those individuals on horseback treating human beings the way they were, was horrible."
She added she supported an investigation into the horseback incidents, while homeland security officials called the images "extremely troubling".
In recent days, US authorities have removed at least 4,000 people from the site for processing in detention centres.
More than 500 Haitians have been deported to their homeland on four flights, with repatriations set to continue on a regular basis, the US Department of Homeland Security said.
Some of those returned reacted angrily as they stepped off flights at Port-au-Prince airport in the Haitian capital after spending large amounts of money to travel from the troubled Caribbean nation via South America, hoping for a better life in the US.
The disturbances underscored the instability in the Caribbean nation – it is the poorest in the Western hemisphere, where a presidential assassination, rising gang violence, and a major earthquake have spread chaos in recent weeks.
The rapid expulsions were made possible by a pandemic-related authority adopted by former president Donald Trump in March 2020, which allows for migrants to be immediately removed from the country without an opportunity to seek asylum.
Unaccompanied children are exempt from the order, a decision which was made by President Joe Biden.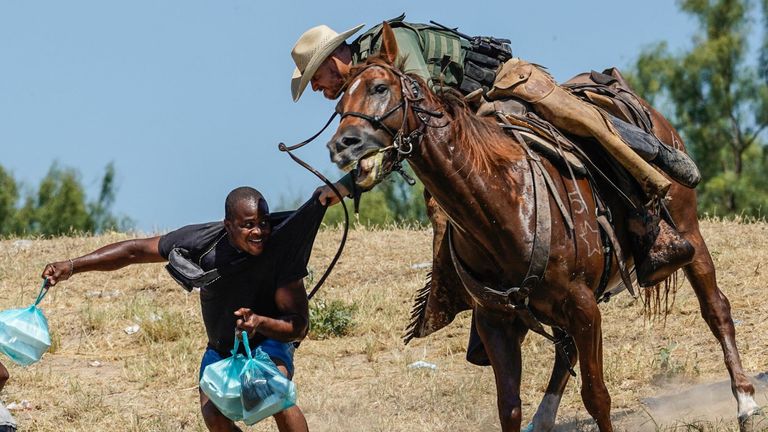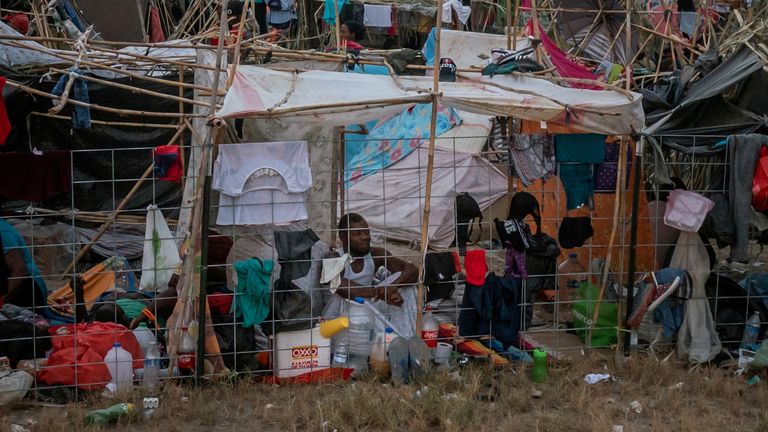 Mexico has also begun moving Haitian migrants away from the border, authorities said on Tuesday, signalling their support for the US as the situation creates a political headache for Mr Biden.
Republican politicians with an eye on the 2022 midterm elections, when they will bid to retake control of Congress, have been quick to portray the camp as the result of a push to end some migration restrictions.
There are also reports that some of the Haitian migrants facing expulsion back to their homeland are instead being released in the US, with some observed at the Del Rio bus station by Associated Press journalists.
Lithuanian defence ministry urges people to 'throw away' Chinese phones after discovering censorship tools | Science & Tech News
The Lithuanian Ministry of Defence has urged people to stop buying Chinese phones and throw away the ones they already possess after discovering censorship software.
It followed a report from the country's National Cyber Security Centre (NCSC) which found that Xiaomi devices were censoring terms deemed to be offensive to Beijing.
According to an analysis by the Lithuanian NCSC, the Chinese company's flagship devices sold in Europe have a built-in ability to detect and censor particular terms.
The phrases included "demonstration", "free Tibet", "long live Taiwan independence", and "church" according to the Lithuanian authorities.
Although the censorship capability had been turned off for devices in the European Union, the ministry of defence warned that it could be turned on remotely.
"Our recommendation is to not buy new Chinese phones, and to get rid of those already purchased as fast as reasonably possible," said Defence Deputy Minister Margiris Abukevicius, according to Reuters.
Chinese Ambassador banned from parliament: 'Standing up for free speech is critical'

A spokesperson for Xiaomi declined to comment when contacted by Sky News.
The call to throw away Chinese phones comes amid growing tensions between Lithuania and China over the former's support for Taiwan – which China claims as part of its own territory.
China demanded Lithuania recall its ambassador in Beijing last month and recalled its own envoy from Vilnius in a protest over Taiwan announcing its mission in the country would use the name of Taiwan, instead of the city of Taipei, which is typically used in other European nations and in the US.
Professor Alan Woodward, a cyber security expert at the University of Surrey, told Sky News: "We all know there are different builds of phones for different countries. If you want to sell a device in a country then you have to obey the laws there.
"But to have censorship software left in that can be remotely activated… that's a whole different level of one country effectively exporting its domestic regulations via technology," he said.
Professor Woodward said he could understand the thought process behind the Lithuanian warning: that if one Chinese vendor has included a censorship capability to please Beijing then that made it harder to trust others haven't done so too.
"Lithuania is a small market so I can imagine this might blow over, but the censorship software seemed to specifically be addressing items that were part of the tension between the two countries," added Professor Woodward.
"That starts to look like a deliberate attempt to interfere," he said.
"I'm sure other countries are also looking at these devices, so it behoves the Chinese government to make sure that they aren't trying to export their censorship regulations elsewhere or else they could destroy trust in all Chinese vendors, and that won't end well for anyone."
Boris Johnson says France needs to 'get a grip' amid anger over AUKUS pact | Politics News
Boris Johnson has said France should get over its anger at a partnership between the UK, US and Australia that saw the latter pull out of a major contract with Paris for submarines.
"What I want to say about that is I just think it's time for some of our dearest friends around the world to prenez un grip [get a grip] about all this and donnez-moi un break [give me a break]," the prime minister said when asked about the continuing row over the AUKUS initiative.
"This is fundamentally a great step forward for global security. It's three very like-minded allies standing shoulder to shoulder and creating a new partnership for the sharing of technology.
'AUKUS alliance will bring us closer than ever'

"It's not exclusive, it's not trying to shoulder anybody out. It is not adversarial towards China, for instance.
"It is there to intensify links and friendship between three countries in a way that I think will be beneficial for things that we believe in."
The AUKUS deal saw the UK, Australia and the US form a trilateral security pact to develop and deploy nuclear-powered submarines, adding to the Western military presence in the Pacific region.
Nuclear-powered submarines are superior to their diesel counterparts, as they can operate more quietly and stay underwater for longer.
France recalled its ambassadors to the United States and Australia in a backlash over the new security partnership, with foreign minister Jean-Yves Le Drian describing it as a "stab in the back".