China hits back at US tariffs sparking fears of a global trade war
China has raised tariffs on a $3bn (£2.1bn) list of 128 US products including pork, wine and apples.
Beijing is imposing a 25% duty increase on frozen US pork and aluminium scrap and 15% on sparkling wine, steel pipe used by oil and gas companies and fruits and nuts including apples, walnuts and grapes.
The increases will hit US farm states, many of which voted for Donald Trump in 2016 after the US President confirmed tariffs of up to $60bn (£42.6bn) on imports from China last month.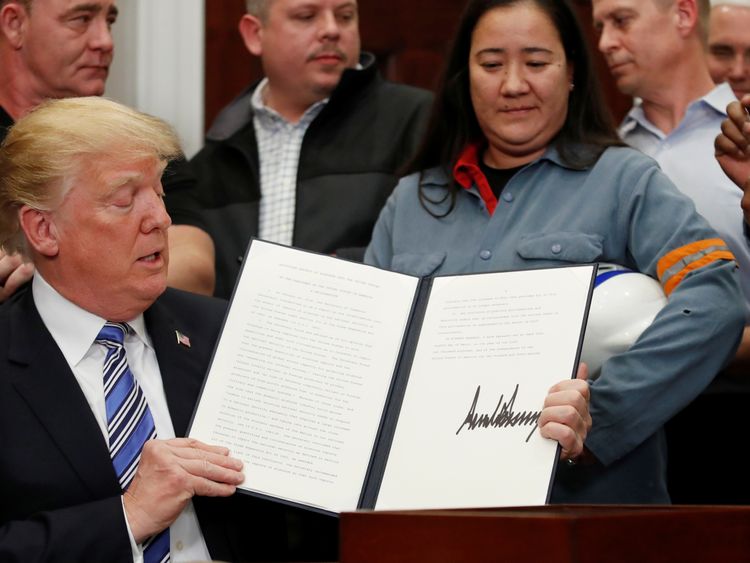 There was no indication whether Beijing might exempt Chinese-owned American suppliers.
Mr Trump launched his protectionist agenda last week – levying 25% tariffs on steel and 10% on aluminium – in a move designed to save US jobs but which critics fear could backfire.
The US will unveil a list of Chinese imports to be targeted with higher duties later this week, but it may be more than two months before tariffs take effect.
Rapidly growing trade tensions between the US and China – the world's two largest economies – has sparked fears of a world trade war.
When a country (USA) is losing many billions of dollars on trade with virtually every country it does business with, trade wars are good, and easy to win. Example, when we are down $100 billion with a certain country and they get cute, don't trade anymore-we win big. It's easy!

— Donald J. Trump (@realDonaldTrump) March 2, 2018
On Monday, the main stock market indexes in Tokyo and Shanghai ended the day down.
Mr Trump has promised to narrow the US trade surplus with China – a record $375.2bn (£266.7bn) last year – and has welcomed the prospect of a trade war.
Our Steel and Aluminum industries (and many others) have been decimated by decades of unfair trade and bad policy with countries from around the world. We must not let our country, companies and workers be taken advantage of any longer. We want free, fair and SMART TRADE!

— Donald J. Trump (@realDonaldTrump) March 1, 2018
:: Tariffs could harm the world and the US
Washington has accused China of intellectual property theft and unfair technology licensing rules.
America has also said China's state-led economics model unfairly benefits Chinese companies and subsidises exports in violation of free-trade agreements.
End SARS: 'At least 12 killed by government forces' as anti-police brutality protests continue in Nigeria | World News
At least 12 people were killed when government forces fired upon protesters during anti-police brutality demonstrations in Nigeria, Amnesty International has claimed.
Shots were fired at protesters by the Lekki toll plaza in Lagos on Tuesday night, causing injuries and an unknown number of deaths.
Human rights group Amnesty has said an investigation has uncovered evidence of 12 deaths and hundreds of injuries, and accused the police and military of using excessive force.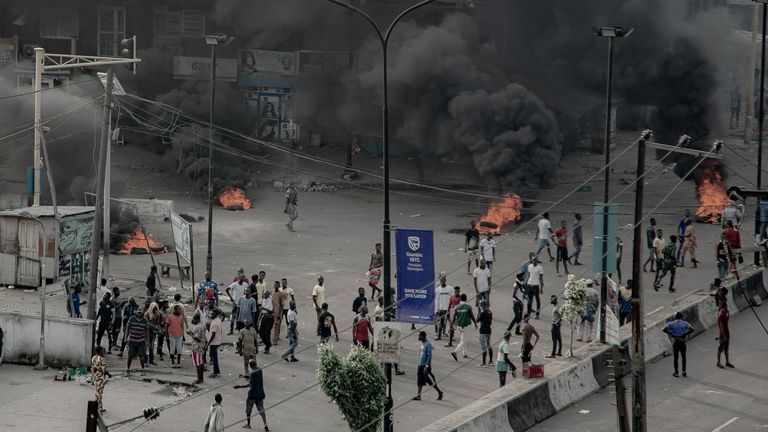 The protests began two weeks ago after a video circulated showing a man being beaten, apparently by police officers from the Special Anti-Robbery Squad, known as SARS.
Witnesses to the scenes in Lekki on Tuesday said more than 20 officers started firing at demonstrators.
Lagos governor Babajide Sanwo-Olu confirmed more than 20 injuries, but said no-one had been killed.
UK Foreign Secretary Dominic Raab said he was "alarmed" by reports civilians had been killed during the protests, which have attracted attention and support worldwide.
Mr Raab said: "I am deeply concerned by the recent violence and continued clashes in Nigeria, and am alarmed by widespread reports of civilian deaths.
"We call for an end to violence. The Nigerian government must urgently investigate reports of brutality at the hands of the security forces and hold those responsible to account."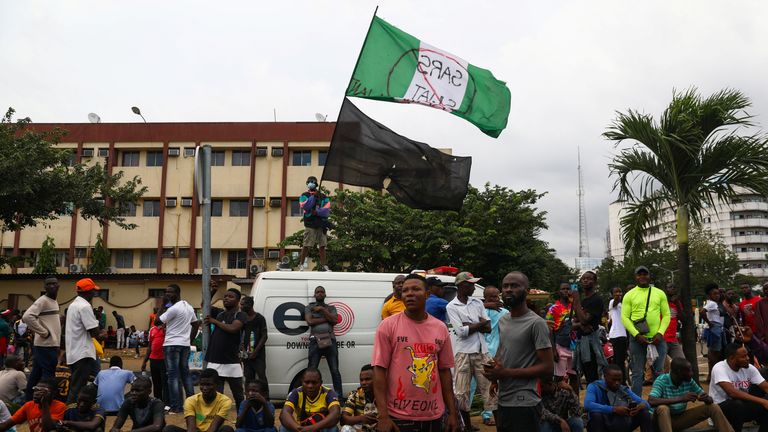 Celebrities and politicians around the world have spoken up in support of the demonstrators.
Beyonce made a statement on the Twitter feed of her charitable foundation BeyGood, saying: "I am heartbroken to see the senseless brutality taking place in Nigeria. There has to be an end to SARS.
"To our Nigerian sisters and brothers, we stand with you."
Among those who have previously expressed their support are Star Wars actor John Boyega, and musicians including Kanye West, Rihanna and Chance the Rapper.
Manchester United star Odion Ighalo called his country's government "a shame to the world", while British-Nigerian boxer Anthony Joshua tweeted: "I pray God opens the gates for the heroes of Nigeria."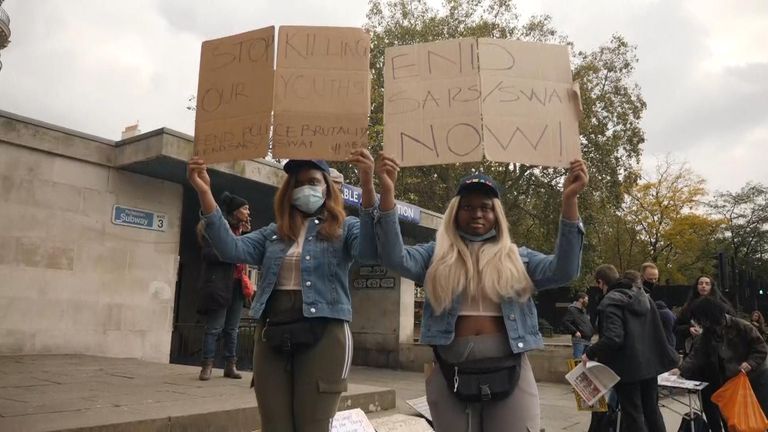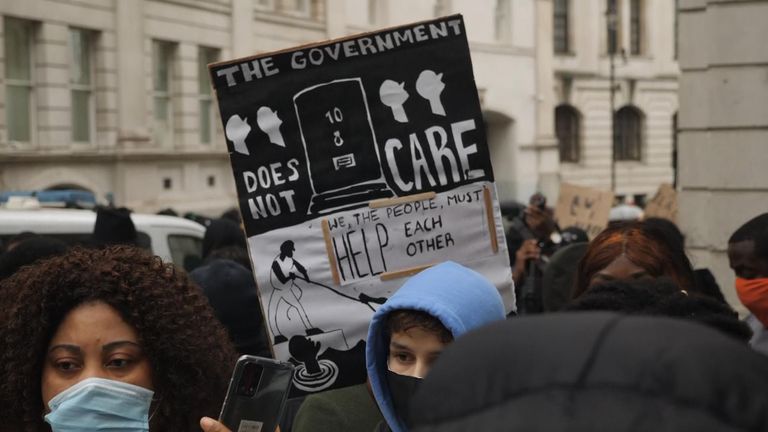 Protesters ignored a 24-hour government curfew and President Muhammadu Buhari's appeal for calm to continue demonstrating on Wednesday.
There were reports of gunfire across Nigeria's largest city of 14 million – including on the highway to the airport, at a major bus station, and outside the offices of a television station.
Nobel Prize winner Wole Soyinka told Sky News the atmosphere in the city was "very, very dark, very ominous".
He said he had seen lots of evidence and testimony from witnesses who said the government was responsible for the shootings.
Demonstrations and gunfire were also reported in several other Nigerian cities, including the capital Abuja.
'They have killed innocent protesters'

Supporters gathered at the Nigerian High Commission in London for a march in solidarity with those in Lagos.
One man told Sky News: "The army killed people, they have killed innocent protestors and it's unacceptable."
Before the shootings in Lekki, a Nigerian police statement warned that security forces would now "exercise the full powers of the law to prevent any further attempt on lives and property of citizens".
Speaking in a televised address, Mr Sanwo-Olu said he has ordered an investigation into the actions of the military.
Donald Trump 'has come to the realisation that NATO is very valuable' | World News
Donald Trump "has come to the realisation that NATO is very valuable," the outgoing US ambassador to the alliance has told Sky News.
Kay Bailey Hutchison also said that if the US president wins a second term, he will honour the commitment demanding that all NATO countries come to the defence of another if called to.
The Article 5 commitment has only been invoked once – by the US after the 9/11 attacks.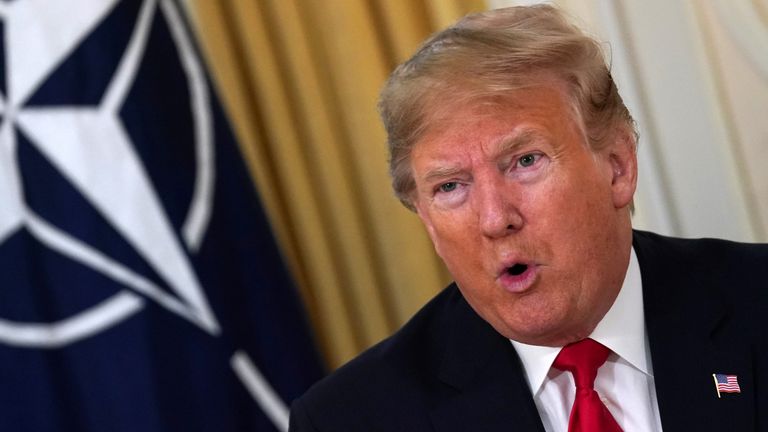 Speaking from Brussels, Ms Hutchison said that NATO was stronger because of the pressure Mr Trump put on the alliance early in his presidency.
"The president has been very clear that he asked our allies to step up, and they are," she said.
"We all know that we have more to do to get the capabilities needed to become the security umbrella for our transatlantic alliance, but we are doing that."
Mr Trump described NATO as "obsolete" shortly before taking office and threatened to withdraw the US from the transatlantic alliance if more countries didn't meet the minimum spending requirements of 2% of GDP.
Asked how Mr Trump would react if NATO joint-spending fell as a result of financial pressures from the coronavirus pandemic, Ms Hutchinson urged members to keep to their commitments.
She said: "I don't think we can afford to go in the other direction. We can't afford to let a health crisis become a security crisis. If we are going to look at what our adversaries are doing, like Russia and a rising China – they're not stopping their malign hybrid attacks; they're not stopping the Belt and Road initiative; they're not in any way lessening their defence capabilities."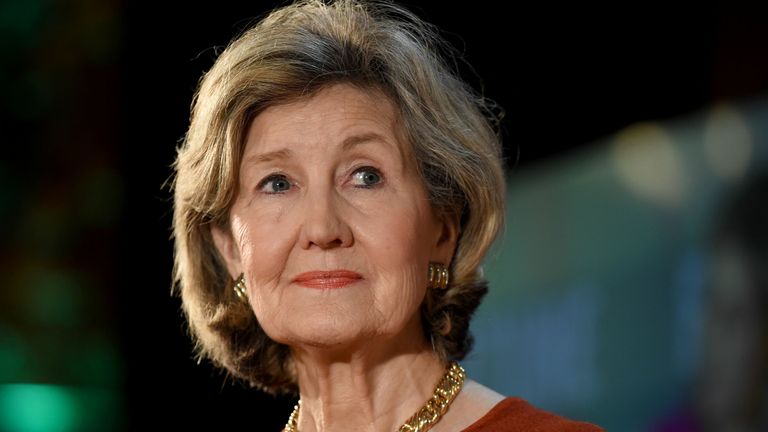 She also urged leaders to be "clear-eyed" about China "taking over port after port, including in Europe".
"The belt and road initiative is one more area where we see China use economic power for taking assets when predatory loans cannot be repaid and we consider that malign activity," she said.
"We've got to stand together and understand the importance of security is what has kept our economies strong and it will rebuild the economies when this COVID has been defeated."
Trump calls Germany 'delinquent' over NATO

On Russia, Ms Hutchison said that NATO's actions had limited Russian behaviour, which "would have been more aggressive had we not taken that stand after Crimea".
"We know Russia is trying to divide us with many areas of aggression," she said.
"I think we are making a difference and the deterrence we are producing is the signal to Russia that we would like for them to become a legitimate partner, we would like to trade with Russia, we would like to have partnerships. But they would need to change their behaviour to achieve that."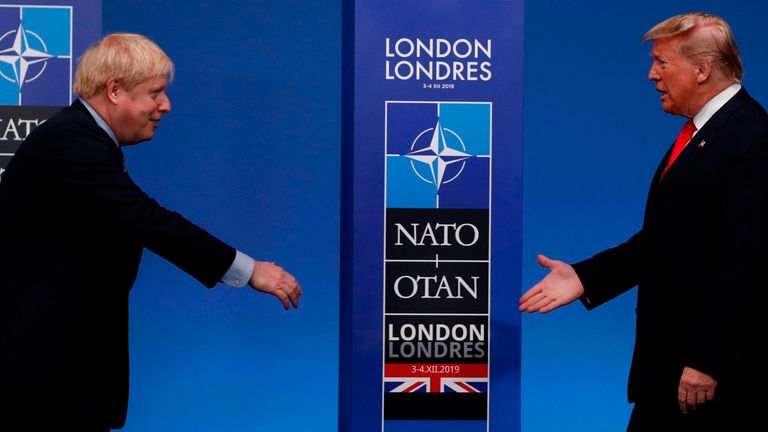 Ms Hutchison conceded that Russia was ahead of the US in developing hypersonic missiles, but said the US would catch up.
"Certainly we are going to get the defences for all missiles that we know Russia are producing," she said.
"We know they have built up more missiles. We have not violated the INF (Intermediate-Range Nuclear Forces) Treaty, they have. So they are ahead on those.
"But we are going to catch up and we are going to deter against all their missiles, whether intercontinental or shorter range."
Near-indestructible beetle is so tough it can survive being run over by a car | Science & Tech News
The key to making stronger buildings and planes could lie in the anatomy of a crush-resistant insect that can survive being run over by a car, scientists have found.
To understand the secret behind the impressive strength of the inch-long diabolical ironclad beetle, researchers tested how much squishing it could take – and discovered it could handle about 39,000 times its own weight.
The study, led by engineers at the University of California, Irvine (UCI) and Purdue University, found the insect has two armour-like elytron that meet at a line, called a suture, which runs through the abdomen.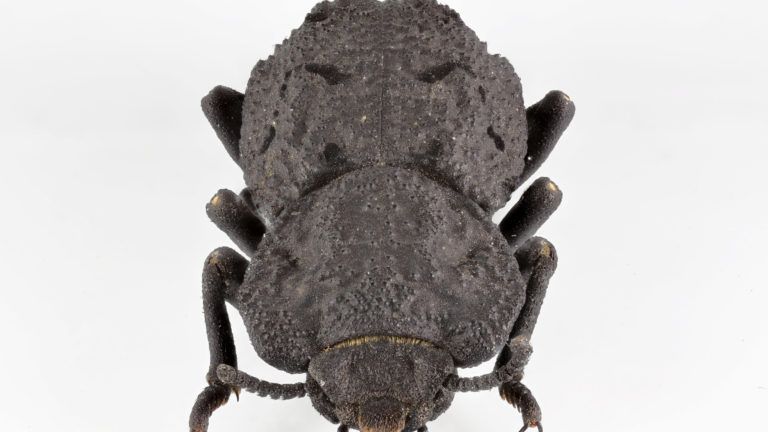 This unusual structure is layered and pieced together like a jigsaw, said Purdue civil engineer Pablo Zavattieri, who was part of a group of researchers that used CT scans to inspect the insect and run it over with a car.
The exoskeleton is thought to be one of the toughest structures known to exist in the animal kingdom.
Professor Zavattieri said that when compressed, it fractured slowly instead of snapping simultaneously.
"When you pull them apart, it doesn't break catastrophically. It just deforms a little bit," he said.
"That's crucial for the beetle.
"This work shows that we may be able to shift from using strong, brittle materials to ones that can be both strong and tough by dissipating energy as they break. This beetle is super tough."
The findings could inspire stronger structures and vehicles made with materials such as steel, plastic and plaster.
That's because engineers currently rely on pins, bolts, welding and adhesives to hold everything together – techniques that are prone to degrading.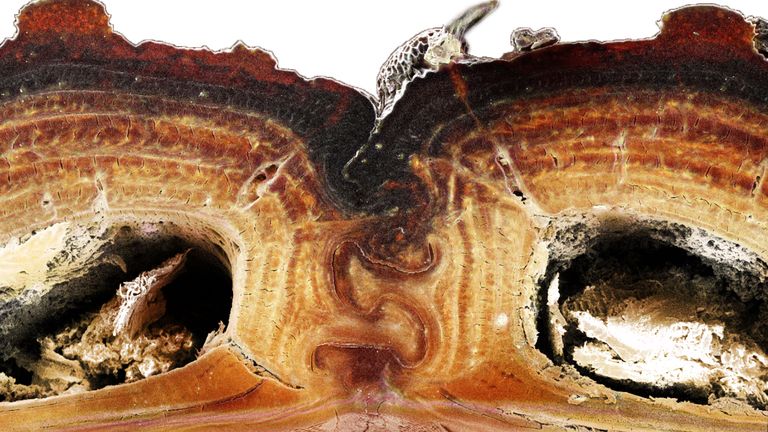 Diabolical ironclad beetles are commonly found in Southern California's woodlands and can withstand pressure such as bird pecks and animal stomps.
Other local beetles were crushed by a third of the weight it could hold, previous research had found.
The study, published in Nature, is part of an $8m project funded by the US Air Force to explore how the biology of creatures such as mantis shrimp and bighorn sheep could help develop impact-resistant materials.
Brown University evolutionary biologist Colin Donihue, who was not involved in the study, said it was the latest effort to solve human problems with secrets from the natural world.
Velcro, for example, was inspired by the hook-like structure of plant burrs, while artificial adhesives took a page from super-clingy gecko feet.
Professor Donihue said endless other traits found in nature could offer insight, saying: "These are adaptations that have evolved over millennia."