California crash that killed Hart family may have been intentional, authorities say
A CHP spokesman said during a conference call with reporters that the SUV's on-board computer indicated that the vehicle stopped and then accelerated over the cliff, a distance of about 70 feet.
"Pure acceleration all the way," he said.
Devonte, 15, and his sisters Hannah, 16, and Sierra, 12, who are also believed to have been in the car, remain missing. Acting Assistant CHP Chief Greg Baarts said investigators couldn't determine which woman was driving.
Devonte, a young black boy, was photographed in 2014 crying in the arms of a white police officer during a protest in Oregon over police brutality in Ferguson, Missouri.
"Three children are still missing and could be in the ocean," Baarts said. "We are trying to determine a timeline, path of travel, and if there were any stops."
He told NBC News that California authorities were "tirelessly searching for the missing children along the coastline," while authorities in California and Washington were "conducting interviews and attempting to establish a timeline and routes of travel in an effort to rule out any other possibilities."
According to neighbors and court records, the family has had troubles in the past, carrying over to a recent investigation into abuse or neglect with the Washington Department of Social and Health Services.
Sarah Hart was charged with a misdemeanor offense of domestic assault against her daughter Abigail in 2011, and neighbors claimed that Devonte would often ask them for food. He said his parents would withhold food as punishment.
The household had previously been visited by Child Protective Services, and neighbors claimed to have called the agency again to report on the family on March 23, before the Harts left on the trip that resulted in the fatal incident.
US Supreme Court judge and women's rights champion Ruth Bader Ginsburg dies | US News
US Supreme Court judge Ruth Bader Ginsburg has died at 87 due to complications from pancreatic cancer.
Justice Ginsburg died at her home in Washington DC surrounded by her family.
She was appointed to the Supreme Court by President Bill Clinton in 1993 and was a champion of women's rights who became an icon for American liberals.
Young women particularly seemed to embrace the judge, affectionately referring to her as the Notorious RBG.
Hailing from a working-class family in Brooklyn, Justice Ginsburg won major gender discrimination cases before she was appointed to the Supreme Court.
She was only the second woman in history to sit on the highest court in the country, providing key votes in landmark rulings securing equal rights for women, expanding gay rights and safeguarding abortion rights.
Justice Ginsburg once said that despite graduating at the top of her Columbia University law school class, she struggled to find a law firm willing to hire her because she had "three strikes against her" – for being Jewish, female and a mother.
The 87-year-old announced in July that she was undergoing chemotherapy for lesions on her liver, after suffering five bouts of cancer beginning in 1999.
Responding to her death, US President Donald Trump said she was an "amazing woman" and he was sad to hear she had died.
Former US president George Bush described her as a "smart and humourous trailblazer", saying he was "fortunate" to have known her.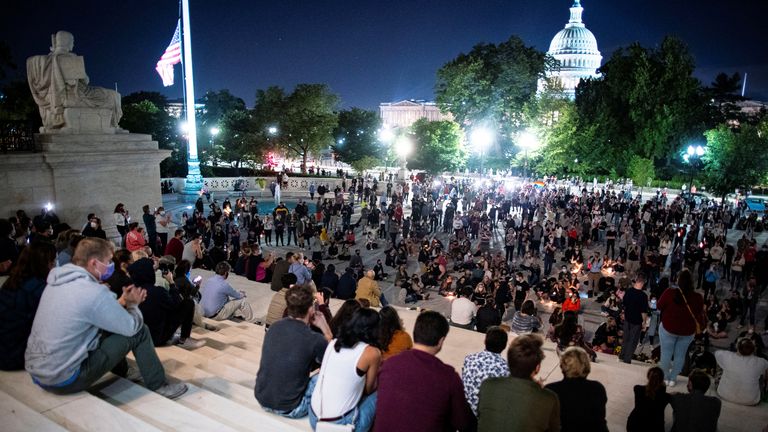 Hillary Clinton said she had "paved the way for so many women, including me".
"There will never be another like her," she added.
Chief Justice John G Roberts Jr was also among the first to pay tribute, saying: "Our nation has lost a jurist of historic stature.
"We at the Supreme Court have lost a cherished colleague.
"Today we mourn, but with confidence that future generations will remember Ruth Bader Ginsburg as we knew her – a tireless and resolute champion of justice."
Nodding to her popularity across political lines, Donald Trump's son Eric wrote on Twitter: "Justice Ginsburg was a remarkable woman with an astonishing work ethic. She was a warrior with true conviction and she has my absolute respect! #RIP."
She was a household name in the US and numerous celebrities have paid tribute, including Hollywood actress Brie Larson, who said: "Thank you, Justice Ruth Bader Ginsburg. We'll keep pushing our way into all the places we've yet to be invited."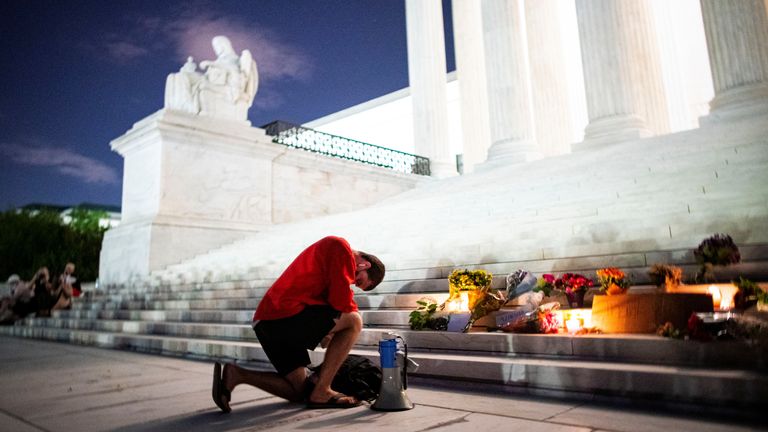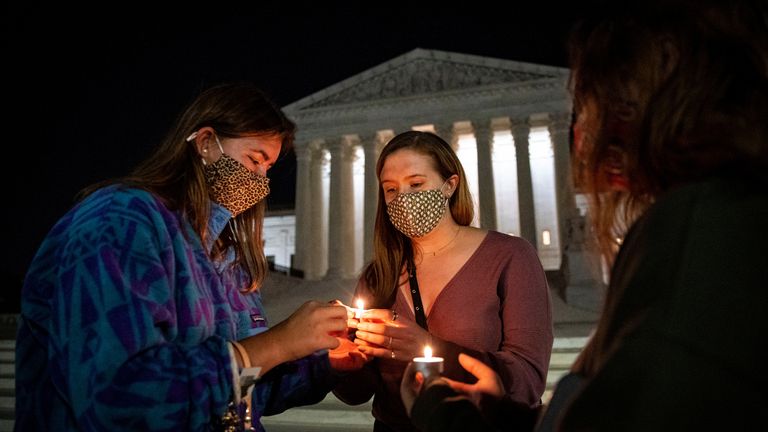 Writer and actress Mindy Kaling wrote: "Ruth Bader Ginsburg was the kind of scholar and patriot you get excited about explaining to your kids.
"The kind of person who you say 'who knows, one day you could be HER'. I hope you rest well, RBG, you must have been tired from changing the world."
Justice Ginsburg's death just over six weeks before the US election will have profound consequences and is likely to set off a heated battle over who should choose her replacement in the conservative-majority court.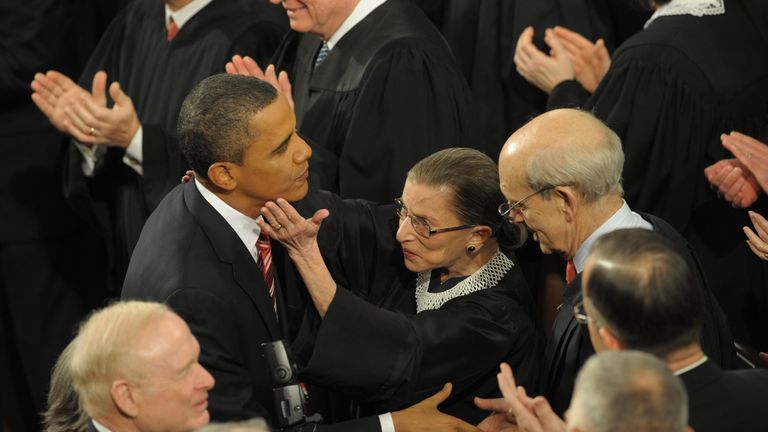 President Donald Trump will likely try to push a successor through the Republican-controlled Senate, moving the court even more to the right.
Mr Trump is likely to put forth a nominee in the coming days, according to ABC News, and Senate majority leader Mitch McConnell has said the Senate will vote on the president's pick.
But Democrats argue the seat should remain vacant until the outcome of the election is known.
Presidential hopeful Joe Biden, who described Justice Ginsburg as an "American hero", pointed to the Republican Senate's decision in 2016 not to appoint a successor to Justice Antonin Scalia until that year's election.
"Just so there is no doubt, let me be clear: the voters should pick a president, and that president should select a successor to Justice Ginsburg," he said.
:: Subscribe to Divided States on Apple podcasts, Google Podcasts, Spotify, and Spreaker
In a statement dictated to her daughter days before her death, Justice Ginsburg said her "most fervent wish" was not to be replaced until a new president is installed, according to non-profit media organisation NPR.
She was married to prominent tax lawyer Martin Ginsburg, who died in 2010, and is survived by two children, Jane and James.
A private funeral ceremony will be held at Arlington National Cemetery in Virginia.
120,000-year-old human footprints found in Saudi Arabia | World News
Sets of 120,000-year-old footprints belonging to humans have been discovered in Saudi Arabia.
The set of seven human footprints, found around an ancient dry lake in the northern region of Tabuk, are the earliest evidence of humans in the Arabian peninsula.
Experts believe they are the footprints of at least two people, and say they could help understand the routes taken by humans out of Africa.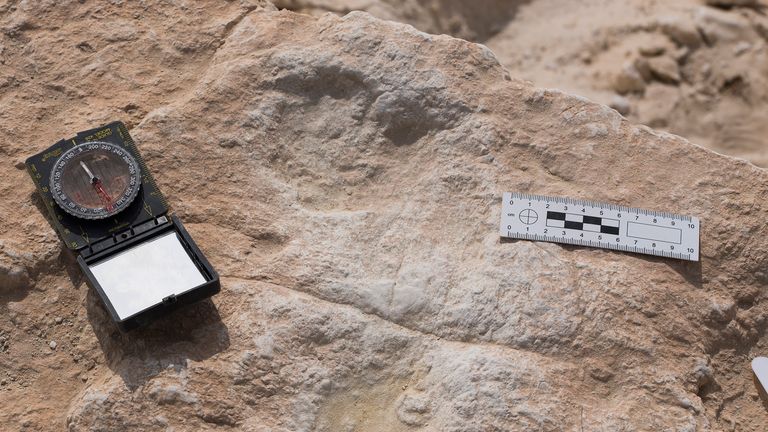 The new research suggests "inland routes, following lakes and rivers, may have been particularly important to humans" leaving the continent, according to Mathew Stewart from the Max Planck Institute for Chemical Ecology
He added: "Footprints are a unique form of fossil evidence in that they provide snapshots in time, typically representing a few hours or days, a resolution we tend not to get from other records."
The researchers think the footprints belong to modern humans, on the basis of stature and mass inferred from them, rather than Neanderthals, who aren't known to have been in the region at the time.
Mr Stewart said: "We know that humans were visiting this lake at the same time these animals were, and, unusually for the area, there's no stone tools.
"It appears that these people were visiting the lake for water resources and just to forage at the same time as the animals."
Footprints of elephants and other animals were also identified alongside 233 fossils.
Today, the Arabian peninsula consists of vast deserts which would have been uninhabitable for early humans and the animals that they hunted.
However, over the last decade, researchers have found that the area experienced much greener and humid conditions due to natural variation in the climate.
Richard Clark-Wilson, from Royal Holloway, University of London, said: "At certain times in the past, the deserts that dominate the interior of the peninsula transformed into expansive grasslands with permanent freshwater lakes and rivers."
"The presence of large animals such as elephants and hippos, together with open grasslands and large water resources, may have made northern Arabia a particularly attractive place to humans moving between Africa and Eurasia," added Michael Petraglia, from the Max Planck Institute for the Science of Human History.
Coronavirus: Yemen in denial about COVID-19 – and worse still, there's a fog of mystery over how many are dying | World News
There's no coronavirus pandemic in Yemen if you ask anybody in the Old City of Sana'a.
The world heritage site is crowded with bustling shoppers – and literally no one is wearing a mask when we visit.
As we weave our way through the narrow alleyways and ancient cobbled streets, the Sky crew are the only ones using protection against one of the world's deadliest ever pandemics.
"There's no corona in Yemen," one man tells us as others gather around, nodding in agreement. "There's no corona at all… People are lying. They're liars."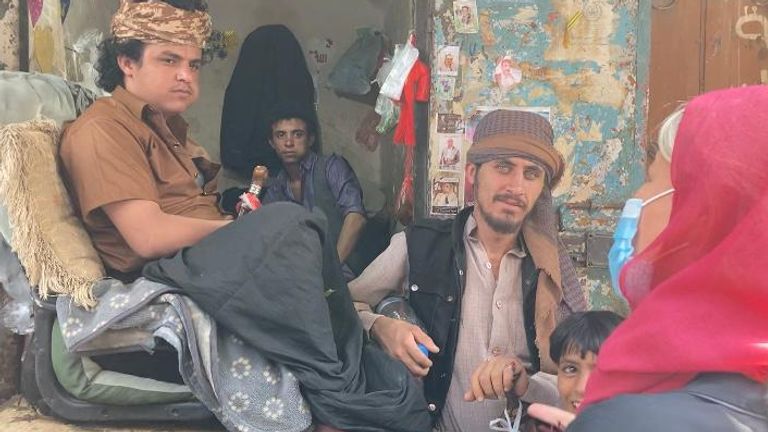 In the Old City's quat sector, where they sell the addictive leaves which 90% of Yemen's population chew daily, we find a people in utter denial about the potentially deadly virus.
And there's a firm belief here that quat – which gives the user an amphetamine "high" – can help ward off the crippling disease.
"Whenever you get a temperature and tiredness, you chew some quat and you get better," one man tells us.
When we ask another if he's ever thought of wearing a mask for protection, he scoffs at us. "Why? Why do we need masks if there's no corona?"
It is a common belief. Yemen had its first reported COVID-19 case on 10 April.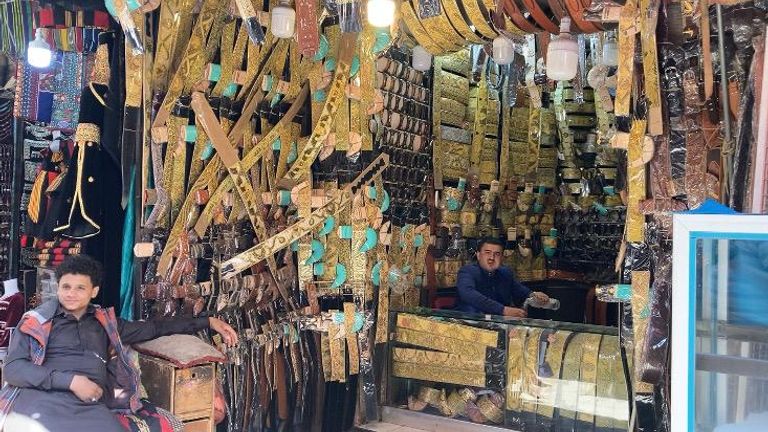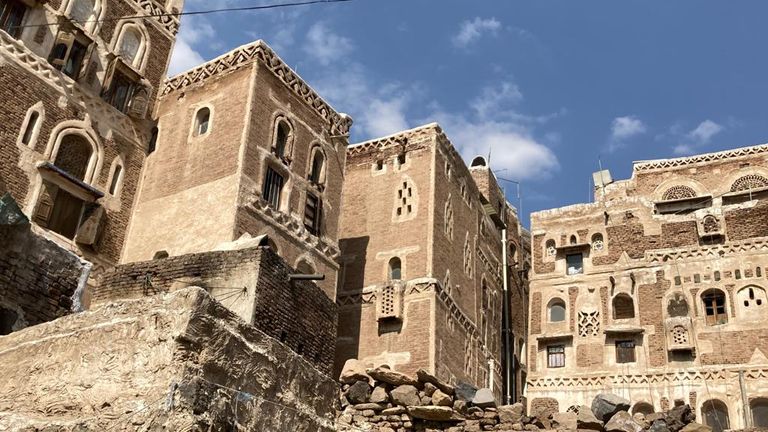 Since then, it is difficult to believe that the country – which is suffering the world's largest humanitarian disaster – has managed to bring it under control. Most of the population is classified as dependent on aid.
There's a widespread lack of clean water to maintain simple hygiene standards, considered essential to stop the spread of the virus.
There's a crumbling and busted medical infrastructure unable to cope with the multiple existing problems and common killers such as malnutrition and diarrhoea.
There's a fresh outbreak of cholera. Millions suffer from pre-existing conditions. All of these factors make the Yemenis uniquely vulnerable to the deadly coronavirus – a virus which has floored some of the richest countries on the planet.
But COVID-19 testing and tracing is virtually non-existent in Yemen, which contributes to the fog of mystery over how fast the virus is spreading and how many are infected or dying.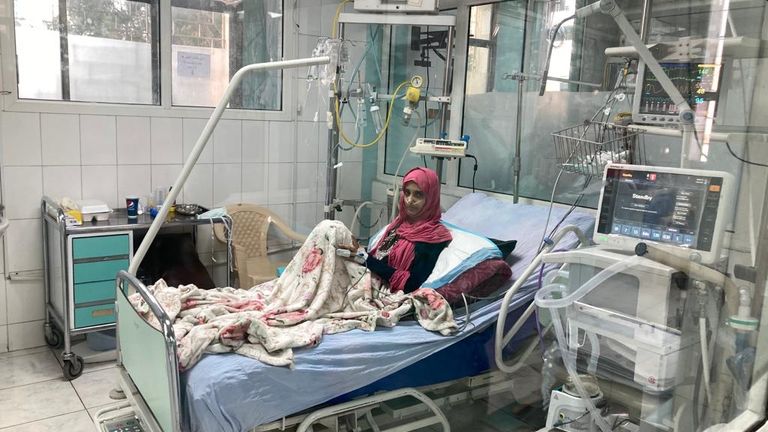 In the Houthi-controlled north, which contains the over-populated city of Sana'a, the official number of coronavirus fatalities is just four.
The official total number of nationwide cases is under 2,000, with fewer than 500 deaths. These are figures which only the Yemenis seem comfortable believing.
Auke Lootsma, from the United Nations Development Programme, said: "On top of everything that Yemen is experiencing, it can now also add the highest unofficial death rate to COVID-19 in the world."
Yemen has been struggling through six years of war which has divided the country into territory controlled by the internationally recognised government (supported by a Saudi-led coalition backed by the US and the UK) which rules over the south including the port city of Aden – and the Houthi rebels in the north (supported by Iran) who have the capital, Sana'a.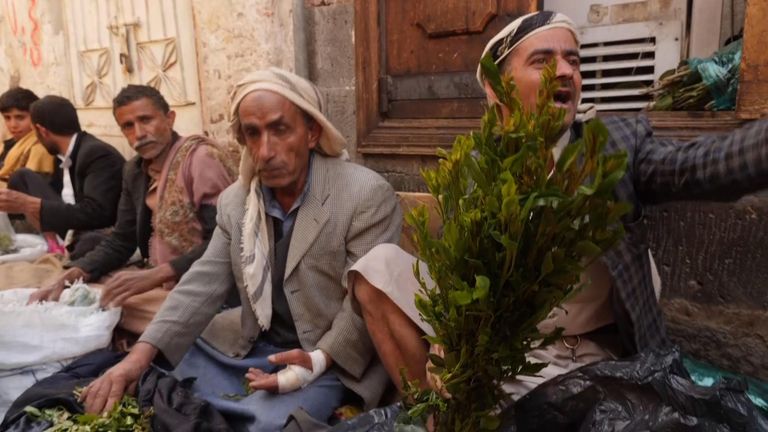 It's left the population of 30 million suffering unimaginable hardship. The UN estimates those Yemenis who catch coronavirus die in record numbers. The average fatality rate globally is about 7% – but in Yemen, that figure is estimated by the UN to be around the 30% mark.
And with the lack of official data on both sides of the conflict, it's been left to local medical groups to try to collate figures of the dead. One medical charity estimated a shockingly high number of health workers have died – possibly as many as 100.
One young doctor working at the Al-Kuwait hospital in Sana'a told Sky News she was still traumatised by the number of medical colleagues who've been admitted with coronavirus symptoms and haven't survived.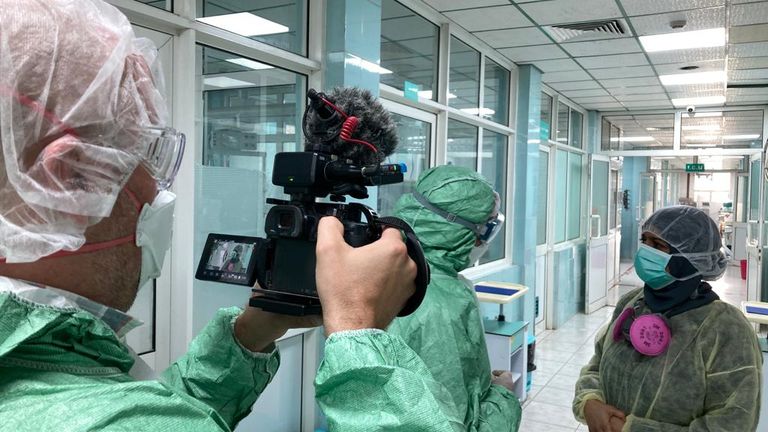 "I don't want to think in the future because it will be like a nightmare, Dr Rania Jashan said. "I try to avoid thinking what will be next… because we don't have the doctors."
On top of this, there's a deep suspicion amongst many Yemenis about the virus itself – where it is coming from and how it has spread.
Virtually every patient we spoke to in the hospital spoke about the fear of being given the "lethal injection". Dr Jashan said there was a firmly held belief that the doctors were either spreading the virus or injecting the sufferers and killing them.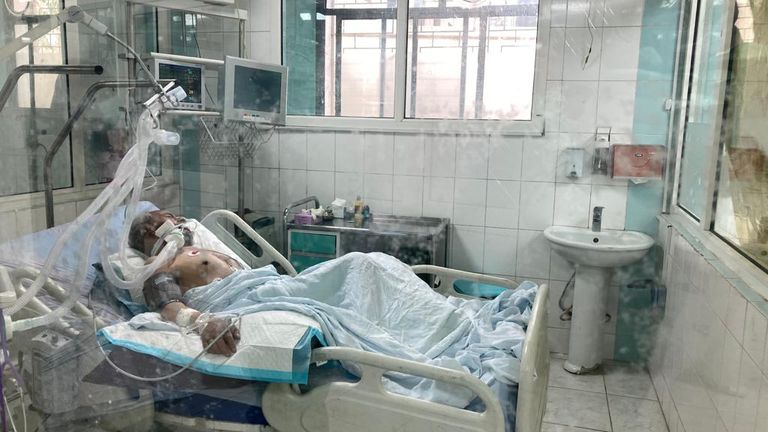 Mansour Abdul Wasih Sharabe has spent the past four days intubated and on a ventilator.
He's remarkably alert and lucid about how frightened he was about coming into the hospital. He tells us he believed he'd almost been taken hostage. He was terrified.
"What did I do wrong?," he said, "Why am I tied to the bed like this? I can't breathe… I have to get out. What did I do?"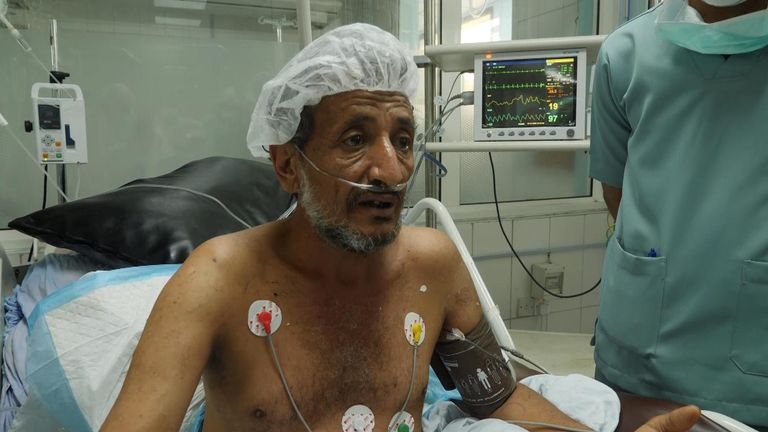 In Sana'a's Old City, those who do believe the virus exists are also convinced it's a biological weapon used by those who've been waging war against them in this region for the past few years.
Ali Abu Ali Al-Salame, 56, told us: "If they are already hitting us with prohibited weapons and missiles and illegal bombs, why wouldn't they hit us with this virus?"
:: Subscribe to the Daily podcast on Apple Podcasts, Google Podcasts, Spotify, Spreaker
He blamed Saudi Arabia, the US and Israel for all the misery the Yemenis are feeling.
And in a country where half of the medical facilities are not functioning, the global pandemic has also led to a cut in international donations. There're also worries that both sides in this conflict are restricting access to the millions donated in aid.
The doctors in the Al-Kuwait hospital tell us they've dealt with "thousands" of COVID cases, but their foreign sponsors are cutting their donations because the official tally suggests the virus is "over" here. They are frantic with worry about the future and what it holds.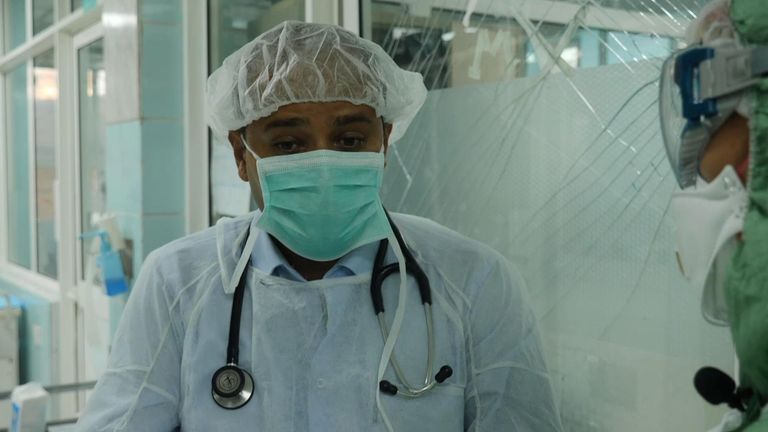 "We are in emergency situation already," Dr Ahmed Al Junaid said.
"We have the war and conflict and morbidity and illiteracy… and now we have COVID.
"We hope another organisation will help us… we hope to send a message to the world to stop the war, stop the conflict and help the Yemeni to negotiation and peace."