World Cup-linked oligarch Ziyavudin Magomedov held over 'corruption'
A Russian oligarch who is one of the country's richest men has been arrested on suspicion of embezzlement.
Ziyavudin Magomedov co-owns Russia's Summa investment group and is worth $1.4bn (almost £1bn).
He was ranked last year in Forbes as Russia's 63rd richest man and, in January, was listed by the US Treasury Department as one of 96 "oligarchs" close to President Vladimir Putin.
Magomedov has been held over claims he misappropriated $35m (£25m) from the state, Russian state prosecutors said as he appeared in a cage in court.
Also detained were his business partner and brother Magomed Magomedov, and Artur Maksidov, the head of a company in the Summa group which has been involved in construction of a World Cup football venue in the Russian exclave of Kaliningrad.
The stadium, on part of the Russian territory that is separated from the country's mainland by Lithuania and Poland, is the closest to Europe out of all the venues due to be used in the summer event.
England is due to play Belgium at the 35,000 capacity stadium on 28 June.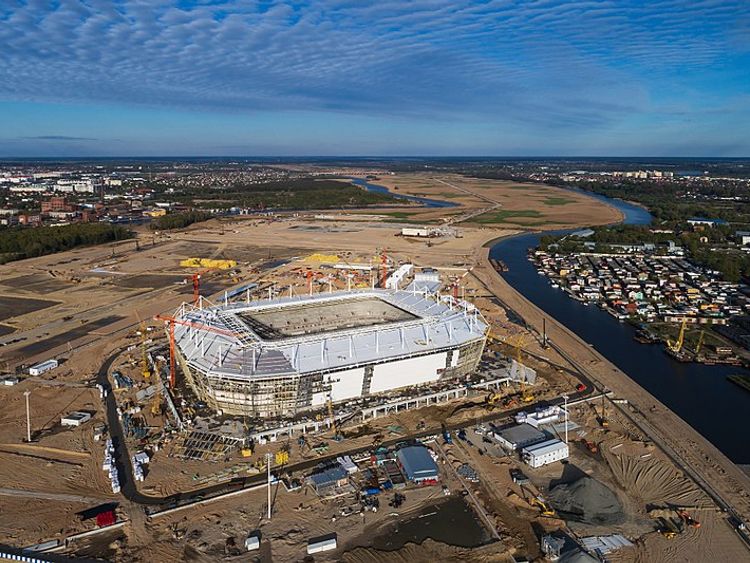 Several other group stage matches involving European teams will also be played at the venue, which is only a few dozen miles from the EU border.
Russia's interior ministry said it had conducted searches in 25 Russian locations, including Moscow, in connection with the case and documents relating to it were expected to be sent to Moscow's Tverskoy District on Saturday.
Magomedov denied embezzlement when he appeared in court in Moscow on Saturday.
The judge, Maria Sizintseva, said the Magomedov brothers and Maksidov acted as part of an organised crime group and had tried to put pressure on witnesses.
At the pre-trial hearing, the 49-year-old said: "I categorically disagree with the charges presented… The prosecution case does not stand up to scrutiny."
He was remanded in custody until 30 May ahead of a trial after the judge refused to allow bail but his legal team said they planned to appeal.
Originally from the restive Russian province of Dagestan, Ziyavudin Magomedov is co-executive chairman of Los Angeles-based tech firm Virgin Hyperloop One, chaired by Richard Branson.
:: Who's winning battle of space race billionaires?
His Caspian Venture Capital fund also has investments in app-based taxi service Uber.
Although publicly loyal to the Kremlin, Magomedov is part of a group of multi-millionaire Russians who are not in President Vladimir Putin's inner circle.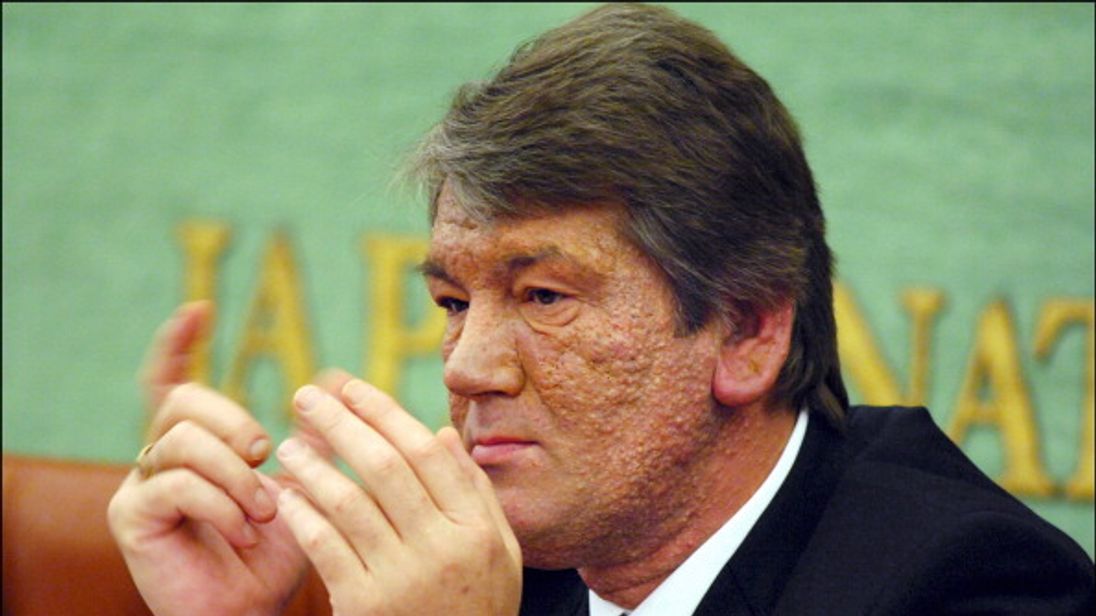 According to Stadium Database, the Kaliningrad island on which Summa's $300m Baltic Arena is built has proved "problematic and also expensive to deliver large buildings there due to wetland ground basis".
Project costs mounted from an initial 10bn rubles (£124m) to 17.5bn rubles (£217m), it adds.
Russian website Meduza said construction of the stadium has led to a 750m-ruble (£10m) embezzlement case.
Russia's Futbolgrad.com, meanwhile, said last week the venue, which was scheduled to be finished last December, is yet to open, despite the start of the tournament being in two-and-a-half months' time.
US-Mexico border crisis: Vehicles form barrier at Texas crossing to deter Haitian migrants – as VP Kamala Harris criticises 'horrible' tactics | US News
Parked vehicles have created a steel barrier which stretches for miles along the US border with Mexico in the latest measure to deter migrants from crossing into Texas.
The US has been expelling Haitians from a large makeshift camp at the border, which at one point had attracted more than 12,000 migrants.
Around 8,600 people remain at the camp beneath the Del Rio International Bridge, which spans the Rio Grande from Texas to Mexico's Ciudad Acuna, after more than 3,000 migrants were moved.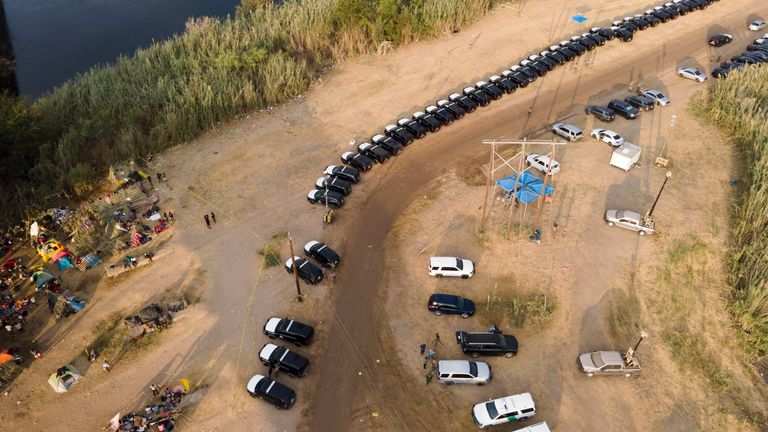 Law enforcement officers on horseback were pictured using what appeared to be aggressive tactics against the migrants – and a barrier has now been set up along the border, using vehicles belonging to the Texas National Guard and the Texas Department of Public Safety.
Greg Abbott, the Republican governor of Texas, has backed his approval of the tactics – and criticised the Biden administration for not doing more, claiming local people and officials had "taken the lead on securing the border".
But US Vice President Kamala Harris criticised the way the migrants had been treated, when she said: "What I saw depicted, those individuals on horseback treating human beings the way they were, was horrible."
She added she supported an investigation into the horseback incidents, while homeland security officials called the images "extremely troubling".
In recent days, US authorities have removed at least 4,000 people from the site for processing in detention centres.
More than 500 Haitians have been deported to their homeland on four flights, with repatriations set to continue on a regular basis, the US Department of Homeland Security said.
Some of those returned reacted angrily as they stepped off flights at Port-au-Prince airport in the Haitian capital after spending large amounts of money to travel from the troubled Caribbean nation via South America, hoping for a better life in the US.
The disturbances underscored the instability in the Caribbean nation – it is the poorest in the Western hemisphere, where a presidential assassination, rising gang violence, and a major earthquake have spread chaos in recent weeks.
The rapid expulsions were made possible by a pandemic-related authority adopted by former president Donald Trump in March 2020, which allows for migrants to be immediately removed from the country without an opportunity to seek asylum.
Unaccompanied children are exempt from the order, a decision which was made by President Joe Biden.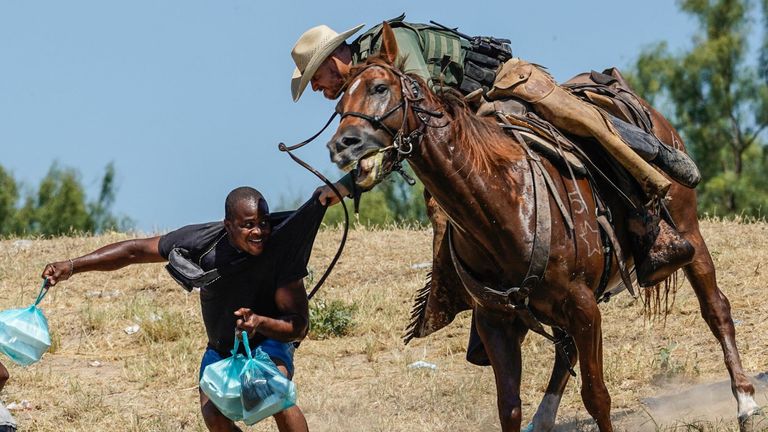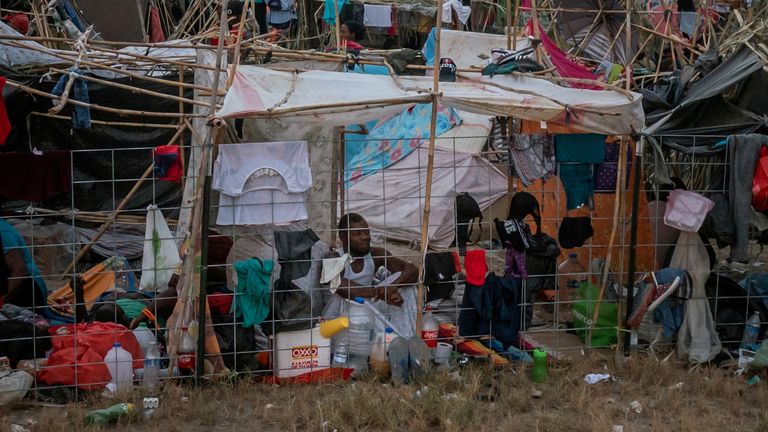 Mexico has also begun moving Haitian migrants away from the border, authorities said on Tuesday, signalling their support for the US as the situation creates a political headache for Mr Biden.
Republican politicians with an eye on the 2022 midterm elections, when they will bid to retake control of Congress, have been quick to portray the camp as the result of a push to end some migration restrictions.
There are also reports that some of the Haitian migrants facing expulsion back to their homeland are instead being released in the US, with some observed at the Del Rio bus station by Associated Press journalists.
Lithuanian defence ministry urges people to 'throw away' Chinese phones after discovering censorship tools | Science & Tech News
The Lithuanian Ministry of Defence has urged people to stop buying Chinese phones and throw away the ones they already possess after discovering censorship software.
It followed a report from the country's National Cyber Security Centre (NCSC) which found that Xiaomi devices were censoring terms deemed to be offensive to Beijing.
According to an analysis by the Lithuanian NCSC, the Chinese company's flagship devices sold in Europe have a built-in ability to detect and censor particular terms.
The phrases included "demonstration", "free Tibet", "long live Taiwan independence", and "church" according to the Lithuanian authorities.
Although the censorship capability had been turned off for devices in the European Union, the ministry of defence warned that it could be turned on remotely.
"Our recommendation is to not buy new Chinese phones, and to get rid of those already purchased as fast as reasonably possible," said Defence Deputy Minister Margiris Abukevicius, according to Reuters.
Chinese Ambassador banned from parliament: 'Standing up for free speech is critical'

A spokesperson for Xiaomi declined to comment when contacted by Sky News.
The call to throw away Chinese phones comes amid growing tensions between Lithuania and China over the former's support for Taiwan – which China claims as part of its own territory.
China demanded Lithuania recall its ambassador in Beijing last month and recalled its own envoy from Vilnius in a protest over Taiwan announcing its mission in the country would use the name of Taiwan, instead of the city of Taipei, which is typically used in other European nations and in the US.
Professor Alan Woodward, a cyber security expert at the University of Surrey, told Sky News: "We all know there are different builds of phones for different countries. If you want to sell a device in a country then you have to obey the laws there.
"But to have censorship software left in that can be remotely activated… that's a whole different level of one country effectively exporting its domestic regulations via technology," he said.
Professor Woodward said he could understand the thought process behind the Lithuanian warning: that if one Chinese vendor has included a censorship capability to please Beijing then that made it harder to trust others haven't done so too.
"Lithuania is a small market so I can imagine this might blow over, but the censorship software seemed to specifically be addressing items that were part of the tension between the two countries," added Professor Woodward.
"That starts to look like a deliberate attempt to interfere," he said.
"I'm sure other countries are also looking at these devices, so it behoves the Chinese government to make sure that they aren't trying to export their censorship regulations elsewhere or else they could destroy trust in all Chinese vendors, and that won't end well for anyone."
Boris Johnson says France needs to 'get a grip' amid anger over AUKUS pact | Politics News
Boris Johnson has said France should get over its anger at a partnership between the UK, US and Australia that saw the latter pull out of a major contract with Paris for submarines.
"What I want to say about that is I just think it's time for some of our dearest friends around the world to prenez un grip [get a grip] about all this and donnez-moi un break [give me a break]," the prime minister said when asked about the continuing row over the AUKUS initiative.
"This is fundamentally a great step forward for global security. It's three very like-minded allies standing shoulder to shoulder and creating a new partnership for the sharing of technology.
'AUKUS alliance will bring us closer than ever'

"It's not exclusive, it's not trying to shoulder anybody out. It is not adversarial towards China, for instance.
"It is there to intensify links and friendship between three countries in a way that I think will be beneficial for things that we believe in."
The AUKUS deal saw the UK, Australia and the US form a trilateral security pact to develop and deploy nuclear-powered submarines, adding to the Western military presence in the Pacific region.
Nuclear-powered submarines are superior to their diesel counterparts, as they can operate more quietly and stay underwater for longer.
France recalled its ambassadors to the United States and Australia in a backlash over the new security partnership, with foreign minister Jean-Yves Le Drian describing it as a "stab in the back".