Villanova's record-setting three-point barrage sends them to the national title game – CollegeBasketballTalk
SAN ANTONIO — 21 minutes.
That is all the time that Villanova needed to put together the single-greatest three-point shooting performance in Final Four history.
The Wildcats made 13 first half threes, tying a Final Four record that was set all the way back in 1987, the first year that three-pointers were in the college game, when UNLV pulled it off against Indiana. They broke the record on the second possession of the second half. Kansas had just scored, cutting Villanova's lead to 13 points, and on the ensuing possession Udoka Azubuike just about put a hole in the backboard blocking a shot. The loose ball squirted out to Eric Paschall, who, with the shot clock winding down, fired up a 27-foot three with a hand in his face.
It might have been the earliest dagger in the history of college basketball, but it was a dagger nonetheless.
Because anyone watching at home or in San Antonio's Alamodome could see it. Kansas looked deflated, punched in the gut. They did everything that you're supposed to do against what is the best offense that we've seen in the KenPom era.
And it did. Not. Matter.
Kansas never quit, but from the moment that shot went in, the result — a 95-79 win for Villanova — felt inevitable. Villanova eventually slowed down, making only five second half threes to finish 18-for-40 from beyond the arc on the night, but the Jayhawks never cut the lead to single digits after Villanova's 22-4 run to open the game.
"Well," Jay Wright said after the game. "That was just one of those nights."
That it was.
"I feel bad for Kansas," he continued. "They're a great team. We just made every shot, and sometimes that happens."
That's what this Villanova offense does. They are demoralizing. Everyone in their rotation, everyone that played at least ten minutes on Saturday night, shoots better than 38.5 percent from three on the season with the exception of Eric Paschall. But he's been on fire since starting the season in a 1-for-25 slump, shooting better than 44 percent from beyond the arc in that span. They all have the ultimate green light as shooters, they never stop shooting those threes and every time they see a couple of them go down, everyone on the roster seems to catch fire.
"It's contagious," Donte DiVincenzo said.
And, perhaps most importantly, they just do not care about who gets the shine.
None of them do.
The running joke in the media room at this year's Final Four is just how boring and how robotic Villanova is. To a man, they answer every question they are asked with at least one of the following talking points: That's Villanova basketball, we want to defend and play hard first, we are brothers, we all get along so well, there's a culture, we have an attitude.
At the end of the open locker room session, DiVincenzo was asked why he didn't stay on brand during one interview. Laughing, he answered, "I didn't say attitude? Oh man."
And while their answers get more and more predictable as the tournament goes on, the fact of the matter is that what they are saying is probably true. They do play "Villanova basketball". They do make an effort to play defense and rebound first and foremost. There is a culture.
And they are brothers.
If you are a Michigan fan — or if you are Luke Yaklich, Michigan's defensive coordinator that is going to be tasked with trying to find a way to slow this buzzsaw down — the most terrifying part of what Villanova did on Saturday night was who did it. It wasn't Jalen Brunson, the National Player of the Year who finished with 18 points and seven assists on 7-for-14 shooting or Mikal Bridges, Villanova's resident lottery pick, who had just ten points on 4-for-8 shooting. Both of them did much of their damage after the game was already in hand. It wasn't Donte DiVincenzo, who might be the second-best NBA prospect on the roster, either.
It was Paschall, who finished with 24 points, 16 in the second half, on 10-for-11 shooting from the floor, banging home 4-of-5 threes. It was Omari Spellman, Villanova's starting center that went for 15 points, 12 boards and three blocks while making three threes of his own.
Think about that for a second.
Villanova blew out a No. 1-seed, the team that beat one of the tournament favorites in Duke just six days ago, by 20 points and set a record for the most threes every hit in the Final Four on a night where the National Player of the Year and the best NBA prospect at the Final Four both had a quiet, by their standards, night.
That is what makes them the best offense that we've seen in the last 16 seasons. That is what makes them so dangerous. They have five guys on the floor at all times that can win them a game — Brunson, Bridges and DiVincenzo have done as much in this tournament alone — and their starting bigs can do it by making threes.
You can't guard that.
You just have to hope that you play good enough defense to make them miss.
"We shoot 'em up and we sleep in the streets," Wright said. "Sometimes they go in, sometimes they don't. This is one of those nights where everything went in."
They quite literally shot the lights out.
Midway through the second half, the ribbon scoreboard that hangs at the front of the second deck went out, darkening the upper decks and making the stadium, which is just 25 years old, feel significantly older than it is.
But it wasn't all bad.
Without the ribbon board on, Kansas couldn't see what the score was.
Four-year-old boy buys 918 SpongeBob ice lollies for $2,600 on Amazon | US News

Noah, a four-year-old from New York, loves SpongeBob. A lot.
In fact, he loves the absorbent and yellow and porous cartoon character so much that he decided to pop on Amazon for a spot of retail therapy.
Little did his mother know that he had purchased 51 cases of SpongeBob ice lollies – 918 of them to be exact – racking up a bill of $2,618.85 (£1,872).
The bulk order of popsicles was duly delivered to his auntie's house.
Amazon initially told Noah's mother, Jennifer Bryant, that they wouldn't take back the ice lollies – leaving the social work student stuck with the bill.
The retail giant has since been in contact to find a solution – and thankfully, the SpongeBob saga has a happy ending.
A fundraiser that was set up to help Ms Bryant pay for the ice lollies has now raised more than $14,000 (£10,000), with contributions flowing in from across the US.
Noah is on the autism spectrum, and his family say that (once the bill has been paid) all remaining funds will go towards his education.
Ms Bryant wrote on the GoFundMe page: "Thank you SO much for your mind-blowing generosity and support."
More than 130 injured as Palestinian worshippers clash with Israeli police at Al-Aqsa mosque | World News
At least 136 people have been injured during clashes between Palestinian worshippers and Israeli police at the Al-Aqsa mosque compound.
The violence at the major holy site, sacred to Muslims and Jews, is an escalation of weeks of violence in Jerusalem that has reverberated across the region.
The Palestinian Red Crescent emergency service said 136 people were wounded at the compound and elsewhere in Jerusalem, including 83 who were hospitalised.
It said most were wounded after being hit in the face and eyes by rubber-coated bullets and shrapnel from stun grenades.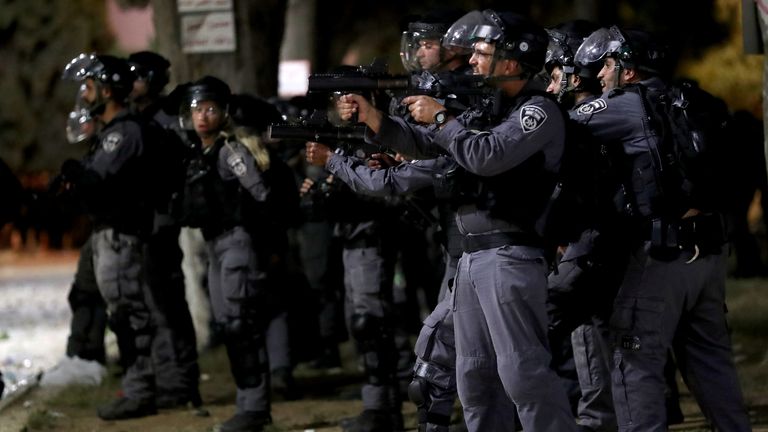 Israel said six police officers were wounded.
Earlier on Friday, Israeli troops shot and killed two Palestinians and wounded a third after the men opened fire on a base belonging to Israel's paramilitary Border Police force in the occupied West Bank.
It was the latest in a series of deadly confrontations in recent weeks that has coincided with the Muslim holy month of Ramadan.
Tensions have soared in recent weeks in east Jerusalem, which is claimed by both Israel and the Palestinians.
At the beginning of the Muslim holy month of Ramadan, Israel blocked off a popular gathering spot where Palestinians traditionally socialise at the end of their day-long fast.
The move set off two weeks of clashes before Israel lifted the restrictions.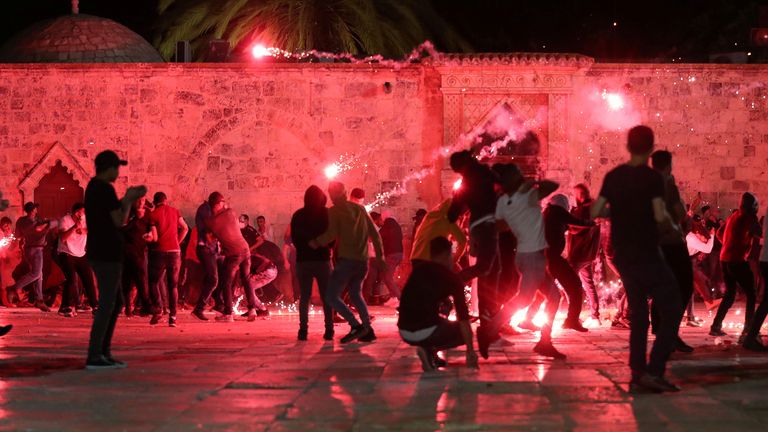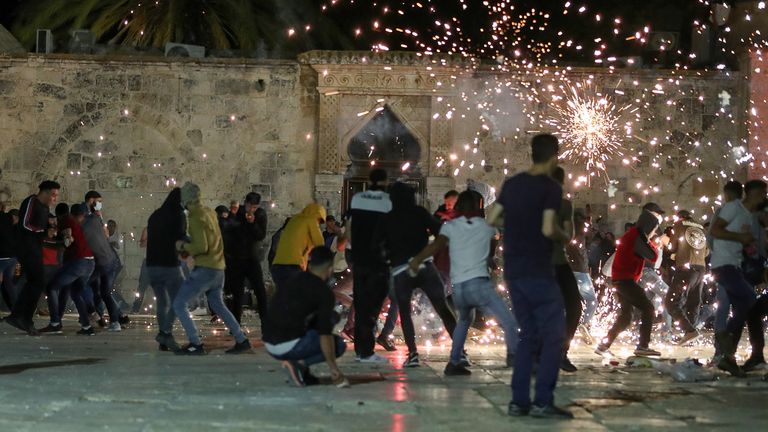 But in recent days, clashes have resumed after Israel threatened to evict dozens of Palestinians in the Sheikh Jarrah neighbourhood in east Jerusalem.
The US said it was "deeply concerned" about the heightened tensions and called on all sides to work to de-escalate them.
It also expressed concern about the threatened evictions.
European Super League: Nine rebel clubs accept sanctions and commit their future to UEFA competitions | UK News
Nine of the football clubs who signed up to the breakaway European Super League have agreed to UEFA sanctions and committed to its international and national club competitions.
The clubs, including the six Premier League sides, have agreed to re-join the European Club Association, which is the only representative body for clubs that UEFA recognises.
In the Club Commitment Declaration, they have also accepted the Super League project was a mistake, apologised to fans, national associations, national leagues, fellow European clubs and UEFA and agreed to financial penalties.
UEFA convened an emergency panel of its executive committee, which took into consideration "the spirit and the content" of the Club Commitment Declaration and in the end, decided to approve the various actions, measures and commitments made by the nine clubs.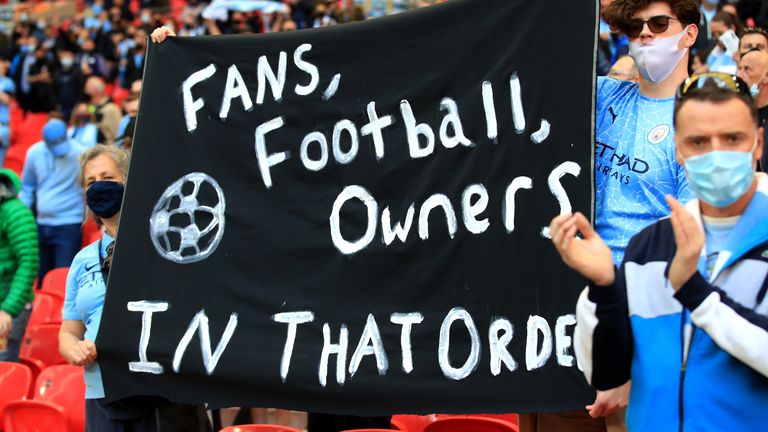 The clubs are Arsenal, AC Milan, Chelsea, Atletico Madrid, Inter Milan, Liverpool, Manchester City, Manchester United and Tottenham.
The three who have not renounced the Super League – Real Madrid, Barcelona and Juventus – are set to face "appropriate action", UEFA said.
Twelve clubs in total announced on 18 April that they would be joining the new European Super League but so strong was the fan backlash that nine withdrew within days.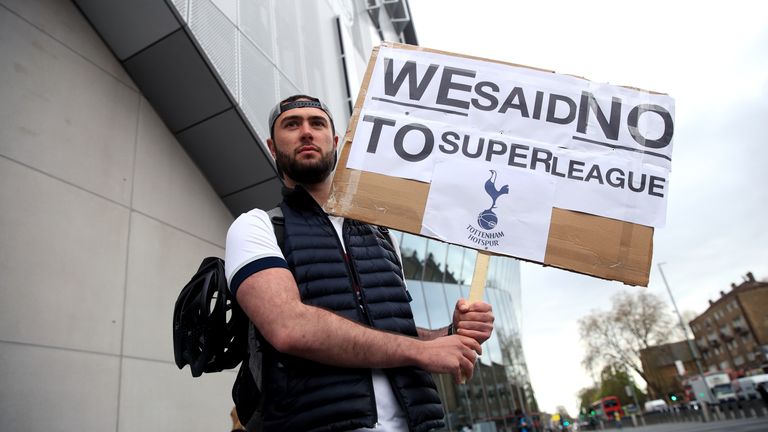 Culture Secretary Oliver Dowden got involved – and eventually announced the proposals were being aborted

Other steps the clubs have committed to in the UEFA declaration are:
• 5% of the revenues they would have received from UEFA club competitions being withheld for one season, which will be redistributed
• Terminating their involvement in the company established to form and operate the Super League
• Making a donation of £13 million, to be used for the benefit of children, youth and grassroots football in local communities across Europe, including the UK
• Agreeing to have substantial fines imposed if they seek to play in such an unauthorised competition (£87 million) or if they breach any other commitment they have entered into in the Club Commitment Declaration (£43 million)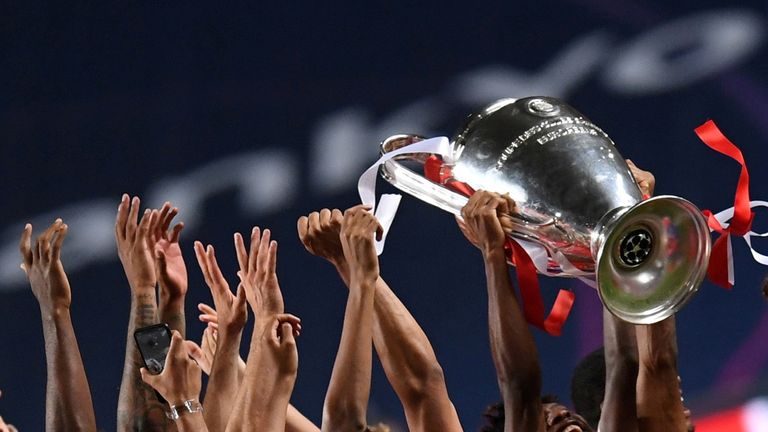 UEFA President, Aleksander Čeferin said: "I said at the UEFA Congress two weeks ago that it takes a strong organisation to admit making a mistake especially in these days of trial by social media.
Even Prime Minister Boris Johnson had an opinion, describing the new league as a 'cartel' that would damage football.

"These clubs have done just that.
"In accepting their commitments and willingness to repair the disruption they caused, UEFA wants to put this chapter behind it and move forward in a positive spirit.
"The measures announced are significant, but none of the financial penalties will be retained by UEFA. They will all be reinvested into youth and grassroots football in local communities across Europe, including the UK.
"These clubs recognised their mistakes quickly and have taken action to demonstrate their contrition and future commitment to European football.
"The same cannot be said for the clubs that remain involved in the so-called 'Super League' and UEFA will deal with those clubs subsequently."