Syria's pro-democracy protest made their marriage. The civil war destroyed it.
BEIRUT — Noura Ghazi Safadi fell for Bassel Khartabil at a pro-democracy protest in the Syrian town of Douma, near Damascus, in April 2011.
"He had this kindness and smartness," Safadi said. "I felt like my heart started beating so strong!"
Three months later, in July, they got engaged.
It was in the middle of the Arab Spring, and thousands of Syrians had taken to the streets demanding democratic reforms. The optimistic protests had yet to descend into a vicious civil war. The Damascus suburb of eastern Ghouta — where Douma is — had not become "hell on Earth," and hundreds of thousands had yet to die in violence that has driven millions from their homes.
It was a giddy time. She, a human rights lawyer, and he, a self-taught software engineer, became inseparable and they attended demonstrations together, desperately hoping for change from the government of President Bashar al-Assad.
But the relationship fell victim to the war, which is now in its eighth year. Khartabil was arrested in March 2012 — two weeks before his wedding — and, as Safadi learned in August, he was executed in 2015. She has yet to receive official notice from the regime that Khartabil is dead.
Instead, Safadi waits, and hurts.
For more on this story, watch NBC's "Nightly News" tonight
"I want to go there and to talk to him like I used to do," she said.
Safadi, a small, soft-spoken woman with a steely resolve, has made it her mission to bury her beloved and mourn his loss at a gravesite, but she has been told nothing about the return of his body.
Khartabil, whose computer skills were widely known among programmers outside Syria, had long wanted to make the internet more accessible in his own country. Active as an open-source software developer, he was known to translate Wikipedia entries from English into Arabic. When anti-government protests erupted in Syria, he used his tech savvy to get around strict government censorship and posted hundreds of videos of demonstrations online so the world would learn what was happening inside the country.
A video recorded just months after Khartabil and Safadi met shows them beaming, playfully describing the beginning of their relationship.
"We expected everything was going to be solved, and we would win," Safadi said as she watched the video alongside NBC News, referring to the changes they desperately hoped for.
But beneath the optimism ran an undercurrent of foreboding. Shortly after the demonstrations began, Assad responded with a bloody crackdown. Unarmed protesters were mowed down by bullets and tank shells. Still more were detained and tortured.
As the euphoria of the protests dissipated and darkness descended, Khartabil realized he had now something to lose.
"I never had a problem with them arresting me before we got engaged, but now I'm worried about her," he said of Safadi in the same video.
"I am always worried about him," Safadi said in the same video. "I have fears."
Khartabil's best friend, Jon Phillips, was also concerned about his safety. A decade earlier, while still a graduate student at the University of California, San Diego, Philips had met Khartabil online. The pair bonded over a mutual love of computers, collaborating on projects and meeting regularly at conferences around the world.
Phillips remembered their last meeting at a conference in Poland in early 2012, where he implored Khartabil not to return to Syria. His response was "it's OK, it's OK," Phillips recalled.
On March 12, 2012, Khartabil disappeared.
Safadi embarked on a desperate search for him. Nearly 10 months later, she found him in an overcrowded prison in a Damascus suburb.
Khartabil told Safadi that he had been kept in solitary confinement in a military prison for nearly nine months and been tortured daily and starved. A military prosecutor charged him with "spying for an enemy state." There was no trial.
He was later transferred to civilian detention where he met a journalist, Wael Saad al-Deen. The two talked every day, kept each other going with discussions of love, poetry and their revolution.
Al-Deen fled Syria after being released on bail and is now seeking asylum in Canada.
The horrors of Syria's prisons, including torture and deprivation, have been documented. An estimated 60,000 people died while in government detention from 2011 to 2016, according to the Syrian Observatory for Human Rights, a U.K.-based monitoring group.
The Syrian regime has called charges of torture and extrajudicial killings in its prisons "baseless."
Although Khartabil was imprisoned, with no prospect of being released, the couple proceeded with the wedding. Safadi's parents came to witness the vows, which the two exchanged through prison bars.
With the hashtag #FreeBassel, Phillips launched an international campaign to raise awareness of Khartabil's detention. Wikipedia founder Jimmy Wales recorded an online video in support. Then-Secretary of State John Kerry called Khartabil a prisoner of conscience.
In 2015, almost three years into his arrest, Khartabil disappeared again. He phoned Safadi before the guards took him away. She began searching.
Last August, Safadi finally learned the truth: Khartabil had been executed just a few days after he was taken from prison, according to her sources who have seen official documents authorizing the execution. The Syrian regime has not confirmed his death.
"I didn't see the body," Safadi said. "Like all Syrians, I didn't get a death certificate because he was executed and they still deny this."
Phillips is still haunted by that last exchange with his friend. "We absolutely failed," he said. "We did not get him out."
Al-Deen, for his part, is also preoccupied with his final moments with Khartabil. "I can't forget him."
Safadi, who now lives in Beirut, has published a collection of poems written while Khartabil was in prison. It is titled "Waiting."
She continues to wait — for a death certificate, for the return of her husband's body.
"I want a grave for Bassel," she said, her voice trembling. "I just want my love to be with me even if he's dead. Is it an impossible dream?"
Kelly Cobiella and Yuka Tachibana reported from Beirut, and Kennett Werner from London.
Brazil: 20 killed including an officer in police shootout with drug traffickers | World News
At least 20 people, including a police officer, have died in a shootout with drug traffickers in Rio de Janeiro, according to local media.
The O Globo newspaper said two passengers on a metro train were also wounded in the shooting in Jacarezinho, a shanty town in northern Rio, Brazil.
The shootings, it said, happened during a police operation.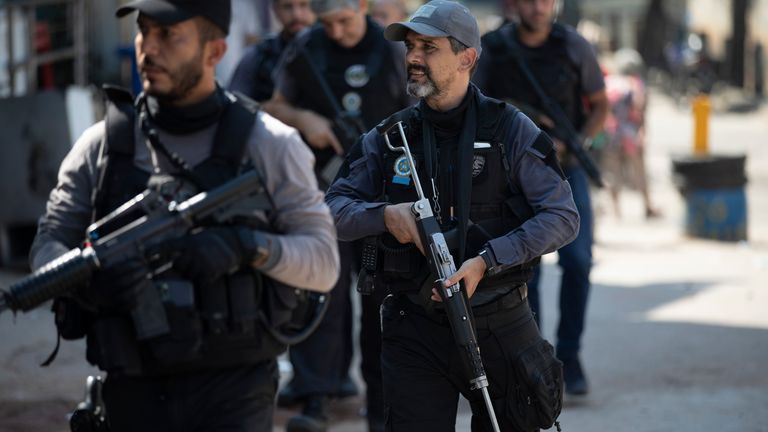 An O Globo tweet said witnesses reported "fear and violence" in the neighbourhood.
Cutting human sources of methane would reduce global warming and improve human health – scientists | Climate News
Cutting human sources of methane would be a quick win for the climate, according to a new United Nations report.
Roughly halving emissions of the greenhouse gas from human activity, often with existing, cost-effective solutions, would reduce the future rise in global temperatures by around 0.3C by the 2040s, it is claimed.
The analysis was carried out by the UN Environment Programme and the Climate and Clean Air Coalition (CCAC).
Scientists have hailed the strategy as a "win-win" because it would reduce global warming and simultaneously improve human health and the economy.
Levels of methane in the atmosphere have doubled since pre-industrial times.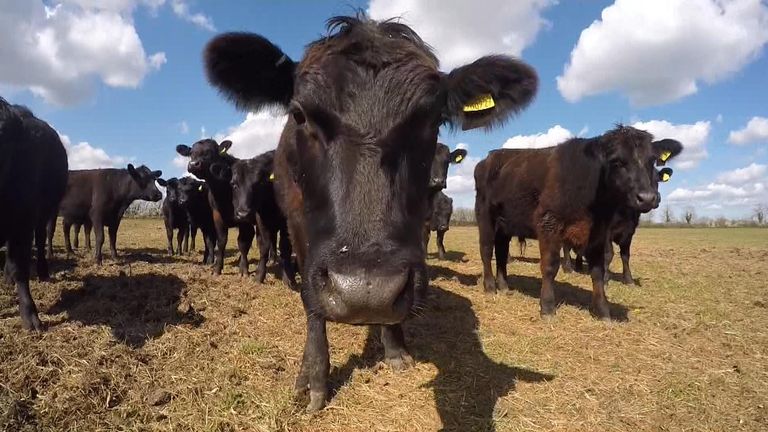 It is a potent greenhouse gas that is 10 times more powerful than carbon dioxide at trapping heat in the atmosphere.
According to the UN's Global Methane Assessment, human activity results in around 380 million tonnes of methane being released into the atmosphere every year.
Agriculture accounts for 40% of the emissions, largely from livestock and rice cultivation, while another 32% comes from oil and gas extraction and coal mining.
The report says reducing the emissions by 45%, or 180 million tonnes a year, by 2030 is critical for limiting global heating to 1.5C, the point where the climate would become increasingly and significantly unstable.
Professor Drew Shindell, chair of the CCAC and one of the report authors, told Sky News: "It's vital to tackle methane because it's the strongest lever we have to reduce the rate of warming in the near term.
"And that warming rate is what's leading to stronger hurricanes, more intense heatwaves, flooding, droughts all those consequences.
"Three tenths of a degree accounts for 70 billion lost hours of labour.
"That's people working outside in places that can't be air conditioned like agriculture and construction, so they are real costs to the economy, human wellbeing and more people dying from heat exposure.
"All these 10ths of a degree sound minor, but they're not at all."
The report says the target could be achieved with known solutions, many of which would pay for themselves within a few years.
They include reducing methane leaks from gas pipelines, better management of coal mines, eliminating organic waste from landfill and reducing meat consumption.
Reducing emissions would have a swift impact on global warming because the gas only survives in the atmosphere for around 10 years, whereas carbon dioxide stays there for several centuries.
Method found to reduce methane from cows

Professor Grant Allen, professor of atmospheric physics at the University of Manchester, said: "This does not mean that cutting methane emissions alone can solve the warming problem.
"We must also continue to reduce carbon dioxide emissions to meet Paris Agreement targets and avoid dangerous warming.
"But it does mean that we can help to quickly slow the rate of global temperature increase and avoid some significant degree of warming in the near future."
As well as warming the climate, methane results in increased ozone air pollution.
Meeting the 45% target for reduced emissions would prevent 255,000 premature deaths and 775,000 asthma-related hospital visits every year, the report concludes.
Professor Dave Reay, executive director of the Edinburgh Climate Change Institute, University of Edinburgh, said: "Seldom in the world of climate change action is there a solution so stuffed with win-wins.
"This blunt report makes clear that slashing emissions of methane – a powerful but short-lived greenhouse gas – will deliver large and rapid benefits for the climate, air quality, human health, agriculture, and the economy too.
"Meeting the Paris Climate Goals will need every climate action trick in the book. Cutting methane emissions should be on page 1."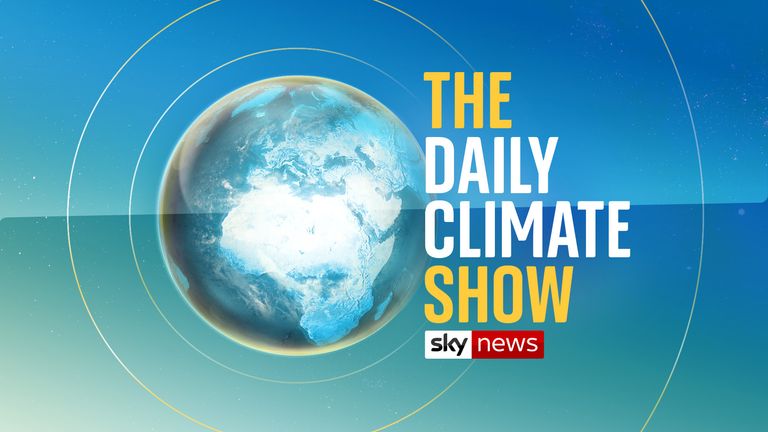 Sky News has launched the first daily prime time news show dedicated to climate change.
The Daily Climate Show is broadcast at 6.30pm and 9.30pm Monday to Friday on Sky News, the Sky News website and app, on YouTube and Twitter.
Hosted by Anna Jones, it will follow Sky News correspondents as they investigate how global warming is changing our landscape and how we all live our lives.
The show will also highlight solutions to the crisis and show how small changes can make a big difference.
What are your holiday options? COVID-19 infection and vaccination rates for tourism hotspots revealed | UK News

The UK is set to relax restrictions for visiting a handful of countries under a new traffic light system.
Those returning to the UK from countries on the green list will not need to self-isolate for 10 days, while visitors to countries on the amber list will have to quarantine and get tested on their return.
Many European nations are doing all they can to can to attract tourists this summer. But for many Britons, a destination with a low infection rate might be the clincher.
The UK's rapid vaccine rollout and the long winter lockdown means infection rates are lower here than many holiday destinations.
Portugal, which imposed a lockdown in January to curb what was then the world's worst COVID-19 surge, also has a relatively low infection rate.
The country started lifting restrictions last month and has since reopened some schools, restaurant and cafe terraces, museums and hair salons.
But Greece, where a fifth of jobs and GDP depend on tourism, is battling one of Europe's highest coronavirus–linked death rates.
Greece's prime minister has blamed vaccine hesitancy among the elderly for the persistently high rates of death and hospitalisations.
Meanwhile, the country has said it will invite vaccinated Britons into the country without the need for tests, while Spain, Portugal and France have said they will offer similar in the coming weeks.
European nations are also speeding up their vaccinations ahead the summer travel season.
European Commission President Ursula von der Leyen has said the bloc has now administered 150 million doses.
She added: "A quarter of all Europeans have had their first dose.
"We'll have enough doses for vaccinating 70% of EU adults in July."
Spain, the most popular tourist destination for Britons prior to the pandemic, has varying infection rates throughout the country.
Some regions in northern Spain have restrictions on travel while others have reopened bars until 1am.
Mallorca, Menorca, Ibiza, and Formentera, which make up the Balearic Islands, have a relatively low level of infections compared to mainland Spain.
The Foreign Office has also said it was no longer advising against travel to the Canary Islands in Spain, which include Tenerife, Fuerteventura, Grand Canaria and Lanzarote.
The US, also among the most visited by British tourists prior to the pandemic, is seeing varying levels of infection rates across the country.
It was also among the first to relax rules around COVID-19 as it sped up its vaccination programme.
In some areas of the US, more people in their 20s are now being treated in hospital for COVID-19 than people in their 70s.
Ministers plan to review the traffic light system for international travel at the end of June, before the holiday season begins, which could see vaccinated people able to avoid quarantining.
The hope is that more of Europe will be on the "green list" by this point as many countries impose tougher restrictions to control a third wave of infection.