Pope loses skullcap in breezy Easter conditions in St Peter's Square
Pope Francis suffered a wardrobe malfunction as he was driven around St Peter's Square, greeting thousands of well-wishers on Easter Sunday.
As he weaved through worshippers gathered for mass at the Vatican, his "zucchetto" (skullcap) lifted off his head amid breezy conditions.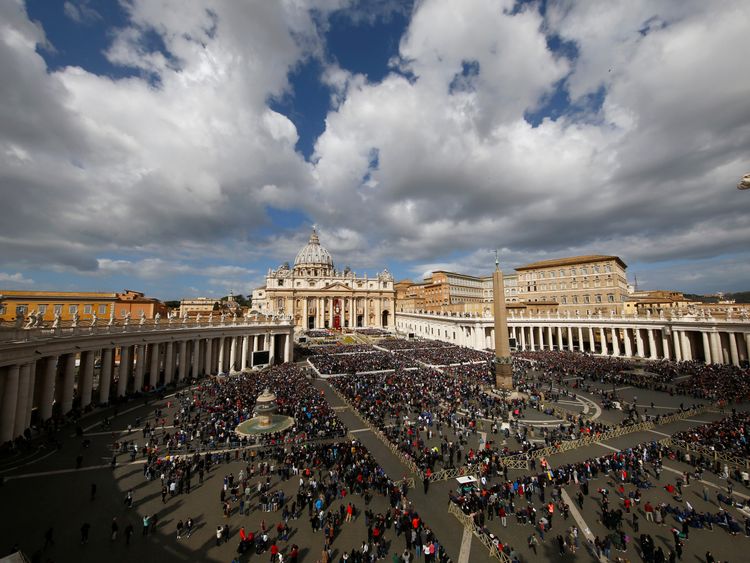 He briefly looked in the direction it had flown before carrying on waving to the pilgrims.
Francis began the Easter Sunday celebrations by tweeting: "Our faith is born on Easter morning: Jesus is alive!
"This experience is at the heart of the Christian message."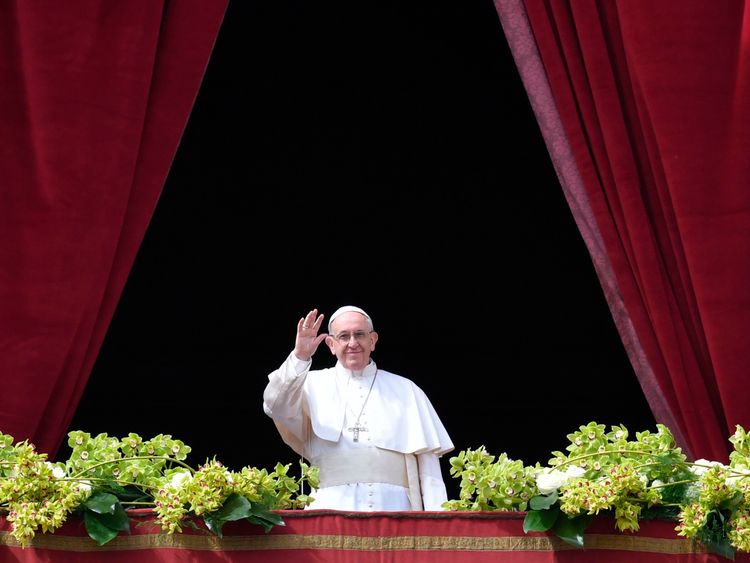 During his main address, he called for "reconciliation" in the Middle East, and an end to the "carnage" in Syria.
Francis said there should be better access to humanitarian aid, and "fitting conditions for the return of the displaced".
And he hoped that forthcoming talks between North and South Korea would "advance harmony and peace" in the region.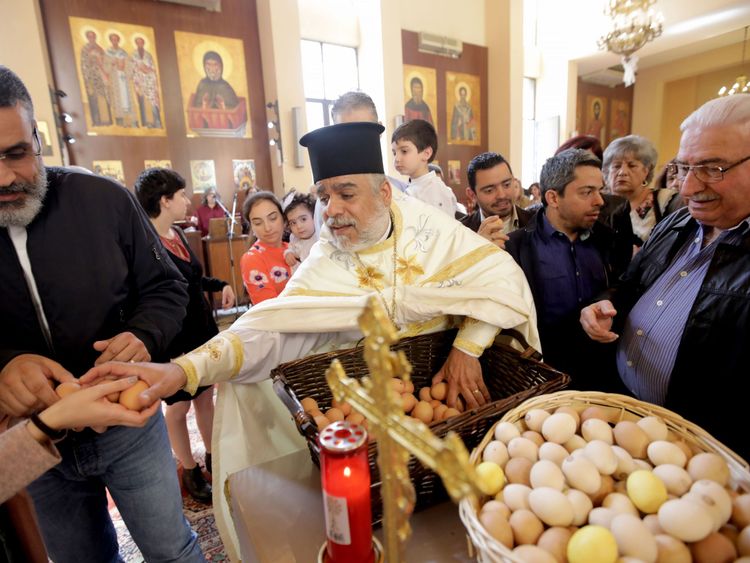 People who had come from around the world to be present on Easter Sunday were faced with heavy security, including the use of metal detector wands and bag checks.
Some 50,000 tulips, daffodils, roses and orchids were donated for the occasion by The Netherlands, under a long-standing tradition.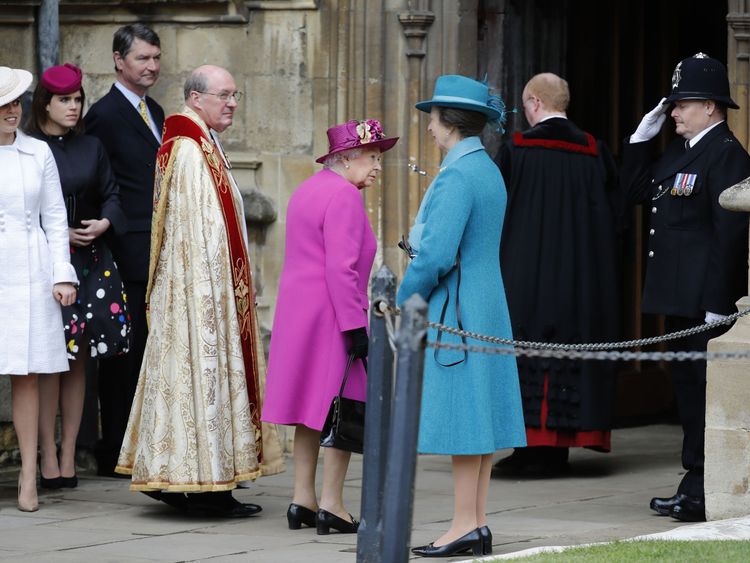 As Easter celebrations took place around the world, the Queen and other members of the Royal Family attended a service at St George's Chapel, Windsor Castle, where Prince Harry will marry Meghan Markle in May.
Prince Philip, who was absent, had not been due to attend. It is understood the 96-year-old has been experiencing some trouble with his hip.
The Archbishop of Canterbury, Justin Welby, gave a Sung Eucharist service at Canterbury Cathedral.
Victims of Yemen's proxy war are 'screaming in pain, but no one is hearing' | World News
"There are no heroes in Yemen, just criminals and victims."
Those are the words of a human rights investigator, a petite woman who has devoted her life to fighting for the victims and tracking down the criminals.
There are far too many of both in this country.
The victims are the millions of ordinary Yemenis caught in the midst of a protracted proxy war which has brought the country to its knees and turned it into the world's biggest humanitarian disaster.
The lack of easy access to the country for journalists and international monitors means many Yemenis feel, as one doctor put it, that "we are screaming in pain, but no one is hearing".
But Radhya Al Mutawakel and her team who make up the Mwatana For Human Rights group are resolute in their determination to try to get justice for the tens of thousands of suffering civilians, for which there is no escape.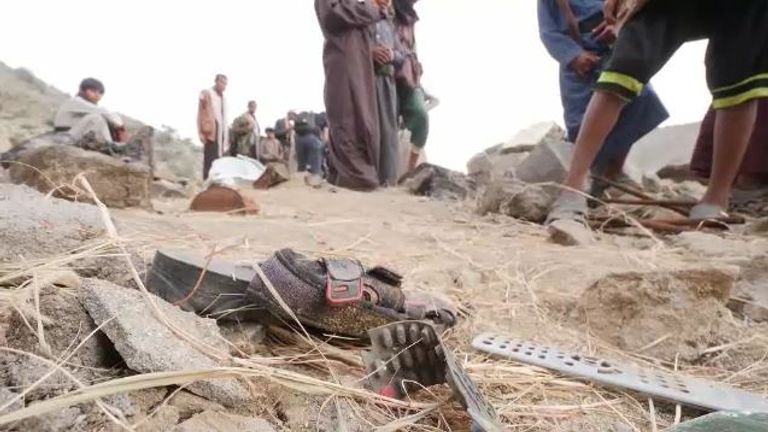 They are building up a "dirty dossier", logging the mountain of human rights abuses and war crimes being committed by all those involved in this conflict. Their work is already being used to file prosecutions – and they're not fussy about where or who pursues these legal cases.
The International Criminal Court is taking up some of them and cases are being considered in a range of countries, including Britain and America – two of the countries supporting the Saudi-led coalition which is backing the recognised Yemeni government against the Houthi rebels.
We're shown the library of files documenting the evidence that the team are collating in their office in the Yemeni capital of Sana'a.
Radhya and her husband, Abdulrasheed Al-Faqih run Mwatana, together with an equally dedicated team of truth-seekers.
Both of them have been arrested, detained and threatened by both sides in the conflict because of their work.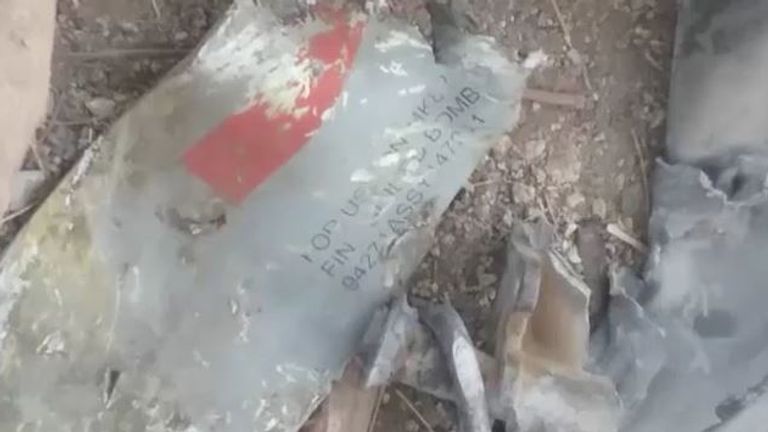 Abdulrasheed has been beaten too and both have made tremendous personal sacrifices because of their commitment to the job.
"We decided not to have a family," says Radhya. "How could we bring a baby into this…? I couldn't do it."
The files bulging with evidence of war crimes against the parties in the war made the decision an easy one in the end. They have collected signed witness statements, photographs, bomb fragments and satellite imagery for more than 500 different coalition attacks on civilian targets such as hospitals, schools, health facilities and homes.
"There is a pattern here," says Radhya, "They cannot all be accidents. The challenge is collecting enough evidence for an international court of law. We corroborate everything two, three, four times… as much as we can. And we send our field researchers out to the site of the attack as soon as we hear about it.
"The huge gap when it comes to Yemen is when it comes to accountability,' Radhya adds. "So the parties to the conflict: they trust in impunity… they act as if they will never be held accountable." She and her team aim to change all that.
Their work is likely to send a chill down the spine of all those involved in the war chain including those nations who are supporting the perpetuation of this conflict. The Mwatana team is trying to ensure even the ground floor worker is convinced they have a responsibility.
Their intention is to ensure politicians, civil servants and other decision-makers, but also arms manufacturers and suppliers from all the Coalition countries, know that they could find themselves in court answering legal questions about their individual role in the catastrophe which is Yemen.
Right now they believe they have five different attacks on civilian targets in Yemen which directly link back to British involvement or military arsenal.
Radhya's colleague, Ali Jameel, who is a researcher, explains: "People who are in authority in the UK and could have stopped this from happening and didn't, should take their responsibility and they should stand in front of a court, right next to the victims who were injured or killed."
The Sky News team (of Middle East Editor Zein Jafar, producer Ahmed Baider and cameraman Kevin Sheppard) travelled hundreds of kilometres and several hours, along dry riverbeds and up rocky mountain paths to reach the remote village community of Washah in Hajjah Governorate to investigate for ourselves the site of one massacre.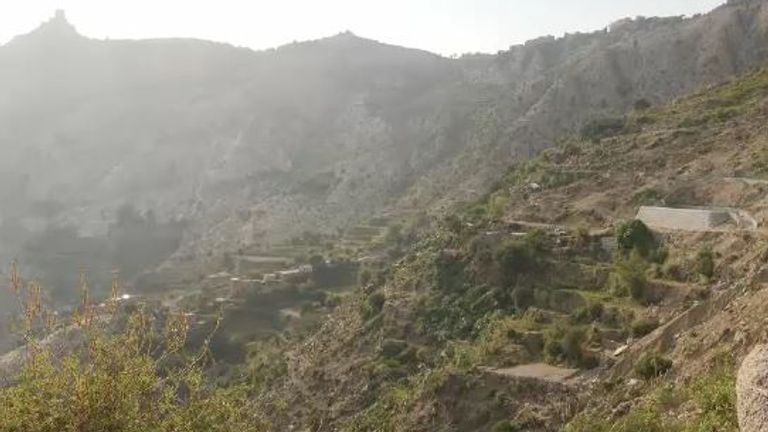 We saw the rubble of a family home which neighbours told us had been hit by a missile dropped by a jet. We spoke to dozens of eye witnesses and saw children's toys and clothing strewn amongst the debris.
This is a poor community with no running water or electricity. Inside the home, the women and children of the Mujali family were gathering for lunch. The bomb killed nine people instantly – six of them children.
We found shrapnel from the bomb still littering the site. Neighbours and relatives who immediately gathered on our arrival showed us pictures they took on their telephones immediately after the explosion.
Many of them were the blackened and grubby faces of the dead children, many without limbs, some barely recognisable as humans. They also had photos of bomb fragments – with identifying marks.
Several weapons experts we consulted told us the fragments seem to be part of a GBU-12, 500lb fin-guided bomb, manufactured in America.
A coalition spokesman said they were investigating whether this was an "accidental loss of civilian life" whilst targeting Houthi leaders and fighters. But this is a poor farming community, and there are no adult men amongst the dead or injured.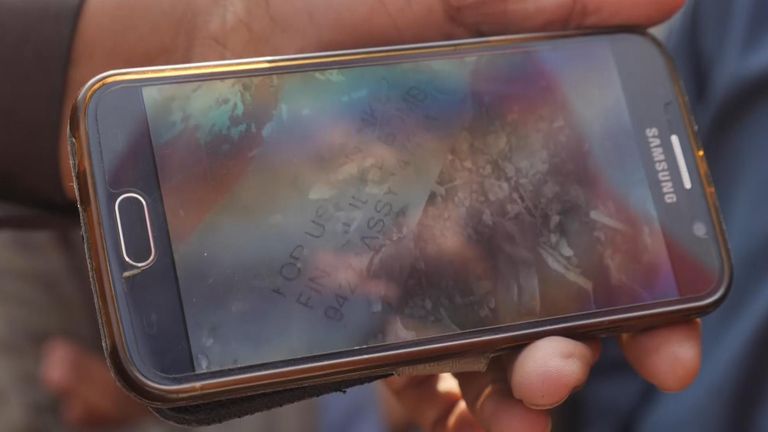 But as Radhya explained, there is no party to this conflict with clean hands. The Houthi rebels too are accused by the United Nations of a string of human rights abuses: of indiscriminate shelling, of recruiting children into the conflict and of running secret prisons where torture is rampant.
When we questioned one of the key Houthi rebel leaders, the former president of the Revolutionary Council, Mohammed Ali Al-Houthi, he brushed aside the accusations. "These are made up by our enemies," he told us.
He listed a litany of war crimes committed by the coalition – including Britain – and took us to a bombed bridge. "These countries are committing hundreds of attacks against us Yemenis. Any deaths by us are accidents and very small in number by comparison."
That, insists Mwatana, is irrelevant. It's a bit like suggesting you're only a little bit pregnant, Radhya told us. "A war crime is a war crime. And everyone who commits them needs to be held to account."
We travelled hours and hours through multiple armed checkpoints to see both sides of this conflict. In the government-controlled areas of Taiz, one of the worst-affected cities by this war, they have become shockingly inured to this daily tragedy.
The city, which is the third largest in Yemen, is still split with different areas controlled by the opposing sides. The Houthis are regularly accused of shelling the civilians in the government-controlled areas – including the city's main prison which is situated near the dividing lines.
The rebels are also accused by the United Nations of hiding mines in and around the homes they are forced to retreat from.
We managed to secure permission to go inside Taiz prison and spoke to one young survivor whose mother was killed in the shelling of the jail. She is coping with the trauma of losing her mother alongside the agony of being in the prison in the first place.
"My whole family were thrown in here. Until now we have not been told why and have never been to court," she told us.
She's still grief-stricken by the brutal death of her mother. "It was carnage," she told us weeping. "Everyone who died was in pieces."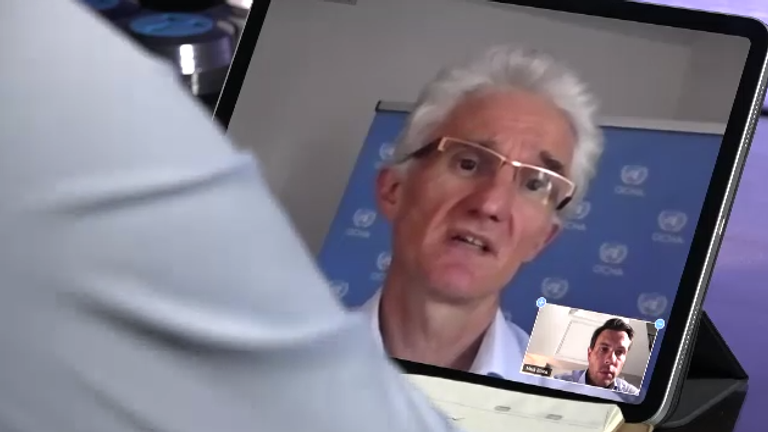 A new centre for the war wounded has opened in the city to cope with the hundreds of amputees who are losing limbs through mines. In just one family alone, three of the women have lost limbs after stepping on buried mines left behind in their homes by the retreating Houthi fighters.
"Many mines are there still," the Centre's Dr Mansour Al Wazi said. The Centre has already fitted 800 adults and children with prosthetic limbs and the expectation is that there will be many more in the coming weeks, months, maybe years.
"We cannot say the exact number," he said. "But there are a lot of mines out there and we're expecting a lot more patients."
Hundreds, I ask? There's a pause. Thousands? I say. There's another short pause from the doctor.
"Maybe thousands," he says.
In a statement, a UK government spokesperson told Sky News: "The UK is deeply concerned by the ongoing conflict and humanitarian crisis in Yemen.
"We fully support the peace process led by the UN Special Envoy, Martin Griffiths, and urge the parties to engage constructively with this process.
"The government takes its export responsibilities seriously and assesses all export licences in accordance with strict licensing criteria. We will not issue any export licences where to do so would be inconsistent with these criteria."
Fred Perry stops selling polo shirt after it becomes associated with far-right group | World News
Fred Perry has pulled one of its famous polo shirts after it became associated with a neo-fascist organisation. 
The British clothes maker said it was "incredibly frustrating" that the Proud Boys had adopted its black and yellow shirt – and announced it would no longer be selling the item in North America and Canada.
"To be absolutely clear, if you see any Proud Boys materials or products featuring our Laurel Wreath or any Black/Yellow/Yellow related items, they have absolutely nothing to do with us, and we are working with our lawyers to pursue any unlawful use of our brand," it said in a statement on its website.
Fred Perry does not support and is in no way affiliated with the Proud Boys. Read our statement here.

— Fred Perry (@fredperry) September 25, 2020
The brand was founded by Wimbledon champion Fred Perry in 1952 and has been adopted by various British subcultures since.
It has long been associated with the Skinheads, who originally denounced fascism – although the group divided in the 1970s as a small number of its members swung to the far right.
The clothes brand has spoken out against far-right views on numerous occasions after its wreath-emblazoned polo shirts were used by controversial groups.
"The Fred Perry shirt is a piece of British subcultural uniform, adopted by various groups of people who recognise their own values in what it stands for," the brand said.
"We are proud of its lineage and what the Laurel Wreath has represented for over 65 years: inclusivity, diversity and independence…
"Despite its lineage, we have seen that the Black/Yellow/Yellow twin-tipped shirt is taking on a new and very different meaning in North America as a result of its association with the Proud Boys. That association is something we must do our best to end."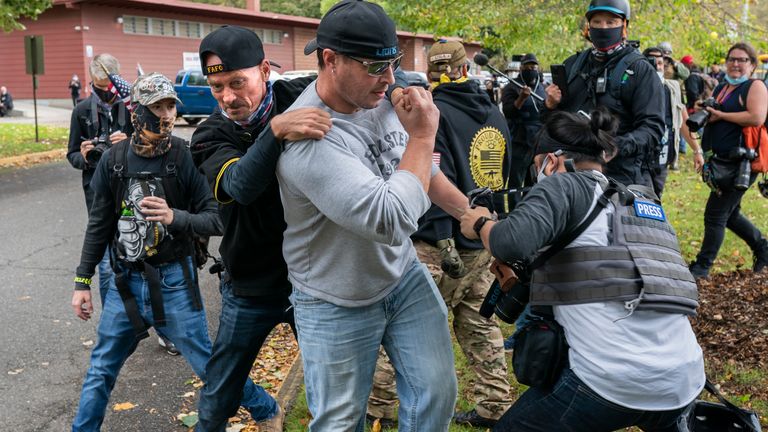 The brand revealed it had discontinued the shirt in North America and Canada since September last year, and would not be selling it there again "until we're satisfied that its association with the Proud Boys has ended".
The Proud Boys is a far-right group that admits only men and promotes political violence.
When asked in 2017 about the association, Fred Perry chairman John Flynn said the group was "counter to our beliefs and the people we work with".
"Fred was the son of a working-class socialist MP who became a world tennis champion at a time when tennis was an elitist sport. He started a business with a Jewish businessman from Eastern Europe," he said.
"It's a shame we even have to answer questions like this. No, we don't support the ideals or the group that you speak of."
Ex-Trump campaign manager in hospital after threatening to hurt himself | US News
Donald Trump's former campaign manager Brad Parscale has been taken to hospital after threatening to hurt himself, police in Florida have said. 
His wife had called police to say he had multiple firearms and was threatening to harm himself at their home in Fort Lauderdale on Sunday.
However, police said he was alone in the house at the time and officers had managed to negotiate with him to leave the property.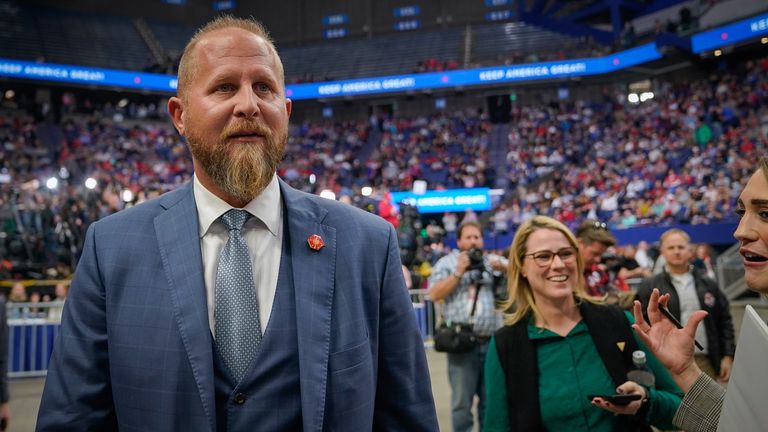 Mr Parscale was taken to hospital under the state's Baker Act, which allows anyone believed to be a threat to themselves or others to be detained for 72 hours for psychiatric evaluation.
Trump campaign communications director Tim Murtaugh said: "Brad Parscale is a member of our family and we love him.
"We are ready to support him and his family in any way possible."
Mr Parscale was demoted from the role of campaign manager in July, although had remained part of the campaign and helped run its digital operation.
He attracted media attention earlier this year due to his extravagant lifestyle on the Florida coast that kept him far from the Virginia campaign headquarters.
Shortly before he was demoted, Mr Parscale had claimed hundreds of thousands of people were signed up to a Trump comeback rally in Tulsa – only for about 6,000 to show up.
Mr Trump was said to be "furious" at the "underwhelming" crowd, according to NBC News, and Mr Parscale was replaced by Bill Stepien as campaign manager.
Anyone feeling emotionally distressed or suicidal can call Samaritans for help on 116 123 or email jo@samaritans.org in the UK. In the US, call the Samaritans branch in your area or 1 (800) 273-TALK.