Kim Jong Un and his wife watch South Korean K-pop stars perform in the North
Get breaking news alerts and special reports. The news and stories that matter, delivered weekday mornings.
SEOUL — North Korean leader Kim Jong Un and his wife Ri Sol Ju were among the hundreds in Pyongyang on Sunday watching South Korean K-pop singers perform in the North for the first time in more than a decade as tensions between the two countries thaw.
It was the first time a North Korean leader had attended a South Korean performance in the capital. Kim Jong Un was seen clapping in tune to some of the songs and later took photographs with the performers after the show.
Sunday's two-hour concert in Pyongyang, along with a separate taekwondo performance earlier in the day, comes as South Korea's engagement with North Korea has continued to grow since Kim Jong Un expressed his willingness for more contact between the two countries.
Athletes from North and South Korea marched under a unified peninsula flag at the opening ceremony at the Pyeongchang Winter Olympics in February and the significant thaw in the inter-Korean relations has led them to set a date for their first summit in more than a decade on April 27.
The two Koreas are technically still at war after the 1950-1953 conflict ended with a ceasefire rather than a peace agreement.
The South Korean delegation included artists, concert staff, taekwondo demonstrators, reporters and government officials. They traveled to Pyongyang on Saturday in a reciprocal cultural visit after North Korea sent performers to the South in February, the South's Culture Ministry said.
"[Kim Jong Un] showed much interest during the show and asked questions about the songs and lyrics," Culture Minister Do Jong-whan told reporters after the show.
Sunday's concert was held under the title "Spring is Coming" at the East Pyongyang Grand Theatre, performed by an elite lineup of 11 South Korean artists including veteran vocalists Cho Yong-pil, Lee Sun-hee, rock star Yoon Do-hyun, singer Baek Ji-young as well as K-pop girl band Red Velvet.
In addition to the concert, a team of South Korean taekwondo demonstrators performed on Sunday at the Pyongyang Taekwondo Hall, drawing more than 2,300 North Koreans, including Choe Hwi, chairman of the National Sports Guidance Committee.
Seohyun, a female vocalist and actress currently with South Korean girl group Girls' Generation, sang a North Korean pop song called "Blue Willow Tree". She had performed with the North's Samjiyon Orchestra in Seoul in February.
Cho Yong-pil, a 68-year-old singer, sang a string of hits including "The Cafe in the Winter", "Short Hair" and "Let's Go on a Trip". Cho had held a solo concert in Pyongyang in 2005 – the last concert by a South Korean artist in the North before Sunday's performance.
The same South Korean singers will hold a joint concert with North Korean performers on Tuesday at the Ryukyung Chung Ju Yung Gymnasium, a joint project between the North and South named after Hyundai Group billionaire founder Chung Ju-yung who had long advocated inter-Korean cultural and economic exchange.
Joe Montana: Ex-NFL star and wife grab grandchild from arms of intruder | US News
Former NFL quarterback Joe Montana and his wife confronted a home intruder who attempted to kidnap their nine-month-old grandchild over the weekend, law enforcement officials say.
Montana told officers his grandchild was sleeping in a playpen on Saturday when an unknown woman entered their home in Malibu and grabbed the child.
According to the Los Angeles County Sheriff's Department, the former San Francisco 49ers star and his wife, Jennifer, confronted the woman, tried to "de-escalate the situation" and asked her to give back their grandchild.
After a tussle, officials said Jennifer Montana removed the child from the intruder who was later identified as Sodsai Dalzell.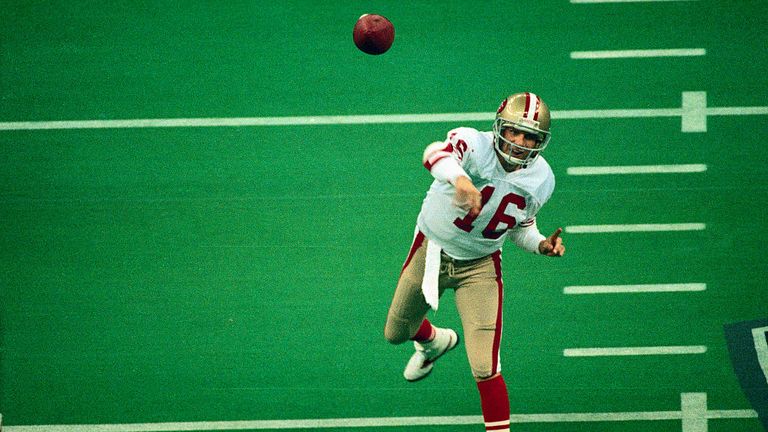 "Thank you to everyone who has reached out," Montana tweeted.
"Scary situation, but thankful that everybody is doing well. We appreciate respect for our privacy at this time."
The sheriff's office said Dalzell fled the home but was later arrested. She faces kidnapping and burglary charges.
Montana, 64, retired after the 1994 season, playing 13 years of his 15-year career with the San Francisco 49ers, who won four Super Bowls with him as starting quarterback.
Belarus protests: Great-grandmother forcibly arrested as women take to streets to demand Lukashenko's removal | World News
Hundreds of women have taken to the streets of Belarus' capital to demand authoritarian leader Alexander Lukashenko step down – with a great-grandmother who has become an icon of the protest movement among scores of people arrested.
Police blocked off the centre of Minsk and detained more than 80 demonstrators on Saturday, according to the Viasna human rights organisation
It was the latest in a series of major rallies that have rocked the country since early August, by far the largest and most persistent protest movement it has seen since it separated from the Soviet Union in 1991.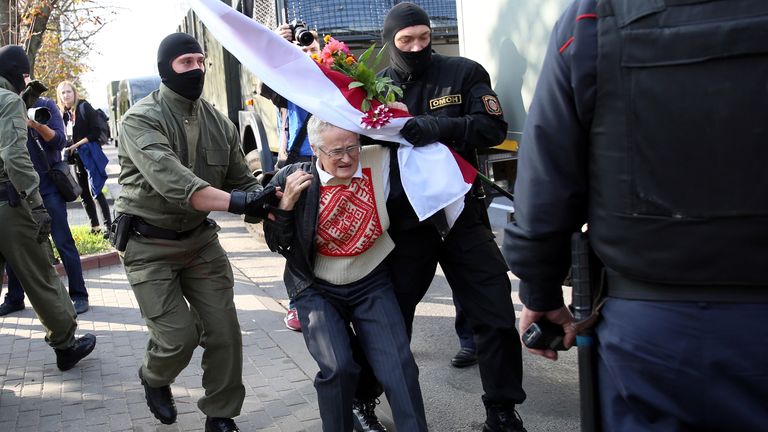 And among those arrested was Nina Bahinskaya, a 73-year-old great-grandmother who has become a hero of the opposition to the Belarussian president.
While Mr Lukashenko's officials say he won 80% of the vote in the 9 August election that triggered the protests, opponents and some poll workers say the results were manipulated.
He further angered opponents this week by taking the oath of office for a new term in an unexpected ceremony, and protesters on Saturday carried placards denouncing him as "the secret president".
Sviatlana Tsikhanouskaya, Mr Lukashenko's main election opponent, who went into exile in Lithuania after the election, praised the female demonstrators and derided the police in a statement.
She said: "What about the men themselves, who, hiding their faces, use force against women? Is it possible to live peacefully with such men?"
A large protest is also expected on Sunday, typically the day that sees the biggest demonstrations – attracting crowds estimated at up to 200,000.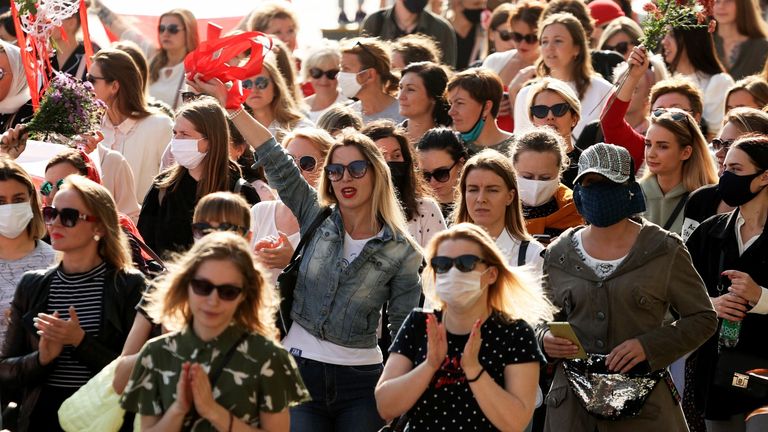 The election and Mr Lukashenko's defiance of the protesters have faced widespread condemnation from the West, and Ms Tsikhanouskaya this month urged the United Nations to send monitors to Belarus.
US President Donald Trump, however, has remained largely silent on the matter – prompting an attack from Democratic presidential contender Joe Biden.
"President Trump refuses to speak out against Lukashenko's actions or to offer his personal support for the pro-democracy movement," Biden said.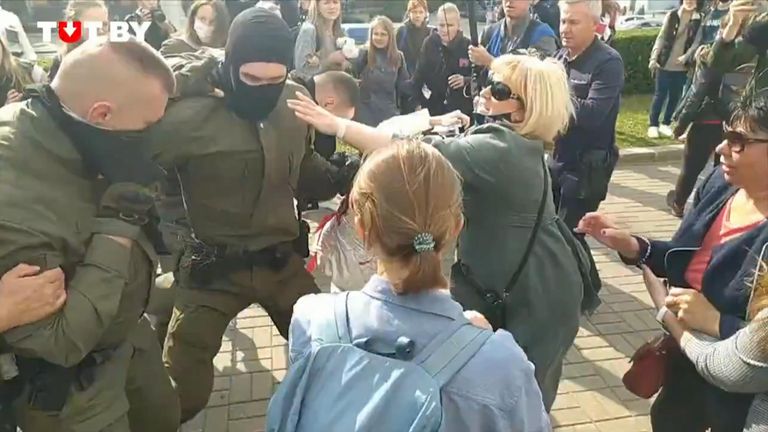 Mr Biden referred to the Belarussian politician's inauguration as a "sham ceremony".
The inauguration came on the same day that Mr Trump's refused to commit to a peaceful transfer of power should he lose November's US election.
"A president hiding in fear from his own citizens, refusing to accept the will of the people is a sign of a weak, illegitimate autocrat, not a strong leader," said Mr Biden.
Mr Lukashenko, a former collective farm manager, has been in office since 1994.
During the time since then, he has repressed opposition and independent news media and kept most of the country's economy under Soviet-style state control.
Mexican police and soldiers wanted over unsolved disappearance of 43 students | World News
Mexican authorities have issued dozens of arrest warrants for police and soldiers they believe were involved in the still-unsolved disappearance of 43 college students six years ago.
On 26 September 2014, students training to be teachers at a college in the southern state of Guerrero were allegedly kidnapped and turned over to a local gang.
Four months later, an investigation found the students had been burned in a huge fire at a garbage dump, with some remains thrown into a river.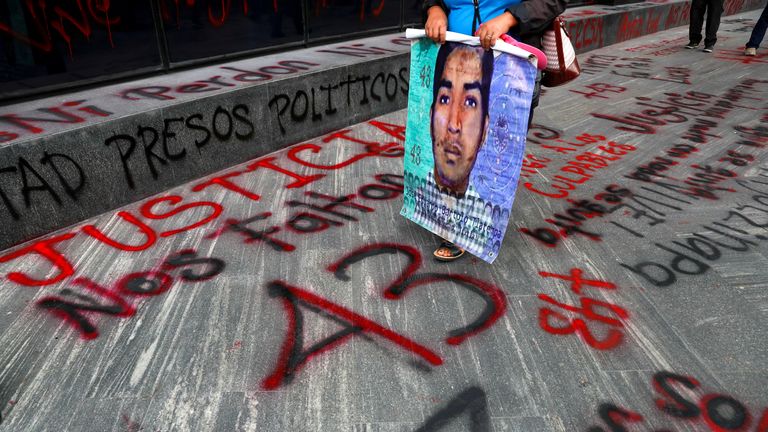 But many of the families did not believed the story and experts found holes in it, noting it failed to come up with any definitive account of what happened.
On Saturday, lead investigator Omar Gomez told reporters that warrants had been issued for the "material and intellectual authors" of the crime, including military members as well as federal and municipal police.
It marks the first time Mexican authorities have announced arrest warrants for military personnel in connection with the disappearance of the students.
The remains of only two of them have been found.
Many of the suspects initially arrested in the case were later released, and many claimed they had been tortured by police or the military.
In March, a judge issued an arrest warrant for Tomas Zeron, the former head of investigations for Mexico's attorney general's office, for alleged violations in the investigation of the case.
Zeron – who was at the centre of the earlier investigation – and five other former officials face charges including torture, forced disappearance and judicial misconduct.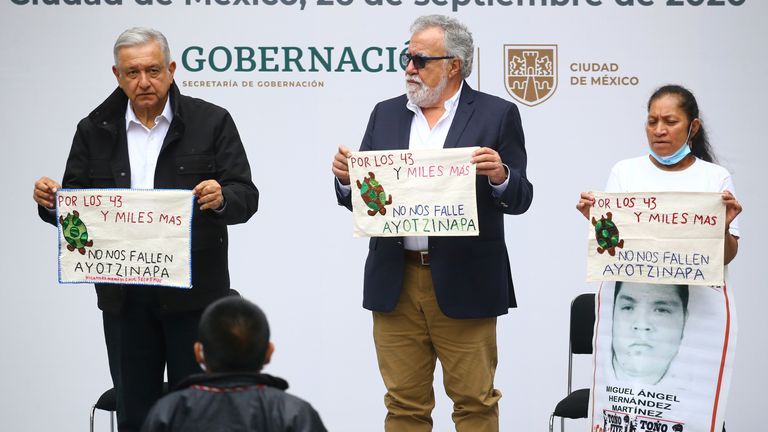 The unsolved disappearances have sparked outrage in the country over the years, with massive protests in 2014.
There has also been international condemnation of what is seen one of the darkest examples of the government's longstanding difficulty preventing violence or convicting criminals.
Family members of the victims have long accused Mexican authorities, including the military, of complicity.
The mother of one of the students, Maria Martinez Zeferino, said at Saturday's press conference in Mexico City that "the military participated".
"There were videos of it," she claimed.