Crash time frame narrowed as Chinese space station Tiangong-1 falls to Earth
A Chinese space station hurtling towards Earth is expected to re-enter the atmosphere between 11pm tonight and 5am tomorrow, a Harvard-Smithsonian astrophysicist has said.
Only about 10% of the 8.5-tonne Tiangong-1 is likely to survive re-entry, meaning its descent poses only a small risk to people on the ground.
Experts have been trying to narrow down the time frame amid speculation over when the unmanned craft will crash.
The Aerospace Corp has predicted Tiangong-1 will re-enter the atmosphere seven hours either side of 2am on Easter Monday.
The European Space Agency estimated earlier that the craft will arrive after 12.25am on Monday, but the agency has stressed that the time is "highly variable".
The ESA's latest update on its blog states that they now predict the space station could land sometime between "the night of April 1 to the early morning of April 2".
Leroy Chiao, a former NASA astronaut, told Sky News: "It's really hard to predict these things because many things influence the density of the atmosphere, and you know, how much grab it's going to have on the space craft as it comes down."
Jonathan McDowell, an astronomer at the Harvard-Smithsonian Centre for Astrophysics, tweeted this afternoon: "OK Tiangong-1 fans, now we're cooking.
"The @SpaceTrackOrg TIP window is down to + – 3 hours, during which time Tiangong-1 makes 4 orbits of the Earth.
"We can start to narrow things down at last."
Tiangong-1 reentry window begins at 2200 UTC Sunday, extends till 0400 UTC Monday. Current orbit 151 x 159 km x 42.7 deg

— Jonathan McDowell (@planet4589) April 1, 2018
Mr McDowell tweeted that Tiangong-1 is expected to land between 11pm to 5am UK time.
The space station is expected to land somewhere between 43 degrees north and 43 degrees south of the equator, a range covering most of the United States, China, Africa, southern Europe, Australia and South America.
But Mr McDowell's research has ruled out some of those locations.
He tweeted: "Sad news for my followers in North America, India, Europe and Australia: if the current prediction is correct, Tiangong will not be falling on you."
Sad news for my followers in North America, India, Europe and Australia: if the current prediction is correct, Tiangong will not be falling on you.

— Jonathan McDowell (@planet4589) April 1, 2018
Mr McDowell added in a separate post: "However, those of you in South America, Africa, the Middle East, Central Asia, China and New Guinea – or sailing the Pacific – should still pay attention."
Russia, Canada and northern Europe are all reported to be out of range.
Mr McDowell has also pointed out that if part of the space station lands in your garden "it's not yours, it's still China's".
Tiangong-1, which translates to "Heavenly Palace 1", was sent into orbit in 2011 for experiments as part of China's space programme.
The space station was set to have a controlled re-entry into the Earth's atmosphere, but the lab stopped working in March 2016.
Tiangong-1 had not been occupied for three years, so there is no way of knowing for certain where it will land.
Without being able to communicate with the space lab, controllers have no way of managing its descent.
China has predicted most of its debris will fall in the ocean as it breaks up on descent.
Evel Knievel's son sues Disney over Toy Story 4 character | Ents & Arts News
Evel Knievel's son is suing Disney over a daredevil character in the animated film Toy Story 4.
Kelly Knievel has held the publicity rights to his father's name since 1998, according to his US District Court filing in Las Vegas.
The federal trademark infringement lawsuit claims that Disney-owned Pixar did not ask permission to use his father's likeness when creating the character Duke Caboom.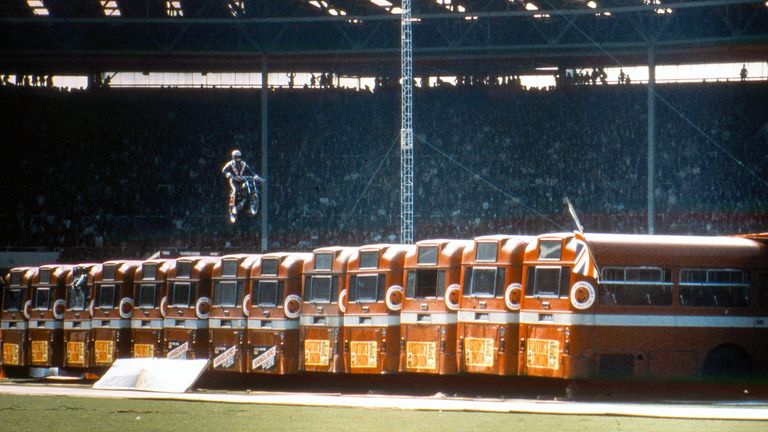 Knievel is seeking damages of more than $300,000 (£235,000) over allegations including false endorsement and unjust enrichment.
The 60-year-old said: "Evel Knievel did not thrill millions around the world, break his bones and spill his blood just so Disney could make a bunch of money."
Duke Caboom, voiced by Keanu Reeves in last year's film, was a 1970s toy who rides a motorbike and is "Canada's greatest stuntman", the lawsuit said.
Knievel was famous for stunts such as a motorbike jump over a row of buses at Wembley Stadium.
He was seriously injured many times during 75 motorbike jumps, but died from lung disease in 2007.
An Evel Knievel toy was released in 1973 with a white helmet and jumpsuit, with a motorbike that could be propelled with a wind-up device.
Disney and Pixar released a similar Duke Caboom toy along with Toy Story 4.
The toy also featured in McDonald's Happy Meals.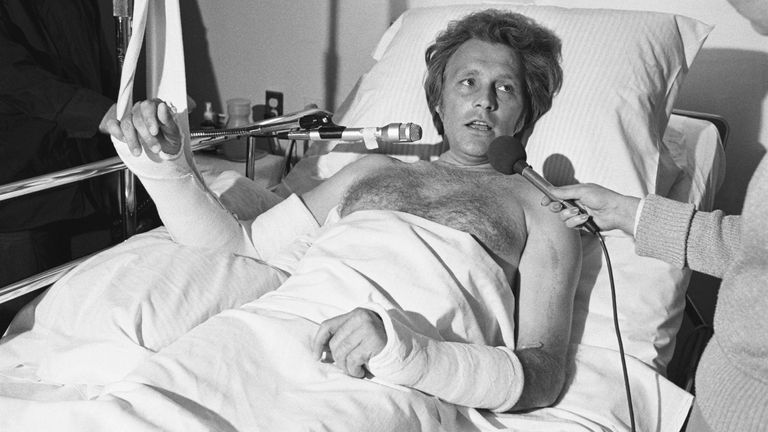 The lawsuit claims consumers and film reviewers "universally caught on to the connection", despite the film company and Reeves avoiding any comparison.
Jeffrey R Epstein, corporate spokesman for The Walt Disney Co, described Knievel's claims as meritless, saying the film company will defend itself vigorously.
North Korea troops shot dead South Korean official and burned his body, Seoul claims | UK News
A South Korean government official was shot and killed by troops in North Korea who set his body on fire over fears he might be carrying coronavirus, officials in Seoul have claimed.
The South's defence ministry said the 47-year-old government official had been killed and his corpse burned after disappearing from an inspection boat in waters off the western border island of Yeonpyeong on Monday.
South Korea's President Moon Jae-in called the killing a "shocking" and "unpardonable" act and demanded the North punish those responsible.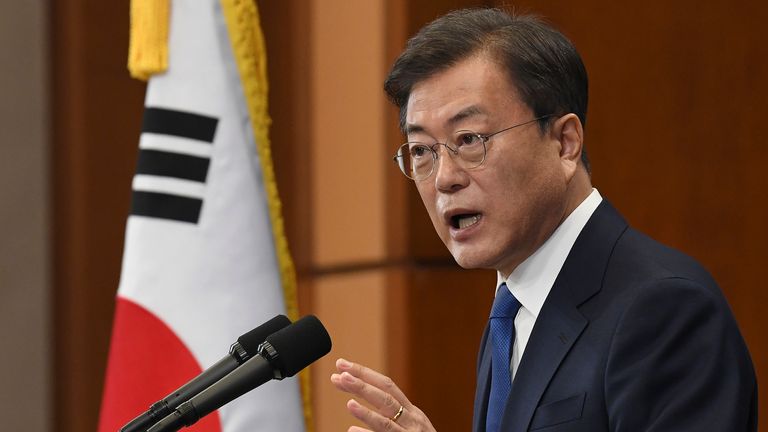 North Korea sent staff in gas masks aboard a boat near the man to find out why he was there on Tuesday afternoon, South Korea's Defence Ministry said.
Later in the day, a North Korean navy boat arrived and opened fire at him, they added.
Sailors from the boat, wearing gas masks and protective suits, then poured petrol on his body and set it on fire, the ministry said, citing intelligence gathered by surveillance equipment and other assets.
It is unclear what caused the official's death and whether he died after being shot.
Citing intelligence sources, the South's military said the unidentified man appeared to have been questioned at sea – north of the border and around 24 miles from where he went missing – before he was executed on an "order from a superior authority".
If confirmed by the North's officials, it would be the first time that North Korea has killed a South Korean citizen in its territory since 2008.
The South Korean government did not know how he came to have crossed the border, but a defence official said the man may have been trying to defect to the North.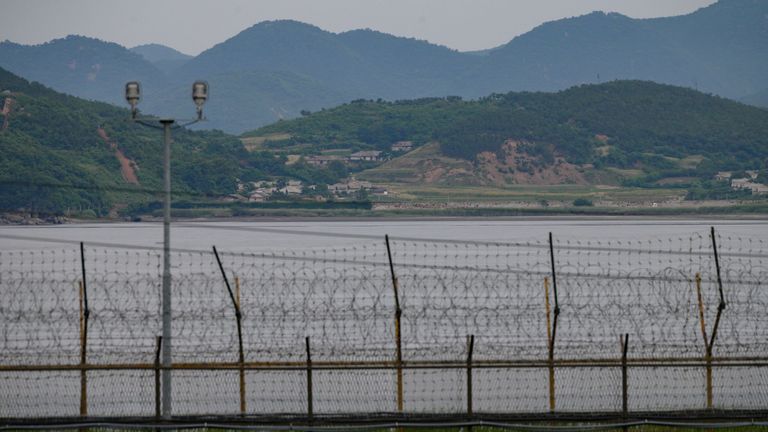 The official said the man was wearing a life jacket on a small floating object and that the military had obtained information that he wanted to go to North Korea.
"Our military strongly condemns such an atrocity, and strongly demands North Korea provide explanations and punish those who are responsible," General Ahn Young-ho, who is in charge of operations at the South's Joint Chiefs of Staff, said.
Officials believe that military in Pyongyang may have decided to kill the man in line with stringent anti-coronavirus rules that involve shooting anyone illegally crossing the border.
North-South relations are expected to sour further as a result of the killing.
In June, North Korea blew up an inter-Korean liaison office on its territory in protest against South Korean civilians sending anti-North leaflets across the border.
Trump booed and heckled by mourners while paying respects to Ruth Bader Ginsburg | US News
Donald Trump has been booed and heckled while paying his respects to Ruth Bader Ginsburg, whose death has triggered a political row.
The president and wife Melania, both wearing masks, stood a few metres behind the late Supreme Court Justice's coffin in Washington DC as her body lay in repose at the country's highest court.
On Friday, she will be moved to lie in state at the US Capitol – the first woman to receive such an honour, before being buried next week in a private service at Arlington National Cemetery.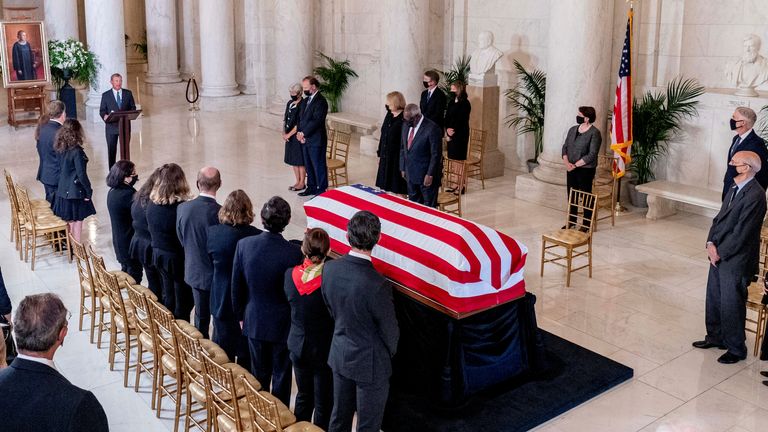 Mr Trump has sparked controversy by planning to replace her on the court before November's presidential election.
Moments after he arrived at the court, booing could be heard from some in the crowd who then briefly chanted: "Vote him out".
He is set to announce on Saturday his nominee to fill the seat of the liberal-leaning justice and women's rights champion.
The 87-year-old, also known as RBG, had sat on the Supreme Court since 1993 until her death on Friday due to complications from pancreatic cancer.
Her dying wish was reportedly that she would not be replaced until a new president was installed.
Democratic presidential nominee Joe Biden has accused Mr Trump of an "abuse of power" over his plans to replace her before the 3 November poll.
Mr Biden urged Senate Republicans to delay any vote on her replacement until after the election.
Democrats argue that voters should have their say first on election day and the winner of the White House battle should fill the post.
The procedure for appointing a Supreme Court justice allows the president to nominate a candidate and then requires the Senate to confirm them.
This would give Mr Trump the opportunity to expand the court's conservative majority to 6-3, from 5-4.
It had previously been made up of an even balance of four liberal justices and four conservatives, with Anthony Kennedy considered a more neutral member of the court who would frequently become the swing vote in 5-4 decisions.
Mr Trump replaced him with conservative judge Brett Kavanaugh when he retired in 2018.
Democrats have pointed to the Republican Senate's refusal in 2016 to act on then president Barack Obama's Supreme Court nominee.
Conservative Antonin Scalia had died 10 months before that year's election, and Senate majority leader Mitch McConnell then said the Senate should not act on a nominee during an election year.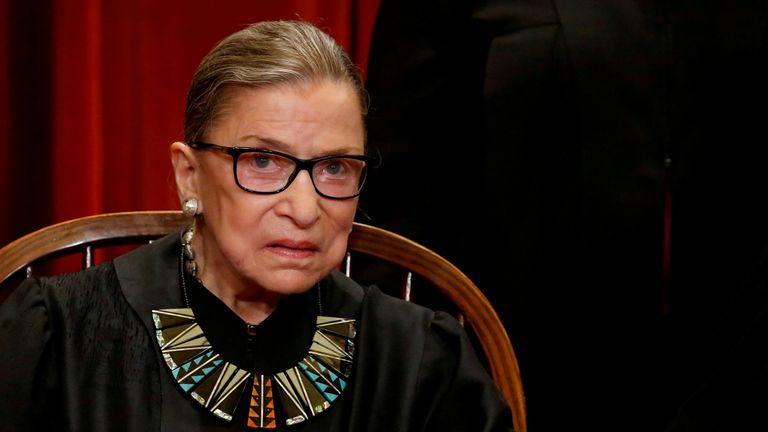 But McConnell has reversed his stance this time and is pushing ahead with plans to begin the confirmation process, vowing to vote this year on Mr Trump's nominee.
It would take four Republicans to break ranks to keep Mr Trump's nominee off the court.
The president has refused to commit to a peaceful transfer of power if he loses November's election and said he believes the Supreme Court could end up deciding the result.
:: Subscribe to Divided States on Apple podcasts, Google Podcasts, Spotify, and Spreaker
Announcing a nominee on Saturday would leave less than 40 days for the Senate to hold a confirmation vote before the election.
No nominee has won confirmation that quickly since Sandra Day O'Connor became the first woman to serve on the Supreme Court in 1981.