Their brother was shot by Sacramento police in 2016. Stephon Clark's death has reopened the wound.
Residents of working-class Meadowview, near where Clark died, bristle at the mention of businesses that won't come to their neighborhood — like big name, full-scale supermarkets — and the ones that seem all too abundant, like check-cashing stores, dialysis centers and, most recently, a proposed day counseling center for federal prison parolees. The latter would come courtesy of America's biggest for-profit prison company.
"Something's gotta change," said Rakeem Murdock, 18, as he waited near Thursday's overflowing memorial for Clark, whom he did not know. "I mean, look around you. This sparked a movement. This is a revolution."
The last explosive case involving Sacramento police centered on Joe Mann, a 50-year-old who family members said suffered from schizophrenia and who had worked for many years at a supermarket, before becoming a counselor for the state Department of Corrections and Rehabilitation. He was the youngest of five children brought by his parents from an economically distressed town in New York's Hudson River Valley.
In official Sacramento police reports from the day he died, Mann was described as an unstable, ranting man, who a 911 caller said was carrying a knife and a gun.
The first police unit on the scene in the crime-heavy Del Paso Heights neighborhood kept its distance and tried to talk Mann down. But a second cruiser arrived and those officers quickly escalated the encounter. One said "f— this guy" and soon tried to ram Mann with his patrol car, a dashboard camera revealed. Moments later, in an encounter that isn't clear on camera, the two officers are out of their car and shooting. They hit Mann a total of 14 times.
His knife was found at the scene but not a gun.
Police initially emphasized the threat posed by Mann — stressing that he had made karate-style movements as he moved away from police and failed to comply with commands to stop. A spokesman said Mann turned toward the officers and raised the knife before the officers opened fire.
After Mann's death, his family began a campaign that relied heavily on the media to bring attention to their case. When a witness's cellphone video showed the police cruiser trying to ram Joe Mann, it created pressure on the department, which had hesitated to release its own video, said Robert Mann.
Fifteen months later, Sacramento's first black police chief sent a two-paragraph letter to the family. After "thoroughly investigating," the department found "improper conduct by our employees," wrote Chief Daniel Hahn, adding that "appropriate action has been taken." But the chief said state law prohibited him from providing further details.
Investigations by the family, The Sacramento Bee and others revealed that one of the officers, John Tennis, had previously been prevented from carrying a gun following accusations of domestic violence and child abuse. He had to get clearance from a judge to allow him to carry his weapon on the job.
The Sacramento County district attorney's office determined in January 2017 that the officers had not committed a crime when they shot Mann.
Mann's father, William Mann Sr., reached an out-of-court settlement in February 2017 that paid $719,000, sources told The Sacramento Bee. The dead man's siblings filed their own lawsuit in federal court, which the city is trying to have thrown out. But Mann's four brothers and sisters said they are persisting, because the case is about more than money.
"They could have tazed him, or bean-bagged him, but none of that was brought into the picture," said Robert Mann, 54, who works for a company that assembles electric utility trucks. "All they did was murder my brother.
"We have a letter saying that they were wrong. But we feel like there is no accountability and accountability means some sort of [criminal] prosecution," he added. "We are upset. We are angry."
After Clark's death, the Manns have done a handful of interviews, but said they mostly stayed away from the marches and public protests. They are letting the media put out word to the Clarks that they are ready to talk, if and when the time seems right.
"It's a club nobody wants to be in," said Vern Murphy-Mann. "If anybody can understand, we can. We would meet with them to share whatever we can, to help them in their journey of healing."
Israel-Gaza violence: Where are the attacks and clashes happening? | UK News
Attacks on Israel and Gaza have escalated, with dozens killed and many more injured on both sides.
The conflict has seen rocket attacks launched by Hamas and airstrikes by Israel since 10 May after weeks of friction between Israelis and Palestinians in Jerusalem and the nearby neighbourhood of Sheikh Jarrah.
Rockets launched from Gaza have been directed further into Israel than previous conflicts over the past decade.
The fighting has now expanded from the air to towns across Israel where Arabs and Israelis have lived alongside each other for decades.
Sky News has mapped out some of the main places being targeted.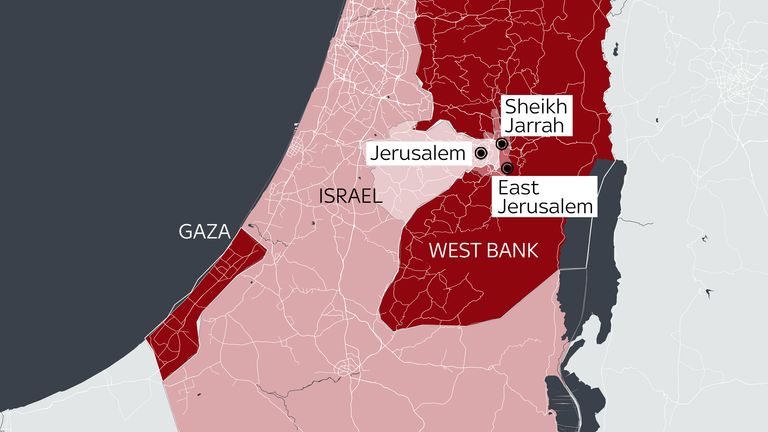 Hamas rockets from Gaza into Israel
Hamas has been firing rockets at Israel since 10 May, with the Tel Aviv area, including Lod and Ramla, and the cities of Ashdod, Ashkelon and Sderot all targeted.
In Sderot, which is just over the border from Gaza, a six-year-old boy was killed after a rocket hit an apartment building on Wednesday.
Air raid sirens and explosions have been echoing across cities as Israel's missile defence system, Iron Dome, has been at times overwhelmed by the number of rockets.
By Wednesday afternoon, Hamas claimed to have fired 1,050 rockets into Israel and millions of Israelis had spent the night in bomb shelters.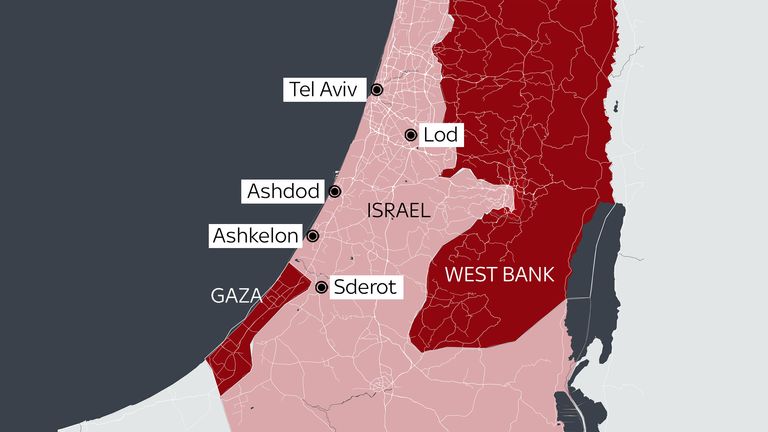 Israeli airstrikes on Gaza
Fighter jets from Israel have mainly been targeting Gaza City and areas to the north but some southern areas have been hit as well in the crowded coastal enclave of two million people.
Previously, Israeli fighter jets have targeted specific people by sending a missile through their office or home window, but this time they have destroyed entire tower blocks.
There are no air raid sirens but residents have been warned by the Israeli military firing warning shots to evacuate the buildings before fighter jets attack. However, health officials said there were still civilian deaths.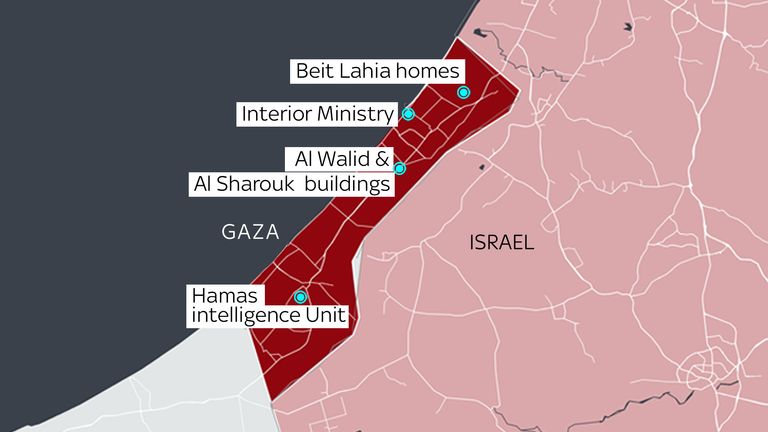 Al Walid, a five-storey building in western Gaza city with flats, shops and the office of a Turkish charity, was destroyed by Israeli missiles on Thursday.
A 13-storey tower block, Al Farouk, was also destroyed by missiles in Gaza City after it was described as housing Hamas's intelligence service.
Al Sharouk, a 14-storey building home to the offices of Hamas TV station Al Aqsa, was also levelled by Israeli missiles – prompting Hamas to fire 130 rockets at Israel, they said.
Office block hit by missiles collapses in Gaza

Hamas's interior ministry building in Gaza City was also destroyed and although it was empty at the time, hospital officials said a woman was killed by flying debris and at least 46 others were injured.
The northern Gazan town of Beit Lahia was also hit badly, with charity worker Yousef Al Hammash saying there was no warning and that he had to flee with his pregnant wife and young daughter after his building was hit.
And in Gaza's south, the Israeli military said it had hit a Hamas intelligence unit building in the town of Khan Younis. The bodies of an 11-year-old and 13-year-old were carried through Khan Younis's streets on Wednesday.
Israel said it had killed senior Hamas officials in Gaza and was also targeting missile launching sites.
Protests and clashes in Israel's 'mixed' towns
Areas where Arab Israelis, who identify as Arab or Palestinian and as Israeli citizens, have seen skirmishes between neighbours, with some dying and others badly injured.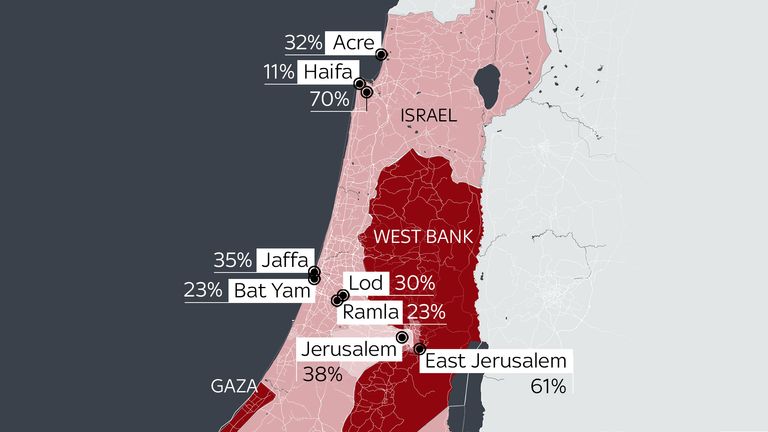 Mobs of both nationalities battled in the city of Lod, which has become the epicentre of on-the-ground fighting, prompting a curfew to be imposed.
Israeli police said two people were shot and wounded in Lod and an Israeli Jew was stabbed.
In nearby Bat Yam, Jewish nationalists dragged an Arab driver from his car and beat him until he was unconscious.
A senior Israeli police officer said Arabs are suspected of attacking and seriously wounding a Jewish man in the coastal city of Acre as clashes broke out there on Wednesday.
COVID-19: Fully vaccinated people in the US no longer have to wear face masks or follow social distancing rules | US News
Vaccinated people in the US will be allowed to stop wearing their face masks in most settings.
Masks are no longer being recommended for vaccinated people when they are in crowded places outdoors and in most indoors settings – and they won't have to follow social distancing measures either.
The Centers For Disease Control And Prevention (CDC) changed its guidance for fully vaccinated people on Thursday.
Vaccinated Americans can ditch masks outdoors

US President Joe Biden said the change marked "a great day for America", adding: "If you're fully vaccinated and can take your mask off, you've earned the right to do something that Americans are known for all around the world: greeting others with a smile."
Masks will still need to be worn in crowded indoor settings such as buses, planes, hospitals, prisons, and homeless shelters.
But the new rules will clear the way for the reopening of workplaces and schools as well as encouraging more people to get vaccinated.
The CDC said in its news release: "In the past couple of weeks, we have seen additional data to show these vaccines work in the real world, they stand up to the variants, and vaccinated people are less likely to transmit the virus.
"We needed to take the time to review the full body of evidence to get this right, and that's how we came to this decision."
Selena Gomez urges Americans to get vaccinated

CDC Director Dr Rochelle Walensky said: "We have all longed for this moment – when we can get back to some sense of normalcy."
Some states still have mask rules and the guidance will not overturn this, but several state officials have said they will immediately review the requirements.
Some businesses have said they will stick with masks, with supermarket chain Kroger Co and department store chain Target among those saying their rules would not change for now.
The Retail Industry Leaders Association said: "It is critical for customers to remember the CDC announcement is guidance and that many state and local jurisdictions still have mask mandates in place that retailers must follow."
American politicians were among the first to remove their masks indoors, with Senate Republican Leader Mitch McConnell reportedly saying "free at last" as he left the chamber maskless.
In the House of Representatives, Republican Brian Mast stood and addressed Speaker Nancy Pelosi, saying: "I ask that, given the updated CDC guidance, we all take off these stupid masks."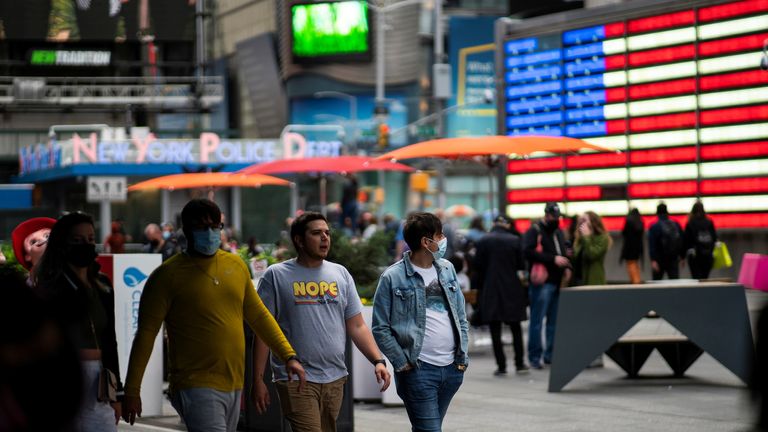 The COVID-19 pandemic has killed more than 585,000 Americans and, of more than 30 members of Congress infected, one – Ron Wright of Texas – died.
One of the biggest challenges for some US states is encouraging people to get vaccinated, and in some areas, jabs are going unused.
The governor of Ohio has now said that adults who have received at least one dose will be able to enter a lottery with a prize draw of $1m (£711,000) each Wednesday for five weeks.
Some politicians have criticised Mike DeWine's "gameshow tactics" for wasting money that could be used to respond to the growing crisis, but he has said the real waste was lives being lost to COVID-19 when the vaccine is readily available.
Footage from Syria in 2018 among inaccurate videos circulating about Israel-Gaza conflict | World News
As violence between Israeli and Palestinian groups worsens, misinformation relating to both sides is spreading on social media.
Twitter has placed a "media manipulation" warning on a tweet by Ofir Gendelman, a spokesman for Israeli Prime Minister Benjamin Netanyahu, that was shared with his 97,000 followers.
The tweet in question featured a 28-second video that claimed to show Hamas firing rockets towards Israel during the latest round of violence – footage he said was evidence of a "war crime".
However, it has since emerged that the video in question is at least two years old.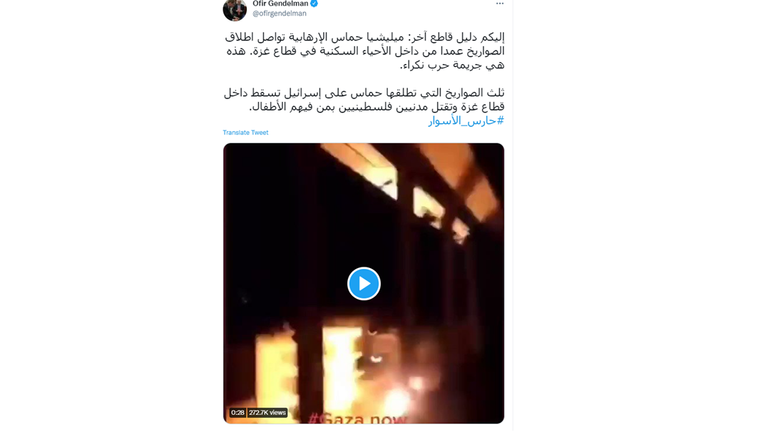 Mr Gendelman's tweet, written in Arabic and posted on Tuesday morning, had said: "Here's more clear evidence that terrorist militia Hamas deliberately fires rockets from inside residential neighbourhoods in Gaza. This is a terrible war crime.
"A third of rockets fired at Israel fall inside Gaza killing civilians and children."
With the words "#Gaza now" written across it in red in English and Arabic, the video captures 17 rockets firing one after the other from an area next to the building the camera is recording from.
Three further rockets are then fired from slightly further away followed by another explosion in the same area.
However, reverse image searching of the clip showed it was posted on YouTube in 2018 – and the description says it was filmed in the Syrian city of Daraa. The tweet has since been deleted.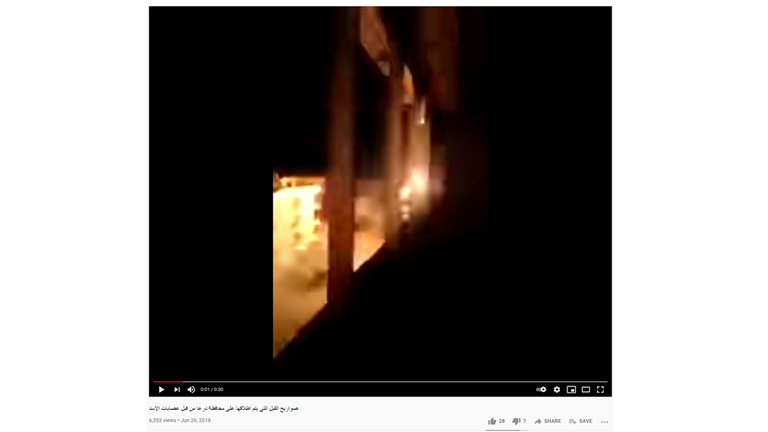 Twitter has since placed a warning on Mr Gendelman's tweet, identifying it as "media manipulation".
The social media giant's policy states that it places this warning on content when they have reason to believe that "media or the context in which that media is presented are significantly and deceptively altered or manipulated".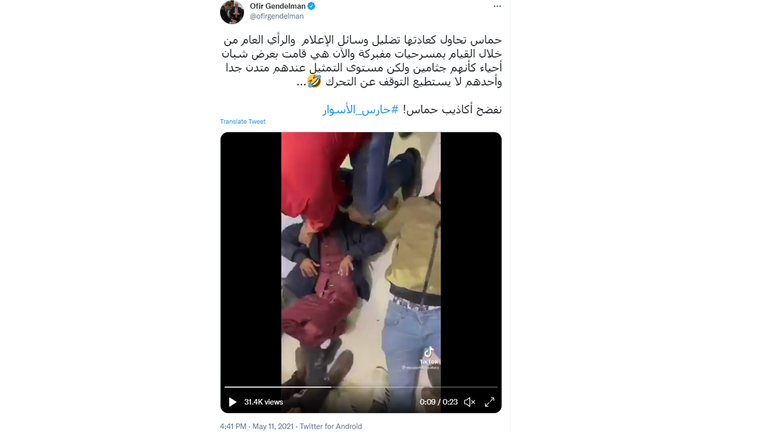 Later that day, Mr Gendelman shared another video – this time from TikTok.
The caption translates to: "Hamas, as usual, is trying to mislead the media and public opinion by staging fabricated plays, and now it has shown young men alive as if they were corpses, but their efforts are not convincing and the bodies are moving. We expose the lies of Hamas!"
However, a search for the TikTok account watermarked on the video shows that this clip was posted back in March.
The user's profile states that they are based in Nazareth, but there is no apparent evidence of a connection to Hamas.
The account mostly shares videos of the user riding on motorcycles and in off-road cars.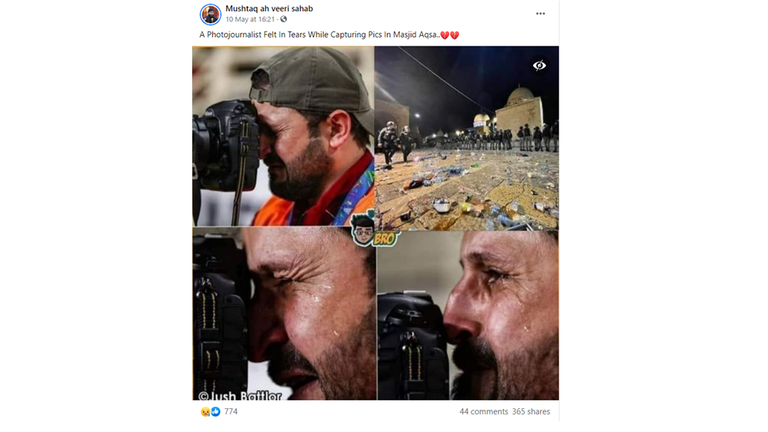 Fake news is also being shared against Israel.
A controversial Kashmiri cleric shared this photo, which he says depicts a journalist crying outside al Aqsa mosque.
The mosque was where the fierce clashes between police and protesters that sparked the recent escalation took place.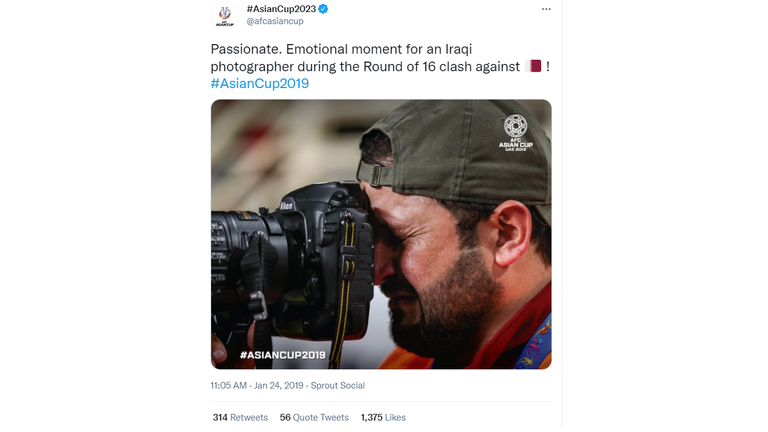 However, the picture was taken during the Asian Cup football tournament in 2019.
Facebook has flagged the cleric's post as "false information".