Their brother was shot by Sacramento police in 2016. Stephon Clark's death has reopened the wound.
Residents of working-class Meadowview, near where Clark died, bristle at the mention of businesses that won't come to their neighborhood — like big name, full-scale supermarkets — and the ones that seem all too abundant, like check-cashing stores, dialysis centers and, most recently, a proposed day counseling center for federal prison parolees. The latter would come courtesy of America's biggest for-profit prison company.
"Something's gotta change," said Rakeem Murdock, 18, as he waited near Thursday's overflowing memorial for Clark, whom he did not know. "I mean, look around you. This sparked a movement. This is a revolution."
The last explosive case involving Sacramento police centered on Joe Mann, a 50-year-old who family members said suffered from schizophrenia and who had worked for many years at a supermarket, before becoming a counselor for the state Department of Corrections and Rehabilitation. He was the youngest of five children brought by his parents from an economically distressed town in New York's Hudson River Valley.
In official Sacramento police reports from the day he died, Mann was described as an unstable, ranting man, who a 911 caller said was carrying a knife and a gun.
The first police unit on the scene in the crime-heavy Del Paso Heights neighborhood kept its distance and tried to talk Mann down. But a second cruiser arrived and those officers quickly escalated the encounter. One said "f— this guy" and soon tried to ram Mann with his patrol car, a dashboard camera revealed. Moments later, in an encounter that isn't clear on camera, the two officers are out of their car and shooting. They hit Mann a total of 14 times.
His knife was found at the scene but not a gun.
Police initially emphasized the threat posed by Mann — stressing that he had made karate-style movements as he moved away from police and failed to comply with commands to stop. A spokesman said Mann turned toward the officers and raised the knife before the officers opened fire.
After Mann's death, his family began a campaign that relied heavily on the media to bring attention to their case. When a witness's cellphone video showed the police cruiser trying to ram Joe Mann, it created pressure on the department, which had hesitated to release its own video, said Robert Mann.
Fifteen months later, Sacramento's first black police chief sent a two-paragraph letter to the family. After "thoroughly investigating," the department found "improper conduct by our employees," wrote Chief Daniel Hahn, adding that "appropriate action has been taken." But the chief said state law prohibited him from providing further details.
Investigations by the family, The Sacramento Bee and others revealed that one of the officers, John Tennis, had previously been prevented from carrying a gun following accusations of domestic violence and child abuse. He had to get clearance from a judge to allow him to carry his weapon on the job.
The Sacramento County district attorney's office determined in January 2017 that the officers had not committed a crime when they shot Mann.
Mann's father, William Mann Sr., reached an out-of-court settlement in February 2017 that paid $719,000, sources told The Sacramento Bee. The dead man's siblings filed their own lawsuit in federal court, which the city is trying to have thrown out. But Mann's four brothers and sisters said they are persisting, because the case is about more than money.
"They could have tazed him, or bean-bagged him, but none of that was brought into the picture," said Robert Mann, 54, who works for a company that assembles electric utility trucks. "All they did was murder my brother.
"We have a letter saying that they were wrong. But we feel like there is no accountability and accountability means some sort of [criminal] prosecution," he added. "We are upset. We are angry."
After Clark's death, the Manns have done a handful of interviews, but said they mostly stayed away from the marches and public protests. They are letting the media put out word to the Clarks that they are ready to talk, if and when the time seems right.
"It's a club nobody wants to be in," said Vern Murphy-Mann. "If anybody can understand, we can. We would meet with them to share whatever we can, to help them in their journey of healing."
Rapists to be surgically castrated under new law in Nigerian state | World News

Men convicted of rape will face surgical castration and anyone who rapes a child under 14 will face the death penalty, under a new law introduced in Nigeria.
The governor of the country's Kaduna state, Nasir Ahmad El-Rufai, said the "drastic penalties are required to help further protect children from a serious crime".
Nigeria has seen a huge increase in reports of rape during the months of coronavirus restrictions.
Women's groups have called for tougher action against rapists and sex offenders, including the death penalty.
Gender activist and rape survivor Dorothy Njemanze has said she would like to see the law adopted in other Nigerian states.
"In retrospect, if everyone that raped me was put through that [surgical castration] other people that they might have also raped would have been spared the calamity," she said.
Kaduna's new law is the strictest against rape in Nigeria, Africa's most-populous country.
Under the state's newly amended penal code, a person convicted of raping someone over age 14 will also face life imprisonment.
The previous law carried a maximum penalty of 21 years' imprisonment for the rape of an adult and life imprisonment for the rape of a child.
The new law also states that women convicted of raping a child under 14 will have their fallopian tubes removed.
Yemen famine 'has never looked more likely' with hundreds of thousands at risk of starvation, UK government says | World News
A famine in Yemen "has never looked more likely" – with hundreds of thousands now at risk of starvation, the UK government has said.
The country has been devastated by a war that has raged since 2014 between Abdrabbuh Mansur Hadi's administration and the Houthi armed movement, both of which claim to form the official government.
Mr Hadi's government is supported by a coalition of powerful countries headed by Saudi Arabia but also backed by Britain, the US and the United Arab Emirates.
And with the existing crisis now being worsened by coronavirus, the United Nations says more than 20 million people require urgent humanitarian assistance due to the ongoing conflict – almost half of them children.
Foreign Secretary Dominic Raab said the UK would provide another £5.8m in UK aid to help avert a famine in Yemen.
His department said UK support would help at least 500,000 vulnerable people each month to buy food and household essentials, including soap and medicine.
And speaking in New York at a meeting of permanent UN Security Council members, Mr Raab said: "The humanitarian situation in Yemen is now the worst it has ever been, and compounded with the threat of coronavirus, the country has never looked more likely to slide into famine.
"Unless donors urgently act now and follow through on their pledges, hundreds of thousands of people are at risk of dying simply from starvation."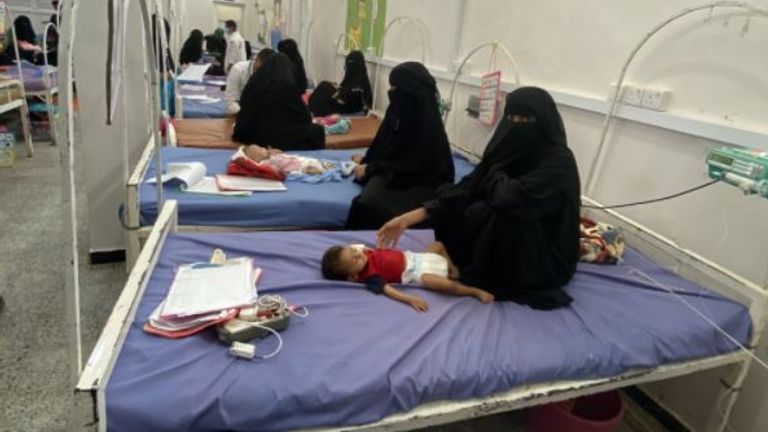 Mr Raab also called for "unwavering support" for plans to secure a ceasefire that ends the suffering.
The UK's first special envoy for famine prevention and humanitarian affairs, Nick Dyer, said he would be urgently raising the increasing risk of famine with allies over coming weeks in an effort to prompt action.
"There is no plan B for Yemen," he said.
"The wartorn country is facing an unprecedented humanitarian catastrophe, with hundreds of thousands at risk, unless world leaders take urgent action now."
Coronavirus: Slovenia and Guadeloupe added to England's quarantine list – but Thailand and Singapore removed | Politics News

Travellers arriving in England from Slovenia and Guadeloupe after 4am on Saturday will have to isolate for two weeks.
The two countries are being added to the quarantine list, Transport Secretary Grant Shapps announced.
But Thailand and Singapore are being removed from the list.
Mr Shapps tweeted: "A reminder that travellers to the UK (from ANY location) MUST complete a passenger locator form by law.
"This is vital in protecting public health and ensuring those who need to are complying with self-isolation rules."
In Slovenia, the COVID-19 case rate per 100,000 people has risen from 14.4 to 29.1 in the week ending 16 September.
And the government said that in Guadeloupe there has been a 558% spike in the same metric over the past three weeks.
The Department for Transport vowed to "take decisive action if necessary to contain the virus, including removing countries from the travel corridors list rapidly if the public health risk of people returning from a particular country without self-isolating becomes too high".
Ministers say countries where the coronavirus infection rate is higher than 20 per 100,000 people are at risk of being added to the list – but last week the UK tipped over that threshold itself.
Since then, tough restrictions have been imposed on millions of people.
The latest will come into force on Friday in Northumberland, North Tyneside, South Tyneside, Newcastle-upon-Tyne, Gateshead, Sunderland and County Durham.