New Asian-American, Brazilian apostles make Mormon history
With 1.4 million members, Brazil has the second-most in the world along with Mexico. Both rank behind the United States, which has about 6.6 million members.
Like the previous 12 men chosen for the Quorum, Soares and Gong were serving in a lower-level leadership panel for the church.
The 59-year-old Soares was an accountant and auditor for multinational corporations in Brazil before joining church leadership, according to a church biography. He was born in Sao Paulo, Brazil.
The 64-year-old Gong worked for the U.S. State Department, the Washington, D.C.-based Center for Strategic and International Studies and Mormon-owned Brigham Young University before being selected for the lower-tier church leadership panel. He was born in Redwood City, California.
Their selections come during the first conference presided over by Nelson, a 93-year-old former heart surgeon who was appointed the 17th president in January following the death of president Thomas S. Monson, who served for a decade.
The conference comes as the faith grapples with heightened scrutiny about its handling of sexual abuse reports and one-on-one interviews between local lay leaders and youth.
The religion this week announced updated guidelines for the reporting of sexual abuse following news that a former prominent missionary leader was accused of sexually assaulting two women in the 1980s.
The new guidelines call on lay leaders to never disregard a report of abuse or encourage a person to stay in an abusive home. They also say children can bring a parent or other adult to one-one-one interviews with local church leaders. Parents previously were allowed only in a hallway or adjacent room. Youth can still go alone if they choose.
Some say the changes fall short.
On Friday, about 1,000 Mormons and ex-Mormons marched to the church's Salt Lake City headquarters to deliver petitions demanding an end to the closed door, one-on-one meetings that start at age 12, along with the sexual questions they sometimes include.
Mormon spokeswoman Irene Caso said in a statement Friday the faith condemns any inappropriate behavior or abuse regardless of when or where it occurs, and that church leaders are given instructions for youth interviews.
The statement also seemed to express a willingness to change: "As with any practice in the Church, we continually look for ways to improve and adjust by following the Savior in meeting the needs of our members."
Nelson is expected to speak at this weekend's conference, but it's unknown if he'll address the issue or the larger topic of sexual misconduct that has been thrust into the national spotlight by the #MeToo movement. Church leaders usually focus their conference speeches on spiritual guidance and religious themes.
Israeli investigation after 16-year-old Palestinian boy shot dead by soldiers | World News
The Israeli authorities say they are investigating an incident in which soldiers shot dead a 16-year-old Palestinian boy.
Saeed Yusuf Muhammad Oudeh was shot in the back at about 9pm on Wednesday outside the Palestinian West Bank city of Nablus.
In a statement to Sky News, the Israeli Defence Forces (IDF) said: "Yesterday, during routine activity adjacent to the village of Beita, south of Nablus, a number of suspects hurled Molotov cocktails towards IDF troops.
"The troops responded according to open fire protocols, including firing towards the suspects. The incident is being investigated."
Breaking: Israeli forces killed Said Yousef Mohammad Odeh, 16, on May 5 around 9 p.m. in Odala, a village south of Nablus, in the occupied West Bank.

He sustained two gunshot wounds from the back and died soon after. pic.twitter.com/AraGv1X8ZS

— Defense for Children (@DCIPalestine) May 5, 2021
However, non-governmental organisations (NGOs) dispute the suggestion that Oudeh was among those in a confrontation with the Israeli soldiers.
Defence for Children International – Palestine said: "Israeli forces reportedly confronted Palestinian youth at the village entrance prior to the shooting. Saeed was not involved in the confrontations at the time he was shot, according to information collected by our team.
"Israeli forces deployed in a nearby olive grove fired live ammunition at Saeed as he approached the village entrance. He sustained at least two gunshot wounds: in the back near his right shoulder and pelvis. Both bullets exited from the front."
The Israeli authorities, who dismiss organisations like Defence for Children International as being anti-Israeli, have not yet provided further details on the incident.
The killing represents the latest spark in a fortnight of tension at a level not seen for five years.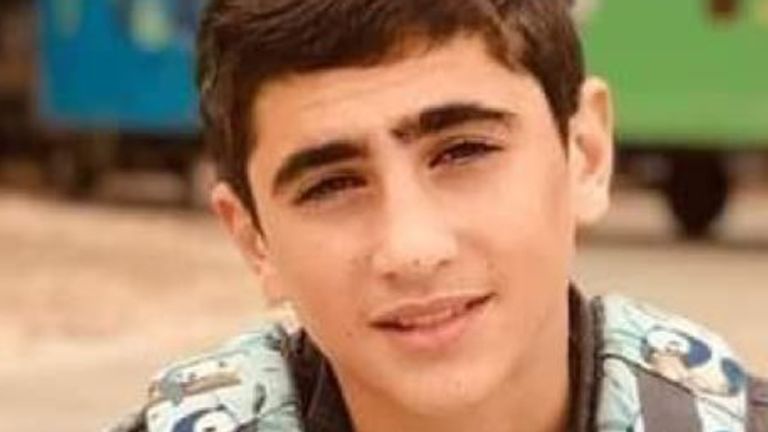 The Israeli security services launched a manhunt across the West Bank this week after three Israelis were shot in a drive-by attack last Sunday.
They included 19-year-old Yehuda Guetta who died of his injuries on Wednesday.
The shooting happened at Tapuah Junction south of Nablus, a busy intersection and bus stop used by Jewish settlers.
Montasser Shalabi, 44, was arrested by the Israeli domestic intelligence agency, the Shin Bet, on Wednesday near Ramallah.
A combination of factors has prompted the tension.
A planned eviction of Palestinian families in East Jerusalem's Sheikh Jarrah neighbourhood to make way for Israeli settlers has caused nightly confrontations.
An Israeli court said on Thursday that the eviction order has been delayed until next week.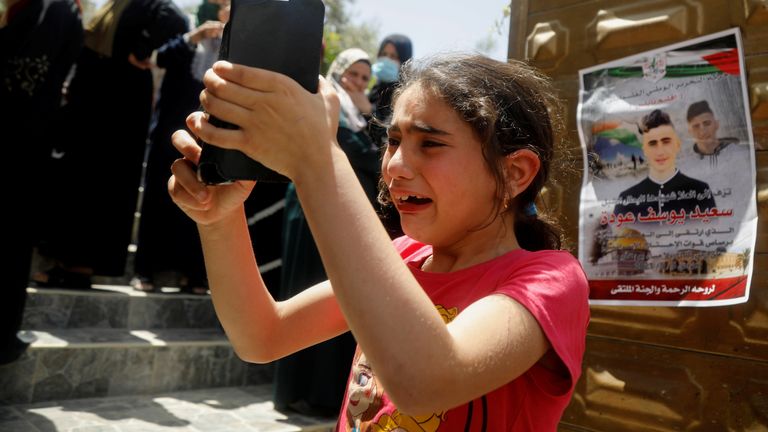 Sundown on Sunday marks the beginning of Jerusalem Day where Israelis celebrate what they see as the reunification of the city after the Six Day War in 1967.
There is an expectation that hardline Israeli nationalists and Palestinians could clash.
The tension comes a time when both Israeli and Palestinian politics is in chaos.
Israeli politicians are still struggling to form a viable coalition government, and Palestinians recently called off their elections, planned for May, because Israel will not allow voting in East Jerusalem.
Brazil: 20 killed including an officer in police shootout with drug traffickers | World News
At least 20 people, including a police officer, have died in a shootout with drug traffickers in Rio de Janeiro, according to local media.
The O Globo newspaper said two passengers on a metro train were also wounded in the shooting in Jacarezinho, a shanty town in northern Rio, Brazil.
The shootings, it said, happened during a police operation.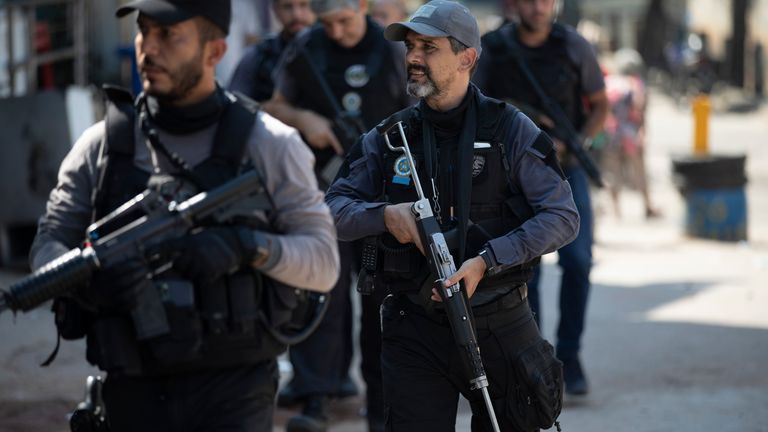 An O Globo tweet said witnesses reported "fear and violence" in the neighbourhood.
Cutting human sources of methane would reduce global warming and improve human health – scientists | Climate News
Cutting human sources of methane would be a quick win for the climate, according to a new United Nations report.
Roughly halving emissions of the greenhouse gas from human activity, often with existing, cost-effective solutions, would reduce the future rise in global temperatures by around 0.3C by the 2040s, it is claimed.
The analysis was carried out by the UN Environment Programme and the Climate and Clean Air Coalition (CCAC).
Scientists have hailed the strategy as a "win-win" because it would reduce global warming and simultaneously improve human health and the economy.
Levels of methane in the atmosphere have doubled since pre-industrial times.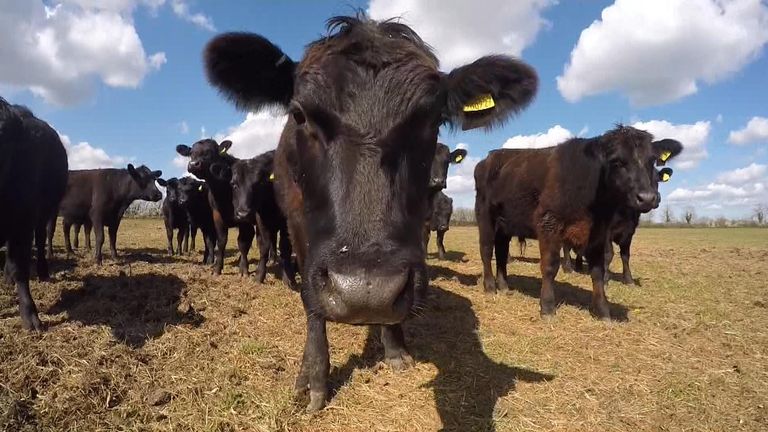 It is a potent greenhouse gas that is 10 times more powerful than carbon dioxide at trapping heat in the atmosphere.
According to the UN's Global Methane Assessment, human activity results in around 380 million tonnes of methane being released into the atmosphere every year.
Agriculture accounts for 40% of the emissions, largely from livestock and rice cultivation, while another 32% comes from oil and gas extraction and coal mining.
The report says reducing the emissions by 45%, or 180 million tonnes a year, by 2030 is critical for limiting global heating to 1.5C, the point where the climate would become increasingly and significantly unstable.
Professor Drew Shindell, chair of the CCAC and one of the report authors, told Sky News: "It's vital to tackle methane because it's the strongest lever we have to reduce the rate of warming in the near term.
"And that warming rate is what's leading to stronger hurricanes, more intense heatwaves, flooding, droughts all those consequences.
"Three tenths of a degree accounts for 70 billion lost hours of labour.
"That's people working outside in places that can't be air conditioned like agriculture and construction, so they are real costs to the economy, human wellbeing and more people dying from heat exposure.
"All these 10ths of a degree sound minor, but they're not at all."
The report says the target could be achieved with known solutions, many of which would pay for themselves within a few years.
They include reducing methane leaks from gas pipelines, better management of coal mines, eliminating organic waste from landfill and reducing meat consumption.
Reducing emissions would have a swift impact on global warming because the gas only survives in the atmosphere for around 10 years, whereas carbon dioxide stays there for several centuries.
Method found to reduce methane from cows

Professor Grant Allen, professor of atmospheric physics at the University of Manchester, said: "This does not mean that cutting methane emissions alone can solve the warming problem.
"We must also continue to reduce carbon dioxide emissions to meet Paris Agreement targets and avoid dangerous warming.
"But it does mean that we can help to quickly slow the rate of global temperature increase and avoid some significant degree of warming in the near future."
As well as warming the climate, methane results in increased ozone air pollution.
Meeting the 45% target for reduced emissions would prevent 255,000 premature deaths and 775,000 asthma-related hospital visits every year, the report concludes.
Professor Dave Reay, executive director of the Edinburgh Climate Change Institute, University of Edinburgh, said: "Seldom in the world of climate change action is there a solution so stuffed with win-wins.
"This blunt report makes clear that slashing emissions of methane – a powerful but short-lived greenhouse gas – will deliver large and rapid benefits for the climate, air quality, human health, agriculture, and the economy too.
"Meeting the Paris Climate Goals will need every climate action trick in the book. Cutting methane emissions should be on page 1."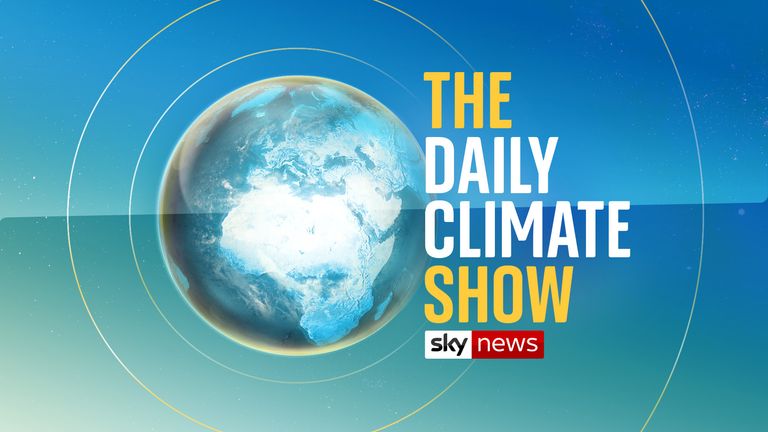 Sky News has launched the first daily prime time news show dedicated to climate change.
The Daily Climate Show is broadcast at 6.30pm and 9.30pm Monday to Friday on Sky News, the Sky News website and app, on YouTube and Twitter.
Hosted by Anna Jones, it will follow Sky News correspondents as they investigate how global warming is changing our landscape and how we all live our lives.
The show will also highlight solutions to the crisis and show how small changes can make a big difference.