How to spring clean like a pro
Get the Better newsletter.
Not a big fan of cleaning? We're going to guess that even Marie Kondo would quiver if she saw how much junk and gunk you've let build up over the last few months. If it's time to cut through the clutter and do some deep cleaning, we've got a somewhat painless plan for even the laziest among us. While you can't banish the dust bunnies with a Jedi mind trick, you can make the process a whole lot easier with this two-step spring cleaning guide. First, you've got to get your head in the game by doing a little pre-cleaning prep, and then get straight on what to buy (and not), where to start first and how to get organized to spring clean in record time. Ready, set, go!
Step 1: Get Mentally Prepared to Clean
Visualize your ideal setup. Before dumping everything in your closet into a big pile on the floor, take a minute to visualize how you'd like your living space to look, says Clare Kumar, a professional organizer and productivity consultant in Toronto. "Getting clear on what that is a really important place to start," she says. Once you know how you want to set up your space, you'll more easily be able to decide what you need in terms of storage and tools, says Kumar.
Ban "clutter" from your vocabulary. Words like decluttering and purging have a negative connotation, which can devalue your stuff, says Kumar. "I'd rather think of editing or curating to get really excited about what you're going to keep and feel comfortable with getting rid of what's not going to serve you." We call this step "Marie Kondo lite."
Believe in yourself (yes, seriously). "Staying organized boils down to learning new habits," says Soreff. "The most challenging part for post people is when the old habit has been killed but the new habit is not locked in place." Let's say you've decided to file all of your papers away in a cabinet but then you start to get anxious that you'll never be able to find anything. "Trust the new habit of being able to find it," says Soreff.
Inside the Iron Dome: How Israel's missile defence shield is battling Hamas rocket attacks | World News
From the moment a giant, green radar detects rocket fire blasting out of Gaza towards Israel, it is only a matter of seconds before an Israeli defence missile shoots up to intercept.
The radar, at a secure site in southern Israel, relays the information to what the Israel Defence Forces (IDF) call a "battle management centre".
In reality, it's a beige-coloured, small metal cabin on the other side of the square-shaped compound.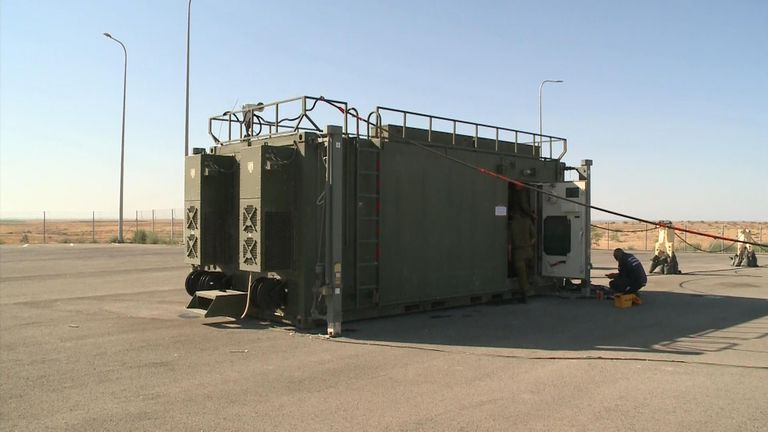 Everything here is mobile – to be able to move in relation to the threat.
A number of military personnel – some aged between just 18 and 21 – in the cabin then calculate the trajectory of the rocket, the anticipated impact point and which air defence missile launcher to use to fire back.
It's a job that needs manning 24 hours a day.
Launcher selected, a single operator is able to fire multiple missiles against multiple Hamas rockets at the same time.
The missiles are guided onto their targets and either smash directly into the incoming rocket or explode near to it, with the shrapnel rendering the incoming fire redundant.
Major Kifr – we were not allowed to use his full name for security reasons – is in charge of the 947 Iron Dome Battalion.
He and his team have been busy since the conflict with Hamas started eight days ago.
The rate of rocket fire, launched by Hamas and Islamic Jihad militants is unprecedented.
But the officer says his unit and the many others that comprise Israel's Iron Dome air defence shield are more than up to the task.
"We have been trained for this situation," he told Sky News.
He said the shield – which has blocked about 90% of the incoming rocket fire – could handle an even heavier tempo of attack if necessary.
It is the main reason why, despite more than 3,000 rockets being fired in their direction, Israel has only suffered a relatively low number of fatalities.
"We are very proud of our mission," Major Kifr said. "We do not distinguish between Arabs, Jews or anyone. We protect everyone."
His troops are not immune to the threat posed by the incoming fire though.
Subscribe to the Daily podcast on Apple Podcasts, Google Podcasts, Spotify, Spreaker
As Sky News was at the site, a siren sounded warning of rocket fire.
Military personnel moved into a concrete shelter to wait until the threat was over – a common scene across the country these days.
As we stepped back outside, small clouds of white smoke could be seen in the air – evidence of successful interceptions by a different air defence unit.
COVID-19: Disneyland Paris to reopen but no hugs from Mickey Mouse – as Netherlands sex workers return amid lockdown easing across world | World News
Disneyland Paris has announced the date it will reopen and sex workers in the Netherlands will return this week, as several countries ease COVID restrictions.
Having been closed since last October, Disney's amusement park in the French capital will welcome visitors back from 17 June.
A statement said the site's reopening would be accompanied by "appropriate health and safety measures" – with hugs from the likes of Mickey Mouse and other mascots suspended.
It will also limit the number of visitors, with those over six being asked to wear masks.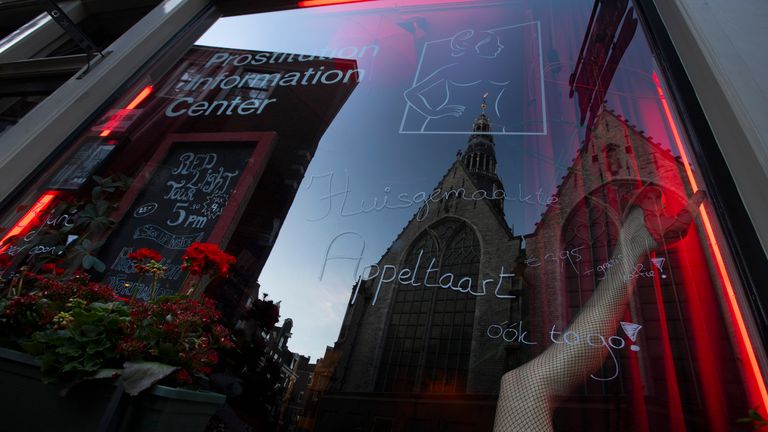 Meanwhile, Netherlands health minister Hugo de Jonge revealed a series of measures to relax coronavirus rules.
Parks, zoos, gyms and outdoor swimming pools will reopen on Wednesday, after the rollout of COVID-19 vaccinations eased pressure on hospitals, the minister said.
And sex workers will be allowed to resume five months after being ordered to pause operations in mid-December.
They had protested in Amsterdam in March, saying they were being discriminated against as the authorities allowed other "contact businesses" including hairdressers and masseurs to reopen.
Public libraries will reopen on Thursday and further steps, including reopening museums and allowing indoor service at restaurants, are expected over the next three weeks, Mr de Jonge added.
"This a responsible step at this moment, but we have to stay very careful," he said of the broader relaxation.
Subscribe to the Daily podcast on Apple Podcasts, Google Podcasts, Spotify, Spreaker
"We see a significant contribution from vaccinations. But we're not there yet."
COVID infections in the Netherlands have dropped by more than a quarter this month, after climbing to their highest levels of the year in April.
Another city to be easing measures is Dubai, where hotels in the regional tourism hub will be allowed to operate at full capacity and concerts and sports events will be able to welcome crowds and participants who have been vaccinated.
The United Arab Emirates ranks highly globally for coronavirus testing and vaccination rates, which has allowed for capacities for restaurants and entertainment venues to also be increased.
Authorities in Sri Lanka have announced shops and public transport can reopen, easing a three-day travel restriction imposed across the country.
Sri Lankans had been from banned from leaving their homes since Thursday night to try to contain the spread of COVID-19.
Authorities said though that those restrictions would now be imposed for five hours overnight for the next two weeks.
And in Turkey, the interior ministry has said a full lockdown that had ordered people to stay home to fight infections would be shifting to a less-restrictive program.
This will still involve curfews on weeknights and weekends from 1 June, which authorities said was part of a "gradual normalisation".
Shopping malls can reopen – and while some businesses will remain closed, including gyms and cafes, restaurants will be able to offer takeaway in addition to delivery. Preschools will resume in-person education but upper grades will continue remote learning.
People in Turkey can also return to their workplaces but must stay at home from 9pm to 5am on weekdays.
However, other parts of the world have been tightening restrictions.
Hong Kong authorities say quarantine rules for arrivals from countries like Singapore, Japan and Malaysia would become tightened from Friday amid a surge in coronavirus infections.
And Trinidad and Tobago has declared a state of emergency, also citing a sharp increase in cases.
Israel-Gaza conflict: Militant tunnels destroyed in Israeli bombing campaign – as Palestinians face 12-hour power cuts and undrinkable water | World News
Sustained Israeli military airstrikes have destroyed nine miles (14km) of militant tunnels along the Gaza Strip, and the homes of nine Hamas commanders, it has been claimed.
According to the Israeli Defense Forces, the latest attacks killed a local Gaza leader of the Islamic Jihad militant group, blamed for some of the thousands of rocket attacks launched at Israel.
It said it struck 35 "terror targets" as well as the tunnels, which it says are part of an elaborate system it refers to as the "Metro", used by fighters to elude aircraft.
Israeli war planes pummel Gaza

Residents of Gaza who were awakened by the overnight barrage described it as the heaviest since the conflict escalated a week ago – and even more powerful than a wave of airstrikes in Gaza City the day before that killed 42 Palestinians and flattened three buildings.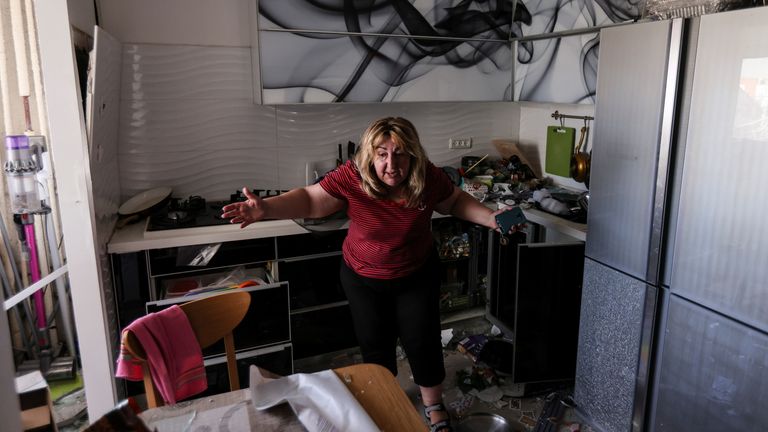 There is no confirmation yet on the number of casualties from the latest strikes.
The majority of the fatalities so far have been reported in Gaza with at least 200 Palestinians killed, including 59 children and 35 women, with 1,300 people wounded.
Eight people in Israel have been killed in rocket attacks launched from Gaza, including a five-year-old boy and a soldier.
The latest developments come after a three-storey building in Gaza City was heavily damaged, but residents said the military warned them 10 minutes before impact and everyone was able to flee.
The building housing the Associated Press's Gaza office and those of other media outlets was also hit.
AP president and chief executive Gary Pruitt said he was "shocked and horrified" that it had been targeted.
He said the AP had "no indication Hamas was in the building or active in the building".
But the Israeli Air Force maintained the bombings had targeted nine residences belonging to "high-ranking commanders" of the Hamas organisation.
"The residences that were struck were used as terror infrastructure. Some of the residences were used to store weapons," it said.
Despite growing international calls for a de-escalation of violence, US secretary of state Antony Blinken signalled on Monday the US would not join growing calls for an immediate ceasefire.
"Ultimately it is up to the parties to make clear that they want to pursue a ceasefire," he said, something Israeli Prime Minister Benjamin Netanyahu has made clear will not happen.
Attacks, he said, would continue at "full force" and would "take time".
Gaza's mayor Yahya Sarraj told Al-Jazeera TV the intensive barrage had caused severe damage to roads and other infrastructure.
"If the aggression continues, we expect conditions to become worse," he said.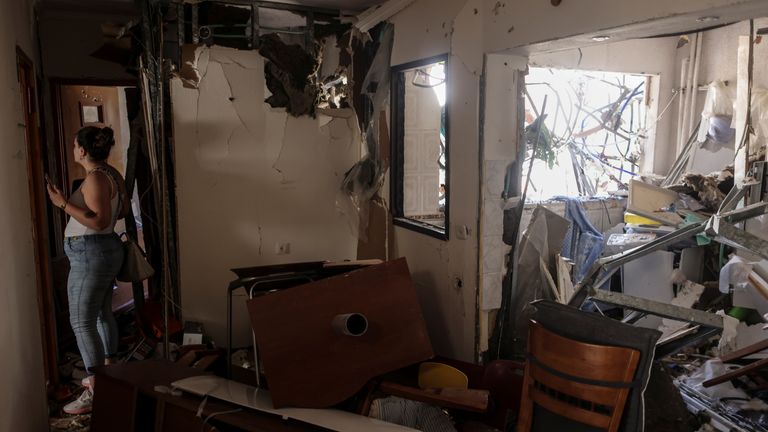 He also warned the territory was running low on fuel and other spare parts.
The UN has warned Gaza's sole power station is at risk of running out of fuel. The territory already experiences daily power outages of eight to 12 hours, and tap water is undrinkable.
The conflict escalated last Monday after Hamas fired long-range rockets at Jerusalem following weeks of clashes in the Holy City between Palestinian protesters and Israeli police.
The protests were focused on the heavy-handed policing of a flashpoint holy site during the Muslim holy month of Ramadan and the threatened eviction of dozens of Palestinian families by Jewish settlers.
Since then, the Israeli military has launched hundreds of airstrikes that it says are targeting Hamas's militant infrastructure.
Militants in Gaza have fired more than 3,100 rockets into Israel.
"I have not seen this level of destruction through my 14 years of work," said Samir al Khatib, an emergency rescue official in Gaza. "Not even in the 2014 war."
Hamas and the Islamic Jihad militant group say at least 20 of their fighters have been killed, while Israel says the number is much higher and has released the names and photos of more than two dozen militant commanders it says were "eliminated".