Female, Democratic and Younger. EMILY's List charts path to long-term power
Get breaking news alerts and special reports. The news and stories that matter, delivered weekday mornings.
WASHINGTON — As the two parties battle for control of Congress in this year's midterm elections, it follows that most of the political world would pay little attention to the election in New York's 25th District.
That's because the Rochester-based seat left open by Rep. Louise Slaughter's death earlier this month is a virtual lock to elect a Democrat.
Slaughter won there 16 times, Hillary Clinton won it by more than 15 percentage points in 2016 and Democrats have a ready-made candidate in state Assembly Majority Leader Joe Morelle, who wasted little time in rounding up local Democratic officials and Slaughter family members to coalesce behind his bid.
But EMILY's List wants the party to hit the pause button on Morelle, who is 61.
Top officials at the Washington-based political network that recruits, trains and funds abortion-rights-backing Democratic women candidates see a chance to elect a younger woman to a seat that could be in the party's hands for decades to come.
Across the country, EMILY's List is backing more than 40 women House candidates, including many in the high-profile swing districts that will determine which party controls the House in the next Congress.
But in an important way, the safe House seats have more long-term value for a group trying to empower women in Congress. The more they can help women get elected to safe House seats, the more likely it is that future leaders in the House will be women.
For lawmakers to win chairmanships in the seniority-based committee system, they have to get re-elected repeatedly. That's easier in politically safe districts. So is advancing in party leadership, which requires modern House members to take highly partisan stands and spend much of their time outside their districts raising money for colleagues.
The formula's "not a huge mystery," said Danielle Thomsen, an assistant professor of political science at Syracuse University who hasstudied candidates and polarization in Congress.
Top officials at EMILY's List see Sarah Clark, the 44-year-old deputy state director for Sen. Kirsten Gillibrand, and an alumna of then-Sen. Hillary Clinton's office, as the kind of candidate who could someday become a force in the House, like Slaughter, who rose to become the top Democrat on the powerful House Rules Committee.
They dispatched veteran political operative Angela Kouters to Rochester to try to convince Clark to jump in the race before Morelle can lock up all the support he needs.
"We're in the process of really taking a look at this with her," EMILY's List President Stephanie Schriock told NBC News.
Clark, who did not return calls from NBC News, has agreed to collect the signatures she'd need to get on the ballot while she weighs whether to jump in, according to a person familiar with her plans.
Schriock wants Democrats to wait a beat before deciding Morelle is the best person to take Slaughter's seat because she thinks men — particularly white men — are sometimes quicker out of the gate to announce their candidacies.
"Women potential candidates often take a little more time to decide," she said. "If we don't pause, we don't get women in the mix and we don't get people of color in the mix."
Sometimes, there's a tension between EMILY's List's two main missions: electing Democratic women who support abortion rights and helping Democrats take control of the House. That is, sometimes party leaders don't think the EMILY's List candidate is the best one to win in a particular swing district.
This year, the group has found itself at odds with the Democratic Congressional Campaign Committee in a handful of competitive primaries. That's caused consternation within Democratic ranks when it's happened in swing districts, where party officials are most concerned about ensuring victory in November.
But the open seat in Rochester represents a more traditional battleground for EMILY's List— a place where there's little chance that nominating a particular candidate will cost Democrats a seat in the House. And if they can stock the benches of the House chamber with women, the next leaders of the party are more likely to come from those ranks.
"You better believe this is a piece of the puzzle for us," Schriock said.
Mexican police and soldiers wanted over unsolved disappearance of 43 students | World News
Mexican authorities have issued dozens of arrest warrants for police and soldiers they believe were involved in the still-unsolved disappearance of 43 college students six years ago.
On 26 September 2014, students training to be teachers at a college in the southern state of Guerrero were allegedly kidnapped and turned over to a local gang.
Four months later, an investigation found the students had been burned in a huge fire at a garbage dump, with some remains thrown into a river.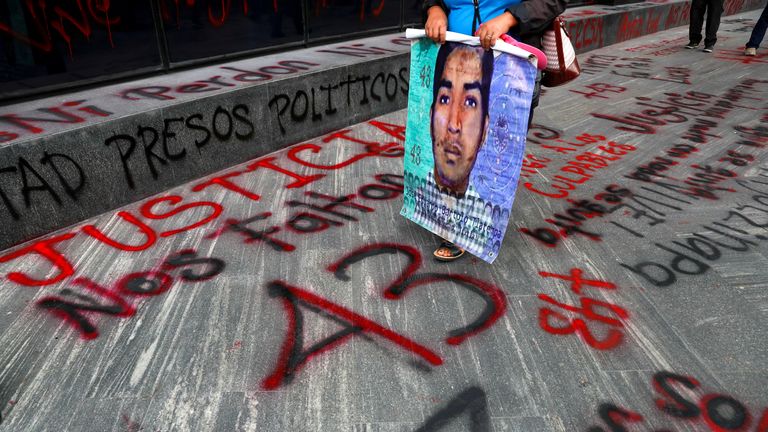 But many of the families did not believed the story and experts found holes in it, noting it failed to come up with any definitive account of what happened.
On Saturday, lead investigator Omar Gomez told reporters that warrants had been issued for the "material and intellectual authors" of the crime, including military members as well as federal and municipal police.
It marks the first time Mexican authorities have announced arrest warrants for military personnel in connection with the disappearance of the students.
The remains of only two of them have been found.
Many of the suspects initially arrested in the case were later released, and many claimed they had been tortured by police or the military.
In March, a judge issued an arrest warrant for Tomas Zeron, the former head of investigations for Mexico's attorney general's office, for alleged violations in the investigation of the case.
Zeron – who was at the centre of the earlier investigation – and five other former officials face charges including torture, forced disappearance and judicial misconduct.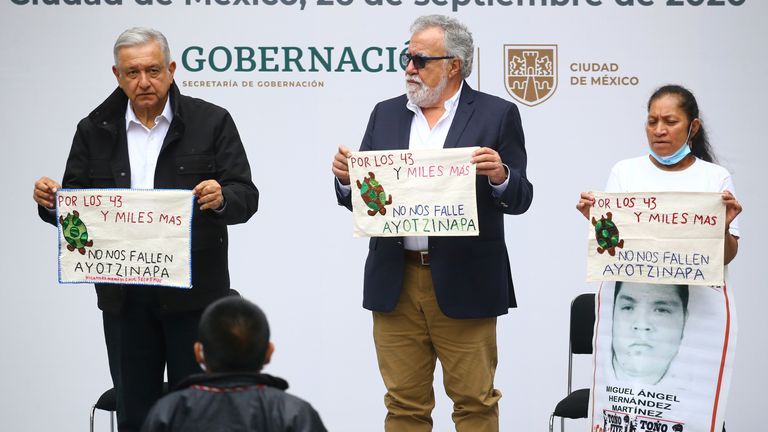 The unsolved disappearances have sparked outrage in the country over the years, with massive protests in 2014.
There has also been international condemnation of what is seen one of the darkest examples of the government's longstanding difficulty preventing violence or convicting criminals.
Family members of the victims have long accused Mexican authorities, including the military, of complicity.
The mother of one of the students, Maria Martinez Zeferino, said at Saturday's press conference in Mexico City that "the military participated".
"There were videos of it," she claimed.
Canadian man who claimed to be IS killer charged with lying about terrorism | World News
A Canadian man who claimed he was an Islamic State killer has been charged with lying about his terrorist activity.
The Royal Canadian Mounted Police (RCMP) said the charge against Shehroze Chaudhry stems from numerous media interviews in which he described travelling to Syria in 2016 and committing acts of extremism.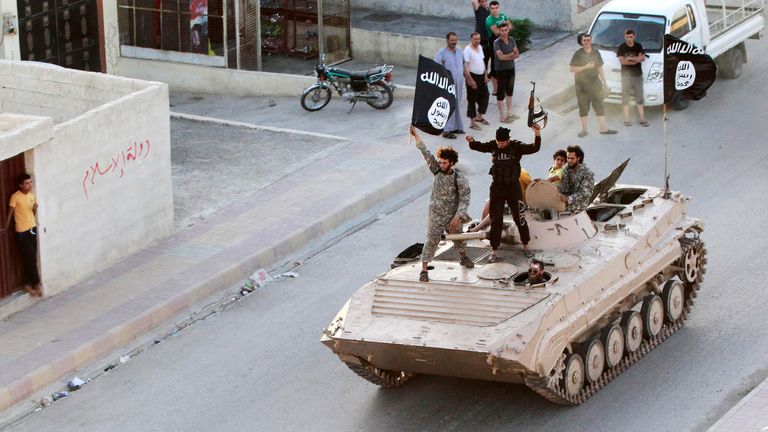 Chaudhry, 25, from Burlington, Ontario, reportedly portrayed himself as a former IS member living freely in Canada.
He has been posting on social media and telling reporters and others since 2016 that he was a former member of the jihadist group's religious police in Syria, according to Canadian media.
He claimed to have conducted at least two executions on the group's behalf and gained further notoriety by appearing on The New York Times' Caliphate podcast, describing in detail the grisly murders of innocent civilians, some blindfolded and tied-up – provoking outrage in the Canadian parliament.
He said he was known within the terror group by his jihadi alias, Abu Huzaifa al-Kanadi (Abu Huzaifa the Canadian), and that he started out in the Syrian city of Manbij.
Choudhry reportedly recalled witnessing violence such as regular public lashings, beheadings and crucifixions, and claimed he suffered from nightmares.
His media interviews led opposition politicians to question whether the federal government was doing enough to protect Canadians from IS fighters who have returned to Canada.
But now, the RCMP has accused him of perpetrating a hoax related to terrorist activity.
Superintendent Christopher deGale said in a statement: "Hoaxes can generate fear within our communities and create the illusion there is a potential threat to Canadians while we have determined otherwise.
"As a result, the RCMP takes these allegations very seriously, particularly when individuals, by their actions, cause the police to enter into investigations in which human and financial resources are invested and diverted from other ongoing priorities."
Chaudhry will appear in court on 16 November and, if convicted, could face up to five years in jail, CBC (Canadian Broadcasting Corporation) reports.
Federal police have also announced terrorism charges against an unnamed 30-year-old man from Alberta, who detectives allege joined IS in 2013 and committed acts of terrorism including kidnapping.
Coronavirus: Two million global deaths 'not impossible' even with vaccine, warns WHO | World News
The number of global coronavirus deaths could reach two million before a vaccine is found and widely used, the World Health Organisation has warned.
It comes as the death toll in the nine months since the coronavirus emerged in Wuhan, China, nears one million.
Dr Mike Ryan, director of the WHO's emergencies programme, said the figure could be higher without concerted action to curb the pandemic.
"It's certainly unimaginable," he told a briefing. "But it's not impossible, because if we look at losing a million people in nine months and then we just look at the realities of getting a vaccine out there in the next nine months, it's a big task for everyone involved.
"There's the issue of funding these vaccines. There's the issue of distributing these vaccines and then the issues of acceptance.
"And beyond that, with the work we still have to do in controlling this disease. And remember, we have things we can do now to drive transmission down and drive down the number of deaths."
Dr Ryan said there was a "worrying" spike of COVID-19 infections across Europe, which have triggered local lockdowns.
These are in part due to improved and rigorous testing, he added.
"But what is worrying to us is an increase in hospitalisations and an increase in bed occupancy for hospitalisations and also in ICU. We're at the end of September, not even towards the end of September, and we haven't even started our flu season yet," he said.
"So what we are worried about is the possibility that these trends are going in the wrong direction. Now, on the other hand, we are in a much different situation now than we were in a few months ago. We have tools in place to be able to reduce transmission and to save lives."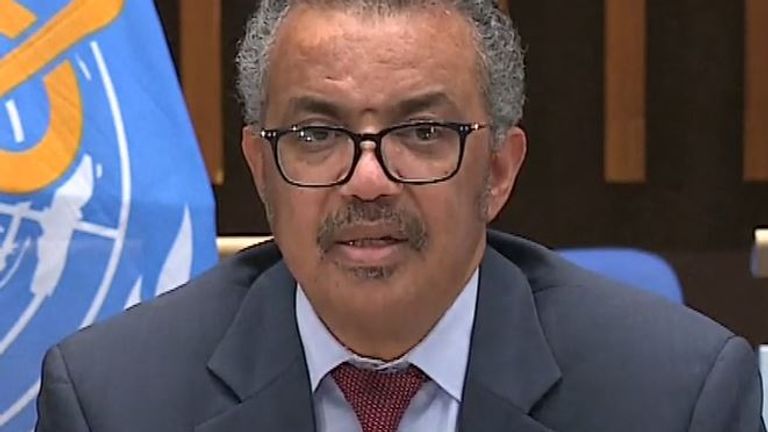 Infections have risen to almost 32.5 million, according to Johns Hopkins University, which has been tracking the coronavirus outbreak.
Many countries are experiencing a second surge as winter approaches.
It is unknown what impact the cold months will have on the disease, and how it will interact with other seasonal respiratory viruses.