Female, Democratic and Younger. EMILY's List charts path to long-term power
Get breaking news alerts and special reports. The news and stories that matter, delivered weekday mornings.
WASHINGTON — As the two parties battle for control of Congress in this year's midterm elections, it follows that most of the political world would pay little attention to the election in New York's 25th District.
That's because the Rochester-based seat left open by Rep. Louise Slaughter's death earlier this month is a virtual lock to elect a Democrat.
Slaughter won there 16 times, Hillary Clinton won it by more than 15 percentage points in 2016 and Democrats have a ready-made candidate in state Assembly Majority Leader Joe Morelle, who wasted little time in rounding up local Democratic officials and Slaughter family members to coalesce behind his bid.
But EMILY's List wants the party to hit the pause button on Morelle, who is 61.
Top officials at the Washington-based political network that recruits, trains and funds abortion-rights-backing Democratic women candidates see a chance to elect a younger woman to a seat that could be in the party's hands for decades to come.
Across the country, EMILY's List is backing more than 40 women House candidates, including many in the high-profile swing districts that will determine which party controls the House in the next Congress.
But in an important way, the safe House seats have more long-term value for a group trying to empower women in Congress. The more they can help women get elected to safe House seats, the more likely it is that future leaders in the House will be women.
For lawmakers to win chairmanships in the seniority-based committee system, they have to get re-elected repeatedly. That's easier in politically safe districts. So is advancing in party leadership, which requires modern House members to take highly partisan stands and spend much of their time outside their districts raising money for colleagues.
The formula's "not a huge mystery," said Danielle Thomsen, an assistant professor of political science at Syracuse University who hasstudied candidates and polarization in Congress.
Top officials at EMILY's List see Sarah Clark, the 44-year-old deputy state director for Sen. Kirsten Gillibrand, and an alumna of then-Sen. Hillary Clinton's office, as the kind of candidate who could someday become a force in the House, like Slaughter, who rose to become the top Democrat on the powerful House Rules Committee.
They dispatched veteran political operative Angela Kouters to Rochester to try to convince Clark to jump in the race before Morelle can lock up all the support he needs.
"We're in the process of really taking a look at this with her," EMILY's List President Stephanie Schriock told NBC News.
Clark, who did not return calls from NBC News, has agreed to collect the signatures she'd need to get on the ballot while she weighs whether to jump in, according to a person familiar with her plans.
Schriock wants Democrats to wait a beat before deciding Morelle is the best person to take Slaughter's seat because she thinks men — particularly white men — are sometimes quicker out of the gate to announce their candidacies.
"Women potential candidates often take a little more time to decide," she said. "If we don't pause, we don't get women in the mix and we don't get people of color in the mix."
Sometimes, there's a tension between EMILY's List's two main missions: electing Democratic women who support abortion rights and helping Democrats take control of the House. That is, sometimes party leaders don't think the EMILY's List candidate is the best one to win in a particular swing district.
This year, the group has found itself at odds with the Democratic Congressional Campaign Committee in a handful of competitive primaries. That's caused consternation within Democratic ranks when it's happened in swing districts, where party officials are most concerned about ensuring victory in November.
But the open seat in Rochester represents a more traditional battleground for EMILY's List— a place where there's little chance that nominating a particular candidate will cost Democrats a seat in the House. And if they can stock the benches of the House chamber with women, the next leaders of the party are more likely to come from those ranks.
"You better believe this is a piece of the puzzle for us," Schriock said.
Afghanistan: Youngsters protest online against order telling girls not to go to school | World News
Afghan girls and boys have joined a social media protest against a decision by the Taliban to prevent young females going to school.
Putting their own safety at risk, many have created makeshift banners to make their points, opposing an edict by the Taliban government that female middle and high school students should not return to school for the time being, while boys of the same age can resume their studies this weekend.
It comes as the interim mayor of Kabul is telling female city authority employees to stay home, with only those whose jobs cannot be done by men allowed to work.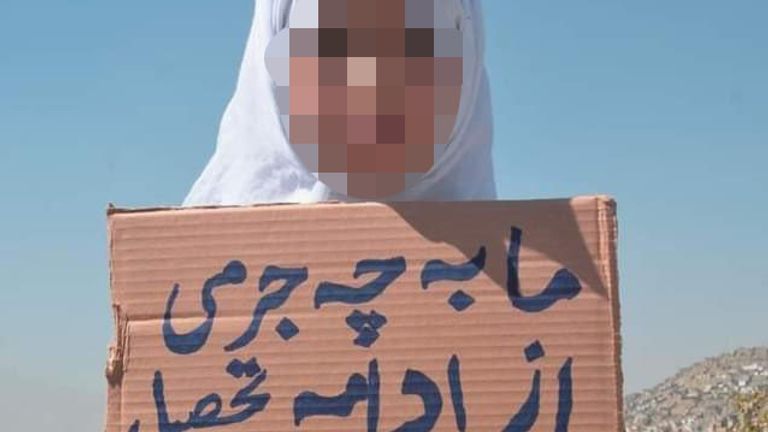 The moves are further evidence the Taliban, which overran Kabul last month, is enforcing its harsh interpretation of Islam despite initial promises that it would be tolerant and inclusive.
Among the slogans on the banners displayed by the youngsters are statements like: "What is our crime that we are prevented from education?" and "I won't go to school without my sister. I support my sister. We are equal."
Sky News has blurred the faces of some of those protesting, as there are fears they could be at risk in a country that appears to be clamping down on the right of expression.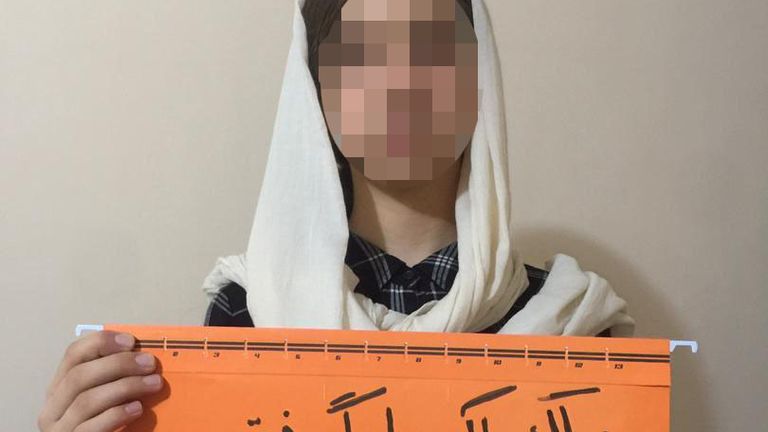 On Sunday, just over a dozen women staged a protest outside the new ministry, holding up placards calling for the right of women to participate in public life.
The protest lasted for about 10 minutes before a short verbal confrontation occurred with a man and the women got into cars and left, as members of the Taliban watched from nearby cars.
Kabul's new interim mayor, Hamdullah Namony, told his first news conference that, pending a further decision, most of the 1,000 or so female city authority employees would be required to stay home.
He said exceptions would only be made for women who could not be replaced by men, including some in the design and engineering departments and the attendants of public toilets for women.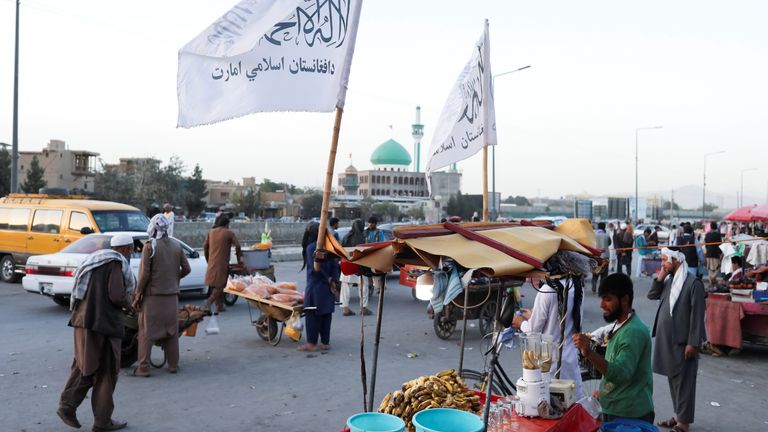 Mr Namony added: "There are some areas that men can't do it, we have to ask our female staff to fulfil their duties, there is no alternative for it."
During its previous rule between the mid 1990s and 2001, the Taliban had forbidden girls and women from schools, jobs and public life.
In recent days, Taliban officials told female university students that classes would take place in gender-segregated settings, and they must abide by a strict Islamic dress code.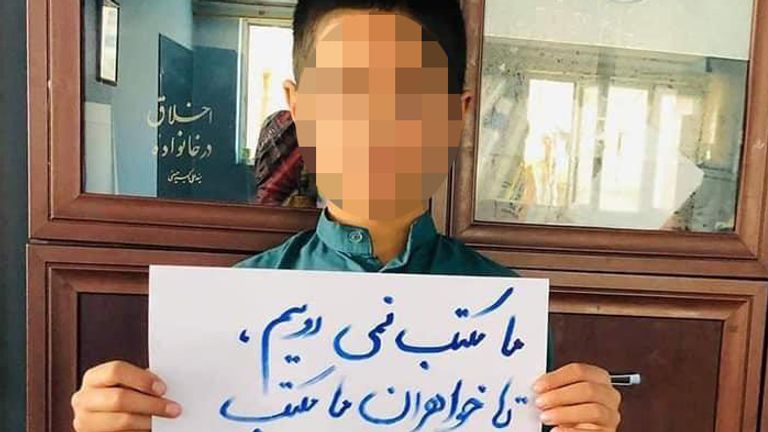 Under the previous US-backed administration, before it was deposed by the Taliban in August, men and women had sat alongside each other in universities, for the most part.
On Friday, the Taliban shut down the ministry for women's affairs, replacing it with a government department responsible for the "propagation of virtue and the prevention of vice", with the job of enforcing Islamic law.
Amid deteriorating conditions for ordinary Afghans, many of whom previously relied on international aid, witnesses said an explosion targeted a Taliban vehicle in the provincial city of Jalalabad, the second such deadly blast in as many days in an area where Islamic State militants are said to dominate.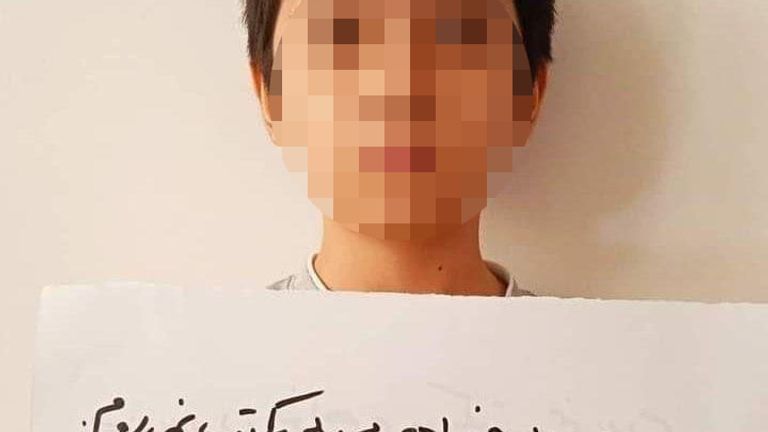 The Taliban and IS extremists are enemies and battled each other before the Taliban took control of Afghanistan last month.
Initial reports said five people were killed, with a child among the two civilians said to have died. The Taliban were not immediately available for comment.
Boris Johnson tells world leaders he is growing 'increasingly frustrated' at their efforts to tackle climate change | Politics News
Boris Johnson has criticised other world leaders over their efforts to tackle climate change, telling them he is growing "increasingly frustrated" that their commitments are "nowhere near enough".
Speaking during a meeting at the United Nations in New York, the prime minister said the gap between what has been promised by industrialised nations and what they have so far delivered remains "vast".
Co-hosting a discussion on the issue at the UN General Assembly, Mr Johnson urged fellow leaders to renew their efforts to meet a key financing pledge to help developing nations.
The PM wants to get countries to commit to giving $100bn (£73bn) a year in support to developing nations to cut their carbon emissions and shield themselves against climate change.
But he earlier told reporters there was only a "six out of 10" chance of this target being met before the COP26 climate summit in Glasgow in November – which he then said will be "a turning point for the world" and "the moment when we have to grow up and take our responsibilities".
He told Sky News' political editor Beth Rigby: "We have been here before, we have all heard lots of positive noises, let's see where we get to.
"We are not counting our chickens."
However, Joe Biden's climate envoy sounded upbeat when questioned by Sky News.
"I think we're going to get it done by COP and the US will do its part," John Kerry said.
Asked if the US president will announce more money this week, he replied: "I'm not hoping… I'm telling you to stay tuned into the president's speech and we'll see where we are."
Chairing the climate discussion on Monday, Mr Johnson noted that "everyone nods and we all agree that something must be done".
Kerry 'confident' of $100bn climate target

"Yet I confess I'm increasingly frustrated that the 'something' to which many of you have committed is nowhere near enough," he continued.
"It is the biggest economies in the world that are causing the problem, while the smallest suffer the worst consequences.
"And while progress is being made all over the world, the gulf between what has been promised, what is actually being delivered, and what needs to happen… it remains vast.
"Too many major economies – some represented here today, some absent – are lagging too far behind."
And the PM warned countries there would be consequences if the financing target is not met, saying: "If you say that the lives of their children are not worth the hassle of reducing domestic coal consumption, will they vote with you in fora such as this?
"Will they work with you, borrow from you, stand with you if you tell the world that you don't care whether their land and their people slip below the waves?
Subscribe to ClimateCast on Spotify, Apple Podcasts, or Spreaker
"To be merely a bystander is to be complicit in their fate – yet that is exactly what you will be if you fail to act this year."
Ahead of the UN meeting, Downing Street said developed countries had "collectively failed" to meet the target.
Figures released last week by the Organisation for Economic Co-operation and Development showed that $79.6bn was mobilised in 2019, more than $20bn off the target.
Watch the Daily Climate Show at 6.30pm Monday to Friday on Sky News, the Sky News website and app, on YouTube and Twitter.
The show investigates how global warming is changing our landscape and highlights solutions to the crisis.
Serbians block roads in Kosovo in protest over license plate restrictions | World News
Protesters have blocked roads in northern Kosovo after authorities stopped cars with Serbian plates from entering the country.
Police in Jarinje, Kosovo are forcing drivers from Serbia to remove or hide license plates and use temporary registration details that are valid for 60 days and cost €5 (£4.30).
Serbia, which lost control of Kosovo in 1999, does not recognise Kosovo and has stopped cars with Kosovo license plates from entering the country.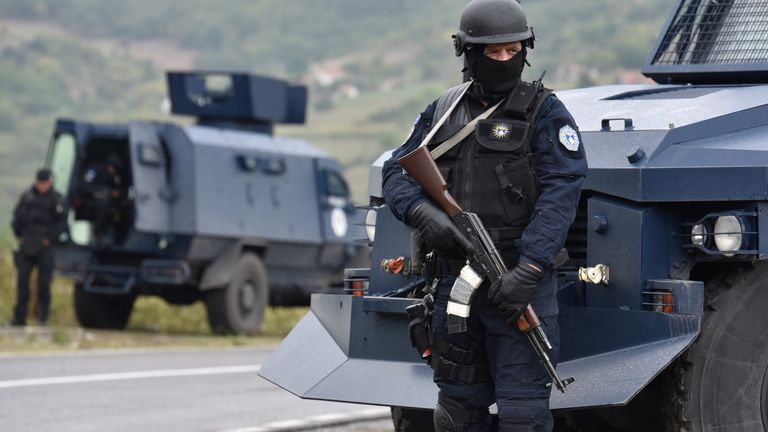 Almost 50,000 Serbs who live in the north of Kosovo and share a border with Serbia, refuse to recognise Pristina's authorities and as restrictions came into force on Monday, cars and trucks blocked roads in protest.
Police in Kosovo deployed riot gear and armoured vehicles as the blockades built up and Kosovo's Prime Minister, Albin Kurti, said the move was not taken to harm drivers but was a retaliation measure against Belgrade.
"Today there is nothing illegal or discriminatory," Mr Kurti said in parliament.
"Just as yesterday, today and tomorrow, Serb citizens will move freely and safely."
Serbian President Aleksandar Vucic said the situation is very "serious and difficult".
"When you are dealing with people who are not responsible, it is difficult to find a solution," Mr Vucic said.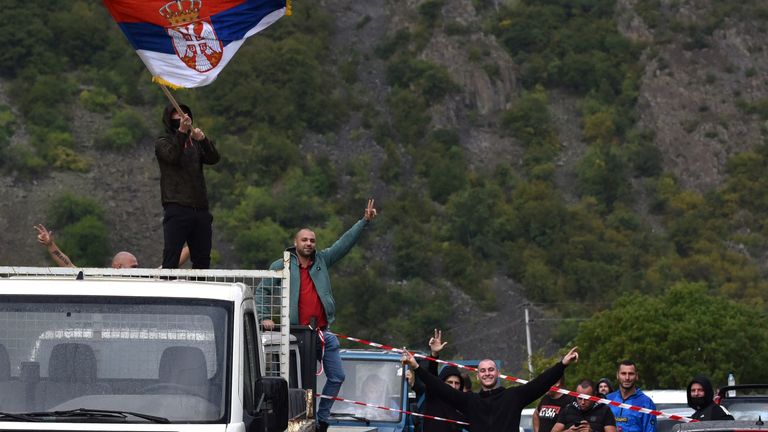 The two countries began talks in 2013, mediated by the European Union, to resolve the issues, but little progress has been made.
Kosovo is recognised by around 110 countries, including the United States, Britain and most western countries, but Russia, Serbia's traditional ally, does not recognise it.