The politics of the 'Roseanne' reboot are more complex than Trump or liberals believe
Get the Think newsletter.
A staggering 18.2 million viewers watched the premiere of the tenth season of "Roseanne" (almost exactly 21 years since the show went off the air), making it the highest rated comedy in four years. Team Trump, of whom creator Roseanne Barr has been a vocal supporter, played the ratings as a win for their political side, with Don Jr. tweeting out congratulations, Ivanka following Roseanne on Twitter and the president even calling her.
But the Conners' politics were mostly just played for laughs in the new season, even if they were more explicit than in the original, when it went unspoken that both Roseanne (played by Roseanne Barr) and her husband Dan (John Goodman) probably voted for Reagan – though GOP policies were what kept their family mired in the lower middle classes. Politics aren't actually a serious part of the updated story; they're part of the updated landscape. We all talk politics now, even those of us who never would have thought to do so 30 years ago, and most of us sound like fools when we do.
Jackie (Laurie Metcalf) makes her entrance in a so-called pussyhat and a Nasty Woman t-shirt and proceeds to rattle off a laundry list of "deplorable"-like insults, including accusing Roseanne and Dan of "clinging to their guns," a reference to then-Sen. Barack Obama's 2008 gaffe now seen by some as prescient. Roseanne has the typical "Make America Great Again" attitudes, and yells equally ridiculous things like "Snowflake." These are not serious discussions of our modern politics; but, then, maybe modern politics are bereft of serious discussions at this point.
Barr's own support for Trump polarized viewers before it even hit the airwaves, but the Illinois-dwelling Conner family are the perfect avatar of the Trump-voting family as conceived by liberal coastal media like The New York Times. Much like when the show debuted 30 years ago, wages have been stagnant for a decade or more. The stratification of the classes has worsened. The financial and social struggles of working-class families like the Conners have only gotten harder, particularly in a society obsessed with giant houses, giant TVs and $1,000 iPhones.
"Roseanne," in other words, returned at a time that the Conners are relevant to the national conversation again.
"Rosanne" was a hit when it first landed, in large part because it did not depict the big-city, moneyed life of so many other sitcoms of its era (like "The Cosby Show" and "Murphy Brown"), but portrayed a struggling working-class family. But, unlike earlier working class family shows (like "All In The Family" and "The Jeffersons") there was nothing sentimental about the Conners: Roseanne and Dan were all the things that TV had stereotyped as "bad parents." They yelled at their kids when they weren't outright ignoring them, and were so consumed with simply surviving they didn't have much energy to parent.
The reality is that most people's political or ideological alignment often breaks down when their day-to-day realities don't fit a party's policy platform.
But they weren't bad people. They kept the lights and television on, food on the table (even if it was fast food) and the roof over their family's heads. In the years since, we've but rarely seen this replicated on TV, and never with such mainstream appeal and cultural longevity.
Their kids weren't the stereotypical strivers of other family sitcoms; their choices let viewers know that Becky, Darlene and D.J. were not the types to break the unspoken class barrier that existed and still exists in America. And, when we meet them again in 2018, they haven't: Becky (played by Lecy Goranson, aka "Original Becky") is selling her eggs to make ends meet. Darlene (Sara Gilbert) is "unpartnered" with two kids, out of a job and forced to move back home. D.J. (Michael Fishman) and his wife are in the military; he's home, and she's deployed. None of the Conner kids found the upward mobility the American dream supposedly promised, or even a big house to hold over the heads of their parents as a sign of success.
Even the choice to portray Roseanne as a Trump-voter is less stereotypical than the voters seen in media profiles. She begrudgingly supports Becky being able to make reproductive choices, even if she privately — or not so privately — thinks that it's a terrible idea to be a surrogate, especially to someone she rightly judges as an upper-class twit. (Said upper-class twit, Andrea, is played by Sarah Chalke, aka "Becky 2.0," in what is perhaps the cleverest double casting in a decade.) Darlene's son Mark is portrayed as gender-fluid, and the show manages to portray both the shows characters' support and love for him as an individual while being realistic that such support is not a sign of radical change about the gender norms themselves.
The reality is that most people's political or ideological alignment often breaks down when their day-to-day realities don't fit a party's policy platform. It's that exact contradictory mindset that isn't being grappled with anywhere else, and clearly, there is a hunger for it both among those who voted for Trump and those who still struggle to understand how anyone could have.
Barr and the show needed to reimagine what the Conner family's life would be in, as the executive producers pitched it, "The Time Of Trump." Most revivals and reboots fails because they believe their shows don't need to change to fit the times. The success of "Roseanne" is a lesson that allowing characters to update to the changing landscape while keeping the original chemistry of the old show will pull in the viewers, no matter how the politics swing.
Ani Bundel has been blogging professionally since 2010. Regular bylines can be found at Elite Daily, WETA's TellyVisions, and Ani-Izzy.com.
US hospitals facing 'increased and imminent cybercrime threat', FBI warns | World News

Cybercriminals could soon paralyse the US healthcare system with a ransomware attack, which has already hit five hospitals and four other facilities, the FBI has warned.
In an alert on Wednesday, the FBI said it had credible evidence of an "increased and imminent cybercrime threat" to healthcare providers nationwide.
They warned the fraudsters behind the ransomware, which is called Ryuk, want to steal data and disrupt healthcare services.
They do this by scrambling their victims' data, making it impossible to understand, then demanding money to decode it again, the alert from the FBI, Department of Homeland Security and Department of Health and Human Services said.
The attack, which has already affected five hospitals this week, as well as four other healthcare institutions, could spread further in the coming days, they added.
It coincides with a nationwide rise in coronavirus cases and the US election on 3 November.
But there is currently no evidence the cybercriminals have any political motive, the alert stressed.
Previous ransomware attacks have resulted in ambulances being diverted to different hospitals and medics left to keep track of patient care with just pen and paper.
One in Dusseldorf, Germany, in September, resulted in a critically-ill patient being rerouted to another hospital in the city, which ultimately led to their death.
So far the current US attack has not seen any care compromised.
But Charles Carmakal, chief technical officer of security firm Mandiant, says the cyber threat could be the "most significant" the US has ever seen.
He warned criminals are "deliberately targeting and disrupting US hospitals, forcing them to divert patients to other healthcare providers" and producing prolonged delays in critical care.
So far this year 59 US healthcare providers or systems have been impacted by ransomware, which has resulted in care at 510 facilities being compromised, cybersecurity analysts at Emisisoft added.
Typhoon Molave: Landslides leave at least 15 people dead in Vietnam | World News
Soldiers and heavy machinery are being used to search for survivors in Vietnam after landslides triggered by Typhoon Molave killed at least 15 people.
Vietnamese officials said the typhoon, which brought winds of up to 150km (93 miles) per hour, is the worst to hit the country in decades.
The landslides hit remote areas in the central province of Quang Nam late on Wednesday.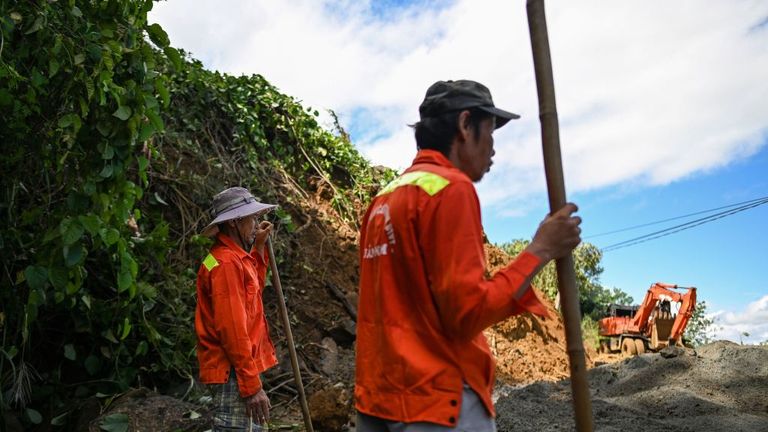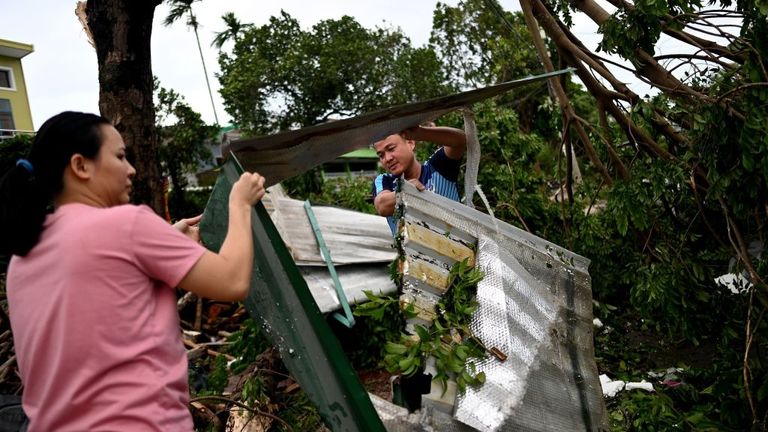 State television said the bodies of 12 fishermen have also been found after their boats sank while trying to return to shore two days ago.
Two navy vessels were mobilised to find them and 14 people are still missing.
Details of possible casualties and damage in other typhoon-hit regions have not yet been reported amid the stormy weather and could cause the toll to rise.
Rescuers dug up eight bodies in Tra Van village in south central Quang Nam province where a hillside collapsed on houses.
In Tra Leng village, about 45km (28 miles) from Tra Van, another landslide buried a community with several houses occupied by about 45 people, including four who managed to escape.
"We can forecast the storm path or the amount of rain, but can't predict when landslides happen," deputy prime minister Trinh Dinh Dung said in a statement.
"The road is covered under deep mud and heavy rains are still lashing the area, but rescue work has to be carried out
quickly."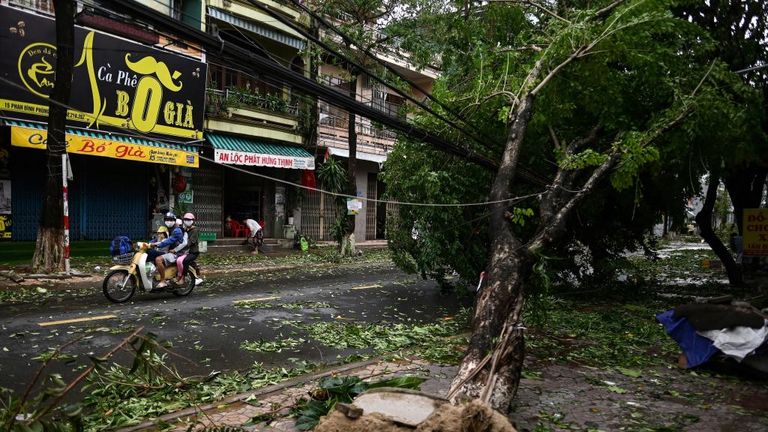 Many villages in the remote region remain inaccessible due to damaged roads and further landslides.
Mr Dung said helicopters would be used to reach the most difficult areas if necessary.
Tra Leng and Tran Van lie in the mountains of Quang Nam, in a coastal region still recovering from floods that killed 136 people and destroyed hundreds of houses earlier this month.
The typhoon blew off roofs of about 56,000 houses and caused a massive blackout in Quang Ngai province, where 1.7 million people endured the typhoon onslaught overnight in darkness, according to local media.
At least 40,000 people were evacuated to emergency shelters and authorities shut down offices, factories and schools.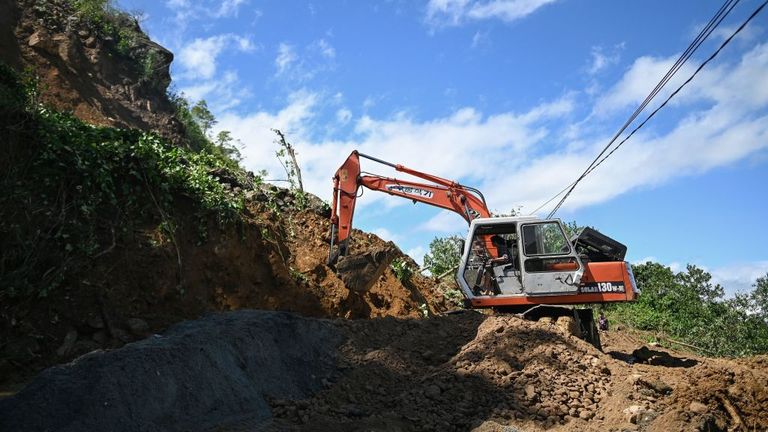 Forecasters have said heavy rain of up to 700mm (27.5in) will continue in parts of central Vietnam until Saturday.
The typhoon left at least 16 people dead in the Philippines before blowing across the South China Sea to Vietnam.
Clash of cultures in France between freedom of expression and Islamic blasphemy beliefs | World News
A clash of cultures is gripping France and impacting French interests in the Muslim world.
It has pitched the right to freedom of expression – including viewing cartoons of the Prophet Muhammad – against what that means for Muslims who regard such actions as blasphemous.
The motivation for the triple murders in Nice by a knifeman shouting "Allah Akbar" and why someone else threatened people with a handgun close to the city of Avignon is not yet known.
Same too for a separate knife attack against the French consulate in the Saudi city of Jeddah.
Three people killed in France – live updates as separate incidents unfold in Nice and Avignon
Shots fired as police storm church

Yet these incidents – which all happened on Thursday – come almost two weeks after a teenager beheaded a school teacher on the outskirts of Paris after Samuel Paty, 47, showed his students caricatures of the Prophet Muhammad during a lesson.
President Emmanuel Macron, a strong supporter of secularism and free speech in his country, praised Mr Paty as a "quiet hero".
The teacher's violent death gave added impetus to a plan unveiled by the French leader at the start of October aimed at reforming the practice of Islam in France and creating – as Mr Macon described it – "an Islam of Enlightenment".
This kind of language triggered anger among Muslim countries, in particular from Turkey.
President Recep Tayyip Erdogan went as far as calling his French counterpart mentally damaged.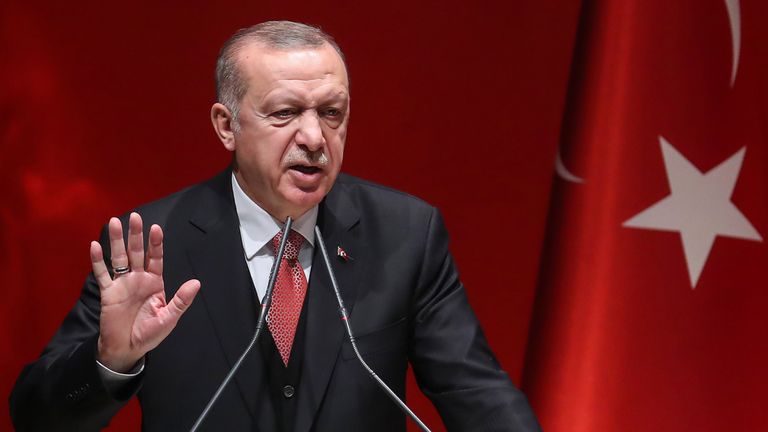 Mr Erdogan has also called for a boycott of French products.
Lord Ricketts, a former UK ambassador to Paris and former national security adviser, described what is happening in France as a "big cultural clash".
In the wake of the attacks, he said the French authorities should be reaching out to Muslim leaders in the country to condemn the violence and help bring people together.
France needs a "calming voice from the Muslim community", he said.