Stephon Clark was shot 7 times from behind, private autopsy finds
The autopsy was done at the request of Clark's family.
Omalu said any one of the bullets striking him from behind could have killed him. "Each one of these bullets independently possessed a fatal capacity," said Omalu, who is known for identifying and describing the first instance of chronic traumatic encephalopathy, or CTE, in professional athletes.
The first shot by Sacramento police officers hit Clark in the left side and back of the chest, with the bullet's propulsion probably forcing him to spin around so that his back faced the officers completely, Omalu said. The shot fired from the front struck him in the lower part of his left thigh, indicating that Clark was shot while he was either on the ground or falling close to the ground, according to Omalu.
Video from a police helicopter shows Clark, 22, running from the officers, then crawling away after being shot.
Omalu, who conducted the autopsy on Tuesday, further concluded that Clark's death was caused by a combination of blood loss, acute respiratory arrest and hypoxia, or a lack of oxygen reaching the brain.
According to police, two Sacramento officers fired 20 shots at Clark on the night of March 18 after responding to a 911 caller reporting a man smashing car windows. Believing Clark to be a suspect, officers chased him to his grandmother's backyard with the help of an overhead helicopter from the Sacramento County Sheriff's Department. Body camera footage shows the two officers, who have not been identified, shouting at Clark to stop and show his hands before one of them yells "Gun! Gun! Gun!" and both officers open fire. Later, Clark was found to have only been carrying a cellphone.
"These findings from the independent autopsy contradict the police narrative that we've been told," Benjamin Crump, an attorney representing the Clark family, said in a statement. "From the time this investigation began, statements provided by the Sacramento Police Department have proven to be self-serving, untrustworthy and unreliable. This independent autopsy affirms that Stephon was not a threat to police and was slain in another senseless police killing under increasingly questionable circumstances."
In an interview on March 22, Police Chief Daniel Hahn told NBC News that officers who engaged Clark had feared for their lives before the shooting.
"The officers responded to a call and ultimately were able to see the subject they believed was responsible for the breaking into the cars that they were there for," said Hahn. "They felt their lives were in danger and they fired."
COVID-19: India's doctors warn against using cow dung to ward off coronavirus – amid rise in deadly 'black fungus' | World News
Hospitals in India have reported a rise in "black fungus" found in COVID-19 patients – as doctors warned people against using cow dung in the belief it will ward off the virus.
The Indian government has told medics to look out for signs of mucormycosis in coronavirus patients following an increase in cases of the rare but potentially fatal infection.
Latest COVID updates from the UK and around the world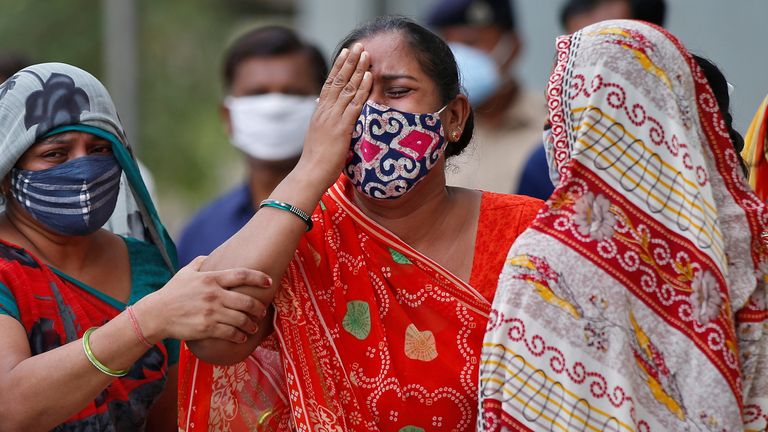 The disease can lead to blackening or discolouration over the nose, blurred or double vision, chest pain, breathing difficulties and coughing blood.
It is strongly linked to diabetes, which can in turn be exacerbated by steroids, such as dexamethasone, used to treat severe COVID-19.
Manchester University professor David Denning, an expert in fungal infections, told Reuters there have been cases reported in several other countries including the UK, US, France, Austria, Brazil and Mexico.
"The volume is much bigger in India," he added.
"And one of the reasons is lots and lots of diabetes, and lots of poorly controlled diabetes."
Doctors in India treating COVID patients and those with diabetes and compromised immune systems have been told to watch for early symptoms, including sinus pain or nasal blockage on one side of the face, one-sided headaches, swelling or numbness, toothache and loosening of teeth.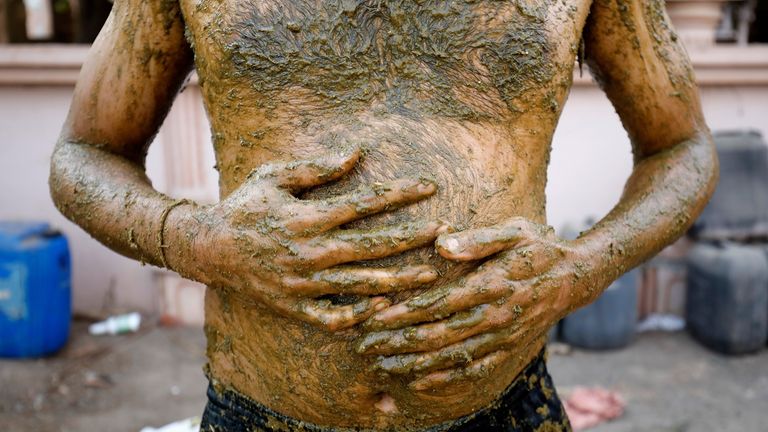 Meanwhile, Indians have been warned against the practice of using cow dung in the belief it will ward off COVID-19.
In the state of Gujarat in western India, some people have been going to cow shelters once a week to cover their bodies in cow dung and urine in the hope it will boost their immunity, or help them recover from the disease.
Dr J. A. Jayalal, national president at the Indian Medical Association, said: "There is no concrete scientific evidence that cow dung or urine work to boost immunity against COVID-19, it is based entirely on belief."
Gujarat is one of the places said to have recorded cases of mucormycosis, according to media reports, along with Maharashtra and its capital Mumbai.
Indian authorities have not published national data on mucormycosis but insist there is no major outbreak.
COVID crisis pushes India's hospitals to the brink

P Suresh, a doctor working at Fortis Hospital in Mumbai, said it had treated at least 10 such patients in the past two weeks – roughly twice as many as in the entire year before the pandemic.
He said all had been infected with COVID-19 and most were diabetic or had received immunosuppressant drugs. Some had died, and some had lost their eyesight.
Other doctors spoke of a similar surge in cases.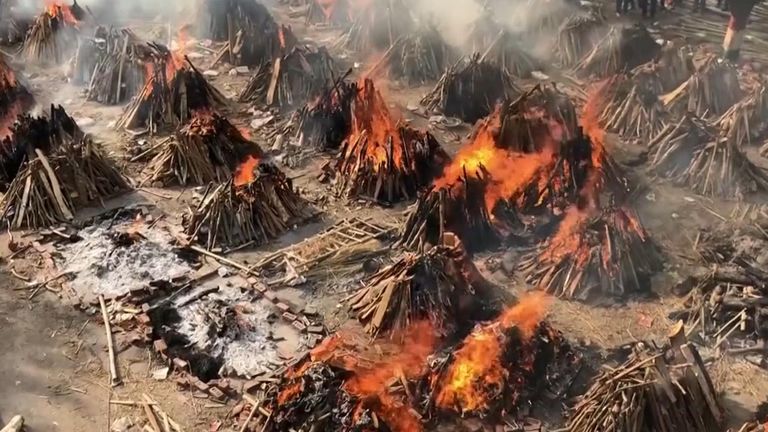 Nishant Kumar, a consultant ophthalmologist at Hinduja hospital in Mumbai, said: "Previously if I saw one patient a year, I now see about one a week."
It is an added complication for India's overwhelmed hospitals, which are desperately short of beds as well as the oxygen needed for severely ill COVID-19 patients.
India has the world's highest daily average number of new COVID deaths – accounting for one in every three fatalities reported worldwide each day.
Nearly 23 million coronavirus infections have been recorded in the country, with almost 250,000 deaths.
The World Health Organisation (WHO) said the COVID variant first identified in India last year is being classified as a variant of global concern, with some preliminary studies showing that it spreads more easily.
Maria Van Kerkhove, from the WHO, told a briefing: "There is some available information to suggest increased transmissibility."
Russia school shooting: Students among 11 killed in attack in Kazan – reports | World News

At least 11 people including students have been killed and several injured in a shooting at a school in southwest Russia, according to reports.
The RIA news agency said an explosion was heard at the school in the city of Kazan and a gunman has been detained by police.
Interfax news agency cited a source as saying that there were two attackers and the second could still be in the building.
Israel launches airstrikes on 'Hamas military targets' in Gaza Strip as it responds to rocket attacks | World News
The Israeli military has insisted it does all it can to avoid civilian deaths after 22 people, including nine children, were killed overnight in the Gaza Strip.
Israeli fighter jets, attack helicopters and drones hit more than 130 "Hamas military targets", including the home of a Hamas commander, according to the Israeli military.
The airstrikes were a retaliation for a barrage of rockets fired into Israel from Gaza since 6pm on Monday including six rockets which landed near Jerusalem.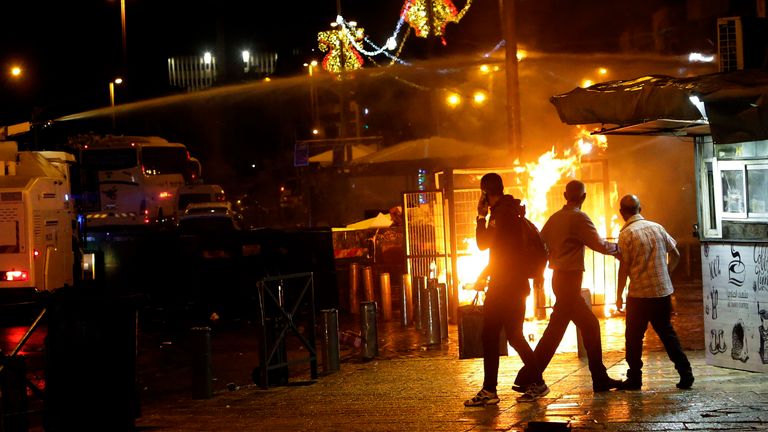 In total, more than 200 rockets were launched by Hamas and other militant Palestinian groups inside Gaza. Video was released by both Hamas and Palestinian Islamic Jihad (PIJ) showing the rockets being fired.
In an early morning briefing, Israeli Defence Forces (IDF) spokesman Lieutenant Colonel Jonathan Conricus said that more than 90% of the rockets fired from Gaza were intercepted by Israel's Iron Dome missile defence system.
He could not confirm whether the civilian casualties in Gaza were the result of Israeli airstrikes and suggested they could be the consequence of misfired Hamas rockets.
"Thirty-three percent of the rockets fell short and exploded inside Gaza, an abnormally high misfire rate, maybe indicating poor quality," Lt Col Conricus said.
"Hamas rockets are falling short and causing damage inside Gaza…. we know they are falling short because of our radar systems."
Israeli airstrikes on targets in Gaza City

"Hamas is nurturing a narrative that the ISF is killing non-combatants. We take every effort to avoid killing non-combatants – but can't confirm or deny yet whether Israeli strikes have hit civilians," he added.
He said that current estimates suggest that Israeli strikes over a 12-hour period had killed 15 Hamas and PIJ fighters including a Hamas battalion commander whose home in a high rise block was hit.
The residential property was among a number of groups of targets identified in advance according to the IDF. The others included rockets manufacturing facilities, storage facilities, training facilities and military bases.
Gaza's health ministry said at least seven members of one family, including three children, were killed in an explosion in northern Gaza but the origins of the explosion are unknown.
This morning, rockets continued to be fired from Gaza into southern Israel with a residential building in the southern Israeli city of Ashkelon hit, injuring one person.
What issues lie behind troubles in Jerusalem?

Hamas said in a statement this morning that it will "not stop its resistance action as long as the Israeli occupation continues its aggression against the Palestinians".
The latest violence comes amid soaring tensions in Jerusalem and days of clashes at an important mosque in the holy city.
Hundreds of Palestinians were hurt in clashes with Israeli security forces in 24 hours in the courtyard outside the Al Aqsa mosque and in the narrow streets of the old city.
Hamas had given the Israeli government an ultimatum to withdraw its forces from the mosque area, release all Palestinians detained over the course of the day and remove Jewish settlers from the Sheikh Jarrah neighbourhood of East Jerusalem.
The militant group said it would retaliate at 6pm on Monday if the demands were not met.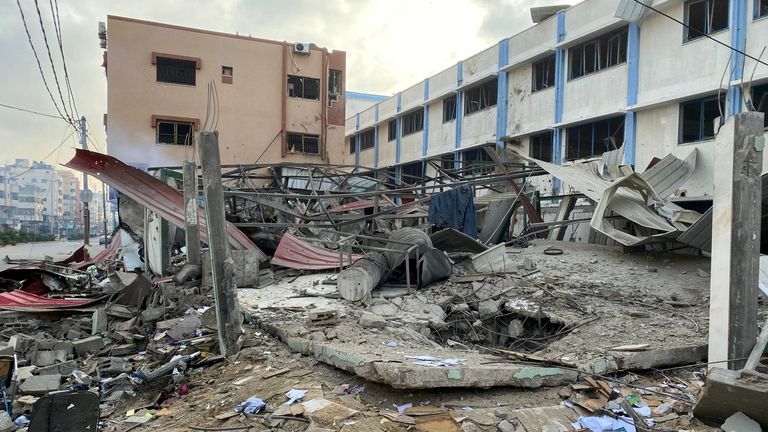 At just after 6pm explosions were heard in Jerusalem as the Hamas rockets landed eight miles to the west of the city.
Israeli Prime Minister Benjamin Netanyahu said the Hamas attacks had "crossed a red line".
"Israel will respond very forcefully. We will not tolerate attacks on our territory, our capital, our citizens and our soldiers. Whoever strikes us will pay a heavy price," he said.
A US State Department spokesman had expressed deep concern over the events at the Al Aqsa mosque earlier in the day and called the Hamas rocket attack an "unacceptable escalation".
Dominic Raab, the UK foreign secretary, tweeted: "The UK condemns the firing of rockets at Jerusalem and locations within Israel.
"The ongoing violence in Jerusalem and Gaza must stop. We need an immediate de-escalation on all sides, and end to targeting of civilian populations."