Seven dead in clashes during protest march in Gaza
Seven people are dead and dozens injured after violent clashes broke out between soldiers and Palestinians on the Israeli border.
Tens of thousands of Gazans marched on Friday, gathering at multiple sites through the territory.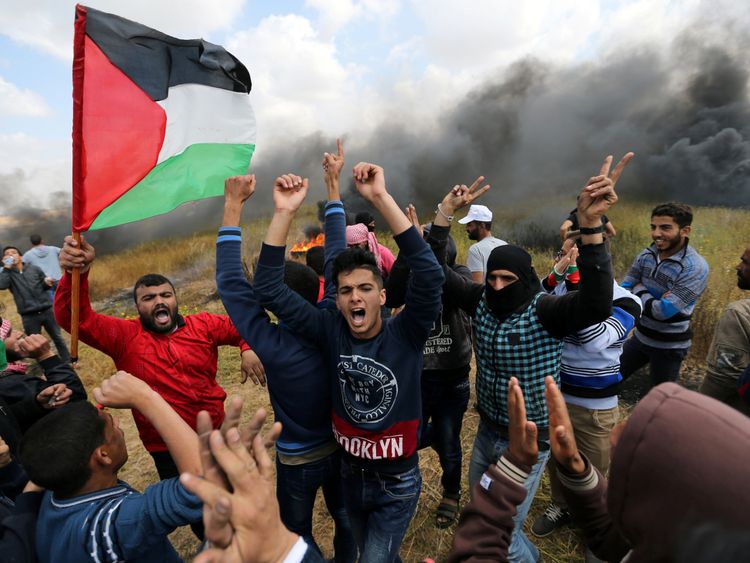 According to Gaza health officials, six were killed by Isreali soldiers at the border fence and one, a farmer, by Israeli tank fire hours before the protest began.
The farmer was identified as Amr Samour, 27, and a relative said he had been hit directly by a shell while picking parsley.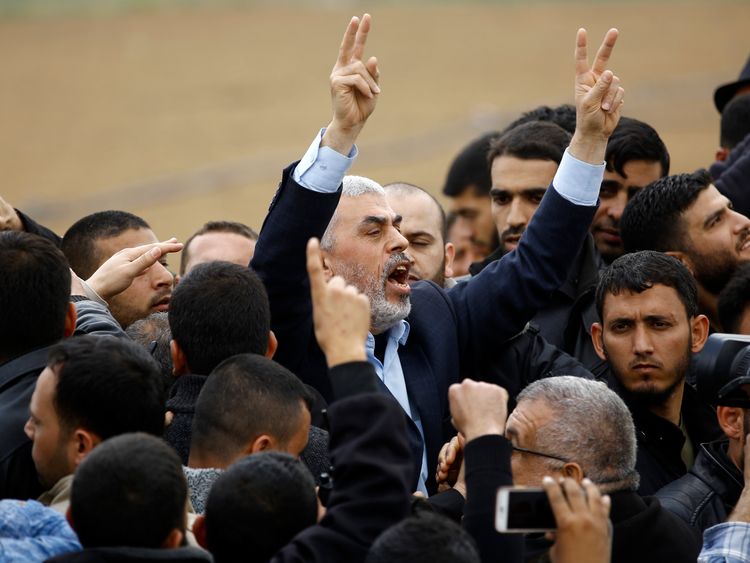 His body was marched through the streets of Khan Younis with hundreds of mourners.
Palestinians are staging six weeks of sit-ins along the border. Islamist Hamas movement leader Yahya Sinwar has been taking part in the tent city movement.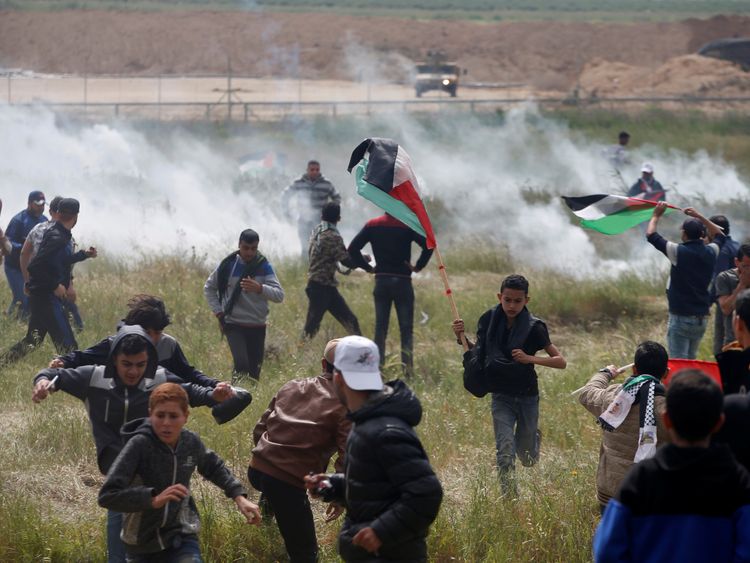 It marks Land Day, commemorating the killing of six Arab Israelis during 1976 demonstrations against Israeli confiscations of Arab land.
Throughout Friday, Israeli drones dropped tear gas at several locations along the fence.
The Palestinian Health Ministry said hundreds were hurt by live fire and rubber-coated steel pellets.
The commander of the Israel military Southern Command said the forces were "identifying attempts to carry out terror attacks under the camouflage of riots".
The military said they opened fire at the "main instigators".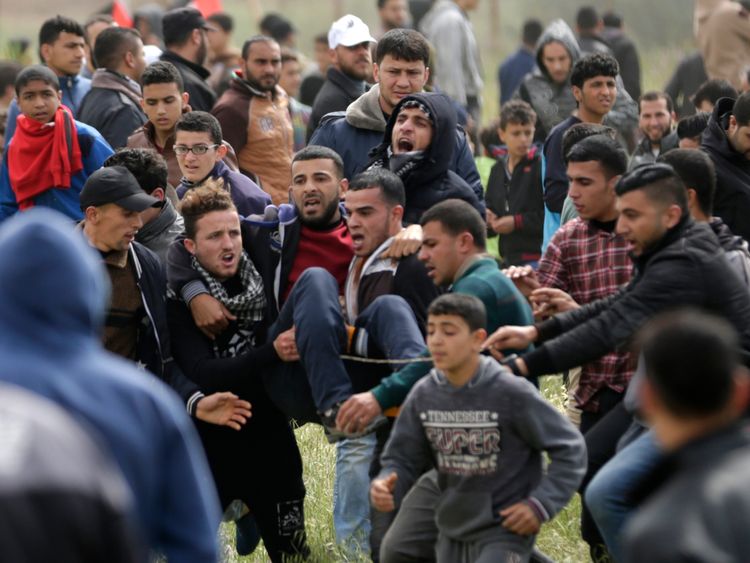 The clashes erupted during what Hamas rulers promised would be peaceful protests.
Gazans have been warned to stay away from the area by the Israeli military.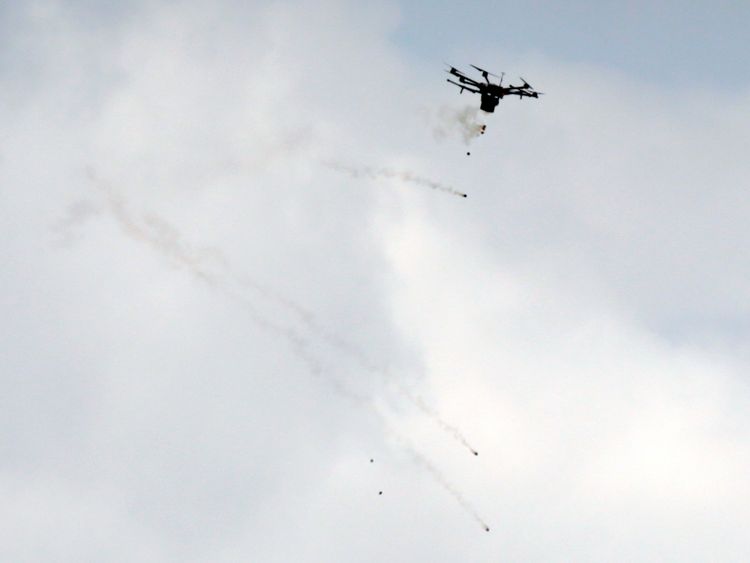 Mosques across Gaza urged Palestinians to take part in the protests, and took thousands to the encampments by bus.
Hamas spokesman Fawzi Barhoum said: "The large crowds… reflect the Palestinian people's determination to achieve the right of return and break the siege and no force can stop this right."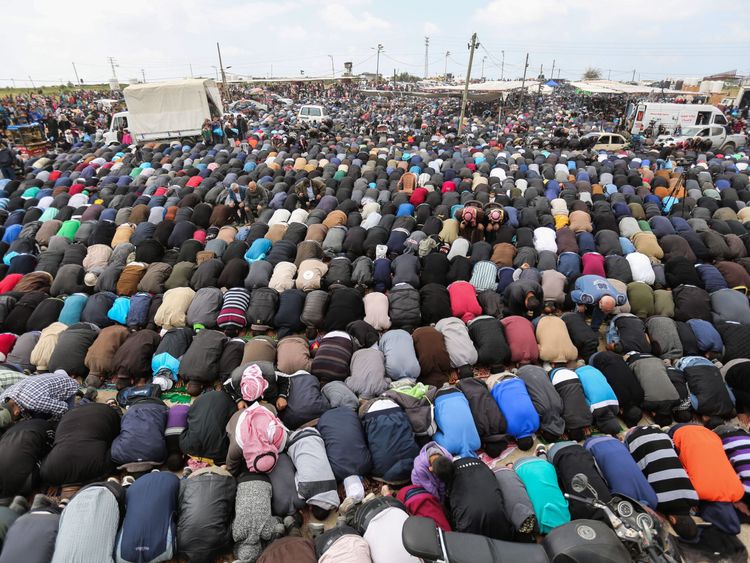 The sit-ins are seen as an attempt by Hamas to break the decade-old Gaza border blockade, that makes it hard for the militant group to govern.
The events culminate on 15 May, the 70th anniversary of the creation of Israel as it stands today.
Melbourne earthquake: Buildings damaged as southeast Australia hit by 6.0-magnitude tremor | UK News
The Australian city of Melbourne has been struck by a 6.0-magnitude earthquake, Geoscience Australia has said.
The quake, which was one of the country's biggest on record, caused some damage to buildings as it hit the city on Wednesday.
No serious injuries have been reported so far, prime minister Scott Morrison said.
The epicentre was near the rural town of Mansfield in Victoria, about 200 km (124 miles) northeast of Melbourne with tremors also felt in neighbouring Australian states.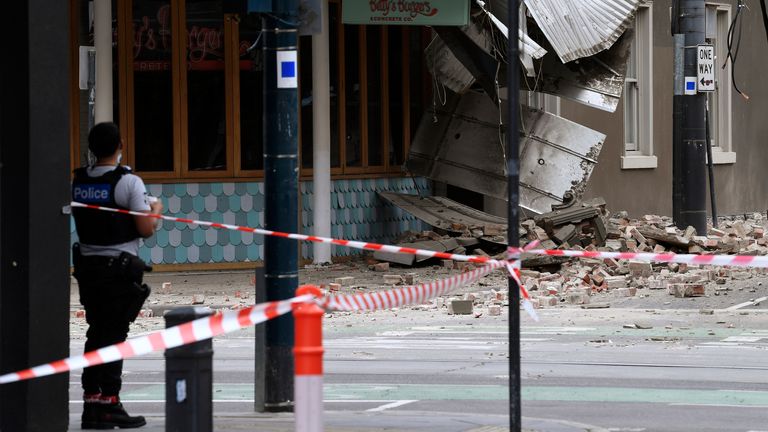 Images and video footage circulating on social media showed rubble blocking one of Melbourne's main streets.
People in northern parts of the city said on social media they had lost power while others said they were evacuated from buildings.
COVID-19: Should countries send vaccines abroad instead of giving booster jabs? | UK News

As the UK starts rolling out booster jabs, health experts have raised concerns about diverting resources from developing countries with much lower vaccination rates.
Sky News analysis has found two-thirds of countries have vaccinated less than 40% of their population – the target that the World Health Organisation (WHO) set for the end of 2021.
The UK is one of a number of developed countries rolling out a third dose to over-50s and vulnerable groups from this week in order to bolster protection against the virus.
But the WHO's director general has called for the suspension of boosters until the "critical milestone" of 40% vaccine coverage has been reached across all countries.
Our analysis also found significant vaccine inequality between rich and poor economies.
While more than four in five high-income countries have reached the 40% threshold, no low-income countries have vaccinated more than 8% of their population.
These findings are supported by a new report from Amnesty International, which concludes that less than 1% of people in low-income countries are fully vaccinated. In richer parts of the world, this number is 55%.
Vaccine inequality could worsen the pandemic even in countries with high vaccine coverage.
Dr Peter English, former consultant in communicable disease control at Public Health England (PHE), says the risk of mutation is increased by high levels of transmission.
"Every time a virus replicates there's a risk of mutations happening," he said.
"There's a risk that sometimes it will make it better able to infect people – and we've seen that with the Delta variant – or possibly better able to evade vaccine."
Why is the government offering booster jabs?
In the UK, nearly 90% of over-16s have had the first dose, while more than 80% have had two doses. But the vaccine rollout has slowed in recent weeks and vaccines offer less protection against the Delta variant.
There is also new evidence from PHE that immunity wanes over time.
This means the groups vaccinated first, such as the elderly and clinically extremely vulnerable, are now less protected against severe disease.
Immediately after vaccination, people experienced a boost in antibody levels, but that has also begun to decline for the groups that received the jabs first.
Despite more than 98% vaccine coverage, antibody levels are falling in the over-65s, according to a survey by the Office for National Statistics.
Dr English says that the third dose has "quite a dramatic effect on antibody levels".
And, while antibodies are not a direct indicator of immunity, they do contribute to protecting us against re-infection.
"We should have better and broader protection that will last longer," he said.
"Based on what we know about vaccination, we would also expect to see better cross protection against new variants as well."
Will booster jabs protect the NHS?
Vaccines have started to break the link between infections and the number of hospitalisations and deaths.
Hospital admissions are now about two-thirds what they were at the same stage in the second wave, and daily deaths less than a third of the level at this point in the second wave.
But while admission rates for over-65s are still lower than at the start of the pandemic, they have been ticking up since July.
As case numbers increase over the winter, rising admissions could put the NHS under unsustainable pressure.
The government hopes that rolling out booster jabs to vulnerable people and over-50s will stop this happening by keeping rates low.
Early evidence from Israel suggests that, with a sufficient lag, a third dose reduces the likelihood of being infected and hospitalised.
According to Israel's health ministry, over-60s have four-times more protection 10 days after a third dose than after just two doses of the vaccine.
Data shows a third dose of the Pfizer vaccine cuts hospital admission rates for the over-60s to a tenth of what it is after just two doses.
If the data holds up in the UK, that will mean a "considerable reduction" in hospital admissions and transmission, says Dr English, which may be particularly useful for health and social care workers.
But he adds that there is a "very strong case" for getting the rest of the world vaccinated as fast as possible.
"The more we can control the disease worldwide, the fewer cases there will be, the less transmission there will be and, therefore, the less likelihood there will be of newer, more dangerous variants arising," he says.
---
The Data and Forensics team is a multi-skilled unit dedicated to providing transparent journalism from Sky News. We gather, analyse and visualise data to tell data-driven stories. We combine traditional reporting skills with advanced analysis of satellite images, social media and other open source information. Through multimedia storytelling we aim to better explain the world while also showing how our journalism is done.
Liz Truss's call for cooperation likely to be met with scepticism from the French | UK News
Rookie Foreign Secretary Liz Truss gets the chance to cut her diplomatic teeth in what could be a feisty meeting of counterparts on the UN Security Council.
She will chair talks with foreign ministers from the US, France, China, and Russia – the countries that, along with the UK, make up the five permanent members of the United Nations security council – in New York later.
UN Secretary-General Antonio Guterres is also expected to join the discussions.
Ms Truss's aides say she will be promoting greater cooperation among the so-called P5.
This will include encouraging Beijing and Moscow to "act as one" with other international military forces to prevent Afghanistan from once again becoming a home for global terrorists following the Taliban's takeover last month.
But "un peu riche" (a little rich) may be the French retort as the diplomatic rift deepens over a new security pact between Australia, the UK and the US that leaves France out in the cold and China smarting.
The AUKUS defence pact resulted in Australia backing out of a contract to buy diesel submarines from France and European allies appear to have entered the fray on the French side.
The pact, seen as a counter to growing Chinese power in the region, has left noses out of joint in China too.
Liz Truss's first statement as foreign secretary: 'Global Britain will deliver for people right across the UK'

The subject may cloud progress on other issues such as maintaining international peace and security against a backdrop of conflicts and crises, including in Afghanistan, Myanmar, Yemen and Tigray.
Ahead of Ms Truss's foray in New York she said: "I want our foreign policy to be practically focused and geared towards strengthening our network of economic and diplomatic partnerships, underpinned by strong security ties.
"My visit to the UN is the start of an autumn where Global Britain leads the way on the world stage."
Not without sniping from friends and rivals though.
France's Europe Minister Clement Beaune poured cold water on the ambition, in the light of news that a US-UK trade deal could be years away.
"Our British friends explained to us that they were leaving the EU to create Global Britain. As you can see, it is a return to the American fold and accepting a form of vassal status."
And Dominic Raab, who was replaced by Ms Truss as Britain's chief diplomat, was harsher, calling Global Britain a "crap slogan that five years later still means nothing".
In her diplomatic debut Liz Truss must prove them wrong and show her government's post-Brexit mission statement adds up to something more than just a strapline that excites at the UK's right-of-centre tabloids.