Seven dead in clashes during protest march in Gaza
Seven people are dead and dozens injured after violent clashes broke out between soldiers and Palestinians on the Israeli border.
Tens of thousands of Gazans marched on Friday, gathering at multiple sites through the territory.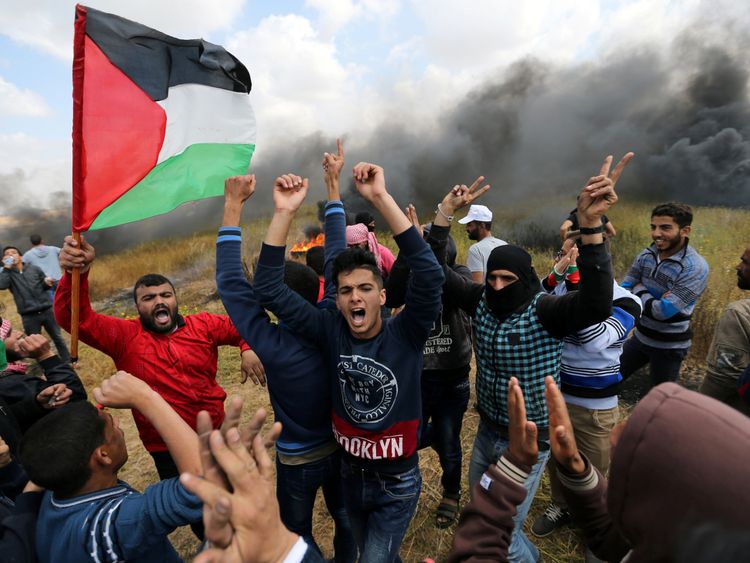 According to Gaza health officials, six were killed by Isreali soldiers at the border fence and one, a farmer, by Israeli tank fire hours before the protest began.
The farmer was identified as Amr Samour, 27, and a relative said he had been hit directly by a shell while picking parsley.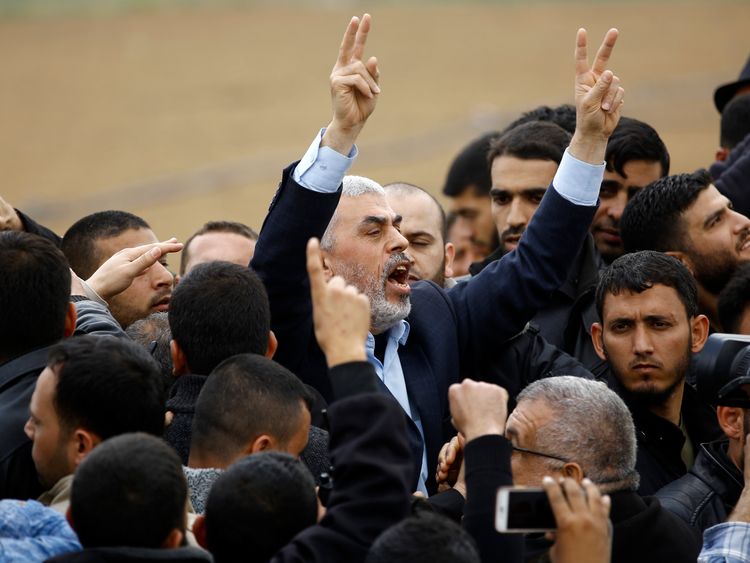 His body was marched through the streets of Khan Younis with hundreds of mourners.
Palestinians are staging six weeks of sit-ins along the border. Islamist Hamas movement leader Yahya Sinwar has been taking part in the tent city movement.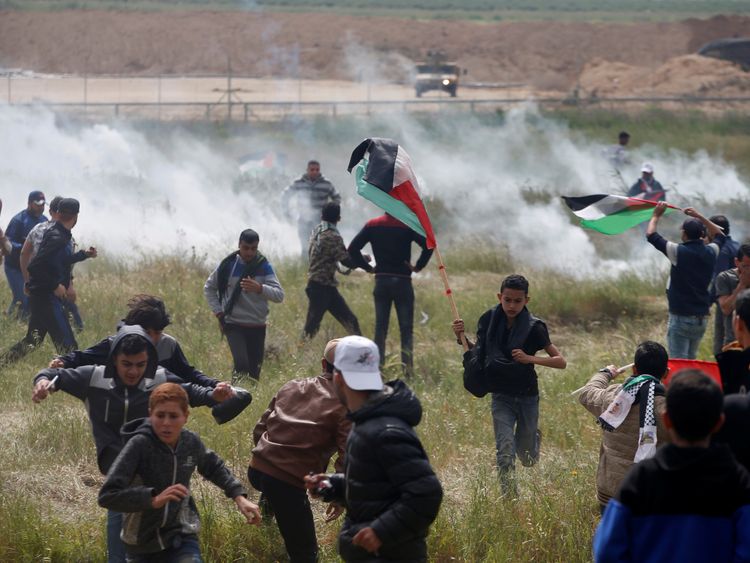 It marks Land Day, commemorating the killing of six Arab Israelis during 1976 demonstrations against Israeli confiscations of Arab land.
Throughout Friday, Israeli drones dropped tear gas at several locations along the fence.
The Palestinian Health Ministry said hundreds were hurt by live fire and rubber-coated steel pellets.
The commander of the Israel military Southern Command said the forces were "identifying attempts to carry out terror attacks under the camouflage of riots".
The military said they opened fire at the "main instigators".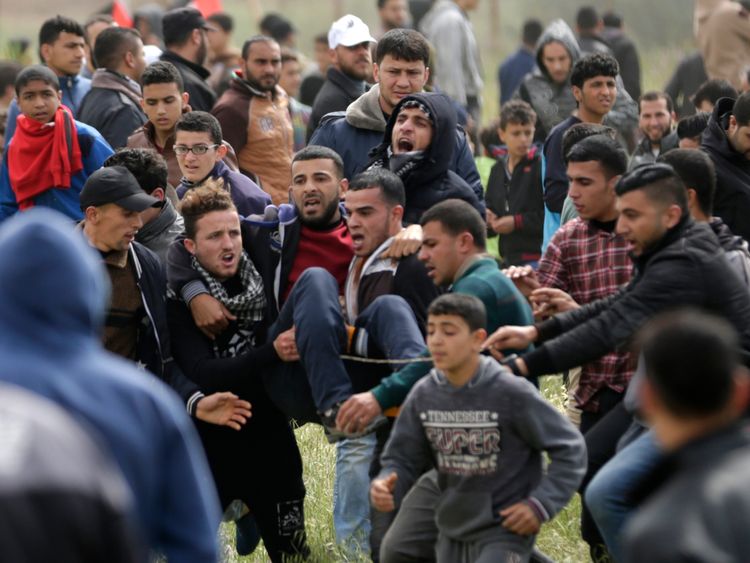 The clashes erupted during what Hamas rulers promised would be peaceful protests.
Gazans have been warned to stay away from the area by the Israeli military.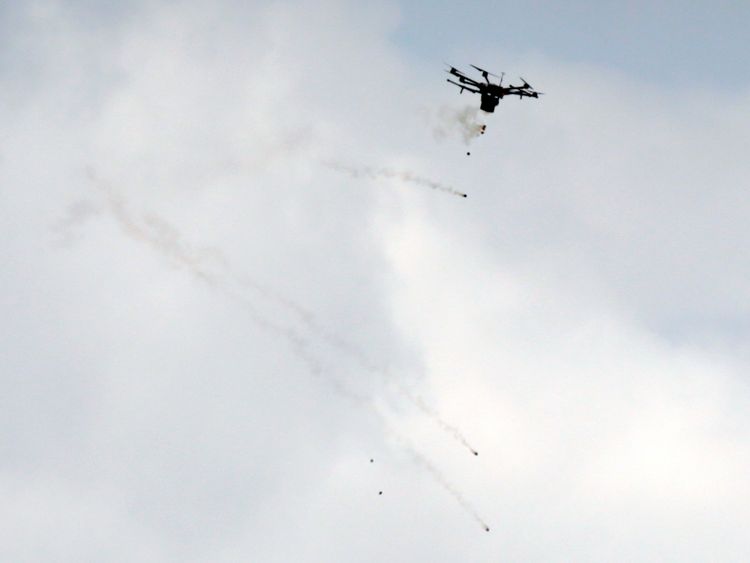 Mosques across Gaza urged Palestinians to take part in the protests, and took thousands to the encampments by bus.
Hamas spokesman Fawzi Barhoum said: "The large crowds… reflect the Palestinian people's determination to achieve the right of return and break the siege and no force can stop this right."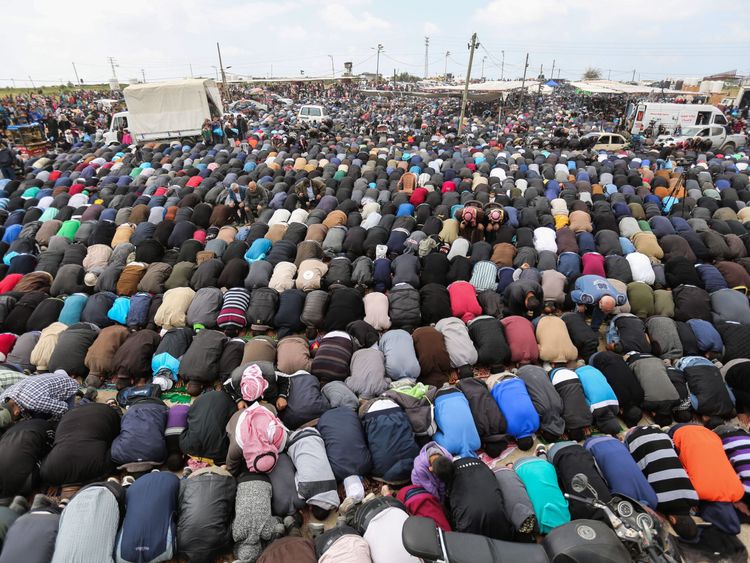 The sit-ins are seen as an attempt by Hamas to break the decade-old Gaza border blockade, that makes it hard for the militant group to govern.
The events culminate on 15 May, the 70th anniversary of the creation of Israel as it stands today.
Afghanistan: Children among at least 40 killed by bomb near Afghanistan school | World News

At least 40 people – including many students – have been killed after a bomb exploded near a school in west Kabul, according to an Afghan government official.
At least 50 are also reported to have been injured by the blast.
Four-year-old boy buys 918 SpongeBob ice lollies for $2,600 on Amazon | US News

Noah, a four-year-old from New York, loves SpongeBob. A lot.
In fact, he loves the absorbent and yellow and porous cartoon character so much that he decided to pop on Amazon for a spot of retail therapy.
Little did his mother know that he had purchased 51 cases of SpongeBob ice lollies – 918 of them to be exact – racking up a bill of $2,618.85 (£1,872).
The bulk order of popsicles was duly delivered to his auntie's house.
Amazon initially told Noah's mother, Jennifer Bryant, that they wouldn't take back the ice lollies – leaving the social work student stuck with the bill.
The retail giant has since been in contact to find a solution – and thankfully, the SpongeBob saga has a happy ending.
A fundraiser that was set up to help Ms Bryant pay for the ice lollies has now raised more than $14,000 (£10,000), with contributions flowing in from across the US.
Noah is on the autism spectrum, and his family say that (once the bill has been paid) all remaining funds will go towards his education.
Ms Bryant wrote on the GoFundMe page: "Thank you SO much for your mind-blowing generosity and support."
More than 130 injured as Palestinian worshippers clash with Israeli police at Al-Aqsa mosque | World News
At least 136 people have been injured during clashes between Palestinian worshippers and Israeli police at the Al-Aqsa mosque compound.
The violence at the major holy site, sacred to Muslims and Jews, is an escalation of weeks of violence in Jerusalem that has reverberated across the region.
The Palestinian Red Crescent emergency service said 136 people were wounded at the compound and elsewhere in Jerusalem, including 83 who were hospitalised.
It said most were wounded after being hit in the face and eyes by rubber-coated bullets and shrapnel from stun grenades.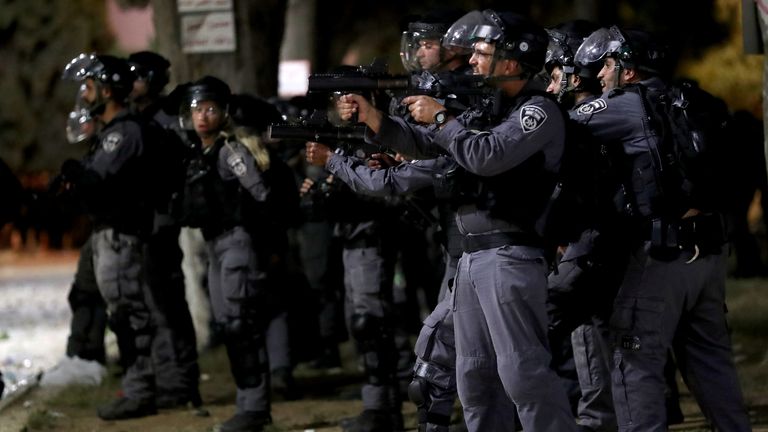 Israel said six police officers were wounded.
Earlier on Friday, Israeli troops shot and killed two Palestinians and wounded a third after the men opened fire on a base belonging to Israel's paramilitary Border Police force in the occupied West Bank.
It was the latest in a series of deadly confrontations in recent weeks that has coincided with the Muslim holy month of Ramadan.
Tensions have soared in recent weeks in east Jerusalem, which is claimed by both Israel and the Palestinians.
At the beginning of the Muslim holy month of Ramadan, Israel blocked off a popular gathering spot where Palestinians traditionally socialise at the end of their day-long fast.
The move set off two weeks of clashes before Israel lifted the restrictions.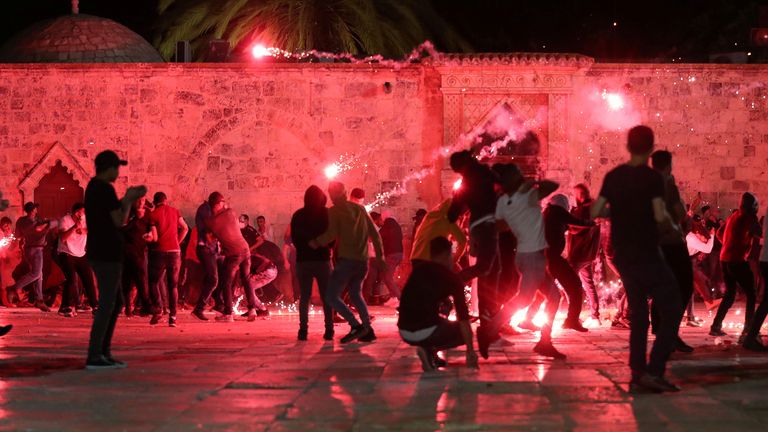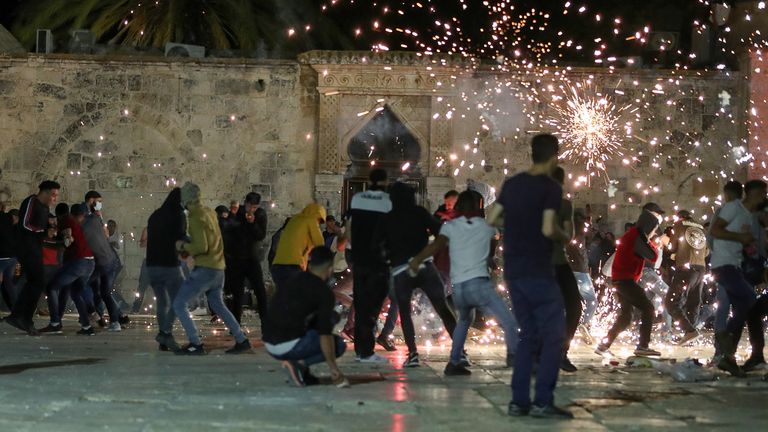 But in recent days, clashes have resumed after Israel threatened to evict dozens of Palestinians in the Sheikh Jarrah neighbourhood in east Jerusalem.
The US said it was "deeply concerned" about the heightened tensions and called on all sides to work to de-escalate them.
It also expressed concern about the threatened evictions.