Russian ex-spy says he was on Kremlin 'hit list' along with poisoned Skripal
Get breaking news alerts and special reports. The news and stories that matter, delivered weekday mornings.
LONDON — The former Russian double agent got a terrifying message on his birthday: He was on a Kremlin hit list along with Sergei Skripal, another ex-spy who weeks later was poisoned with a nerve agent in a case Britain blames on Vladimir Putin's government.
"Be careful, look around, something is probably going to happen,'" the former agent, Boris Karpichkov, says an old friend told him on the telephone in mid-February. "It's very serious, and you are not alone."
Among the names on the list was that of Skripal, whom Karpichkov didn't know at the time but whose poisoning alongside his daughter, Yulia, on March 4 on British soil inflamed tensions between the Kremlin and the West and triggered international condemnation. The two are in a hospital in Britain, where Skripal is in critical condition. Yulia is "improving rapidly" and is no longer in critical condition, the hospital treating the pair said Thursday.
Also on the Kremlin's list, he says, were several other ex-KGB agents, as well as Christopher Steele, author of a 35-page dossier alleging collusion between Russia and the Trump campaign. Bill Browder, the driving force behind a set of U.S. sanctions against Russian individuals known as the Magnitsky Act, was there as well, he adds.
FOR MORE, WATCH "NIGHTLY NEWS WITH LESTER HOLT" ON NBC TONIGHT, AND SEE THE FULL REPORT ON "ON ASSIGNMENT WITH RICHARD ENGEL" ON MSNBC FRIDAY AT 9 P.M. ET
Karpichkov, 59, says that at first he thought the call was a joke rather than a threat — typically dark Russian humor. But Skripal's poisoning has put him on high alert. "Trademark FSB," he says, referring to Russia's security agency, the Federal Security Service, the successor to the Soviet-era KGB. NBC News interviewed Karpichkov over the weekend at a rented studio in London; he refused to say where he lives in the U.K.
Putin has denied Russian involvement in the Skripal case, calling the allegations "nonsense."
What began as a spat between London and Moscow has snowballed into a chorus of international criticism of the Kremlin, with a series of governments ejecting dozens of Russian diplomats.
On Monday, the U.S. announced that it was expelling 60 Russians, which followed the U.K.'s decision to kick out 23. Russia's foreign minister said on Thursday that Moscow would expel the same number of diplomats from each nation that has expelled Russian diplomats.
'We dread the nights': Life under Israeli bombardment as Gazans live through the 'madness' again | UK News
Laila Barhoum, a humanitarian worker and human rights advocate in Gaza, describes her feelings of "dread" and "injustice" as the region is pounded by Israeli air strikes.
In Gaza, we always joke about the fact we shouldn't ask "What worse can happen?" as it seems that we are always proven wrong.
But our worse this time came unexpectedly with innocent people losing their lives.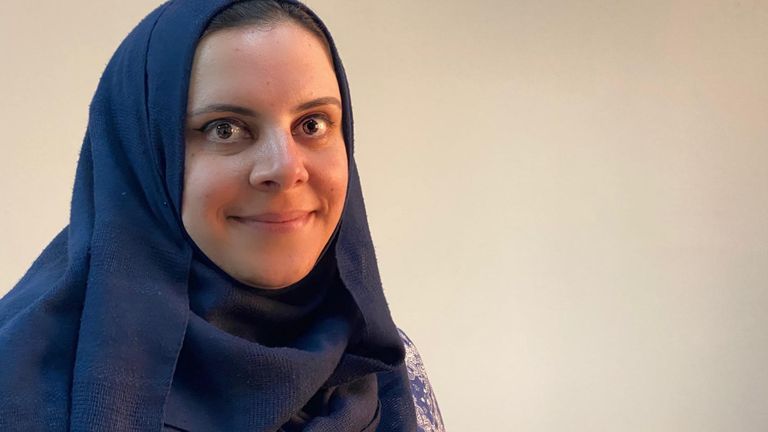 Last week, we were preparing for Eid, buying chocolate, children getting new clothes and mothers cooking Eid cookies.
This would have contributed to making happy memories. Memories that are now replaced with images of destruction, fear and death.
Building in Gaza collapses after airstrike

The fact that what is happening is happening again because we had been failed by the international community makes it even worse. Knowing that hundreds of innocent people who lost their lives this time and many times before could have been alive now, celebrating Eid with us.
Every day we dread the nights, as with them comes the worst targeting and airstrikes, when we hear the numbers of people killed rising. When we see women and children running, screaming, and houses and buildings turning into dust.
I look around me at my nieces while thinking they live an occupation that I was born under. That I am moving toward my 40s while they are marking their first years, yet we are both suffering from the same injustice.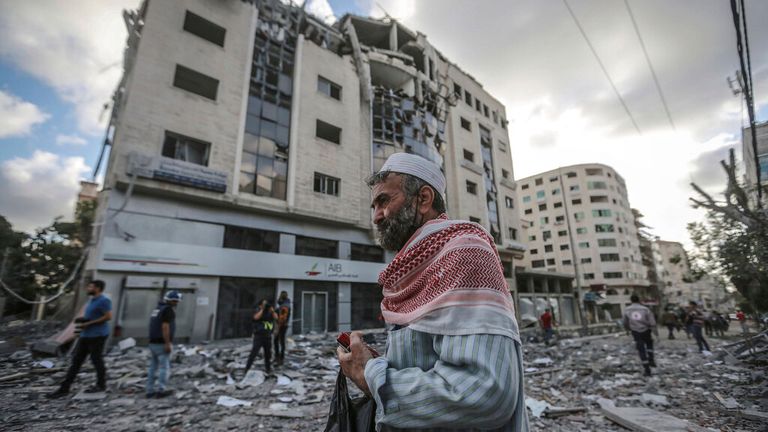 Thinking that you are trying to make the world a better place for them because it wasn't made better for you makes you feel sad and frustrated.
No one feels safe in Gaza, and no place is safe in Gaza.
There are no shelters, no places away from any air strikes. And this is a feeling you carry with you all day long, while you are trying to make sense of what you are going through.
Subscribe to the Daily podcast on Apple Podcasts, Google Podcasts, Spotify, Spreaker
We have been failed and forgotten for decades, which is why we live through this madness again.
The lives of generations of young people and children are shaped by loss, fear and injustice.
These are the lost generations, who only saw what a normal life looks like through a screen. These are the generations who wait for the sun to rise every night so they can breathe.
Israel says it only attacks targets containing Gaza militant groups – who have been launching hundreds of rockets at Israel. It says it makes strenuous efforts to avoid civilian casualties such as giving people advance warning and chance to evacuate.
Inside the Iron Dome: How Israel's missile defence shield is battling Hamas rocket attacks | World News
From the moment a giant, green radar detects rocket fire blasting out of Gaza towards Israel, it is only a matter of seconds before an Israeli defence missile shoots up to intercept.
The radar, at a secure site in southern Israel, relays the information to what the Israel Defence Forces (IDF) call a "battle management centre".
In reality, it's a beige-coloured, small metal cabin on the other side of the square-shaped compound.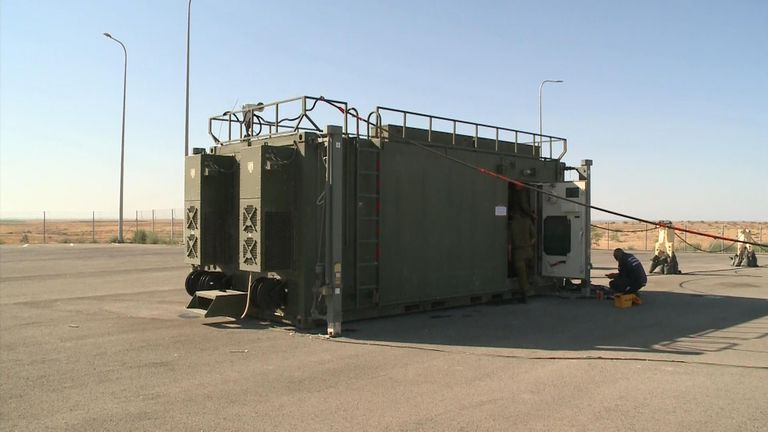 Everything here is mobile – to be able to move in relation to the threat.
A number of military personnel – some aged between just 18 and 21 – in the cabin then calculate the trajectory of the rocket, the anticipated impact point and which air defence missile launcher to use to fire back.
It's a job that needs manning 24 hours a day.
Launcher selected, a single operator is able to fire multiple missiles against multiple Hamas rockets at the same time.
The missiles are guided onto their targets and either smash directly into the incoming rocket or explode near to it, with the shrapnel rendering the incoming fire redundant.
Major Kifr – we were not allowed to use his full name for security reasons – is in charge of the 947 Iron Dome Battalion.
He and his team have been busy since the conflict with Hamas started eight days ago.
The rate of rocket fire, launched by Hamas and Islamic Jihad militants is unprecedented.
But the officer says his unit and the many others that comprise Israel's Iron Dome air defence shield are more than up to the task.
"We have been trained for this situation," he told Sky News.
He said the shield – which has blocked about 90% of the incoming rocket fire – could handle an even heavier tempo of attack if necessary.
It is the main reason why, despite more than 3,000 rockets being fired in their direction, Israel has only suffered a relatively low number of fatalities.
"We are very proud of our mission," Major Kifr said. "We do not distinguish between Arabs, Jews or anyone. We protect everyone."
His troops are not immune to the threat posed by the incoming fire though.
Subscribe to the Daily podcast on Apple Podcasts, Google Podcasts, Spotify, Spreaker
As Sky News was at the site, a siren sounded warning of rocket fire.
Military personnel moved into a concrete shelter to wait until the threat was over – a common scene across the country these days.
As we stepped back outside, small clouds of white smoke could be seen in the air – evidence of successful interceptions by a different air defence unit.
COVID-19: Disneyland Paris to reopen but no hugs from Mickey Mouse – as Netherlands sex workers return amid lockdown easing across world | World News
Disneyland Paris has announced the date it will reopen and sex workers in the Netherlands will return this week, as several countries ease COVID restrictions.
Having been closed since last October, Disney's amusement park in the French capital will welcome visitors back from 17 June.
A statement said the site's reopening would be accompanied by "appropriate health and safety measures" – with hugs from the likes of Mickey Mouse and other mascots suspended.
It will also limit the number of visitors, with those over six being asked to wear masks.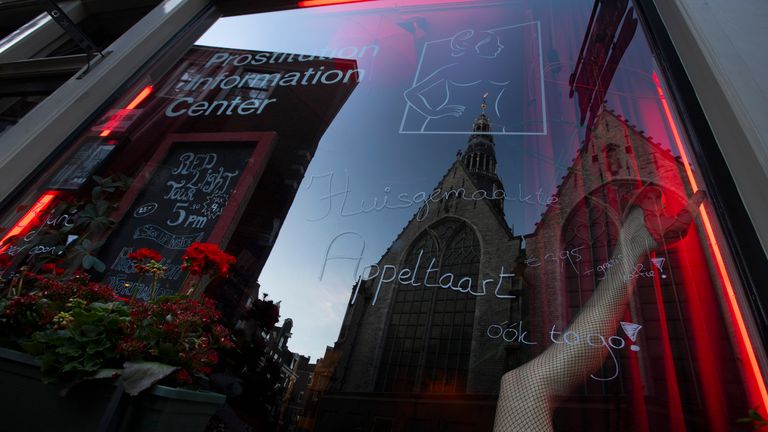 Meanwhile, Netherlands health minister Hugo de Jonge revealed a series of measures to relax coronavirus rules.
Parks, zoos, gyms and outdoor swimming pools will reopen on Wednesday, after the rollout of COVID-19 vaccinations eased pressure on hospitals, the minister said.
And sex workers will be allowed to resume five months after being ordered to pause operations in mid-December.
They had protested in Amsterdam in March, saying they were being discriminated against as the authorities allowed other "contact businesses" including hairdressers and masseurs to reopen.
Public libraries will reopen on Thursday and further steps, including reopening museums and allowing indoor service at restaurants, are expected over the next three weeks, Mr de Jonge added.
"This a responsible step at this moment, but we have to stay very careful," he said of the broader relaxation.
Subscribe to the Daily podcast on Apple Podcasts, Google Podcasts, Spotify, Spreaker
"We see a significant contribution from vaccinations. But we're not there yet."
COVID infections in the Netherlands have dropped by more than a quarter this month, after climbing to their highest levels of the year in April.
Another city to be easing measures is Dubai, where hotels in the regional tourism hub will be allowed to operate at full capacity and concerts and sports events will be able to welcome crowds and participants who have been vaccinated.
The United Arab Emirates ranks highly globally for coronavirus testing and vaccination rates, which has allowed for capacities for restaurants and entertainment venues to also be increased.
Authorities in Sri Lanka have announced shops and public transport can reopen, easing a three-day travel restriction imposed across the country.
Sri Lankans had been from banned from leaving their homes since Thursday night to try to contain the spread of COVID-19.
Authorities said though that those restrictions would now be imposed for five hours overnight for the next two weeks.
And in Turkey, the interior ministry has said a full lockdown that had ordered people to stay home to fight infections would be shifting to a less-restrictive program.
This will still involve curfews on weeknights and weekends from 1 June, which authorities said was part of a "gradual normalisation".
Shopping malls can reopen – and while some businesses will remain closed, including gyms and cafes, restaurants will be able to offer takeaway in addition to delivery. Preschools will resume in-person education but upper grades will continue remote learning.
People in Turkey can also return to their workplaces but must stay at home from 9pm to 5am on weekdays.
However, other parts of the world have been tightening restrictions.
Hong Kong authorities say quarantine rules for arrivals from countries like Singapore, Japan and Malaysia would become tightened from Friday amid a surge in coronavirus infections.
And Trinidad and Tobago has declared a state of emergency, also citing a sharp increase in cases.