DR Congo leader under pressure amid humanitarian crisis
Alex Crawford, Special Correspondent
As pressure from the international community grows on Democratic Republic of Congo's Joseph Kabila to hold elections, a deepening humanitarian crisis and unrest grips the country.
Warning: Some readers may find photos below distressing.
A baby with nothing, not even a name lies in a hospital cot in DRC's central hospital in Bunia, fighting to live. His tiny skeletal chest heaves up and down as he battles for every breath with under-developed lungs.
His translucent hands are about the same size as the thumb of the doctor examining him. He has no clothes, no home, not even the cot to himself. He's sharing it with the hospital's latest arrival – another baby born earlier in the day, who looks equally fragile.
The two of them hover between life and death. It's too early to say which will be their fate. But should it be life, their futures look decidedly bleak in this, one of the world's richest countries in terms of natural resources.
The babies are two of the Democratic Republic of Congo's "internally displaced", basically a fancy name for refugees in their own country.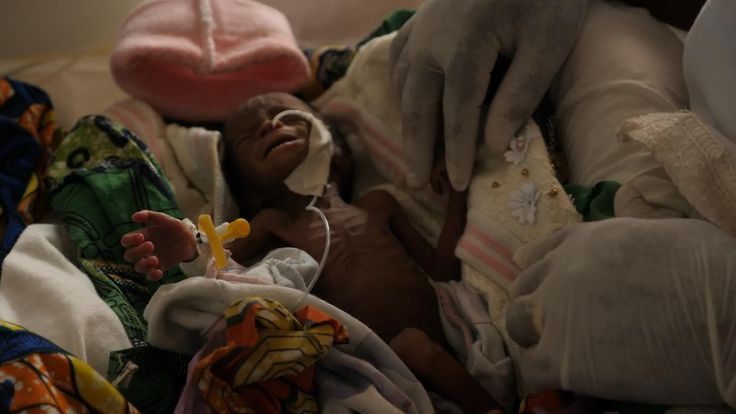 There are 4.5 million others according to the United Nations, making them the largest number of internally displaced people in the whole of Africa. They're people who've fled violence, left their homes and run trying to find safety anywhere.
Many are severely under-nourished. Some 7.7 million people are classified as severely hungry. They're all desperately poor, prone to sickness and now living in the direst of conditions in huge squalid camps with little sanitation and where disease festers.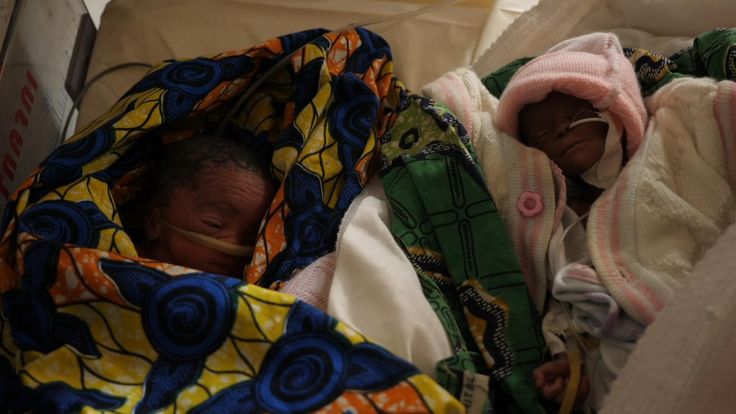 The statistics are shocking. Some 13.1 million Congolese need humanitarian aid. That's the same number as in Syria.
Looking at the little baby with no name battling for every gulp of air, struggling to hang on to this thread of a chance he's been given, I thought of what lay ahead for him, should he win this, the first of a lifetime of challenges.
The dismal numbers scream out his life will be fraught with problems. Firstly, his 26-year-old mother, Lutove has to survive herself. She is also in the central hospital – but laying in a male ward because of lack of beds, weak through hunger and now ill with tuberculosis.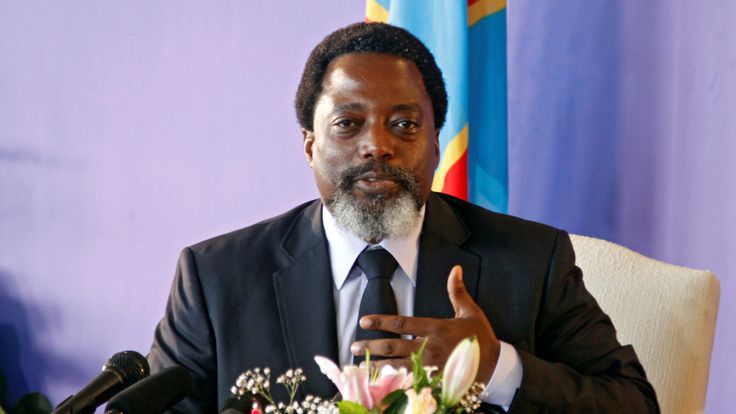 When we saw her, she couldn't haul herself upright and couldn't walk, she was that weak. The doctor measured her upper arms using a tape meant for babies from three months to three years.
She gave birth three weeks ago after running away from machete-wielding men who attacked her village for the second time. She was 28 weeks pregnant at the time.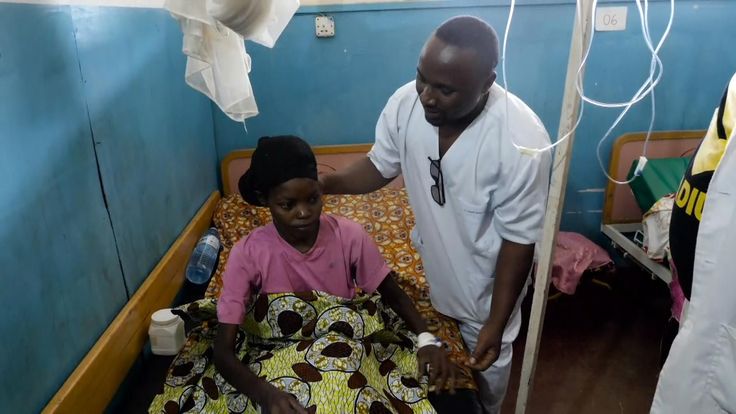 The stress and panic triggered the birth of her baby some 14 weeks early. With little food throughout her pregnancy, she was under-weight and under-nourished and her baby son was born weighing less than half a bag of sugar.
Three weeks of hospital care had helped but when we saw him, he was still only 750 grammes with ribs which stuck out so you could count each and every one of them.
The central hospital paediatric wing is filled and overflowing into tents outside with mothers and babies lining the pavement and corridors.
Inside, there are frequently two babies to a bed. All of them are the children of the "internally displaced" – hungry, vulnerable to disease which is easily spread in the poor living conditions they now find themselves.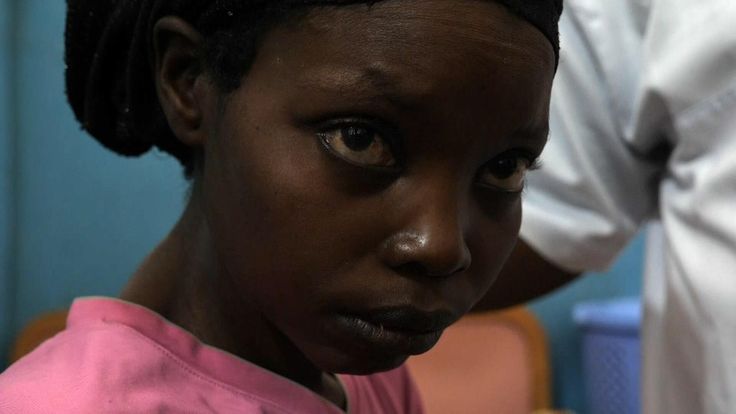 It is a miserable lot – and many believe this is man-made tragedy – caused by decades of ethnic conflict, multiple militias controlling and fighting for territory, rampant corruption and a president whose term expired last year but who's still clinging to power whilst most of his country cling to life.
DRC should be one of Africa's rich countries. It's Africa's largest copper producer and has more than half of the world's supply of cobalt laying beneath its soil. But it ranks very low on the UN Human Development Index.
President Joseph Kabila is now under pressure from the international community to hold elections as soon as possible as parts of his country descend deeper into chaos.
The baby with no name hardly has the strength to cry – but the cries around his country are growing louder and stronger for a new leader who may give fresh hope to the world's most complex and longest standing humanitarian crises.
Coronavirus: Trump says 200,000 US deaths is 'a shame' | US News
Donald Trump has referred to the death of 200,000 people from coronavirus in the US – the highest figure of any country in the world – as "a shame".
The president insisted the number of Americans who had died from COVID-19 could have been far higher had it not been for the actions of his administration, without providing evidence for his claim.
Live updates on coronavirus from UK and around world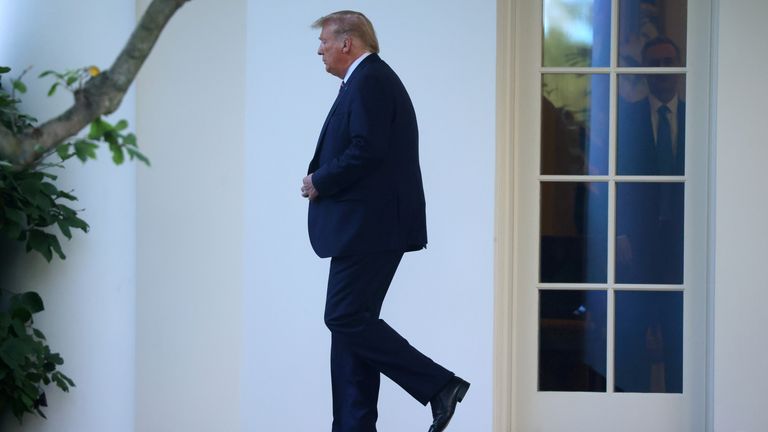 Mr Trump had initially ignored a question from the media about the US death toll as he was leaving the White House for an election rally in Pennsylvania.
He then said: "I think it's a shame. I think if we didn't do it properly and do it right, you'd have 2.5 million deaths. You could have a number that would be substantially more.
"It's a horrible thing. Should have never, ever happened."
He also repeated his previous criticisms of China, where the coronavirus first emerged at the end of 2019.
He said: "China should have stopped it at their border. They should have never let this spread all over the world. It's a terrible thing."
Mr Trump has been criticised for his handling of the COVID-19 pandemic, having repeatedly sought to downplay the disease as it began to spread through the US.
There are continuing fears among health experts that the high level of infections in the country will make the virus more difficult to control during the winter months.
:: Subscribe to Divided States on Apple podcasts, Google Podcasts, Spotify, and Spreaker
According to Johns Hopkins University, the US has seen nearly 6.9 million cases and 200,818 deaths.
The figures account for more than 20% of the cases worldwide, despite the US having just over 4% of the world's population.
Brazil has the second worst toll with 138,105 recorded deaths. The global figure for deaths from the coronavirus is 971,483.
Ex-traffic cop who claims to be reincarnation of Jesus arrested in Russia | World News
A former traffic police officer who claims to be the reincarnation of Jesus has been arrested by Russian security forces.
Prominent mystic Sergei Torop and other leaders of the Church of the Last Testament sect were held in a remote part of Siberia on Tuesday.
They are accused of "damaging their followers' health".
Russia's Investigative Committee said in a statement that the religious group had used psychological pressure to extract money from its followers and caused serious harm to their health.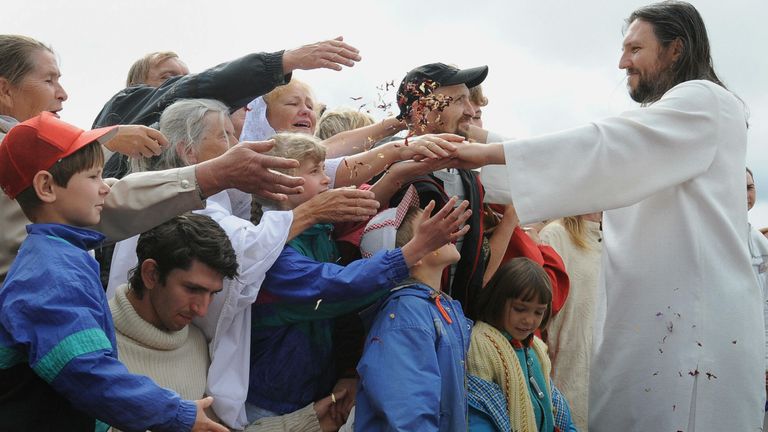 Torop, known to his followers as Vissarion, set up the Church of the Last Testament in the Krasnoyarsk region in 1991, the year the Soviet Union broke up.
The operation to detain him, as well as group leaders Vadim Redkin and Vladimir Vedernikov, involved the police as well as members of the Federal Security Service.
The men could face up to 12 years in jail if found guilty, the RIA news agency reported.
Luis Suarez faces investigation after 'cheating' on Italian citizenship test | World News
Police in Italy have opened an investigation after Luis Suarez, one of the most controversial players in world football, was accused of cheating on his Italian citizenship test ahead of a move to the country.
The Uruguayan, who has previously faced bans for biting opponents and making racist remarks, took the exam in Perugia last week to facilitate a transfer from Barcelona to Juventus.
But prosecutors allege the former Liverpool striker, 33, knew what was going to be in the paper and that his mark had already been decided.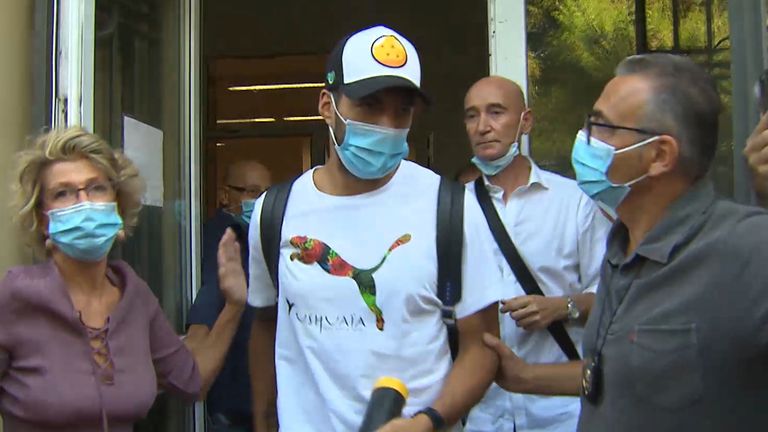 The Perugia public prosecutor's office said in a statement: "Some irregularities have emerged in the exam of certification of Italian, sat on September 17 by Uruguayan football player Luis Alberto Suarez Diaz, needed to obtain the Italian citizenship.
"From the investigation, it emerged that the topics in the exam had been agreed in advance with the applicant and that the relative mark had been attributed even before carrying out the exam, regardless of the fact that an elementary proficiency of the Italian language had been verified during remote classes carried out by lecturers of the University for Foreigners.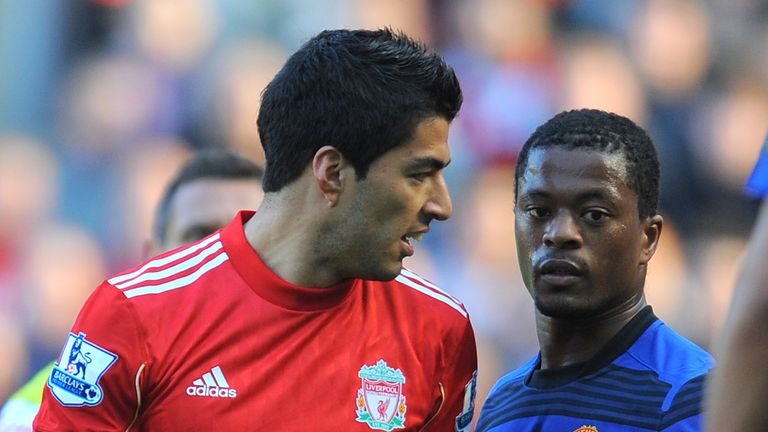 "Today, the Italian financial police are moving forward to capture the documents at the university offices, to verify the actions described beforehand and notify the information assurances for the crimes of revelation of professional secrecy, false representation committed by public officials in official documents and other acts.
Juventus have no places left in their squad for non-EU players, meaning Suarez had to obtain Italian citizenship to join the club.
And the proposed move appears to have fallen through, with the Italian champions now set to re-sign Alvaro Morata from Atletico Madrd.
Suarez, who has been told he can leave Barcelona, now seems set to replace Morata in the Spanish capital.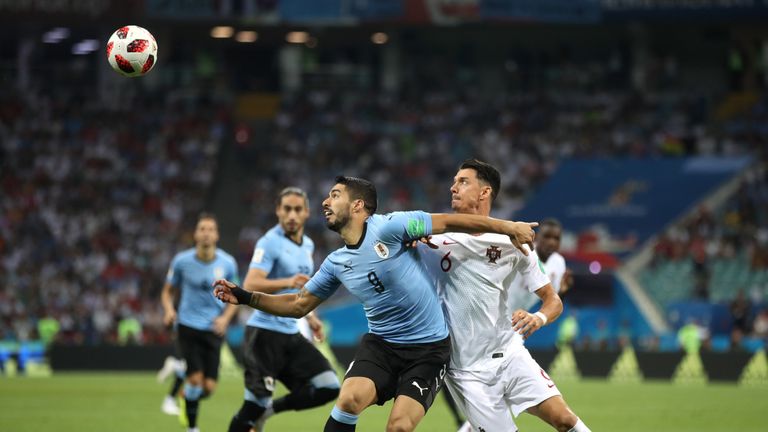 Republicca reported a local official as saying on Monday: "He [Suarez} does not speak a word of Italian.
"He does not conjugate verbs, he only speaks using the infinitive. If journalists would ask him some questions, he'd be lost. He earns €10million a year, he needs to pass this exam."