Boy in viral hug photo missing after family's SUV plunges off California cliff
Get breaking news alerts and special reports. The news and stories that matter, delivered weekday mornings.
Devonte Hart first grabbed attention in the "hug felt 'round the world."
The black youth, with tears streaming down his face, was captured in a viral photo in 2014 clinging to the shoulders of a white police officer at a Portland, Oregon, protest.
It became an emblematic moment during national rallies that rocked the country after a grand jury chose not to indict a white police officer in the killing of Michael Brown, a black teenager in Ferguson, Missouri.
But now, police in Northern California say Devonte and his family are at the center of a mysterious tragedy, and they need the public's help.
Devonte, 15, and two of his sisters remained missing Thursday — three days after the SUV they were riding in with their parents and three other siblings plunged off a cliff on Highway 1 in Mendocino County, police said.
A passerby reported the 2003 GMC SUV was upside down off an embankment. Police said the car fell about 100 feet, landing on the rugged shoreline along the Pacific Ocean.
The Mendocino County Sheriff's Office has retrieved the bodies of parents Jennifer and Sarah Hart, both 38, as well as children Markis, 19, Jeremiah, 14, and Abigail, 14.
Devonte and two other sisters — Hannah, 16, and Sierra, 12 — have not been located, but were believed to have been inside the SUV.
A specialized team of accident investigators was trying to figure out why the car flew off a dirt turnout in a part of the cliffside where many tourists stop for photos, Mendocino County Sheriff Tom Allman said Wednesday.
"We have no evidence and no reason to believe that this was an intentional act," he said. But he noted that the scene was confusing because "there were no skid marks, there were no brake marks" at the turnout.
Investigators said the U.S. Coast Guard along with a helicopter and small plane were helping to search for Devonte, Hannah and Sierra.
The family was from Woodland, Washington, a rural community about 500 miles north of the accident site, and it was unclear why they were traveling in California. Police in Clark County, Washington, said they had entered the Hart home to determine that no one was still there.
Officers said "it appeared the family may have left for a temporary trip as there were many family belongings still in the home as well as a pet and some chickens," according to the Mendocino County Sheriff's Office.
Zippy Lomax, a friend of the family since 2012, told The Oregonian that the Harts loved to travel and were always "going somewhere special."
"They weren't plugged into the technology," she said. "They preferred to lay (around) and read books and hang out with their chickens."
The family called themselves the Hart Tribe, and mothers Jennifer and Sarah home-schooled the children, who were all adopted. A next-door neighbor of the family when they lived in Oregon told the Associated Press that the family didn't eat sugar, raised their own vegetables and liked to go on camping trips.
The parents also didn't shy away from having the siblings learn about social justice and experience events first-hand, including the rally in Portland that Devonte attended.
The boy was holding a "Free Hugs" sign when an officer asked him for a hug, and a photographer snapped the emotional moment.
Jennifer Hart would later write on social media that Devonte faced his own racism and questions about police: "My son has a heart of gold, compassion beyond anything I've ever experienced, yet struggles with living fearlessly when it comes to the police… He wonders if someday when he no longer wears a 'Free Hugs' sign around his neck, when he's a full-grown black male, if his life will be in danger for simply being."
In recent months, after the family moved to Woodland, neighbors noted that not everything seemed quiet and peaceful.
Neighbors told The Oregonian that Devonte would come asking for food and said his parents withheld it as punishment.
Neighbor Bruce DeKalb told the AP that one of the girls rang their doorbell early in the morning last year asking for help and claiming she had been abused.
A former neighbor, Bill Groener, said he was struck by how isolated the kids were kept, and told The Oregonian he felt "guilty he never called (children's) services."
According to the newspaper, child protective services had tried to visit the family on Friday, but no one answered the door. Cowlitz County Child Protective Services did not immediately return calls for comment from NBC News.
Lomax told The Oregonian there was no sign that anything was amiss all these years. To her, the trip to California was probably just another one of their adventures.
The Harts "loved their kids more than anything else," she said.
COVID-19: President Jair Bolsonaro in trouble as Brazil's COVID crisis inquiry becomes box office viewing | World News
Brazilian President Jair Bolsonaro loves meeting people; he can't get enough of it, he travels the country looking to shake hands and kiss babies.
He likes doing interviews, he'll talk about subjects varied and important to him.
There is just one caveat – he hates independent journalists, isn't too keen on foreign ones, and won't talk to anyone who doesn't love him or agree with him on everything – "Trump of the Tropics" pretty much says it all.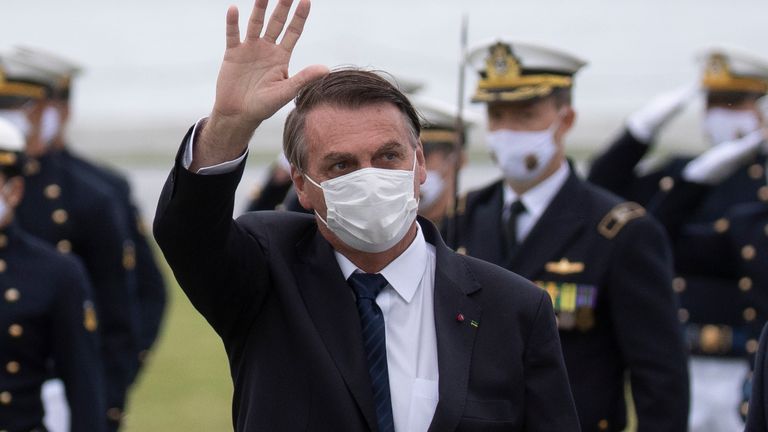 Over the past year, I've travelled around Brazil attempting to speak to him and I have singularly failed.
His people are so determined to stop me from asking their boss a simple question – or worse – seeing him explode into a storm of foul-mouthed invective, that my slimmest chance of a breakthrough via a temporary accreditation badge has now been revoked.
We can't get near him for now.
But in reality, we are not very important, what is important though is a parliamentary inquiry into his handling of the pandemic.
It's important, and worse for Mr Bolsonaro, he knows he is in trouble.
The parliamentary inquiry has gained even more traction after the country recorded more than 500,000 deaths from COVID-19.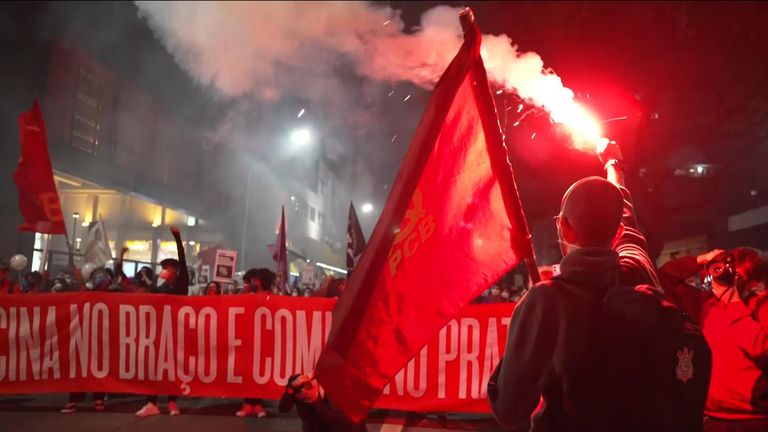 It's become absolute box office and Senate TV is now required viewing here in Brazil.
It's streamed all day as witness after witness allege the government failed to buy vaccines, promoted ineffective COVID cures and neglected to source adequate oxygen supplies.
The critics of the government are not just confined to opposition politicians.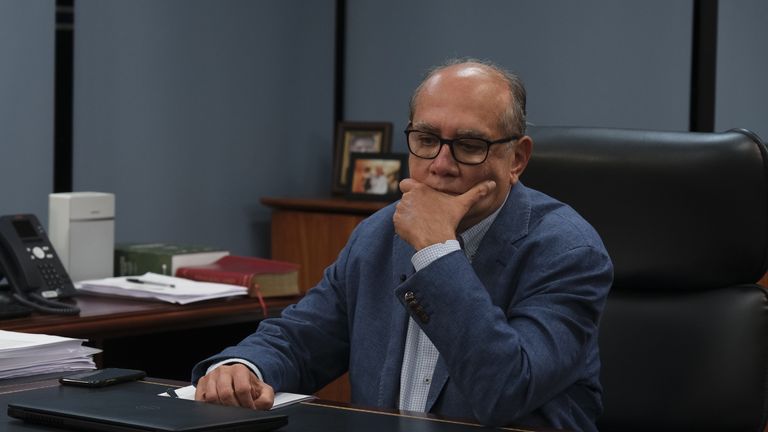 Here in the capital Brasilia, I spoke to one federal supreme court judge who met with Mr Bolsonaro in March last year.
Gilmar Mendes told me he warned the president about the impending pandemic and offered his help and support.
He described the president as a man in crisis.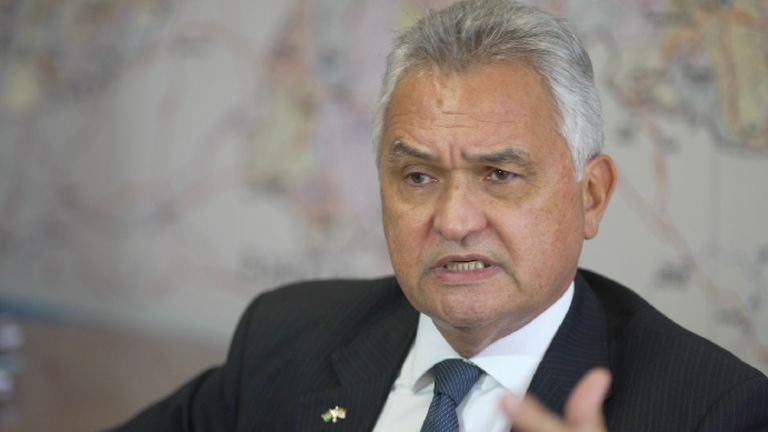 "It seemed to me in that moment this was a man, I even said, a little tortured by the facts. Very emotional, very emotional," Mr Mendes said.
"He said that the economy was doing well, and that this pandemic was now coming, and that social isolation was a poison."
Mr Mendes said the president's main concern was, and still is, the economy, and he prioritised it accordingly.
"So he prioritised his concerns, maybe he generated much more around the economic issue, as [this] was reflected in the organisation of the government."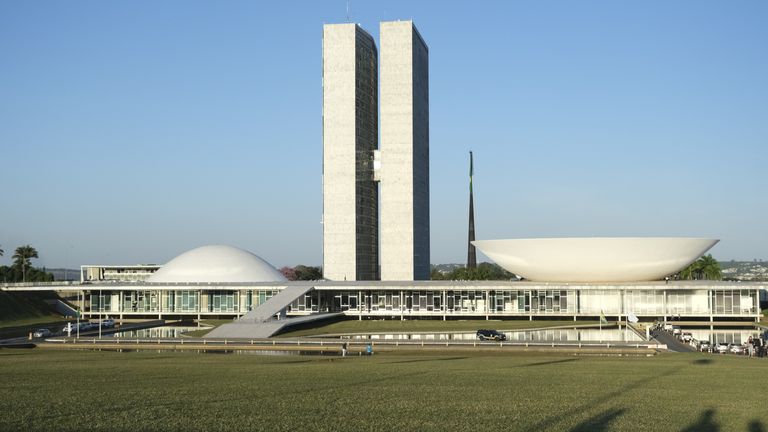 President Bolsonaro is a divisive figure in Brazil who plays entirely to his supporter base.
At his last event, in Sao Paulo, he turned up at the front of a motorbike rally.
He resolutely denies the dangers of COVID, fought against lockdowns and masks, and promoted drugs like hydroxychloroquine made famous by Donald Trump.
During a Facebook live last week, he made the argument for herd immunity saying it is "more effective against the disease than the vaccine".
He openly advocated for exposure to the virus and downplayed the efficacy of the vaccines.
'Bolsonaro out!' – Protesters descend on Sao Paulo.

These comments came in the week scientists in Brazil warned the country's death toll could eclipse the United States – currently the highest in the world with more than 602,000 deaths.
In my quest to speak to the president, I went to visit one of his closest political allies, former soldier now congressman General Elieser Girao Monteiro Filho.
When we arrived he was busily planning the latest presidential visit, this time to the general's home state, Rio Grande do Norte.
He oozed pride as he pointed out the helicopter route to two events with a laser pen on his map, and then he proudly showed me pictures of him and the president, blown up into posters adorning the walls of his small office.
Like the president, General Girao, as he is known, has had COVID-19.
Unlike the president, he has been vaccinated, wears masks, and sanitises his hands.
Still, he says any inquiry into the government's handling of the crisis is politically motivated and says one man – Mr Bolsonaro – cannot be blamed for everything.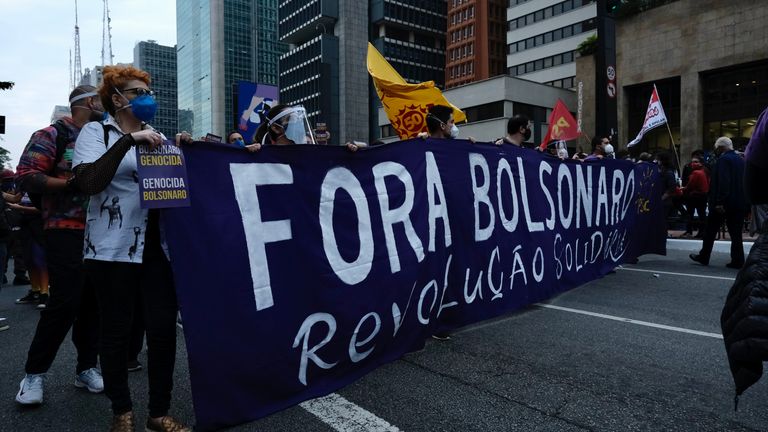 "Unfortunately COVID in Brazil, specifically in Brazil, was transformed into a political war and this political war, unfortunately, is leading to many people not getting a prescription for the medicine that immediately treats the virus," he told me.
There is no such medicine. I assume he is referring to the president's hydroxychloroquine treatment plan, widely debunked around the world.
Some say Brazil is in the midst of its third wave, others argue the first wave just never ended.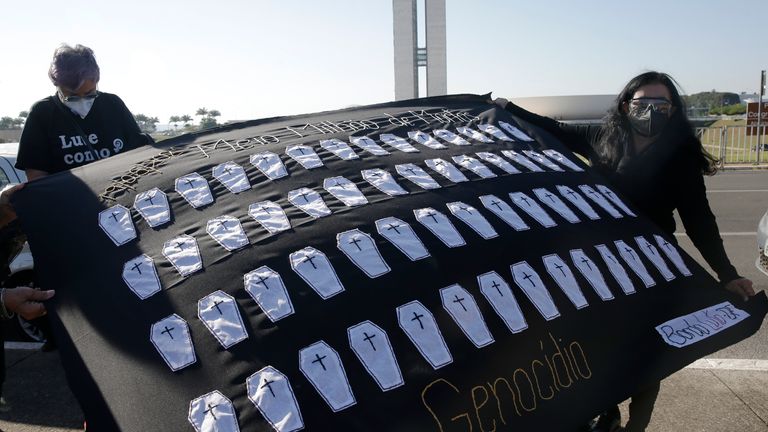 But even though Brazil's infection rates are still high, lockdowns are still not regarded as the solution by this government.
"I believe the president acted correctly when he reacted [in opposition] to the closures. Lockdowns have not been successful anywhere in the world."
Brasilia is a man-made city with wide boulevards and stylised buildings designed and built in the 1950s by Brazilian architect Oscar Niemeyer.
Follow the Daily podcast on Apple Podcasts, Google Podcasts, Spotify, Spreaker
It's been described as a city of clean lines, rational planning and space. It feels homogenised and un-Brazilian compared to the throbbing atmospheric cities of Rio de Janeiro and Sao Paulo.
But Brasilia is now home to one of the most important inquiries in Brazil's recent history, and its conclusions could have consequences that change the direction of this huge country.
Next year there are elections – and the recent street protests across the country, and the latest polls showing Mr Bolsonaro's popularity plummeting, suggest he's in trouble.
Saskatchewan: More than 750 unmarked graves found on site of former indigenous school in Canada | World News
Investigators have found more than 750 unmarked graves at the site of a former indigenous school in Canada.
The discovery of the 751 graves follows the news that the remains of 215 children were found at another school nearby.
Bobby Cameron, chief of the Federation of Sovereign Indigenous First Nations, said: "We are treating this as a crime".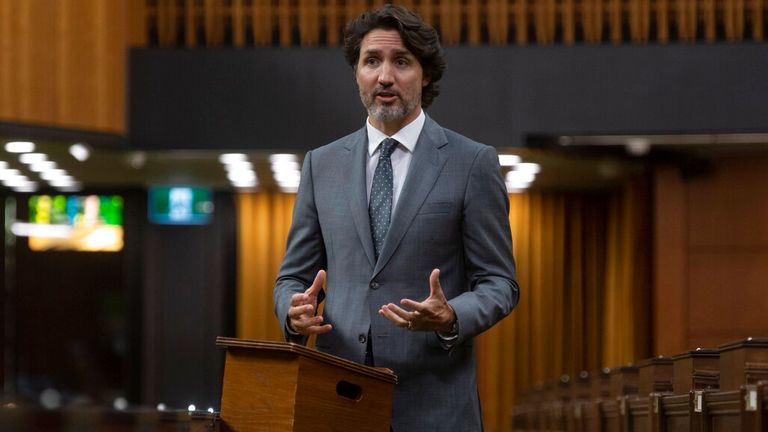 He warned how he expected more graves to be found on residential school grounds in Canada.
And Mr Cameron vowed not to stop "until we find all the bodies", describing the tragedy as a "crime against humanity, an assault on First Nations."
The 751 graves were found at the Marieval Indian Residential School, open from 1899 until 1997, where Cowessess is now located.
They were marked in the past – but the markers were removed by people operating the school, said Chief Cadmusn Delmore, of the Cowessess First Nation.
The reserve is about situated about 87 miles east of Regina, the capital of Saskatchewan, in western Canada.
The 215 children's remains – some as young as three – were found buried on the former site of Canada's largest indigenous school, near Kamloops, British Colombia, in May.
UEFA abolishes away goals rule after more than half a century | UK News
Europe's football governing body UEFA has abolished the away goals rule for all of its club competitions from next season.
All ties that are level on aggregate at the end of the second leg will now go to extra time.
Paris Saint-Germain's victory over Bayern Munich in last season's Champions League quarter-finals will go down in history as the last away goals result in the tournament before the rule change.
The rule, introduced in 1965, has led to some dramatic moments in recent years, including Tottenham's stoppage-time success over Ajax in the 2019 Champions League semi-final.
UEFA said away goals would also no longer be a separating criteria when looking at matches between two or more sides level on points in the group stage of a competition.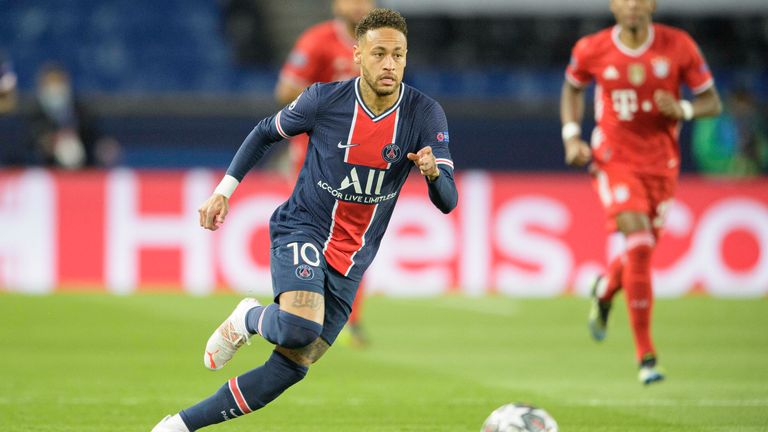 However, the number of away goals scored in all group matches could be used as an additional separating criteria if required.
UEFA president Aleksander Ceferin said as the end of the rule was announced: "The away goals rule has been an intrinsic part of UEFA competitions since it was introduced in 1965.
"However, the question of its abolition has been debated at various UEFA meetings over the last few years. Although there was no unanimity of views, many coaches, fans and other football stakeholders have questioned its fairness and have expressed a preference for the rule to be abolished."
Mr Ceferin added that the away goals rule had begun to go against its original purpose and was dissuading home teams from attacking.
⚽ The away goals rule will be removed from all UEFA club competitions from the 2021/22 season.

Ties in which the two teams score the same number of goals over the two legs will now have two 15-minute periods of extra time, and, if required, penalty kicks.#UCL #UWCL #UEL #UYL

— UEFA (@UEFA) June 24, 2021
This because the sides would fear conceding a goal at their own stadium would give their opponent a crucial advantage.
He continued: "There is also criticism of the unfairness, especially in extra-time, of obliging the home team to score twice when the away team has scored.
"It is fair to say that home advantage is nowadays no longer as significant as it once was."
UEFA has cited statistics since the mid-1970s which showed how the gap between home and away wins had reduced.
It talked about better pitch quality, standardised pitch sizes, and even video assistance referees (VAR) as factors in the decline of home advantage.