Voter turnout key for Kremlin as Russia heads to polls to hand Putin 4th presidential term
MOSCOW — With President Vladimir Putin's victory all but assured as Russians head to the polls on Sunday, only one thing remains uncertain and potentially damaging for the Kremlin: how many people will turn out to vote and hand him a convincing mandate for a fourth term in office.
On a bitterly cold but sunny election morning, Muscovites were surrounded by reminders of the importance of voting.
"Choosing a president, choosing a future," was the message staring back at the passersby from one of the flashy billboards on Kutuzovsky Avenue in the center of the capital.
Sales manager Anna Popova, 31, says the billboards have been a constant presence and just one of many ways in which the Russian public has been urged to get out and vote.
Popova says she has been bombarded by text messages and push notifications from various Russian-language apps on her phone about the March 18 election.
"It's hellish," she told NBC News on Sunday. "It is a hysteria. Someone really cares about this stuff."
Despite a recent poll showing that over 80 percent of Russians will either certainly or very likely vote, the Kremlin wasn't taking any chances.
Turnout-boosting efforts have been the most visible feature of the campaign — and all come from taxpayers' pockets.
Election monitors, meanwhile, were reporting irregularities at voting stations across the world's largest country, even though authorities were under orders to ensure that the voting was free and fair after violations marred Putin's last election in 2012.
Over 65% of Russians cast their ballot then, voting Putin into power with more than 63% of the vote.
The 65-year-old is nearly guaranteed to sweep the vote this time around as well, but with a political field lacking any competition or intrigue, how many votes would the Kremlin be content with?
"It's a key issue of how much he can genuinely claim that he has the support of the Russian people and how much he has to fiddle, tweak and manipulate," said James Nixey, Head of the Russia and Eurasia Program at Chatham House, a London-based international affairs think-tank.
Yevgeny Roizman, the mayor of Russia's fourth-largest city, Yekaterinburg, told The Associated Press that local officials and state employees have all received orders "from higher up" to make sure the presidential vote turnout is over 60 percent.
"They are using everything: schools, kindergartens, hospitals — the battle for the turnout is unprecedented," said Roizman, one of the rare opposition politicians to hold a significant elected office.
Casting his ballot in Moscow, Putin seemed confident of victory, saying he would consider any percentage of votes a success. "The program that I propose for the country is the right one," he said.
In 2012 Putin faced a serious opposition movement, but since then he has boosted his popularity thanks to Russian actions in Ukraine and Syria. Now, he faces seven challengers but no serious threat to his rule.
With Putin certain to win, some in the opposition have instead turned their attention to making their voices heard by refusing to vote.
Alexei Navalny, a lawyer and one of the most outspoken Putin critics who was barred from running for president himself, has called on his supporters to boycott the vote. He reasons that lower voter turnout will signal to the Kremlin and the world that a significant number of Russian citizens don't see a viable alternative on the ballot and refuse to participate in what Navalny calls "Putin's re-election."
Related: Russian election: Navalny rallies army of observers to counter Putin
Аround 770 million roubles (over $13 million) were allocated to publicize the election by the Central Election Commission.
The logistics of voting were made easier by a new policy allowing people to vote at any polling station regardless of where they're registered. A number of Russian celebrities have been promoting the idea on their social media channels, accompanied by the hashtag #votewhereyouare.
Outside some polling stations in Moscow, voters were treated to a bowl of steaming buckwheat, with Soviet-era music blasting in the background. Most voters were also handed colourful "I voted" pins and balloons.
First-time voters were even being given free tickets for pop concerts, and health authorities were offering free cancer screenings at selected polling stations.
In addition to public campaigns, many voters seemed to be under more private pressure to vote.
Earlier this month, a Russian newspaper published a report on the active involvement of private businesses in the election campaign. The paper alleged that grocery shops, gas stations, banks, movie theaters and even public transport were being used to encourage people to go to the polls.
Messages texted to people's mobile phones do the same, while Moscow voters have received a glossy "invitation to the election" from the election commission.
And with the clock ticking down to election day, messages from employees whose bosses were mandating them to vote were popping up on Twitter alongside YouTube recordings of teachers urging their students to do the same.
Yevgeny, a 43-year-old mechanic voting in central Moscow, said he briefly wondered whether it was worth voting.
"But the answer was easy … If I want to keep working, I vote," he said.
Ella Pamfilova, chairwoman of the Central Election Commission who was appointed to clean up Russia's electoral system, vowed to respond to complaints about being coerced to vote.
Putin has traveled across Russia pledging to raise wages, pour more funds into the country's crumbling health care and education and modernize dilapidated infrastructure.
Nixey says the turnout will ultimately be a reflection of Putin's legitimacy and how the next six years are going to go for him.
"If we see a really good turnout and a decent vote for Putin … I think it's a really good indication that the next six years will be relatively smooth for him, in other words he's got a groundswell of support he can rely on," said Nixey.
By the same measure, if voter participation and counts are low, the next six years could more difficult, he explained.
Catalan separatists pardoned over independence bid as Spanish PM seeks 'reconciliation' | World News
Nine Catalonian separatists have been pardoned by Spain's prime minister.
The group had been jailed for their role in the failed Catalonian independence bid of 2017 but what was left of their prison sentences has now been wiped.
They are expected to be released on Wednesday but will continue to be barred from holding public office.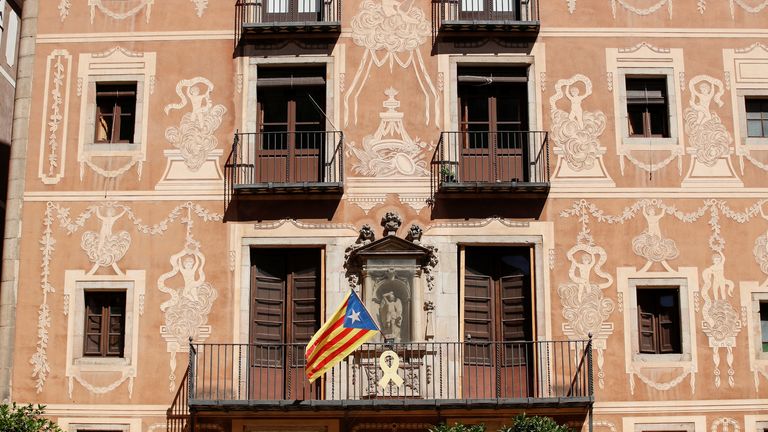 Spain's prime minister, Pedro Sanchez, said he hoped their imminent freedom would "open a new phase of dialogue" and lead to "reconciliation".
The intention is to "stop, once and for all, all the divisions and confrontation", he added.
"These pardons do not depend on their recipients renouncing their ideas, and nor do we expect them to do so," Mr Sanchez continued.
"These people were never put in prison for the ideas they hold, but rather for having violated the laws of our democracy."
The group of politicians and activists were jailed in 2019 for between nine and 13 years for sedition and misuse of public funds.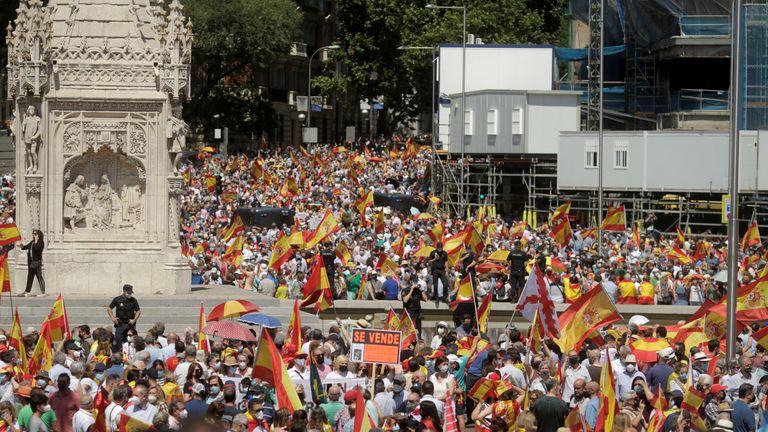 Former Catalonia president Carles Puigdemont and other well-known separatists who fled Spain following the attempt at a breakaway are not included in the pardons.
One of the nine, Raul Romeva, tweeted that the struggle for independence would continue.
"We won't give up the fight: amnesty and self-determination!" he wrote.
The current head of Catalonia, Pere Aragonès, said the pardons showed that prosecuting the separatists had been unjust.
"It's the time for us to agree on a referendum on independence," he said in a televised address.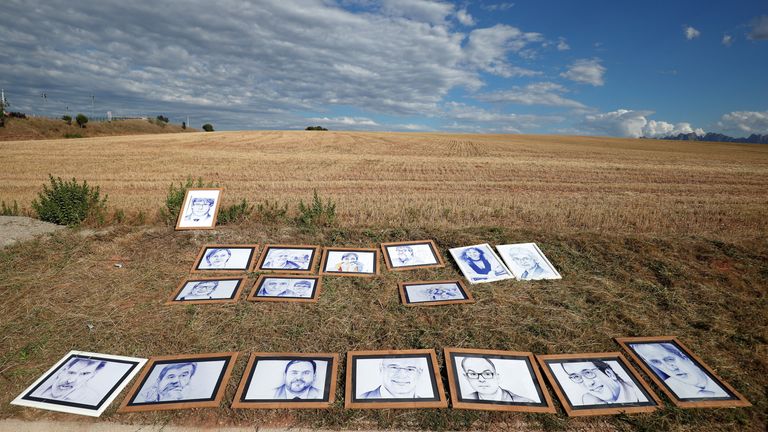 A majority of Spaniards oppose the pardons, surveys have suggested, and people protested against the plan in Madrid earlier this month.
Conservative parties in the capital have said they will challenge the pardons in court.
They fear the activists' release will fuel the separatist movement.
But the government is said to be convinced there will be no new unilateral bid for independence.
COVID-19: Filipino president Rodrigo Duterte threatens to jail people if they don't get vaccinated | World News
Filipino president Rodrigo Duterte has threatened to jail people if they refuse to get vaccinated against coronavirus.
Mr Duterte, 76, said those who refuse to get a COVID-19 vaccine would be arrested or face deportation during a televised address on Monday.
"You choose, get vaccinated or I will have you jailed," he said.
"I'm telling you those police jails are filthy and foul-smelling and police are slow to clean them. That is where you'll be."
He continued by describing the Philippines' COVID epidemic as a "crisis" and "national emergency".
"If you will not agree to be vaccinated, leave the Philippines. Go to India if you want or somewhere, to America," he added.
The Philippines has vaccinated just 1.99% of its population so far.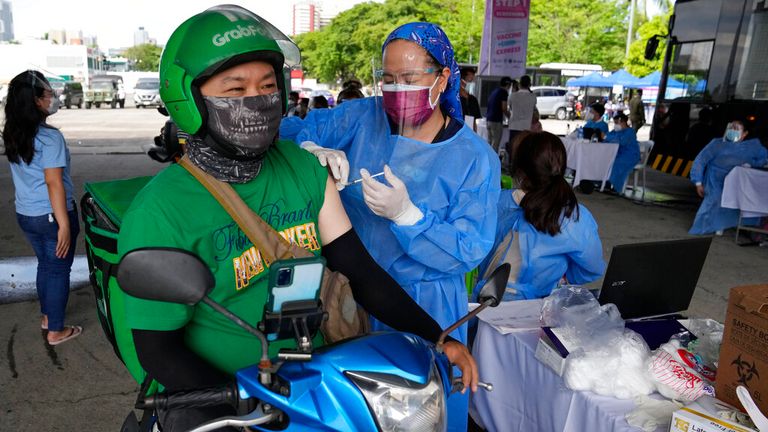 Human rights lawyer Edre Olalia expressed concerns that Duterte could not arrest people who have not committed a crime.
In the UK, the Department of Health is making coronavirus vaccines compulsory for care workers who work with vulnerable and elderly people.
Under plans being drawn up by the government, staff will have 16 weeks to get both doses of a vaccine, according to reports, with similar proposals being considered for NHS workers.
Commentators have largely described the idea of compulsory vaccinations for entry to restaurants, bars or large events as unethical. But the government has said the use of vaccine passports to travel to some foreign countries is inevitable.
The Philippines recorded a further 5,224 cases in the latest 24-hour period, with 1.364 million infections reported in total so far.
Its daily COVID death figures are much higher than the UK's – with 128 logged in the past 24 hours.
Euro 2020: Why no Scotland players have to isolate after Gilmour contracts COVID – but England pair do | UK News
Confusion arose over the decision to force England footballers Mason Mount and Ben Chilwell to isolate after Scotland player Billy Gilmour tested positive for COVID-19.
The England duo must isolate until Monday after being deemed "close contacts" of their Chelsea teammate Gilmour when the Three Lions played Scotland on Friday.
Live COVID updates from the UK and around the world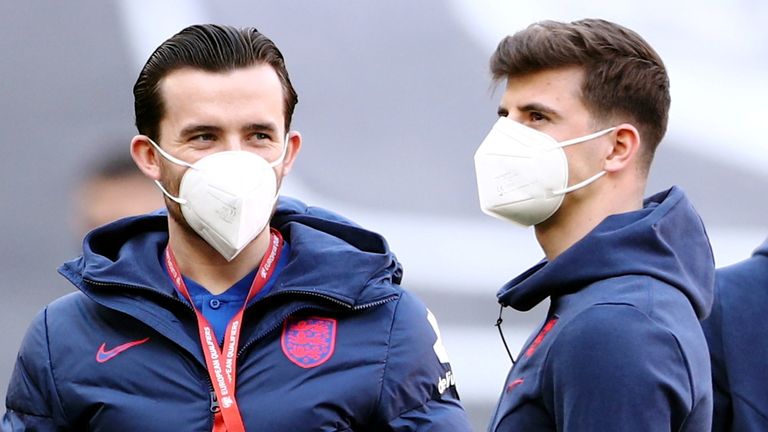 But questions were raised over why Mount and Chilwell were affected after the entire England squad tested negative for COVID-19 on Monday, while no other Scotland player has been ruled out of their final Euro 2020 group game on Tuesday as a result of Gilmour's infection.
As Euro 2020 is played in multiple countries against the backdrop of the pandemic, strict rules are in force to try to ensure the tournament is not disrupted.
So what happens when players test positive for COVID, could matches be abandoned as a result, and what steps are being taken to avoid outbreaks? Sky News explains.
• What were the concerns about Mount and Chilwell's contact with Gilmour?
Mount, Chilwell and Gilmour were seen embracing at the end of England's match with Scotland at Wembley on Friday evening.
However, it is understood the contact that caused most concern was a 25-minute conversation between the three players in the tunnel following the game.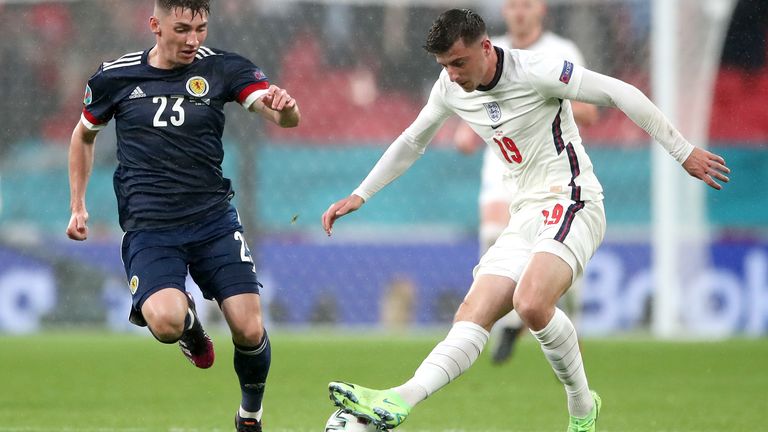 The Chelsea trio had not seen each other since returning to London after they won the Champions League final in Porto on 29 May.
Government guidance states that close contacts of COVID cases include people who had face-to-face conversations within one-metre, and anyone who was within two-metres for more than 15 minutes.
The FA said the decision for Chilwell and Mount to isolate was taken in consultation with Public Health England.
The two players are now isolating and training individually in private areas at England's training base St George's Park.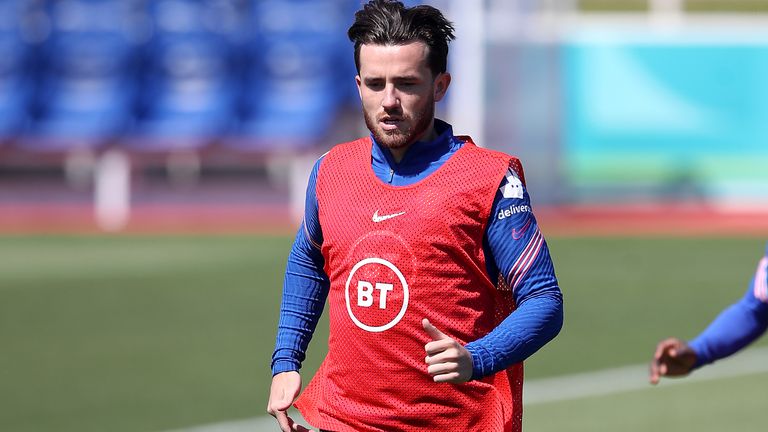 • How long do players with COVID have to isolate?
Players at Euro 2020 are tested regularly, and those who are positive must self-isolate for 10 days.
Any other players or staff deemed to have been in close contact with someone with COVID during the tournament also have to isolate for 10 days.
It means Gilmour will be unavailable for Scotland's final group match against Croatia tonight. If they progress, he will also miss their last-16 tie, Sky Sports News understands.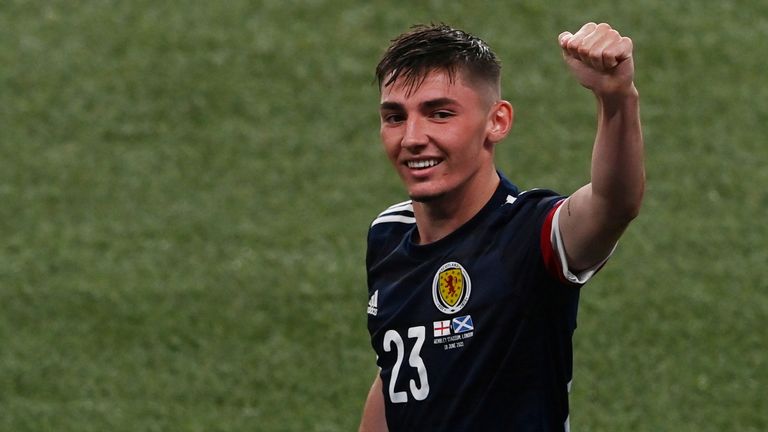 The Scottish FA and Public Health England are said to be satisfied that Gilmour had "no close contact issues" with any other member of the Scotland squad.
The isolation period for close contacts of COVID cases includes the date of their last contact and the next 10 full days, according to government guidance.
Mount and Chilwell, who came into contact with Gilmour on 18 June, must now isolate until Monday 28 June.
With England already through to the knockout stages of the tournament, it means Mount and Chilwell could miss their last-16 tie, with the round being played on 26, 27, 28 and 29 June.
• Could matches be abandoned due to a COVID outbreak in a squad?
Euro 2020 squads were expanded from 23 players to 26 to account for the chance that some teams could be hit by COVID outbreaks.
If multiple players have to isolate, matches will still go ahead providing the team can name 13 players in their squad – a minimum of 12 outfield players plus one goalkeeper.
If a team cannot named 13 players in their squad, the game can be postponed by up to 48 hours.
If the affected team still cannot meet the minimum requirements for a matchday squad, they will forfeit the game and suffer an automatic 3-0 defeat.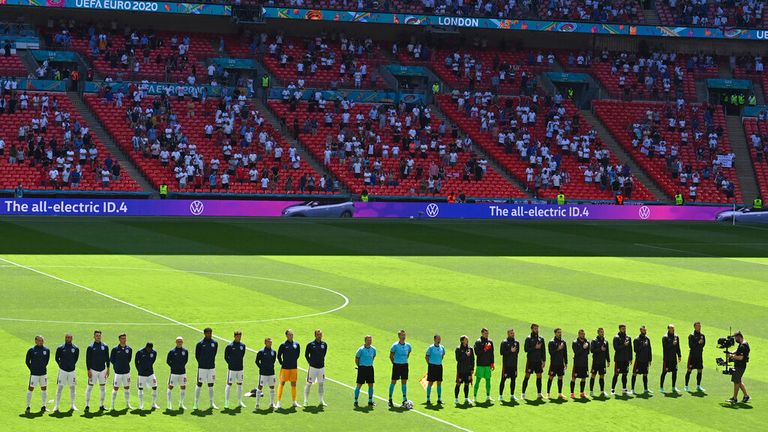 • Can players who contract COVID be replaced?
Outfield players cannot be changed but UEFA states that "goalkeepers can be replaced during the tournament in the event of physical incapacity, even if one or two goalkeepers in the squad are still available".
Players that have been replaced cannot then return to the squad.
• Can players see their families during the tournament?
UEFA has banned families visiting players at their training camps during Euro 2020.
England manager Gareth Southgate had hoped that players would be able to see family members at their St George's Park training base, but UEFA's strict COVID bubble rules forbid it.
"We're not going to be able to let people in," Southgate said before the tournament.
"There's a clear edict from UEFA on what the bubbles need to look like to be as secure as we can make them, it's never going to be 100% failsafe but we've got to comply with as much as we can."