Nor'easter slams East Coast with heavy snow, threatens more power failures
A second nor'easter barreled down on the Northeast on Wednesday, promising to snarl the evening commute with heavy snow just days after a deadly winter storm left hundreds of thousands of customers without power.
Forty-eight million people from Maryland to Maine were facing winter storm advisories Wednesday from the storm, part of a system that has dumped snow across the country since it first hit the West Coast late last week.
Photos: Nor'easter slams East Coast … again
Witnesses reported lightning and peals of thunder across the region during the snowstorm — a rare phenomenon called "thundersnow."
The new storm canceled thousands of flights and was making roads treacherous in major cities, including Philadelphia, New York and Boston.
"With the roads extremely slippery, driving in it is not going to be fun," said Brian Hurley, a meteorologist at the National Weather Service's Weather Prediction Center.
While last Friday's storm pummeled the Interstate 95 corridor with strong rains and winds, this time the danger comes from snow — and a lot of it. At its peak, the nor'easter is projected to blanket the region with snowfall rates of up to 3 inches an hour.
The women's basketball team at Northeastern University got an unplanned workout Wednesday when its bus got stuck in the snow in Philadelphia, where the Colonial Athletic Association championship tournament is taking place.
A school spokesperson told NBC Boston that the bus stalled a few blocks from the team's hotel after practice — so the players got out and pushed it back on course.
"They raced off the bus to help push, got it moving a couple of feet and around the bend, off the hill," the spokesperson said.
Reinforced by a cold front moving offshore to the Atlantic, the storm was expected to intensify into Thursday morning as it moved north.
With the storm track having shifted from original projections, part of the Philadelphia-New York corridor — one of the most populated regions in the country — were particularly hard hit, forecasters said.
The town of Sloatsburg, New York, in Rockland County, topped the list, having gotten 23 inches of snow in the 24 hours through 8 p.m. ET, according to the National Weather Service, and New York City was projected to get 8 to 12 inches of snow overnight.
"We're now right in the thick of it," said NBC News meteorologist Sherri Pugh. "Travel is already being impacted and it's going to continue to be dangerous through tonight's commute."
Related: Another nor'easter heads for East Coast
A cascade of cancellations and delays was already being felt as the brunt of the storm rolled through the Northeast.
Almost 2,600 departures and arrivals were scrapped at airports in Boston, Philadelphia, New York and Newark, New Jersey. Amtrak canceled many trains usually scheduled to run in the corridor between Washington and Boston. New Jersey State Police responded to more than 50 multiple-vehicle crashes by noon because of the icy conditions.
A New Jersey teacher was listed as stable after being struck by lightning outside Manchester Township Middle School during the height of the thundersnow, according to police.
Ten people were hospitalized with carbon monoxide poisoning from a generator that had been powered up inside a home in White Plains, New York, police told NBC New York.
But a bigger worry was that some of the regions — still repairing downed power lines and damage from coastal flooding from last Friday's storm — were particularly susceptible. The coastal town of Duxbury, Massachusetts, was still recovering from devastating flooding after part of its seawall was demolished by the previous nor'easter.
"The work we've been doing out on the seawall has been holding up, which we're pleased with," Town Manager Rene Read told NBC News. "We've heard that there could be 40- to 50 mile-an-hour gusts of wind. We do have high tides, and that's a big sea out there. … We're tired [from the last five days], but morale is good."
Beach Avenue in Kennebunk, Maine, has been closed since last Friday, and it likely won't reopen until this Friday.
Eric Labelle, the town's public services director, told New England Cable News that authorities would have to wait for the storm to pass before they could examine the sea walls, roads and culverts.
"There may be some compromised areas," he said.
As she surveyed new damage along Beach Avenue, Tami York, a Kennebunk resident, told NECN: "It's just going to add insult to injury."
Even though Wednesday's storm wasn't predicted to bring as much flooding or strong gusts, there were worries about more strains to power lines already weakened from the heavy winds on Friday, this time from heavy, wet snowfall.
"A lot of the same places that were hit hard on Friday will have impacts from this system," Pugh said.
More than 680,000 customers were without electricity from Maryland to Maine early Wednesday evening, utility companies reported.
In Mamaroneck, New York, in Westchester County, frustrations were building as parts of the area waited for power to be restored from the first wallop — while bracing for the next one.
The estimated restoration time from Con Edison "seems to be a moving target," Mayor Tom Murphy told LoHud.com, "which is kind of disconcerting because it doesn't inspire confidence that they have a plan."
New York Gov. Andrew Cuomo also criticized the utility companies, vowing to review their response to the problem.
China floods force tens of thousands from their homes as number dead rises to at least 33 | World News
Tens of thousands of people have been forced to leave their homes in parts of central China, as officials said the number of dead from record-breaking floods had risen to at least 33.
More than 73,000 residents have moved out of the city of Anyang, where more than 23.6 inches (600mm) of rain has fallen since Monday, Chinese state media said.
It brings the total number of people forced from their homes to more than 170,000, while eight are listed as missing across the deluged Henan province.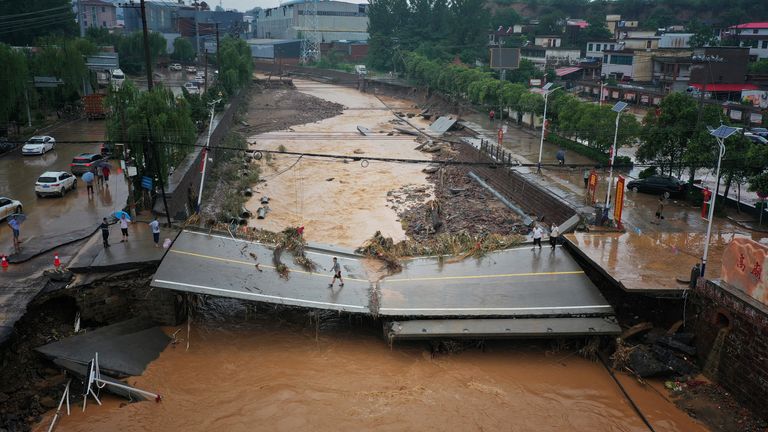 Anyang is one of four cities in the north of Henan province forecast to suffer China's highest classification of storm, alongside Xinxiang, Hebi and Jiaozuo. They have all been issued with a red storm alert by forecasters.
Xinxiang, a small city north of Zhengzhou with a population of around six million, has been especially badly hit, with a record 32 inches (812mm) of rain between Tuesday and Thursday.
More than 470,000 people and 55,000 hectares (136,000 acres) of crops there have been affected, while seven medium-sized reservoirs in the city overflowed, flooding scores of nearby towns and villages.
A search and rescue operation with more than 76,000 people is under way, the official Xinhua news agency said.
In neighbouring Hebei province, two people were killed when a tornado struck the city of Baoding.
China: Subway passengers drown as rains hit

At least 12 of the total fatalities came when waters flooded the Zhengzhou underground.
Pictures of commuters in chest-deep water in dark carriages emerged, prompting Beijing to order local authorities to immediately improve urban transit flood controls and emergency responses.
More than 500 were pulled to safety.
China's ministry of transport said in a statement: "They must take emergency measures such as suspending trains, evacuating passengers, and closing stations in atypical situations such as excessively intense storms."
Attention is also being focused on the country's weather forecasting operation and whether more warning could have been given.
Around 24 inches (617.1mm) of rain fell in Zhengzhou from Saturday to Tuesday, almost as much as the city's annual average of 25.2 inches (640.8mm).
People swept away by floodwater in China

Subscribe to ClimateCast on Spotify, Apple Podcasts, or Spreaker
In a move to avoid further damage, the country's military blew up a dam to release floodwaters in the city of Luoyang, west of Zhengzhou.
Meanwhile, the bodies of 14 workers trapped when a tunnel under construction was flooded in Zhuhai last week have also been recovered.
Like recent heatwaves in the US and Canada and extreme flooding seen in western Europe, the rainfall in China was almost certainly linked to global warming, scientists have said.
Summer flooding is a regular event in China, but the growth of cities and conversion of farmland into subdivisions has raised the impact of such events.
Tokyo 2020: Problems grow for organisers of 'most unpredictable' Olympic Games | World News
The doomed Olympics? Not yet. 
On the eve of the opening ceremony of Tokyo 2020 the peloton of problems for the Games organisers just keeps growing.
The escalating COVID cases, no spectators at the venues, corporate sponsors backing away, the composer for the opening ceremony was sacked for bullying last week and now they have fired the creative director for making a joke about the Holocaust.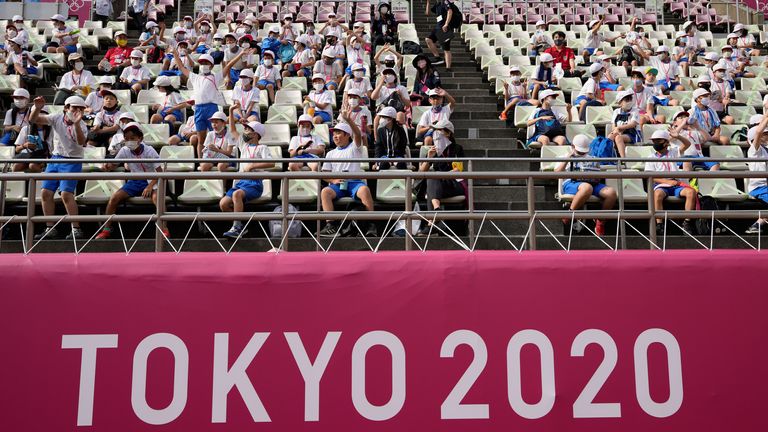 Every Olympic Games has problems beforehand but the delayed Tokyo Games has chalked up a record number of them.
It would have been a decent bet last year that these Games wouldn't ever get off the starting blocks but they have done.
The first pitch in the softball competition in Fukushima on Wednesday was a victory for all those who believed that the Games could be salvaged.
In the dreams of the organisers, the 19 days of competition in Japan will inspire the world. It still might happen.
The number of COVID cases among Games participants is over 90 – when you consider that tens of thousands of people have flown in from around the world then it isn't yet unmanageable.
This was never going to be a COVID-free Games – there's no way it could have been.
Team GB boss on COVID safety at Olympics

It's a question of how much disruption the tight Olympic schedule can take.
Japan is watching closely how this moment of supposed national celebration actually works out.
We may not know for a few weeks the extent of the increase in COVID cases that the Olympics brings to Tokyo. A super spreading event is a possibility but not a certainty.
Follow the Daily podcast on Apple Podcasts, Google Podcasts, Spotify, Spreaker
There is still a sporting chance that it somehow works out and the COVID Games slip into the background of the greatest sports show on earth.
The unpredictability of sport is one of the main reasons so many people love it, but standby for the most unpredictable Games we have ever known.
COVID-19: Australia and New Zealand withdraw from Rugby League World Cup in England over coronavirus concerns | World News
Australia and New Zealand will not compete in the Rugby League World Cup at the end of the year due to coronavirus concerns.
The tournament is set to be held in England between 23 October and 27 November.
The news will come as a blow for organisers who thought they had fended off fears from the two associations.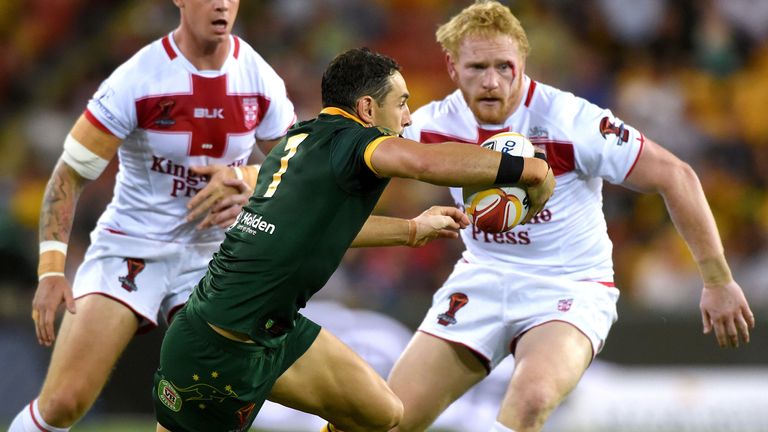 A joint statement released by The Australian Rugby League Commission (ARLC) and New Zealand Rugby League (NZRL) cited the pandemic and "player welfare and safety concerns" amid rising infection rates in the host country.
"The ARLC and NZRL have again requested the RLWC2021 be postponed until 2022 to minimise risk of players contracting COVID-19 and ensure the best outcome for player wellbeing," they said.
It remains to be seen whether the tournament can now go ahead without Australia, who have won the title a record 11 times, and 2008 champions New Zealand.
NZRL chief executive Greg Peters said there were "stark differences" between the management of the pandemic in the UK and Australasia and recent developments show how quickly things can change.
He said: "The tournament organisers have moved heaven and earth to make this work, so it is not an easy decision, but the COVID-19 situation in the UK shows no sign of improving, and it's simply too unsafe to send teams and staff over."
How does UK COVID rate compare with other nations?

Simon Johnson, chairman of the Rugby Football League, hit back at the decision, saying organisers had "bent over backwards and turned double somersaults to meet every single requirement that was asked of them, by the Australians particularly".
"I am angry about this," he said. "This is a selfish, parochial and cowardly decision which has been taken by the Australian and New Zealand leadership."
In response to Australia and New Zealand's announcement, World Cup 2021 organisers released a statement saying they were disappointed by the move, which could have "wide ranging implications".
"RLWC2021 were informed at very short notice and will continue discussions with all stakeholders to agree on the best way forward. A further statement will be made in due course," they added.
The PA news agency understands the tournament officials were given just four minutes' notice of the announcement.
The tournament was due to include 16 teams for the first time – an increase of two from the previous two tournaments.