'Accidental' school shooting kills teenage girl in Alabama

A school shooting that killed a 17-year-old student and injured another is being treated as accidental, according to police.
The girl, identified by friends as Courtlin Arrington, was fatally shot on Wednesday afternoon at Huffman High School – one of the largest schools in Alabama.
Investigators are scouring surveillance video and interviewing students and staff as they try to piece together what led to the shooting, which happened shortly after lessons ended for the day.
Officials in Birmingham closed the school for a safety sweep on Thursday after metal detectors and other security measures failed to stop students from handling firearms.
The gun was recovered, but interim police chief Orlando Wilson has not disclosed who fired it. No arrests were immediately reported.
He said: "At this particular time, we are considering this accidental. Right now we have a lot of unanswered questions."
Mr Wilson added that he has not been made aware of any arguments or threats in the run-up to the shooting.
According to local media reports which have not been confirmed by police, a male student was "showing off" his gun when it fired and struck Courtlin. As he was putting the weapon away, it went off again and he shot himself.
Ninth-grade student Ashley Oden witnessed the incident.
"It's heartbreaking… She didn't do nothing, she was always a good student. For her to get hurt, it's just like terrifying to see it happening right in front of your face," she said.
The shooting occured three weeks after the Valentine's Day shooting at a Florida school that left 17 dead. It is the third American school shooting this year to result in fatalities.
Birmingham mayor Randall Woodfin said the deceased student would have turned 18 in April, and the teenager "had aspirations and dreams to be a nurse".
"We are not just talking about some person, (we're) talking about losing a part of our future. Our hearts are heavy," he added.
Alabama governor Kay Ivey said the teenager's death "reaffirms that there is no place for students to have firearms or other weapons on campus".
The shooting took place a day after Ms Ivey created a school safety council in Alabama to make recommendations on security.
Scarlett Johansson sues Disney for streaming Black Widow at same time it was released in cinemas | Ents & Arts News
Scarlett Johansson is suing Disney – accusing the company of breaching her contract when it offered the film Black Widow on its streaming service at the same time as it was released in theatres.
The actress's earnings are based partly on the film's box office takings and, in court papers, she said the movie was intended for initial release exclusively in cinemas.
Instead, the dual release had resulted in her earning less than she would have otherwise, she argued.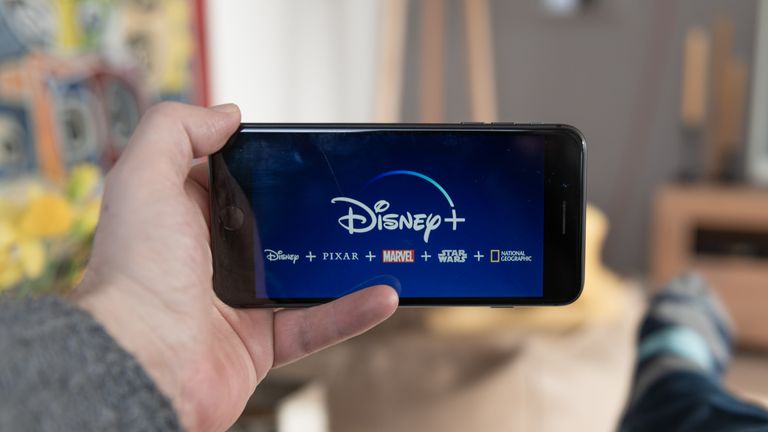 In the complaint, filed in Los Angeles Superior Court, she alleged that Disney wanted to increase subscriber numbers for its streaming vehicle Disney+.
So when Black Widow debuted on 9 July in theatres, the company had also released it on streaming for a $30 (£21) charge.
The lawsuit alleged that Disney wanted to "keep the revenues for itself while simultaneously growing the Disney+ subscriber base, a proven way to boost Disney's stock price".
"Second, Disney wanted to substantially devalue Ms Johansson's agreement and thereby enrich itself."
The suit seeks unspecified damages to be determined at trial.
Disney said there was "no merit" in the claims, insisting that it complied with Johansson's contract.
The release of the movie on Disney+ had "significantly enhanced her (Johansson's) ability to earn additional compensation on top of the $20m (£14.3m) she has received to date".
Disney said the lawsuit was "especially sad and distressing in its callous disregard for the horrific and prolonged global effects of the COVID-19 pandemic".
Many companies have been forced to release films on streaming services because a lot of cinemas were closed as part of global efforts to limit the spread of the coronavirus.
A similar dual release strategy is being used by Disney for the film Jungle Cruise, which stars Dwayne Johnson and Emily Blunt this week.
Black Widow, the story of the Russian assassin turned Avenger, earned $80m (£57m) in US and Canadian box offices on its debut weekend and $60m (£43m) through Disney+.
Johansson, who topped the Forbes magazine list of the world's highest-paid actress in 2018 and 2019, has played the character in nine Marvel films.
British military chiefs criticise China and Russia for 'reckless' behaviour in space | World News
Two military chiefs have criticised China and Russia for "reckless" behaviour in space, such as using weapons to destroy satellites, leaving a trail of dangerous debris orbiting Earth.
Air Chief Marshal Sir Mike Wigston, the head of the Royal Air Force, and General Sir Patrick Sanders, commander of Strategic Command, also for the first time left open the possibility that the UK could develop its own weapons to defend assets in space.
"I am not ruling out what we might do in the future, but we don't want to weaponise space," General Sanders told Sky News.
"We don't want it to become a place where – to use your language – there is conflict or even war in space. We want to make sure it is a common good for all because we all derive so much benefit from it."
The two commanders were speaking at the official opening of the UK Space Command, which will take charge of all military work involving space – now considered a domain of operations alongside land, sea, air, and cyberspace.
Air Chief Marshal Wigston said: "When diplomacy has run its course and we find ourselves in a global conflict, it might not start in space but I am in no doubt it will move very quickly to space and it will most likely be won or lost in space."
The new organisation, headquartered at RAF High Wycombe, will bolster the UK's ability to track threats in space, from space junk to deliberate attacks in coordination with key allies such as the US, Australia and France.
The air chief described Russia and China's activities in space as "reckless".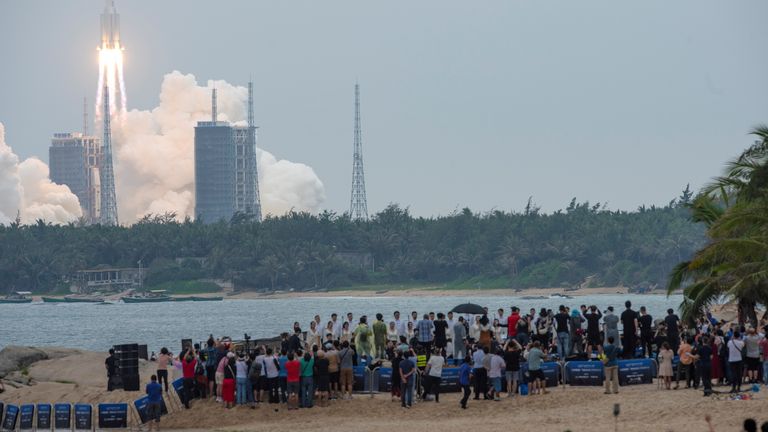 Offering an example, he said a few years ago, Beijing deliberately destroyed a satellite with an anti-satellite weapon, creating debris that is still circulating Earth today.
"Those are lumps of space junk which are travelling at thousands of kilometres an hour," he said.
"If they hit the International Space Station or one of our satellites that we depend on in our day-to-day lives that would have or could have a disastrous effect on the movement of medical equipment, our transport networks, our power networks."
Describing the threat further, he said: "Right now we see countries like Russia and China testing and demonstrating anti-satellite weapons – satellites with all the characteristics of a weapon deployed in space.
"We see them rehearsing, manoeuvring, which frankly have only one purpose which is to destroy satellites, so that is a real concern to us and that's behaviour that we would want the international community to call out."
Rather than launch space weapons back in their direction, the main strategy the UK is pursuing to deter this kind of activity is to develop a new set of international rules to govern behaviour in space, the two officers said.
The UK will also use its radars and satellites, which will fall under the control of Space Command, to improve visibility of what threats are out there.
However, the commanders indicated that developing physical capabilities to defend assets in space at some future point had not been ruled out.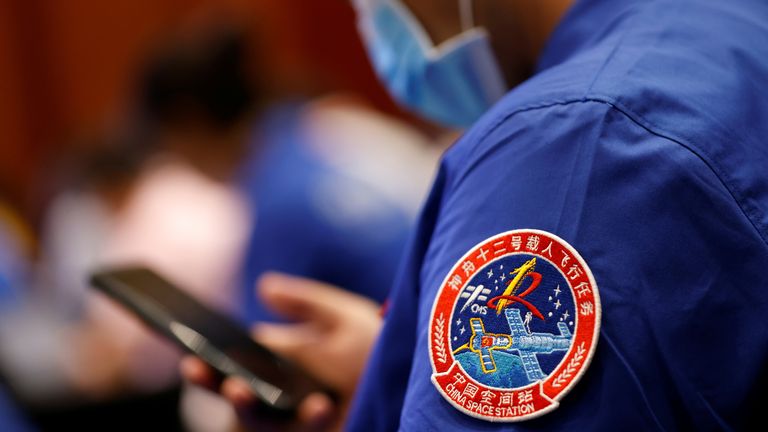 "I am open minded about all aspects of what we might do in the future and there are all sorts of things we might potentially do," Air Chief Marshal Wigston said.
"But right now our focus is on turning on the lights in space and making sure we understand what is going on."
The number of personnel across the RAF, Army and Royal Navy assigned to UK Space Command is starting in the tens to hundreds.
But the plan is to expand the force into the thousands.
The first eight "Space Operator" badges were handed out to individuals at the opening ceremony.
None of the people involved in Space Command actually fly into space. Instead they work from Earth monitoring things like military satellites and space radar systems.
COVID-19: 'How can we protect our population?' – Kenya's president criticises vaccine nationalism | World News
Kenya's president has told Sky News that vaccine nationalism "has really shown how unequal this world is" – and has vowed to fight "day and night" to ensure that developing countries are treated equally.
Uhuru Kenyatta is calling for intellectual property rights relating to coronavirus jabs to be released so his country can manufacture its own supplies.
The head of Kenya's vaccine taskforce has told Sky News that – although Kenya is ready to buy jabs and has the money to do so – it is unable to access them because richer countries have reserved so many.
Kenyan president on 'vaccine nationalism'

Mr Kenyatta said: "Where do we get these vaccines from, how are we able to protect our population? This is the fight that's out there."
In March, Kenya received about one million doses of the AstraZeneca vaccine as part of the COVAX programme – and this week, the UK announced that it would be sending 817,000 jabs to the country.
The East African nation has a population of 53 million people, and the latest figures show that just 2.35% have been vaccinated.
Urging for countries with vaccine supplies to step up and ensure there is equal access for all, Mr Kenyatta said: "We know there are some countries that have vaccinated well over 40% to 50% of their adult population. They are now vaccinating teenagers.
"On top of that they have surpluses but are still not ready to share them with the rest of the world. That is the height, like I said, of nationalism, that really has been felt and this is something that we are fighting and we are going to fight day and night until we ensure that there is equity."
This week, the World Trade Organisation failed to reach agreement on a proposal to suspend intellectual property rights for COVID vaccines.
Kenya's COVID vaccine supply is dwindling

Most developing countries support the waiver but several wealthy countries remain strongly opposed, saying it will deter research that allowed jabs to be developed so quickly.
The WTO is due to hold an informal gathering in September on the issue, followed by a formal meeting in October.
Mr Kenyatta says this is an issue that affects the entire developing world, adding: "This is something that really needs to be looked at."
Kenya is currently engaged with AstraZeneca to determine how its vaccine could be manufactured in the country.
Mr Kenyatta said the Kenya Medical Research Institute (KEMRI) would begin production "in the shortest possible time" if IP rights were released.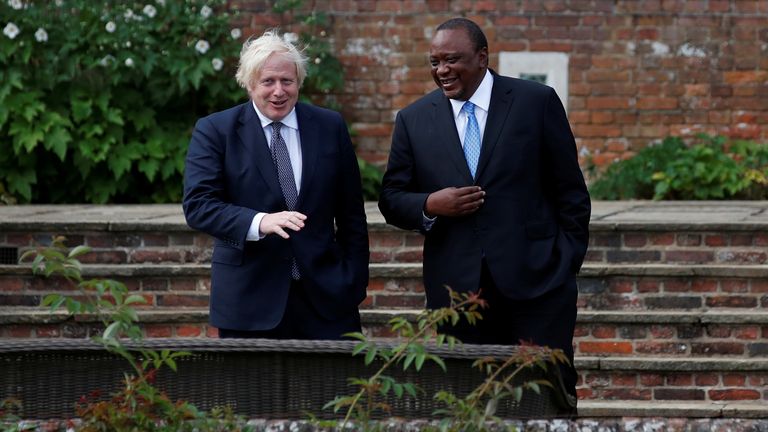 The president was in London to co-host the Global Education Summit with Boris Johnson – and the meeting's fundraising target of $5bn (£3.58bn) is the most ambitious to date.
The UK pledged £430m to the summit, but it comes in a year foreign aid was cut from 0.7% to 0.5% of national income.
Mr Kenyatta says the impact of these cuts is already being felt, and a number of specific programmes have already been affected.