Watchdog report: Failed VA leadership put patients at risk
WASHINGTON — As a top Veterans Administration official in the Obama administration, current Secretary David Shulkin took no action to fix longstanding problems of dirty syringes and equipment shortages that put patients at risk at a major veterans hospital, according to an investigation released Wednesday that finds "failed leadership" and a "climate of complacency" at the agency.
The 150-page report by the VA internal watchdog offers new details to its preliminary finding last April of patient safety issues at the Washington, D.C., medical center. Painting a grim picture of communications breakdowns, chaos and spending waste at the government's second largest department, the report found that at least three VA program offices directly under Shulkin's watch knew of "serious, persistent deficiencies" when he was VA undersecretary of health under former President Barack Obama from 2015 to 2016.
Shulkin, who was elevated to VA secretary last year by President Donald Trump, told government investigators that he did "not recall" ever being notified of problems.
The findings are the latest in a series of problems coming to the light at the VA under Shulkin, who has been struggling to keep a grip on his job since a blistering report by the inspector general last month concluded that he had violated ethics rules by improperly accepting Wimbledon tennis tickets and that his then-chief of staff had doctored emails to justify his wife traveling to Europe with him at taxpayer expense.
He also faces a rebellion among some VA staff and has issued a sharp warning to them: Get back in line or get out.
"I suspect that people are right now making decisions on whether they want to be a part of this team or not," he said last month.
The latest IG investigation found poor accounting procedures leading to taxpayer waste, citing at least $92 million in overpriced medical supplies, along with a threat of data breaches as reams of patients' sensitive health information sat in 1,300 unsecured boxes.
No patient died as a result of the patient safety issues at the Washington facility dating back to at least 2013, which resulted in costly hospitalizations, "prolonged or unnecessary anesthesia" while medical staff scrambled to find needed equipment at the last minute as well as delays and cancellations of medical procedures. The report also noted improvements made at the Washington facility since the IG's first report in April, when Shulkin replaced the medical center's director and pledged broader improvements.
Still, VA inspector general Michael Missal cautioned of potential problems without stronger oversight across the VA network of more than 1,700 facilities.
"Failed leadership at multiple levels within VA put patients and assets at the DC VA Medical Center at unnecessary risk and resulted in a breakdown of core services," Missal said. "It created a climate of complacency … That there was no finding of patient harm was largely due to the efforts of many dedicated health care providers that overcame service deficiencies to ensure patients received needed care."
In the report, Shulkin responded that he had expected issues involving patient harm or operational deficiencies to be raised through the "usual" communication process, originating from the local level and regional office to VA headquarters in Washington — and that it apparently didn't happen.
While the IG did not make specific conclusions on whether Shulkin actually was warned by direct subordinates, it broadly faulted an "unwillingness or inability of leaders to take responsibility for the effectiveness of their programs and operations," and cited a "sense of futility" at multiple levels in bringing about improvements. In its written response to Wednesday's report, the department generally agreed to implement recommendations for improved health procedures at the Washington facility and pledged a "reliable pathway" for local VA and regional officials to report high-priority concerns to senior leadership at VA headquarters.
"It was difficult to pinpoint precisely how the conditions described in this report could have persisted at the medical center for so many years," Missal wrote.
"Senior leaders at all levels had a responsibility to ensure that patients were not placed at risk," he said.
Shulkin has maintained White House support despite the travel controversy. He has acknowledged some mistakes in the handling of the trip and said he relied too much on the judgment of his staff to ensure full compliance with travel policies. He has since said he reimbursed the $4,000 plane ticket for his wife. His chief of staff, Vivieca Wright Simpson, has left the agency.
Several major veterans organizations are standing behind him as the best guardian of the VA amid a planned overhaul of the Veterans Choice program, a Trump campaign priority aimed at expanding private care outside the VA system.
Major veterans groups are wary of an aggressive Choice expansion as a potential threat to the viability of VA medical centers, which it sees as best-suited to treat battlefield injury such as post-traumatic stress disorder.
Brexit LIVE: EU's Covid shambles forces AstraZeneca into reconsidering vaccine future
THE European Union's shambolic handling of the Covid pandemic is forcing AstraZeneca to seriously consider its future in vaccines, in another move that goes a long way to vindicating Brexit.

Source link
Carl Levin, Michigan's longest-serving senator, dies at 87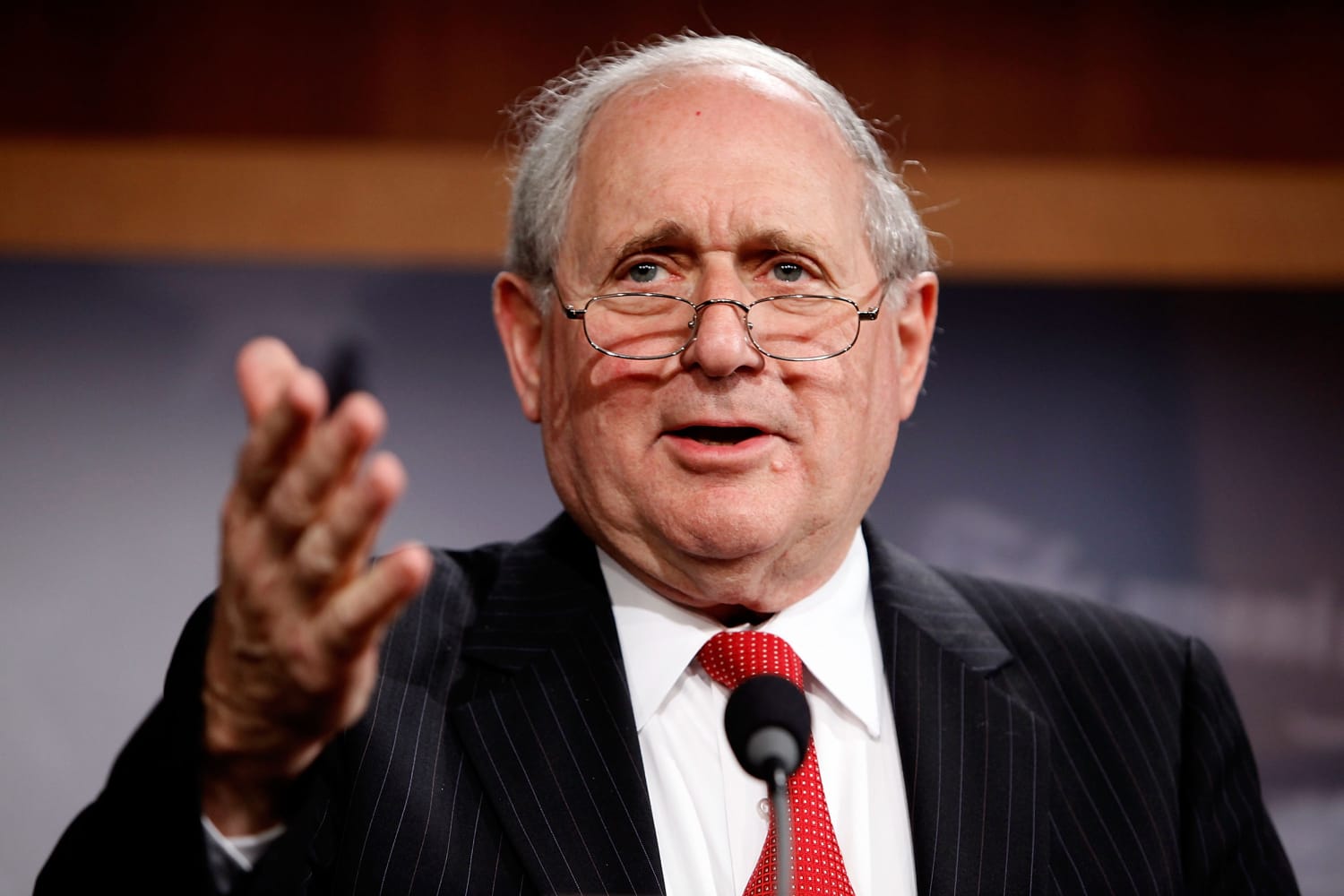 DETROIT — Famous for gazing over eyeglasses worn on the end of his nose, Carl Levin seemed at ease wherever he went, whether attending a college football game back home in Michigan or taking on a multibillion-dollar corporation before cameras on Capitol Hill.
Michigan's longest-serving U.S. senator had a slightly rumpled, down-to-earth demeanor that helped him win over voters throughout his 36-year career, as did his staunch support for the hometown auto industry. But the Harvard-educated attorney also was a respected voice on military issues, spending years leading the powerful Senate Armed Services Committee.
Despite his record tenure and status, he kept his role in perspective. At his direction, the portraits of all 38 senators who had served before or with him since Michigan's statehood in 1837 were hung in his office conference room. Two empty spaces were reserved for future senators.
"I'm part of a long trail of people who have represented Michigan," Levin said in 2008. "I'm just part of that history. The people coming after me … can pick up where I leave off, whoever they might be."
The former taxi driver and auto-line worker, who for decades kept his faded 1953 union card in his wallet, died Thursday at 87. His family and the Levin Center at Wayne State University's law school did not release a cause of death in an evening statement. He had been living with lung cancer since age 83.
"We are all devastated by his loss. But we are filled with gratitude for all of the support that Carl received throughout his extraordinary life and career, enabling him to touch so many people and accomplish so much good," the statement said.
First elected to the Senate in 1978, Levin represented Michigan longer than any other senator, targeting tax shelters, supporting manufacturing jobs and pushing for military funding. His tenure was a testament to voters' approval of the slightly rumpled, down-to-earth Detroit native whom Time magazine ranked among the nation's 10 best senators in 2006.
"He's just a very decent person," Democratic Sen. Jack Reed of Rhode Island, a fellow Senate Armed Services Committee member, said in 2008. "He's unpretentious, unassuming. He never forgets that what we're doing is enmeshed with the lives of the people he represents."
A Washington insider and former prosecutor known for his professorial bearing, Levin took a civil but straightforward approach that allowed him to work effectively with Republicans and fellow Democrats. He was especially astute on defense matters thanks to his years as the top Democrat on the Senate Armed Services Committee.
And he didn't fear speaking his mind.
He was in the minority — even among his Democratic Senate colleagues — when he voted against sending U.S. troops to Iraq in 2002, and two years later he said President George W. Bush's administration had "written the book on how to mismanage a war." He gave a cautious endorsement to President Barack Obama's 2009 buildup of troops in Afghanistan, but later warned of "the beginnings of fraying" of Democratic support.
He was also critical of President Ronald Reagan's buildup of nuclear weapons, saying it came at the expense of conventional weapons needed to maintain military readiness.
But, colleagues said, he almost always engendered a feeling of respect.
"We've always had a very trusting and respectful relationship," the late-Republican Sen. John Warner, who worked closely for years with Levin on the Armed Services Committee, once said. "We do not try to pull surprises on each other. The security of the nation and the welfare of the armed services come first."
Famous for wearing his eyeglasses down on his nose, Levin seemed to be the same candid, hardworking guy wherever he went, whether he was in front of cameras on Capitol Hill, on an overseas fact-finding mission or lost in the crowd of a college football stadium on game day.
"No one would accuse Carl Levin of looking like Hollywood's version of a U.S. Senator. He's pudgy, balding and occasionally rumpled, and he constantly wears his glasses at the very tip of his nose," Time magazine said in its 2006 article ranking the senator among the country's best. "Still, the Michigan Democrat has gained respect from both parties for his attention to detail and deep knowledge of policy, especially in his role as a vigilant monitor of businesses and federal agencies."
A foe of fraud and waste, Levin led an investigation in 2002 into Enron Corp., which had declared bankruptcy the previous year amid financial scandals. The probe contributed to a new federal law that requires executives to sign off on financial statements so they could be criminally liable for posting phony numbers.
Levin pushed legislation designed to crack down on offshore tax havens, which he said cost the U.S. government at least $100 billion a year in lost taxes. He also was an advocate for stem cell research and gun control.
Closer to home, Levin promoted policies benefiting the auto industry and supported giving $25 billion in loan guarantees to General Motors and Chrysler. He argued that a vibrant domestic auto industry was crucial to rebuilding the economy after the Great Recession. He also was a member of a task force supporting efforts to fight pollution and other environmental problems affecting the Great Lakes.
"If you've ever worn the uniform, worked a shift on an assembly line, or sacrificed to make ends meet, then you've had a voice and a vote in Sen. Carl Levin," Obama said in 2013. "No one has worked harder to bring manufacturing jobs back to our shores, close unfair tax loopholes and ensure that everyone plays by the same set of rules."
Carl Milton Levin was born in Detroit on June 28, 1934, and he stayed in the Motor City for most of his life. After high school, he spent time as a taxi driver and worked on auto assembly plant lines to help put himself through school.
Always proud of having helped build the DeSoto and Ford trucks at a plant in Highland Park, he held onto his United Auto Workers union membership card for decades. That ended when his wallet was stolen.
He earned a bachelor's degree in political science from Swarthmore College in 1956, and a law degree from Harvard in 1959. He married his wife, Barbara, two years later, and together they raised three daughters.
Levin fell in line with his family's strong sense of civic duty in 1964, when he was named an assistant state attorney general and the first general counsel for the Michigan Civil Rights Commission. His older brother, former longtime U.S. Rep. Sander "Sandy" Levin, had a liberal voting record on many social issues, while their father served on the Michigan Corrections Commission, a citizens' group that oversaw prison operations, and their mother volunteered for a Jewish organization.
Carl Levin once said that public service was in his DNA, and politics often was discussed at the dinner table when he was a boy.
He dove into public office when Detroit voters elected him to the City Council in 1969, and he served as its president before ousting a Republican to win the 1978 Senate race. He won the seat five more times but decided against running for a seventh term in 2014.
After his retirement, the Levin Center at Wayne Law was established to promote fact-based, bipartisan oversight by Congress and state legislatures and to encourage civil dialogue on public policy issues. He chaired the center and co-taught law courses. He also was a partner and distinguished counsel at the Honigman law firm in Detroit.
His memoir, "Getting to the Heart of the Matter: My 36 Years in the Senate," was published in March. The Navy named a destroyer for him to honor his years of public service.
His nephew, Andy Levin, was reelected in 2020 to his father's 9th Congressional District seat that represents parts of suburban Detroit.
"Carl Levin personified integrity and the notion of putting the public good above self-interest," Andy Levin said, calling him "the very picture of sober purpose and rectitude. In truth, he wasn't unfun. In fact, he often pierced tense situations with self-deprecating humor, and he privately shared incisive observations about others with staff and colleagues."
evin is survived by his wife, their three adult daughters, Kate, Laura and Erica, and several grandchildren. There will be a private funeral. Information about a public memorial will be forthcoming.
Why the White House seems to be playing catch-up on coronavirus messaging
WASHINGTON — President Joe Biden found out about a significant move by his public health officials this week — one that created the most visible symbol yet of his setback in the battle against Covid-19 — around the same time the news was breaking on cable television.
Meanwhile, the Tuesday afternoon timing of the Centers for Disease Control and Prevention's official recommendation that individuals who are vaccinated might need to wear masks in some areas left White House press secretary Jen Psaki, who had repeatedly insisted in recent days that they did not, as the first public official to face questions on a policy shift White House officials had only recently learned of themselves.
"We are always going to be guided by our North Star, and that is the CDC and our health and medical experts," she said in response to a crush of questions Monday, as rumors swirled ahead of the official announcement.
Throughout the White House, the swift policy change caught staffers by surprise, but the dynamic was far from unfamiliar: Since Biden took office, much of the decision-making and messaging around pandemic policy has been in the hands of public health officials, not politicians — a hands-off approach that has at times left his White House scrambling to find its footing in the wake of some of the agency's most consequential moves.
It's a stark reversal from the Trump administration, which was accused by some members of its own coronavirus task force of interfering in public health decisions and releasing false information that contradicted the messaging from CDC officials.
But it's an approach that has come with its own set of drawbacks.
It has fallen on the White House to deal with the aftermath of confusing messages out of the agency on whether schools can reopen if teachers aren't vaccinated or if it's safe for vaccinated people to travel.
When peppered with questions about why restrictions are still in place for travel to many countries, a decision that has frustrated the tourism industry and Americans with family abroad, the White House has deferred to its public health officials, who haven't provided a clear rationale.
Now, medical experts say this week's announcement that vaccinated people might need to put their masks back on has suffered from the same lack of clear, unified messaging that plagued the spring guidance that they could take them off — leading to a similar swell of public confusion.
"This has been a consistent problem with the CDC," said Dr. Leana Wen, a former Baltimore health commissioner. "The same thing happens back in May, where they got the science right but the policy and communications really confused. And that directly led to where we are today."
While the CDC and West Wing are in near-daily contact, administration officials said the timing of the mask announcement was driven by the agency.
"We are dealing with a constantly changing virus, evolving and mutating and generating new threats," one official said. "When that happened in 2020, politics and preferred messaging trumped public health, with a president who buried his head in the sand at best and overruled or contradicted public health leaders at worst. The science is the science, and thank God we follow it because lives are at stake here."
But so, perhaps, is Biden's presidency. The gap between White House hopes and the CDC's hard reality has come into especially sharp relief over the course of the past week, as a cascade of events have left the "summer of freedom" Biden predicted in June, and potentially his wider agenda, increasingly under threat.
Covid cases have spiked due to the rapidly spreading delta variant. New data indicates that even vaccinated people may be able to spread the virus. The number of new daily vaccine doses delivered has plateaued at levels far below spring highs.
And the virus's continued threat has hit home for Biden in recent days with infections in a fully vaccinated White House staffer, an aide to House Speaker Nancy Pelosi and a group of Texas state representatives who visited with Vice President Kamala Harris.
During a presidential trip to Pennsylvania on Tuesday, White House officials found themselves trying to determine if the Mack Trucks plant he was touring was in a "yellow zone," which would allow him to remain mask-free, or an "orange zone," which would have required him to don a face covering in public for the first time in two months.
(A CDC map with county-level data based on weekly averages from three days ago indicated it was yellow, though the neighboring county was orange.)
Back in Washington, the White House was nearing the end of a month that began with an "independence from the virus" bash with a far more subdued tone.
Just over an hour after the CDC's mask announcement on Tuesday, a White House aide began handing out masks to reporters planning to cover an event with the vice president, telling them that Washington, D.C., now fell into the category of "substantial" risk areas where the CDC advised mask use.
At the event, Harris sounded a frustrated note.
"Nobody likes wearing a mask," she said. "Get vaccinated."
By the end of the day, the entire West Wing was again masked — including the president.
The abrupt policy directives from public health officials within the administration have left the White House visibly struggling with how to respond to the evolving dynamic around the pandemic.
"It is really a challenge, because of course we want to support the CDC, and you don't want people to lose trust in the CDC," Wen said. "But it makes our job as public health leaders much harder, because we are now trying to defend a message from the CDC that is convoluted and confusing."
In the absence of a coordinated administration push on mask guidance changes this week, Republicans quickly moved to fill the void, calling the announcement an overreaction, government overreach and a politically driven move.
"Don't surrender to COVID. Don't go back! Why do Democrats distrust the science?" former President Donald Trump, who refused to wear a mask even before he was vaccinated, said in a statement to supporters. "Don't let this happen to our children or our Country."
The public marks for Biden's handling of the pandemic have dipped just slightly since May to 59 percent approving of the job he is doing and 35 percent disapproving, according to the FiveThirtyEight polling average.
But the rise in Covid cases in recent weeks has appeared to contribute to a rising pessimism among Americans, according to a recent ABC News/Ipsos poll, which found 55 percent of Americans saying they're pessimistic about the year ahead, versus 45 percent who say they're optimistic. That's a sharp reversal from April, when 64 percent said they were optimistic about the next year, while 36 percent said they were pessimistic.
Amid the souring public mood, administration officials defended their pandemic messaging approach.
"Last year, when things changed and cases spiked, the consequences of inaction or conflict or overruling experts were thousands of dead Americans," the administration official said. "We aren't going to let that happen."